Today we will be taking a look at the ROCCAT SOURA mechanical gaming keyboard. Mechanical keyboards are currently all the rage as they offer loads of extra features and generally have much better performance than a standard membrane keyboard. Originally aimed at the PC Gaming scene, mechanical keyboards have since become much more popular. Anyone who does any type of work on a PC can benefit from the performance a mechanical keyboard has to offer, especially those who type alot. The performance boost isn't the only reason to invest in one, though, they are also much more rugged and durable than your standard keyboard and can take a bit more of a beating. I have a 2, 5 and 7 yr old at home and my mechanical keyboard there is going on 2-years old with no issues at all and it sure does take a pounding some days, literally.
The ROCCAT SOURA is a no-frills keyboard that offers great performance and has a blue LED backlighting to it. By no-frills, I simply mean it doesn't have a load of extra keys and features to it. The SOURA is a frameless mechanical keyboard that features a special TTC switch. While all mechanical switches are quite similar, sometimes companies like to tweak little things with them to see how well it works. While it is no-frills, the SOURA still has all the features we would hope to see from a gaming keyboard such as gaming mode, breathing LED effects, 1000HZ polling rate and anti-ghosting.
Specifications
Advanced anti-ghosting with N-key rollover
1000Hz polling rate
50 million keystroke lifecycle
Multimedia functions
6 programmable macro keys
DIMENSIONS / WEIGHT
Width 12.5 cm , Height 43.0 cm
SYSTEM REQUIREMENTS
Windows® 10, Windows® 8, Windows® 7 64 Bit, Windows® 7 32 Bit
Internet connection for driver installation
USB 1.1 Port
The box the SOURA comes in isn't much bigger than the keyboard itself. On the front of the box is a nice image of the keyboard and around it, we can see some of the features it has to offer such as the frameless design and anti-ghosting capabilities.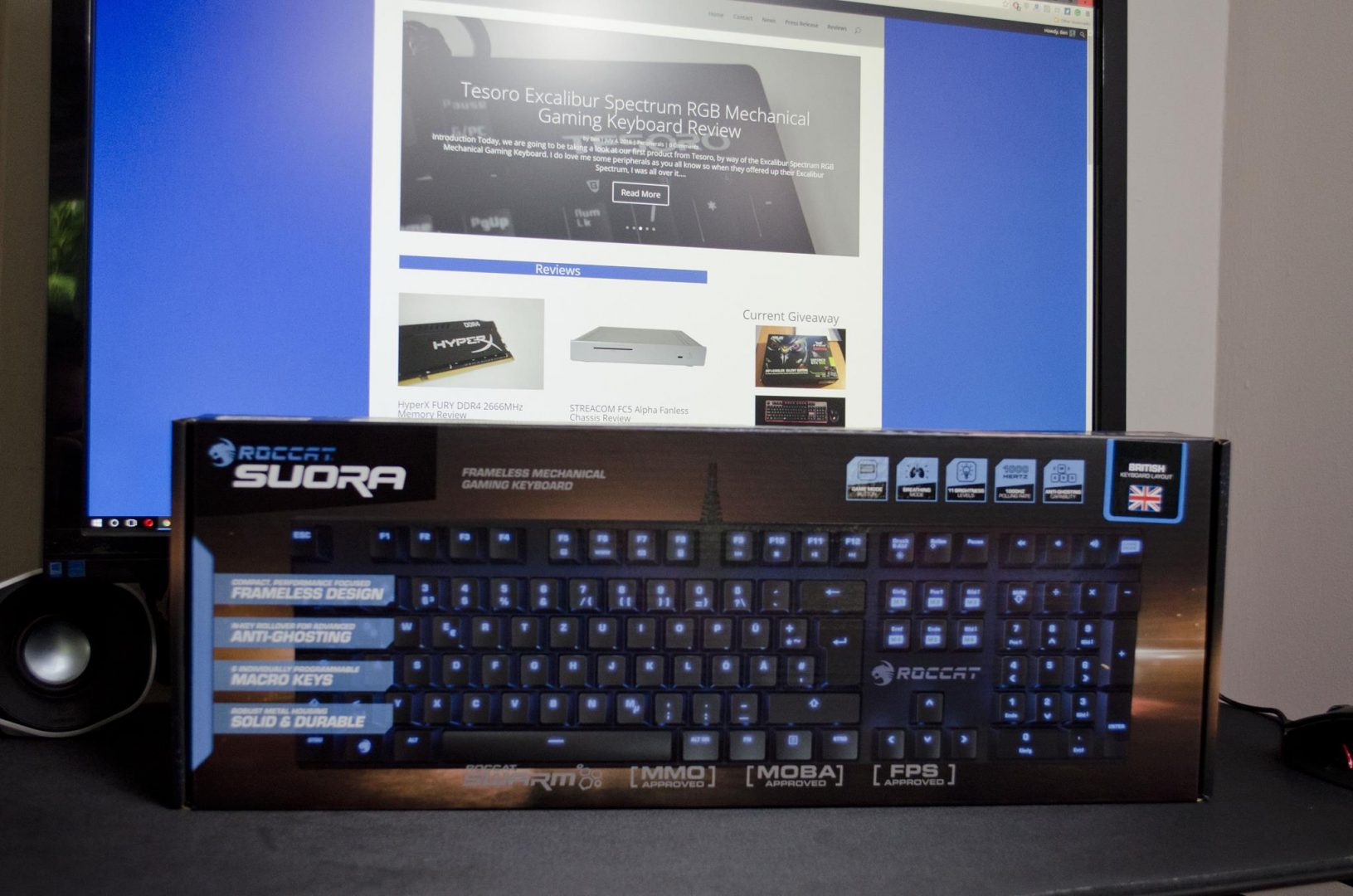 Flipping over to the back and we get a bit more information regarding the SOURA and have its lists of features in a few various languages.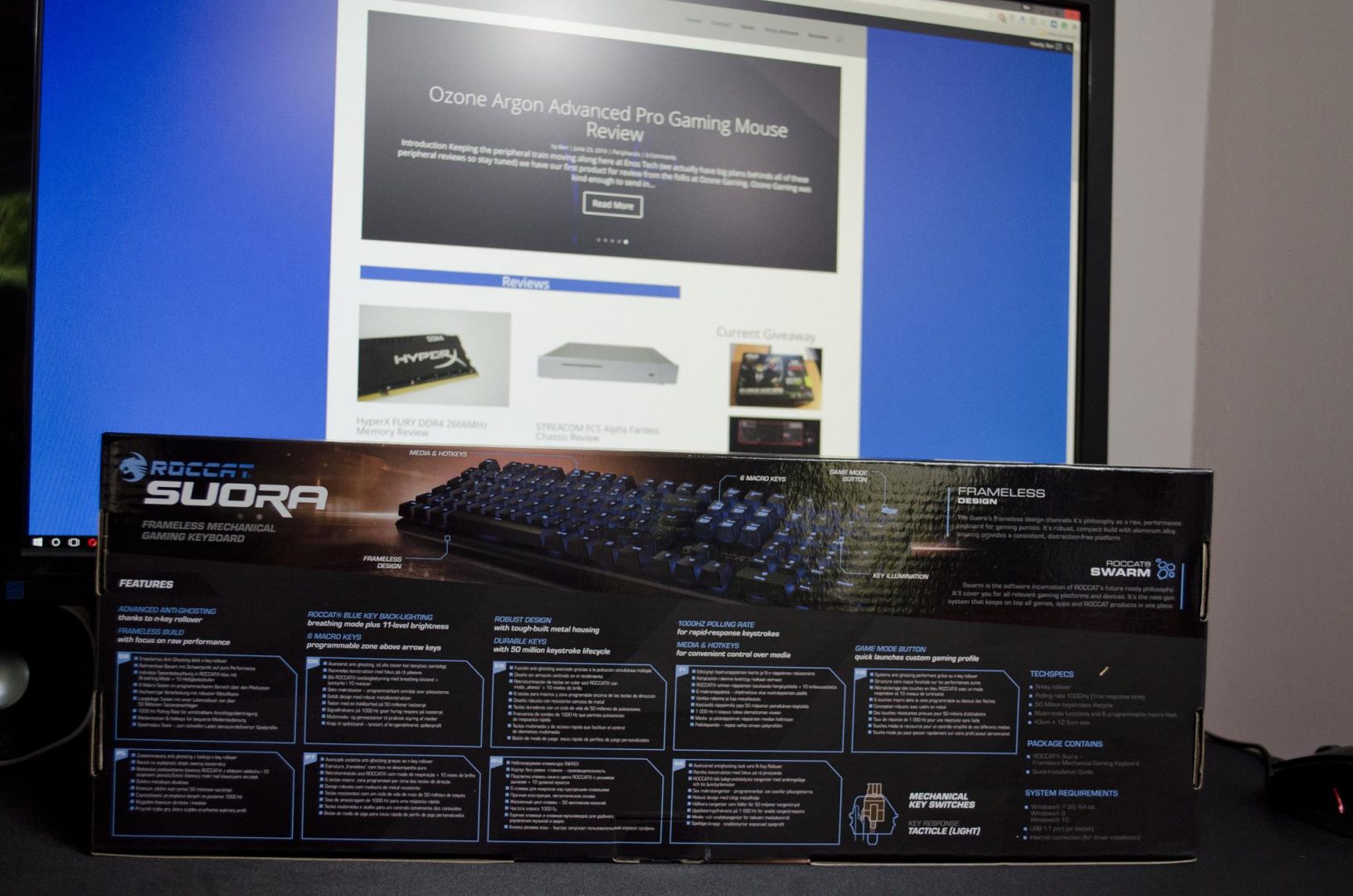 The frameless design means the keyboard is really not any bigger than needed to fit all the keys. As we can see, this is a standard full-size keyboard so it does include the Numpad, but no extra buttons.
What's great is those looking for a few Macro keys will find 6 of them on the SOURA. The small block of buttons above the number arrows also doubles as 6 macro keys. Macro keys have some pretty cool uses, the most popular is probably binding them to do multiple things in games.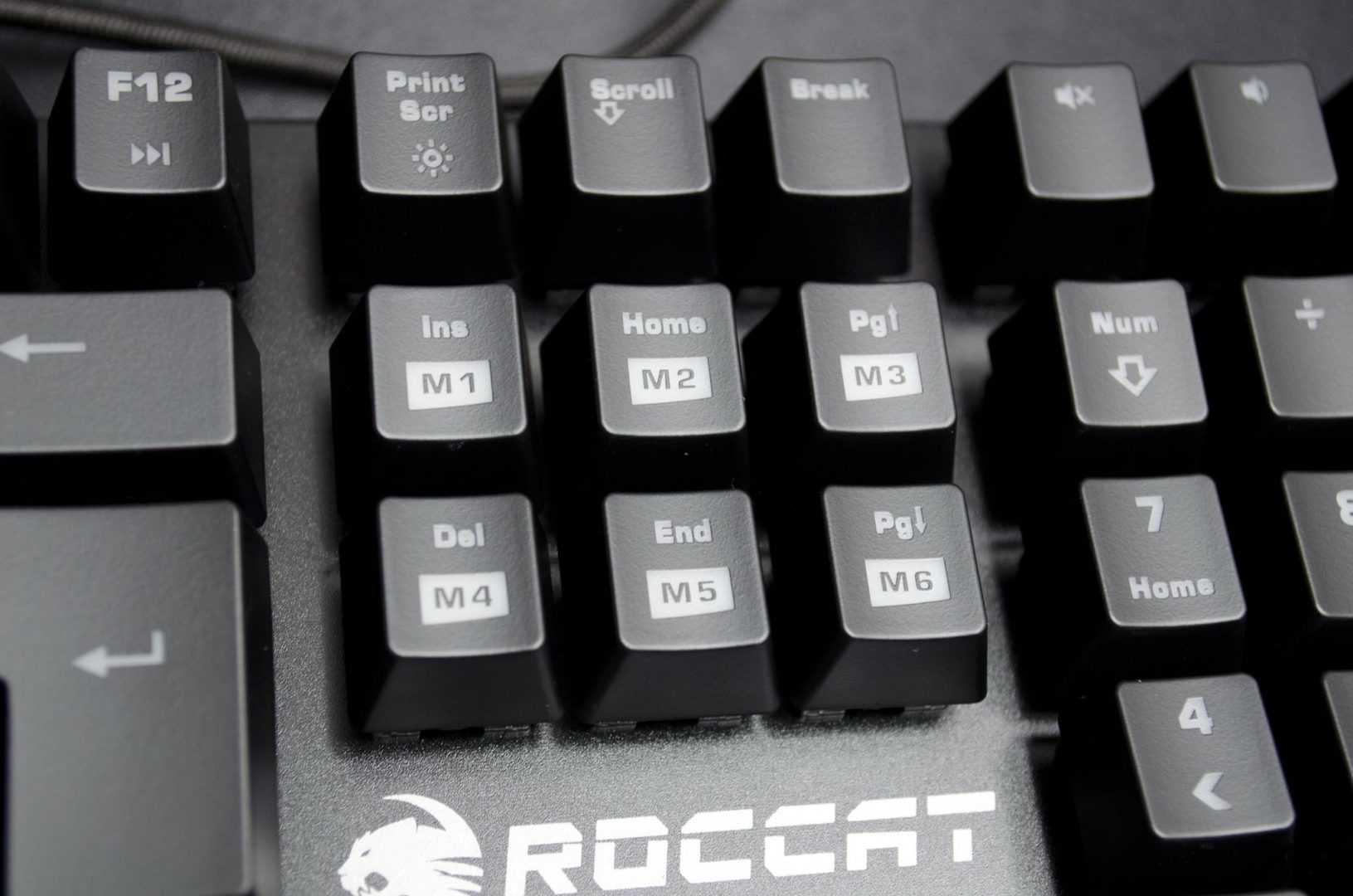 While the SOURA does feature a blue backlighting, it also looks quite nice without the lights. ROCCAT have gone with fairly standard laser-etched keycaps and a nice an easy to read font type.
ROCCAT have gone with a customized brown switch that offers up to a 50 million keystroke life expectancy. Each key is individually lit ensuring that the keys are easy to see in the dark.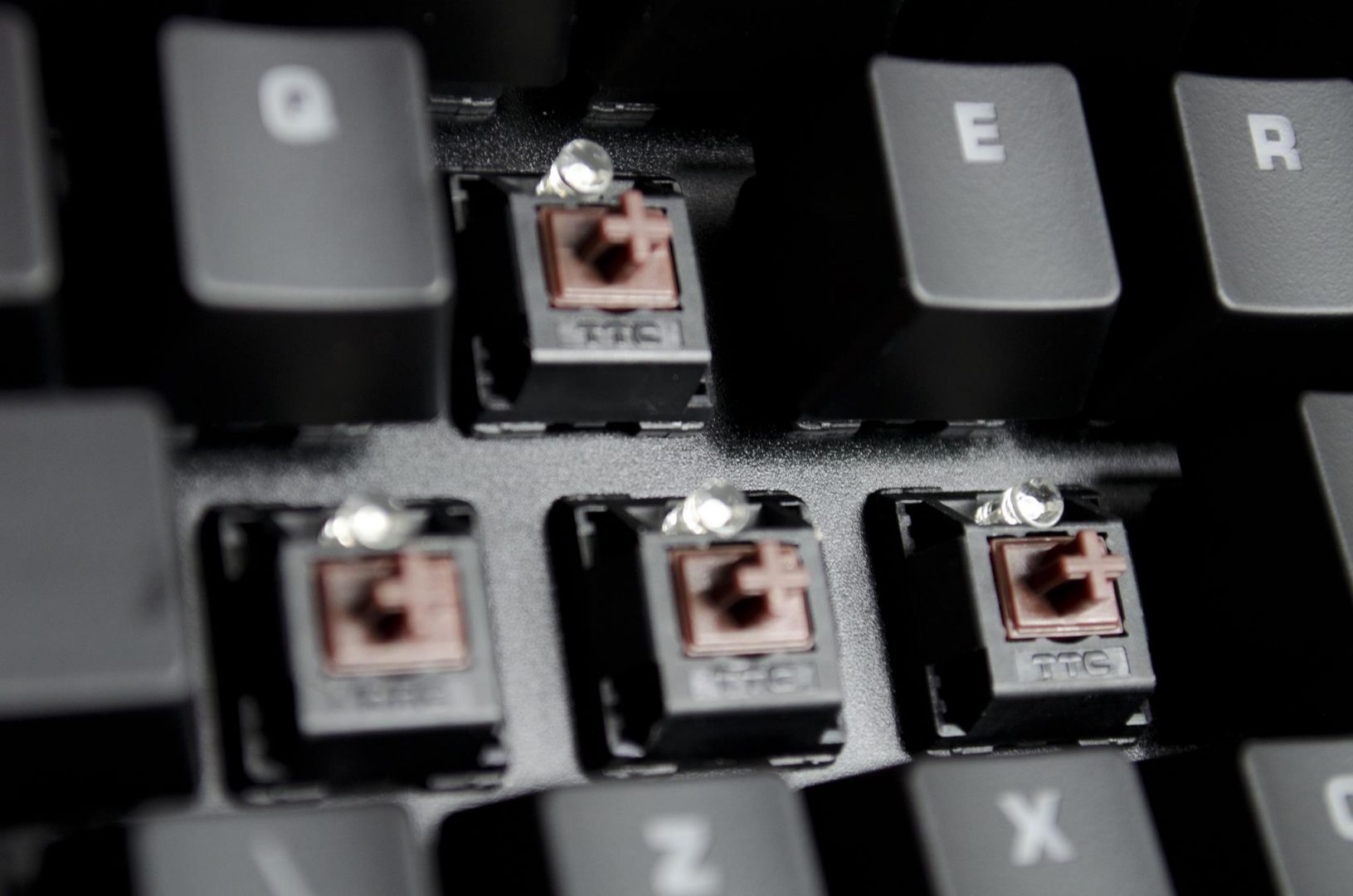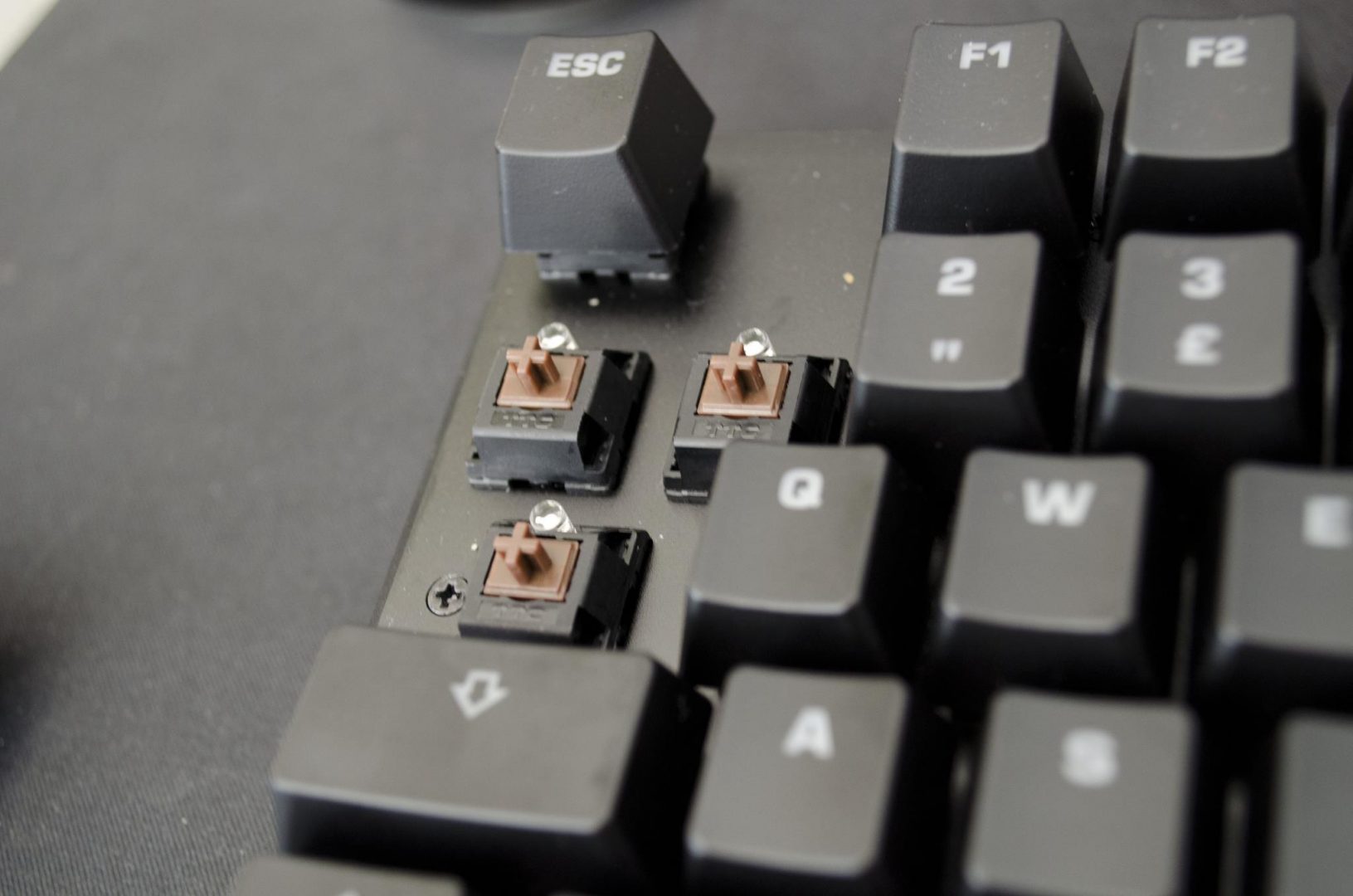 The bottom of the keyboard features 4x anti-slip pads and 2x raiseable feet that also have anti-slip pads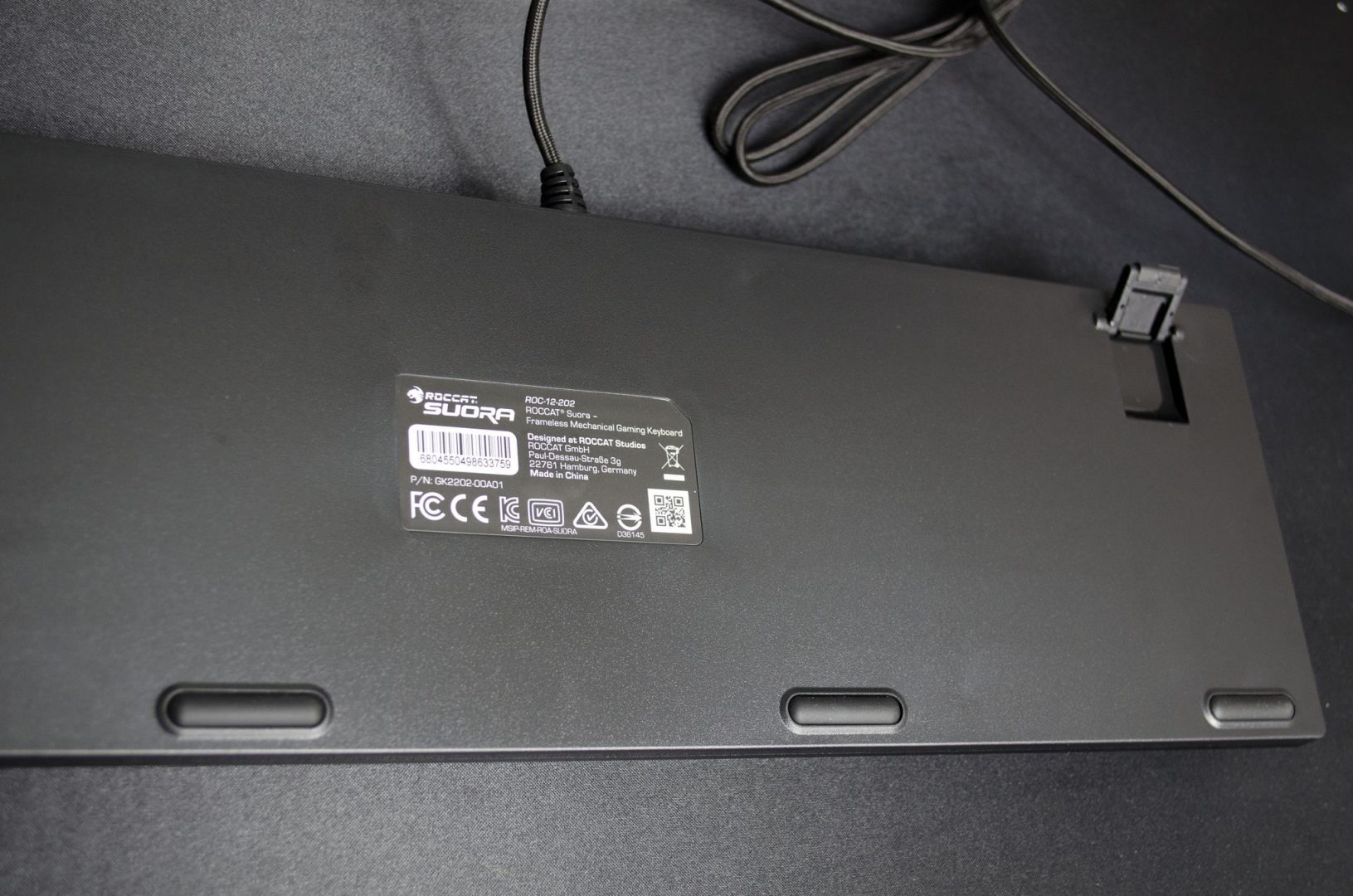 As with most gaming based PC components, the SOURA features a braided cable for added durability and a more-friendly aesthetic.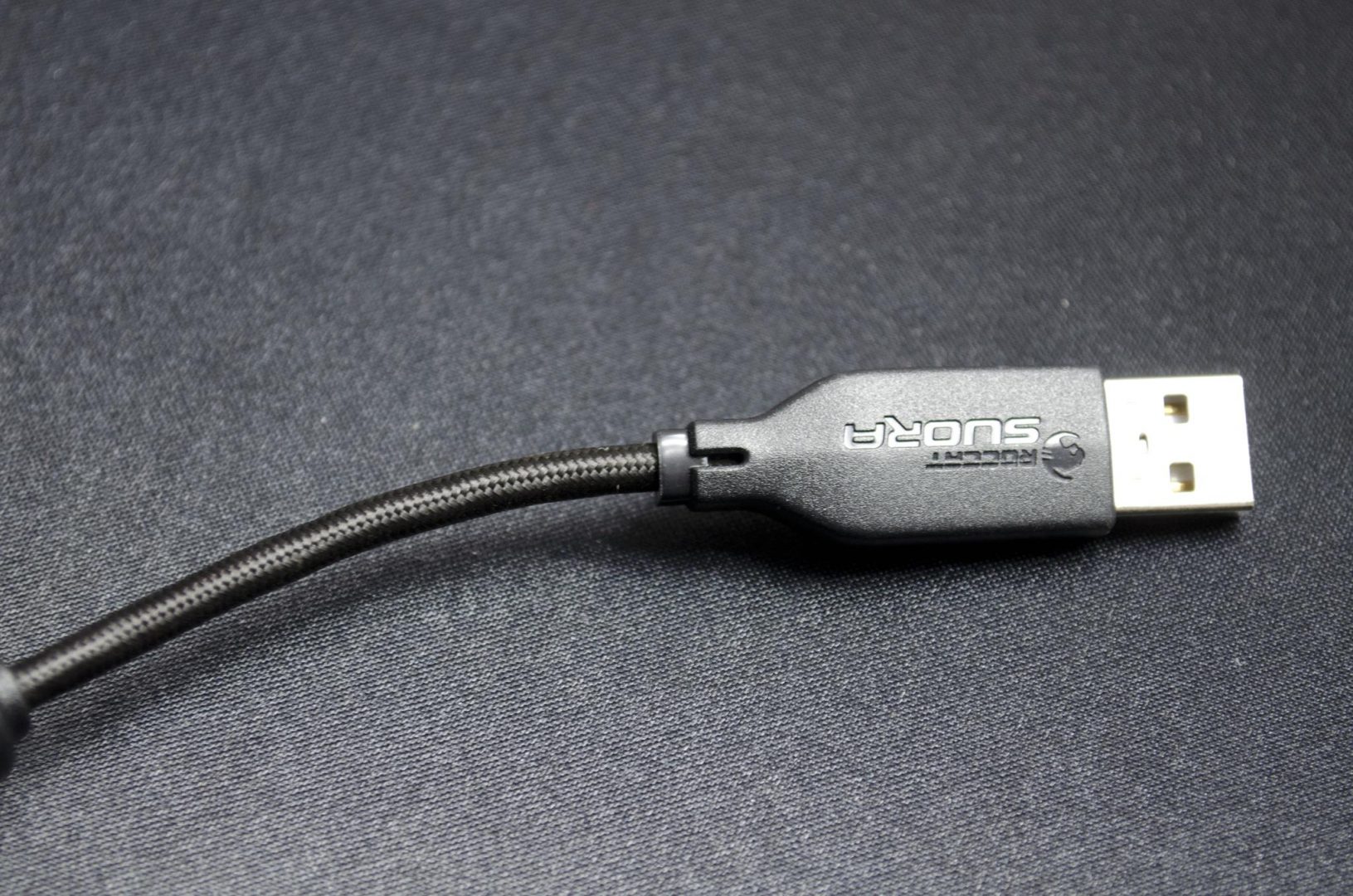 The blue LED backlighting has 11 different levels of brightness and also have a breathing effect that can be set to it. Personally, I love the blue LEDs and don't really use any other colours.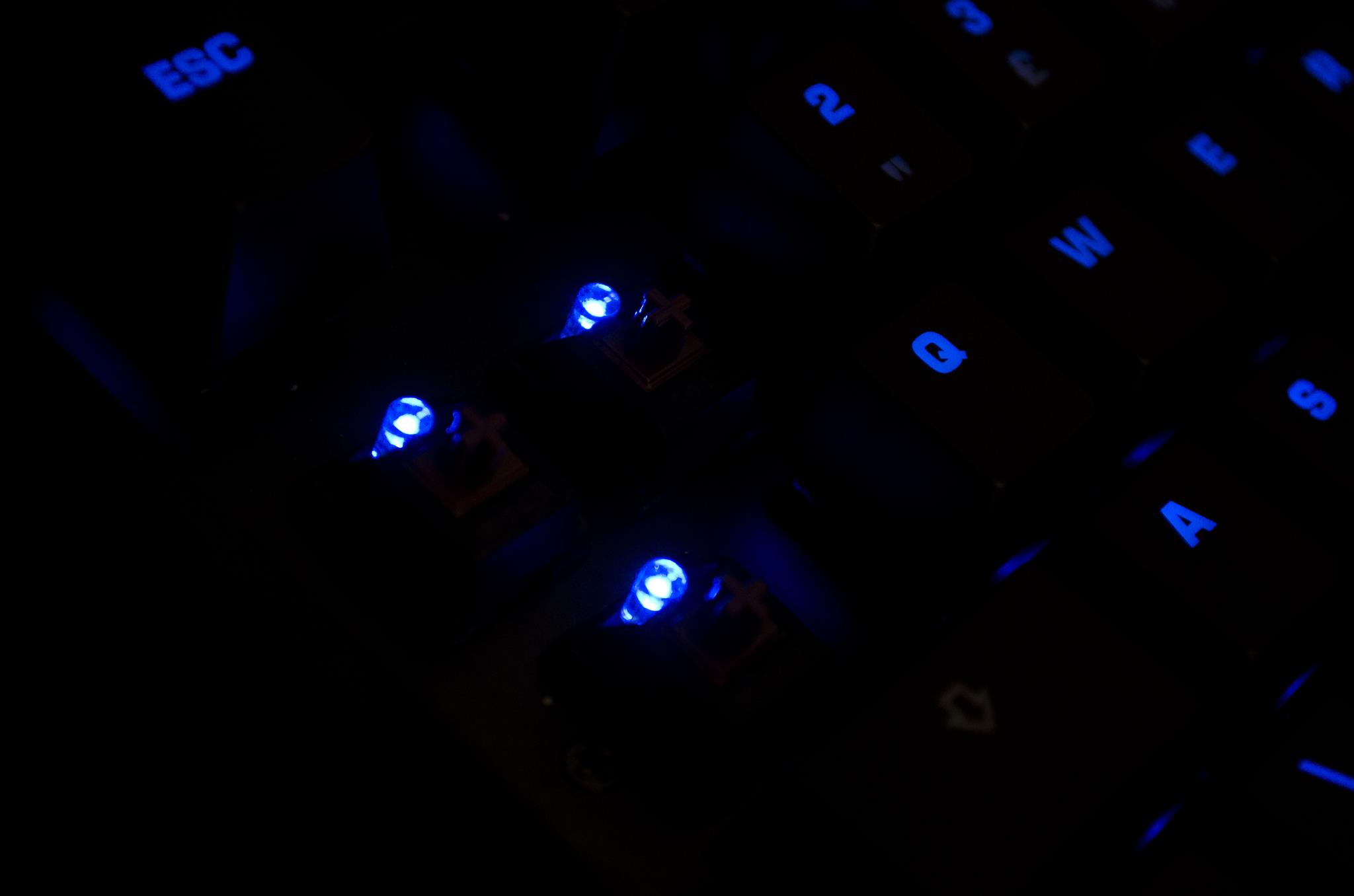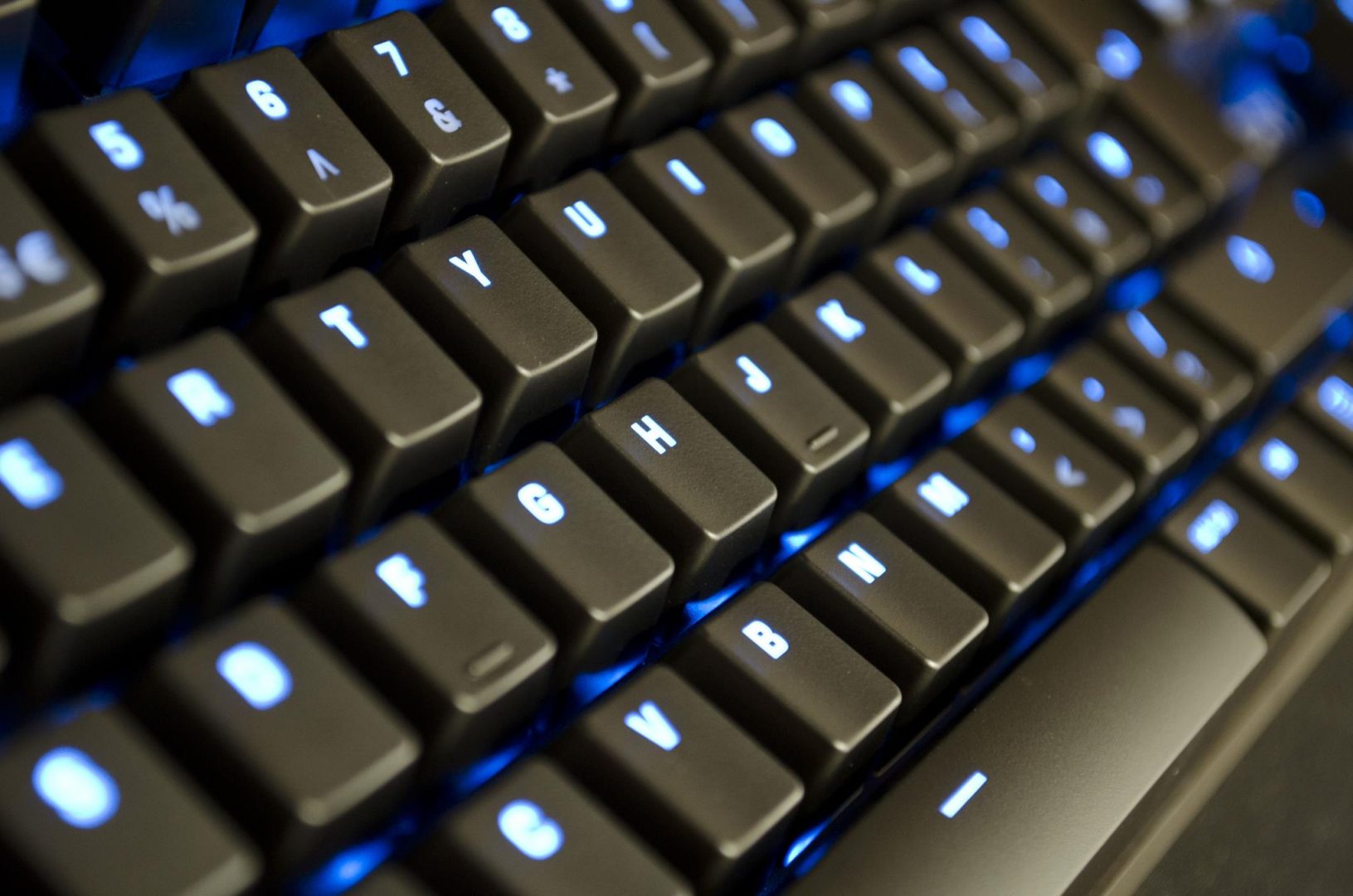 As you can see, all of the keys light up nicely and do look pretty good in low-light situations.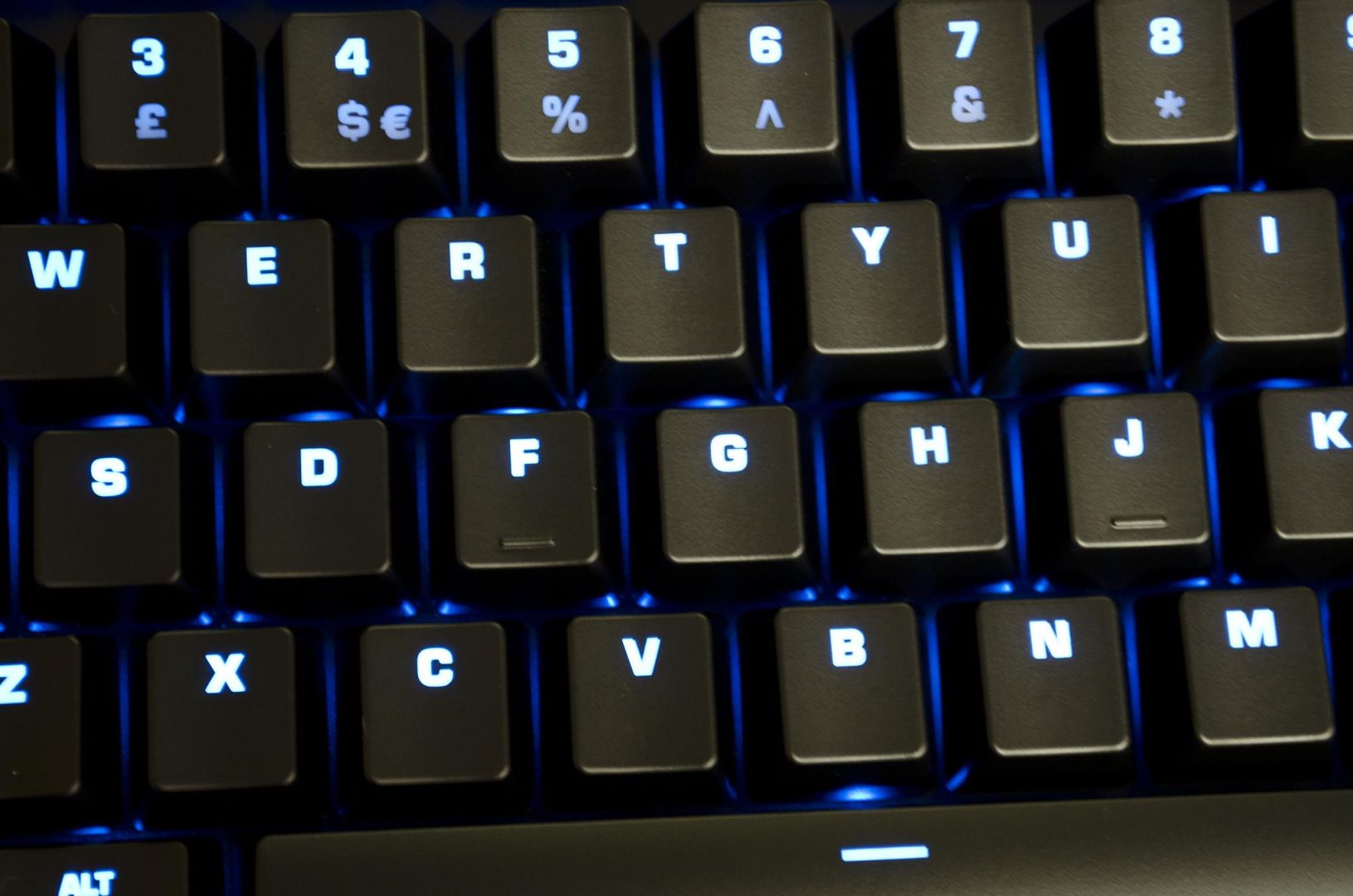 Looking from the side we can see a bit of light escaping from each key, don't worry though as it's not too much as to cause a distraction of any sort. We can also get a look at the metal casing ROCCAT have used on the SOURA to add a bit more durability to it.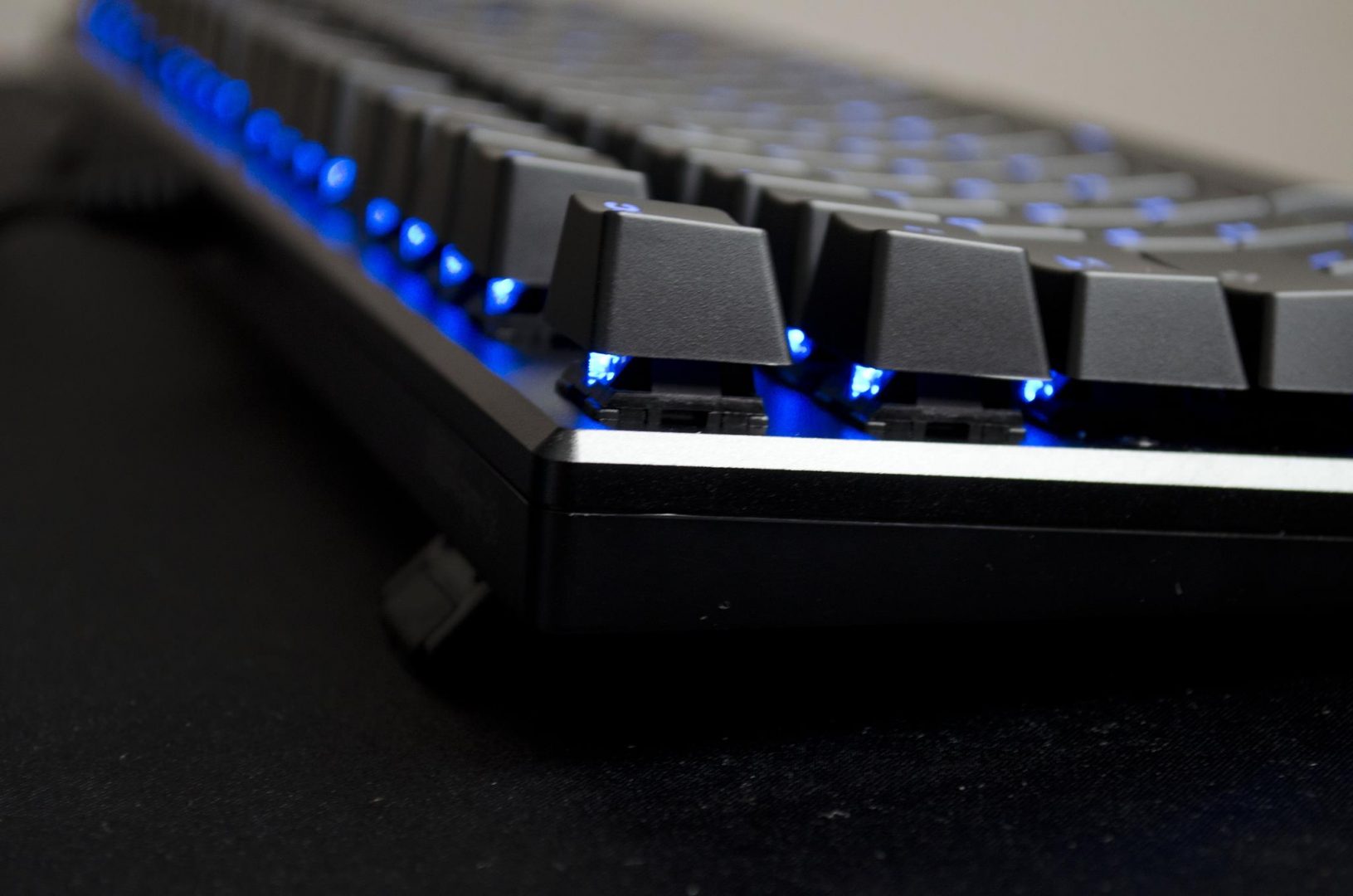 Performance
While this is definitely a gaming keyboard, it is great for day to day use so let's cover that first. While not everyone is a fan of brown switches, the ones ROCCAT have gone with here seem to work well on the SOURA. Typing on this keyboard is as good an experience as you would hope for. The keys are highly responsive and thanks to the anti-ghosting feature, it will keep up with you no matter how fast you may type. While rare these days, I have seen keyboards that couldn't keep up with speed typer's which when buying a keyboard of this type, is not something we want to hear. Also, for day to day use, there are just enough of the function keys to make things easily accessible.
As far as gaming in concerned, the SOURA is again, on point! While there are only 6 dedicated Macros keys, it is more than easy enough to bind normal keys to has other functions in games. Also, for people like me who primarily play FPS games, this keyboard is a dream. While I require the number pad for work, I don't want to have a bunch of extra buttons or a massive big frame around the board. Macros aside, the N-key rollover will also definitely help out those into MOBA's and MMO's or any fast paced game. Even games like Quake Live benefit from such features as everything is very fast paced and will have you hitting multiple keys at almost the same time.
Wrapping up the performance and the SOURA is a fine fit for those who are looking to do some heavy gaming but still have a functional day to day keyboard. ROCCAT have done a great job at adding just the right features to make sure the SOURA is up to scratch without going over the top.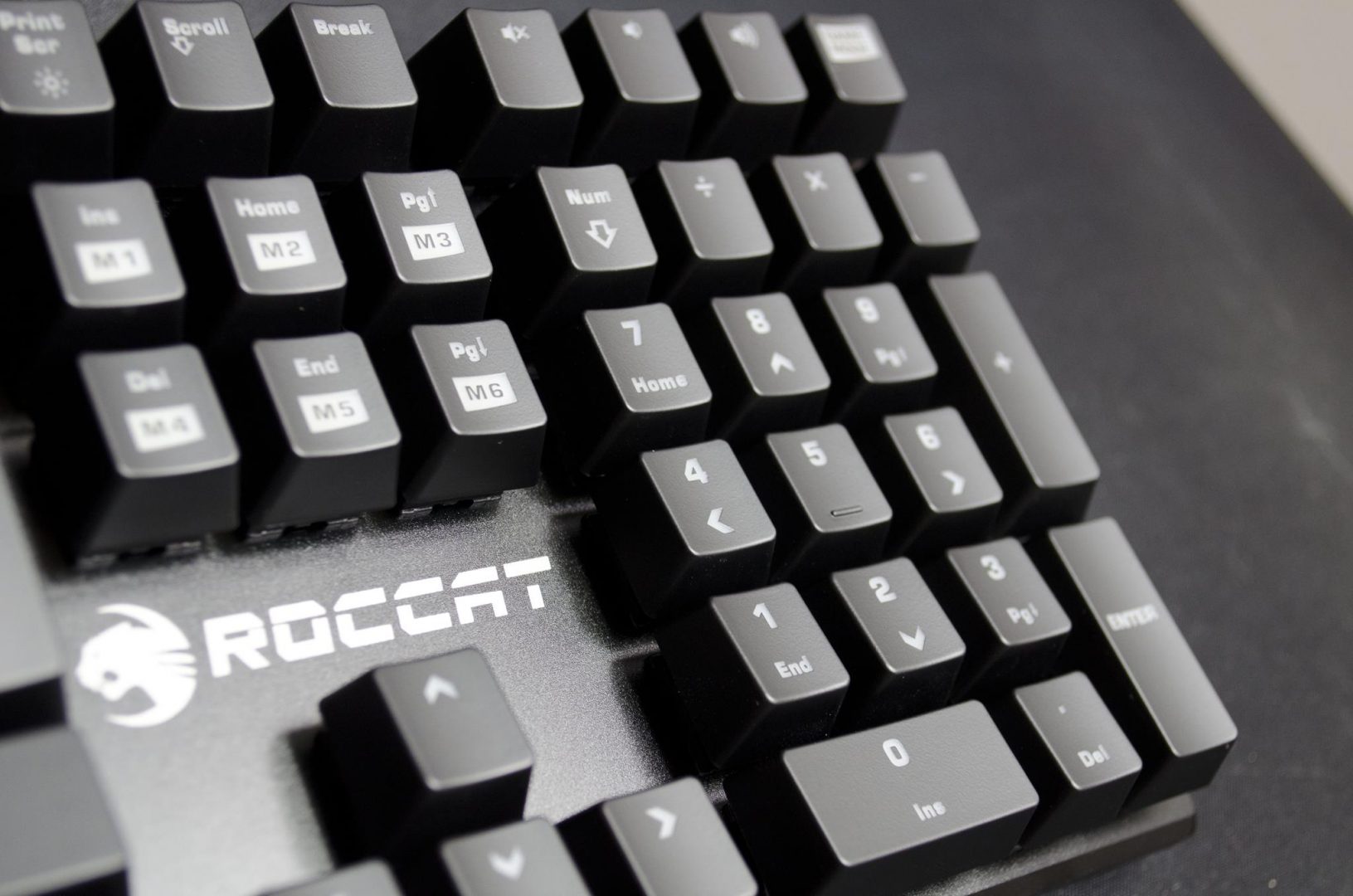 Design
Featuring a minimalistic no-frills design, the SOURA is well thought out. Not only is it frameless, it also features metal casing which will make it more durable than most keyboards. Why does a keyboard need to be durable? Well, longevity aside, gamer rage is a real thing. Ever been sniped immediately after respawning or lost a game in the last few seconds of the match? We all have and I am sure most of us have put our peripherals through a bit of abuse from it happening as well. When it comes to the aesthetics, the minimalistic look is quite nice and the blue backlighting will always go over well with me. ROCCAT have even made it so that the backlighting has 11 different levels of brightness and can be set to breathing mode so while it doesn't have fancy RGB features, there is still a bit of customization available. Also, as already mentioned ROCCAT have done a great job at adding just the right features to this keyboard to make it good for gaming and everyday use.
Value
Coming in at around £80 here in the UK, the ROCCAT SOURA is well worth its price tag. When it comes to mechanical keyboards, £80 really isn't too much to spend, especially if you want a trustworthy one. For the price, you are getting a highly durable keyboard that offers great performance in a no-frills package. Value for money is very subjective but a good quality product will always be a good quality product and that is exactly what we have with the ROCCAT SOURA.
"The ROCCAT SOURA is a very capable keyboard that offers great performance, a pleasing aesthetic and all the right features for a keyboard of its type."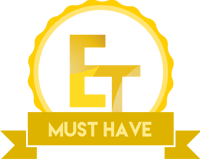 Many thanks to ROCCAT for providing a sample of their SOURA keyboard for today's review.