Today, we are going to be taking a look at our first product from Tesoro, by way of the Excalibur Spectrum RGB Mechanical Gaming Keyboard. I do love me some peripherals as you all know so when they offered up their Excalibur Spectrum, I was all over it. Peripherals are very subjective, but with so many companies now making them, in part due to the recent rise of eSports, there really is something out there for everyone. When it comes to Mechanical Keyboards, there are now loads of switch types aside from the original Cherry MX, you now have Kailh, Outemu, Gateron, Romer-G and more. Not only are there loads of switch makers, they also come in different colours, that offer different features and can also come with or without LEDs, whether they be a single colour or RGB such as the Excalibur Spectrum!
Manufacturer: Tesoro
Product Page: Excalibur Spectrum
The Tesoro Excalibur Spectrum RGB Mechanical Gaming Keyboard, is a mouth full to say, if nothing else. It features Kailh branded switches, which has a few different variants available and today we will be taking a look at the one that comes with Blue Kailh switches. All the keys are individually backlit and programmable and are built to withstand up to 60 million keystrokes. The keyboard also features a 1000Hz polling rate, a 6-key N-Key rollover, quick profile switch and much more. Keyboard aside, it also comes with a nice piece of software that will allow you to further customize it, but for those not into software, you can choose from some of the preset lighting profiles right from the keyboard itself.
Feature
Gaming Grade Mechanical Switch
Heavy-Duty
32bit ARM Cortex Premium Processor
1000Hz Ultra-polling rate
512KB (4Mb) Onboard memory
All keys programmable
NKey / 6 Key Rollover
RGB LED with per key customization
Versatile lighting effects
7 preset lighting modes
Double injection keycaps
Quick profile switch, instant macro recording, reset hotkey, keyboard lock
Compatible with Win XP, Vista, 7, 8, 10
The box it comes in is very Tesoro'ish if you will as the purple is a dead giveaway! There is a nice image of the keyboard on the front showing off the RGB feature with some of the main features listed below.
On to the back and there is a bit more in depth info, including info on the Kailh switched used inside the Excalibur spectrum.
The Excalibur Spectrum looks quite nice out of the box. While it is a gaming keyboard, it's not overly flashy so could even be used in an office environment if wanted. The casing is all black and it features double injection laser etched keycaps for reliability and functionality.
Above the arrow keys, Tesoro has gone and added their tagline "Break the Rules". While it is very subtle, this is a nice bit of branding on their part and one I am OK seeing.
Starting to take a closer look with the top row of keys, the first thing I noticed was the Tesoro logo on the ESC key. This is great if you ask me and something I think more companies should do. We all know what the ESC is, where it is and what it does so there is no reason not to add your own logo to it!
As mentioned there is software available for the Excalibur Spectrum, but for those who don't want to use it, there are plenty of options available for customizability right from the keyboard itself. The F1-F5 keys are set up for different profile so simply hold the FN key and hit the one you want. By default, they are all set to different lightings modes which are nice as it offers an easy way to see what the Excalibur Spectrum has to offer.
One thing I found cool is the FN+F6 actually locks the whole keyboard so no key presses are registered, this could come in real handy, especially with littles one around. The F7-F12 will allow users to control their media with the aid of the FN key which is essential to have right on the keyboard these days. Long gone are the days when you had to change the volume by using your mouse and clicking on the little speaker next to the clock, oh no, there will be none of that now.
The Tesoro Excalibur Spectrum is a full sized keyboard and as such, has a standard number pad on the right-hand side.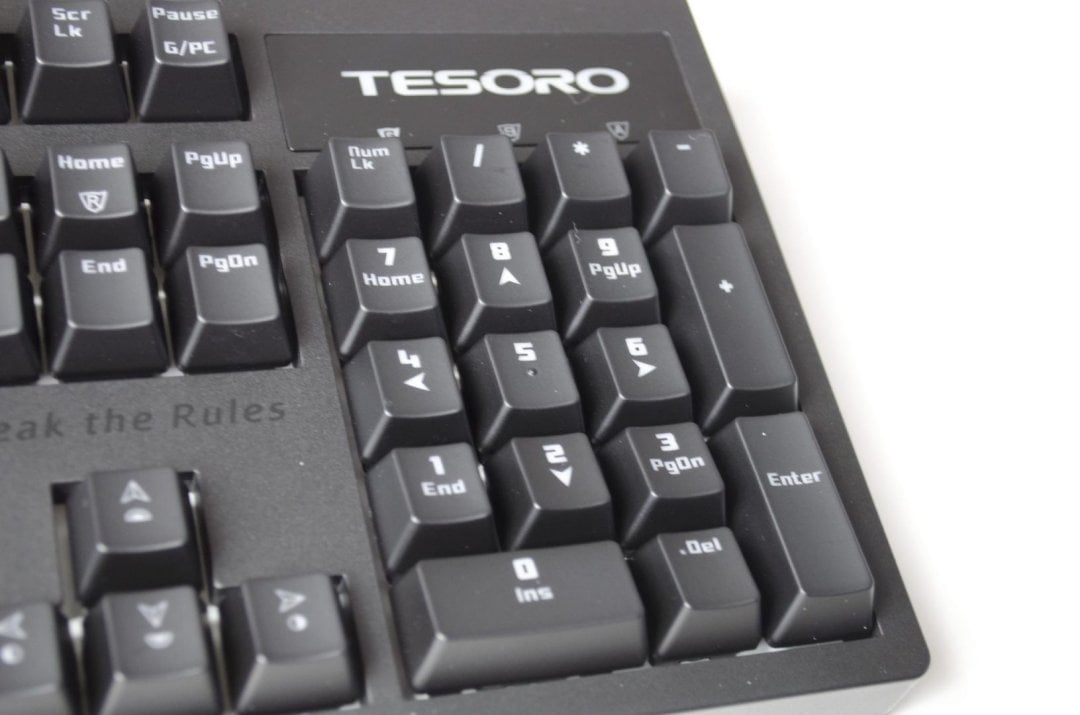 Flipping it over and there isn't much going on here. There are four anti-slip grips and two feet that flip up to offer a more ergonomic feel.
As with most gaming based peripherals these days, the cord for the Excalibur Spectrum is braided. Braided cables, if nothing else, just look nicer than those old rubber coated ones we all but almost forgot about.
Now, for the fun, THE LEDs! I am a sucker for LEDs and while they offer no performance gain, I sure do love to play with them. The keyboard features the full RGB spectrum which consists of 16.8 million colour combinations which are absolutely insane. Now, most of those colours probably can't be seen all that well, but it's nice to know there are plenty of customization options available for those who are into that sort of thing.
I prefer to have my backlighting a single colour and if I can control, it will always be blue! My favourite colour is actually yellow but generally speaking, blue normally looks better when shining through the keys.
As mentioned, each key has its own individual LED which allows for maximum customization!
Lastly, a nice shot of the Kailh Blue switches that are featured on the keyboard.
Software
The software for the Excalibur spectrum is pretty straightforward. As soon as you open it up, you'll see an image of the keyboard as well as the different profiles that can be selected across the top. Down in the bottom left are where the options are. Now, for a macro, simply click the key you want to add a macro to, then click the Macro Setting button and you will get the below pop up and you will be able to record your macro.
You can also reassign keys. For instance, if you wanted to mess with someone, you can bind all the keys register as a different key when pressed. This could be a good prank to pull on your other half, but you didn't hear that from us.
As we saw, all the keys have their own LED backlight which means we can set them all to different colours. To do so, simply click the key you want and choose a colour from the Illumination menu. If you want to do the whole keyboard, don't select a key and just choose a colour.
For those looking to take things one step further and add some cool lighting effects, this can be done in the Lighting Effects menu, go figure right! In here you will find the preset lighting profiles and be able to select them and apply them to your preferred profile with ease.
Performance
The great thing about mechanical keyboards is that a lot of them feature the same switch type. For instance, the Excalibur Spectrum features a Kailh Blue switch. So, simply speaking, if you've ever used this switch before, you will know how it is and if it is for you or not. The main difference comes in shape,size and features the keyboard has to offer. All of the differences are definitely something that different people will have different views on and thank goodness. We wouldn't want all keyboards to be exactly alike, now would we?
Much to my Wife's dismay, I must've racked up around 20 hours of game time in Overwatch alone the week I tested this keyboard out. During my testing, everything was fine and the keyboard worked a treat. The only issue for me was coming from a board that features Cherry MX red switches, the Kailh Blue felt a bit stiffer and harder to actuate, which isn't a problem, just something to note if coming from a different switch type. The Excalibur Spectrum never let me down and after a couple of games, it was like I had been using it for weeks. The raw performance was great, there was no noticeable input lag and the 6-key N-key rollover was more than suitable for all the FPS games I tried. The only real thing I could have against this keyboard per say is the fact there are no dedicated macro keys, but then again, I can't really hold that against it, especially as you can set macros to any other key you would like.
In overall terms of performance, I was more than pleased. This is a fairly no-frills gaming keyboard. Simply meaning, it's designed to perform rather than be loaded with over the top features and design aspects. If you're a fan of Kailh blue switches, this will not let you know though it is worth mentioning it does come in other Kailh flavours such as red and brown in some locations.
Well the time has come. Sadly, I've had to stop playing overwatch for a couple of hours so I can go ahead and type up this review! Overall, I was quite impressed with the Excalibur Spectrums performance and features it had to offer. With all that being said, it's now time to wrap everything up so I can get back to gaming on this bad boy and hopefully rank up in Overwatch so I can start my competitive play soon!
Performance
The overall performance of this keyboard is what we would expect from such a board feature the Kailh Blue switches! During all of my gaming, I didn't have any key miss clicks and every click registered just as it should. The 1000Hz polling rate means all clicks are registered what seems like instantly. This is great as a couple of milliseconds could be the difference between you or you enemy getting the first shot off. What was also nice to see is the fact you can control the profiles and lighting effects right from the keyboard without the need for software. This will come in handy for those looking to set up different profiles for different games, or those who may have to share a PC with other people in the house. At the end of the day, the Kailh Blue switches are tried and tested and are definitely something I can recommend, so good job to Tesoro for using them with their Excalibur Spectrum keyboard.
Design
The design of the Excalibur Spectrum is great. It has a sort of no-frills aesthetic to it, which works great when combined with the RGB LEDs and lighting features it has to offer. Being able to switch between profiles and lighting effects from the keyboard is a great inclusion to the feature set that this keyboard has to offer. When it comes to quality, Tesoro has gone with the Kailh switches which in this case, are rated for up to 60 million keystrokes. I don't even want to think how long it would take someone to hit a single key 60 million times, but it's nice to know that is what these switches are rated for. The colour representation of the LEDs is on point as well and no matter the colour you choose, it will look vibrant and amazing. As far as design goes, it's built for quality and functionality which is great!
Value
This is where this keyboard really shines, the value. Coming in just north of £60 here in the UK, this keyboard is really worth your hard earned money. For £60ish, you are getting yourself into the mechanical keyboard scene. The Kailh switches were a good choice by Tesoro as that most likely allowed them to keep the price of the keyboard down a bit, which is always helpful. For the money, you are getting a keyboard that is not only built for quality and looks great, it has plenty of functions and features as well, helping to make it just that much better.
When all is said and done, the Tesoro Excalibur Spectrum RGB Mechanical Gaming Keyboard has lots to offer which its slick aesthetics and lineup of features, most of which can be controlled right from the keyboard itself with no need for software. All in all, well done to Tesoro on making a keyboard that performs well and doesn't break the bank.
Many thanks to Tesoro for sending in this review sample! 
Want to discuss this review further, head on over to the Tesoro Excalibur Spectrum RGB thread on the Gaming Exodus forums!