Introduction
1MORE is likely to be a company that not too many have heard off. They seem to have started in the USA and have started making their way to the UK and Europe. They currently offer a growing catalogue of in-ear and over-ear headphones that offer some good specs.  There has been a lot of buzz about them and the quality of sound that their headphones offer. Today, we will be taking a look at the Dual Driver in-ear headphones which have received nothing but praise from reviewers around the world. Having a good pair of earbuds in your arsenal is essential these days. While I personally prefer over-ear headphones, there are times when the in-ears are a much more sensible option so having a good pair on standby is always appreciated.
Specifications 
Type: In-Ear
Weight: 15 g
Length: 1.25 m
Plug: 3.5 mm
Frequency Range: 20-40,000 Hz
Impedance 32 Ω
Sensitivity: 98 dB
Rated Power: 5 mW
In-line Control Box & Microphone: Included
Wire Material: Enamelled Copper Wire
Closer Look
Taking a look at the box and packaging and everything is very well presented. On the outside of the box, we have a nice image of the Dual Driver In-Ear Headphones along with a small bit of text.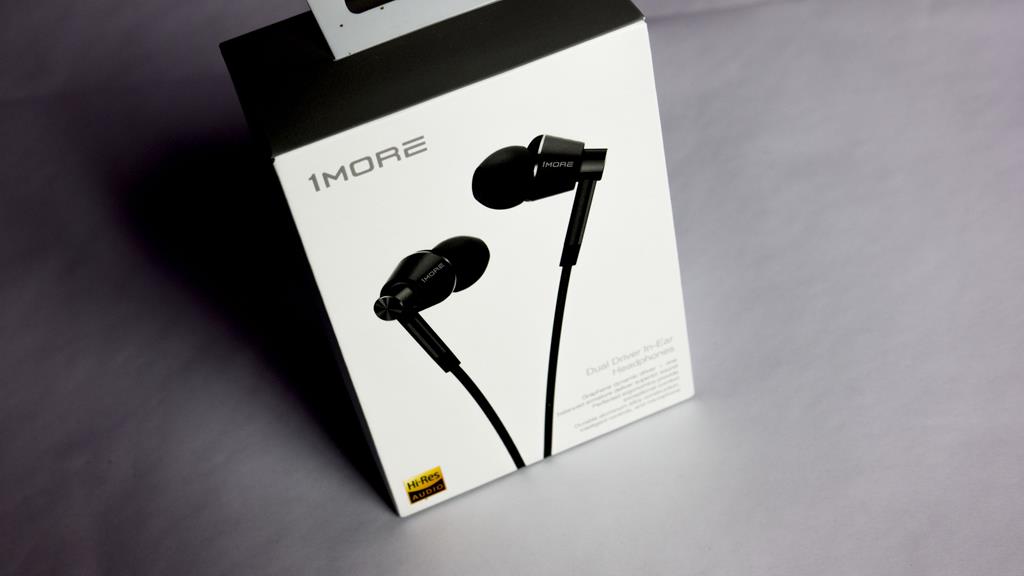 Again, 1MORE have done a great job with the presentation of the packaging and we make our way inside the box. Here we can find the headphones themselves that come in a nice plastic case which on first opening the box is also wrapped in a protective cover to keep from getting damaged.
Getting everything out and inside the box, we have a pair of manuals, a sticker, the headphones in a protective case, a soft pouch and a clip that will allow you to clip the wire to your shirt to help and keep it out of the way during use.
Opening up the plastic casing and taking the earphones themselves out will review some different sized rubber ear pieces. If you're not quite sure what size would suit you best, I do highly recommend trying them all out. Even if you think the ones that come on the headphones are fine, it's still worth trying the others as you just never know until you try them.
The dual driver in-ear headphones from 1MORE come in black and look sleek and elegant. The aluminium alloy body not only allows them to look stylish but allows them to remain lightweight and durable.
While hard to see in the photos, the earpiece is at an angle so that it fits with the natural shape of your ear canal better. Pair this with the 4x included sets of ear tips and you should find these quite comfortable once you've got the right ear tips on.
The idea between having two drivers is to that one can handle all the highs and the other be responsible for the bass. When there's only a single driver, it is then required to do both of these jobs and that is mostly where the distortion comes from is an overworked driver. 1MORE also offer triple and quad drive in-ear headphones and we look forward to hopefully trying them out some day!
The in-line controls are placed easily within reach and will allow you to change the volume and tracks as well as answer calls.
Keeping with the overall sleek and durable aspect of the headphones, 1MORE have gone with a nice nylon braid that offers a bit of ruggedness and practicality in the fact that it shouldn't get easily tangled.
The included travel pouch is a good way to carry your 1MORE in-ear headphones with you on a day to day basis. This way, you can put them right in your pocket or even your bag and not have to worry about them getting caught on things and leaving them always easily accessible.
Conclusion
Performance
The 1MORE Dual Driver In-Ear Headphones have a lot going for them. From sleek and stylish looks down to amazing performance and comfort, they really do offer it all for their current price point. Now in saying that, don't expect them to make your ears bleed but the sound they put out is quite impressive for the size of them. The main thing I want to stress is that in all my testing, there was no distortion at all, no matter what type of music I was listening too. The bass they put out is exceptional and the highs were always crystal clear across all devices they were tested on. For my testing, I used my PC, Laptop and Tablet and in being honest, when I had them on my tablet first I wasn't all that impressed. However, when I hooked them up to my PC they really impressed me. This lead me to test other headsets on my table and they too offered the sad results of not sounding all that great, so with that out of the way, it was back to testing the 1MORE headphones on my PC where they worked properly. I even did a bit of gaming with them, even though that is not what they are designed for. In terms of gaming, they may be best left for being easy to carry a backup but they surely are much worse options, even in full-sized headphones.
Design and Comfort
1MORE did a great job with the design. From the dual drivers to the aluminium alloy body, these surely don't disappoint. To make sure they are as comfortable as possible, 1MORE has also included 4x sets of ear tips ensuring there is the correct size for most anyone. The actual piece that goes in your ear is designed to follow the natural shape of your ear canal and not only does this allow for more comfort, it helps them to put out a better sound as they are pointing to your inner canal. For those that like to use a pair of headphones for their phones, you'll be happy to remember that you can easily answer your calls with the in-line volume controls which feature an inbuilt mic so you can talk to your bestie without having to take them out.
Value
Coming in at £43 from Amazon UK, you can't go wrong with the 1MORE Dual-Driver In-Ear Headphones. At Just £43, these headphones have a lot to offer, especially for being in-ear. From the generous amount of bass they offer for their size to the clear highs and not forgetting their design, 1MORE really have a great product here with their dual driver headphones. It would be really interesting to compare these with the triple and quad driver in-ear headphones and see just really what they have to offer.