Since introducing our very first gaming headsets, we've strived to provide gamers with the best audio experience possible and have created headsets that truly blur the line between "gaming" and "audiophile."
Award-winning composer Frank Klepacki's work within the gaming industry dates back to the early 1990s, when he composed the soundtracks for classic games like Command & Conquer. He recommends A-T's high-fidelity gaming headsets to those wanting to hear all the power and nuance of his work. Get ready to experience our best gaming headsets yet, the ATH-AG1x and ATH-ADG1x.

Both models feature all-new, large-diameter 53 mm drivers, allowing gamers to hear sound effects and soundtracks as they were originally intended. Online gamers will enjoy the new premium gooseneck microphones, designed to reject background noise and deliver clear in-game communication. The included windscreen helps combat wind and breathing noise, resulting in amazing vocal integrity – you'll feel like you're in the same room as your fellow players!
Fans of marathon gaming sessions are in luck; both models were designed with ultimate comfort in mind. Super soft earpads and a redesigned self-adjusting 3D Wing Support system provide hours of comfort.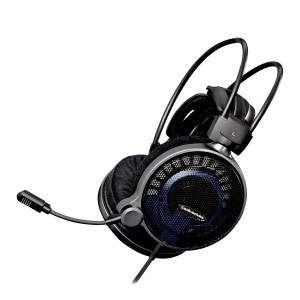 ATH-ADG1x Open-Air Headset
The ATH-ADG1x features an open-air design, providing comfort and unmatched sound quality. The all-metal honeycomb housings keep the headset cool, so you'll never break a sweat even as you're cast into the powerfully detailed sonic worlds of today's first-person shooter and other games.
ATH-AG1x Closed-Back Headset
The closed-back ATH-AG1x is equipped with our exclusive double air damping system, providing an incredibly immersive gaming experience. Enjoy sound effects in all their glory thanks to the ATH-AG1x's sharp, detailed sound and deep bass.
Features Common to Both ATH-ADG1x and ATH-AG1x:
Newly designed 53 mm drivers deliver powerful audio for the ultimate gaming experience
Improved 3D Wing Support system offers hours of comfort and a secure fit
Audio-Technica's state-of-the-art microphone enables crystal clear in-game voice communication
Simple volume control and locking microphone mute switch enable one-hand operation
Extremely soft earpads provide superior comfort for extended game play
Equipped with 1.2 m (3.9′) attached cable and 2.0 m (6.6′) extension cable
Get ready to experience a different level of gaming in 2016, as these new models hit the shelves.
Which new gaming headset would make the perfect addition to your setup? Tell us in the comments below or on Twitter @USAudioTechnica!
The ATH- ADG1x and ATH-AG1x are compatible with PS4, iPad, iPhone, laptops & PC. Also compatible with Xbox One using the Xbox One Stereo Headset Adapter found at www.xbox.com.