Introduction
The Headway App is a book summary app for the smartphone age, the official webpage can be found at makeheadway.com. It allows users to enjoy over 1,300+ text and audiobook summaries while they are on the go. This means you can easily enjoy and make the most of the app, no matter where you are. It covers topics such as productivity, happiness, self-growth, business and career, leadership, money and investments, love and sex, and more.
Download Links
App Store: https://apps.apple.com/us/app/headway-fun-easy-growth/id1457185832
Google Play: https://play.google.com/store/apps/details?id=com.headway.books&hl=en_US
Features
One of the app's core strengths lies in its ability to create learning experiences tailored to the smartphone age. Users can conveniently engage with Headway during their everyday routines, whether they are commuting, waiting in line, or completing other tasks. This accessibility makes it easy for busy individuals to embark on a journey of self-improvement without requiring significant time commitments.
One of the more impressive features of Headway is the option to read or listen to 15-minute summaries of nonfiction books performed by professional voice actors. This interactive experience keeps users engaged and motivated to learn. The app also offers daily insights and widgets to inspire and inform, as well as the ability to earn streaks and track progress to encourage continuous growth.
Personalization is a key aspect of the app, as it provides users with curated collections based on their preferences. The option to highlight and save the best insights from summaries and transform them into interactive flashcards enhances the learning process. Moreover, the spaced repetition feature effectively aids in memorizing facts and insights, ensuring long-term retention.
Headway offers a gaming-like achievement process. Not only does this help to make it more fun and enjoyable, but the trophies help you keep track of your progress and provide you with a sense of accomplishment. This can also be a great way to encourage more motivation as you try to continue your streaks and get more trophies.
The UI of the Headway is easy to navigate and offers an enjoyable experience. There are daily insights that are presented in a story-like format which at a very nice touch to the overall feel of the app.
Currently, they are some free features users can take advantage of. There are one text and audio summary per day, daily insights, and even an in-app collection of brief digests on the war in Ukraine.
Achievements
Headway's recognition and achievements further attest to its excellence. As the most downloaded book summary app globally and receiving the "App of the Day" accolade from Apple and Google multiple times, Headway's popularity is evident. The Editors' Choice badge from Apple further reinforces the app's commitment to design, user experience, innovation, and overall quality.
Headway's strengths compared to other book summary apps, such as Blinkist, Instaread, and Shortform, include its gamified learning flow, spaced repetition feature, high-quality content, personalization, and inspiring design.
Pricing
The Headway app's pricing might be considered steep for some users at $89.99 per year. Nonetheless, considering the invaluable knowledge and growth potential it offers, it can be viewed as a worthy investment in personal development and growth. It is also worth mentioning that payments can be broken up into monthly and quarterly plans so you do not have to pay the full $89.99 at one time.
Headway also offers custom business plans so employers can help boost morale and corporate culture. If interested in business plans, please go to https://makeheadway.com/business/.
Conclusion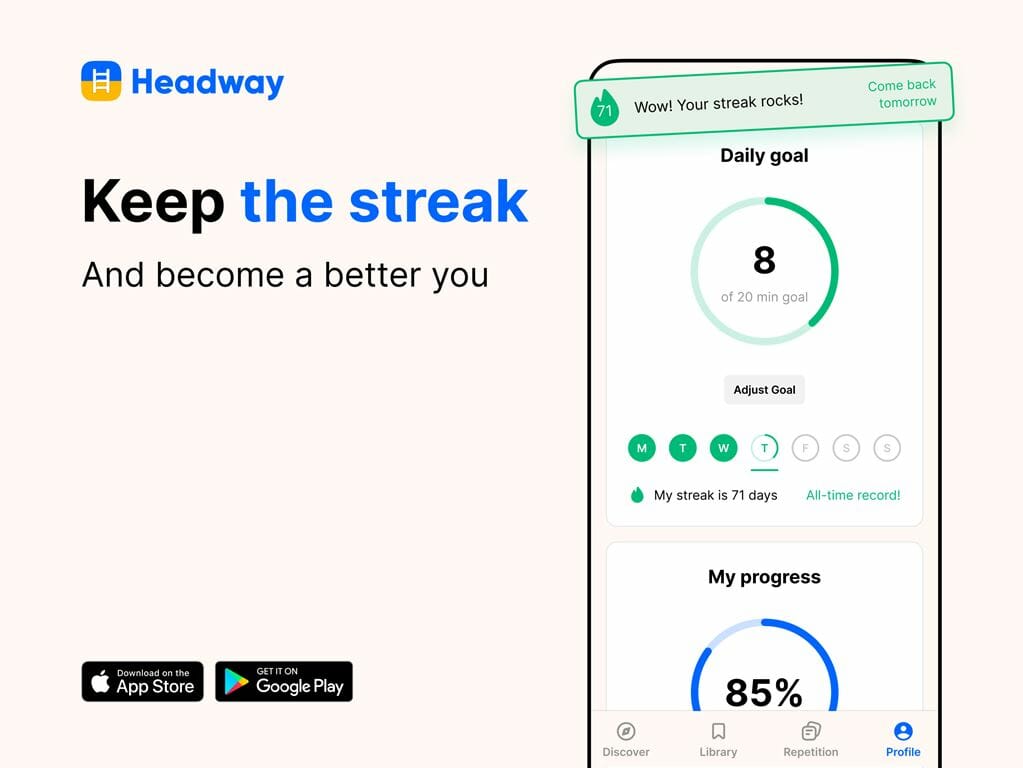 In conclusion, the Headway App stands out as a highly valuable tool for busy individuals seeking personal growth and self-improvement. With its extensive library of book summaries, engaging features, gamified learning approach, and user-friendly design, Headway offers a fun and accessible platform to cultivate knowledge and embark on a fulfilling journey of continuous learning. Whether you are looking to develop your career, enhance your relationships, or improve your overall well-being, Headway provides the means for fun and easy growth.