Introduction
The Zhiyun Fiveray M40 Fill Light is destined to be your new travel lighting solution. Its small and compact size is going to make it a great option to take with you wherever you go. However, don't let its size fool you, it is easily more powerful than some lights that are bigger in size.
The M40 is essentially a 40W pocket lamp that will brighten up anything you need it to. If complete brightness is not what you are after, it has a color adjustments range of 2700k-6200k. From white light to yellow, the M40 will save you a lot of time and hassle. It is rechargeable VIA an included USB-C cable and can even be mounted to a tripod for hands-free use.
Zhiyun Fiveray M40 Specifications
> Power: 40W
> Color temperature range: 2700K~6200K
> Number of lamp beads: 176, 88PCS cold light +88PCS warm light
> Power supply: Built-in lithium battery 2S/2600MAH
> Charging time: 1H50min, 12V/1.12A 13W, maximum support for 15W fast charge
> Duration: 29min
> Product size: 136.5*77.8*29 (W*D*H)
> Net weight: 320g
Availability: The Zhiyun Fiveray M40 Fill Light is currently available for just $99.00 from Vlogsfan.com.
Fiveray M40 Closer Look
On the front of the box, we have a couple of nice images. One is of the front and the other is of the rear of the light. These give a good indication to what the portable light actually looks like.
Getting things out of the box and there is the Fiveray M40 light, a manual, and a USB charging cable.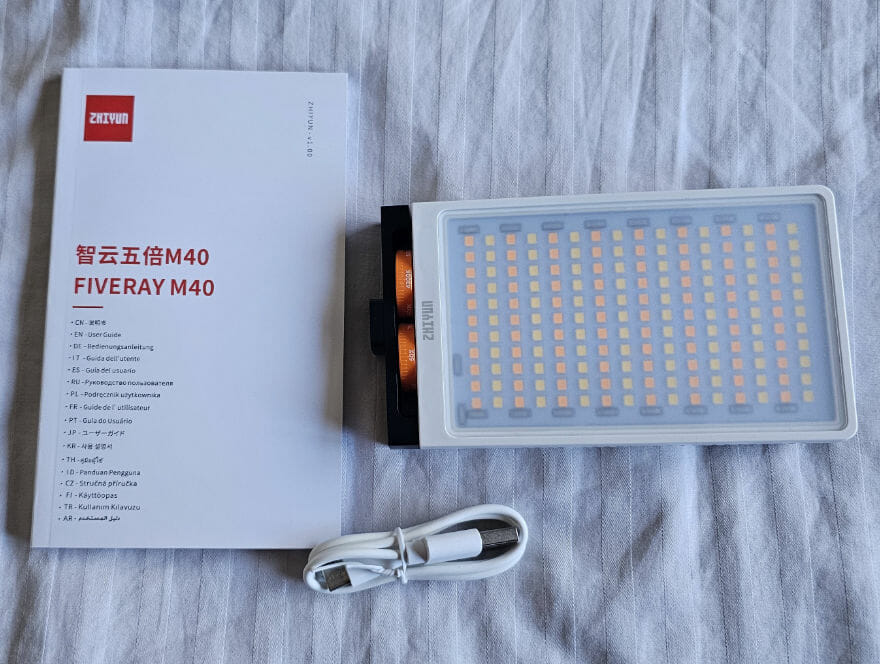 Taking a closer look and we can see the different LEDs which are going to allow us to go from yellow to white light. I also noticed just how many LEDs there are – 176 in total!
You will also notice the orange turn knobs. The top one is going to allow you to adjust the light's color from 2700k-6200k and the bottom turns it on and lets you set the brightness. Yes, you can actually dim the LEDs as well so you don't have to use them at full power all the time. Not only will this help with lighting, but the less power being used will also prolong how long the battery will last.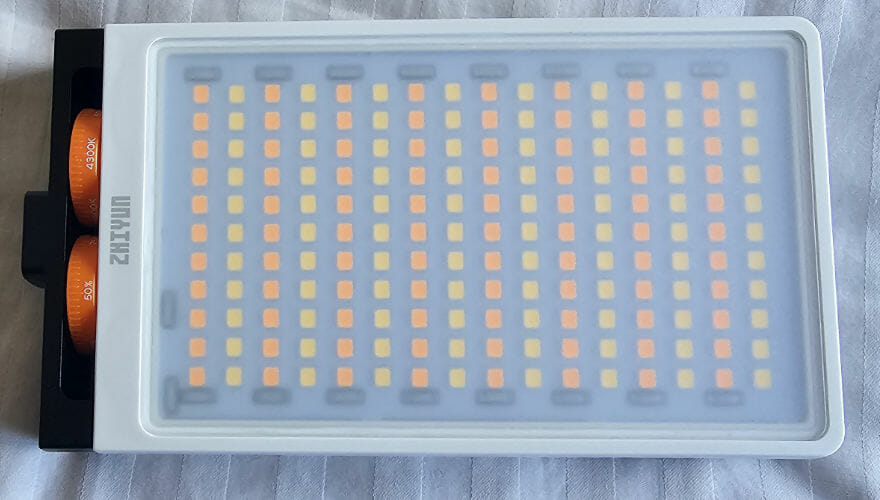 On the back, we can see some ventilation, this is for the internal fans that will help keep this cool when using it at full power. When using it at the 100% setting on either color, it will hit the 40W rated output. This will, after a short period of time require the fans to kick in to keep things cool and operating as intended.
There is some more ventilation to the side to ensure that the hot air has somewhere to dissipate to.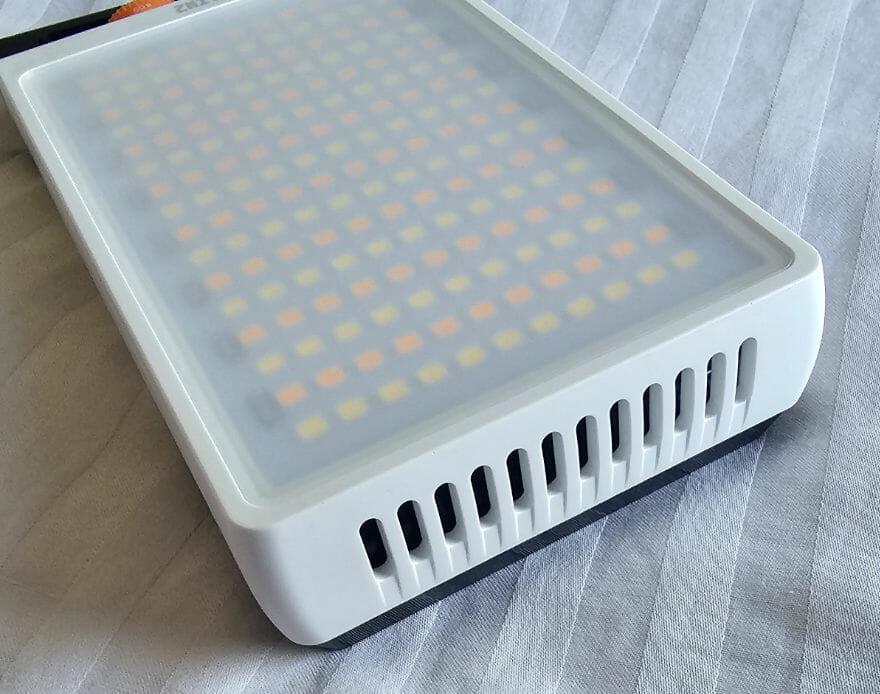 Moving this black bar on the side will reveal the charging port. You can also use this to mount the Zhiyun Fiveray M40 to a tripod for hands-free use.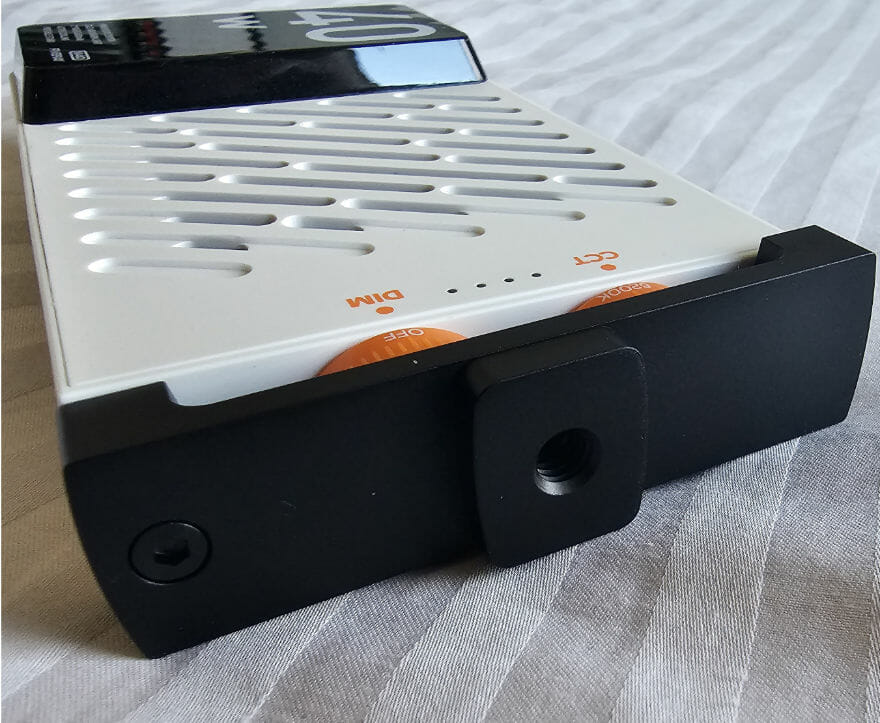 The below images really don't do it any justice but we have to include some sort of photos on the light on. As mentioned, this light is brighter than some that are bigger in size. I really was very impressed with the light.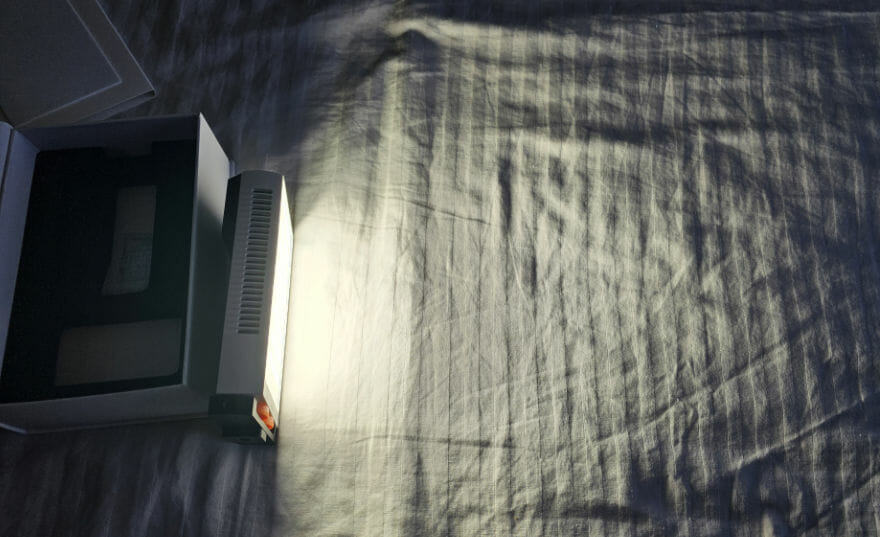 Conclusion
The Zhiyun Fiver M40 Fill Light is an adaptable light that will help you in any lowlight situation. It is easy to use and lasts hours from a single charge so anyone will be able to benefit from it.
Being able to easily switch from yellow to white and even change the overall brightness is great. I know it sounds like I have been paid for this review, but I can assure you I have not. I am really just amazed by what the M40 has to offer. It has become my new go-to portable light and always finds its way into my bag whether I am planning on taking photos/videos or not.
Coming in at just shy of $100, the M40 isn't the cheapest of lights out there. This is not an issue as the performance it offers outweighs many other lights, cheaper and of similar prices. Should you decide to purchase one, I have a good feeling that the M40 will find its way into your day-to-day tech items as well, as it really is just that good.
At the end of the day, I was not expecting much but I was pleasantly surprised and as such, this is going to be awarded our Must Have award. This light has become a daily part of my life and I use it for all my reviews now here at Enos Tech.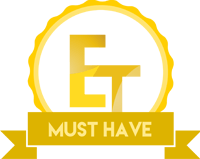 Availability: The Zhiyun Fiveray M40 Fill Light is currently available for just $99.00 from Vlogsfan.com.