The Alphacool Eisblock Aurora Acryl GPX GPU water cooler is now available for Asus Geforce RTX 3080/3090 Turbo graphics cards.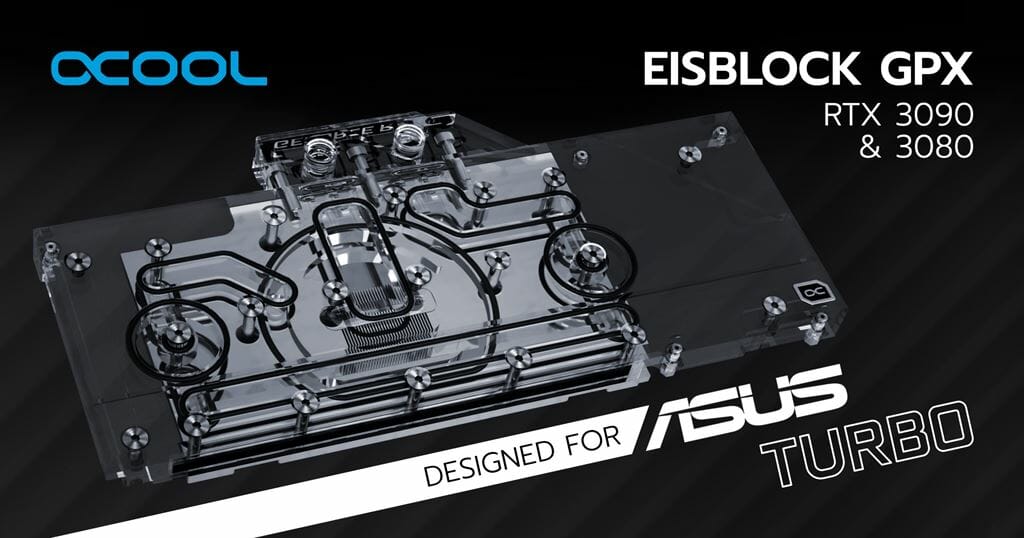 More performance! To gain more cooling performance, the cooler was made to sit closer to the components that need to be cooled. Alphacool also uses thinner yet more effective thermal pads. Additionally, the thickness of the nickel-plated copper block has been reduced from 7mm to 5.5mm and the water flow within the heat sink has been optimized. The result of this development process is that all important components such as voltage converters and V-RAM are cooled much better and more effectively by the water, leading to a significant increase in performance.
Fresh design! The EisBlock Aurora Acrylic GPX cooler has been fundamentally designed to focus more on lighting than previous models. The addressable digital RGB LEDs are embedded directly into the cooling block. The lighting illuminates the entire cooling block and thus gives the cooler a very unique visual touch.
Alphacool Eisblock Aurora Acryl GPX-N RTX 3080/3090 Turbo with Backplate
Technical Data cooler

L x W x H

266,65 x 122,4 x 24,35 mm 

Material cooler

Nickle-plated copper

Material cooler top

acrylic

Threads

4 x G1/4"

Thickness cooling fins

0,6 mm

Illumination

Digital RGB LEDs

Power connector Digital RGB LEDs 

3-Pin JST

Power Digital RGB LEDs 

5V

Technical Data backplate

L x W x H

266,65 x 97,6 x 6 mm 

Material

Aluminium

Color

Black
Compatibility:
– ASUS Turbo GeForce RTX 3080 10GB (TURBO-RTX3080-10G)
– ASUS Turbo GeForce RTX 3080 V2 10GB (TURBO-RTX3080-10G-V2)
– ASUS Turbo GeForce RTX 3090 (90YV0FK0-M0NB00)

MSRP: 149,99 €