As scheduled, BOOX is thrilled to today announce the launch of the BOOX Note Air3  C and the BOOX Tab Ultra C Pro, accompanied by the latest, best-in-class BOOX firmware V3.5.
BOOX Note Air3 C
The Note Air3 C color e-ink notebook and versatile e-reader continues the classic design of the Note Air series while upgrading the screen to feature a 300ppi black and white display alongside a 150ppi color Kaleido3 screen, which is the latest and most advanced ePaper color screen. With the new addition of a handwriting film and an ultra-thin glass panel, users can enjoy a paper-like reading and writing experience that is gentle on the eyes and boasts a unique blend of modern technology and traditional comfort.
In contrast to traditional Kindle devices, the Note Air3 C features a full-color display. This allows users to better comprehend content, read with ease, and make insightful annotations. The device's Android open system unlocks a world of possibilities with access to third-party apps and resources, providing flexibility and customization to each and every creative's specific needs.
BOOX Tab Ultra C Pro
The Tab Ultra C Pro powerful e-ink workstation is equipped with a Qualcomm 2.8GHz Octa-core CPU, a 16MP camera with LED flash, and 6GB+128GB of storage with a MicroSD card slot. Designed as a productivity tool, users can achieve the most flexible e-ink workflow experience with the accompanying Magnetic Keyboard with a built-in trackpad.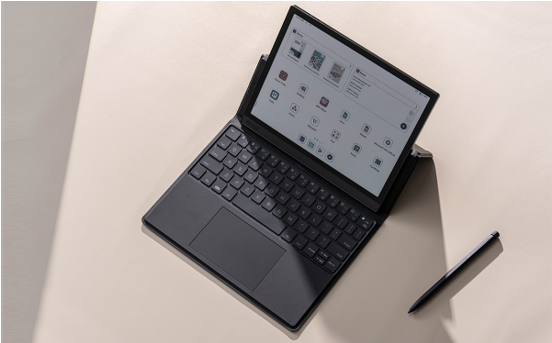 With enhanced BSR technology powered by an advanced 8-core processor, the workstation is capable of reaching speeds of up to 2.8GHz, boosting productivity and efficiency to the highest level. Additionally, 4 refresh modes are available, enabling users to customize the speed and performance based on their individual requirements.
Equipped with advanced note-taking features like split-screen multitasking, note conversion, and more, it's never been easier to capture important information, organize ideas, highlight, annotate, and mark up documents.
Firmware V3.5
SmartScribe: In the newly released V3.5 firmware, users can annotate books with handwritten notes and effortlessly convert those scribbles into perfect shapes, highlights, underlines, and even erase their handwriting using the SmartScribe feature.
Display Optimization: Furthermore, we have optimized the Eink display, introducing display enhancement modes for the Tab series and Palma to thoroughly eliminate ghosting in fast swipe mode. We've also introduced a high-contrast mode for multimedia content reading, providing users with crisper and clearer content.
Enhanced Note System: Users can now easily navigate through multiple note links with a long press, revealing all link connections, making note-taking and organization more efficient than ever before.
Prices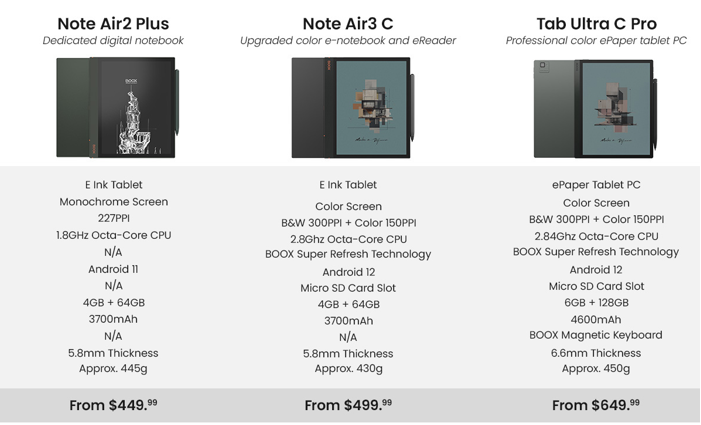 The BOOX Note Air3 is available from the BOOX website with an RRP of $499.99, while the BOOX Tab Ultra C Pro is available at the price of $649.99.