The Sabrent USB Type-C to Dual HDMI and DisplayPort Adapter allows you to extend or mirror your primary display with up to three additional screens through a single USB Type-C port.1, 2 Greater screen real estate means enhanced productivity, removing display limitations of portable devices like laptops/ultrabooks and Other portable devices, like the Steam Deck, can also benefit. However, the adapter only works with USB-C ports that support the DP Alternate Mode (DP Alt Mode).
This adapter is designed to be portable and rugged, constructed out of heat-dissipating aluminum with a slim profile and detachable USB Type-C to Type-C cable. No external power supply is required, making it even more convenient to take it anywhere. Just plug in your devices and enjoy up to 8K@60Hz with DP1.4/DP++, two 4K@60Hz displays with an additional HDMI 2.0b, or up to three displays in various resolution modes at 4K@30Hz or less with both HDMI ports.4 Don't limit your potential by using just one screen!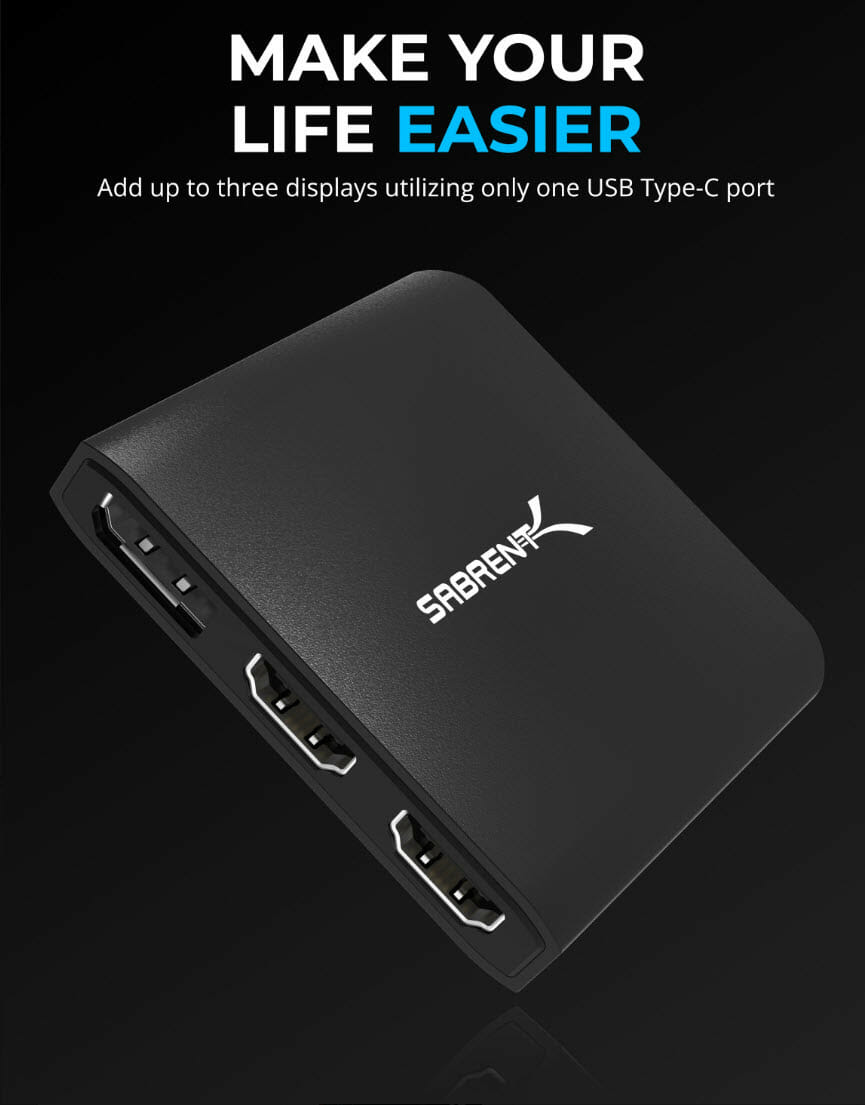 PORTABLE AND DURABLE: Compact – measuring in at a slim 2.8oz (80g) and using a detachable cable, this display adapter is made to travel. The aluminum construction is lightweight and rugged and aids with heat dissipation during extended use.
1. Thunderbolt 3 for maximum bandwidth. Compatible USB-C 10 Gbps ports will be more limited.
2. Only mirror mode is supported on macOS devices.
3. Windows 10+ and macOS 10.6+ are natively compatible.
4. Display modes are restricted based on port bandwidth and device capabilities.
DISPLAY EVERYTHING: You can add up to three displays with just one USB Type-C port. Supports 4K HDR and HDCP 2.2. DP1.4/DP++ & HDMI 2.0b. Extend, and mirror modes are supported, depending on the platform. A panoramic mode is supported with AMD Eyefinity, NVIDIA Surround, or Intel Collage with capable hardware.
COMPATIBLE: Works with any Thunderbolt 3 or USB-C (Type-C) port capable of DisplayPort Alternate Mode (DP Alt Mode). Windows 10+ is recommended, and macOS 10.6+ are supported. Mirror mode is only for macOS.
WIDE VIEW: Enjoy resolutions of up to 8K@30Hz with one DP++ display, two displays at up to 4K@60Hz (one DP++ and one HDMI), or three displays at up 4K@30Hz or less in various combinations for single DP++ and dual HDMI. Configuration limited by port bandwidth. 10Gbps USB-C limited to maximum 4K@30 and 2x2K@30.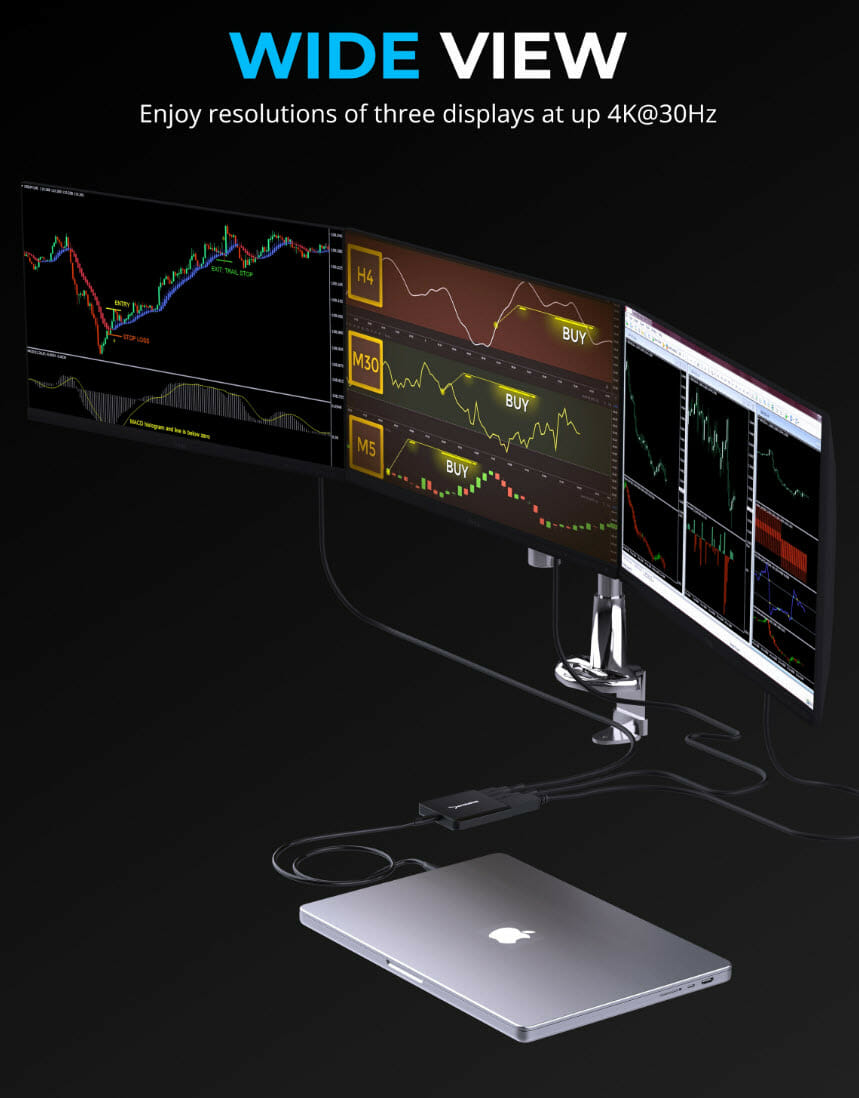 PACKAGED SIMPLY: The USB Type-C to Dual HDMI and DisplayPort adapter is ready to go out of the box, requiring no external power adapter. A USB Type-C to Type-C cable is included for your convenience.
The SABRENT USB Type-C to x2 HDMI and x1 DisplayPort Adapter (DA-H2D1) is available on Amazon NOW.