Today, we will be taking a look at the TESORO GRAM Spectrum RGB Mechanical Gaming Keyboard. It seems these days, that picking the right peripheral for your needs can almost be somewhat of a daunting task. Fear not, though, as this just means there is probably quite a few more choices than you may have ever thought possible. When it comes to keyboards, mechanical switches are king and there are now many different varieties of them. No longer are the days of just CHERRY and even Kailh switches. Now, a lot of companies have taken it a step further and even designed their own switches, which TESORO has done with their GRAM Spectrum that we are looking at here today. Not only are there a load of different switch types, each type also comes in a few different colours to help give users as much choice possible.
Manufacturer: Tesoro
Product Page: GRAM Spectrum
Purchase: $139.99 on Newegg.com
The TESORO Gram Spectrum RGB features a 32bit Arm CPU and 512kb of onboard memory so you can actually save your profiles right to the keyboard itself. Also coming equipped with a 1000Hz polling rate, full N-Key / 6-Key rollover and a 16.8M RGB colour spectrum for the backlighting, the Gram is definitely designed with gamers in mind. Coming equipped with TESORO's own Gaming Grade mechanical switch and low-profile keys, the GRAM is also a joy to use for daily tasks. It's also worth noting that while the Gram is designed as a gaming keyboard, it doesn't feature all the over the top gimmicky features. TESORO have decided to keep it more of a standard shape and size and have also offered a great software suite to accompany so users can customize things to their needs.
Specification
| | |
| --- | --- |
| Color | Black/ White |
| Processor | 32bit ARM Cortex Premium |
| Memory | 512KB (4Mb) Onboard Memory |
| Switch | Gaming Grade |
| Key lifespan | 60 million keystrokes |
| Material | Plastic/ Iron |
| Ultra-polling Rate | 1000Hz |
| Connection | USB |
| Key Rollover | Full N-Key / 6 Key Rollover |
| Backlit | 16.8M RGB color |
| Lighting Effects | Yes |
| Special keys | Keyboard lock, Reset Hotkey, Instant Macro Recording, Instant Profile Switch |
| Multimedia Keys | 6 |
| Cable | 1.8 meters, braided, detachable |
| Weight | Keyboard: 1.05kg |
| Dimensions | Keyboard: 445x136x24.5mm |
The outside of the packaging keeps things nice and simple as well. It's actually nice to see a box that isn't crammed with loads of written information. Instead, TESORO has added more images to the box that highlight its features rather than going into an in depth description of them all. On the back of the box, users can still get a bit more information regarding the gaming grade switches, lighting effects and the overall customization of the Gram Spectrum RGB.
As mentioned, the Gram looks like a fairly standard keyboard. It's not until you start getting into all its features and see the customization it has to offer that you appreciate it as a gaming keyboard. While this is a full-size keyboard, there aren't any extra macro or media buttons. Instead, the media keys have been combined with the F-keys which still provide easy access.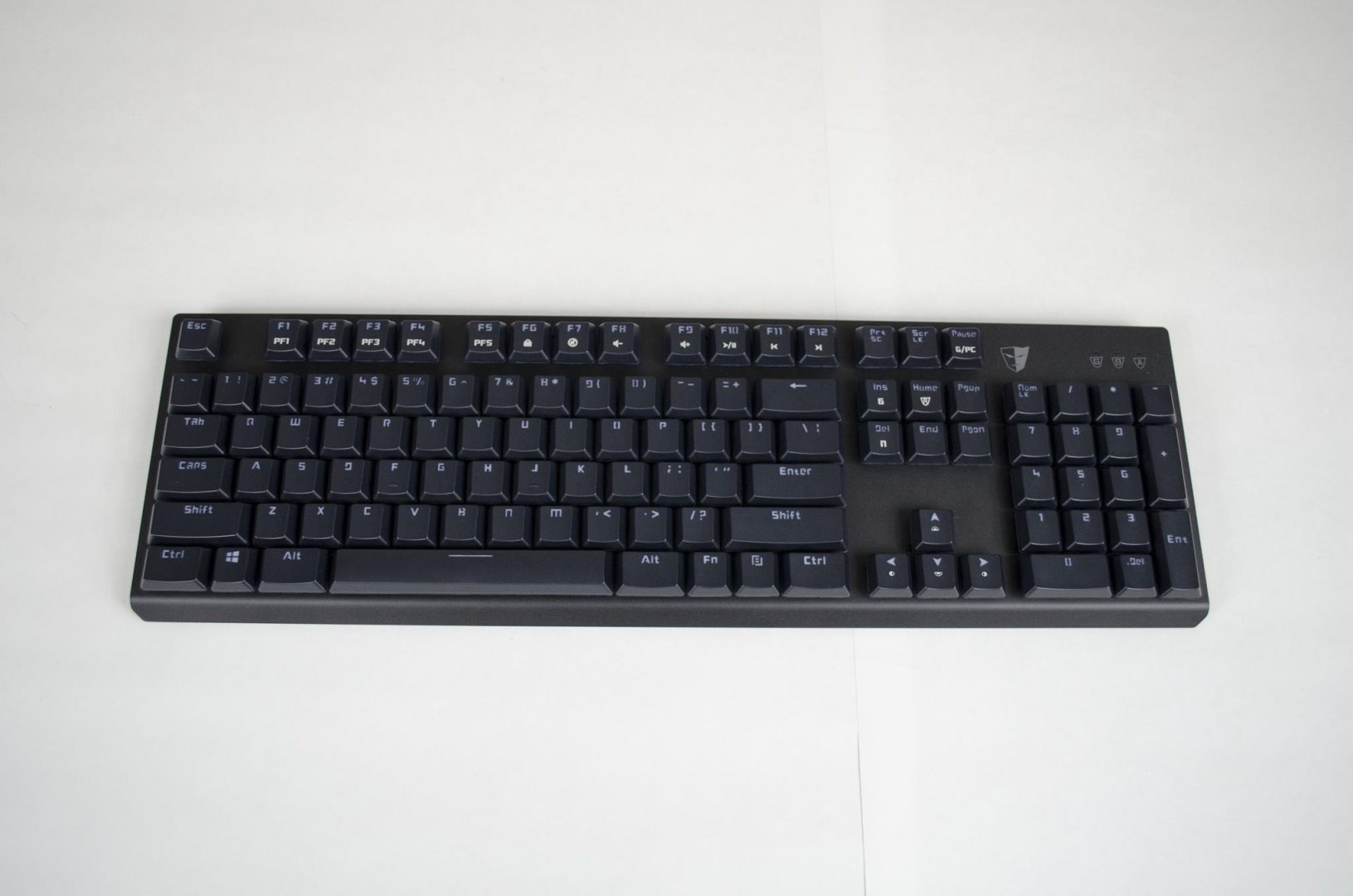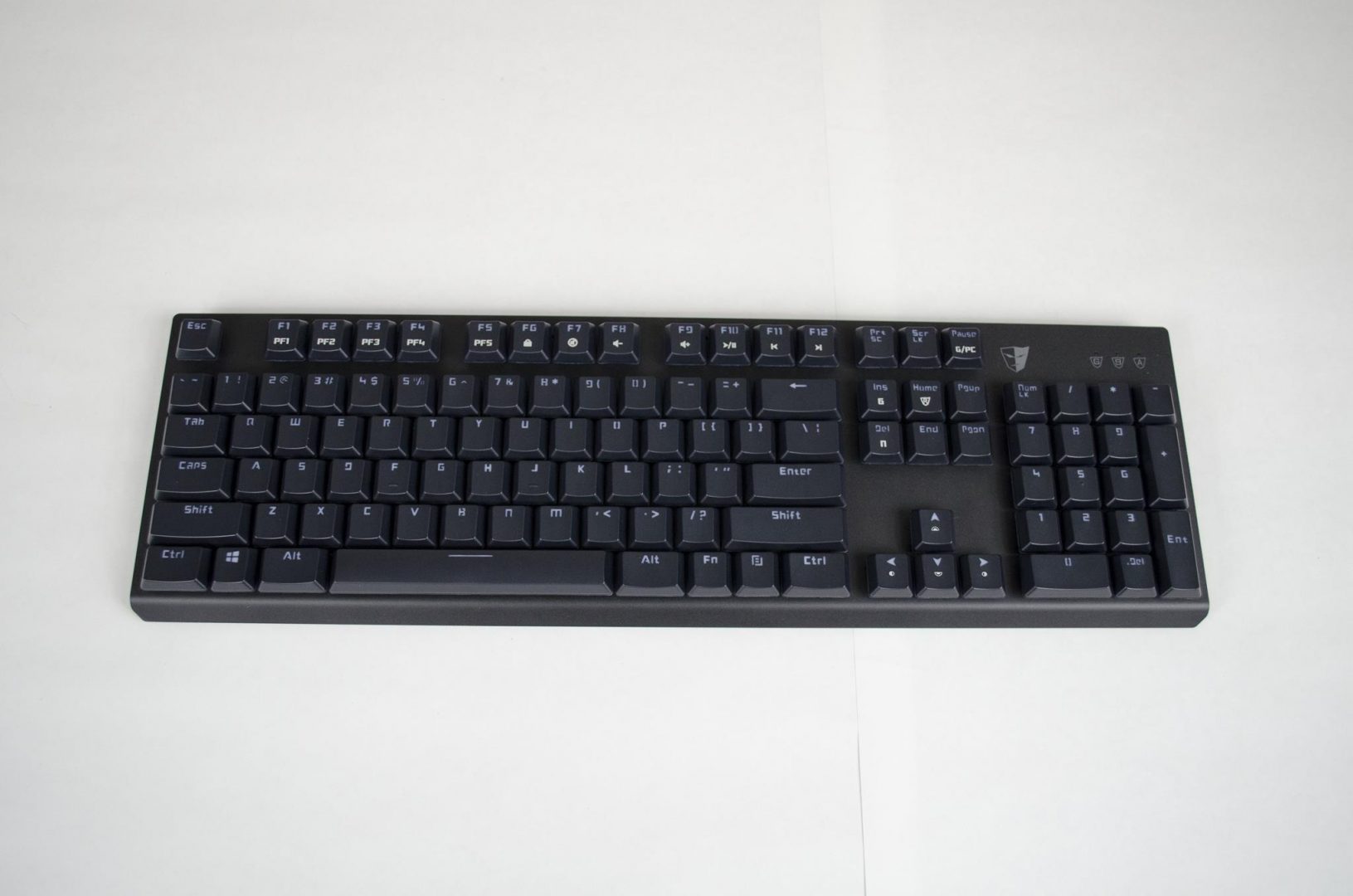 The F-keys are not only combined with media keys, they can also be used to switch between profiles that have been saved to the on-board memory of the Gram. All the keys on the Gram Spectrum can be fully customized so being able to have multiple onboard profiles will come in handy for those who frequently like to play different classes or even different games.
As far as branding does, there is a small Tesoro face logo just above the num pad. While I am all for a bit of branding, I do like it when companies keep it simple, such as adding a small logo somewhere on the product.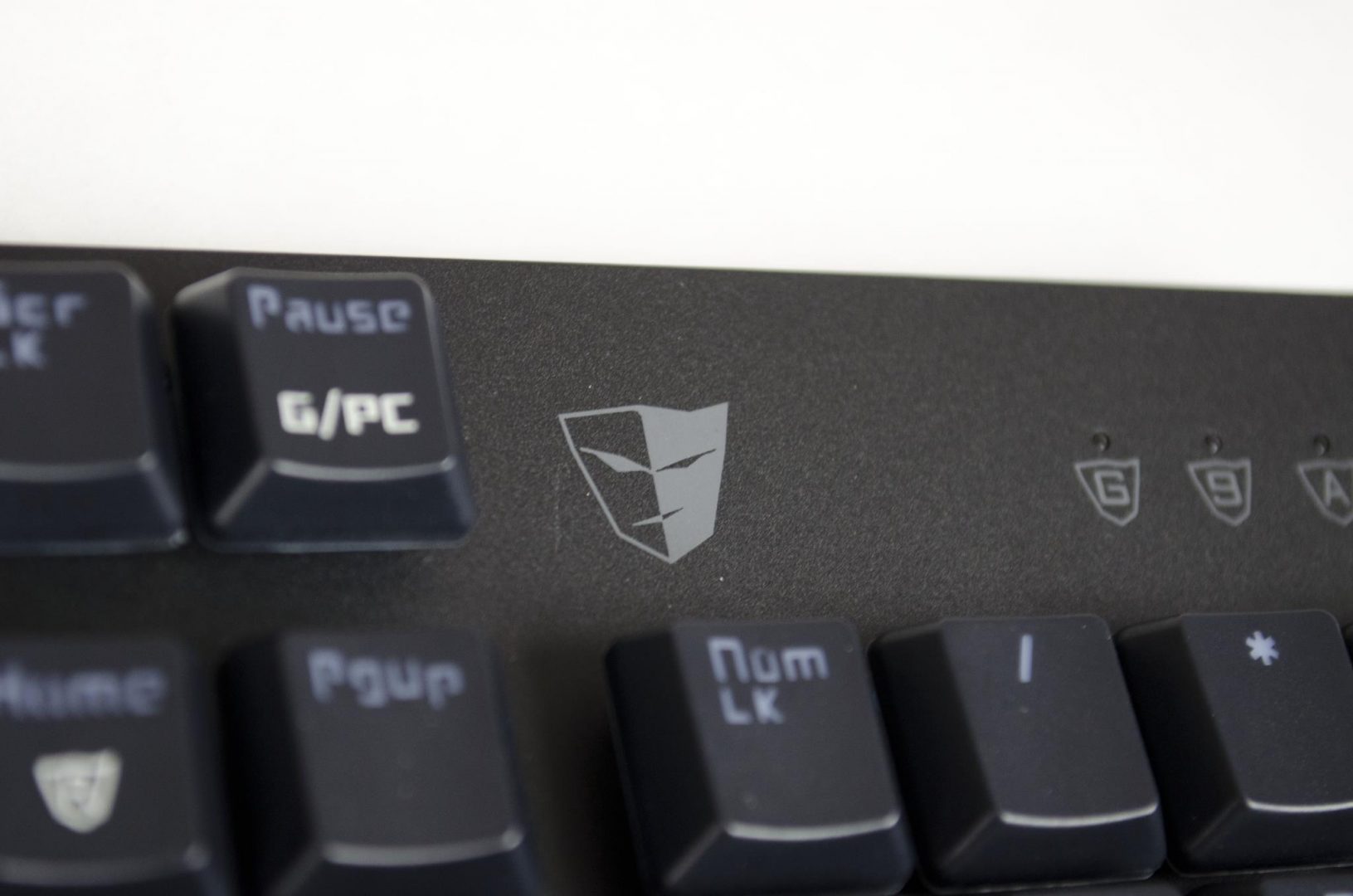 As we can also see, quite a few of the keys also have secondary functions set to them as standard. This just allows users to get the most from the keyboard without Tesoro having to add in a load of extra buttons and making it bigger than it really needs to be.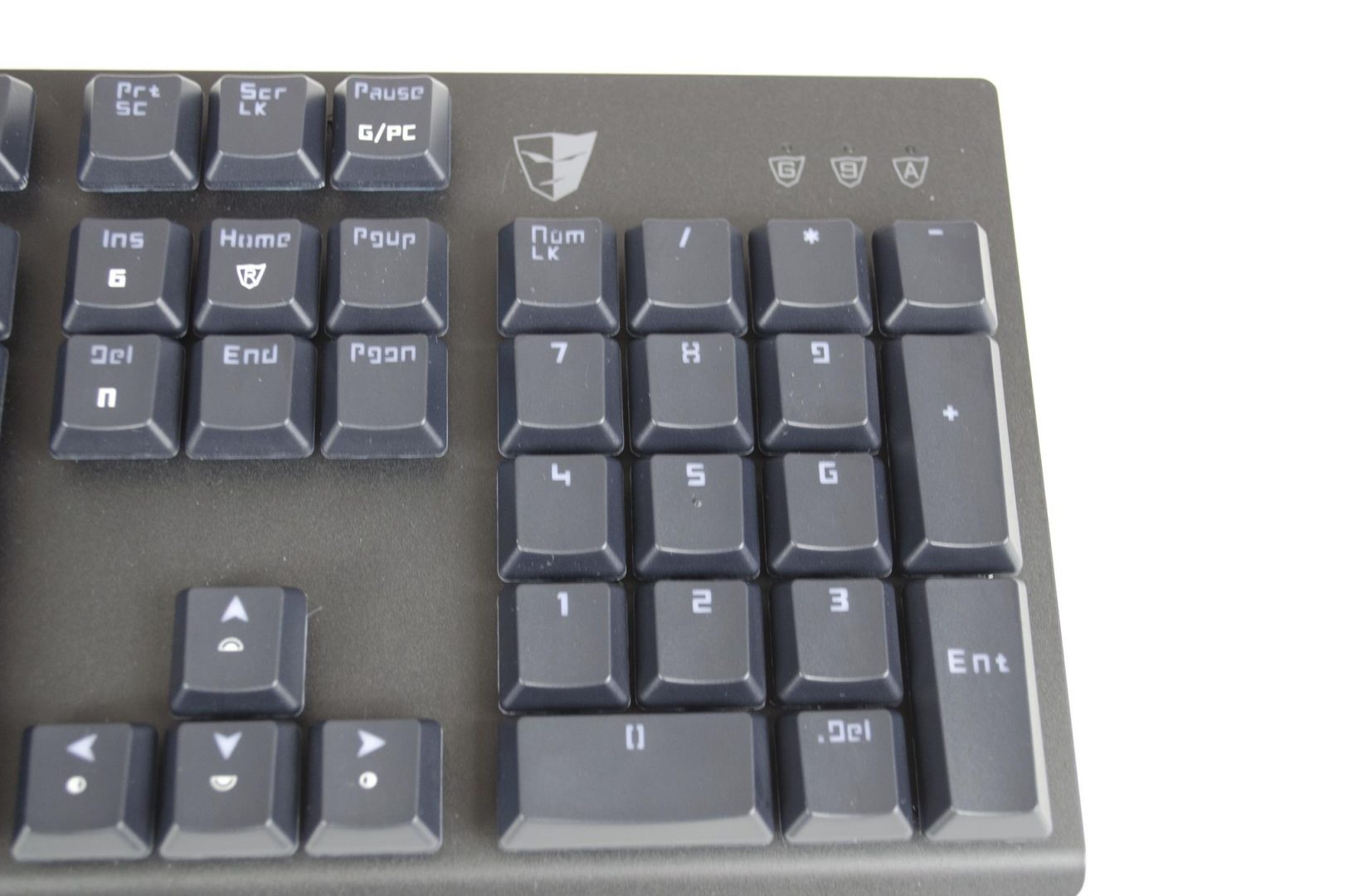 The low-profile keys really do look nice and Tesoro has designed the switches so that they don't have to travel as far before actuation. In theory, this means one should be able to type faster and getter better response times from key presses while in-game as the key doesn't have to be pushed down as far before it responds.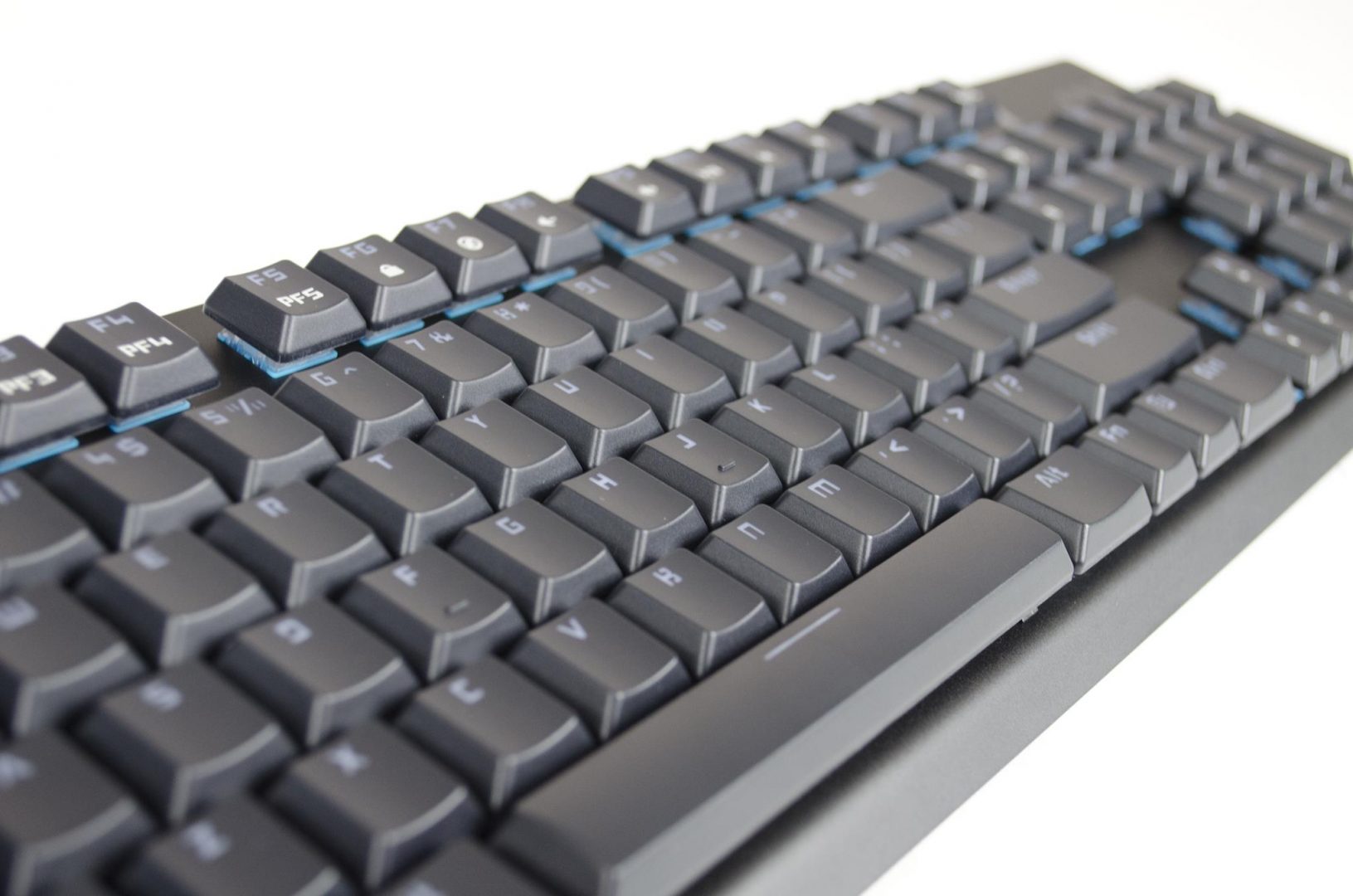 Another thing that I have come quite fond off over the past year is removable USB cables on keyboards. This just offers a more tidy feel to it and definitely helps to make it more portable should you need to completely unplug and move your keyboard regularly.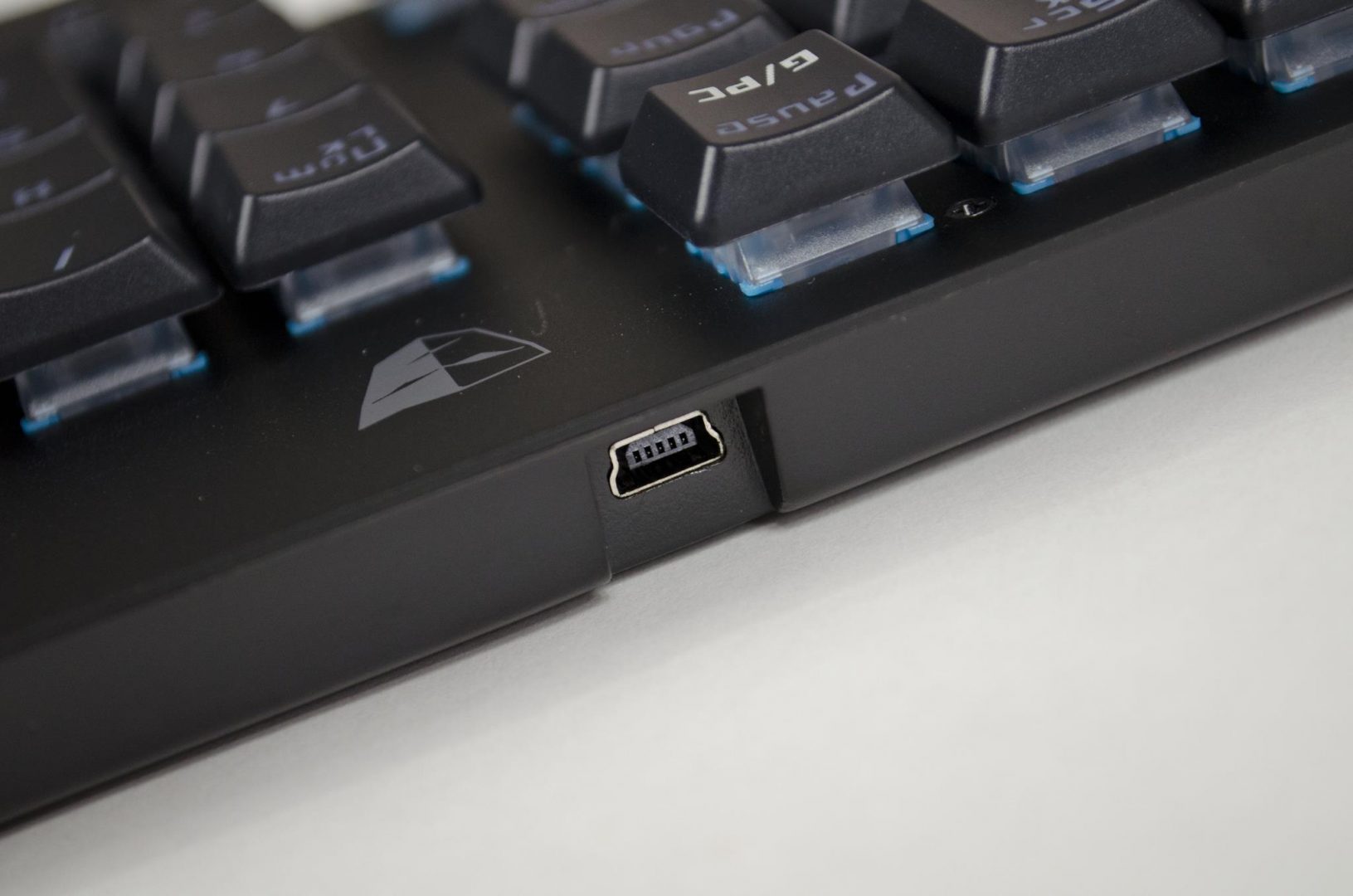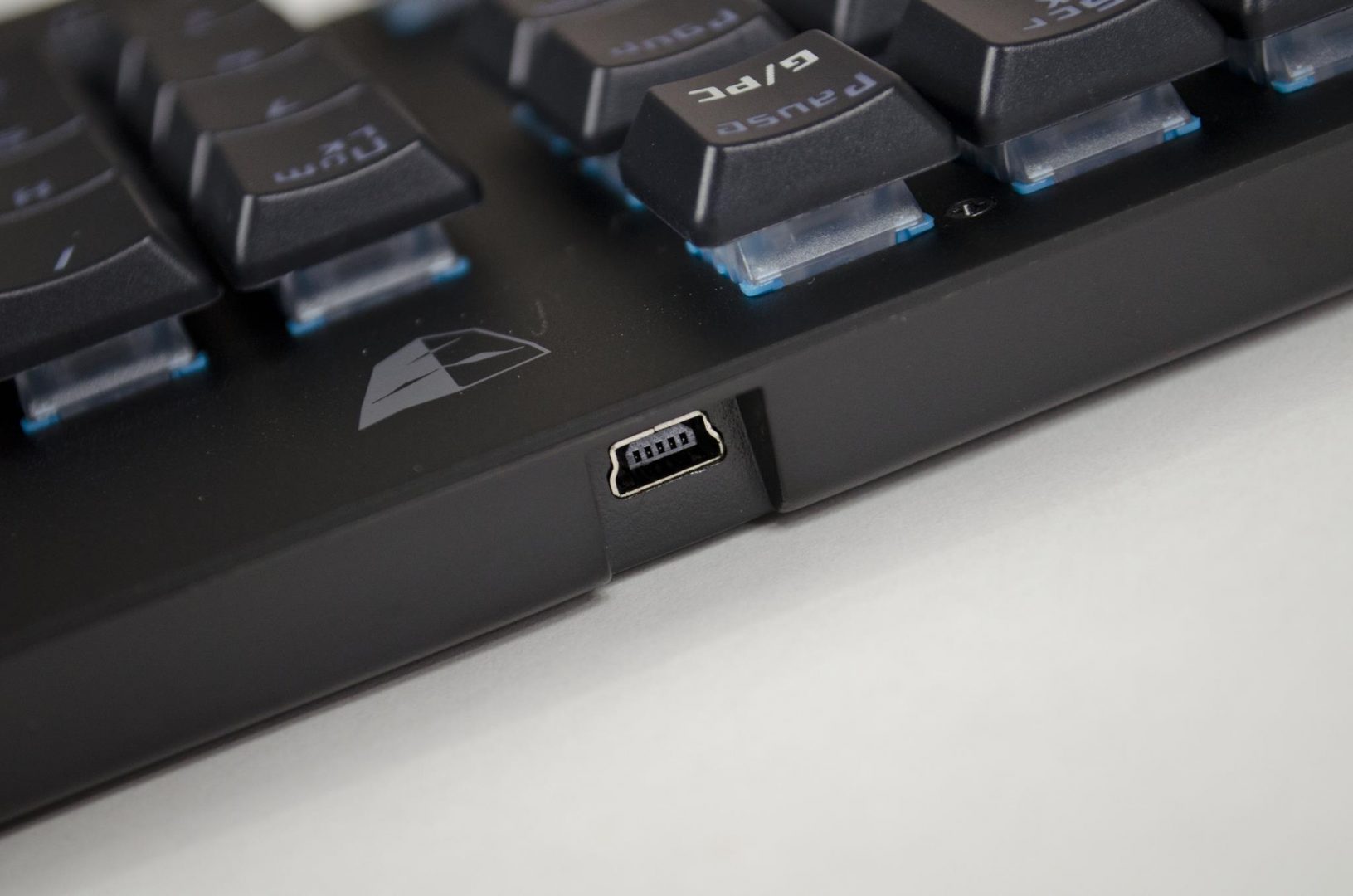 The underside of the keyboard is also kept quite clean as you may have already imagined it would be. There are a couple of feet you can flip up to help with ergonomics and that is about it aside from the sticker in the middle that has all the technical information it.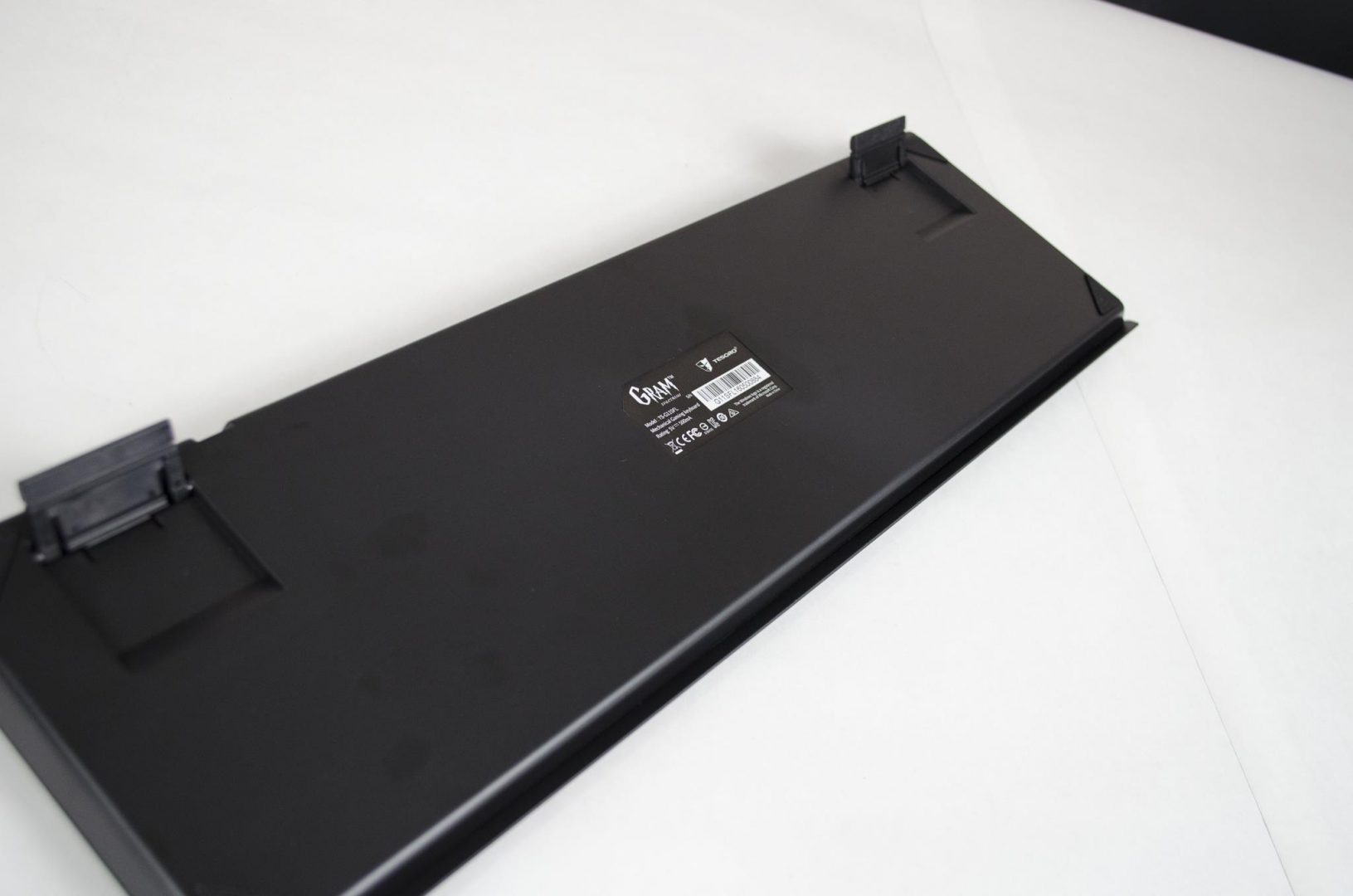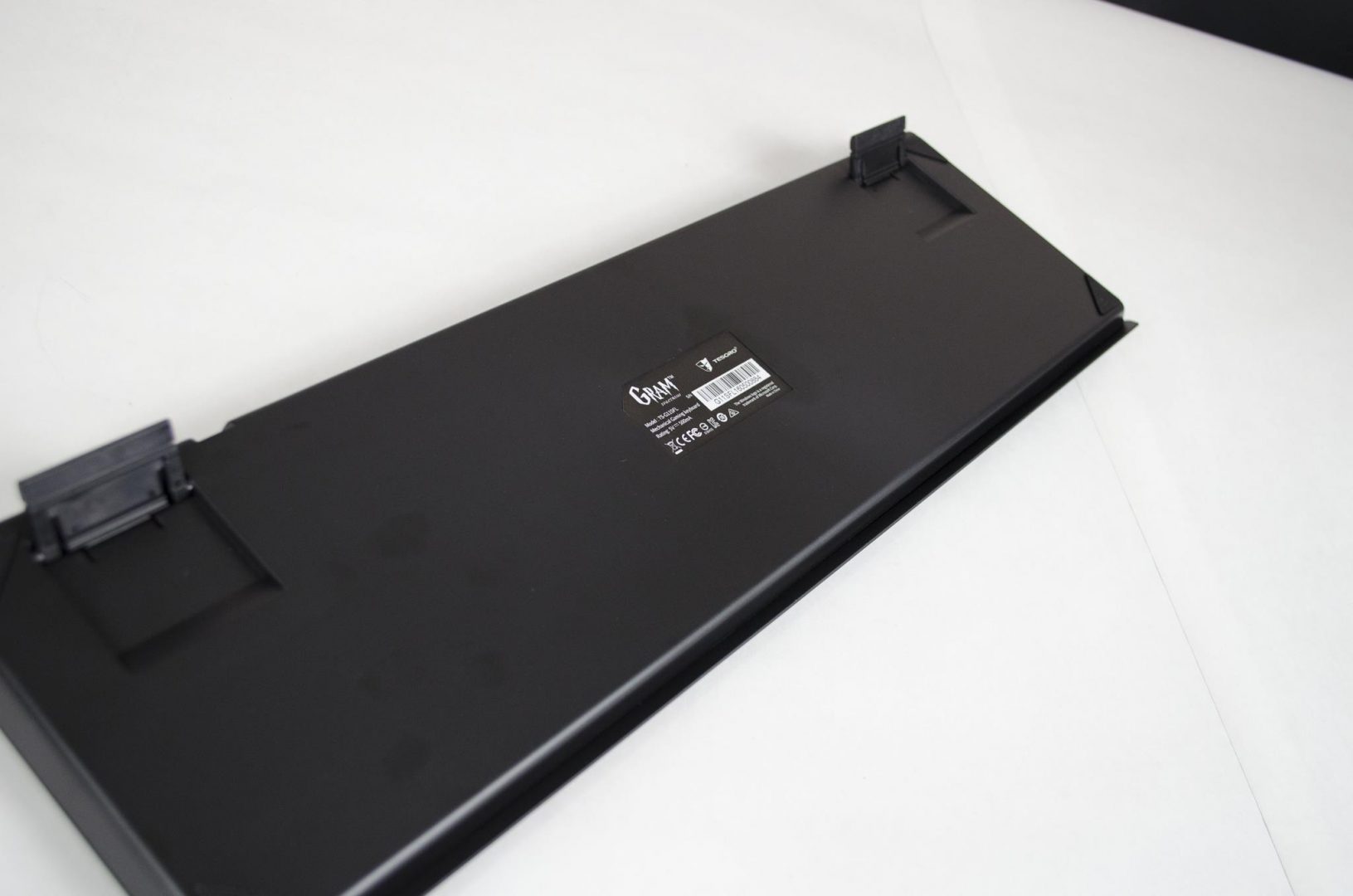 Taking our first proper look at Tesoro's new AGILE switch, you can see that it is mostly clear with a blue edge going around the bottom of it. The clear base will help the LEDs illuminate better and offer those looking to make full use of the RGB lighting the best experience possible.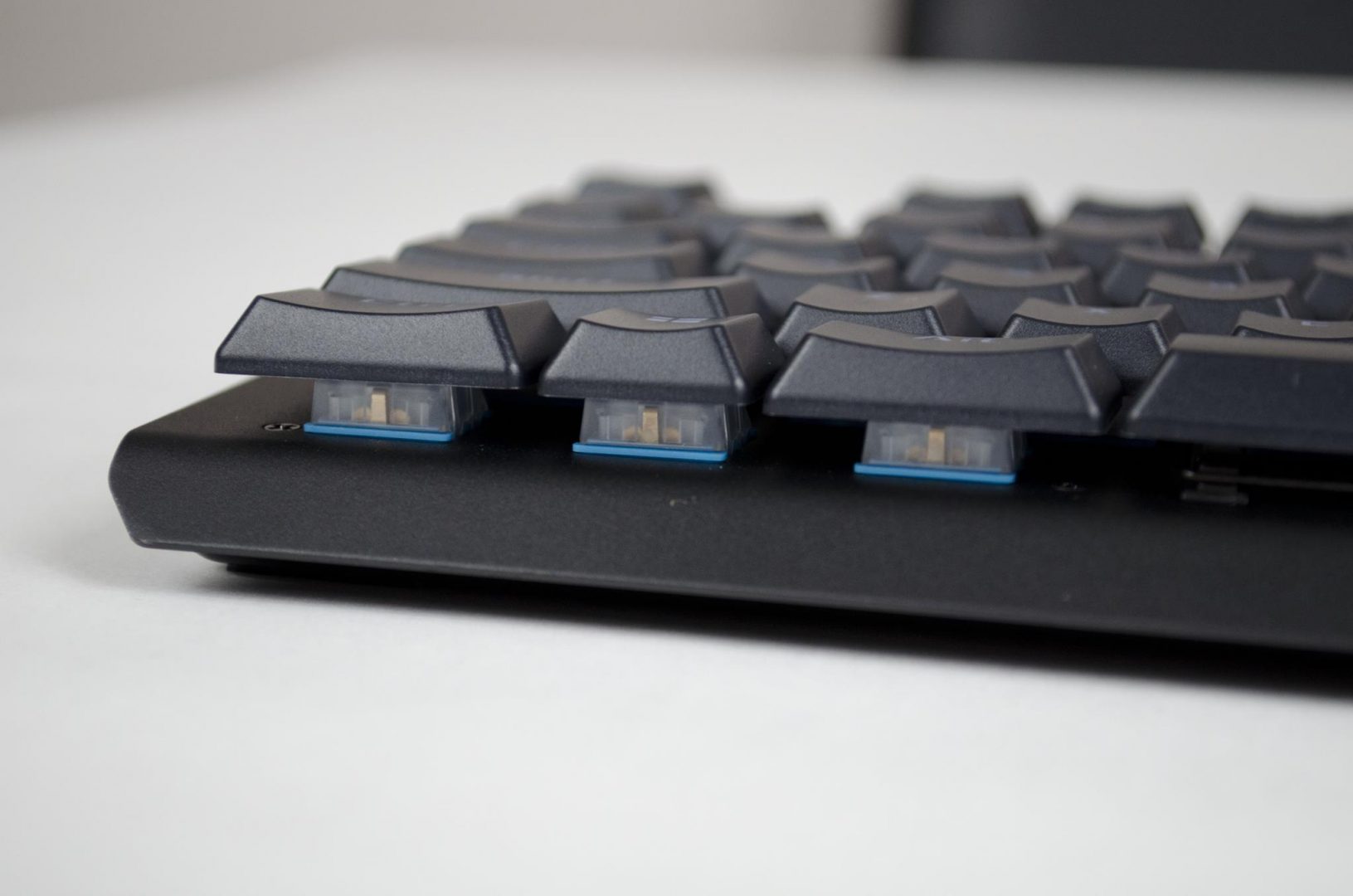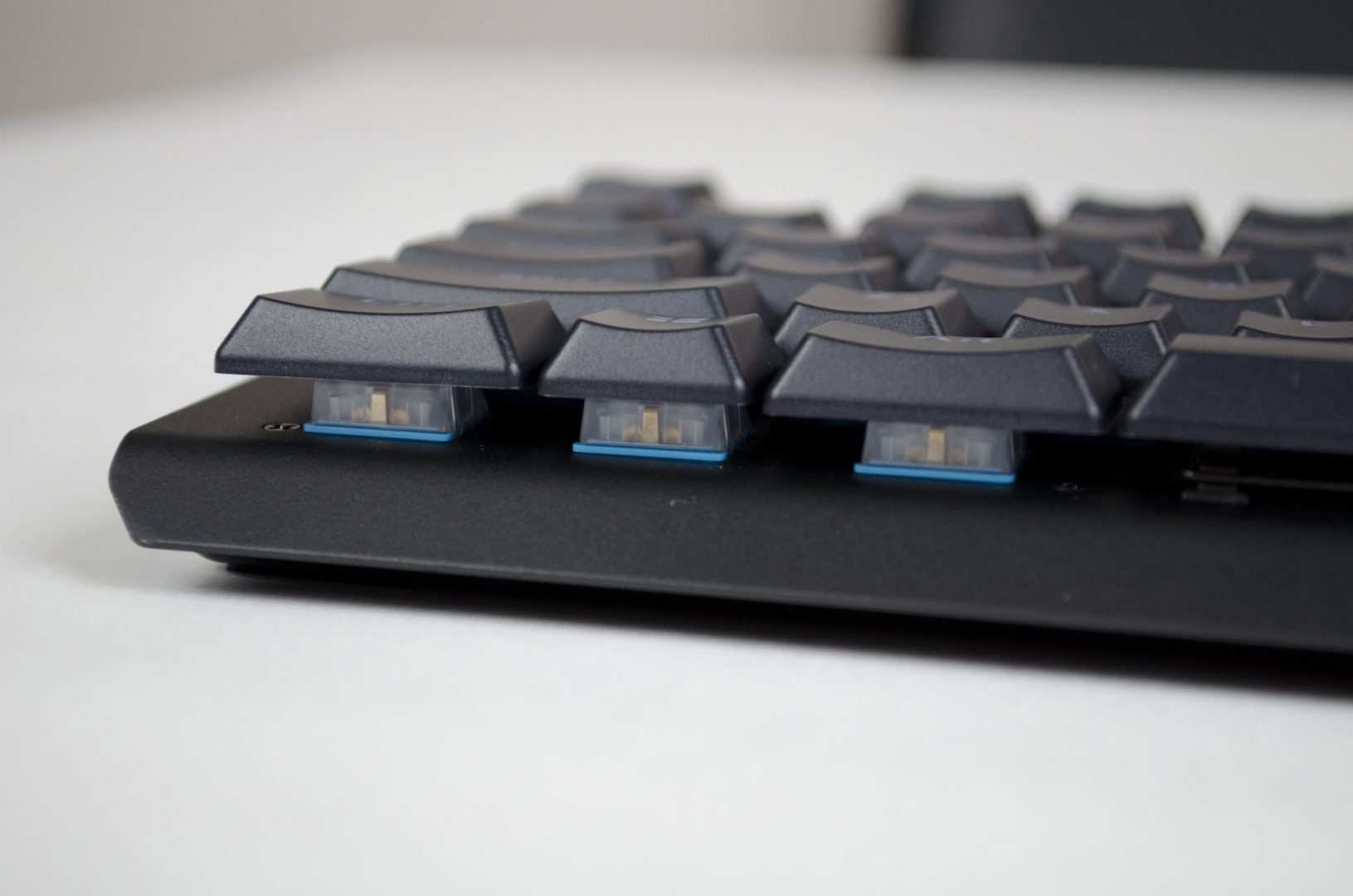 While this is definitely Tesoro's new Agile switch, it looks very reminiscent of the Cherry MX switch, which actually bodes well for Tesoro. Offering a similar switch to the Cherry MX will allow users further customization in the form of unique and custom key caps. Cherry MX is the original and most well-known switch type so offering the same cross-style stem so users can easily change key caps is a very smart move.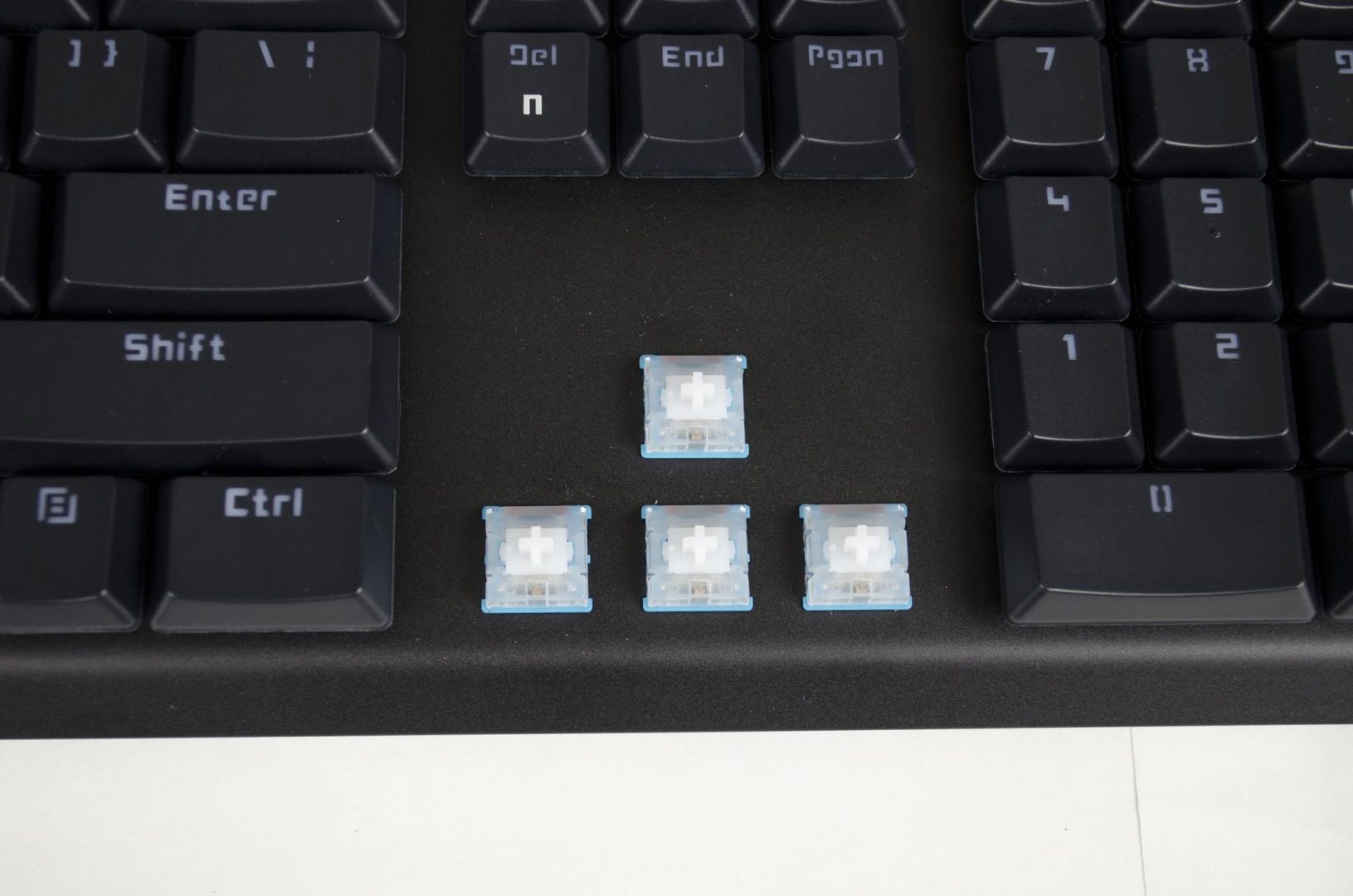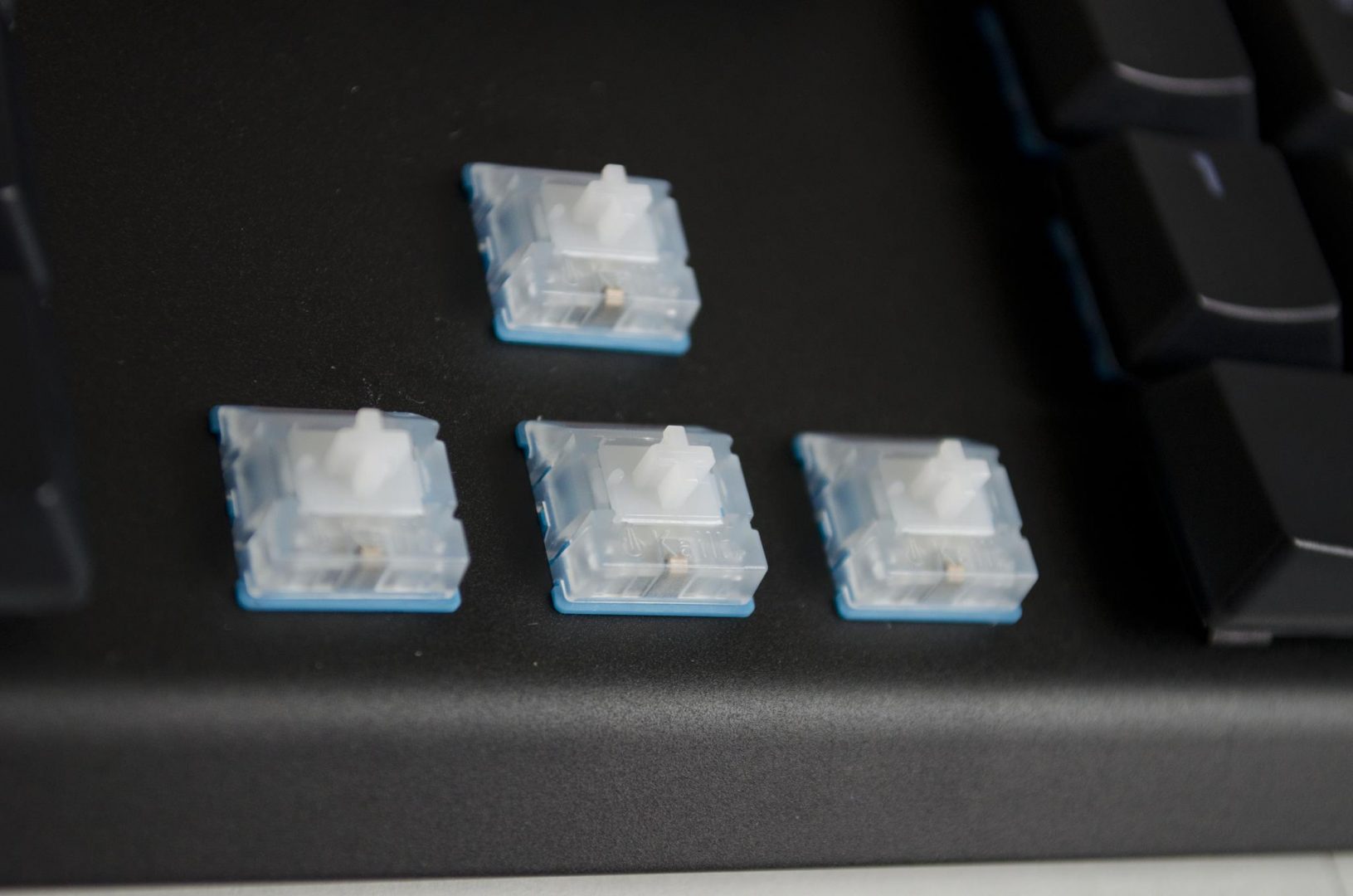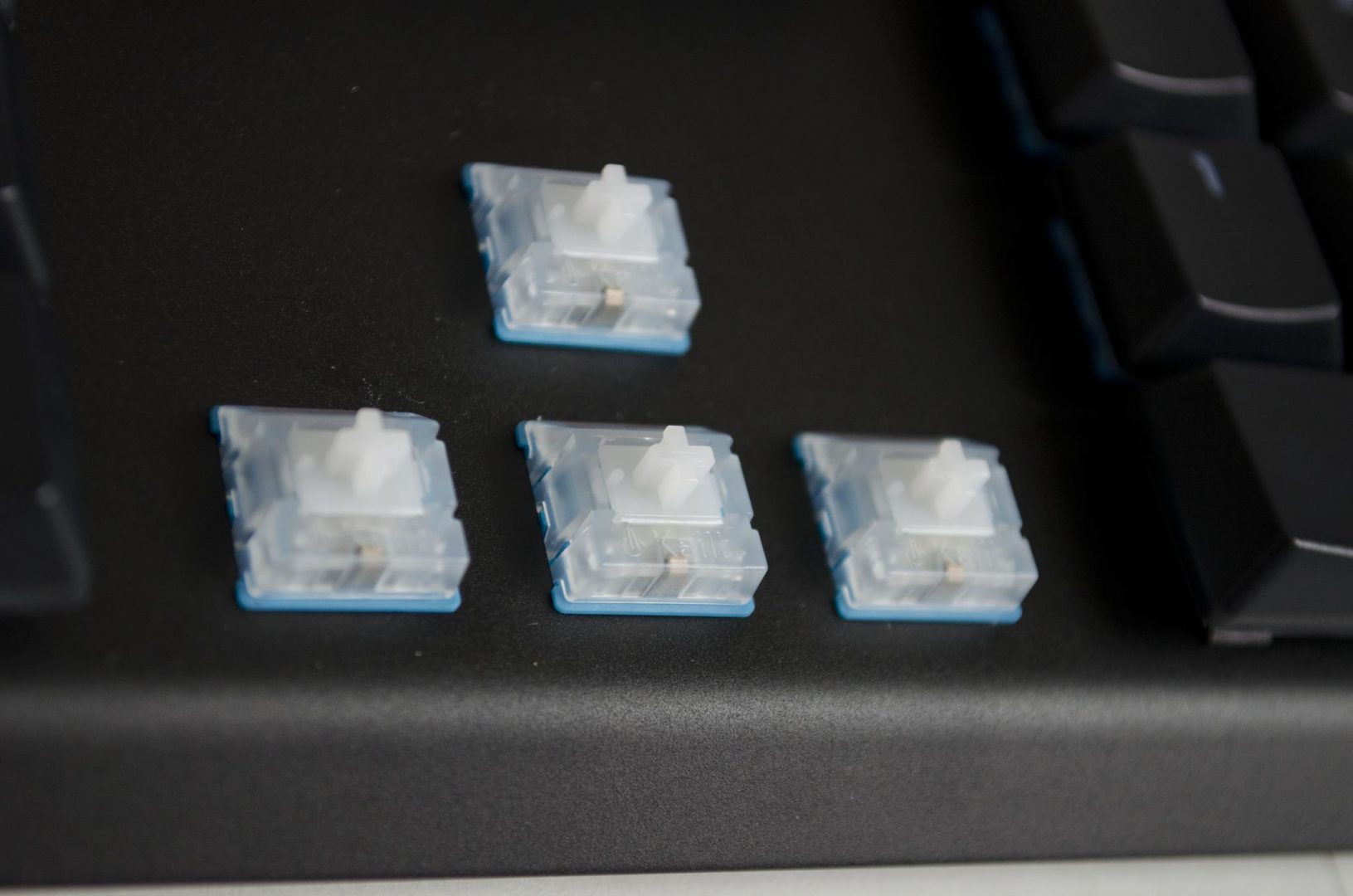 RGB LEDs have sort of become the go-to thing these days as it allows users to choose which colour backlighting they want. In the past, users would be stuck with one colour backlighting, or maybe 3 colours but now, users can choose between almost any colour they like thanks to the inclusion of RGB LEDs. While some may say it's just a gimmick, it does serve a purpose and is a crowd favourite.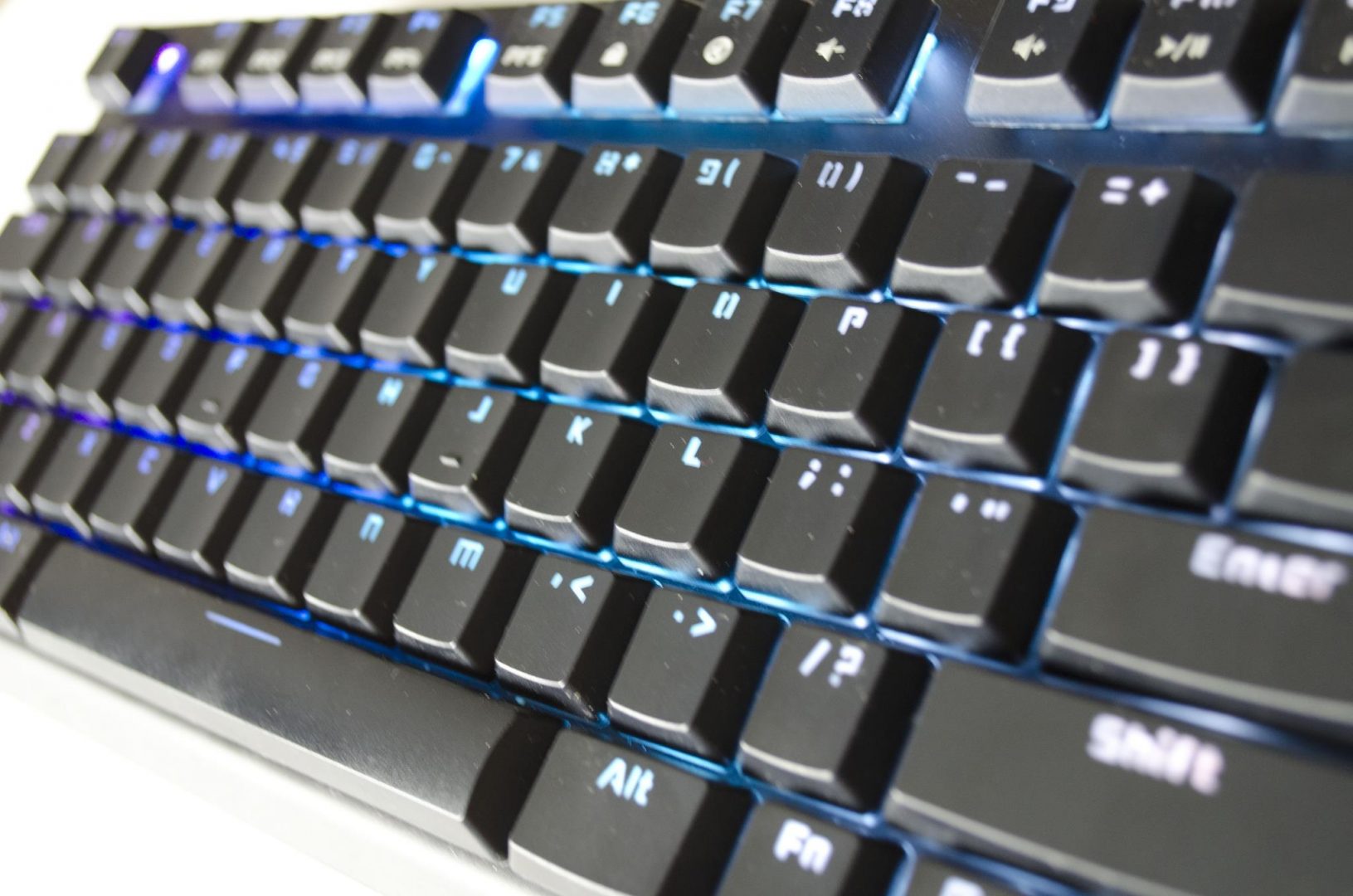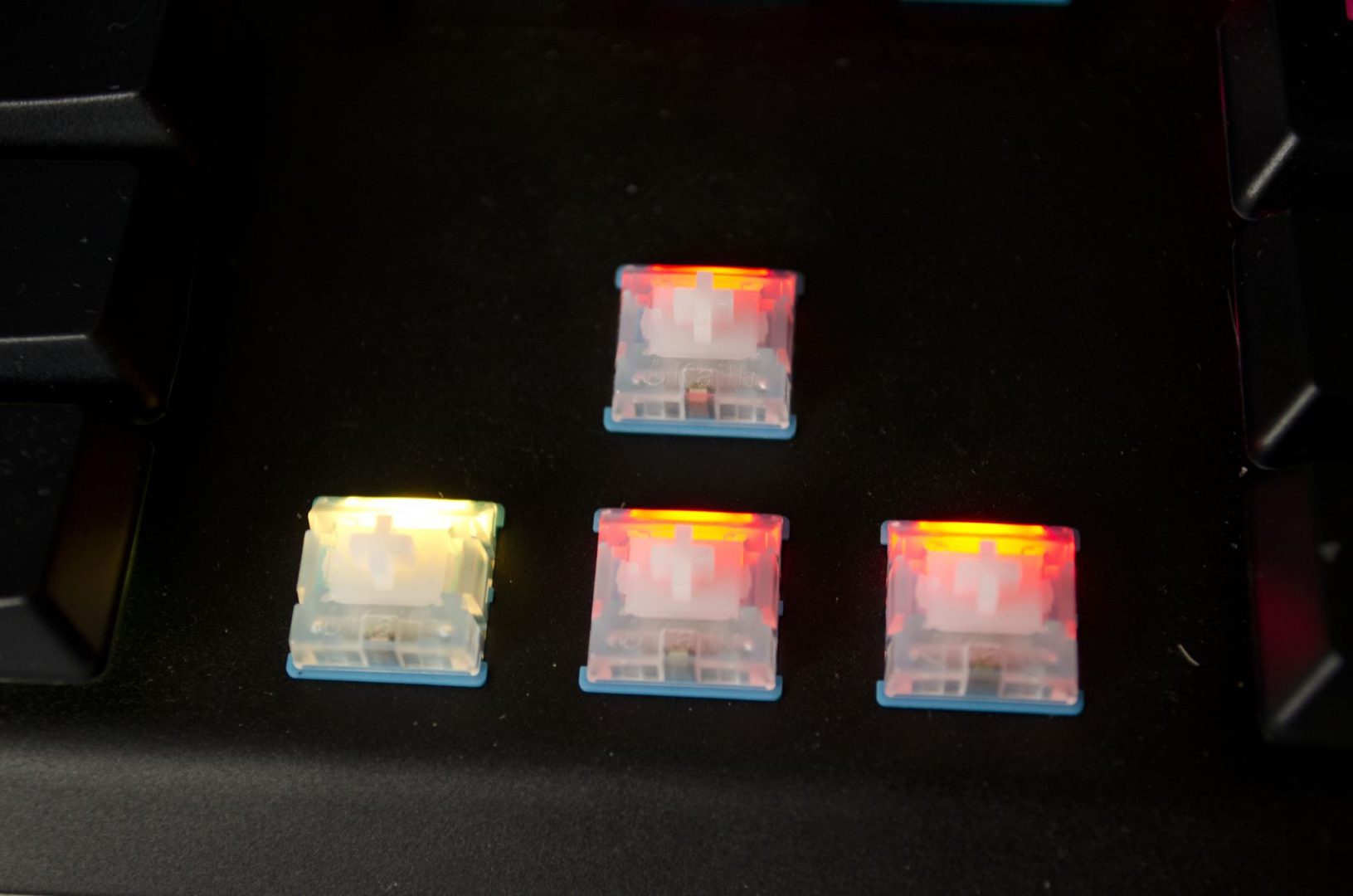 Software
The Tesoro Gram Spectrum RGB has a pretty decent software suite that accompanies it. While there are quite a few options, the software is fairly straightforward and easy to use. Using the software, users will be able to customize keys and set up macros, change the backlighting colour and effects and save multiple profiles. As you can see the software will let you choose between 6 different profiles, all of which will be stored directly on the keyboard so once there are set to your liking, you can access them all right from the keyboard without the need for the software.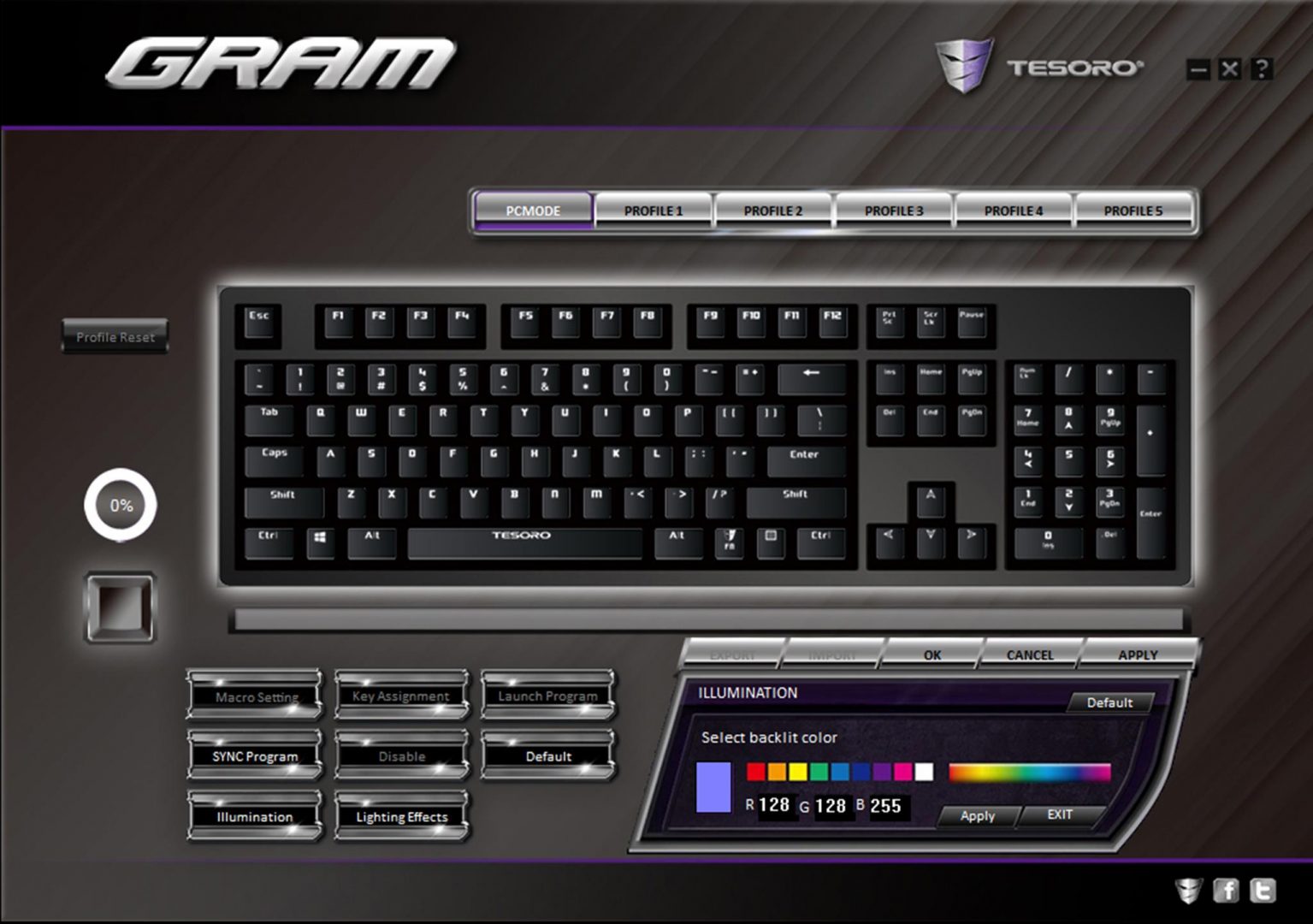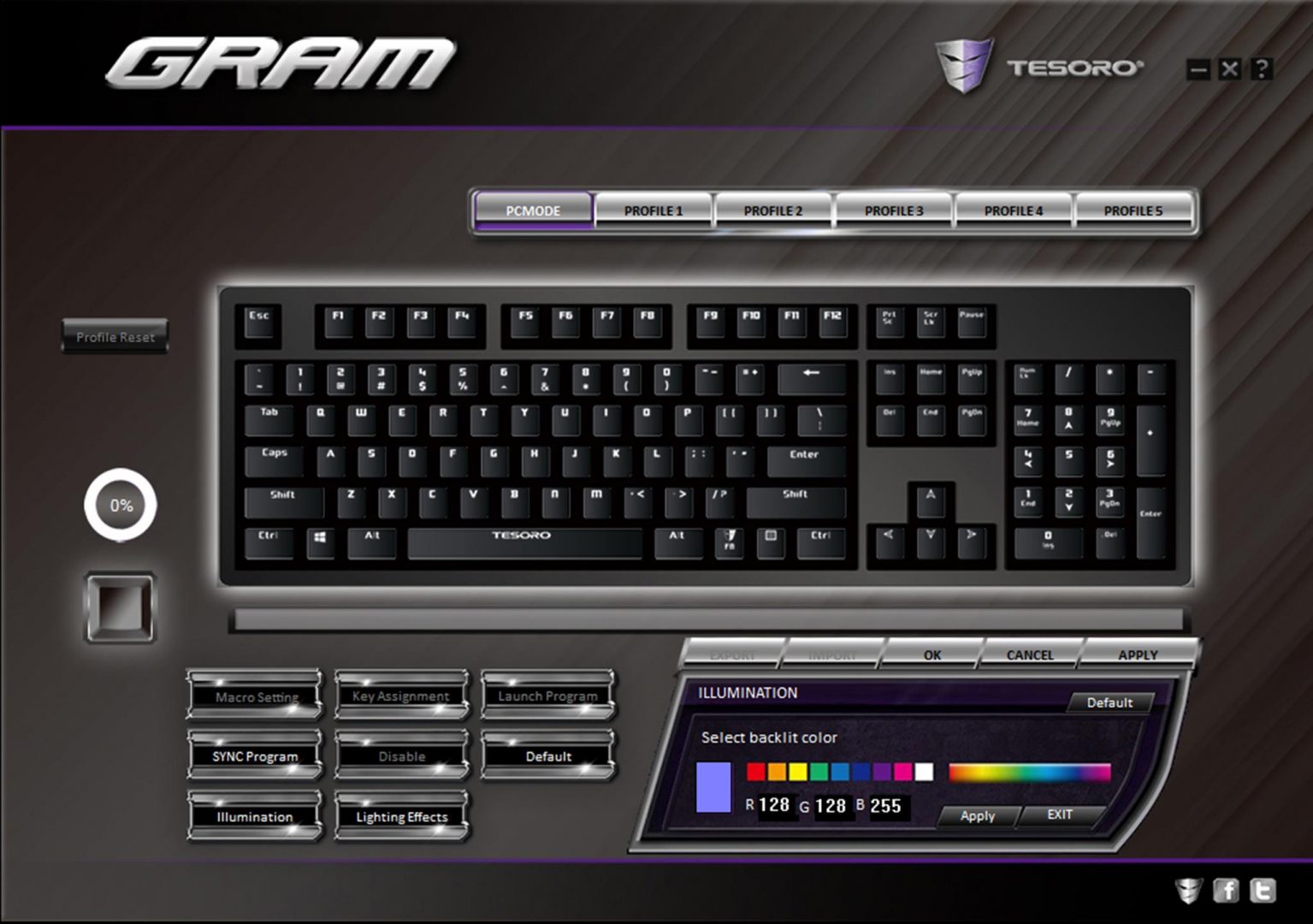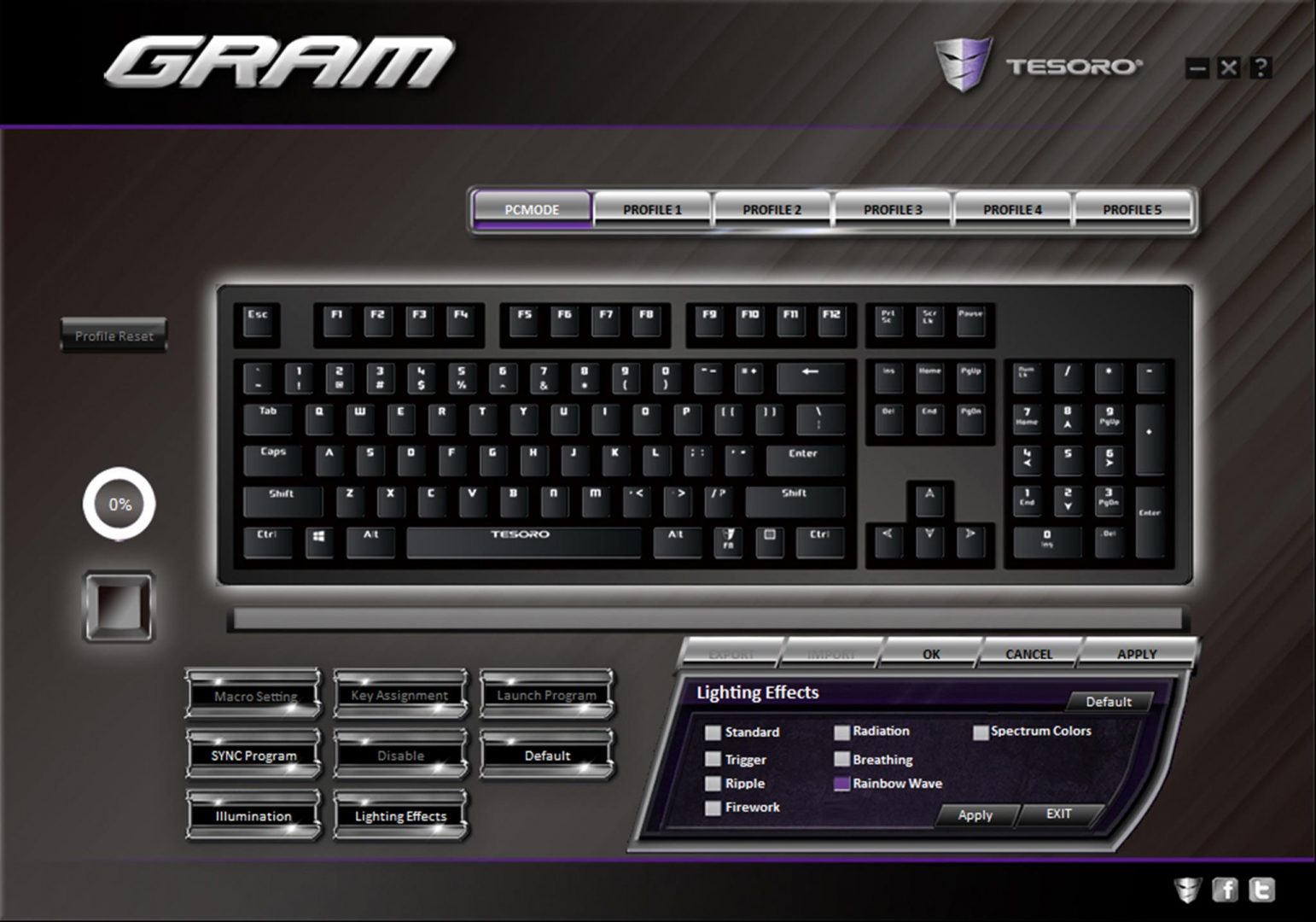 Performance
When it came to gaming performance, the Gram Spectrum RGB was definitely up to scratch. Loading up my list of favourite FPS games, I was looking forward to seeing how the AGILE switch stood up to the competition. Overall, I was quite impressed with it and didn't notice any issues during the couple of weeks I was using it for testing. The actuation of the AGILE switch is 1.5mm and it also features a slimmer key cap compared to normal keyboards which are only about half the height of a standard key cap. As mentioned, in theory, this should mean that you can type and get responses from the keys quicker as they don't have as far to travel before they register. However, in my experience, this is quite hard to feel in real time testing and would need some sort of machine doing the work to see if it is accurate. What I can say, though, is this. The AGILE switch is a good gaming switch that didn't cause me any problems and the response time due to the lower actuation is great. One thing I can say is that when you are hitting a single key, reaction times due seem a bit quicker, which is where that short actuation would come into play.
For daily use such as web browsing and typing, the GRAM is still a great keyboard. While designed primarily with gaming in mind, the GRAM won't let you down in your day to day activities. After a short break in period, I personally found the lower profile keys a joy to type on as they left me feeling like my typing was a bit more fluent. There was also less strain on my fingers thanks to the lower actuation point and low-profile keys which is nice for someone like me who can spend multiple hours sat at the PC in one go. Overall, I was quite impressed
So here it is, time for me to give my final thoughts after thoroughly testing another keyboard. Tesoro has gone with their own Agile mechanical gaming grade switch and it has paid off for them. More and more we are starting to see manufacturers tweak mechanical switches a bit to their own individual needs, giving us, even more options and configurations when it comes to picking out a new keyboard as if the task wasn't already painful enough.
Performance
When it comes to the performance, both in gaming and day to day use, the Gram Spectrum is right on point. As mentioned, the lower actuation point of Tesoro's AGILE switch is one of the main selling points of this keyboard. This should also allow users to have a quicker reaction time as the key doesn't need to travel as far before it responds. This can be the difference between getting the drop on your enemy or getting lit up like a Christmas tree. Getting the upper hand in battle is always advantageous and if it can be done by shortening the actuation point on a keyboards mechanical switch, I'm all for that. Not only will this help in FPS games, but it will also help in MOBA and RPG games as it will let users input key combinations quicker, again, giving them the upper hand.
Design
While the Gram Spectrum is chalk full of features, Tesoro has decided to go with a more standard design. When combined with the low-profile keys, the standard keyboard design of the Gram offers a sleek look to it which is great. Too many times now we are seeing manufacturers make their gaming keyboards humungous and chunky by adding loads of extra buttons and features to them. I feel Tesoro have gone in the right direction by offering a more compact keyboard, even though full size that still offers plenty of customization options. The inclusion of RGB LEDs and the all black casing offer a great aesthetical appeal to the keyboard. Tesoro's own Agile switch has also worked out well for them with its lower actuation point offering great response times both in gaming and for daily use.
Value
Coming in at $140 over in America, the Gram Spectrum RGB is far from the cheapest keyboard out there. However, once you take into consideration all that it has to offer, it becomes a bit more of an acceptable price. For the money, you are getting a sleek and stylish keyboard that has as much of an aesthetic appeal as it does a functional one. It's also worth remembering Tesoro probably spent a bit more money on R&D as this features their own Agile switch, an expense many seem to forget about. While you may be able to find a decent mechanical keyboard a bit cheaper, if you are a fan of Tesoro or like the lower profile design with shorter actuation, the Gram Spectrum is still a worthy purchase at its current price.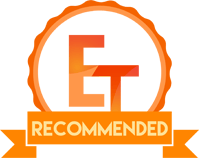 Many thanks to Tesoro for sending in a sample of their Gram Spectrum RGB Keyboard for this review.