Best AI Paraphrasing Tools of 2023
AI paraphrasing tools are a lifesaver for anyone looking to quickly remove plagiarism or find new ways to convey the same messages. Not only that, it also saves you time and energy, which you would be utilizing otherwise, finding words and spending hours coming up with new ways to convey the same message. Now that we know the importance of AI paraphrasing tools, you might be wondering which software you should choose. 
That is why we have written this blog about 4 best AI rephrasing tools to help you find one suited to your needs. So, without further ado, let's get into it.
Factors to Consider When Choosing AI Paraphrasing Tools
There are many factors to consider when using an AI paragphing tool. So that your ultimate choice tool meets your work needs and requirements. Here are some factors to consider when looking for an AI paraphrasing tool:
1. Accuracy and Quality
AI paraphrasing tools are useless if their generated content is inaccurate. The paraphrased content must convey a similar message and not lose meaning. That's why go for a tool that is highly accurate and also provides great quality. 
2. Ease of Use
Not everybody is a technology geek. AI paraphrasing tools should be highly user-friendly and easy to use so that new users have to go through a minimal learning curve.
3. Speed
People use AI paraphrasing tools to save time a manual content rewriting will take—that's why speed highly matters. Always go for tools that are efficient and have high speed. 
4. Language Support
AI paraphrasing tools supporting other languages save users time and effort. Although many tools are available for paraphrasing in the English language, go for a tool that can also paraphrase in other languages so that you don't have to copy your paraphrasing content; visit another website/app and then get your work translated into that desired language. 
5. Customization Options
If you are someone who doesn't want to completely rewrite your original content just adjust some words here and there. Then, always go for a tool that gives you control over rephrasing. 
9. Cost
Cost is another main factor to consider when choosing AI rephrasing tools. Check out your shortlisted tools' prices; are they subscription-based, pay-as-you-go, or freemium? And if a tool has a free version, are they compatible and meet your work requirements? 
What Is the Best AI Tool for Paraphrasing?
From the pool of thousands of AI paraphrasing tools, we have selected the ones that are known for their user-friendliness, accuracy, quality, and price. Let's dive deep and learn a bit more about each of these tools.
UPDF AI:
UPDF is an all-in-one PDF editor that lets you edit, annotate, convert, and much more with your PDFs. But what makes it a fantastic AI paraphrasing tool is its ChatGPT-powered AI chatbot known as "UPDF AI". Although UPDF as a whole has countless features. Here, we will be talking about its AI features today. 
Features of UPDF AI
Powerful Paraphrasing Feature: UPDF AI rewrites your given content with high accuracy and can pass any plagiarism tool. Because it works on ChatGPT technology, its generated content is highly humanlike written content. Moreover, you also get to customize your rewriting text to meet your requirements. For example, if you want to rewrite the given text by adding similies or metaphors, the tools will do so. Or maybe your original content has a less readability score, and you want to improve it; the tool can do this all for you. By giving UPDF AI a proper prompt, you can rewrite your sentences or paragraphs more customized to suit your needs. 
Amazing Summarasing Feature: UPDF AI also summarizes your long texts so you can easily understand the main context of it. This feature is helpful if you have to read long ebooks, research material, etc., to get your desired information from the files. UPDF AI can do this for you within minutes. 
Amazing Explainer: If you work with complex documents and need to read them repeatedly to finally understand the content, then this feature is for you. UPDF AI can explain your complex document content in an easy and everyday writing tone. So you don't have to waste hours reading the same files.
Generate Ideas: UPDF AI also helps you brainstorm new ideas for writing more effective and value-driven content. So, say goodbye to writer's block and write your content efficiently using UPDF AI. 
Powerful Translation Feature: UPDF AI supports more than 10 languages, including Chinese, Japanese, and more. So, using UPDF AI, you don't have to buy another software to translate your paraphrased content into other languages. You can get all your work done in a single platform. 
How to Paraphrase Content Using UPDF AI?
Although UPDF AI is straightforward, we have listed the main steps for paraphrasing your content using UPDF AI.
Step 1: Download UPDF to your device. UPDF supports many different platforms, including Windows, macOS, iOS, and Android. 
Step 2: Once UPDF is installed, open it and click on the open file icon to upload the file contenting text you want to rephrase. 
Step 3: You will be redirected to the page as you upload a file. If you are using the desktop version of UPDF, you will see a colorful icon on the bottom of the right side, click on it; if you are using the mobile app of UPDF, select the text in the document that you want to paraphrase, choose UPDF AI. In the following sections, we will provide detailed steps for using UPDF AI on computer platforms.
Step 3: Here, you will see two buttons, ASK PDF and Chat mode. Using the ASK PDF mode, you can ask the UPDF AI to rephrase/rewrite your given file.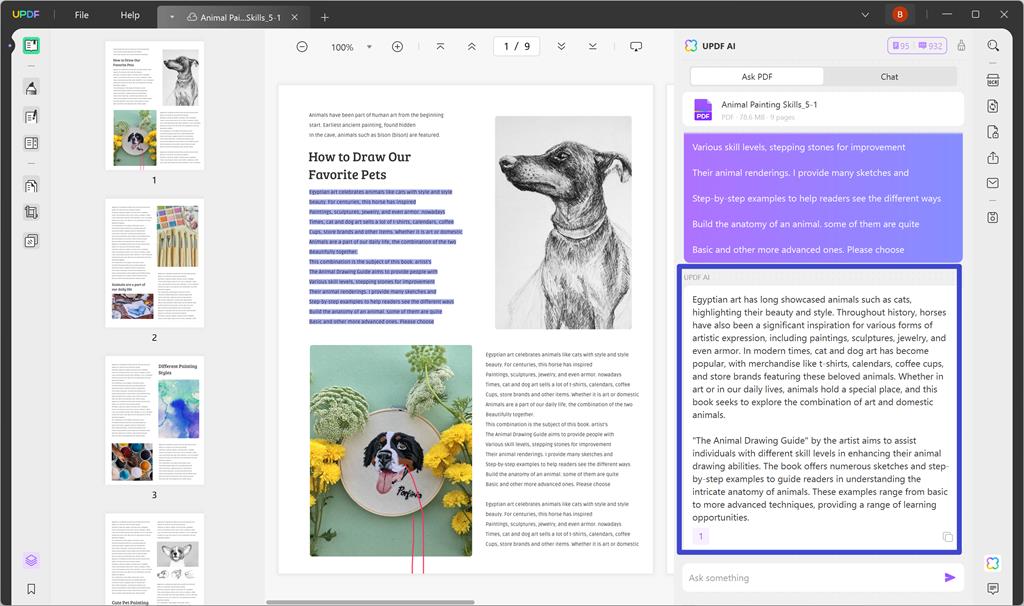 Step 4: If you want to rewrite a specific sentence, page, or paragraph. Choose the Chat mode in UPDF AI. Then, paste the text you want to rewrite and write the command "paraphrase it." UPDF AI will automatically rephrase the selected text. You can save the rephrased text with a sticky note.
QuillBot: 
Quillbot is another AI-powered tool that rewrites the given text while maintaining the original meaning of context. It is a helpful tool for writers, students, and anyone trying to enhance the quality of their written work, as it produces coherent, well-structured, paraphrased content. Besides paraphrasing, users can also use the QuillBot summarizer feature to summarize the text. The tool also runs plagiarism checks and grammar corrections. 
QuillBot Features
Different Writing Styles: The QuillBot AI paraphrase tool allows you to change the tone during paraphrasing to basic, formal, creative, etc. 
Effective Plagiarism Checker: The quillBot plagiarism check feature is also quite effective and primarily provides accurate plagiarism checks. 
AI-powered Thesaurus: This feature lets you select more effective synonyms to improve your content quality. 
Synonym Slider: This slider helps you maintain the overall quantity of rephrasing your work. Meaning how much of your vocabulary you want the tool to modify.
QuillBot Pros and Cons
Pros:
The content's original meaning is effectively maintained while rewriting. 

Its grammar-checking tools are quite effective.

Creates excellent paraphrased content.
Cons: 
The free version's restricted capabilities.

Only 125 words can be paraphrased in the free version. 

To utilize the plagiarism checker, you must upgrade to the premium plan. 

If you want to create original content, it might not be appropriate. 

Occasionally, there are rephrasing errors.
Hypotenuse AI: 
Hypotenuse AI is an online rewording and rewriting tool. The tool lets you paraphrase sentences and paragraphs within minutes. Its paraphrasing feature is quite effective, giving you various tone and writing style options. So that the rewritten content in a tone and style in which you give the text. 
Features of Hypotenuse AI:
AI-Powered Tool: users can expect accurate rewriting of their content using Hypotenuse AI.
Content Detective: its content detective feature helps users detect and remove ambiguous AI-generated content. 
Various Tones: This web-based tool also lets you choose various tones, from conversational to professional, so your content meets your desired tone style.
Other features: Other than paraphrasing, you can also use this tool to improve, simplify, or expand your given paragraphs. Although these features are quite effective, double-checking the generated content is recommended. 
Pros and Cons of Hypotenuse AI:
Pros:
Ideal for rewording large quantities of content for social media, product descriptions, and advertisements. 

The tool is more suitable for short-form content.

It is highly user-friendly, making it a suitable tool for beginners. 
Cons:
Sometimes, the rewritten text may lack a human touch. 

The responses are based on predefined templates, and there are very few features available to offer complete customization of the end result. 

The tool can not be used to rewrite long-form content.

The tool only supports the English Language.

It only offers a 7-day trial period and has to pay for paraphrasing after a week.
Prepostseo: 
Prepostseo works exactly like QuillBot. You can use it for rewriting and summarizing your content. Also, you can check plagiarism using this too. Prepostseo does not entirely change your content and only adds a few words to make the content unique. 
Prepostseo Features: 
Offers Various Tones: the tools offer you standard, fluency, creative, and smarter options. For a free trial, you can use only standard and fluency options. 
Other Features: users can also check plagiarism or summarize content using this tool. And it also lets you check website domain authority. 
Multiple Input Option: Other than copy-pasting, users can also upload files such as doc, text, and pdf for rephrasing. 
Pros and Cons of Prepostseo:
Pros:
The tool lets you rephrase text free of charges

The rewritten content is quite coherent. 
Cons:
On the free version, you have to face annoying ads every time you use the tool.

It is an entirely web-based tool, so you have to be connected to the internet at all times.

Although it rewrites texts effectively, it only changes some words. Many plagiarism checkers can detect plagiarism in sentences anyway if a few words are changed in content. 

The website is quite dull and looks unprofessional. 
So, what is the best AI tool for paraphrasing? Given all of the above-mentioned tools are quite effective rewriting tools. But UPDF is the only tool that has AI-powered technology that rewrites the content with proper meaning and nuances. 
UPDF— More than Just an AI Paraphrasing Tool
Anyone who needs to paraphrase content from time to time also needs to generate new ideas, help with summarizing content, and even a tool for explaining content. That is why, to get the best value for your money, UPDF is your all-in-one AI assistant in writing. Here are some more features of UPDF AI that make it an ultimate choice for every business, student, and researcher. 
Other Features of UPDF
UPDF is an effective PDF editor that lets you edit your PDFs efficiently. 

Users can edit their scanned files and images using UPDF's OCR feature.

Its fantastic annotating feature lets you add comments to your files to grab readers' attention. 

Users can convert their files in various formats using a UPDF converter feature. You can convert your files to Excel, PPT, CSV, and many other formats. 

Users can also organize, add, and delete pages from files using UPDF.

Using UPDF Cloud, your essential files will be all in one place and ready to be worked with on any device and anywhere. 

If you want to add extra protection to your files, UPDF also lets your password protect your files. 
Take advantage of the UPDF special offer(58% off) and start rephrasing your content today.