Top 6 Facebook Messenger Not Working Issues
Facebook Messenger, a messaging service available on both iOS and Android, has attained enormous popularity among smartphone owners. In spite of this, it seems that Facebook Messenger issues are becoming more prevalent as the number of users increases.
Do you have a problem using Facebook Messenger on your Android or iPhone device? Is your Facebook Messenger not sending pictures, notifications not working, or not sending or receiving messages? In such a case, it's probably a technical problem with your phone.
The Messenger may not load on your mobile device for a variety of reasons, including but not limited to an inactive internet connection, Messenger experiencing an outage, insufficient storage capacity on your mobile device, and so on. There are plenty of sources that can help you out in resolving FB messenger not sending media issue.
Photo by Brett Jordan on Unsplash
Can't Send or Receive Messages 
Do not give up hope if you attempt to send a sticker to a buddy using Facebook Messenger but the app fails to deliver your important communication. The issue may seem hopeless beyond understanding, yet the solution can be surprisingly easy to implement. First off, check to see if there are any updates available for the app:
Go to Google Play Store App

Go to Your Account by Tapping on Profile Picture

Choose the "Manage Apps & Device" Option

Tap on "Update All" and You're Done
You will also have the option to pick "update all" or "view details" to determine which of the apps on the list needs to be updated individually.
For iPhone users, however, the process of updating apps on the App Store is radically different. Follow these steps to update your Facebook Messenger app: launch the App Store, choose your profile from the menu at the top of the screen, and finally, select the "Update" option that appears next to your app.
Internet Connection Error on Facebook Messenger
This is one of the most typical issues you may encounter when using Facebook Messenger on your iPhone or Android device. Several Facebook Messenger users have reported seeing the "Please check your internet connection and try again" problem message. If you're having trouble, do attempt to resolve it by following these steps.
Go to Settings on Your Android Phone

Go to "System" and Choose "Date & Time"

Be Sure You Select "Set Time Automatically"

Go Back to Settings

Tap on "Apps" 

Now Select "All Apps"

Look for the Facebook Messenger Application

Go to "Messenger" and Tap on "Force Stop"

Once Done, Open Facebook Messenger Again
Are you an iPhone user? Here are the steps to follow:
Go to Settings 

Choose General

Tap on Date & Time

Activate the "Set Automatically" Option
Facebook Messenger Won't Send Pictures
You are unable to send pictures, and if you do, a red exclamation point will appear next to the picture to indicate an error. If you choose it, a dialogue box will appear informing you that "Your message was not sent," and giving you the alternatives to retry, delete, or cancel. The try again button almost never works.
Facebook Messenger Notifications Not Working
Users who upgrade to iOS 11 on their iPhones will also find that Facebook push notifications stop functioning normally; this is also the case for Android users. In case the notification is malfunctioning, you won't be able to immediately respond to the message, which may be quite annoying.
Messages Have Disappeared 
If you have deleted your messages unintentionally, which is not an easy thing to do, then you are out of luck, as they have been deleted from your account. Perhaps you have them stored away in an archive, in which case you're in luck. Launch Messenger and proceed as follows.
Tap on Your Profile Photo 

Choose to Open "Archived Chats"
In order to access your archived conversations in Messenger for desktop, select the "…" icon located in the very top right corner of your contact list.
Is Facebook Messenger Down?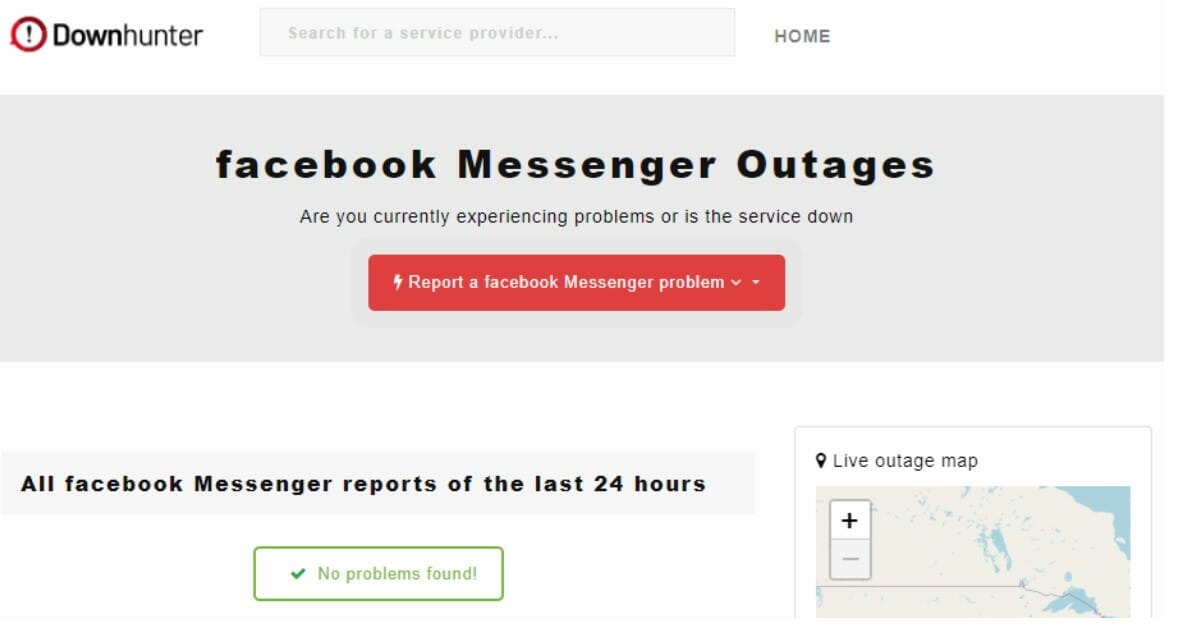 It's important to determine whether a Facebook Messenger downtime is to blame before you keep ripping your hair out in frustration. Facebook services being down is nothing new, and it has happened on several occasions before.
Image credit: Downhunter
Facebook's "Platform Status" page is one place to go for information on service disruptions. Current disruptions are often reported on this page. If you're worried that Facebook Messenger could be down, you can use a third-party service like IsItDown or Downhunter. If the problem lies with Facebook, your two choices are to wait it out or switch to a different chat app.
The Bottom Line
Those who rely on Facebook Messenger to keep in contact with loved ones may feel abandoned in the situation of an app crash. Fortunately, the app's problems are temporary and can be resolved by adjusting a few settings on your mobile device. After that, the application will function normally, giving you access to all of your stored contacts.