Today, Cherry have been kind enough to send in their MX-Board 3.0 for review. For those that don't know, this is the same Cherry as Cherry MX mechanical switches, so when they offered me this keyboard to review, I was all over it! Cherry has a great range of products, especially the keyboards that features their own mechanical switches. Cherry MX switches come in a few different varieties and as such, their keyboards may come in different varieties by offering different switch types for the same keyboard. While Cherry themselves seem to have a more professional look and feel to them, their mechanical switches are the pinnacle of the gaming and mechanical keyboard communities. The Cherry switches are tried and tested and have yet to really be bettered though plenty of companies are trying.
The Cherry MX-Board 3.0 is a slimmer keyboard that also features lower profile keys than standard keyboards and is designed for professionals. The MX-Board 3.0 we have on test today features the Cherry MX red switches which are great for both gaming and typing on, allowing it to be a great all around keyboard. One of the things that took me by surprise was the fact that the MX-Board 3.0 has no backlighting available and while I won't really hold that against it, it's just been a long time since I've seen a keyboard without any backlight at all. However, as mentioned Cherry is more professional orientated and I am guessing they figure there will be plenty of lights in an office environment where this keyboard is really designed to be used.
The box for the keyboard is quite small and inside, there is the detachable USB cable, a couple of red rubber non-slip pads that stick onto the bottom side of the keyboards, a user's and an extra pair of the normal non-slip pads.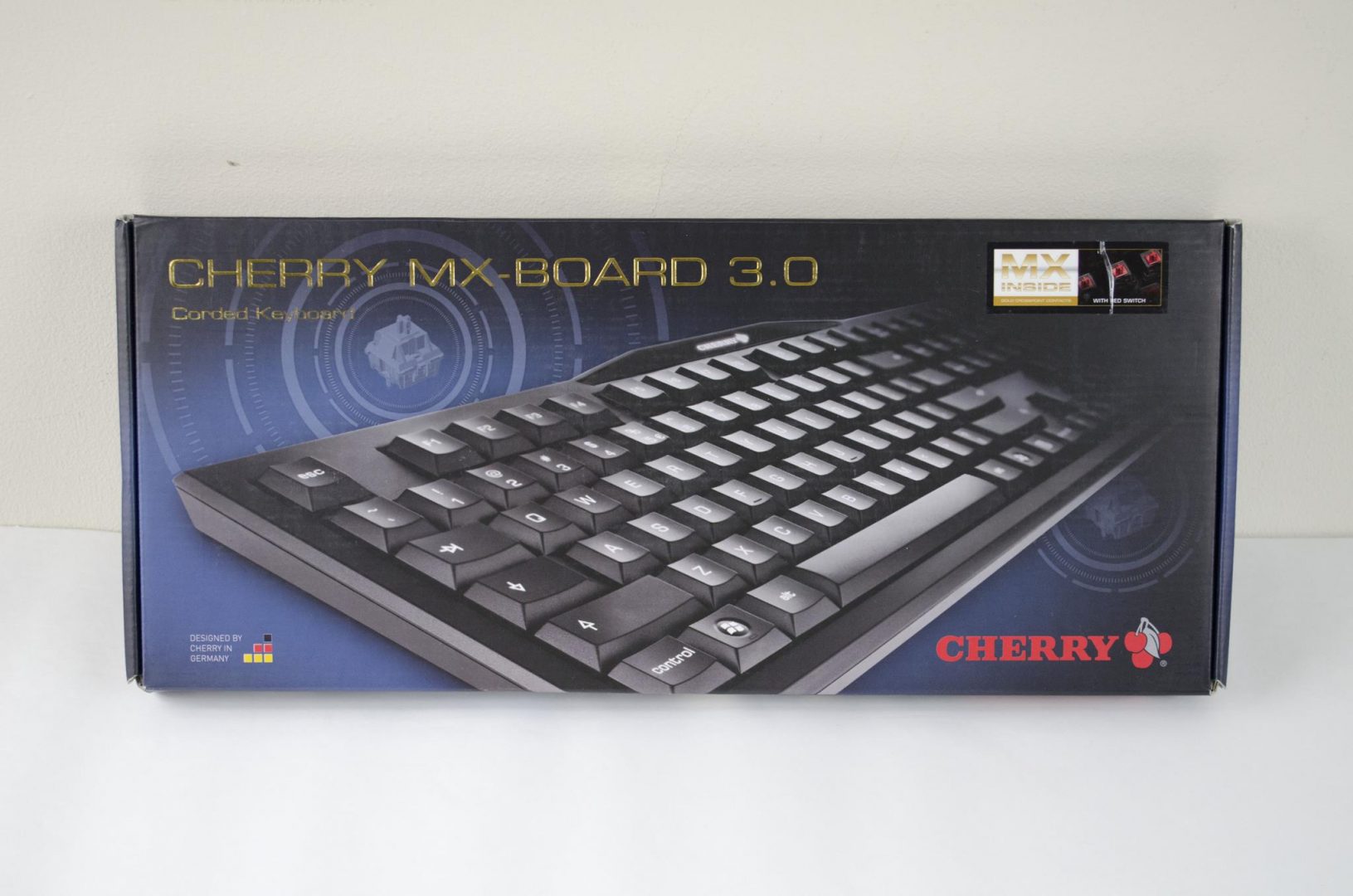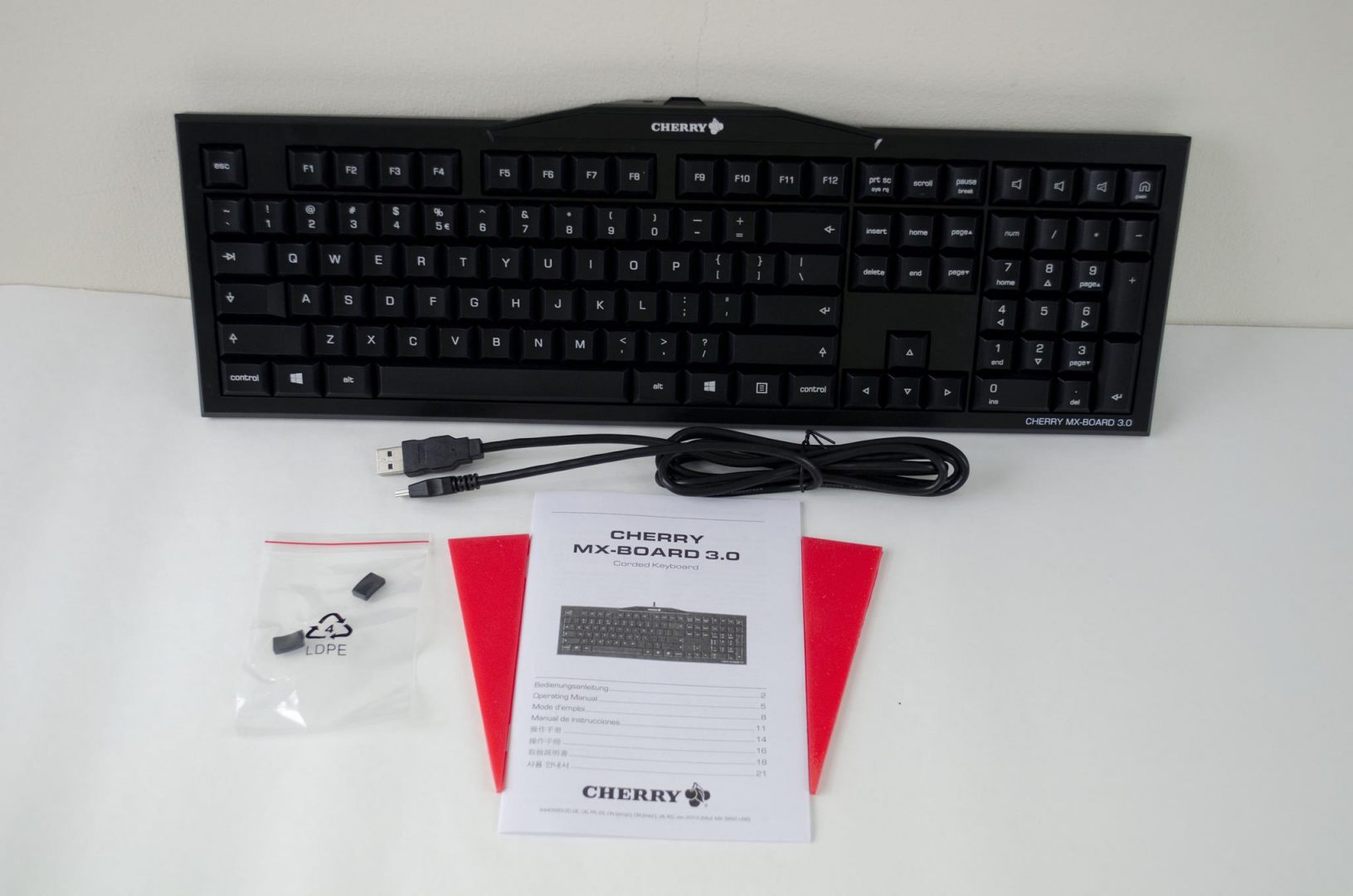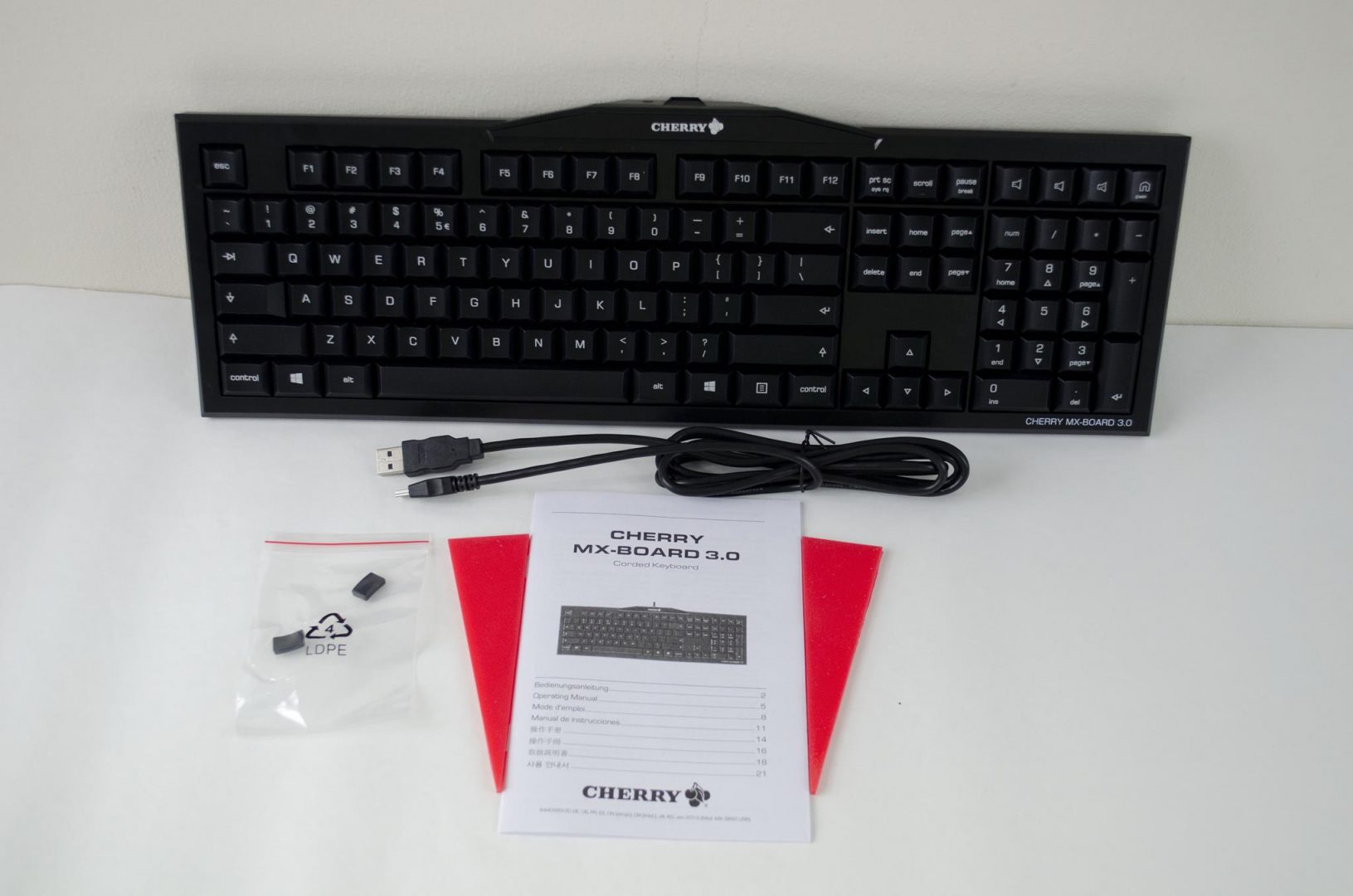 Cherry MX-Board 3.0 Specifications
Weight (product):
approx. 830 g
Total weight (with packaging):
approx. 1215 g
Connection sockets:
1 USB port (type mini B 5-pin)
Product approvals:
| | |
| --- | --- |
| cURus | |
| c-tick | |
| VCCI | |
| CE | |
| FCC | |
| BSMI | |
| KCC | |
Delivery Volume:
1 CHERRY MX-Board 3.0
Operating instructions in hard copy
Detachable connection cable (USB A plug / USB mini B plug)
2 non-slip surfaces
2 rubber caps for adjustable feet
Dimensions (product):
approx. 446 x 158 x 28 mm
Packaging dimensions:
approx. 468 x 202 x 35 mm
Keyboard:
Key technology: MX
Service life, standard key: > 50 million key operations
Operation characteristics: Product dependant, see table "Models"
Inscription technology: Laser
Inscription layout: Standard
Number of Keys: Product dependant, see table "Models"
Number of additional keys: 4
As Cherry is geared more towards the professional workplace, the MX-Board 3.0 has a very basic look to it, which there is nothing wrong with. There are no extra buttons, just the standard keyboard keys with a small Cherry logo on the top of the board. The keyboard is all black with white etchings on the keys and a small Cherry MX-Board 3.0 branding can be found in the bottom left corner.
While the image below doesn't show it, the Cherry logo does actually light up white when plugged in, it's not overly bright, but bright enough to see.
As mentioned, there is a small amount of branding down in the bottom right-hand side of the keyboard. This is more than fine with me and will allow people to help and distinguish it from more standard keyboards.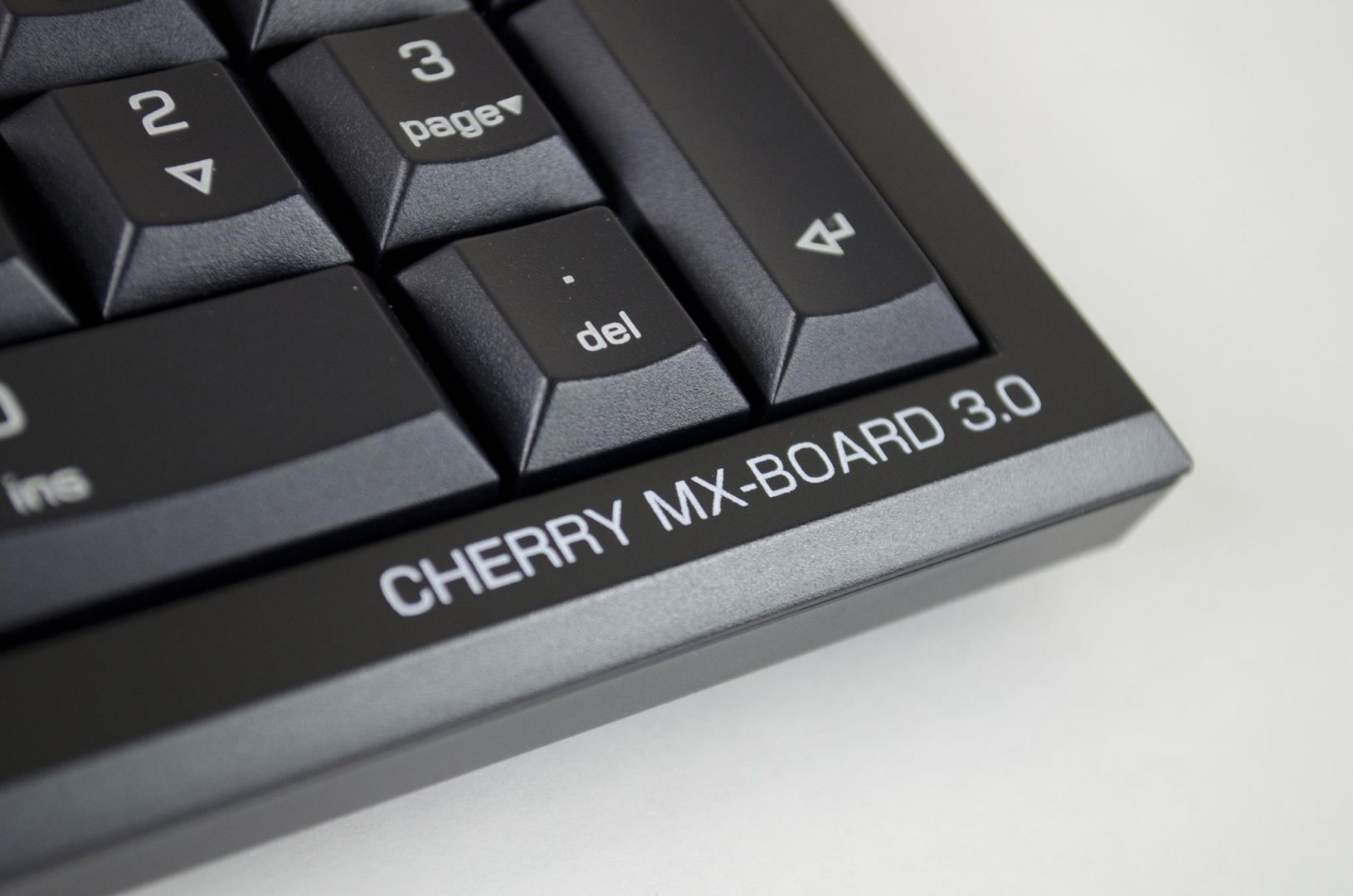 While I would have loved some backlighting, the white lettering is very easy to see and in a professional environment, will be more than sufficient. As I've already said numerous times, The MX-Board 3.0 is aimed at a professional audience and as such, Cherry kept prices down by not adding unnecessary features such as LED backlighting.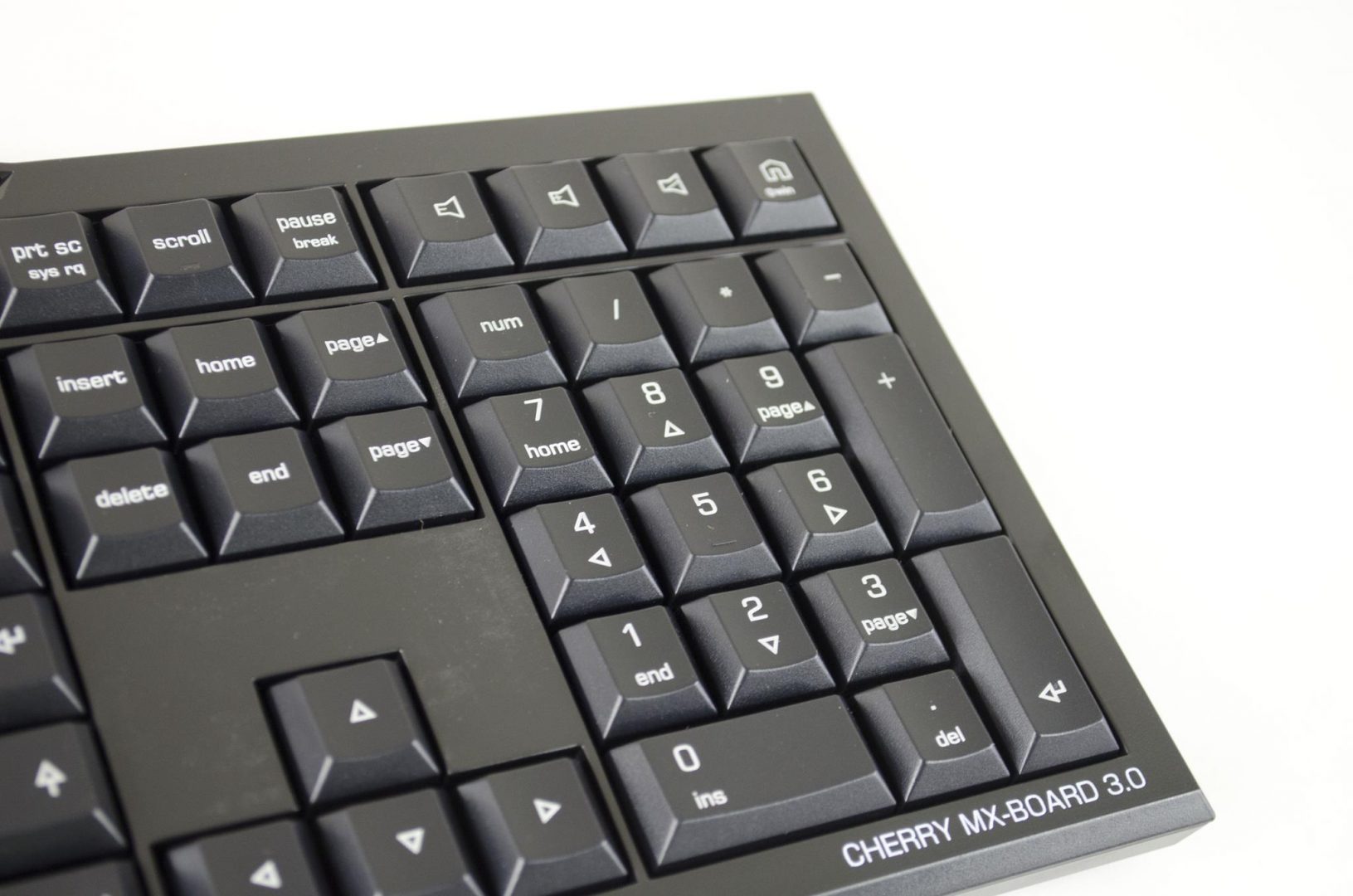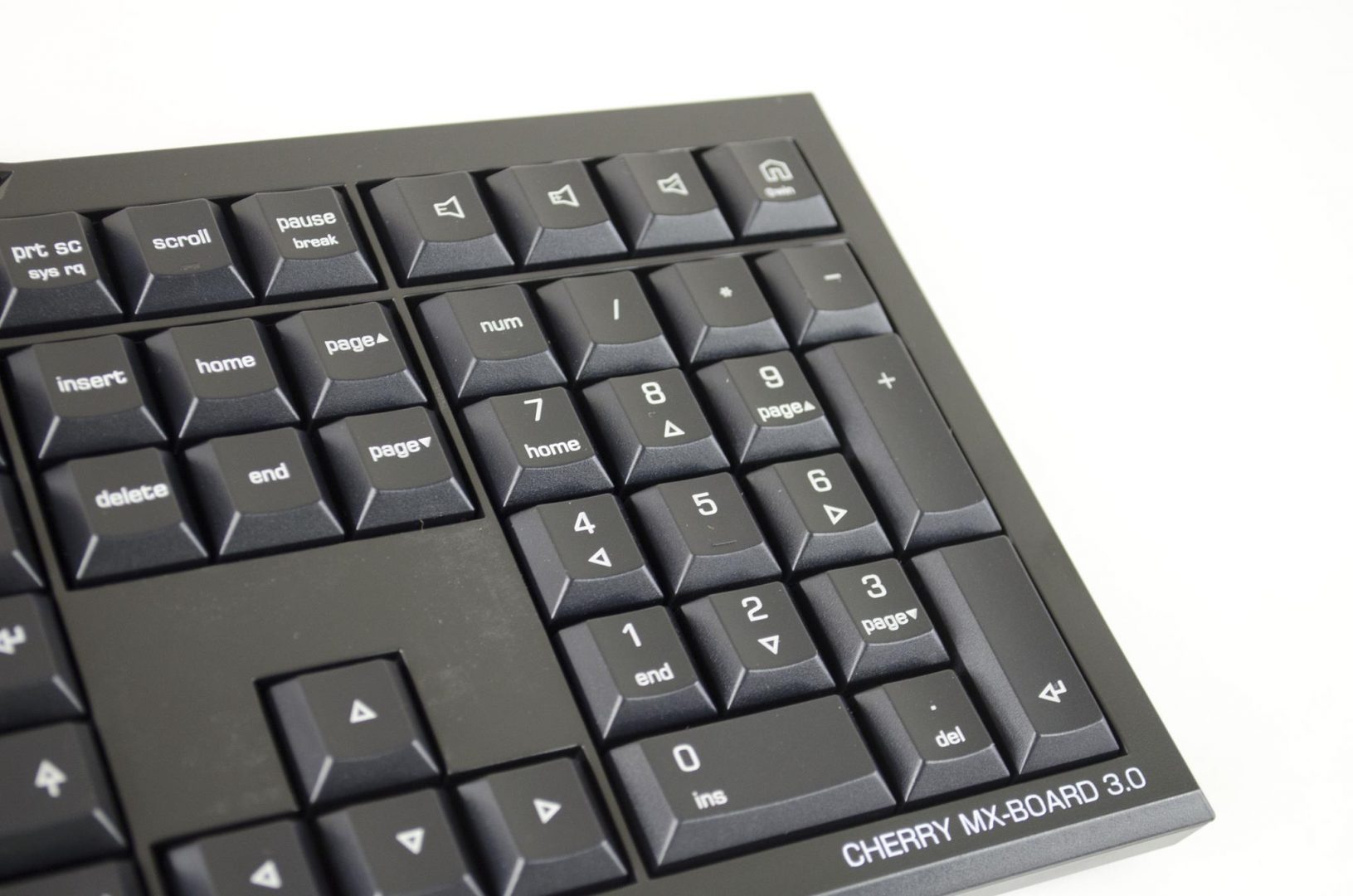 The Cherry MX-Board 3.0 features the Cherry RED mechanical switches which are great for both typing and gaming on. My personal keyboard, not that I get to use it much, has red switches on it and I absolutely love it. Red switches are mostly found in gaming keyboards as they have a lower actuation point which simply means you can actuate, or click, the keys faster than other keyboards. This is particularly handy for some genre's of games where users are constantly mashing keyboard buttons and every millisecond counts!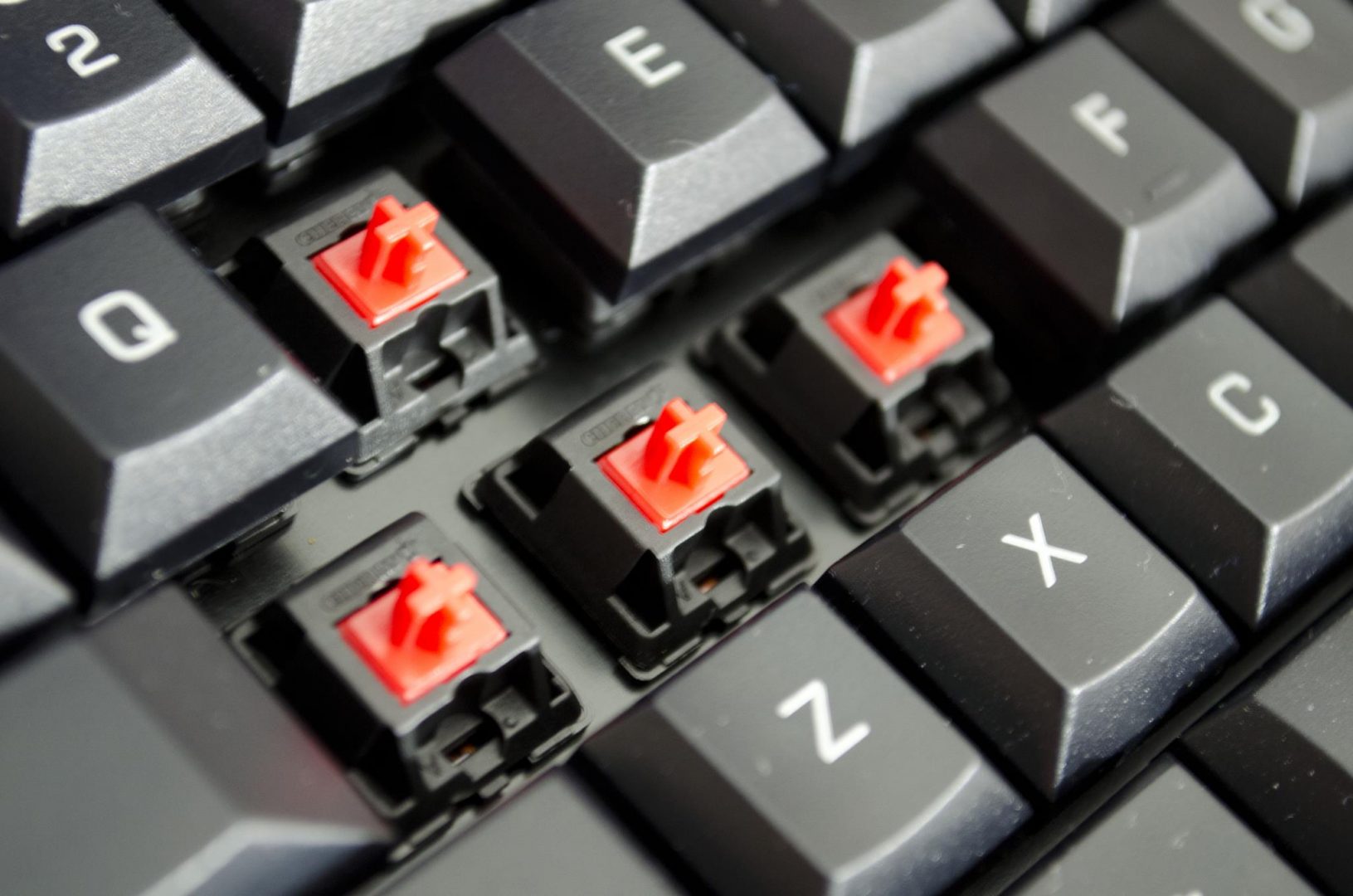 One thing cherry added to the MX-Board 3.0 is green LED indicators for things like caps/num/scroll lock and there is also one on the windows key. Yes, Cherry have added a windows lock feature to the MX-Board 3.0 and while this is primarily a gaming feature, it is great to see it implemented on this keyboard. To activate this mode, simply hold the control key and hit the home key in the top right and you will see the green light come on. The windows lock feature does just what it sounds, it allows you to actually lock the windows key so pressing them does nothing, this is a massive feature of gaming keyboards and is ever so important to us gamers as if you hit this accidently in game it will open the start menu and minimize your game, causing you the round or the match.
On the top of the keyboard is where the USB connector is so you can plug in the USB cable and use the MX-Board 3.0. While not a massive help in most cases, I do love keyboards that feature the removable USB cable, just makes them a bit easier to much around and connect them when ready to use.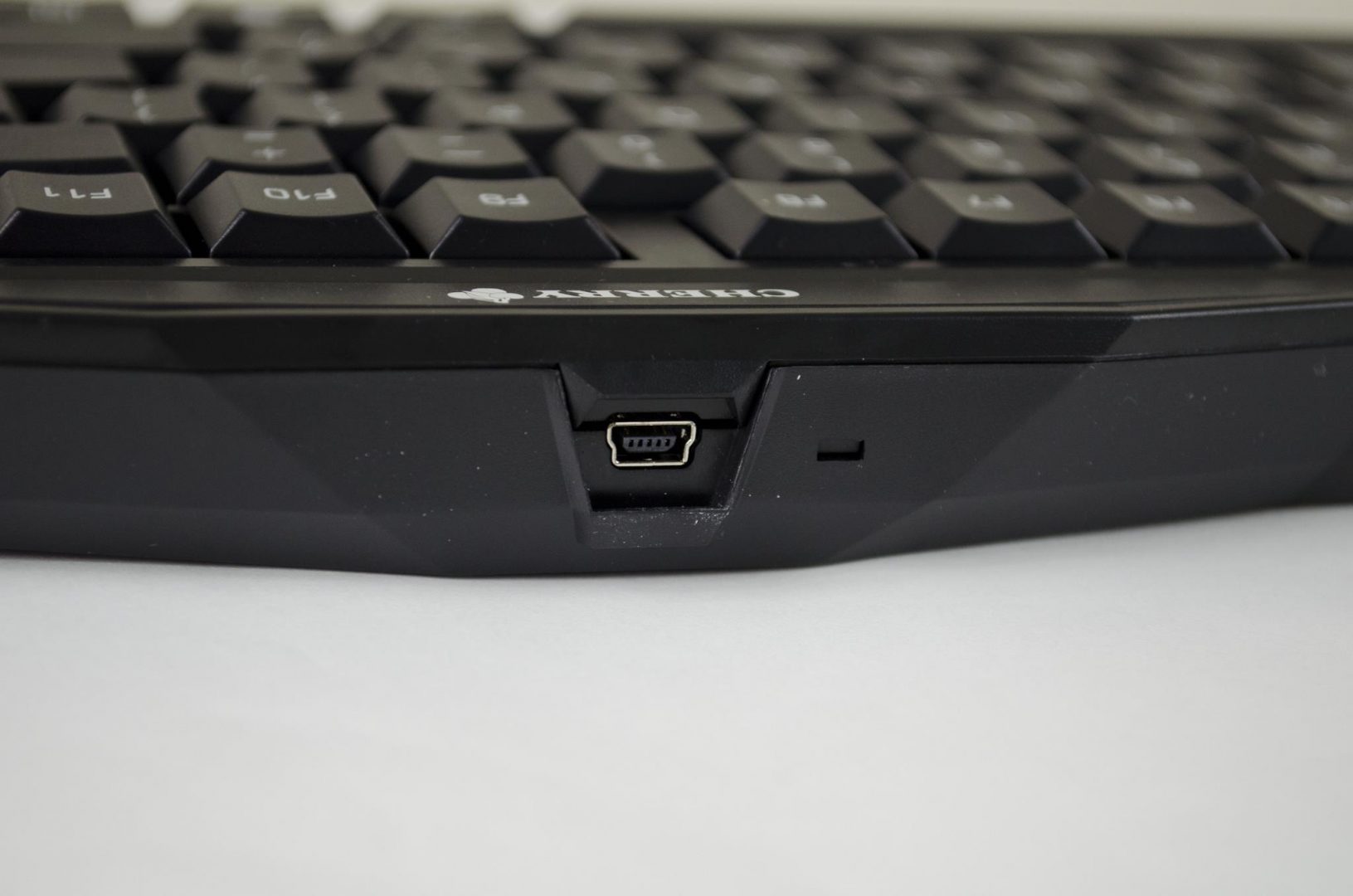 Braided cables, while us gamers and enthusiasts love them, I bet most professional and office-type people really aren't that fussed and would rather save the few pennies extra it may cost to have them braided. Either way, the cables included work and really don't look that bad, it's actually a nice change from the braided cables I am used too.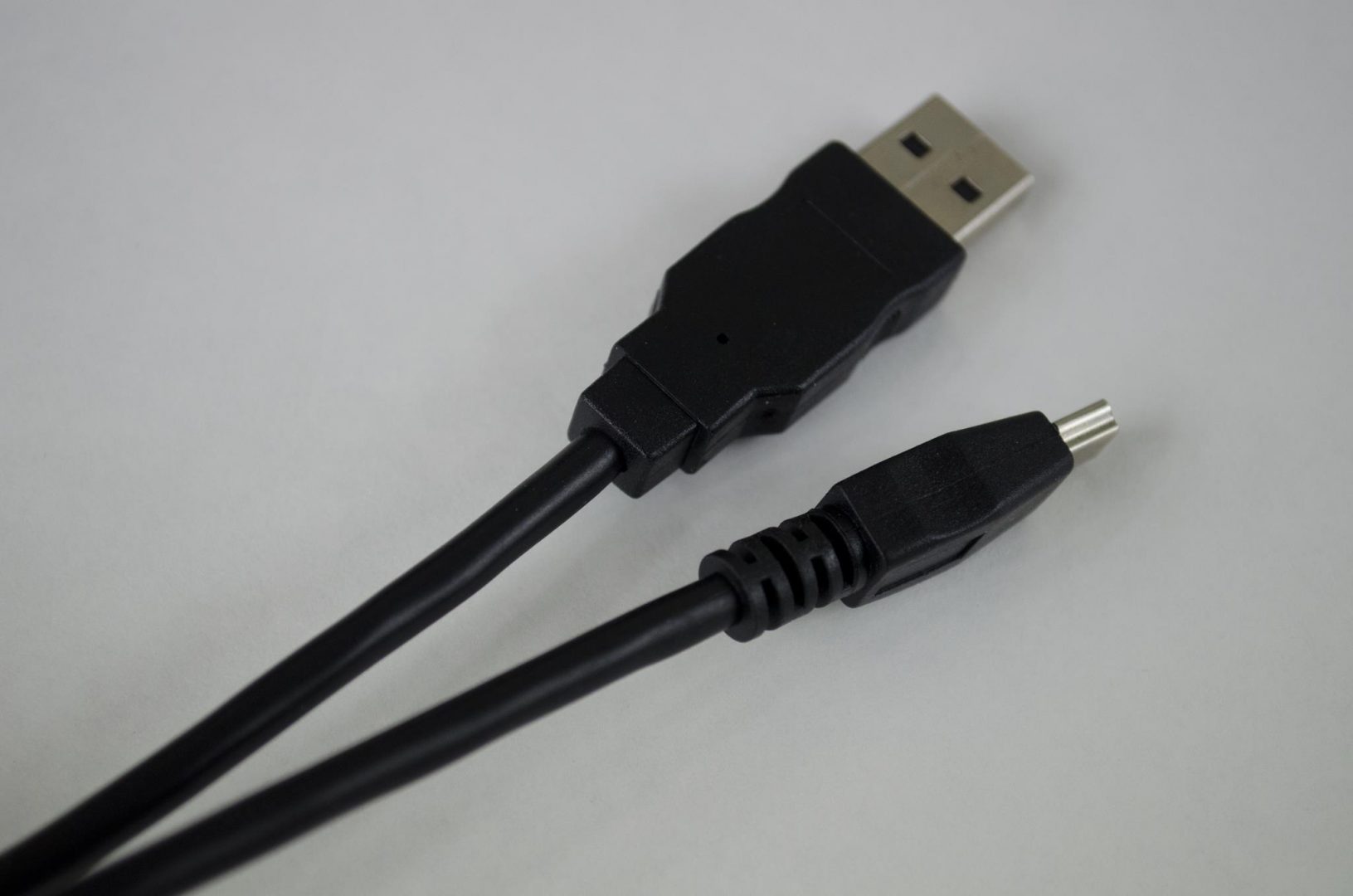 The first thing I noticed on the underneath of the keyboard was the massive engraved Cherry logo! While it bares no real functionality, it is a nice bit of branding and as it won't be seen much, it's nothing to be concerned with.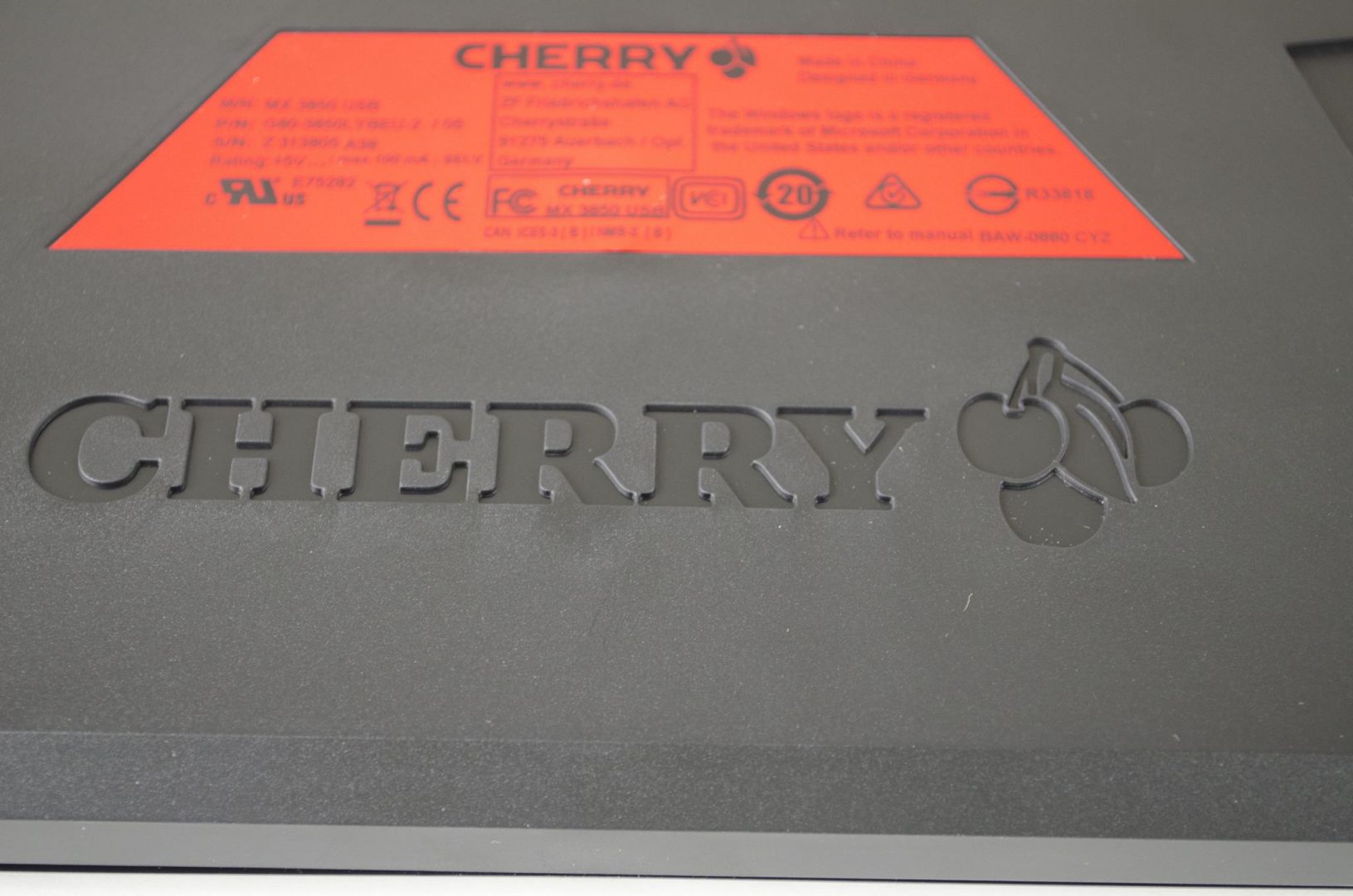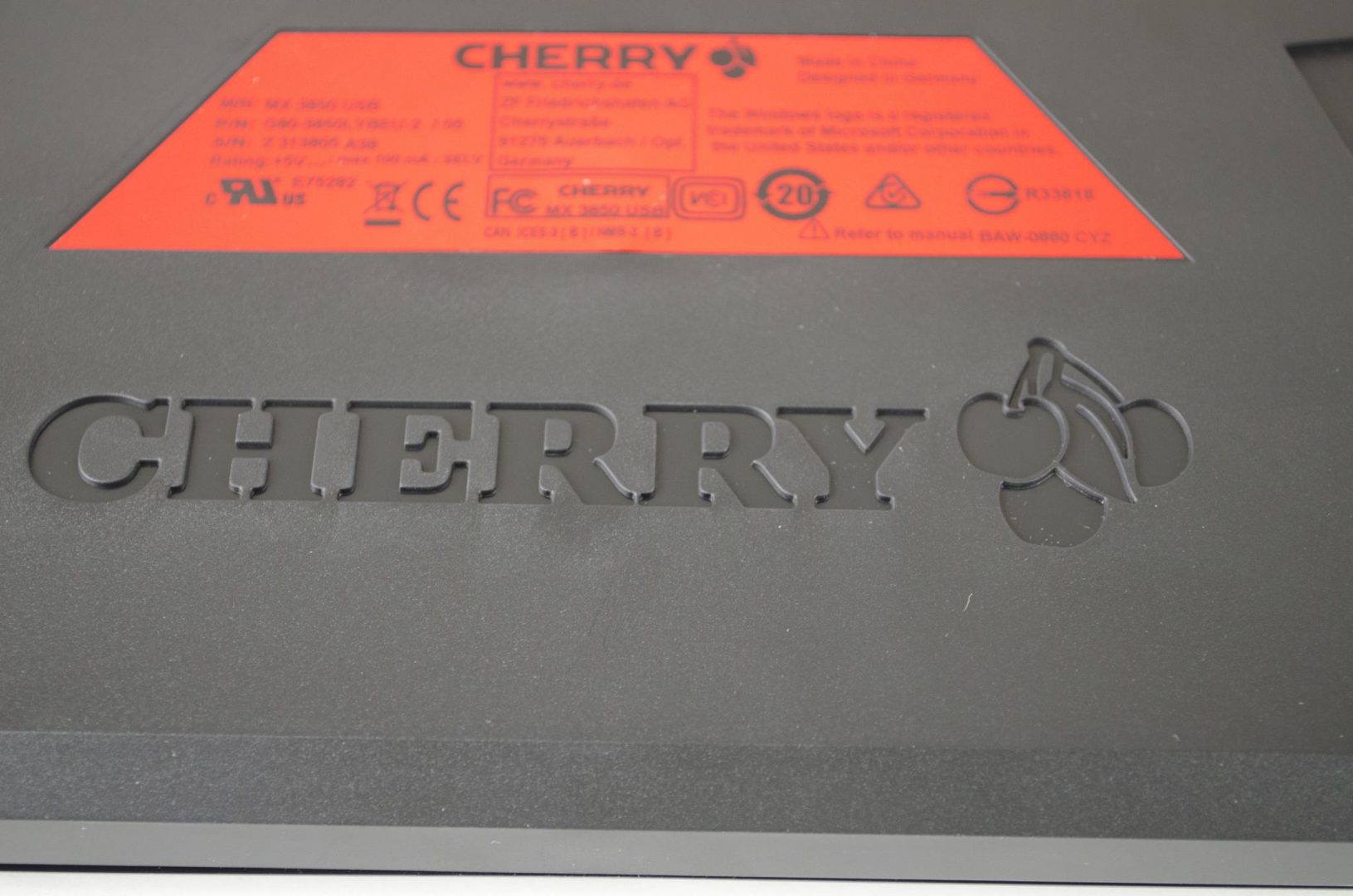 The MX-Board 3.0 features a couple of feet that can flip up to offer a more ergonomic feel to the keyboard which can result to better comfort for prolonged periods of use.
For those not looking to make use of the feet, Cherry has included some rather large triangular red rubber non-slip pads, one for either side of the keyboard. To install these, simply peel off the protective layer from one side and apply the adhesion side to the keyboard.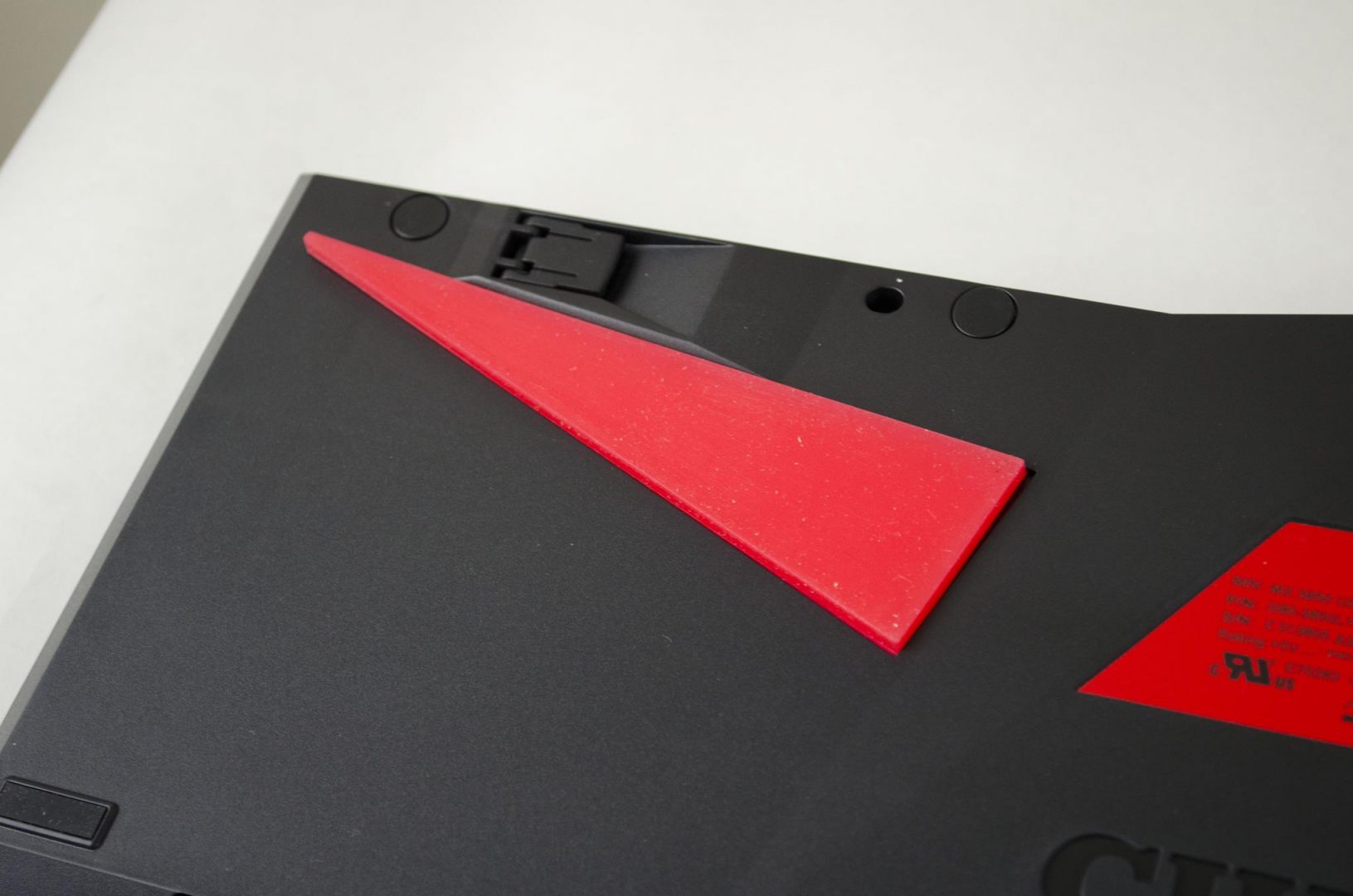 I've been using the MX-Board 3.0 daily for a couple of weeks now, from gaming to typing, I've been quite pleased with it. The only thing better than the actual performance and simpleness to it is the price, but we will get to that in a bit! The MX-Board 3.0 is designed for a professional environment and it shows as soon as you get it out of the box. However, this does not make it a bad gaming keyboard as we all know Cherry Reds are the preferred gamers switch, it just doesn't have all the extra and sometimes gimmicky gamer features.
Performance
We didn't expect any much less than perfection here. The MX-Board 3.0 features Cherry Red switches which are the pinnacle of switches for gamers but also offer a great typing experience. One thing I found with the MX-Board 3.0 is that the lower profile keys offer a better typing experience than the standard and bigger keys. Maybe this is because  your fingers don't have to move as far between keys which typing, maybe it was just me but I really enjoyed typing on this keyboard, especially when it was for longer periods of time. As mentioned gaming was great and as my personal keyboard features Cherry Red switches, I didn't notice much of a difference in this aspect, which is great. The lower actuation helps you get the drop on your enemies and can be the difference between getting the kill or dying in FPS games.
Design
Cherry have gone with a minimalistic and simple design for their MX-Board 3.0 and it has worked wonders for them. Not only have they created a great looking and professional keyboard, they helped keep the price in a VERY reasonable are by doing so. The MX-Board 3.0 will look great on any desk, but especially in office areas where there are a number of computers, the MX-Board 3.0 will offer a uniform and welcoming look to all the desks. For companies looking to keep a high profile appearance, they surely can't go wrong with a keyboard like this. Looks aside, Cherry have used their own red switches inside the board that offers great performance and the low profile keys really do make typing on the MX-Board 3.0 a joy.
Value
Batter up, this is where Cherry knocks it out of the park and hits the GRAND SLAM! The price of the MX-Board 3.0 comes in at under £70 at the time of review. This is absolutely unheard of for a keyboard that features Cherry Red switches and while there is a definite reason as to why it is still nice to see. Keeping things professional and not going overboard with LEDs and features allowed Cherry to keep their MX-Board 3.0 at a ridiculously reasonable price. Normally at this price range, you would be looking to get a mechanical keyboard that features some sort of knock-off switches, but Cherry has put them all to shame!
While the Cherry MX-Board 3.0 does offer superb performance as we would expect from any keyboard featuring Cherry RED switches, the Value is just so good that I have to give it our Value Award.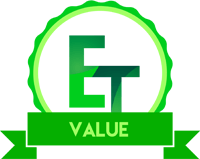 Massive thanks go out to Cherry for sending in their MX-Board 3.0 for review!