Introduction
Today, we will be taking a look at the Cougar Surpassion RX Wireless Optical Mouse. This mouse can be used both wirelessly and with a wire. You can use it with a wire as normal or just for when it is charging, the choice is yours. Wireless capabilities aside, the Supassion RX is packing some serious heat in terms of of the components used to build it. Featuring a PixArt PMW3330 Optical Sensor with 50M click OMRON Switches, this mouse should be up to the task of most gamers out there. For those that like a bit of bling, the scroll wheel and COUGAR logo both features RGB lighting and can be easily customized to your liking. Black, not your thing? Well then, you'll be happy to know the Surpassion RX also comes in a pink variant that looks rather stunning as well. With all that being said, let's go ahead and get this review started to see just how well the Surpassion RX stacks up.
Product Name
COUGAR SURPASSION RX Gaming Mouse
Sensor
PixArt PMW3330 Optical Gaming Sensor
Resolution
50-7200 DPI
Polling Rate
125 / 250 / 500 / 1000Hz
Switching
50M OMRON Gaming Switches
Profile LED Backlight
2 Zone Backlight
Maximum Tracking Speed
150 IPS
Maximum Acceleration
30 G
Lithium Battery
560mAh
Cable Length
1.8m
Dimension
120(L) x 65(W) x 38(H) mm
4.72(L) X 2.55(W) X 1.49(H) in
Weight
98g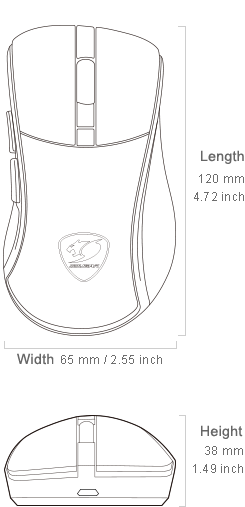 Closer Look
Checking out the box first, we can see the Surpassion RX features a 1,000 HZ Wireless connectivity. This should offer a lag-free gaming experience.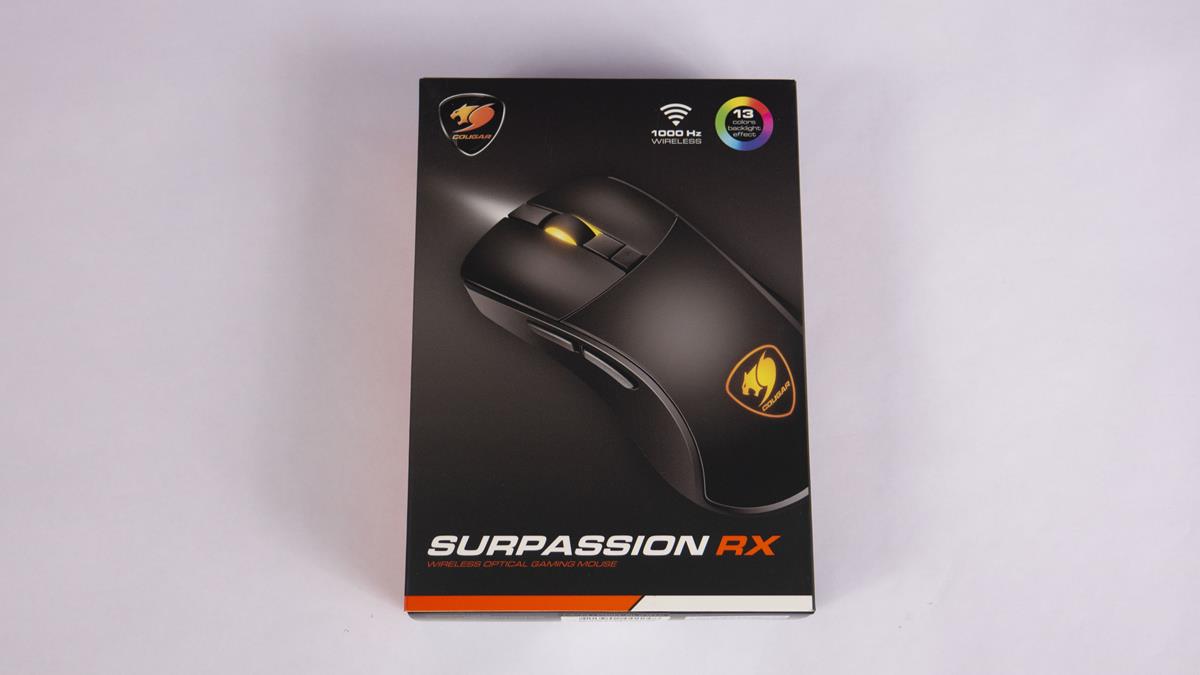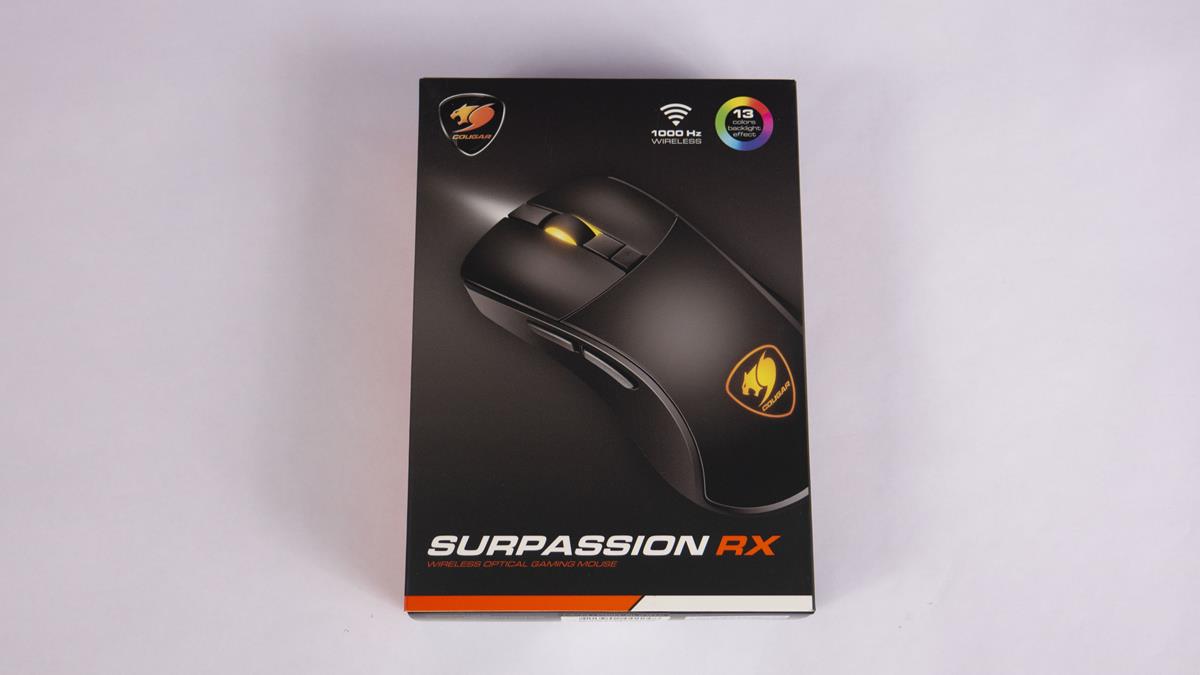 As always, I am a fan of a box that allows you to open a flap up and view the actual product. While images are nice, sometimes it is best to see the products itself as it can vary from that of the images representing it.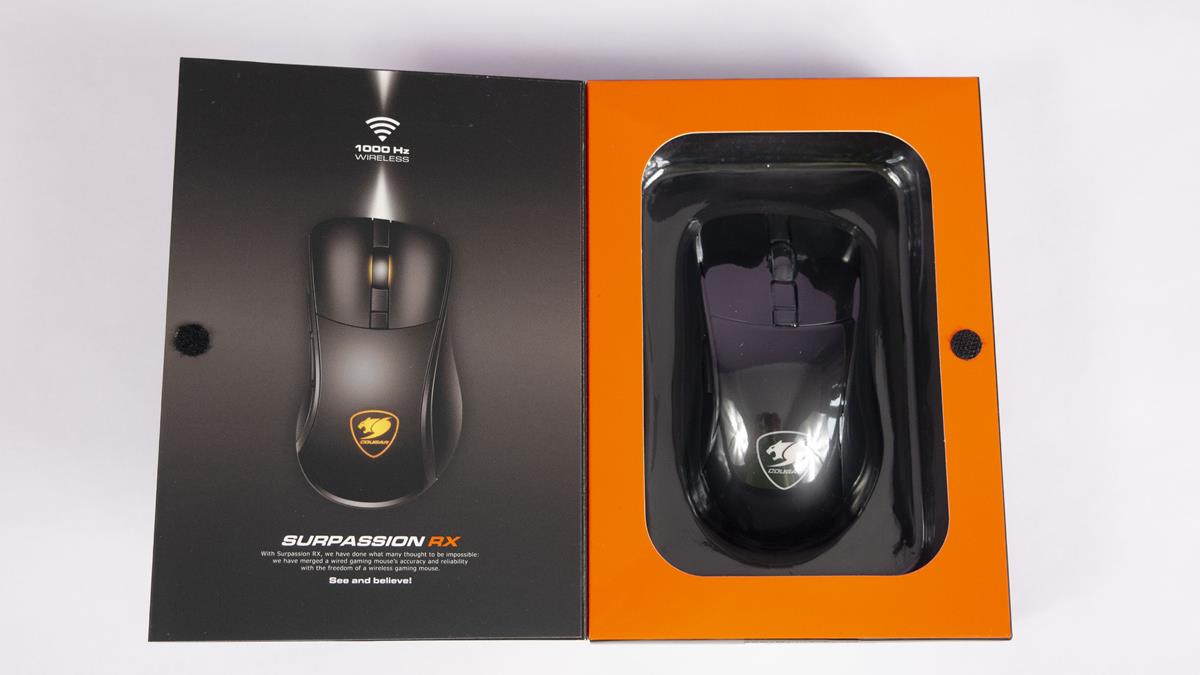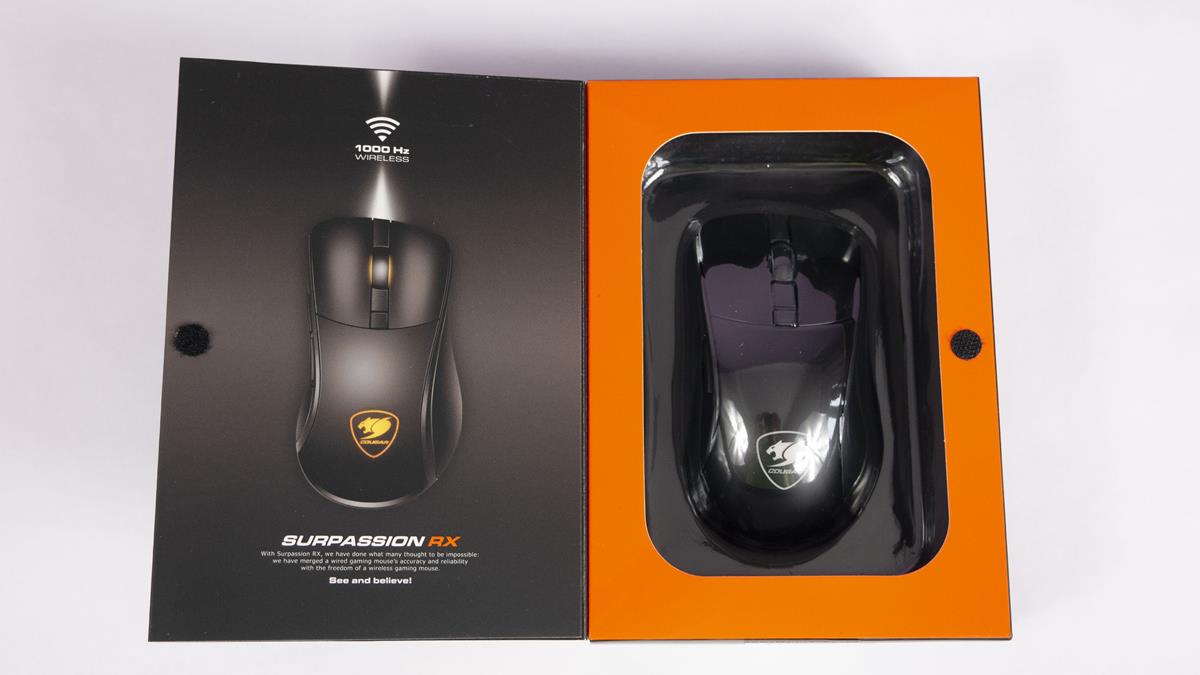 On to the back and we have some more information in regards to what the Suprassion RX has to offer. Some of this information can also be found in multiple languages.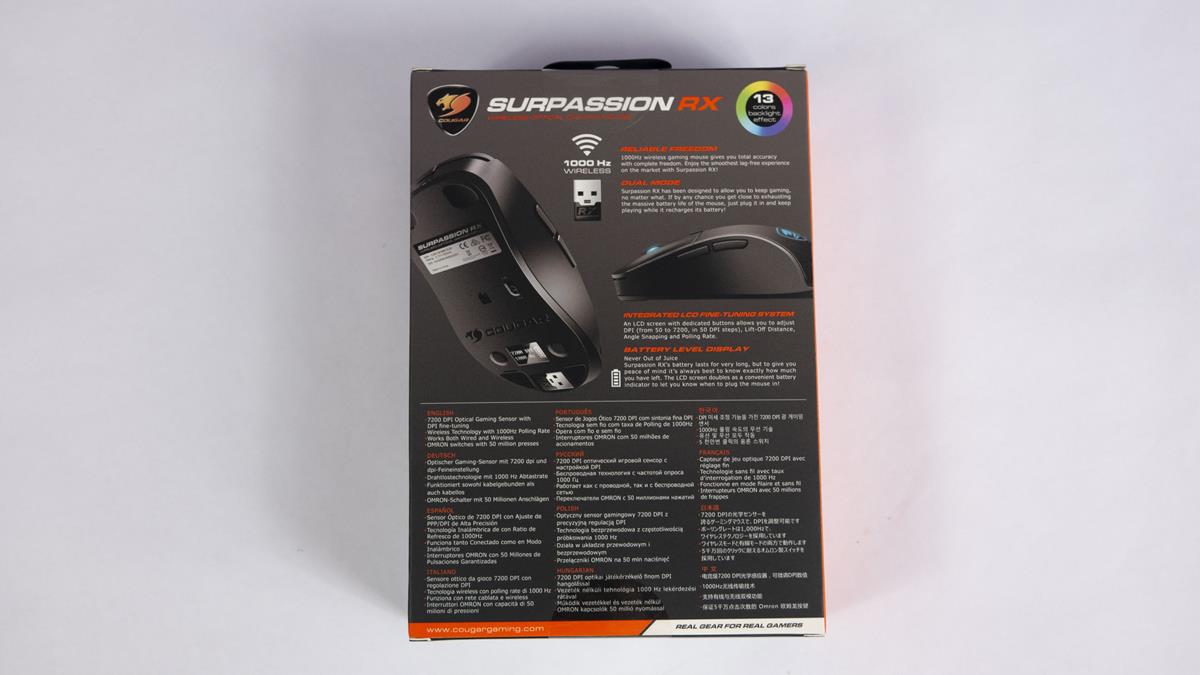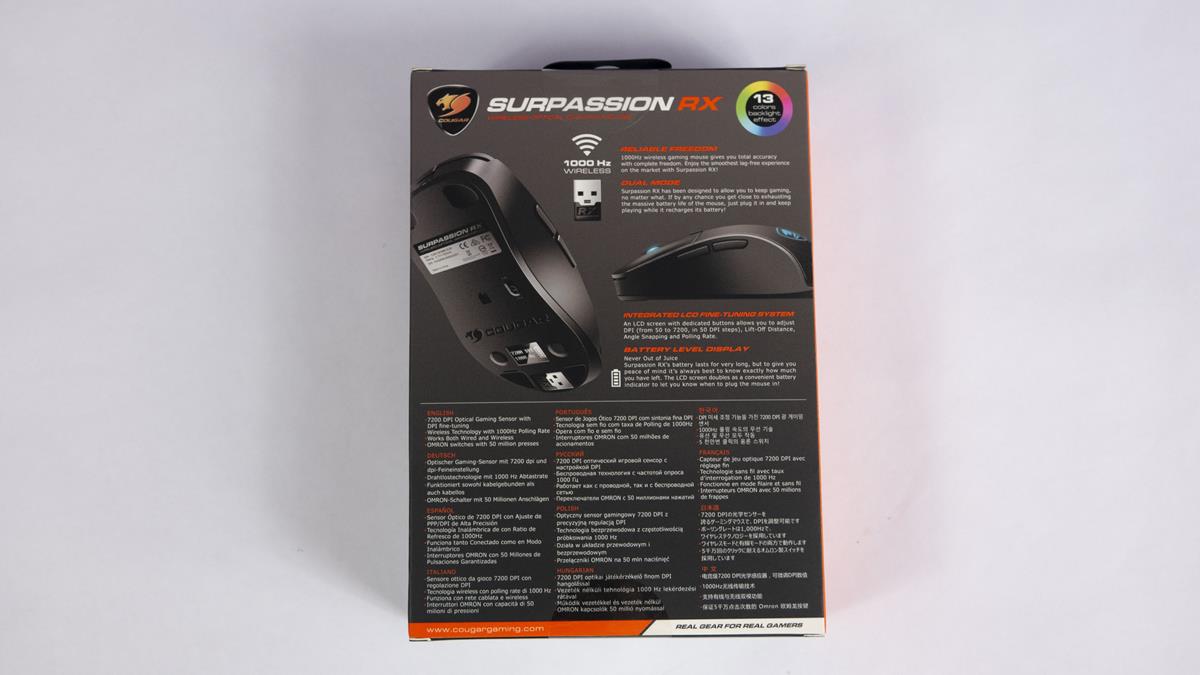 Inside the box we have a manual, an advert for other COUGAR products, the mouse with charging/connectivity cable and COUGAR have also included some spare slide so you can make sure your mouse is gliding across your mouse mat as best possible.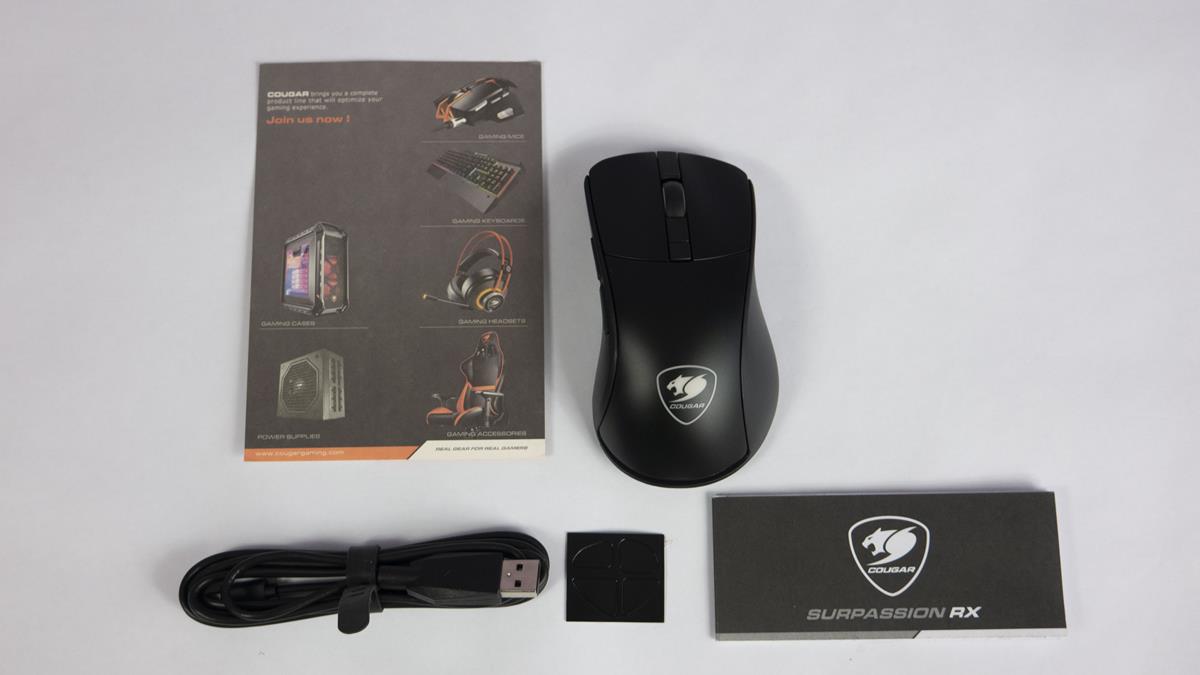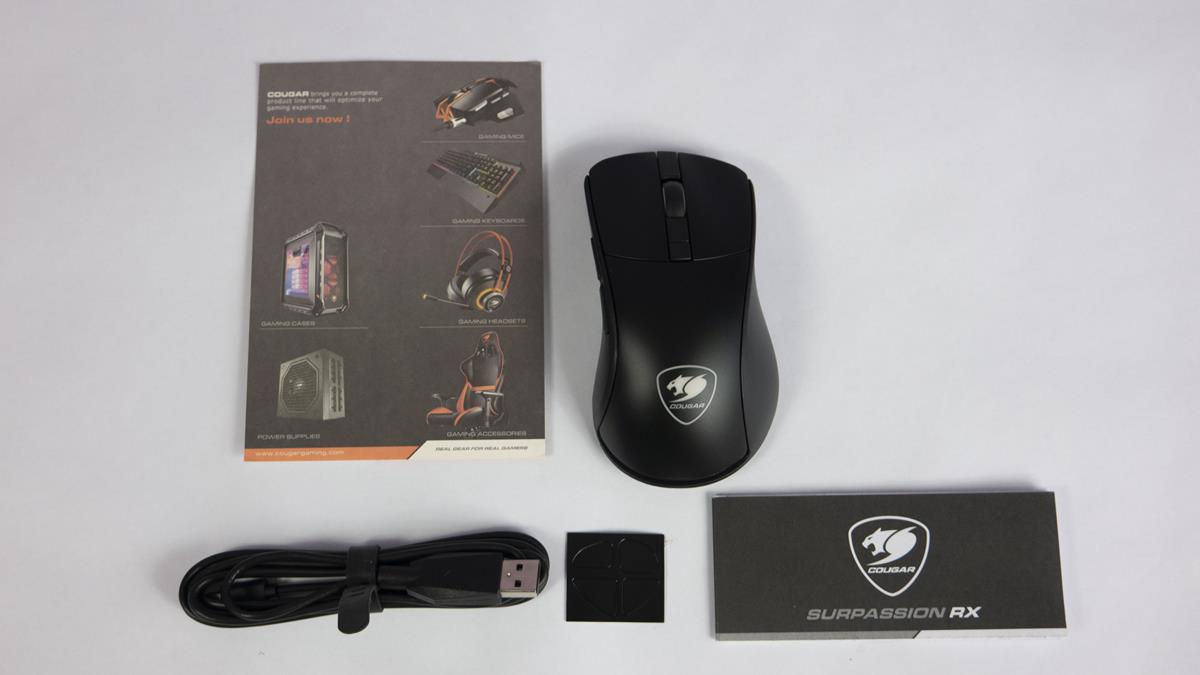 On the butt of the mouse is a nice COUGAR logo, as mentioned earlier this is RGB lit but we will take a look at that later.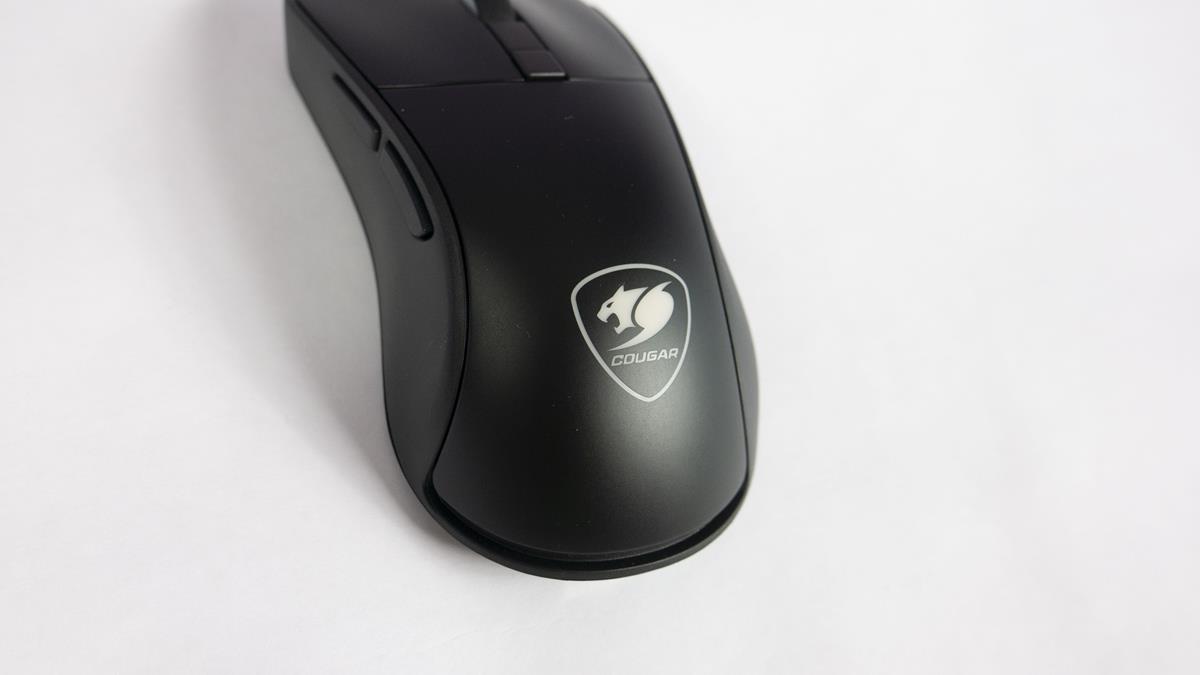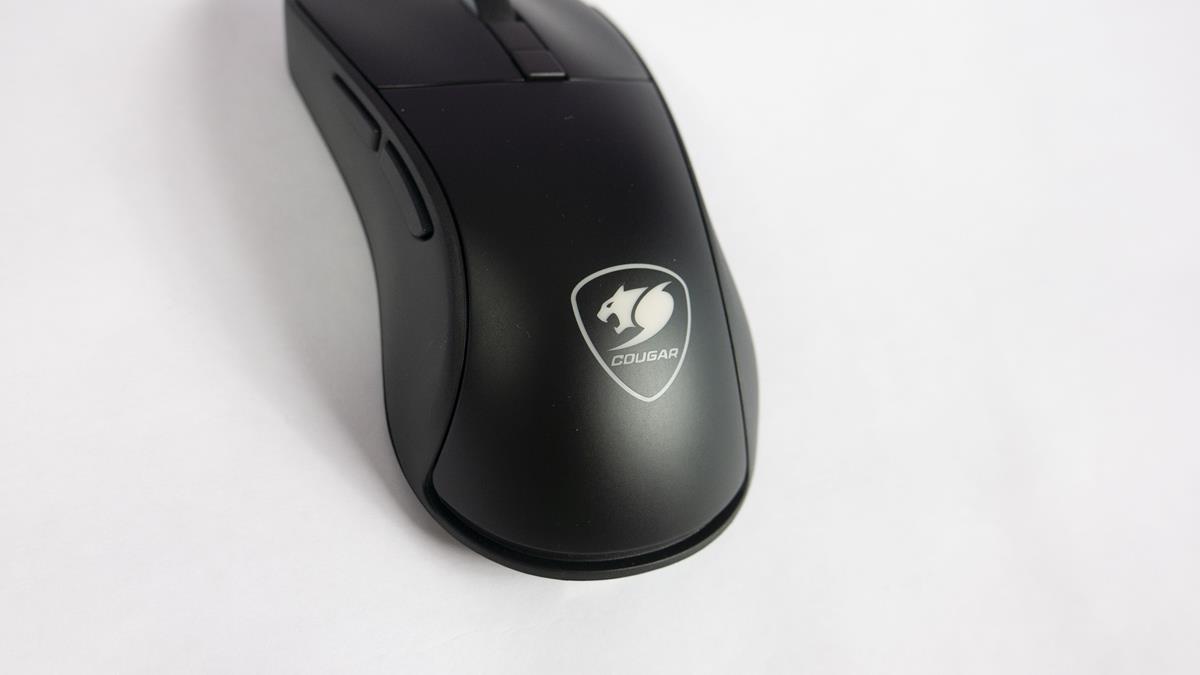 The left side of the mouse has our forward and backward buttons for web browsing. These can be changed to do other things and can come in handy for FPS gamers. When FPS gaming, we don't need as many buttons as a MMO but these two extra buttons are quite welcomed, at least for myself.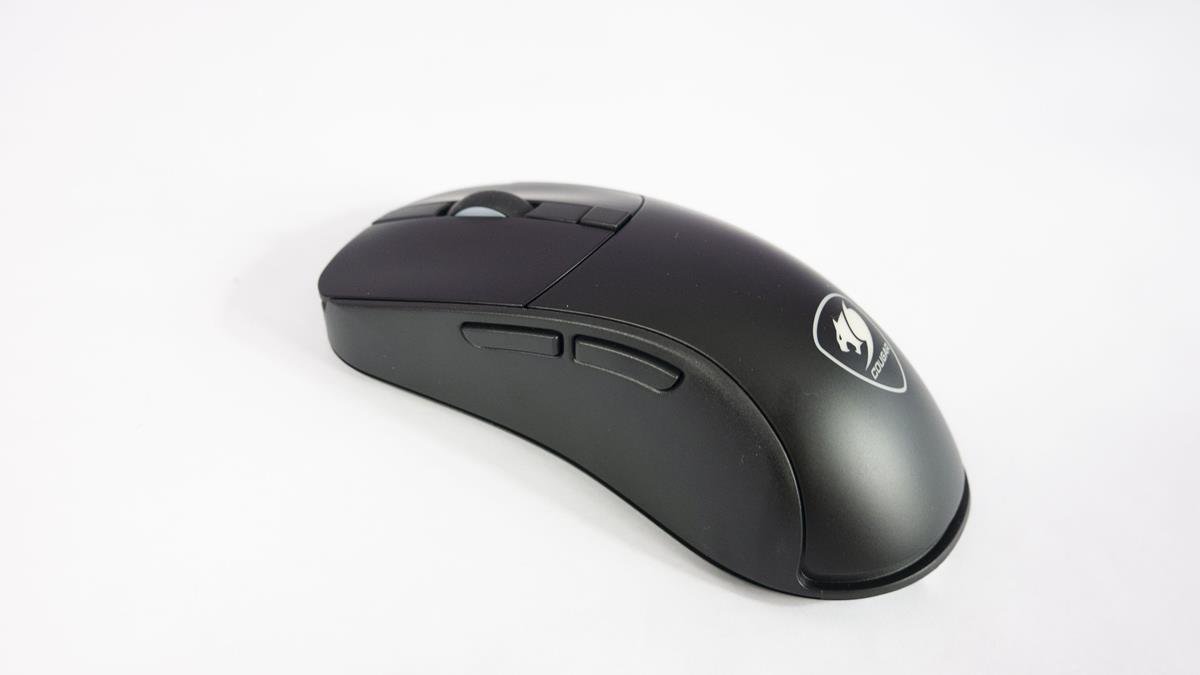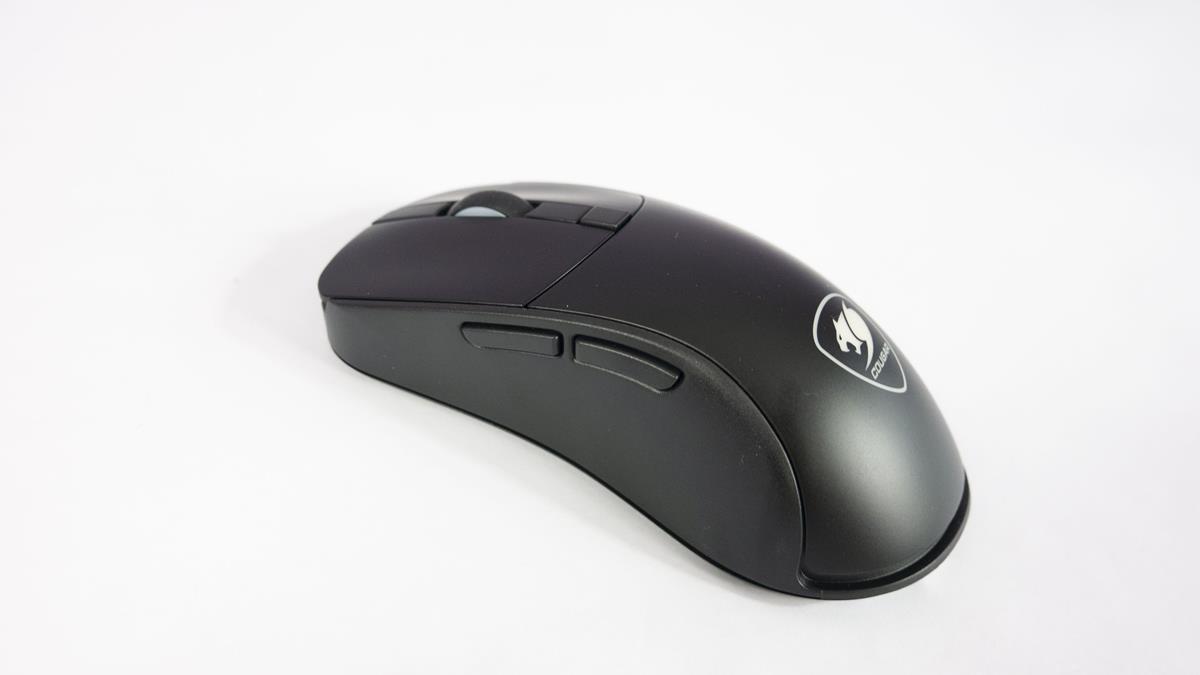 The right side of the mouse doesn't have any extra buttons but has a nice contour to it so it's comfortable for those long gaming sessions.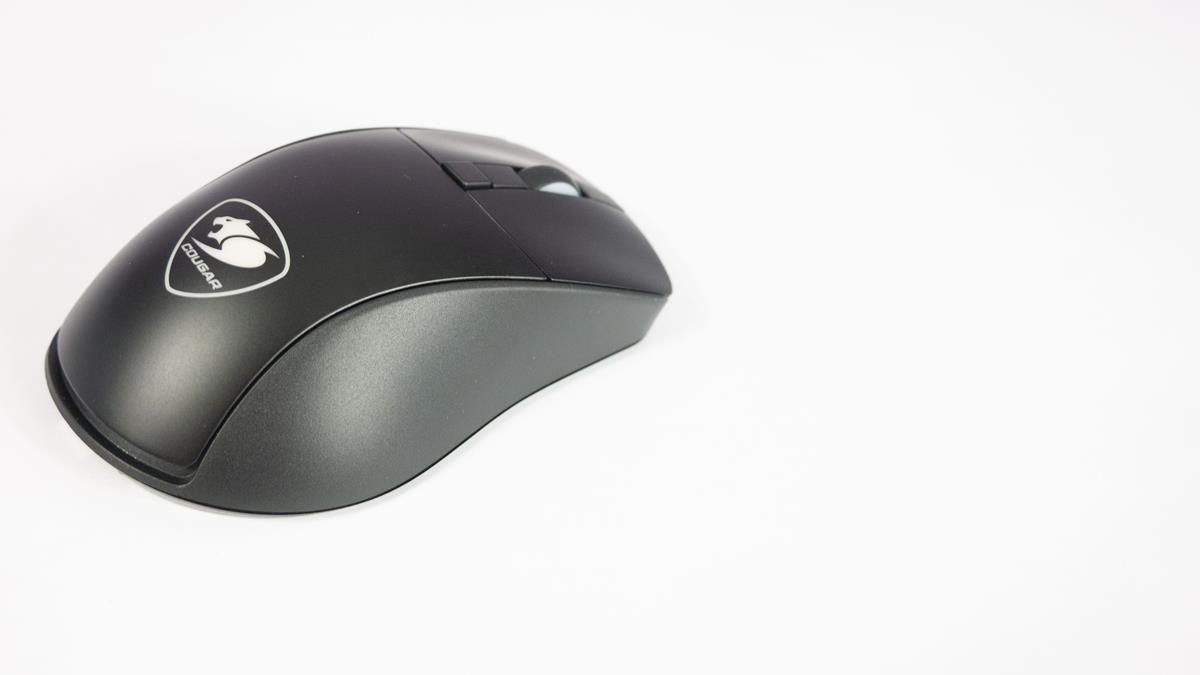 The scroll wheel is smooth and the main buttons have an ever so slight indent to them to fit your finger in when using. Just behind the scroll wheel is the RGB button which will let you cycle through the different colours available until you find the one you like best.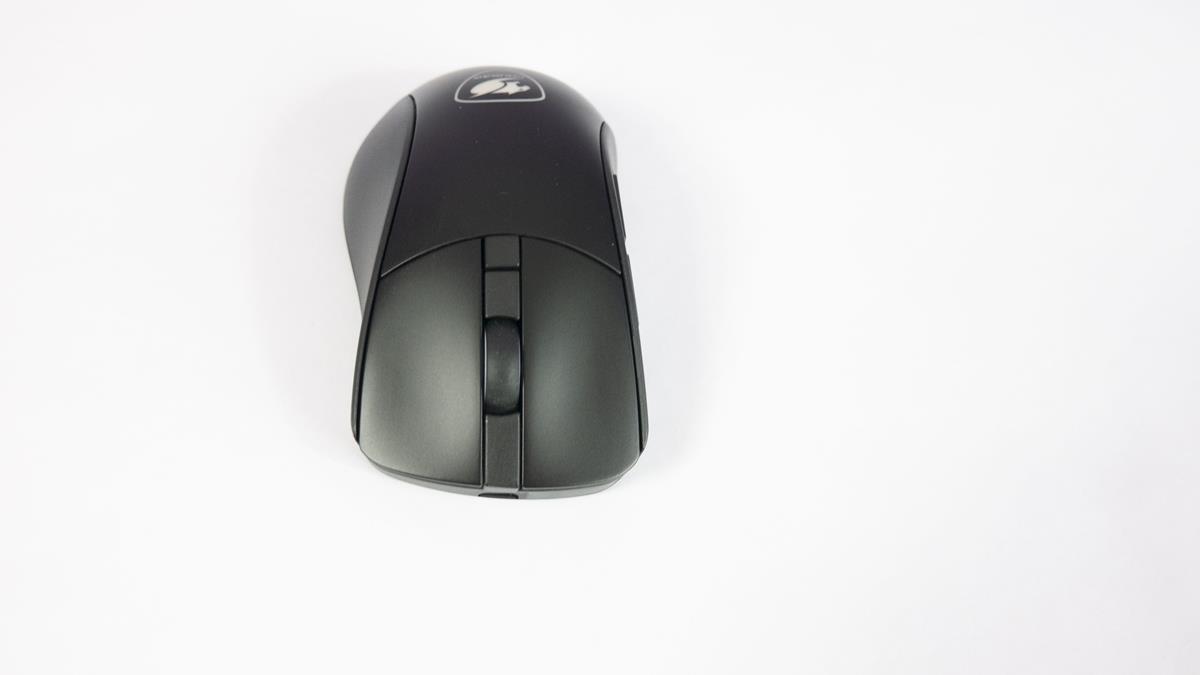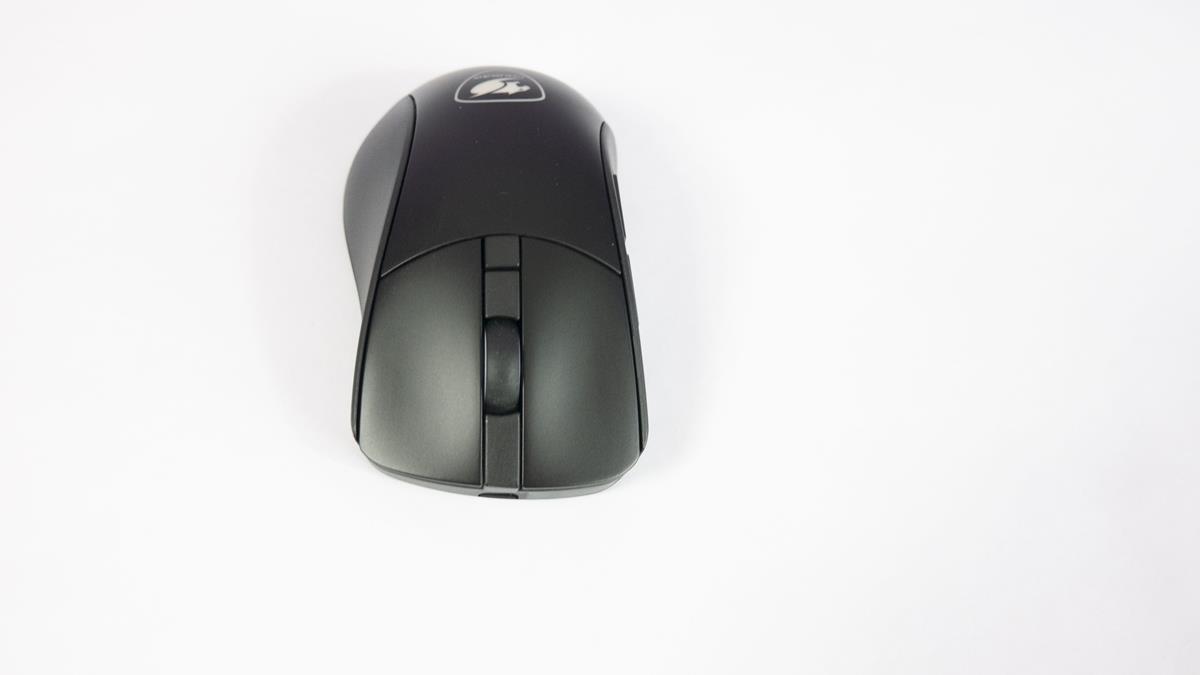 Want to charge the Surpassion RX or just use it plugged in? Well, the cable goes into the front of the mouse, same place as a normal mouse so you won't run into any issues while using it all plugged in.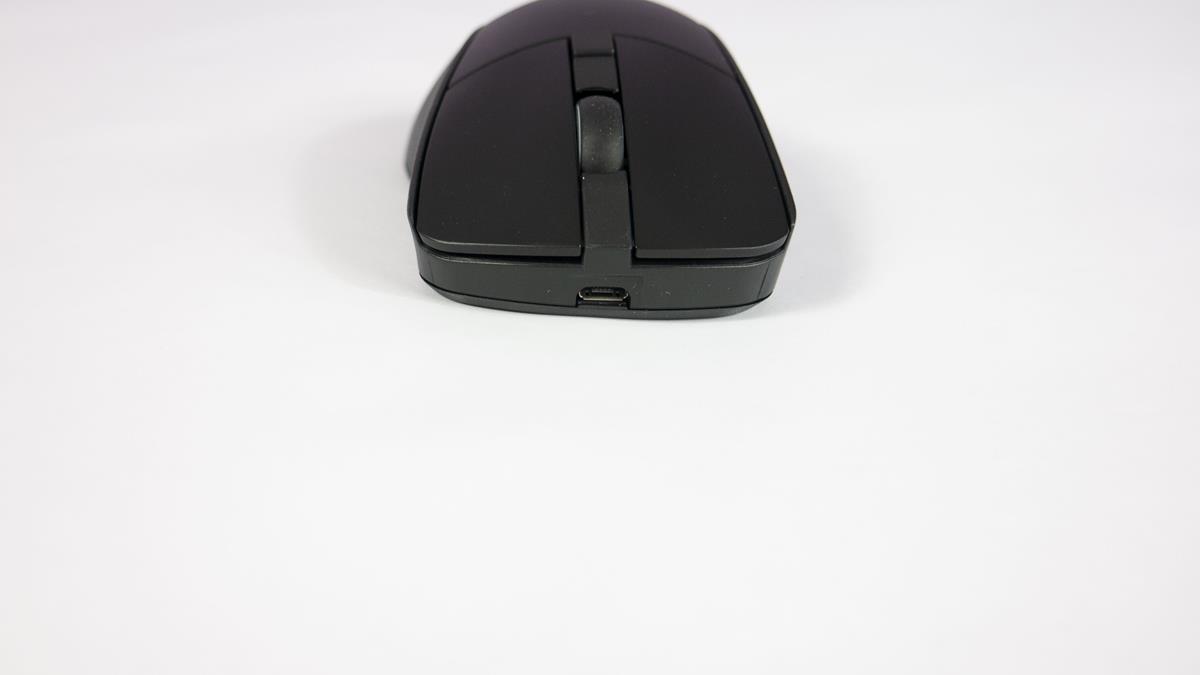 The wireless receiver is kept in the bottom of the mouse and easily lifts out so you can plug it into your PC or laptop to make use of the Surpassion RXs wireless functionality.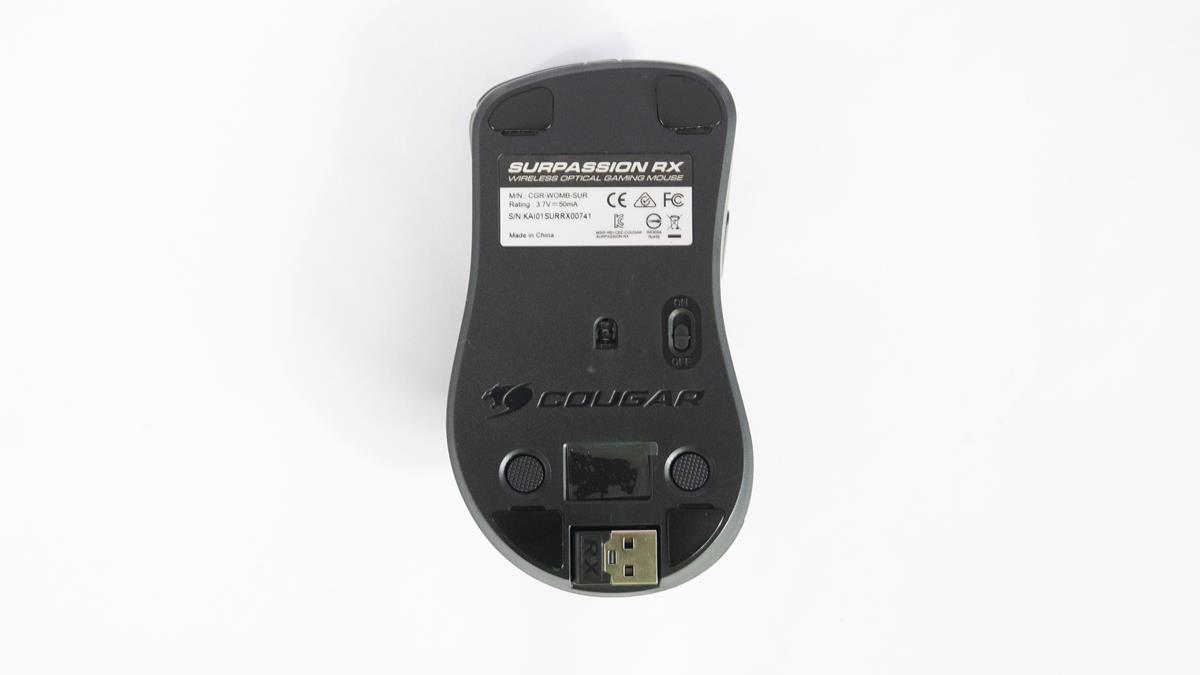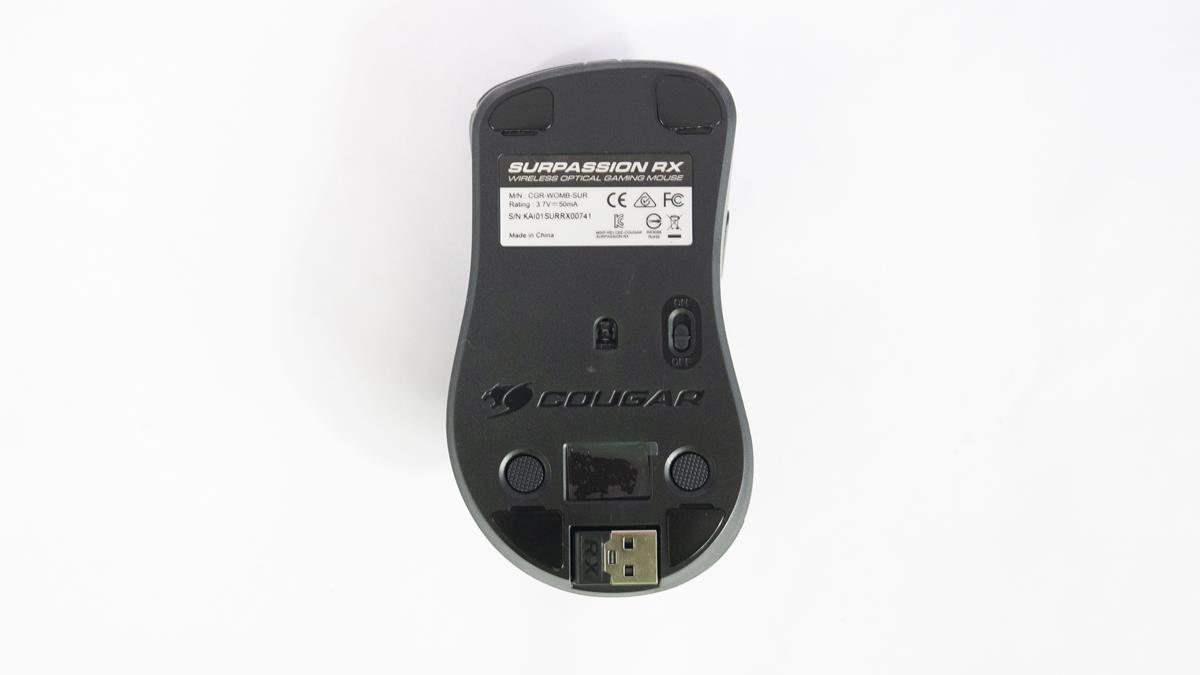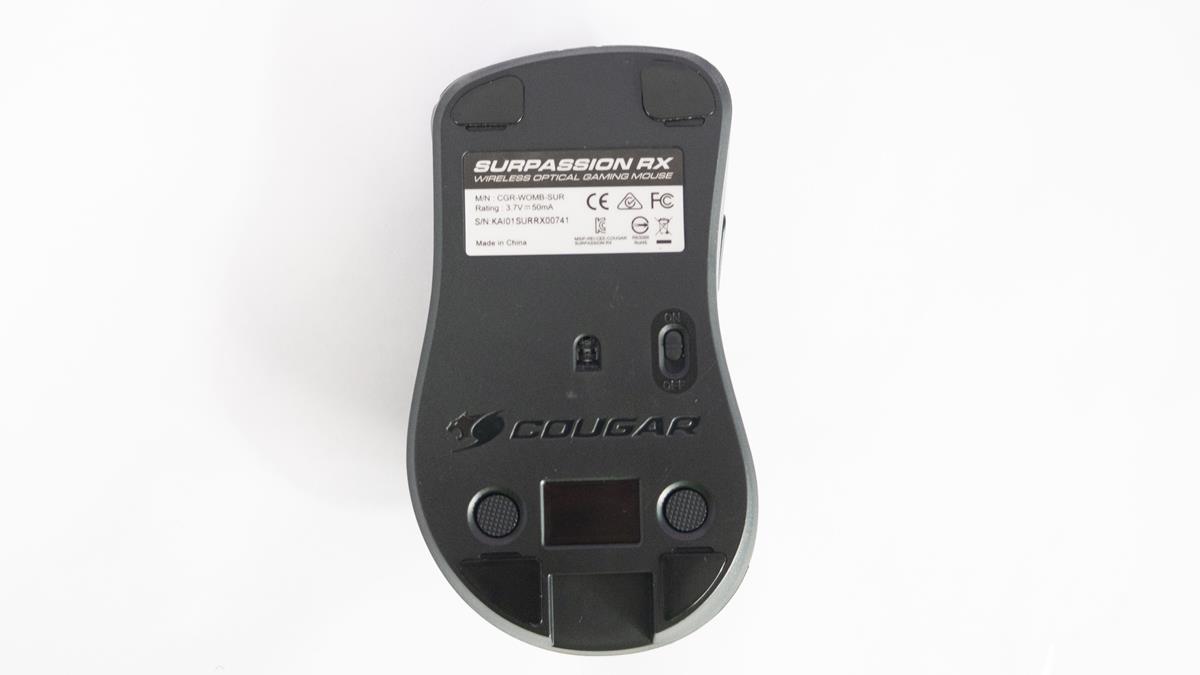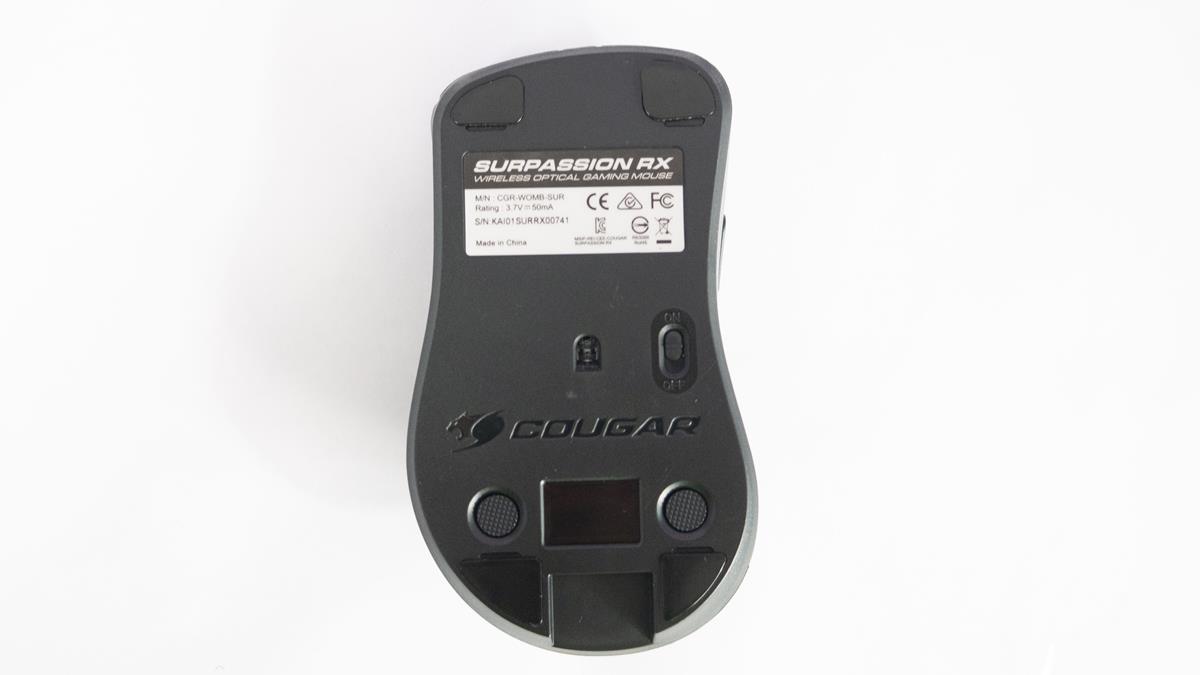 The screen is located just above the USB receiver. This mini screen lets you know the current DPI and Polling rates and even the battery life so you know if it's time to charge or not. To change the polling rate or DPI, simply use the buttons found on either side of the screen.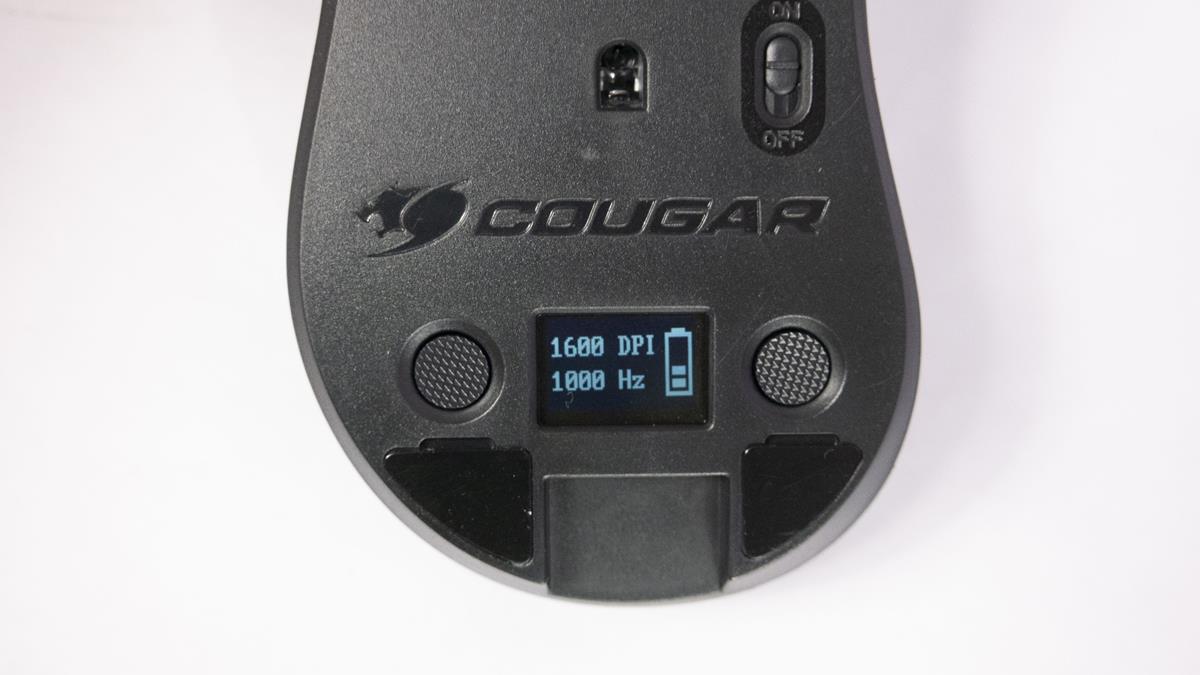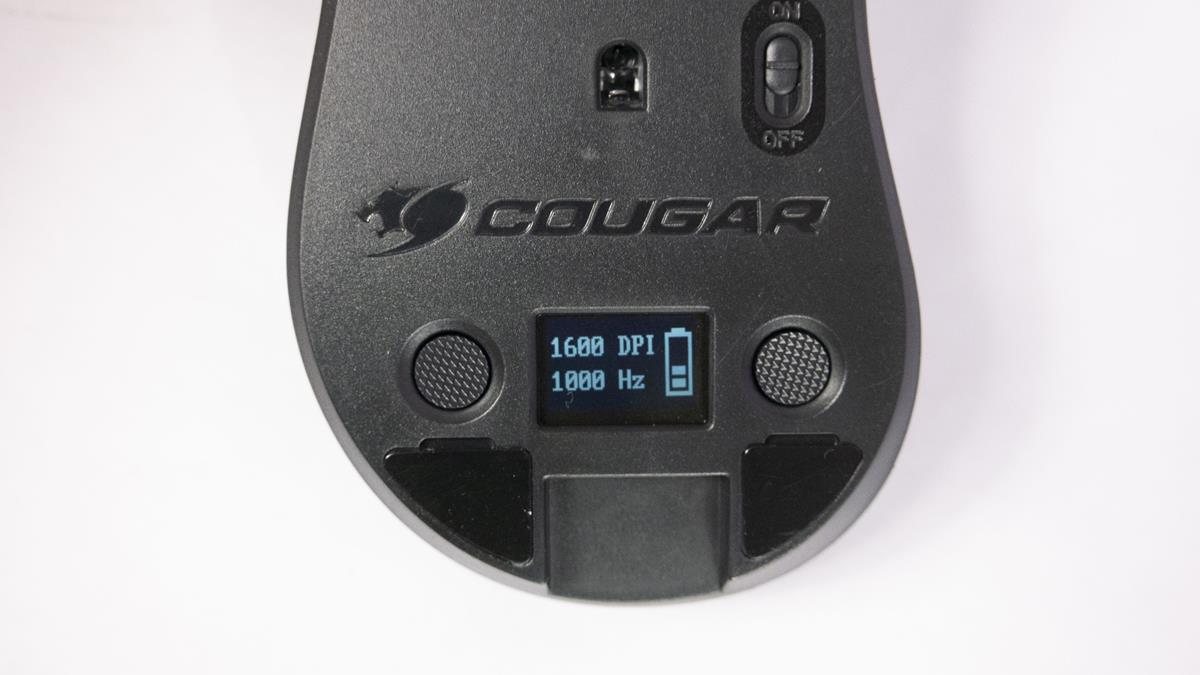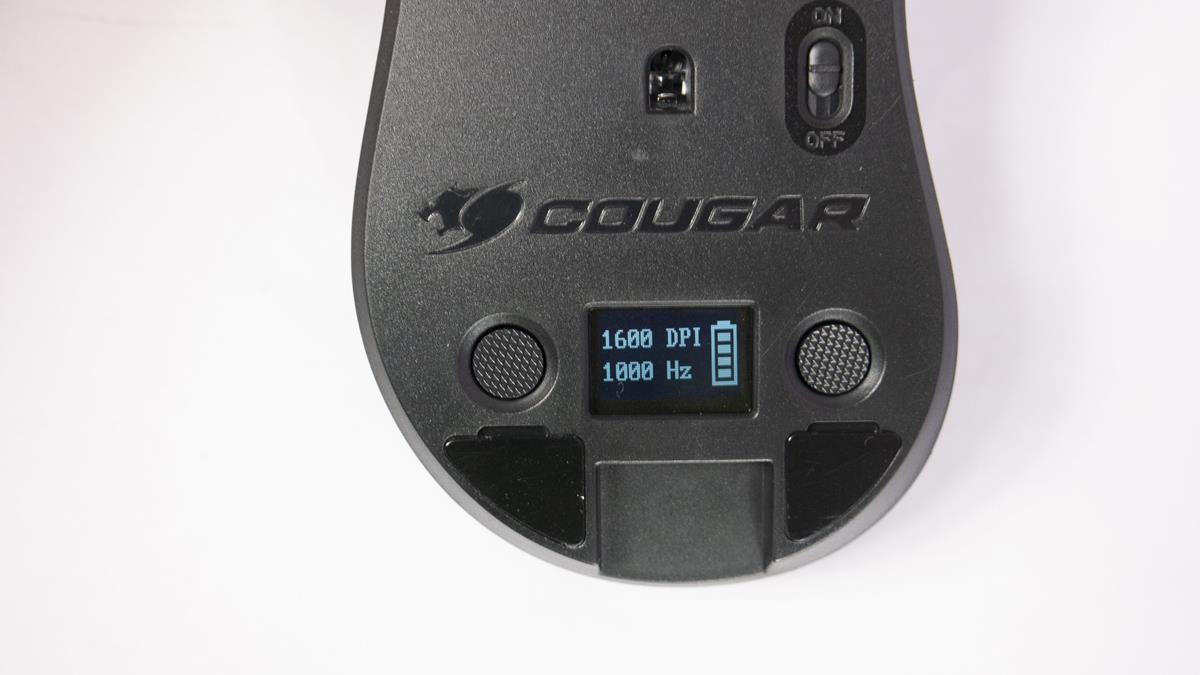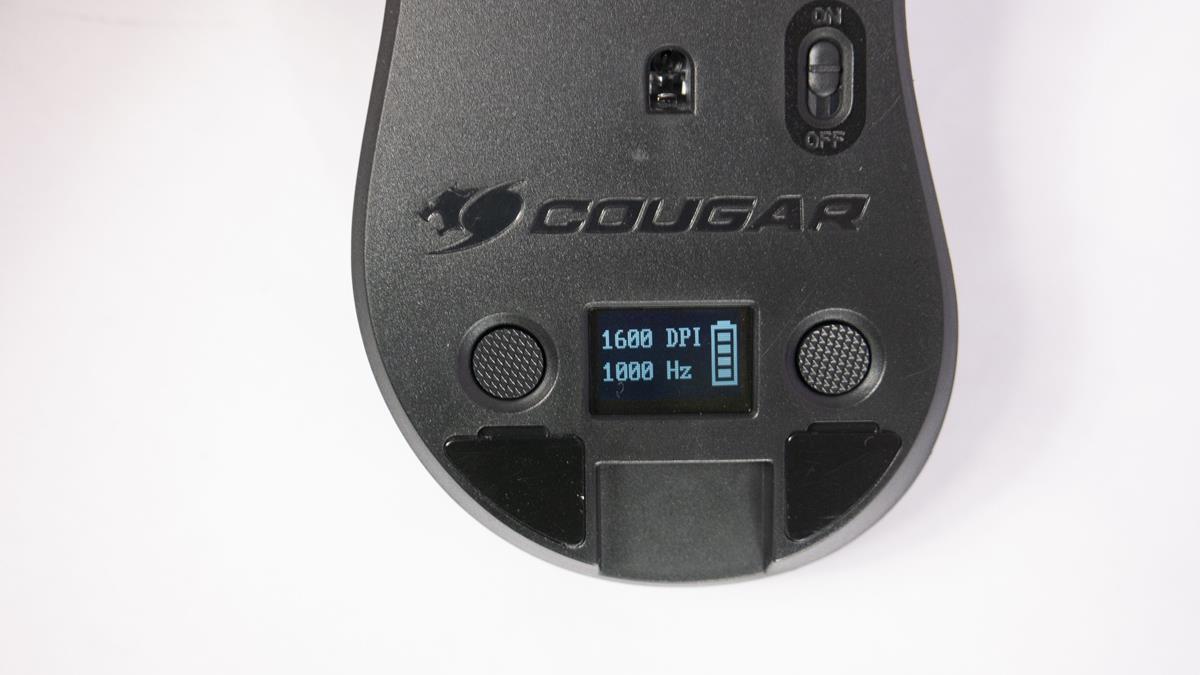 The Surpassion RX can be changed to 1 of the 13 different available colours by using the button found behind the scroll wheel. Below are a few images of some of the colours, let me just say that the pictures don't do them justice at all and they look much better in real life!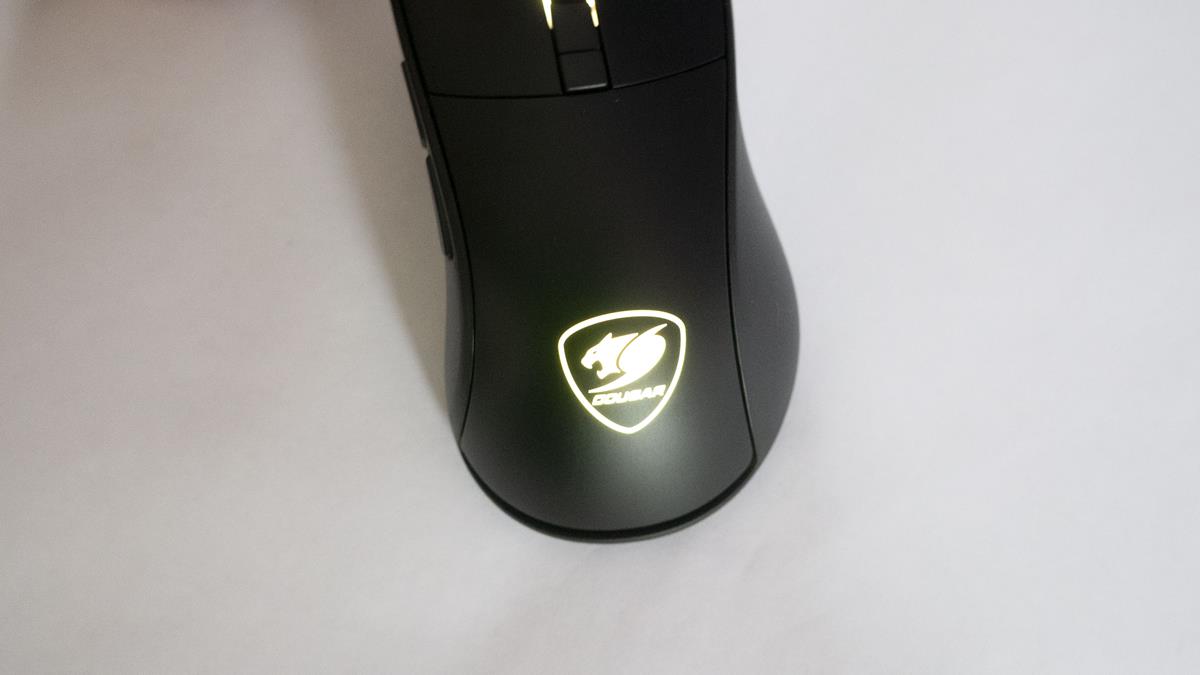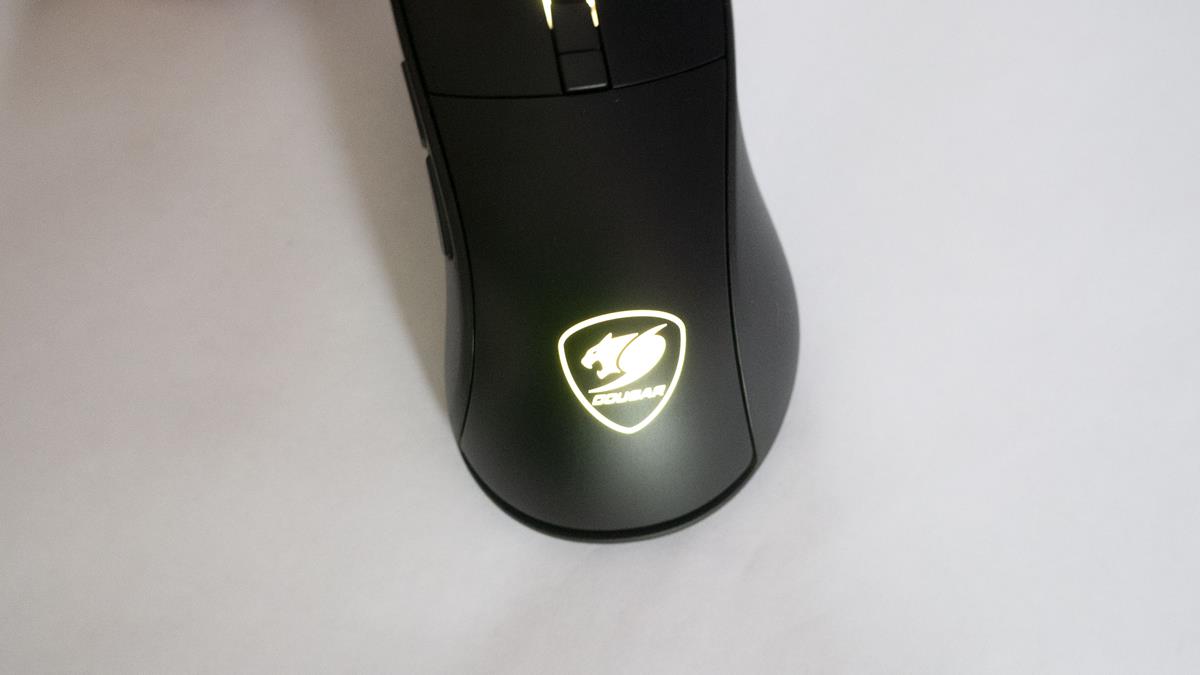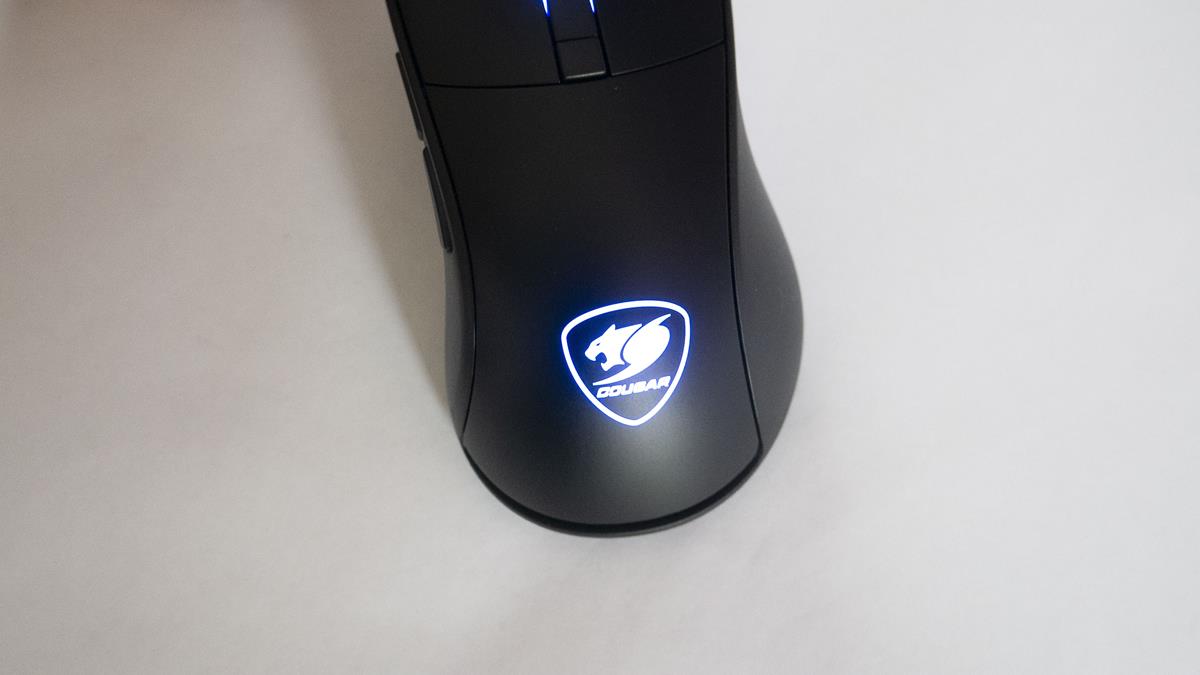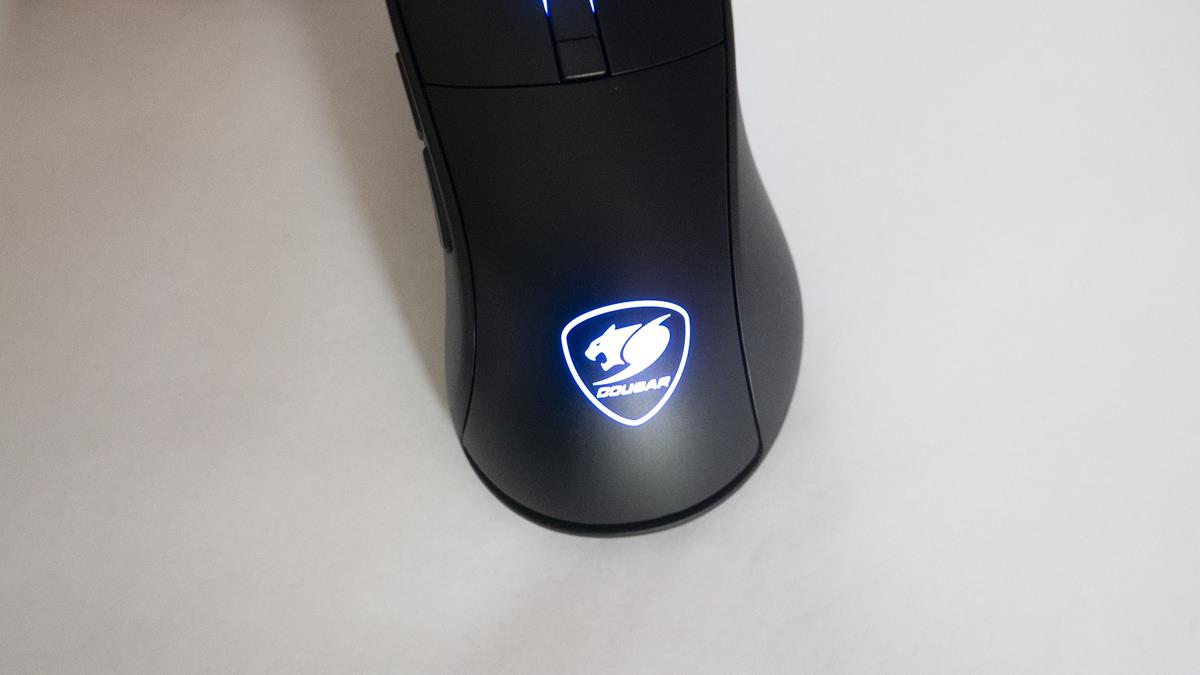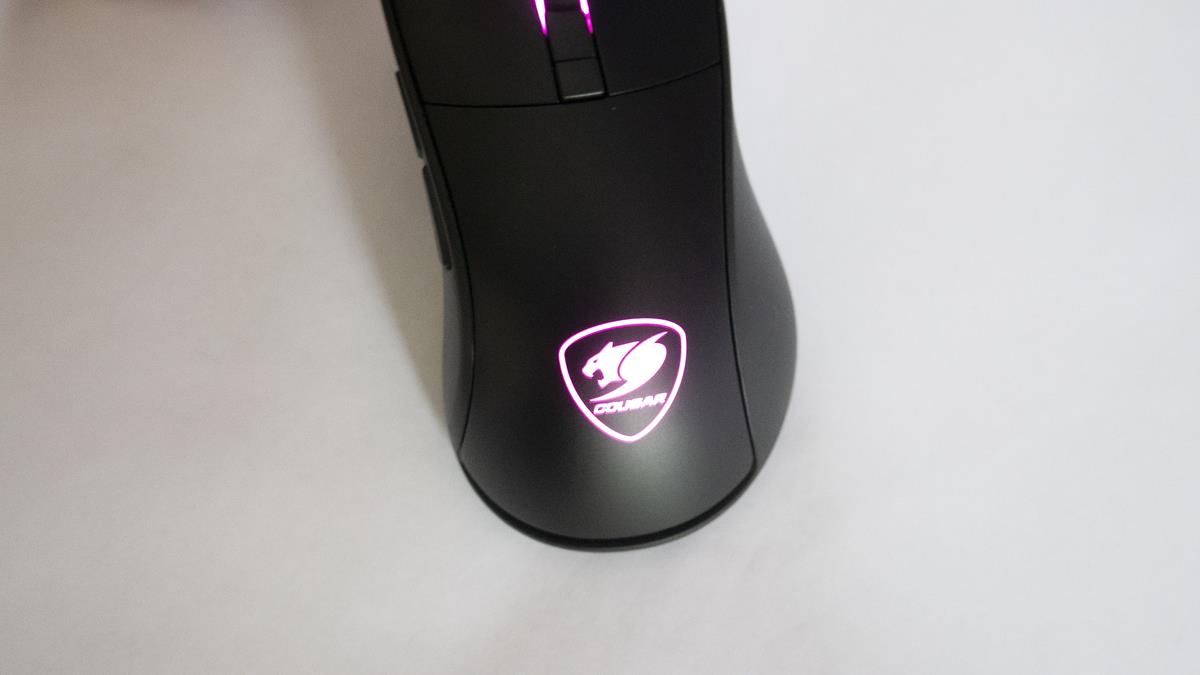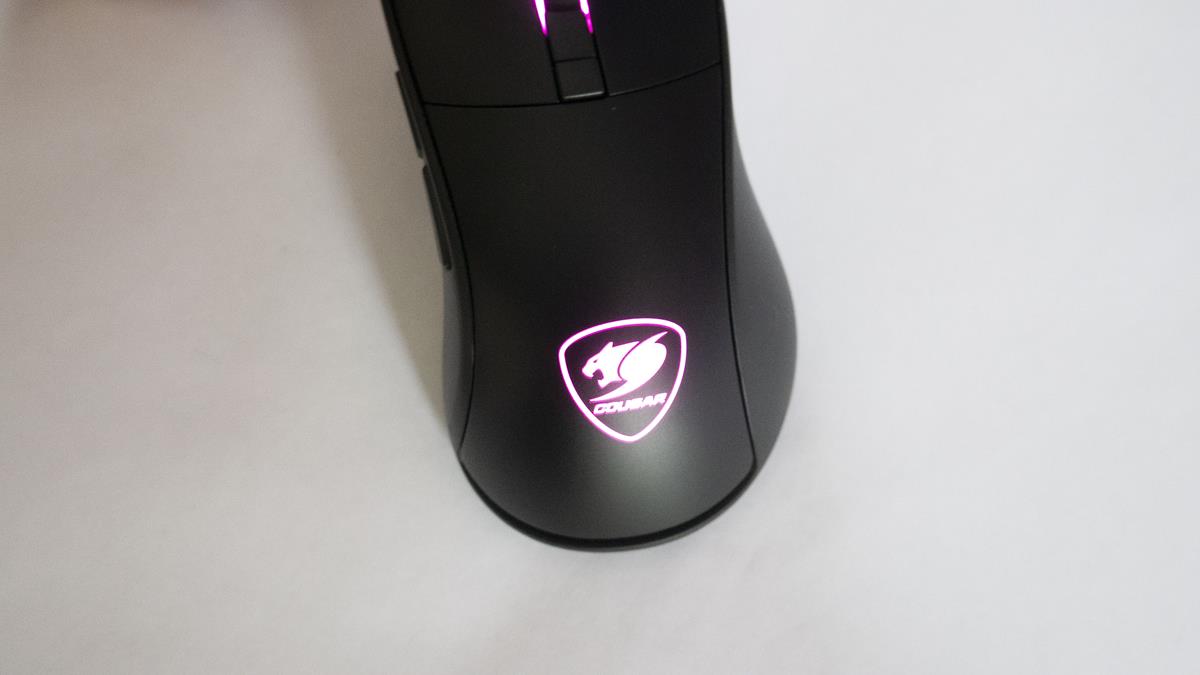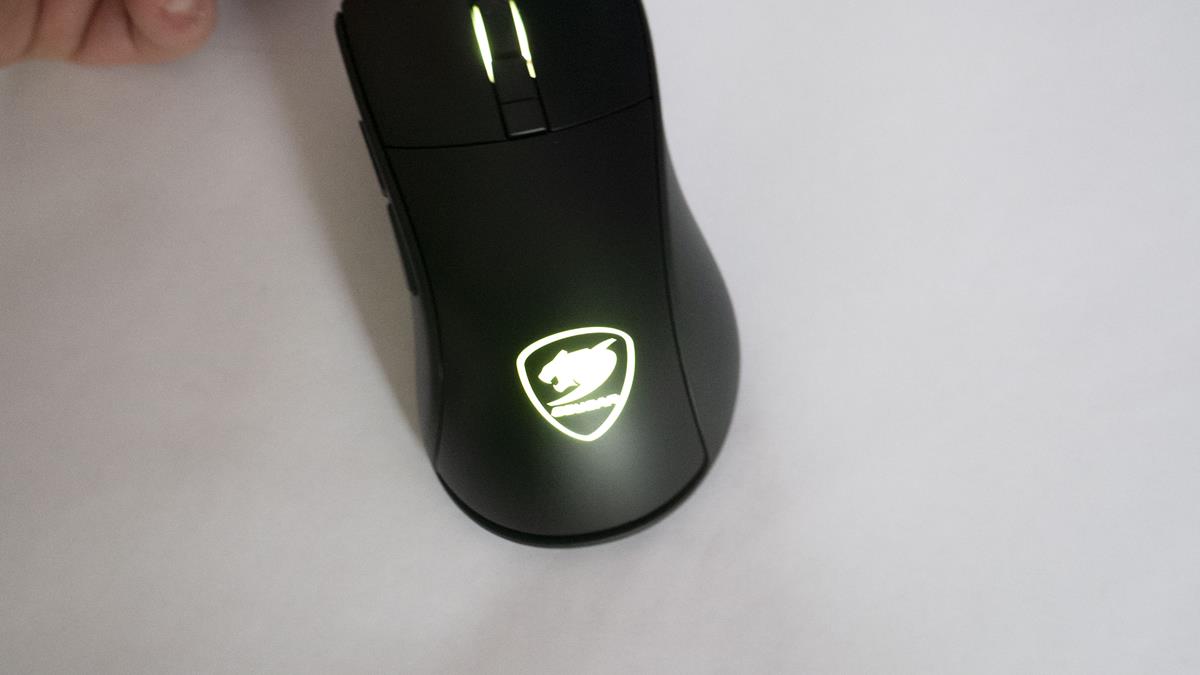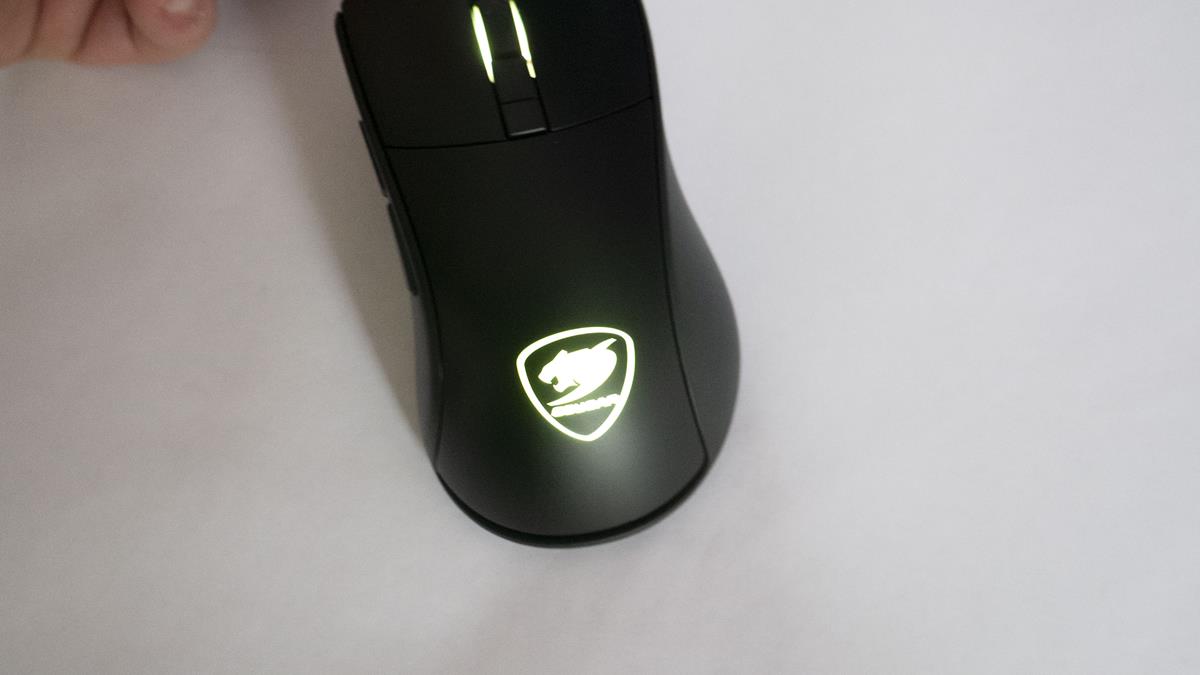 Final Thoughts
Performace
I've used the Surpassion RX for several weeks now as my daily driver, both wired and wireless and have to say I've thoroughly enjoyed it. As primarily an FPS player, this mouse suits me perfectly. The simple addition of the 2 extra thumb buttons which is almost standard on mice these days, is just enough to see me through my gaming sessions. Being able to flip the mouse over and change the DPI and polling rates at the click of a button is very helpful. Some mice you have to go to their software to do this, but with the Surpassion you can just click a button and it's done. During my gaming, mostly APEX and Warzone these days, I did not notice any input lag or anything else that would deter you from using the Surpassion RX. I did manage to get a couple of rounds of CS:GO in and even then, it was as accurate as you could hope from any mouse! I tried every game but wired and wireless and can't tell the difference until the mouse is within minutes of dying. The charge lasts numerous hours and should see you through most gaming sessions but as we now know, you can also just plug it in and use it straight away! I always kept the charging cable ready to go and had no issues switching back and forth from wired to wireless.
Design
On the outside, it looks like a standard mouse with a couple of RGB lights and while it pretty much is, it packs a massive punch as well. The PixArt PMW3330 Optical Gaming Sensor and OMRON 50M Click switches help it stand out massively from your normal mice. This mouse is designed for gamers and it shows. The wireless functionality is also impressive and the battery lasts for a good amount of time as well. I never like to comment on battery life as there are too many variables into the length it'll last but I would be happy to say the Surpassion RX battery should last you through MOST gaming sessions. The easy to change RGB zones just help bring it all together and in a very comfortable to use package.
Value
Currently coming in just north of £75 here in the UK, the Surpassion RX isn't the cheapest wireless mouse around but when it comes to something like this, would you want it to be? The Surpassion RX has a lot to offer from good battery life to equally good performance and design all in an easy to use design. Also, not being forced to install any software to make the most of what it has to offer is a major plus for me! I'm sure most gamers have enough software to control things on their PCs already so anything we can do to combat this is always a plus in book.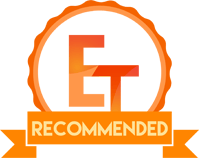 The COUGAR Suprassion RX is a great option for those looking for a wireless mouse. From the comfort to the battery life and ease of use, it offers everything a gamer could need in a wireless mouse!