The day is nearing that Google will shut it's Google+ doors for consumers in April 2019 due to low usage and challenges with maintaining and meeting consumer expectations for the product.
"On April 2nd, your Google+ account and any Google+ pages you created will be shut down and we will begin deleting content from consumer Google+ accounts."
"As early as February 4th, you will no longer be able to create new Google+ profiles, pages, communities or events."
As you can see in the email received by myself below they have it all clearly lined out and are ready to go. Google does disclose an FAQ for more details and updates leading up to the shutdown. There is ample time for any Google+ Community owners or moderators to download and save your Google+ Community data which you can learn more about here.
If you have signed into sites with the Google+ Sign-In Button, these buttons will stop working in the coming weeks but in some cases might be replaced by a Google Sign-in button. Your google account will still be able to sign you in where ever you see a Google Sign-in button so no despair there.
"If you've used Google+ for comments on your own or other sites, this feature will be removed from Blogger by February 4th and other sites by March 7th. All your Google+ comments on all sites will be deleted starting April 2, 2019."
G Suite customers should have nothing to worry about over this change and developers can go here to see how using Google+ APIs or Google+ Sign-in will impact them.
Coupling low statistics and back to back security flaws that left around a half million users data exposed to third-party app developers that were fixed and then followed by another issue has led to Google+ being shut down earlier in April 2019. It is no surprise to myself or many others Google are choosing this route. I have for years struggled to find a way and or reason to promote on and use the Google+ social platform.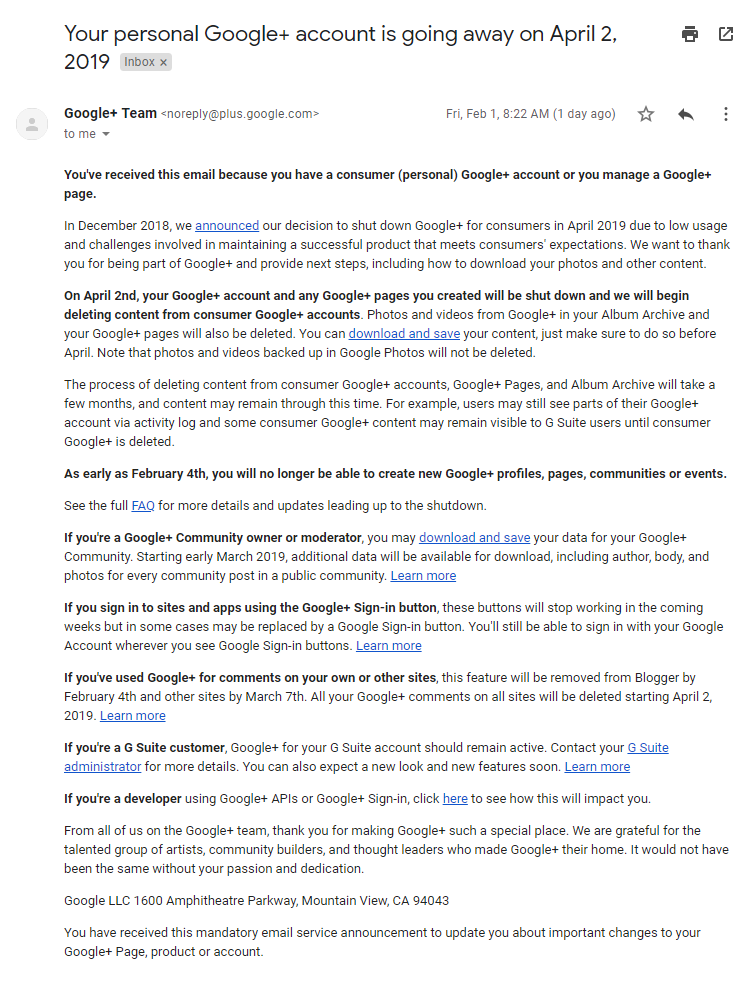 The document used for quotes in the article.