Today we are going to be taking a look at a white mechanical keyboard by way of the Havit HV-KB389L. This keyboard features a brown switch with an operating force of 50-60g. Not only that, it also features customizable RGB LED backlighting which is the current trend of the 'gaming' manufacturers. Whether you like RGB or not, there is definitely a massive upside to them, you can set your peripherals to any colour with them based on mood, time of day, season or your Mr/Mrs preference. Either way, I don't see many people using the full RGB spectrum for their personal use, this is mostly geared towards shows and the likes.
There is also no denying that the current 'PC Gaming' peripheral and component markets are huge. A couple years back, everyone said the PC was going to die and be replaced by laptops, tablets and phones. Well, those of us in the industry were having none of that and now with the MASSIVE rising of eSports, I don't think that is anything we will have to worry about anytime soon. Even with the current rise in prices, the PC peripheral and component markets both seem to be doing just fine!
Getting things kicked off with the packaging and on the front, we have a nice image of the keyboard itself. There is also some text which lets us know some of the features the HV-KB389L has to offer.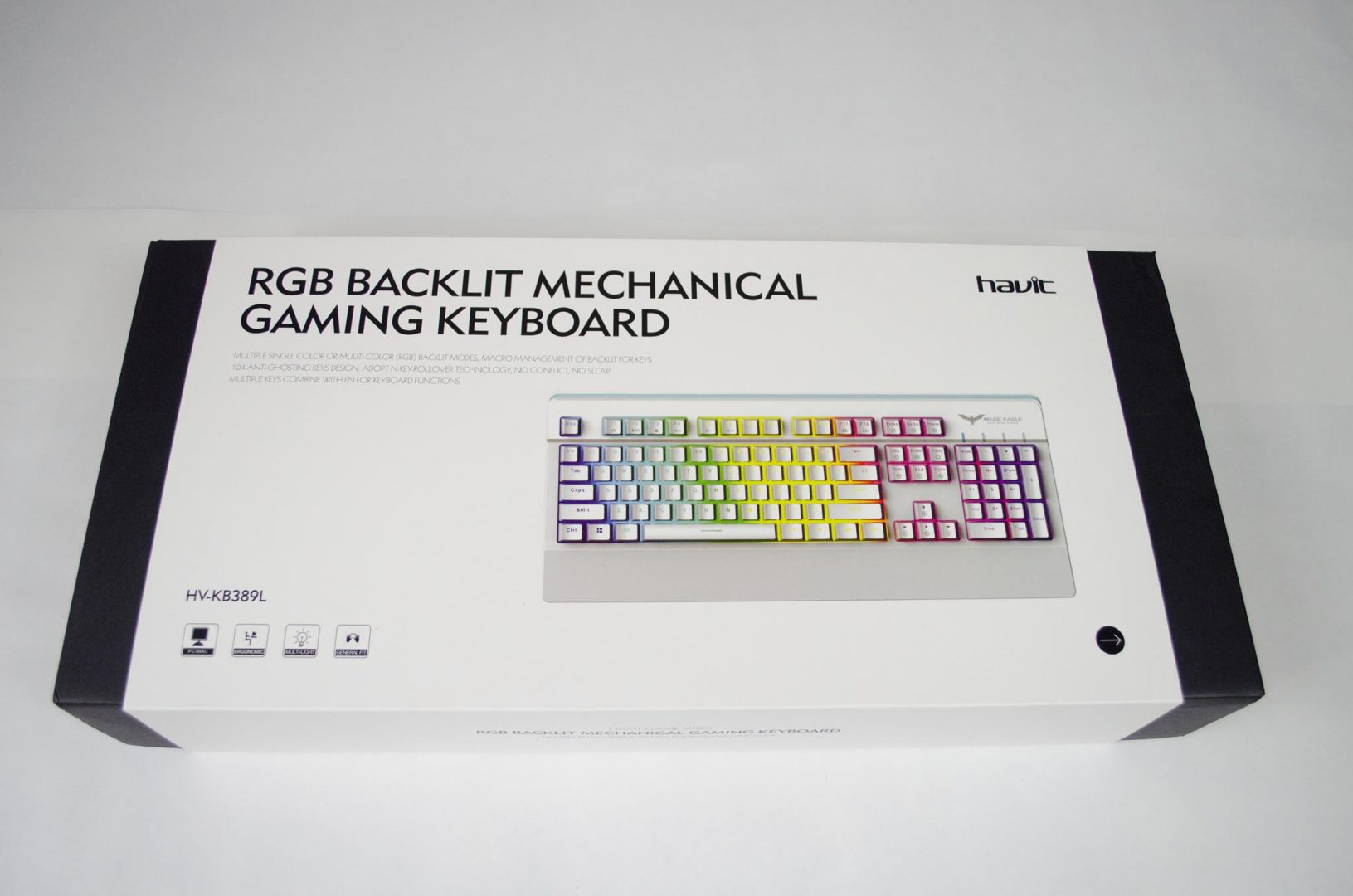 Onto the back and we have a specification list as well as an outline/diagram image of the keyboard.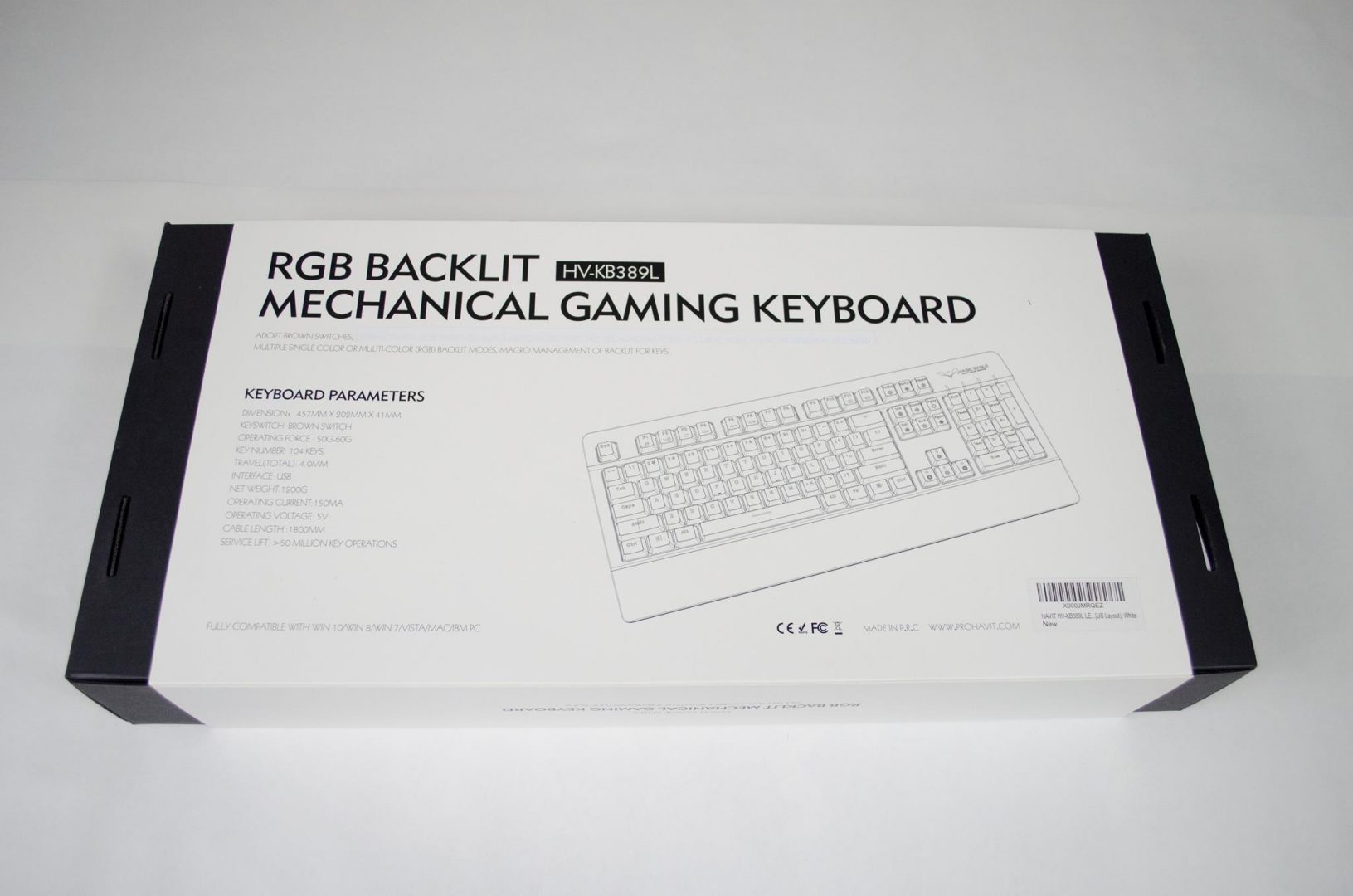 Opening the box and we can see that the keyboard is not only wrapped to protect it from scratches and damage, it also has foam on each to further help it from getting damaged in transit.
The keyboard itself looks extremely clean and I almost didn't want to touch for fear of making it dirty. While a white keyboard is something I wouldn't normally recommend due to the fact I would imagine it'll get dirty after prolonged use, there is no denying how nice it does look. Havit have done a nice job of incorporating their Logo and the overall Font/Colour used isn't very overpowering.
Magic Eagle is Havit's gaming range of products and the HV-KB3897L fall into this category.
Havit have included a keycap puller inside the box with their KB389L keyboard. This will come in handy for those looking to change some of their caps or if you just want to have a general clean of the keyboard. While I personally have plenty of these, this is something I wish all companies would include with their Keyboards as it is so handy to have.
You will notice a lot of keys have a secondary Icon on them, this is, in fact, their secondary feature. Simply meaning you can hold down the FN key and utilise the secondary function of any of the keys that has one available.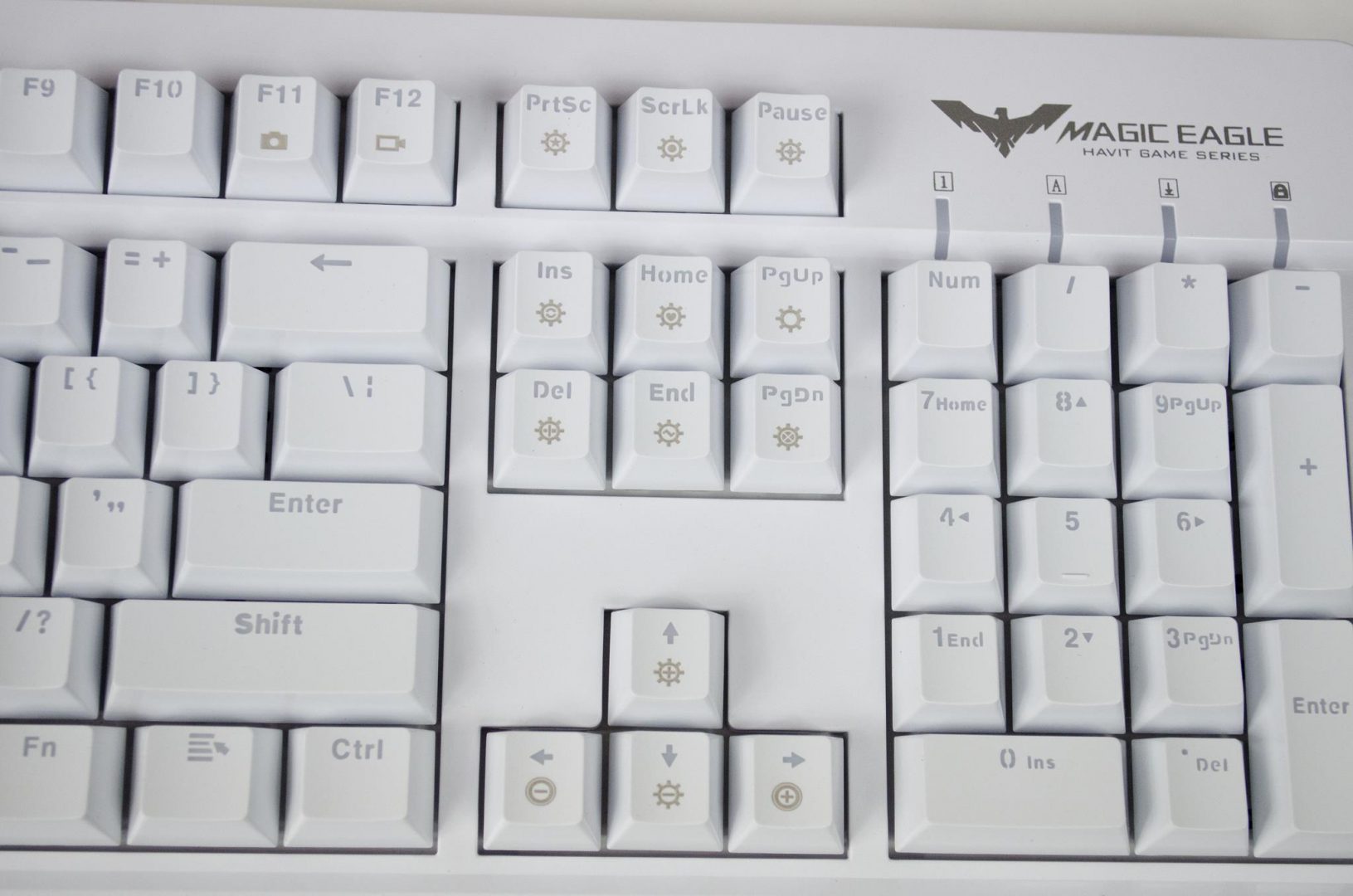 They keyboard seems to have a fairly standard layout with normal keycaps and spacing between each key.
For those like myself who can't live without the num pad, no need to worry as the Havit HV-KB389L has you covered.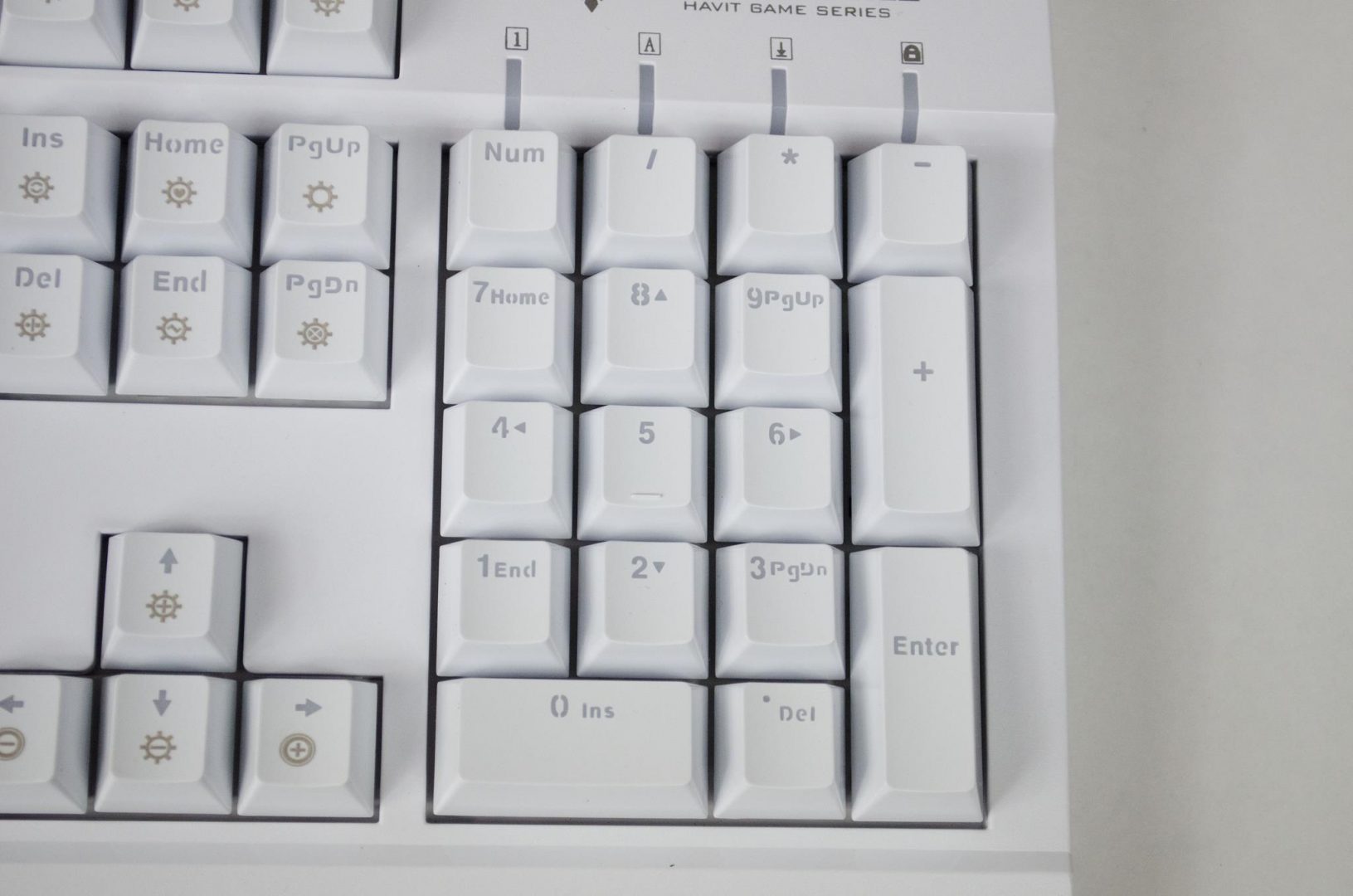 This keyboard has some interesting LED zones on it, the most interesting is this one that literally goes all the way around the keyboard. Not sure what made Havit add it but I have to say, I like it but I am a big fan of LEDs in general.
Another great thing Havit have added is a cable management system. Too many times we see keyboards with no real way to manage the cable, it just kind of is where it is. However, Havit have added a routeing system that will let you have the cable in the middle, right or left. Very nice touch!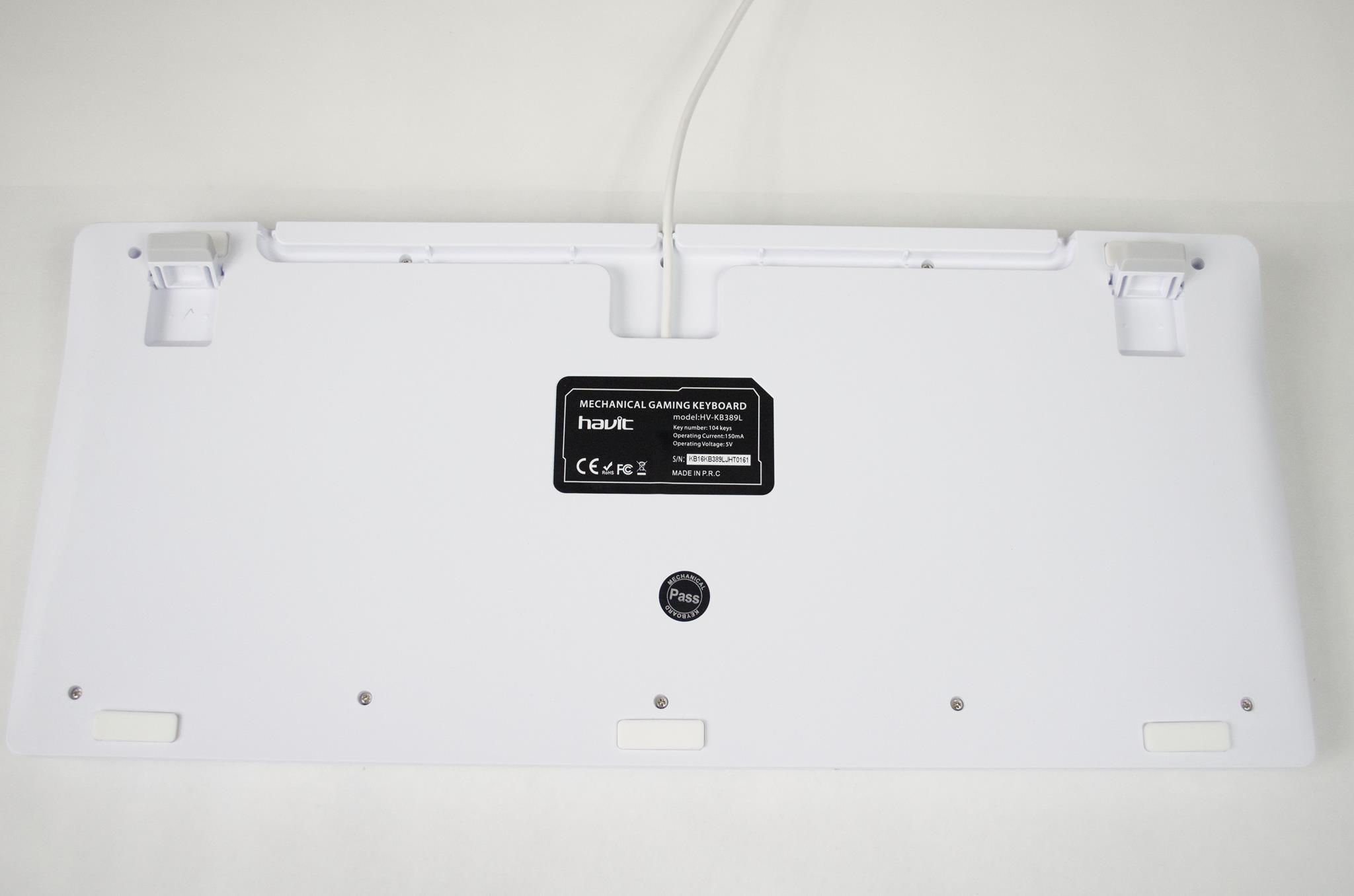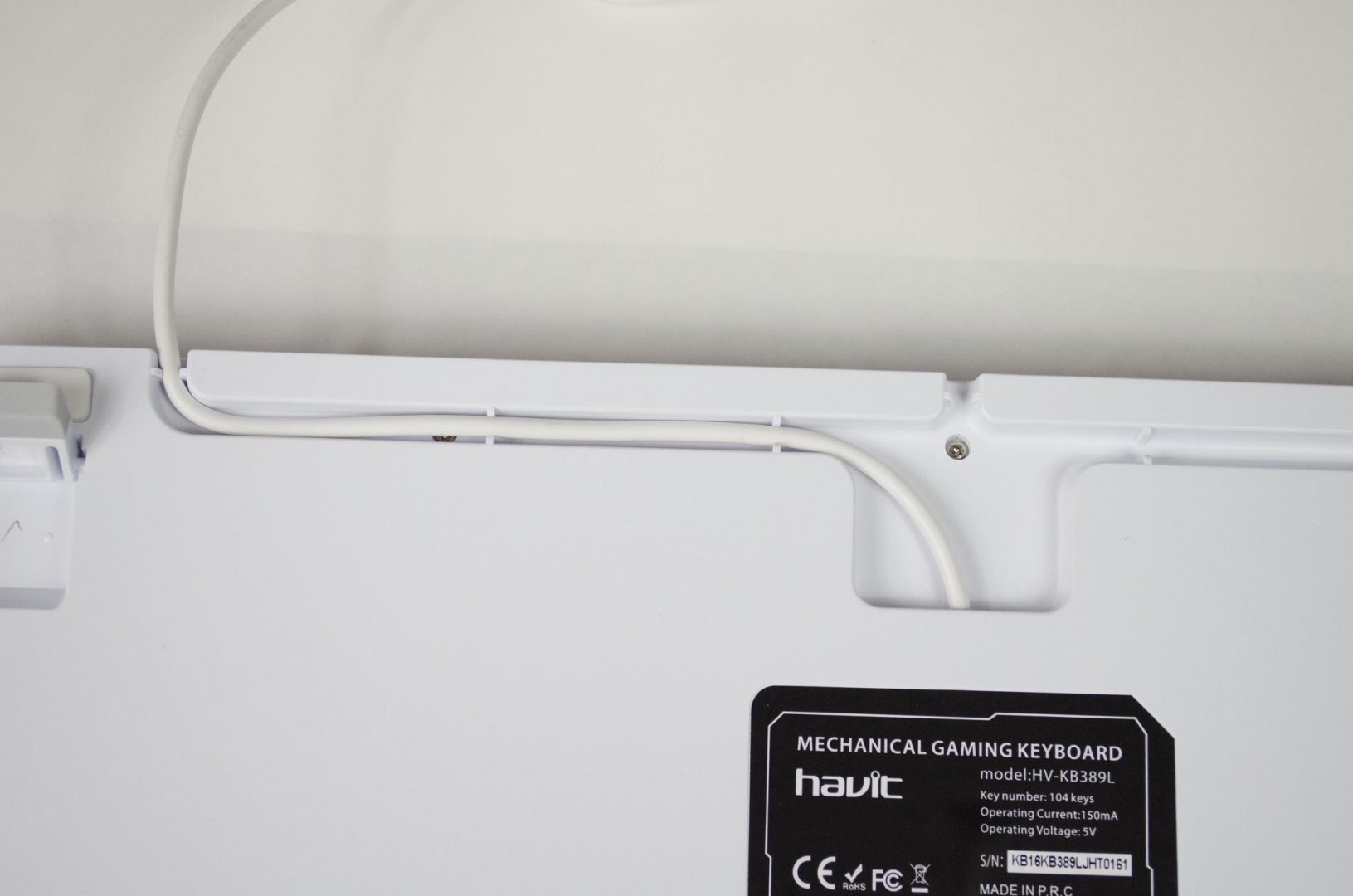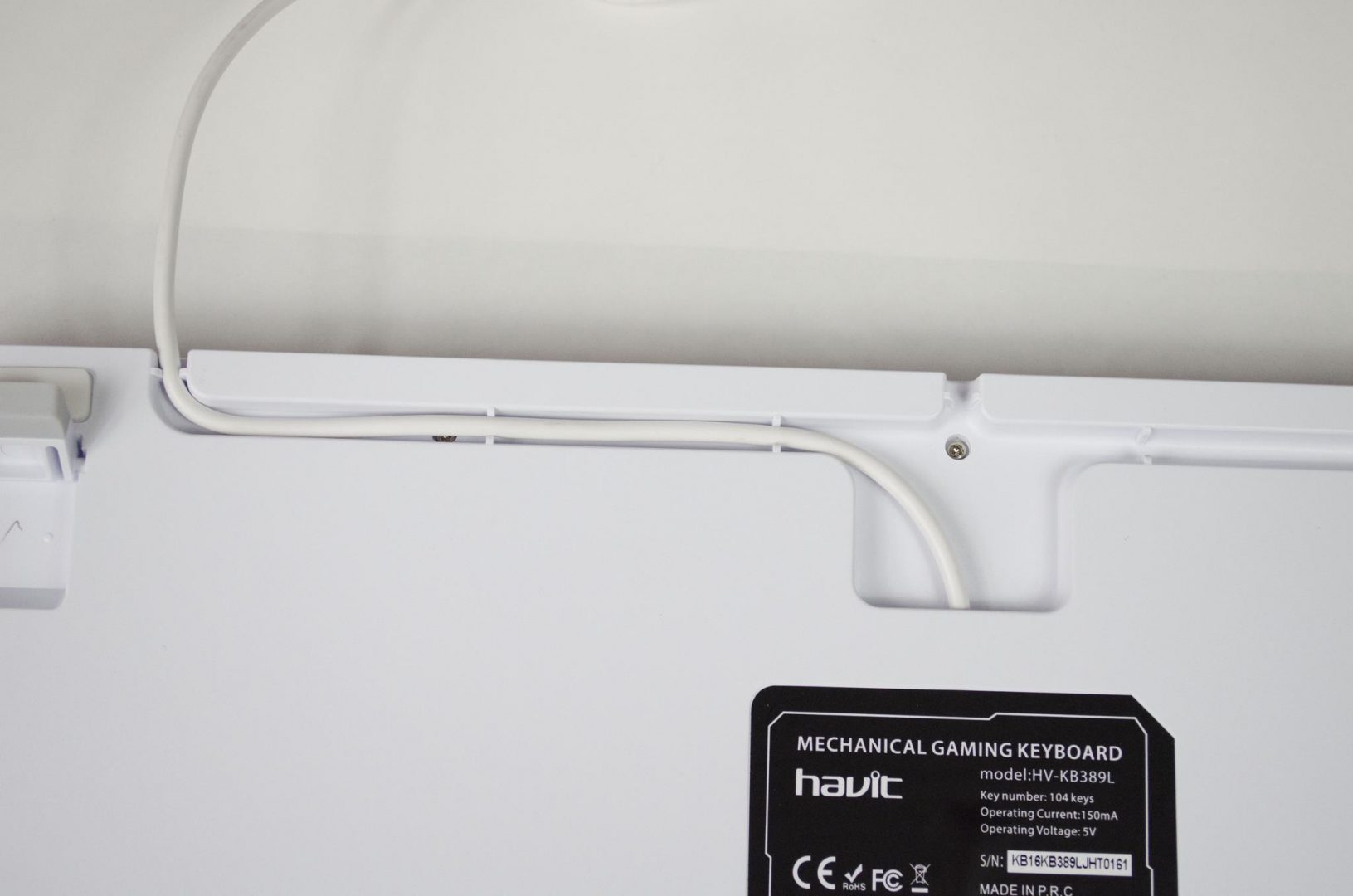 As mentioned, this is a RGB LED keyboard which also features a LED strip that goes all the way around the keyboard.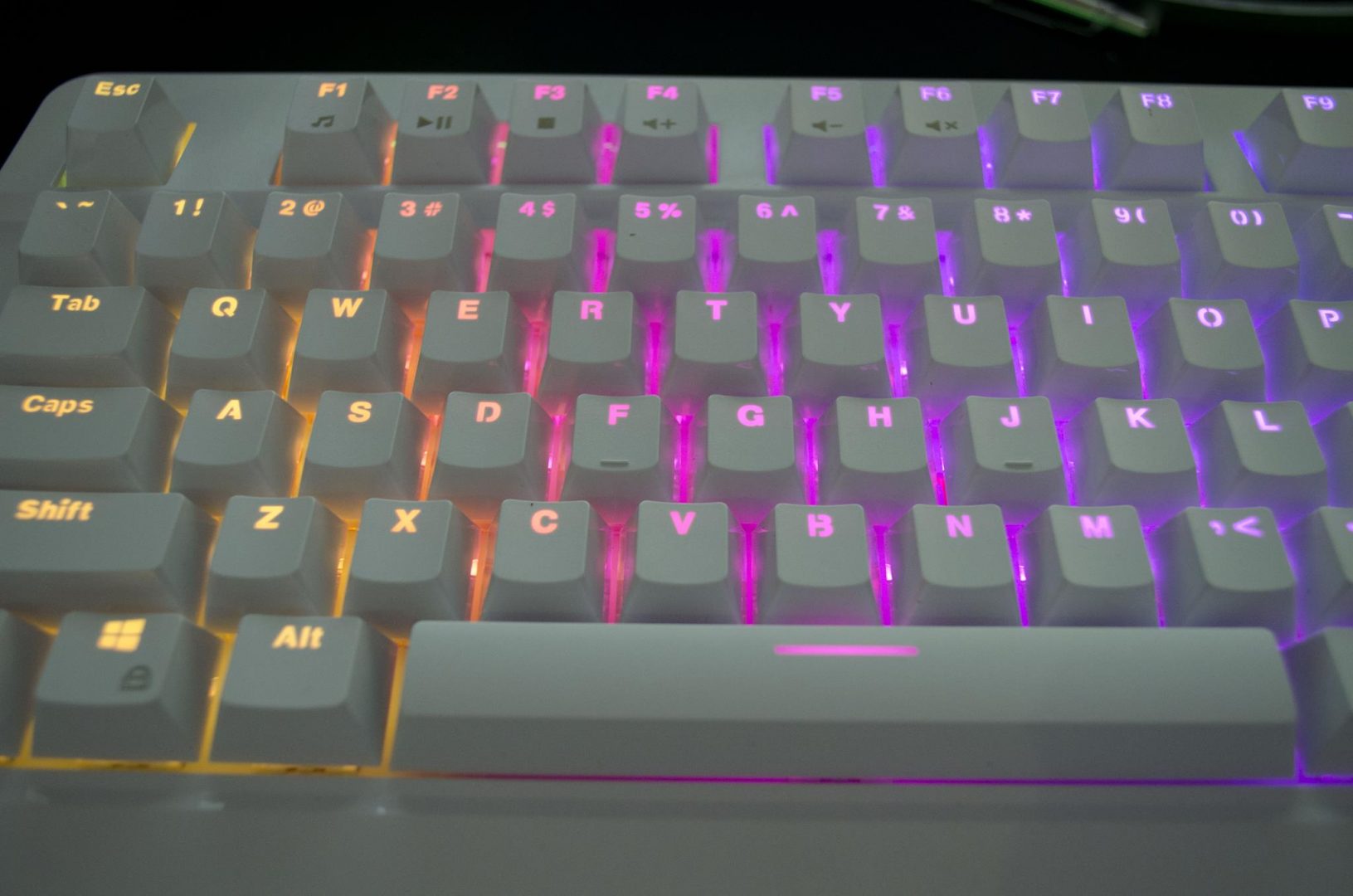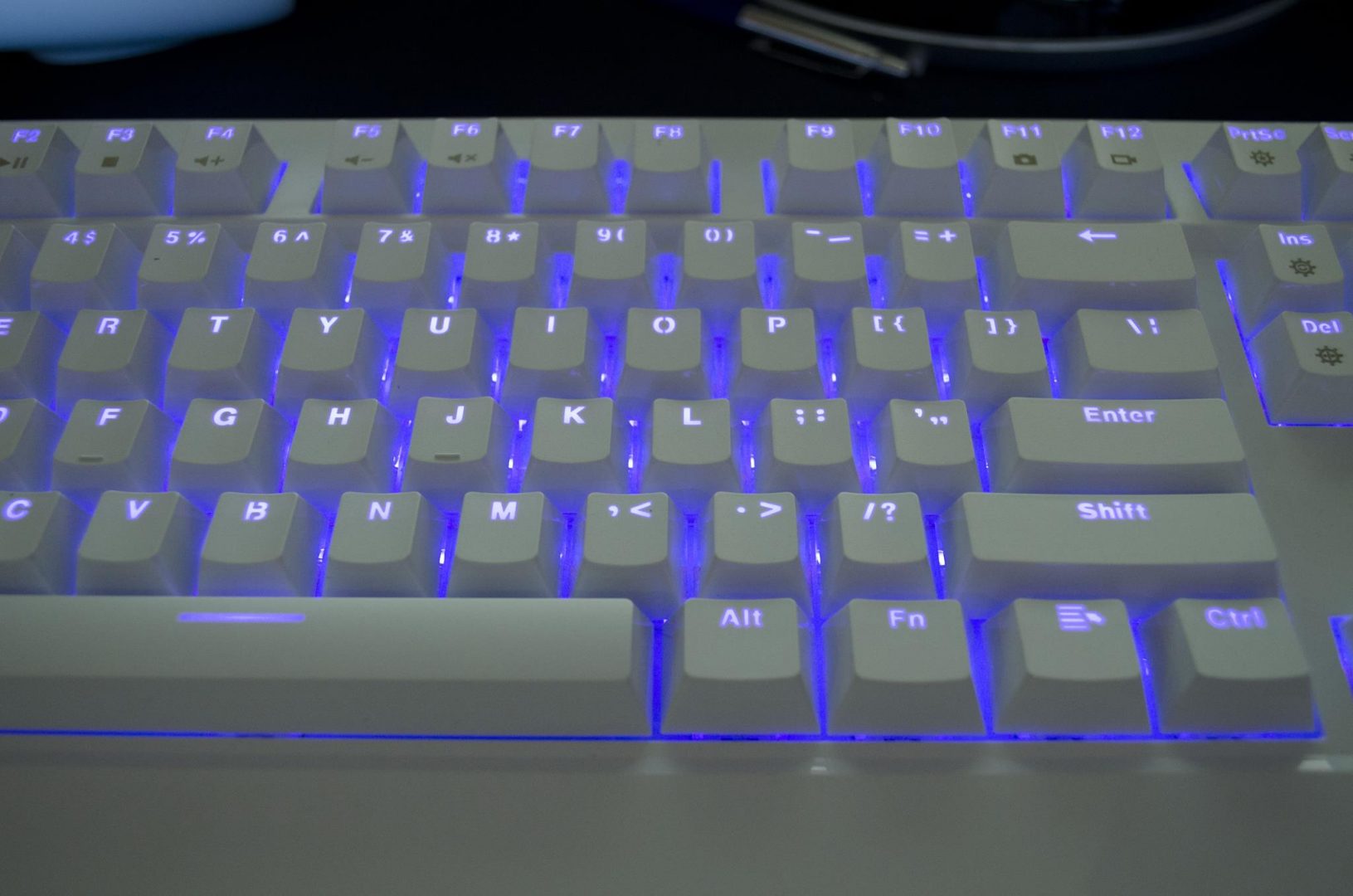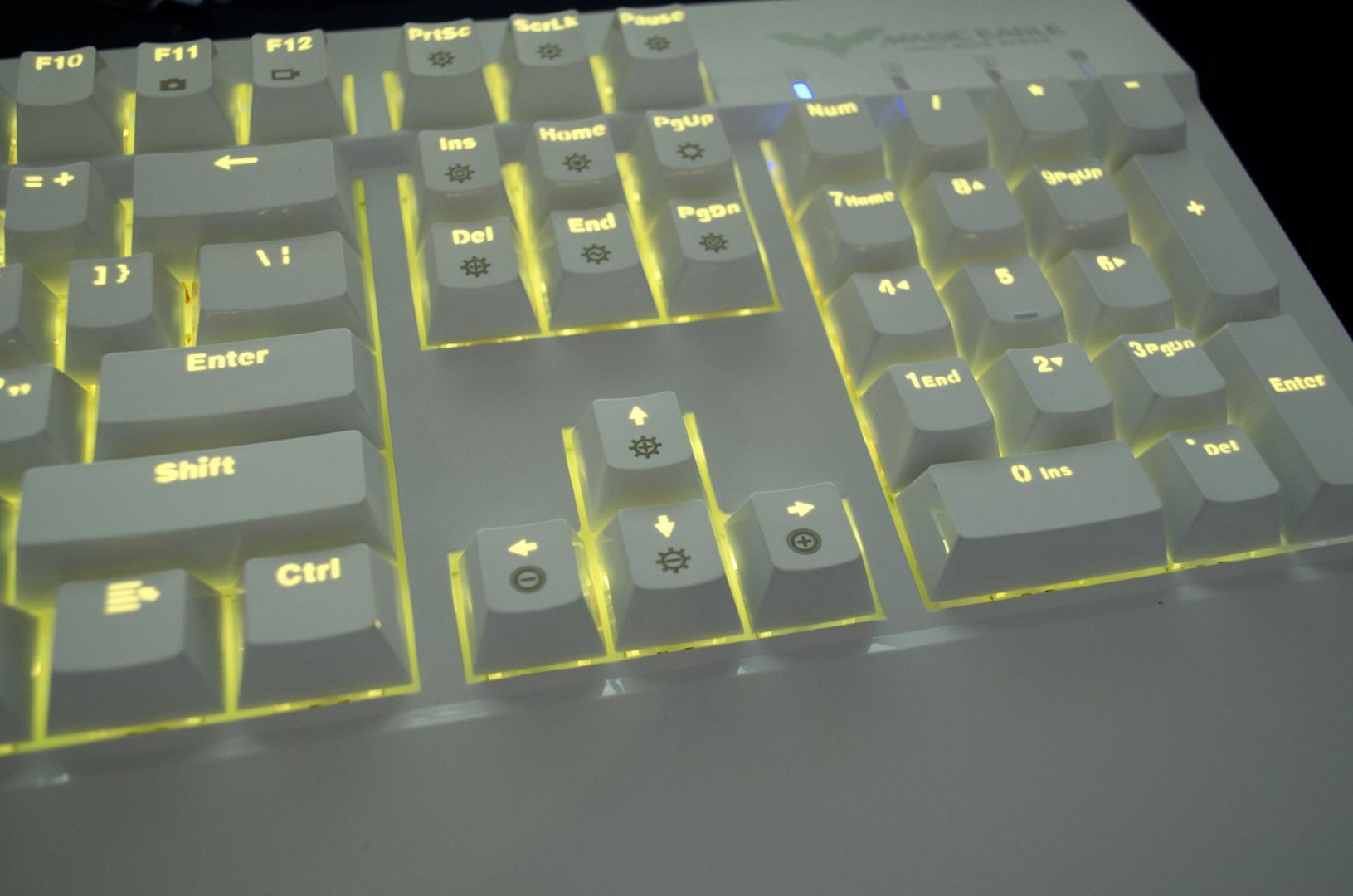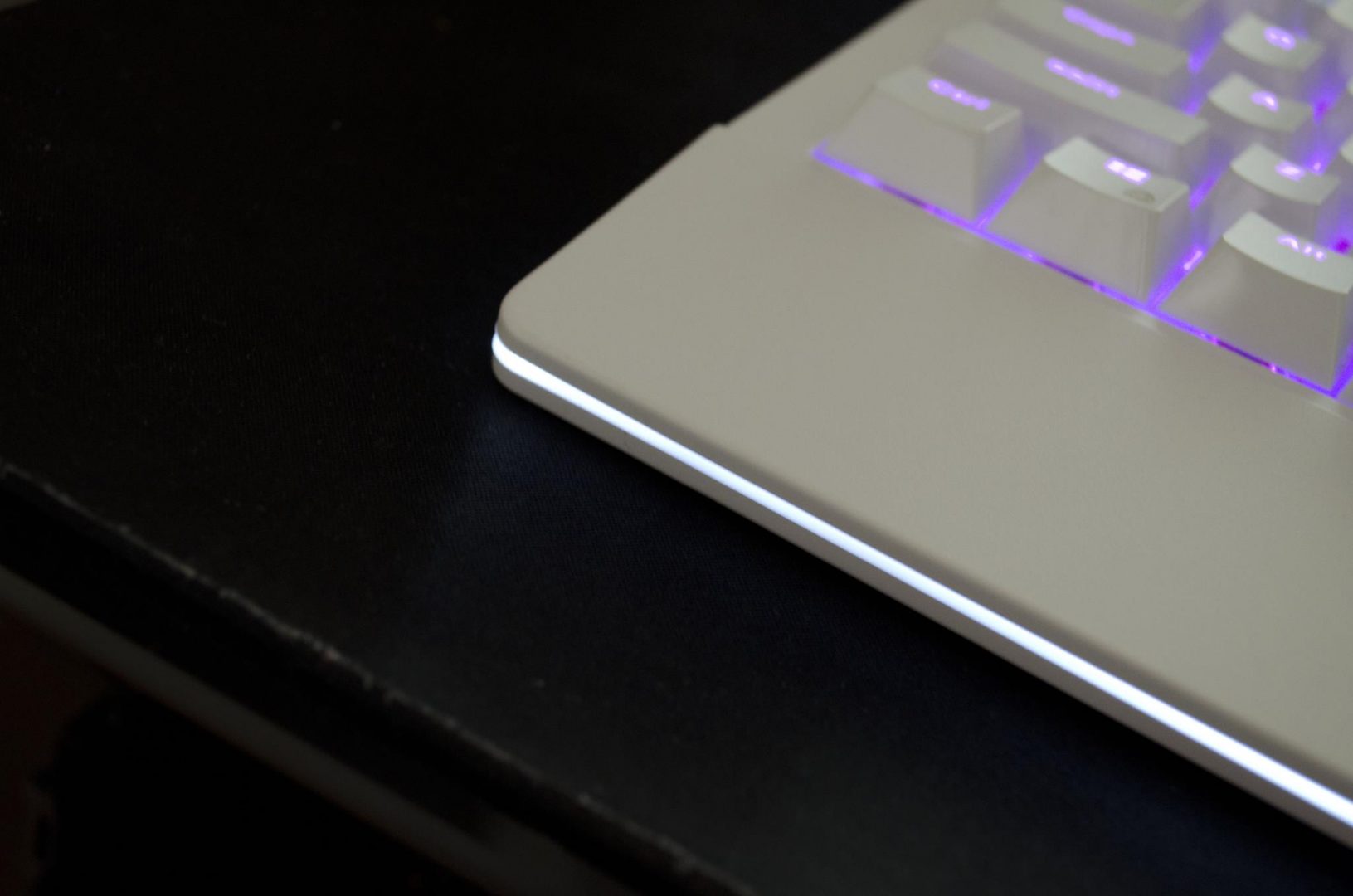 The Havit HV-KB389L offers some fairly good performance with its brown switches that it offers. During all my testing, I never had any problems with any of the keys or their functions. Every key seemed to respond as and when it should when pressed and I didn't have any problems with accidently hitting keys on accident. I tested it out with a wide range of FPS games and a couple other games and it was more than up sufficient.
The design is what is going to be the biggest selling point in my opinion. While it is a decent keyboard all around, the all-white casing with that LED strip going all the way around it is going to be the main point of interest. Havit really pulled out all the stop and designed something they knew what draw in users attention and it seems to have worked. Everyone I have shown the keyboard to immediately how nice it looks. The all-white casing is definitely appealing to the eye and while you may have to be extra careful as to not make it ridiculously dirty, I would imagine that won't stop people from buying it. We are always looking for something new and/or different and I think Havit have done a great job of that here with their HV-KB389L without going overboard.
At the moment, I can not find any pricing on this keyboard except for on Ali-Express which was around $120 which seems a tad high to me. I won't speak on the value as it's hard to value something that doesn't have a price but if Havit do/did have it priced somewhere around the $50-$70 would be right on point for the performance and features it has to offer.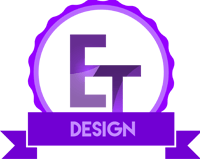 Many thanks to Havit for sending in their HV-KB389L for review.