Netherlands-based tech giant partners with distributor 3B Tech to make its line of keyboards and mice available in the US.
SOUTH BEND, IN (August 21, 2019) – Royal Philips, a leading international tech company, has partnered with distributor 3B Tech to introduce its line of precision computer peripherals including keyboards and mice in the United States.
Philips line of keyboards and mice offers a wide variety of feature sets with intended use ranging from basic office to computer gaming, with an emphasis on offering performance at an affordable price.
GAMING KEYBOARDS
Philips gaming keyboards offer several wired mechanical options to give gamers the opportunity to experience the satisfaction of mechanical keyboards at real-world prices. Philips gaming keyboards use proprietary custom-made rapid-fire switches for ultimate sensitivity and lightning fast input response and several backlighting configurations. Most Philips gaming keyboards feature aluminum top plates to reduce flex and offer a sleek aesthetic.
Philips SPK8614 Wired Mechanical RGB Gaming Keyboard
Highlights include the Philips SPK8614 Wired Mechanical RGB Gaming Keyboard with Detachable Wrist Rest. The SPK8614 packs features sure to excite gamers at a price that won't break the bank, like custom Philips blue switches with short-travel 2-millimeter actuation. Philips rapid-fire switches only require 60G/58.8 CN of force for hair-trigger sensitivity. Other features include Ambiglow Chroma FX accent lighting, customizable key light maps, media controls and premium aluminum finish.
GAMING MICE
Philips has gaming mice in a variety of styles ranging from palm, to claw, to fingertip grip in light or weighted varieties and feature high polling rates.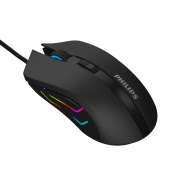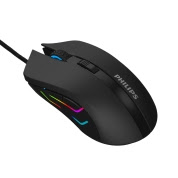 Philips SPK9413 Wired Optical LED Gaming Mouse
Highlights include the Philips SPK9313 Wired Optical LED Gaming Mouse. The SPK9313 is an adjustable DPI mouse (up to 2,400 DPI) allowing users to fine tune cursor movement and tracking with pinpoint accuracy. Six programmable buttons can be remapped to optimize for FPS, RTS and eSports gaming. Other features include 500hz polling, 6,000 FPS refresh rate and Ambiglow RGB breathing light effects.
Philips precision peripherals are available now at Amazon and other fine retailers.
ABOUT PHILIPS
Royal Philips is a leading international technology company. Headquartered in the Netherlands, Philips has been a leader in health technology, lighting and other consumer electronics for more than 120 years. Philips generated 2018 sales of EUR 18.1 billion and employs approximately 77,000 employees with sales and services in more than 100 countries. Learn more at philips.com.