The Sabrent USB-C Multi-Card Reader (CR-C4PM) lets you transfer and swap all of your important memory cards with ease.
It's portable, rugged, stylish, and plug-and-play – it's ready to go, without drivers, with its travel-friendly, integrated USB-C cable. The aluminum main body adorns ABS casing for improved heat dissipation to keep the unit and your cards cool during sustained operation. The Multi-Card Reader includes four memory card slots of differing types with a simple status LED to let you know it's connected and ready to go. Then, it's just a matter of transferring your videos, photos, and other content-rich files to the system of your choice to help usher along your next masterpiece with maximum efficiency.
The CR-C4PM supports the common microSD and SD memory cards that fit everything from smartphones and laptops for your photos to the Steam Deck and ASUS ROG Ally for your games. These cards are everywhere, and this reader supports UHS-II to reach maximum speeds up to 312MBps. Videographers and camera enthusiasts may enjoy using the higher-performance CFast 2.0 and CFexpress Type B memory cards instead, which this reader also supports at up to 460MBps and 950MBps, respectively. Whether for work, play, travel, or home, the USB-C Multi-Card Reader is a flexible, fast, and easy companion for managing your memories and increasing your productivity.
Your Multi-Card Reader: The Sabrent USB-C Multi-Card Reader (CR-C4PM) is the solution for anyone working with different memory card types. It supports CFexpress Type B, CFast 2.0, and microSD/SD cards, all at high speeds. Bus-powered, plug-and-play with no drivers needed – it couldn't be easier.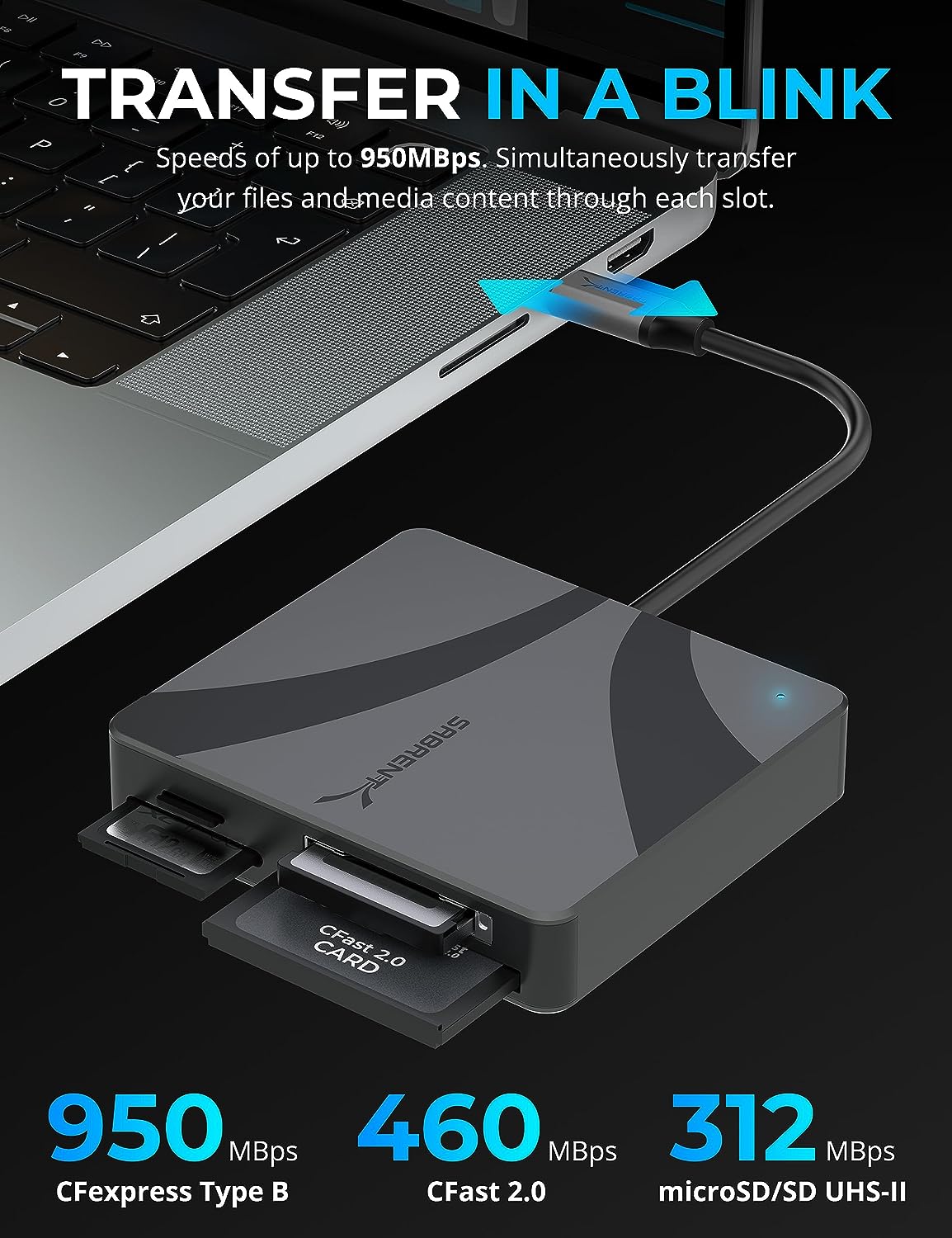 Superfast CFexpress and CFast: High-bandwidth cameras require high-performance, reliable memory cards in the CFexpress Type B and CFast 2.0 formats. The USB-C Multi-Card Reader can handle both at up to 950MBps and 460MBps, respectively. Transfer your videos and other high-quality media without burdensome downtime.
Fast microSD/SD: microSD and SD cards are everywhere and used in everything including most popular Android and Apple smartphones, tablets, portable gaming systems, laptops, and more. This reader supports up to UHS-II memory cards at a blazing 312MBps to help transfer your memories faster.
Portable And Rugged: The USB-C Multi-Card Reader can handle all four card types beneath a cool, aluminum main body via a convenient, integrated USB-C cable. It's lightweight and easy to use with a clear status LED. Grab it, take it on the go, plug it in, then swap your cards as needed for high-speed access.
It's Sabrent: The USB-C Multi-Card Reader (CR-C4PM) is designed for Windows, macOS, and Linux systems but may work with other devices.