INTRODUCTION
The Verbatim Vi7000G is a PCIe NVMe M.2 2280 SSD that comes in multiple capacities. Today, we are taking a look at the top-of-the-range 2TB version which should offer some pretty impressive speeds. Verbatim may not be a name you have heard of lately, but they are still going strong.
When I saw they were still around, I was very interested in working with them. Back when I was young, Verbatim was the go-to for CDRW and DVDRW products. It's always great when a company can stay with the times and update their products, especially when they are well known. Verbatim going this long selling Storage Products as an amazing feat and they probably don't get quite enough recognition for it!
SSD prices have been continuing to drop recently and Gen4 PCIe drives are becoming quite affordable.
The 1TB version of the drive can be had for £74 on Amazon UK. The 2TB is currently available for £125.46 on Amazon UK.
Vi7000G Specifications
Form factor: M.2 2280
Host Interface: PCI Express Gen4: Single port X4 lanes
External DRAM Buffer
Operating Temperature: 0°C to 70°C
Non-Operating Temperature: -45°C to 95°C
Operating Humidity: 5% to ~98% RH (Non-condensing)
Dimensions: 80mm x 23mm x 9.8mm
Weight: 38.5g
TBW Rating: 700TB
MTBF: >1,000,000 hours
Performance:
Read Speed: up to 7400MB/s*
Write Speed: up to 6700MB/s*
Read IOPS: 600K*
Write IOPS: 1000K*
Intended for use in client PC applications and is not suitable for server environments.
*Based on internal testing results. Depending on the host drive, performance may vary.
CLOSER LOOK
The Verbatim Vi7000G comes with a preinstalled heatsink. It is nice and thick and has thermal pads on both sides to offer optimal cooling for the drive itself. On the front of this heatsink, which is likely to be on show in systems is a small Verbatim logo.
The other side of the heatsink has a sticker on it with all the info companies are forced to include on such electronic products. We can also see the URL of their website – www.verbatim.com and a reminder that this is the 2TB Vi7000G PCIe NVMe M.2 2280 SSD.
The heatsink comes off rather easily. There are a total of four screws to remove, two on each side. Once they are removed, you simply pull the heatsink apart. It may stick a tiny but in most cases, you should be fine to just pull it apart without having to worry.

The Vi7000G features DRAM cache and an Innogrit IG5236 controller to offer blazing fast speeds. The DRAM chip is made by Micron and has an 8GB DDR4 density. Verbatim has used two of these chips on this SSD to offer even faster speeds.
The InnoGrit IG5236 is one of the best SSD controllers out there. It delivers up to 7400 MB/s of linear read speeds and 1 million IOPS read performance.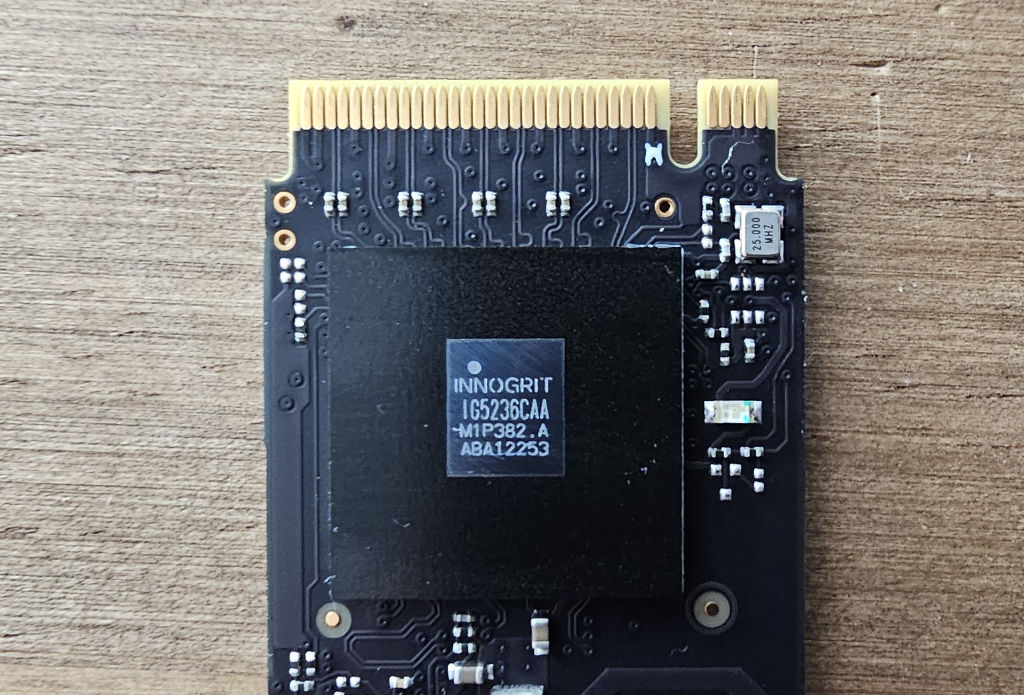 The Verbatim Vi7000G uses four YMTC SYMN09TC1B1RC6C 3D TLC 4Gb NAND Flash chips

When it comes to NVMe SSD, you will see a lot of the same surface layer components used by brands in different and/or similar configurations. Every company wants to add its special little touch to things and try to get the most performance possible out of these components.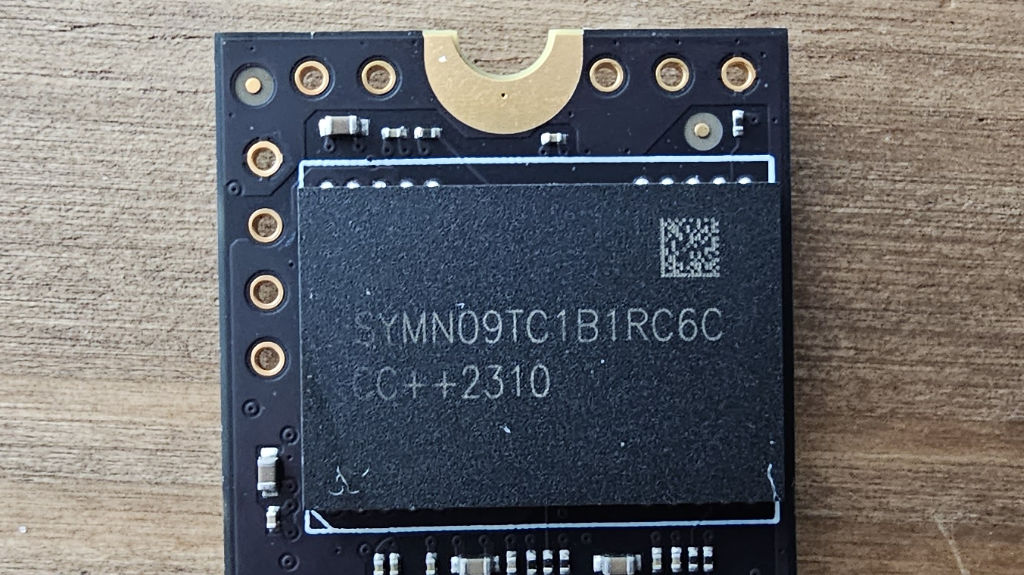 TEST SYSTEM AND PERFORMANCE
TEST SYSTEM
Motherboard – ASUS ROX Strix Z69-E Gaming WiFi
CPU – Intel 12600K
RAM – OCPC PISTA DDR5 5600Mhz 16GB (2x8GB)
SSD – Verbatim Vi7000G
Graphics – Zotac 3060
Power Supply – be quiet! Dark Power 12 750W
BENCHMARKS
To test the performance, I ran a few of the more standard benchmark programs used for testing storage devices.
AS SSD – Test the sequential or random read/write 

performance

 without using the cache. AS SSD Benchmark reads/writes a 1 GByte file as well as randomly chosen 4K blocks. Additionally, it performs the tests using 1 or 64 threads and determines the SSD's access time.
Anvil – Anvil's Storage Utilities is a powerful tool that was designed to provide you with a simple means of assessing the read and writer performance of your Solid State Drive or Hard Disk Drive. The benchmark tool helps you monitor and check the response time of your unit as well as view the system information collected using Windows Management Instrumentation (WMI).
ATTO – As the industry's leading provider of high-performance storage & network connectivity products, ATTO has created a widely-accepted Disk Benchmark freeware utility to help measure storage system performance. As one of the top tools utilized in the industry, Disk Benchmark identifies performance in hard drives, solid-state drives, RAID arrays as well as the host connection to attached storage. Top drive manufacturers, like Hitachi, build and test every drive using the ATTO Disk Benchmark.
CrystalDiskMark – Another benchmark program designed to measure the read and write speeds of storage drives.
AS SSD
ANVIL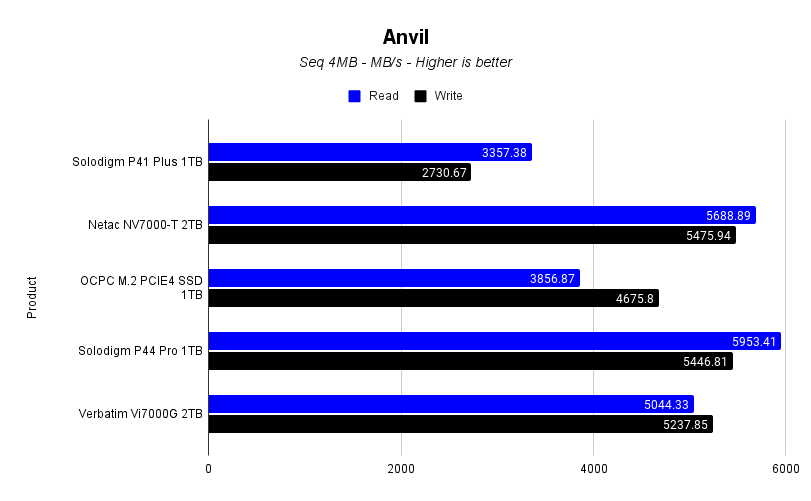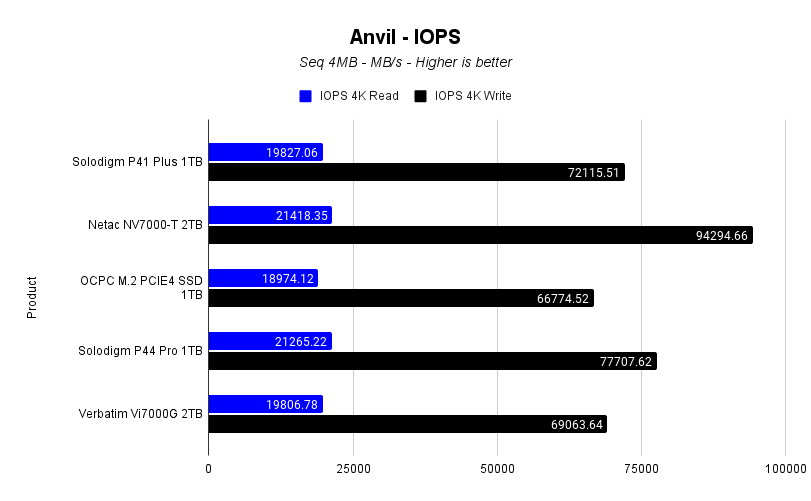 ATTO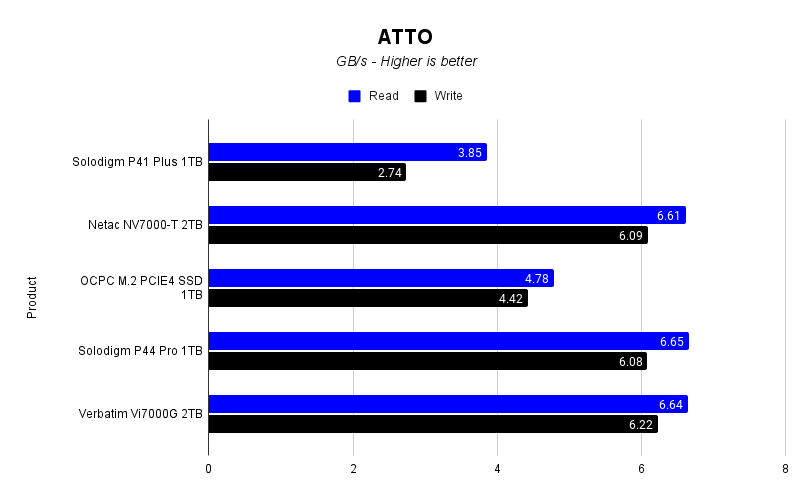 CRYSTALDISKMARK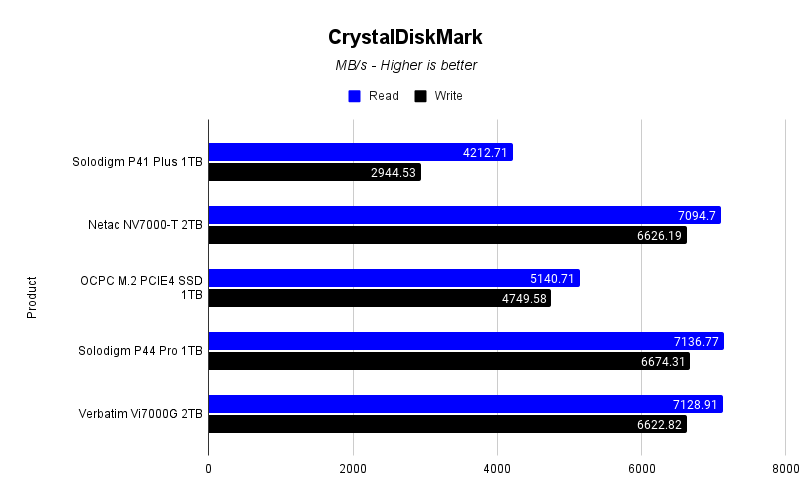 FINAL WORDS
VALUE
As we have seen, SSD prices are getting better and better every day. The Verbatim Vi7000G is a bit more on the expensive side for a 2TB NVMe drive. However, this is due to the faster speeds it offers than standard drives. When looking around, it is similarly priced to other drives of the same spec, so overall it is fairly priced.
It will all come down to what you need it for, do you need up to 7400 MB/s read? Or, are you ok with up to 3500 MB/s read speeds if they are significantly cheaper? As always, just make sure to do your research to help you make a better-informed decision.
Performance
This is where the Vi7000G really shines! In terms of read speeds, this is the second fastest drive we have put on our current Z690-based test bench! In CrystalDiskMark it was only 8MB/s slower than the Solodigm P44 Pro and on a different system, this could have gone either way.
Being that close in performance just shows how much they really are pushing the components on these SSDs. At the end of the day, the real-world difference would be NIL so I wouldn't worry too much about it.
The write speeds are right on par as well and again, the top 3 drives we have tested are all neck in neck. The Verbatim Vi7000G offers a great amount of performance.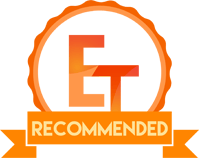 The 1TB version of the drive can be had for £74 on Amazon UK. The 2TB is currently available for £125.46 on Amazon UK.