Introduction
We are taking a look at Sabrent NVMe M.2 SSD to PCIe X16/X8/X4 Card. This is a simple accessory that allows users to install more fast storage solution from NVMe M.2 ports using 4x PCIe lanes. It has a heatsink for heat transfer and a low-profile design with 4x LED indicators.
Its features are:
Enjoy extremely fast transfer speeds via PCIe lanes.
Includes a heatsink and thermal padding.
SSD bus interface: NVMe. (NOT compatible with SATA M.2 SSD)
SSD form factor: M.2 M-Key. (NOT compatible with B-Key SSD)
PCI Express physical interface: PCIe x16/x8/x4 slot.
Logical interface / PCIe lanes: x4.
Compatible Sizes: 2230 / 2242 / 2260 / 2280.
NOTE: It will not fit a PCIe x1 slot.
All necessary screws are included.
Product:               Sabrent NVMe M.2 SSD to PCIe X16/X8/X4 Card
Price:                    $17.98 [At the time of the review] (£14.99 on Amazon UK)
Sabrent NVMe M.2 SSD to PCIe X16/X8/X4 Card Specifications
Closer Look
Card is shipped inside a paperboard box with Sabrent styling. EC-PCIE is the code of this card.
Features of card are listed on back of main packing box. A serial number and model number label are there as well.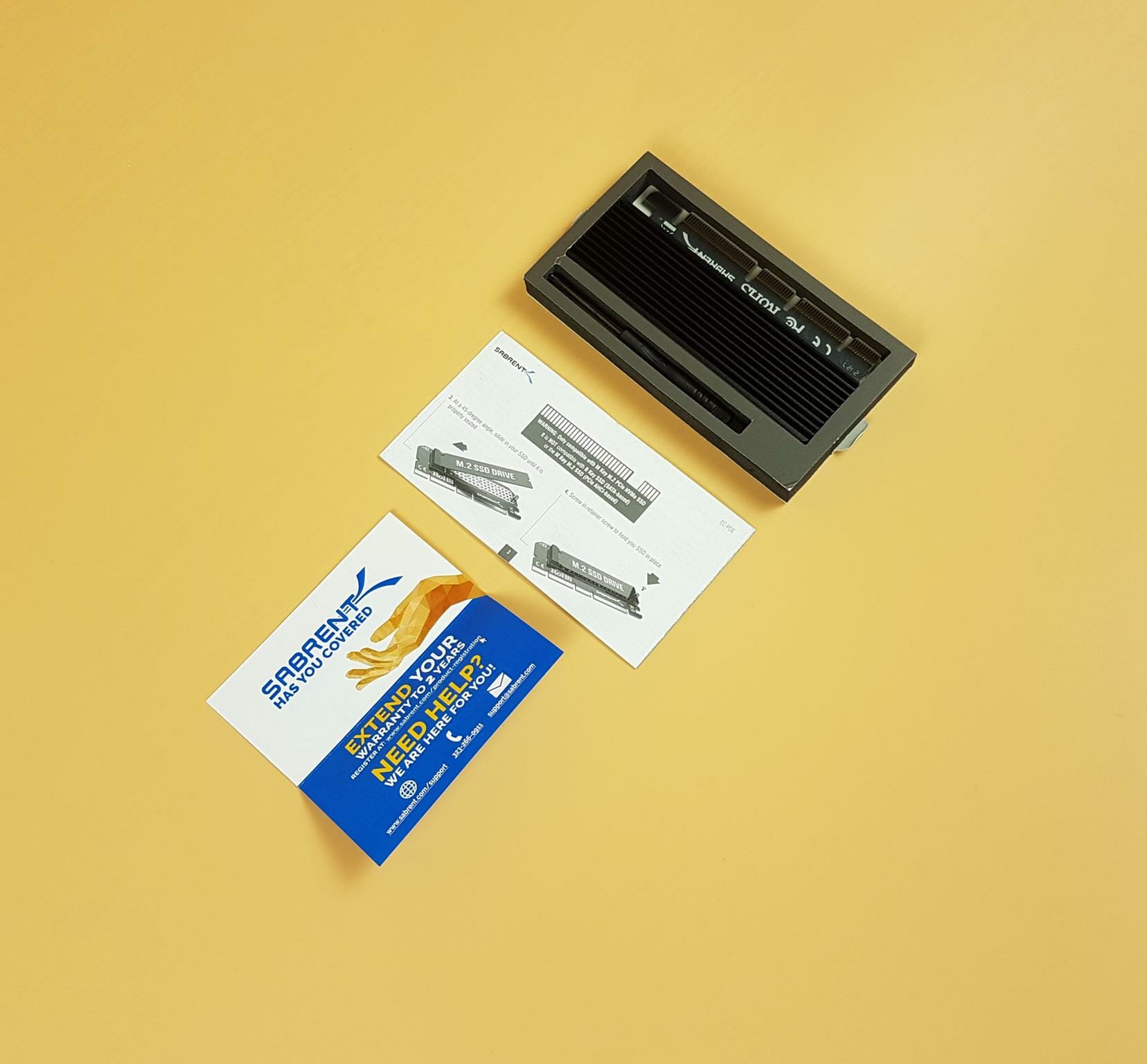 Sabrent has provided:
A user guide
Warranty paper
Card and screwdriver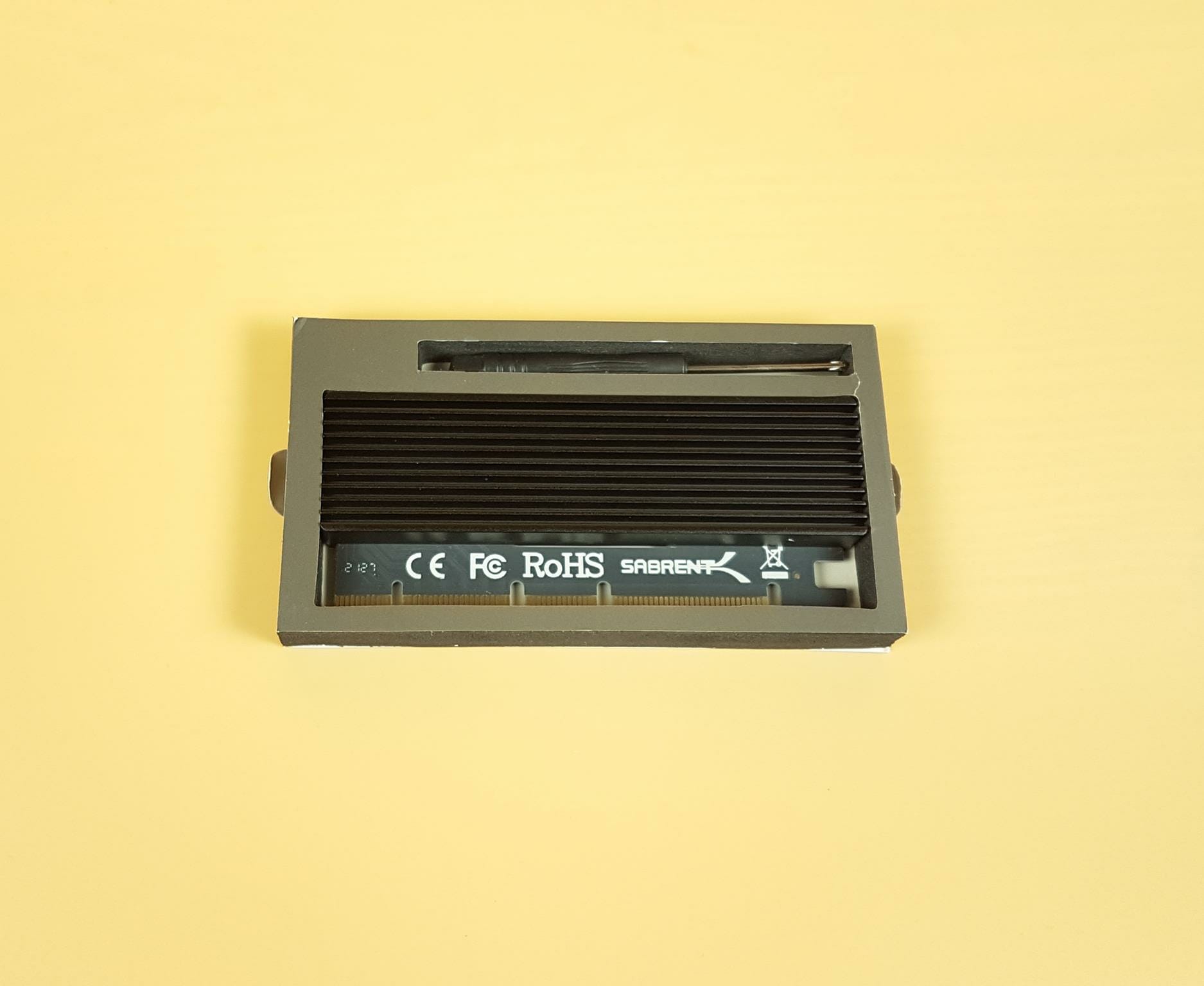 There is s black color Styrofoam pack that contains the card and screw driver.
The above picture shows the card and screwdriver out of the box.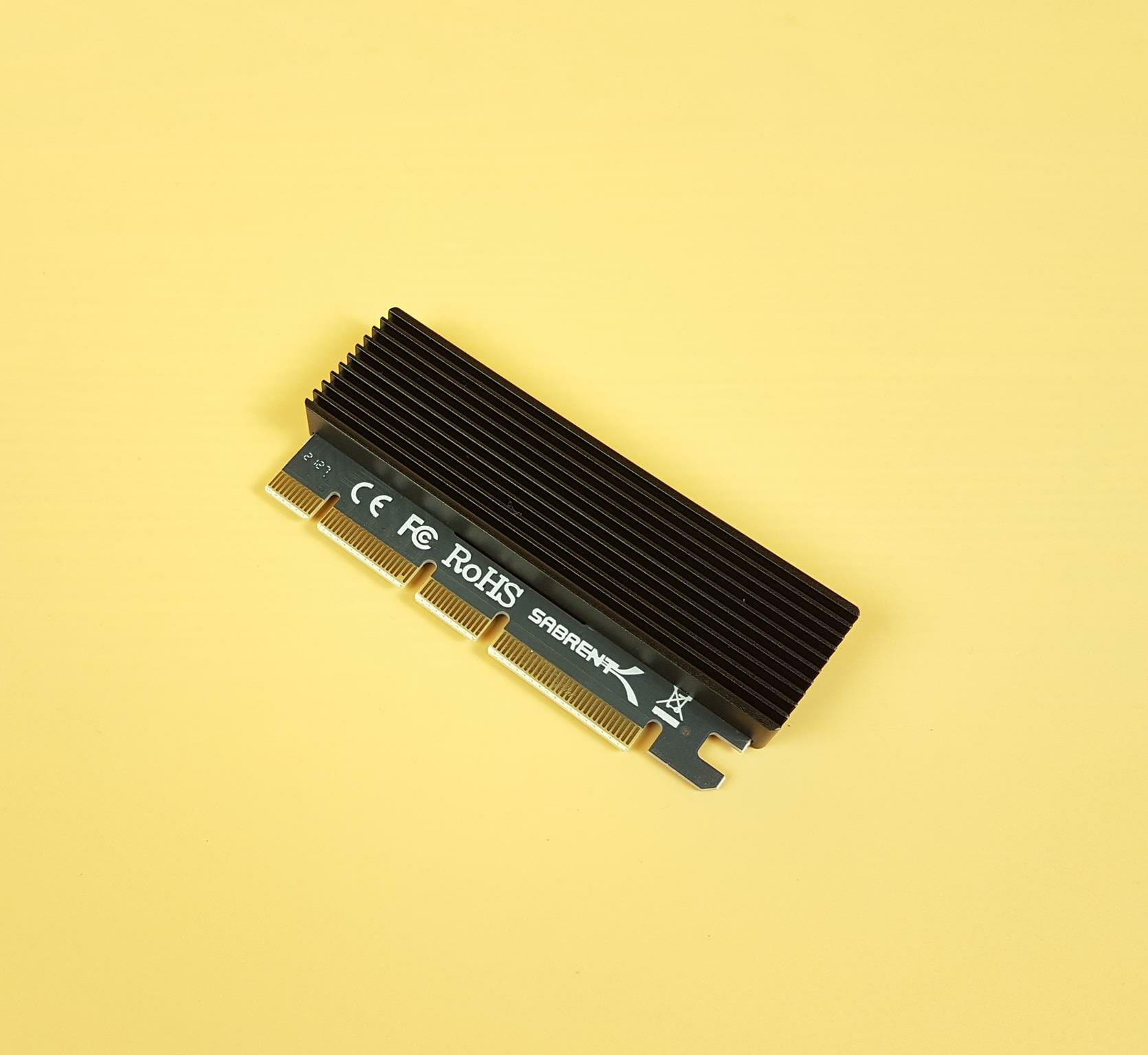 Dimension of this card is 4x2x0.5 inches with a weight of 2.85oz. We have a black color aluminum heatsink on top. We can see the exposed PCB above the PCIe connector. This card has compatibility with:
The logical interface of this card is x4 PCIe lanes. Hence you should expect a full bandwidth provided motherboard does not have any limitation on that PCIe x4 slot. By limitation we mean, sharing the bus of that slot with any other sub-component.
Looking at backside of card, we can see 4x screws on each corner. Removing these would remove the backside top cover and card will be opened for preparation. PCB is in gray color.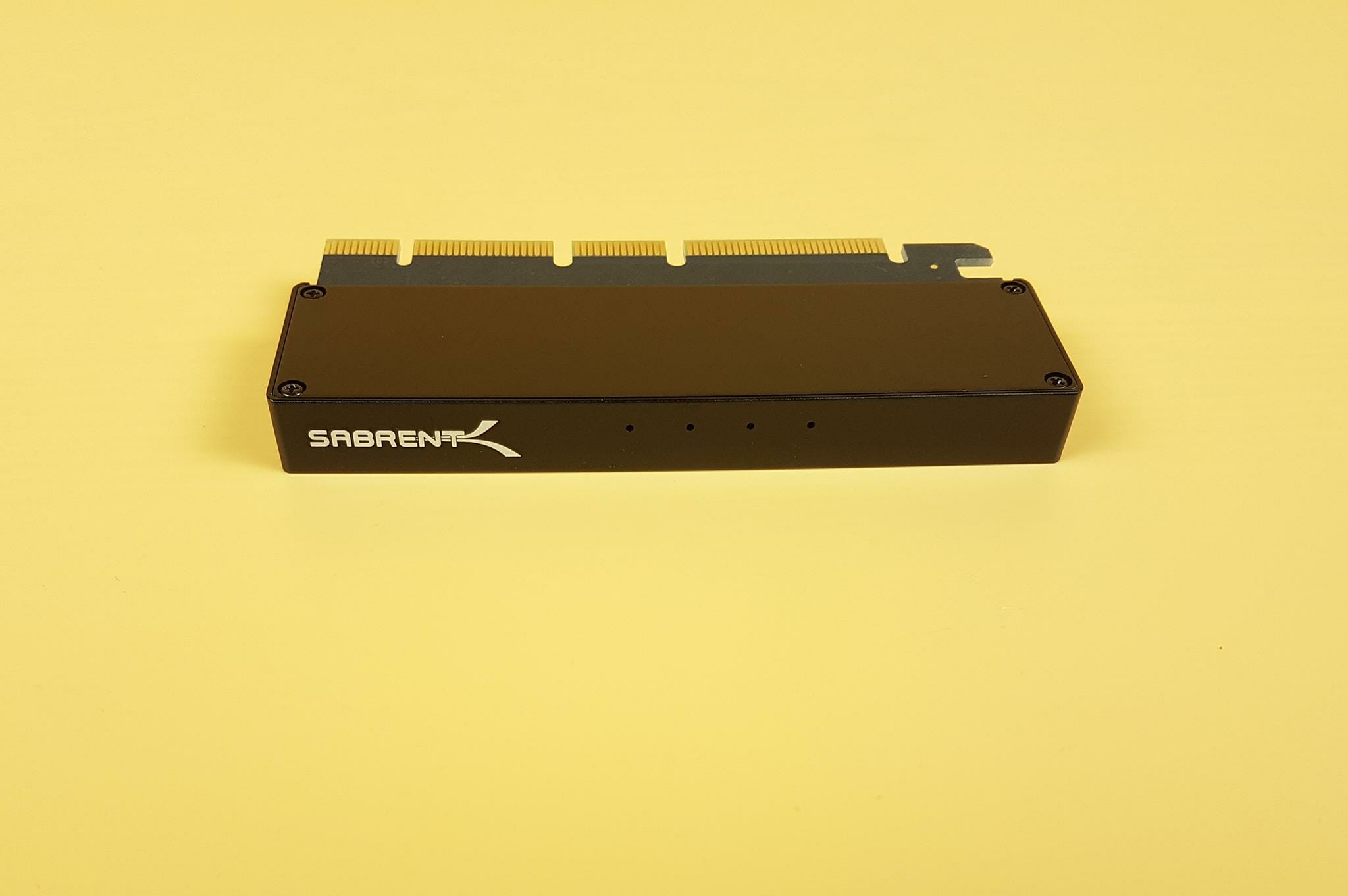 Top view of this card shows Sabrent branding and 4x holes. These holes are facing 4x white color LEDs on main PCB. These are indicator LEDs.
We have removed 4x screws from card.
Above picture shows inner view of main housing after removing a top cover. A gold color layout on main SSD area is also visible. That blue color is a thermal pad placed inside.
Above picture is showing a shell after removing everything. It is made of aluminum material and finished in black color.
Above picture shows outer view of main shell. It has layered design which acts as a heatsink to transfer heat. This is a passive cooling solution.
Sabrent has provided 3x thermal pads. One is probably a 2mm thick pad for a single-sided SSD i.e SSD with all components on one side. The other two are probably 0.5mm thick for double-sided SSD. I am not sure about their thermal conductivity rating.
Above picture shows Sabrent Rocekt 4 Plus 4TB NVMe SSD and all three thermal pads.
Now coming to the card itself, it is a small and sleek design. We have a single M.2 port with a clear label. There is a gold mesh facing the area of SSD placement. This card supports the form factor of:
This card is not compatible with SATA M.2 SSD and B-Key SSD. It is only compatible with M.2 M-Key SSD over NVMe interface. There are 4x LEDs on top which are also labeled as LED1, LED2 and so on.
Above picture shows a backside of this card. We have a minimalistic design.
Above picture shows M.2 port close-up. It is clearly labeled for M.2 M-Key NVMe. I appreciate the attention to detail from Sabrent.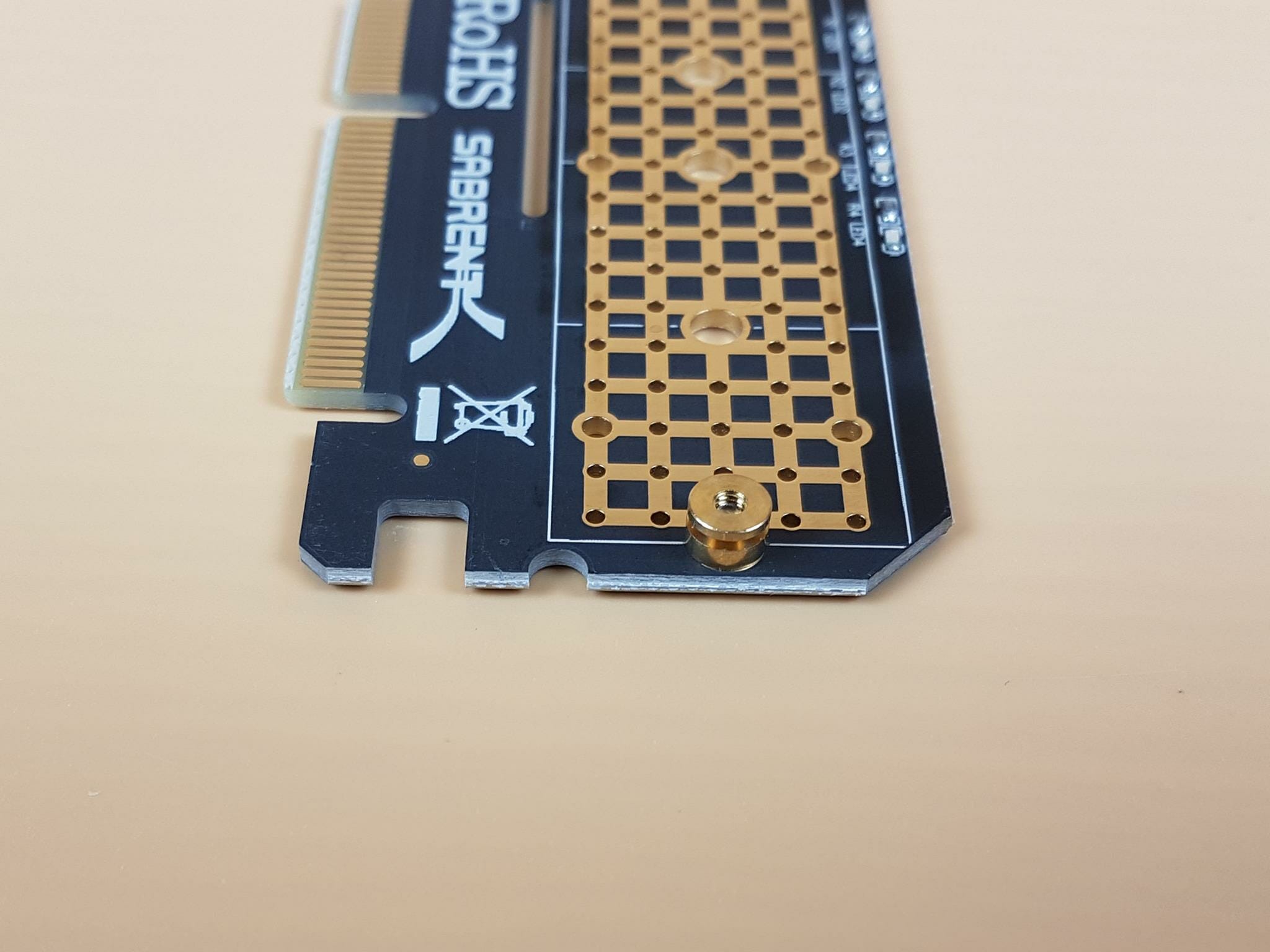 There is a gold color locker installed on the 2280 location by default. It is screwed from the opposite direction and is fully removable.
Above picture shows locker and screw removed from main card.
Sabrent Rocket 4 Plus 4TB SSD is a dual-sided design. For dual-sided SSDs, install the SSD in the port and secure it using a locker and screw.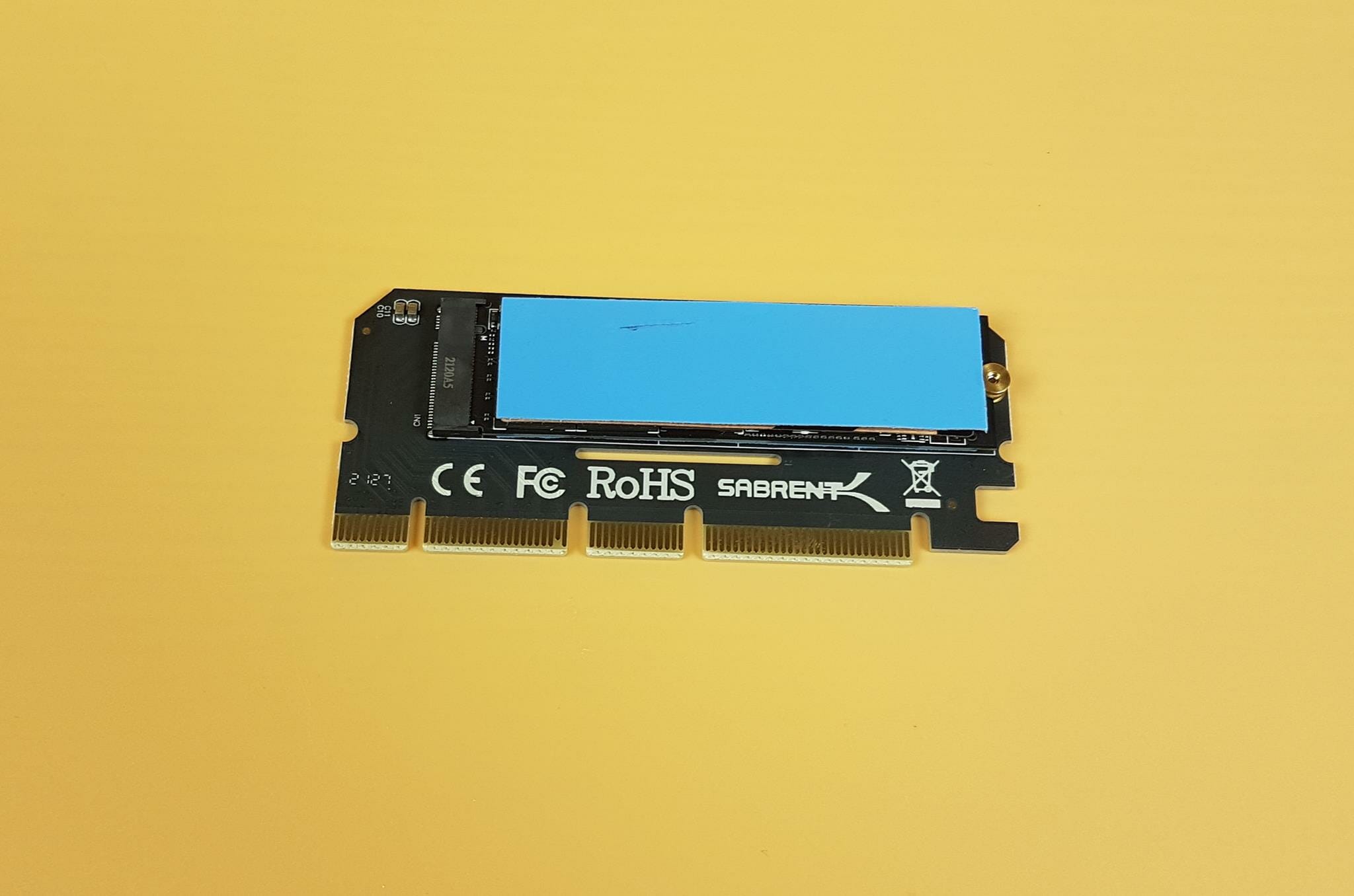 Now place a 0.5mm pad above SSD after peeling off the protective cover. Then remove the second protective cover from top.
Put the prepared card back in the shell and place the top cover on it. Secure it using 4x screws. You are good to go now.
Testing
Below mentioned configuration is used for testing:
AMD Ryzen 7 7700X
GIGABYTE X670E AORUS MASTER
XPG Lancer RGB 32GB 6000MHz CL40 Kit
Noctua NH-U12S chromax.black
MSI GeForce RTX 3090 Gaming X Trio 24G
Sabrent Rocket 4 Plus 2TB NVMe SSD [For OIS and Software]
be quiet! Straight Power 11 1000W Platinum PSU
The SSD was first installed on the motherboard M.2 port and tested. Then it was installed in the expansion card and tests were repeated.
We can see that the card was picked up by the motherboard and listed at PCIe 4.0 x4 running at 4.0 x4.
Please make a note that we did not reset the SSD before using it on this expansion card. The SSD was 29% filled when this testing was done. Since this would differ from the original test results from M.2 port testing, we are not showing any comparison. It is clear that without a reset, a performance drop would be present.
Above picture shows CrystalDiskMark run using the same SSD.
Above is a result from AS SSD.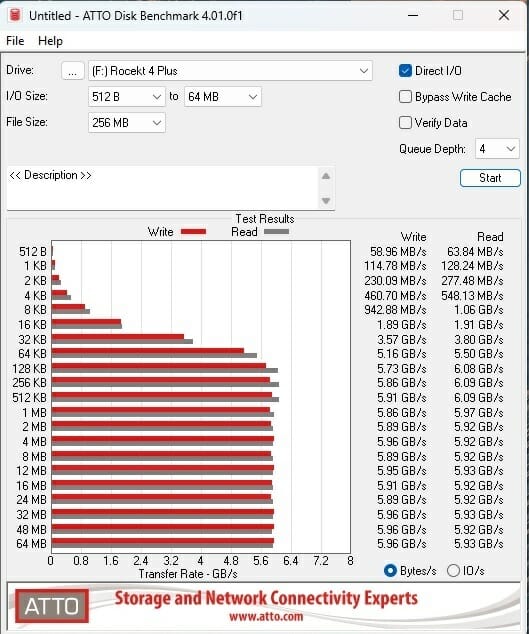 Above is a test result from ATTO.
Next, we ran real-world data copy tests using Disk Bench. We prepared a 203GB size folder including compressed files and folders. There is a 97GB compressed file as well in that folder.
Above is a result of copying a prepared folder into another folder.
Above is a test result of reading a 97GB compressed file from SSD.
Thermal
We set up CrystalDiskMark to run sequential read and write runs for consecutive 9 minutes. We saw a maximum temperature of 70°C at an ambient of 17°C.
Conclusion
Sabrent EC-PCIE is an expansion card for M.2 NVMe SSD to PCIe x16/x8/x4 conversion. This product has a dimension of 4x2x0.5 inches with a weight of 2.85oz. It has a black color housing made of aluminum material. It has a layered top surface which acts like a heatsink to transfer internal heat away from the housing. This card can house M-Key M.2 type SSD only over NVMe interface in form factors of 2232, 2240, 2260, and 2280. SATA M.2 and B-Type M.2 SSDS are not supported. This card is not compatible with the PCIe x1 interface either. Take note of this when planning on buying an expansion card.
Sabrent has provided 3x thermal pads. We are not sure about the thermal conductivity rating of these pads. One pad seems like a 2mm design whereas the others are 0.5mm thick. Sorry, can't give you an accurate measurement as my caliper instrument is broken. The idea is simple. Use one thick and one thin pad if using a single-sided SSD and use a single thin pad if using a double-sided SSD. Sabrent has provided a screwdriver inside the box. Users don't need any other tool to prepare this card. This is as simple as it could get to add more fast storage solution using a spare PCIe x4 slot. We have set up this card for a very peculiar requirement. We have set up a Sabrent Rocket 4 Plus 4TB NVMe SSD as a gaming drive. This drive will now be used across all our test benches. Since all those motherboards happen to have PCIe x4 slots, it would be convenient for us to plug and play the card and access games for benching easily.
Note: We have used a 29% populated disk in this testing. It was not reset before testing this card. Since this would produce different test results compared to testing reset SSD on M.2 port, we are not showing any comparison.
The Sabrent NVMe M.2 SSD to PCIe X16/X8/X4 Card is listed at USD 17.98 at the time of writing this article. Sabrent is providing a 1-year warranty which is extensible to a 2-year after registering this product with Sabrent on their website. We have tested this card with synthetic benchmarking software and real-world data transfer. This expansion card provides a convenient way of adding more high-speed storage provided you have a spare PCIe x4 slot.
We are thankful to Sabrent for the provision of the test unit.