Introduction
In our last content, we tested the new CPS series product from PCCOOLER which was the C3 T500 ARGB PC Case. This time, I am taking a look at a new liquid cooler from PCCOOLER under CPS branding, the DE360. ALSEYE probably is the first company to come up with a double-pump design for the AIO liquid coolers. This trend is not blooming as more options come out with dual-pump designs. The CPS DE360 is also based on the dual-pump design that is said to improve:
Heat Dissipation
Improved Coolant Flow Rate
Improved Coolant Flow Head
The CPS DE360 is available in white and black colors along with two sizes; 240mm and 360mm. I have got a DE360 white for testing. This cooler is compatible with Intel LGA115x/1200/1700/20xx and AMD AM3/AM4/AM5 sockets. The salient feature is that mounting hardware has similar mounting for both platforms. A single backplate covers all Intel sockets. This product carries an MSRP of $130 USD.
PCOOLER CPS DE360 Liquid Cooler Specifications
Packaging and Unboxing
The DE360 is shipped inside a cardboard-made outer packing box. It is finished in a silver/gray color theme. Looking closely you can see that the block has a silver housing compared to white elements on the rest of the cooler. This white and silver combination looks nice.
There is not a standard cardboard-made container in which the coolers are usually supplied. The DE360 comes tucked inside a Styrofoam-made container. The cooler made it to us safe and sound, so I guess, this packaging works.
Accessories
It is time to look at what is provided in the accessories container for the CPS DE360.
There is a printed user guide illustrating the installation of this cooler on supported sockets.
There are:
1x Intel Backplate with pre-installed pillars/standoff screws
2x Intel Mounting Brackets
2x AMD Mounting Brackets
4x Screws for Mounting Brackets
4x AMD Screw Pillars [Red]
4x Intel 20xx Screw Pillars [Orange]
4x Intel other Sockets Spacers [Black]
4x Intel LGA1700 Spacers [Blue]
1x EX90 Thermal Paste Tube
1x Fans' Adapter Cable
12x Fans Screws
12x Radiator Screws
Closer Look
Let's start taking a look at the CPS DE360 starting with the radiator.
The radiator unit on the DE360 has a dimension of 397x120x27mm (LxWxH). The complete assembly is white color spray coated. The overall height of this unit after installing the fans would be approximately 53mm including the thickness of screw heads. This radiator has a weight of 170g. The fin thickness is 20mm whereas the majority of the AIO coolers have 16mm thick fins. The FPI count is 20. There are a total of 12 channels for coolant flow. Overall fin stacking is done satisfactorily since we did not find any bend or broken fin. There is a gap of 105mm between any two opposite end mounting holes whereas this gap is 15mm between any two adjacent mounting holes. This is a standard mounting.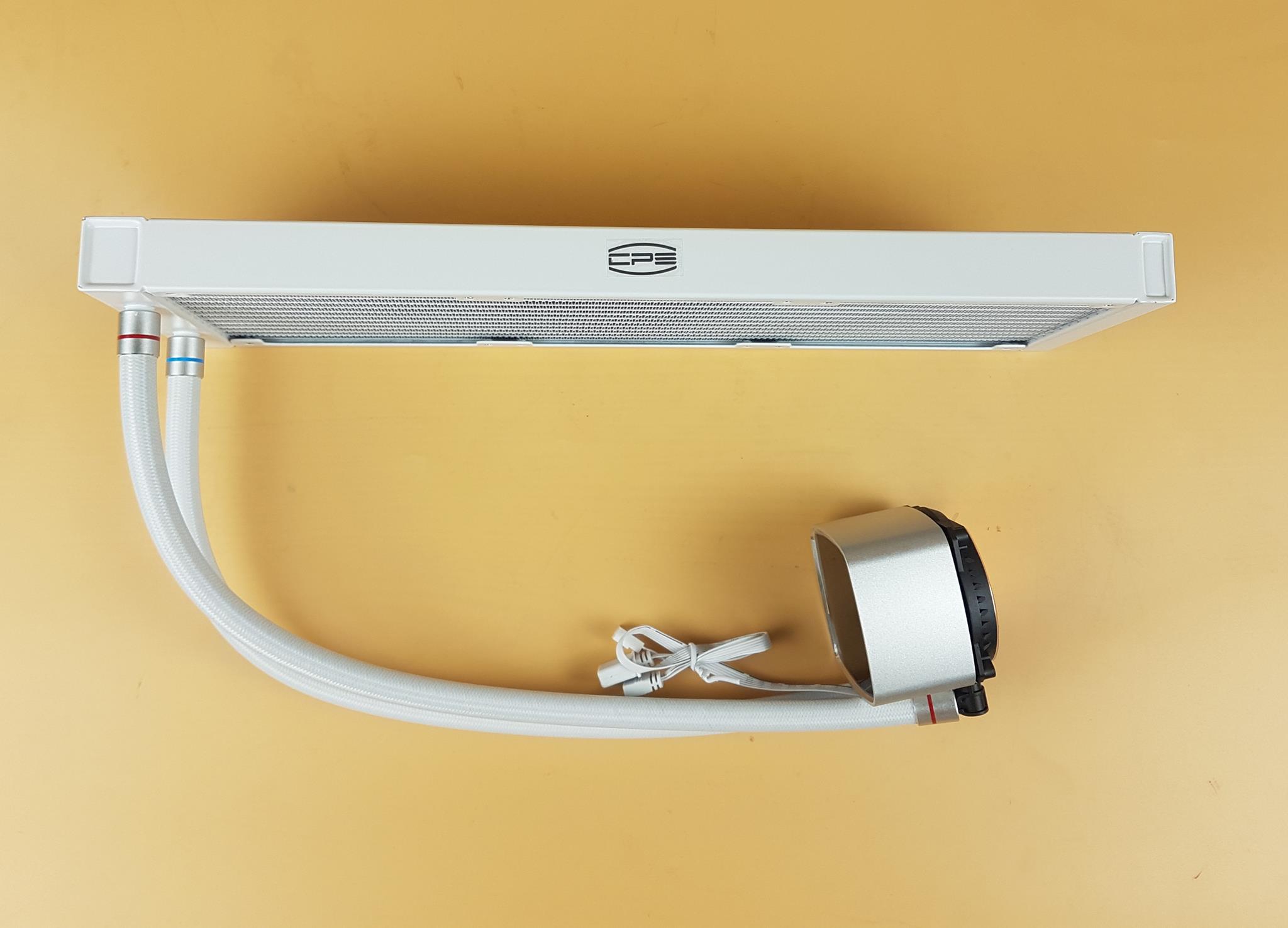 I am showing the side view of the cooler. There is a CPS branding on the side frame of the radiator. The gap between the side frame and fin stack is narrowed, unlike the wide gap on the majority of the coolers. This gives more surface area to this cooler. PCCOOLER has used rubber tubes that are high-pressure capable with flame retardant capability. These tubes have white-colored nylon braided mesh sleeves and run to approximately 430mm in length from end to end.
I am showing the tube end of the radiator. There is a serial number sticker, removing it would void the warranty. We can see two silver color clamps concealing the tube connection with barbs. These clamps have red and blue color lining in the center probably showing the warm coolant and normalized coolant sides.
PCCOOLER is using BLDC motors on two pumps that are integrated into the housing. According to PCCOOLER, these motors provide stronger coolant flow at reduced noise output. Both pumps use a ceramic shaft that provides a longer life span while reducing noise levels. According to PCCOOLER, this dual-pump design provides up to 15% increase in flow velocity giving the DE360 effective heat dissipation. The DE360 is rated to handle TDP of up to 310W as per PCCOOLER's internal testing.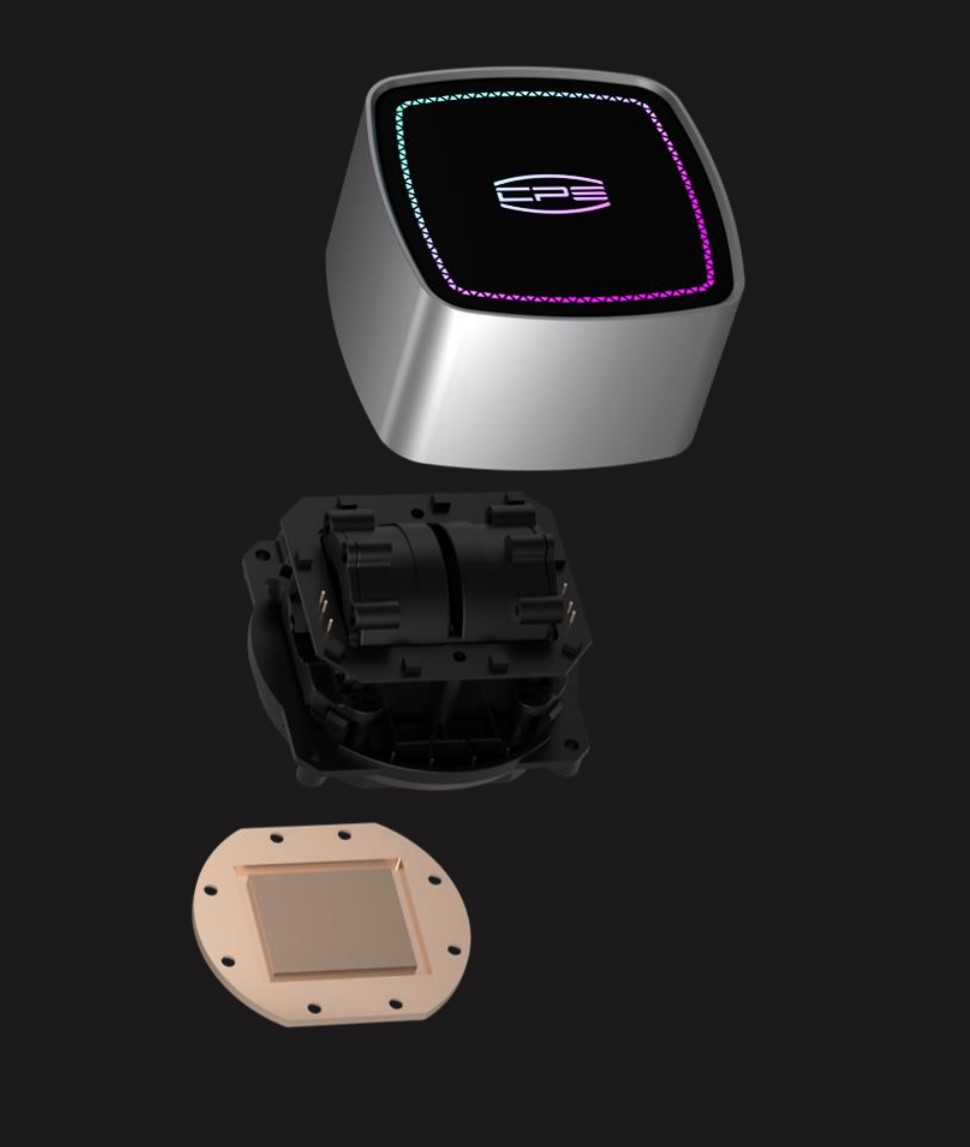 The above picture illustrates the block design. There is a space-grade aluminum alloy housing that surrounds the pump housing and copper base. The housing is CNC milled providing extreme tolerances and precision. The water block has improved fin design with more density and thickness.
The block has a dimension of 70x70x55mm where 55mm is the height of the block. As mentioned above, the outer housing is made of aluminum alloy material. The top lid or side of this block has a black color cover that has CPS branding. There is a diffuser running under this black color on the border area which lights up as well. The CPS and border area with their ARGB lighting provide a subtle outlook. However, the CPS branding is fixed and can't be rotated so this could have implication for the cooler's orientation.
I am showing two sides of the block. We can see a silver finish on the block coming from aluminum alloy material. PCCOOLER has used silver-colored metallic clamps that sync well with the color scheme and provide a better-looking visual. There is no branding on any side of the main housing which is a wise move.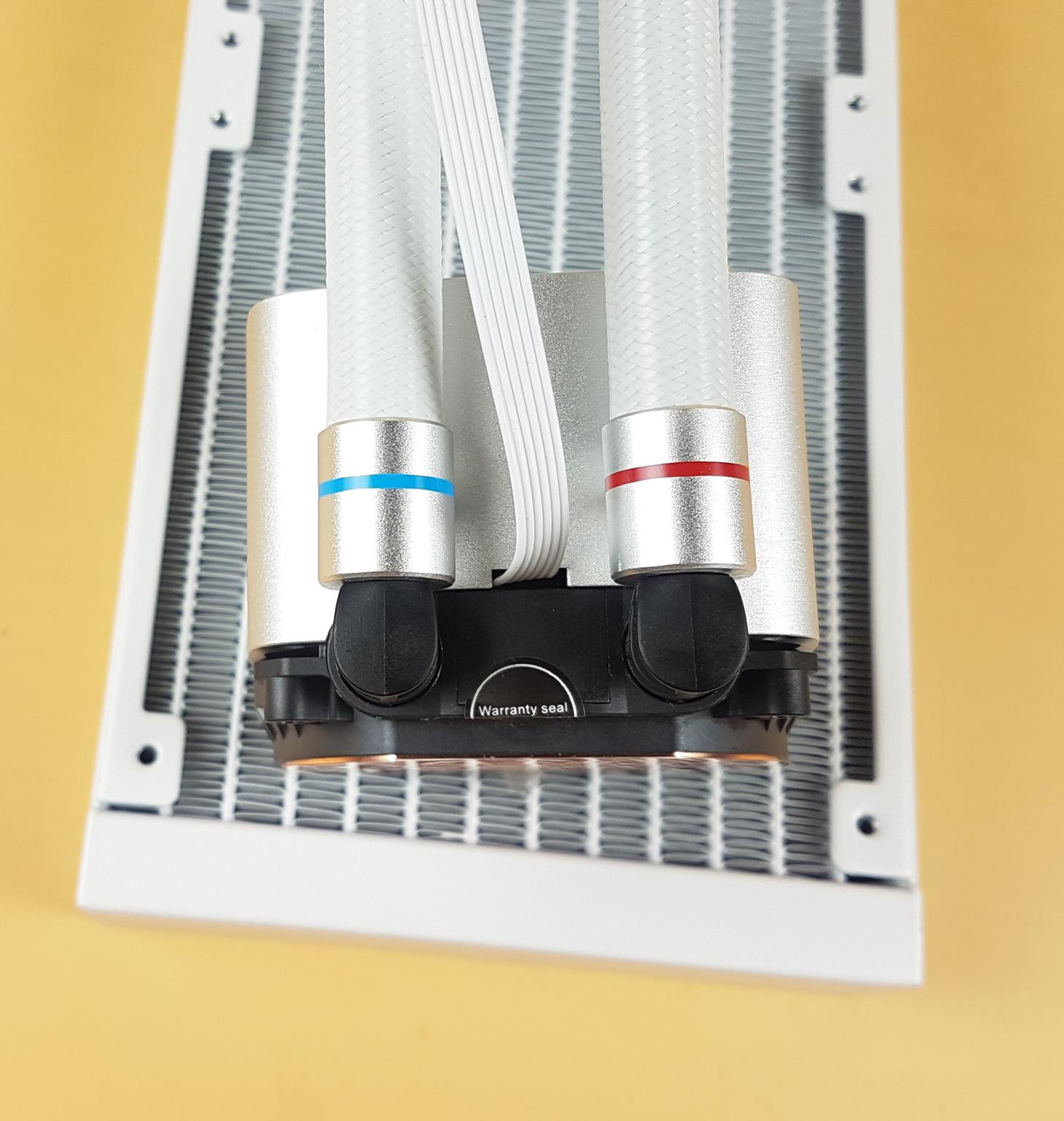 The tubes are installed at a 90° angle on rotary barbs. This connection is well concealed using silver color clamps. There is a cable coming out from the main housing towards the right side of the block. The clamps have red and blue lining indicating the warm coolant and normalized coolant flow side. There is a warranty seal over the base, removing it would void the warranty.
PCCOOLER is using standard connectors. There is a 3-pin connector cable to power the motor of the pump. There are standard ARGB connectors (male + female) for daisy-chaining. These conform to a 3-pin interface over 5V.
There is a copper base measuring 54x62mm. There is a protective cover over this base. Don't forget to peel this cover off during installation.
PCCOOLER has provided 3x non-RGB white color fans with this cooler. They have called these fans Liquid Boost Fans. These fans remind me of the fans that come with the Thermalright Frozen Magic Scenic V2 360 cooler that I tested earlier. There is a stepped inlet design on the frame near the mounting corners. Each fan has 9x blades. The axle mount is reinforced with a brass structure to provide stability in the hub area. There are removable anti-vibration pads on the mounting corners.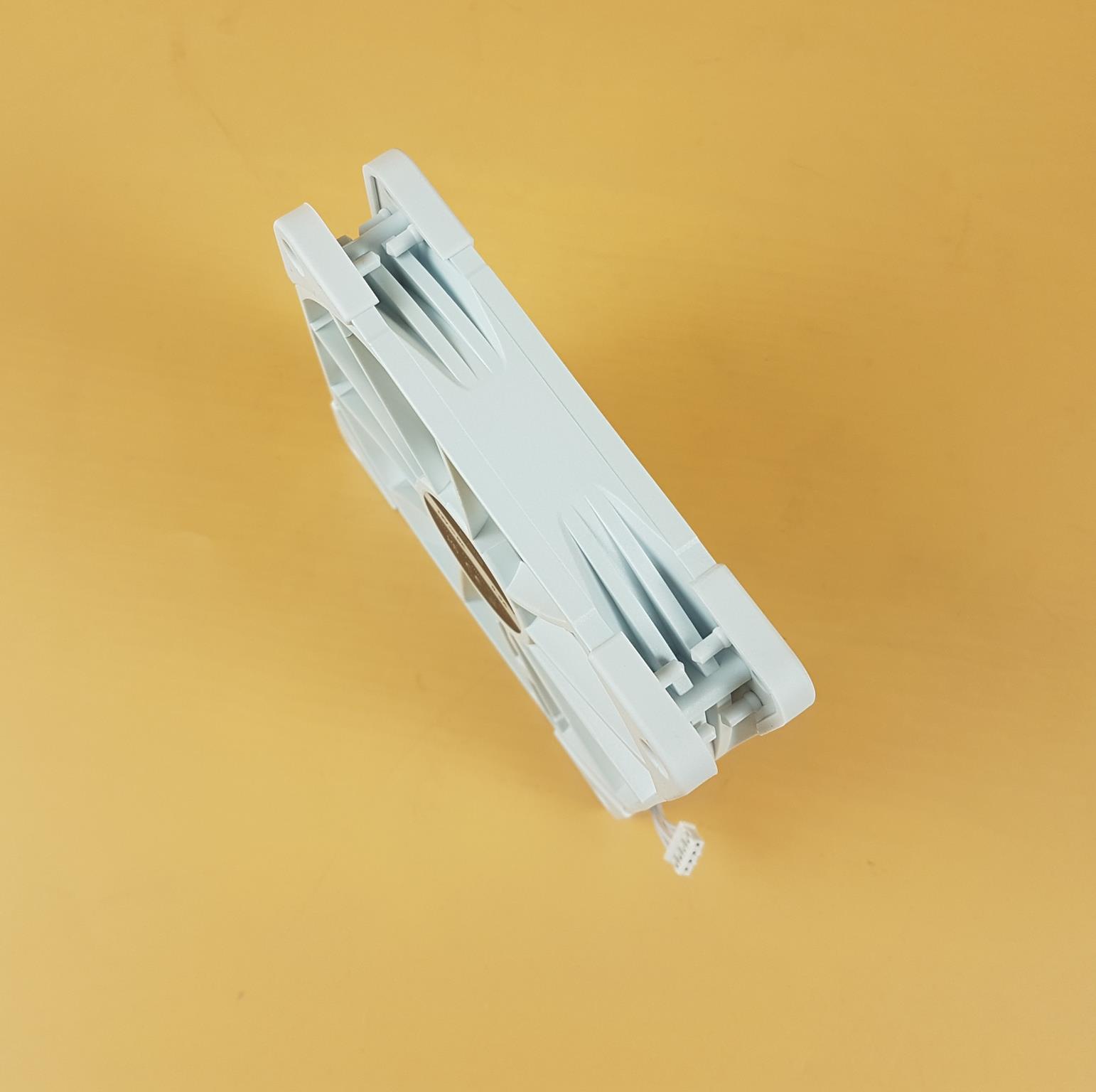 There are no arrow markers that show the direction of airflow through the fan and direction in which blades spin. The frame is quite rigid and sturdy. These fans use fluid dynamic bearings and are rated for up to 1850 ± 10% RPM speed, generating 71.86 CFM airflow and maintaining a static pressure of 2.64mmH₂O at 12VDC. These fans are PWM controlled but we have an observation that will be mentioned shortly.
There are 11 arms on the backside which reminds me of the stator guides on the Noctua fans to provide a directional airflow while maintaining the static pressure that improves the performance. Seems like PCCOOLER has adopted the same design here! One arm has an extended area on which the wires are routed towards the frame.
PCCOOLER has surprised me. They are not using a standard 4-pin PWM connector on these fans. Instead, there are 4-pin proprietary connectors with a small cable length on each fan. They have provided an adapter cable that connects with all three fans and then is connected to the 4-pin PWM header on the motherboard. I wish they had used the standard connectors!
Installation
We are no longer covering the installation steps. Please refer to the user manual for that. We only cover the observations recorded during the installation and removal of the cooler. The overall installation is simple and convenient. However, we ran into an issue where removing the protective cover from the base left residue on the copper base along with the text imprint. This would have created a barrier between the block and the thermal paste and it was not coming off. I had to sandpaper it a bit to remove the residue and text imprint. Their QC department needs to up the game.
Digital RGB Lighting
PCCOLER has used standard ARGB connectors using a 3-pin interface and operating at 5VDC making this cooler compatible with RGB sync technology of the motherboard manufacturers including:
ASRock PolyChrome Sync
ASUS AURA SYNC
GIGABYTE RGB FUSION 2.0
MSI Mystic Sync
I have tested the cooler on GIGABYTE Z690 AERO G and controlled the D-RGB lighting using RGB Fusion 2.0 app. The D-RGB elements were responding well to the changes in the app. Here are a few pictures.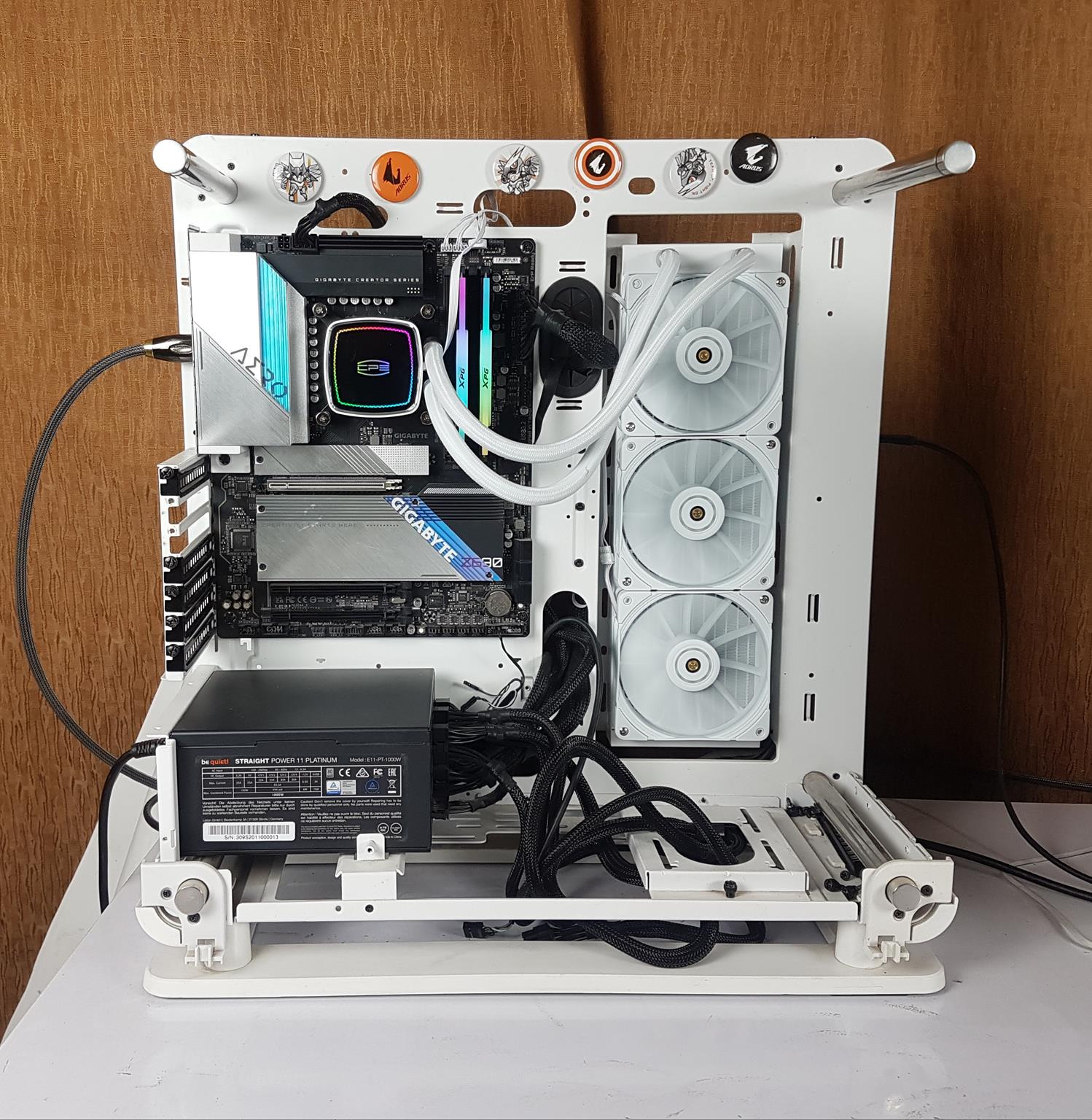 Testing
We have used the following configurations for testing:
Intel core i7 12700k
GIGABYTE Z690 AERO G D5
GIGABYTE GeForce RTX 3060 VISION OC
Sabrent Rocket Q 500GB NVMe SSD [For OS]
Be quiet! Straight Power 11 850W Platinum PSU
Thermaltake Core P6 TG Snow Edition in an open frame layout
The test table is:
Clocks
P-Cores 4.8GHz

E-Core 3.8GHz

Voltage
1.20V
C-States
Disabled
Speed Step
Disabled
Rest of settings
Stock, Auto
XMP
XMP Loaded where available
Thermal Paste
Noctua NT-H1
Thermal Paste Application
X lines method
Headers
CPU_FAN, CPU_OPT, and PUMP Headers
Stress Software
CINEBENCH R23.2
Stress Run Time
30 minutes
PC Idle Time
5 minutes
Monitoring Software
HWInfo64
OC Tool
Intel XTU
A bit of note about the new platforms. We have seen AMD AM5 and Intel Alder Lake S CPUs taking more power and this time both sides have aimed at reaching the maximum clocks regardless of thermal limit. In fact, the AM5 SKUs will run into thermal limits right away depending on the cooling solution and the clocks being used. This has made testing of CPU coolers challenging because viewers/readers are not used to a new nomenclature which is what clocks are sustained under a given load using a particular cooler. That is if the cooler is capable of providing enough cooling head to sustain the high frequencies. Traditionally we are used to going the other way around that is which cooler is better in terms of thermal capacity. Despite this, we are using temperatures as a base for measuring this unit. Among other reasons is the high thermal density of these new CPUs.
The ambient temperature was in the range of 25°C to 25.5°C. Since the variation in the ambient temperature is within 1°C, we are reporting absolute temperatures in the graph. The testing is done on an open-air bench system. Once inside the chassis, the temperatures are expected to rise and would largely depend upon the optimal airflow inside the chassis.
Disclaimer: Every silicon is different hence no two same SKUs are likely to take same voltage to yield same performance at same thermals per se but margin would be close. Not every stress test run may yield the same result which could be due to various reasons like thermal paste application, ambient temperature variation, mounting pressure of the cooler etc. This is why we have listed our variables and their settings. Let's take a look at the results.
Result
The PCCOOLER CPS DE360 has a superb performance as it bridges the gap between the EK Nucleus AIO and the other coolers in the graph.
Noise
I am not measuring the noise output due to repair and maintenance work going on in the neighborhood. Subjectively speaking, this cooler is loud at full speed. I would suggest using a custom fan curve or Auto PWM function for the fans,
Conclusion
I have tested our first dual-pump liquid cooler sample in this article. This is a new concept that is gaining popularity whereby manufacturers are using two pumps instead of one in the AIO liquid cooler hoping to generate more coolant flow and providing more pressure head thereby increasing the chance of effective heat dissipation. I have tested the CPS DE360 liquid cooler from PCCOOLER this time. This cooler has a dual-pump design. This cooler is available in 240mm and 360mm sizes and comes in two colors; white and black. This series of liquid coolers is compatible with Intel LGA115x/1200/1700/20xx and AMD AM3/AM4/AMD5 sockets.
The DE360 has an aluminum radiator that has a dimension of 397x120x27mm (LxWxH). The overall dimension of this cooler would be approximately 53mm after installing the 120x25mm fans. This radiator has 20 FPI count and has 12 channels for the coolant flow. The fins have 20mm thickness which provides a bit more surface area. PCCOOLER has narrowed the gap between the side frame and fin stack which also provides more surface area since the fin stack is probably at 25mm thickness or so. The complete assembly is in white color. PCCOOLER is using rubber tubes that have nylon braided mesh sleeves having a length of 430mm.
The block is made of space-grade aluminum alloy with precision CNC milling. The top of the block has ARGB backlighting in quite a subtle way as it lights up the CPS branding and border frame. PCCOOLER uses BCLD motors in the pumps with ceramic shafts that provide longevity. PCCOOLER has improved the cold plate with a dense fin stack. The copper base has a dimension of 54x62mm approximately. The clamps over the tube connection are silver colored which bodes well with the silver outfit of the block. The pumps are rated at 3200±10% RPM at 12VDC. Their power rating is at 0.52A and 6.24W. PCCOOLER has used a standard 3-pin connector to power the pump and standard ARGB connectors for the lighting effects.
PCCOOLER has provided 3x 120mm non-RGB fans with this cooler. They are calling these fans as Liquid Boost Fans. These fans feature fluid dynamic bearings that provide a longer life span and reduced noise output. The axle mount is brass-reinforced. There are 11 arms on the backside for directed airflow. We can also spot the stepped inlet design on the front. Overall these fans remind me of Noctua NF-A12x25 PWM and NF-F12 PWM fans. I am really surprised to see a proprietary connector on these fans which could have been a simple 4-pin PWM connector. I am not sure why they adopted this design and provided an adapter cable to connect all fans with a 4-pin PWM header on the motherboard or controller. These fans are rated for 1850 ± 10% RPM speed, generating 71.86 CFM airflow and maintaining a static pressure of 2.64mmH₂O at 12VDC. The sound level is rated at 33 dB(A).
PCCOOLER has streamlined the mounting hardware which is now similar for both platforms. The overall installation is convenient and simple on the Intel LGA1700 socket. You would need 15 items to install the block on the CPU. We made two observations:
The protective cover over the base left residue and text imprint on the copper that was hard to remove.
The CPS branding on the block's top is fixed and you would need to decide the orientation of the cooler so that this text remains upright.
PCCOOLER CPS DE360 cooler has an MSRP of  $130 USD. This cooler packs a solid performance punch as can be seen in our graph. We tested it twice just to make sure we were not getting invalidated results. This cooler is certainly capable of handling 310W TDP as it has good headroom with fans spinning at full speed. These fans are loud and I would suggest using the Auto PWM function or a custom fan curve to regulate the speed without compromising the thermal performance. PCCOOLER is offering a 3-year warranty which in my opinion should be competitive.
Pros:
Excellent Thermal Performance
AMD AM5 and Intel LGA1700 Socket Support
A-RGB Lighting on the block
Standard ARGB Connectors
Convenient Installation
Space Grade Aluminum Alloy for block housing
Dual-Pump Design
Ceramic Bearings on Pump
Fluid Dynamic Bearings on Fans
Wallet-Friendly Pricing
Cons:
Low Warranty Period
Proprietary Connector on Fans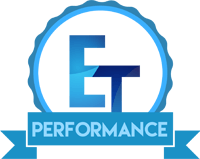 Looking for more CPU Cooler reviews? Please check out our Cooling section. You may also be interested in our AIR vs AIO Cooler article and our Best 240mm AIO Roundup.