Introduction
Manufacturer: VisionTek.com
Product Page: VisionTek SoundTube XL
Purchase: $88.22 at the time of review at Amazon.com
Today I am taking a look at a portable Bluetooth speaker from VisionTek the SoundTube XL. Visiontek has equipped this speaker with IPX7 Waterproofing (up to 3ft and or 1m) and supports TWS Connection so you can pair two to a device for fuller richer stereo sound. We have more capabilities to share below including connection types and of course how it performs so lets dive in.
FEATURES:
• Bluetooth 4.2
• Hands-Free Capabilities
• 7+ hours playing time
• Waterproof IPX7
• NFC
• TWS stereo sound
SPECIFICATIONS:
• Bluetooth Version: 4.2
• Transmission Distance: 10m (30ft)
• Charging Time: 5~6 hours
• Playing Time: 7~8 hours (70% volume)
• Dimensions: 280 x 118 x 120mm (11.02 x 4.65 x 4.73in)
• Weight: 1730g±10 (3.81lbs)
Closer Look
Here on the front of the box, you get an image of the SoundTube XL itself and a VisionTek logo as well as a few specification icons in the bottom right.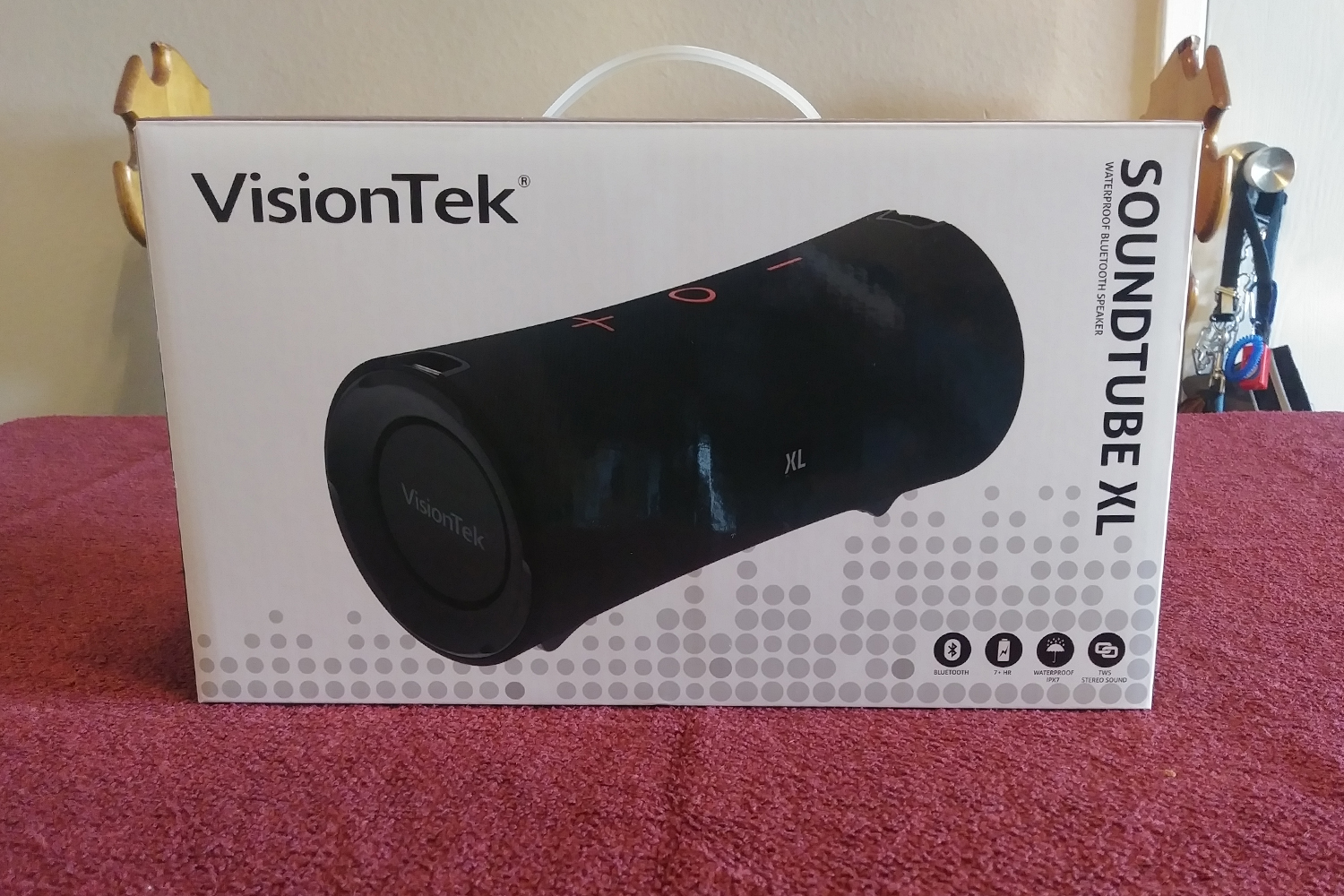 Flipping the box around there is another image, logo, specification icons and the quote "BOLD POWERFUL BASS".
On the side is a neat little image of the SoundTube XL splashing in water hinting at the IPX7 Waterproofing.
Once you pop the box open and lift away the four tabs you will be greeted with this little protective cardboard top filled with soft foam.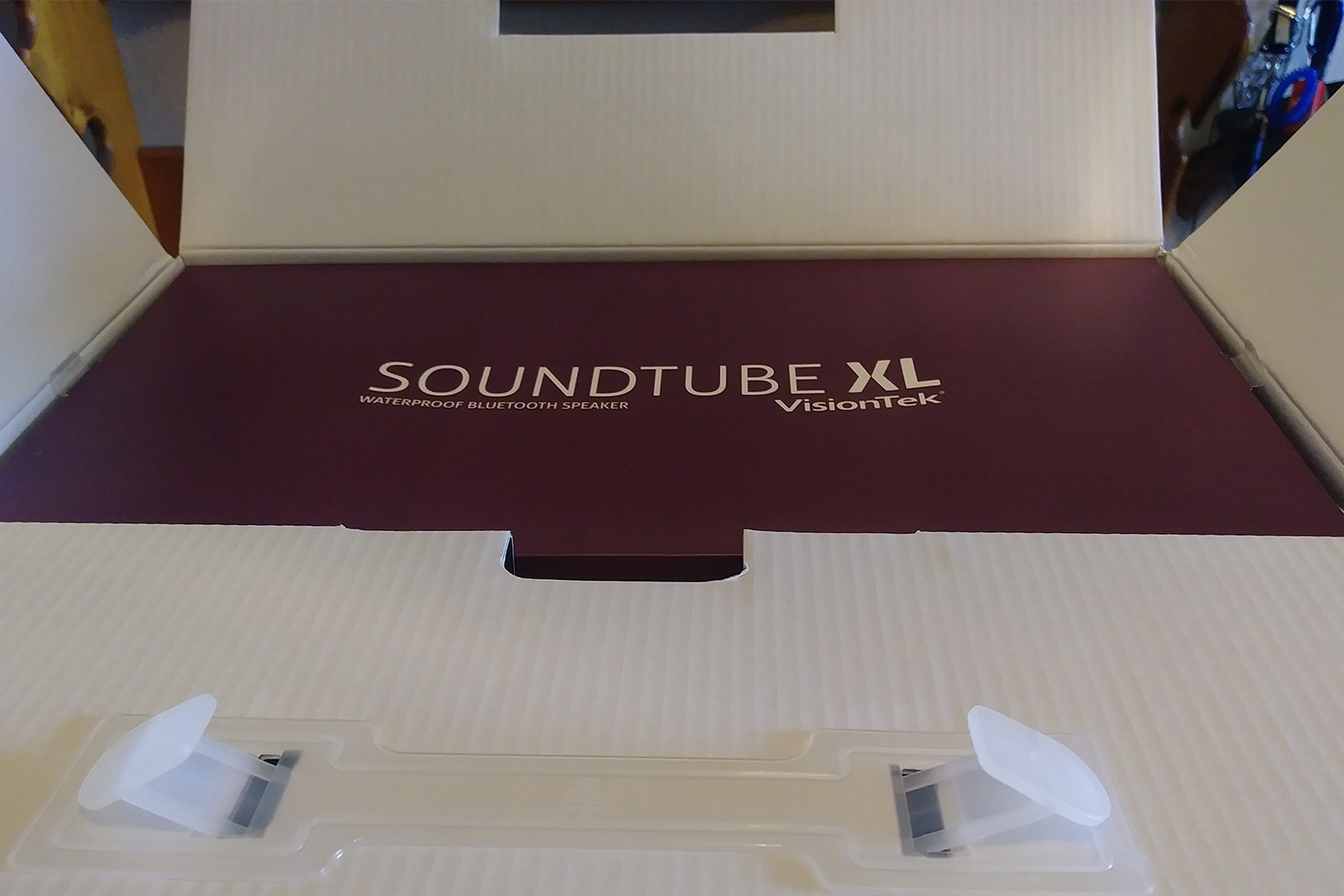 VisionTek really wanted to make sure the SoundTube XL arrived safe and sound, it is completely encased in a firm yet soft foam top to bottom.
Pulling the SoundTube XL out of the box you will note it has a bit of weight to it. I have not tried larger than the UE Roll for Bluetooth speakers until now. The size is not terrible being easy enough to put over a shoulder for a hike and not heavy enough to be extremely noticeable.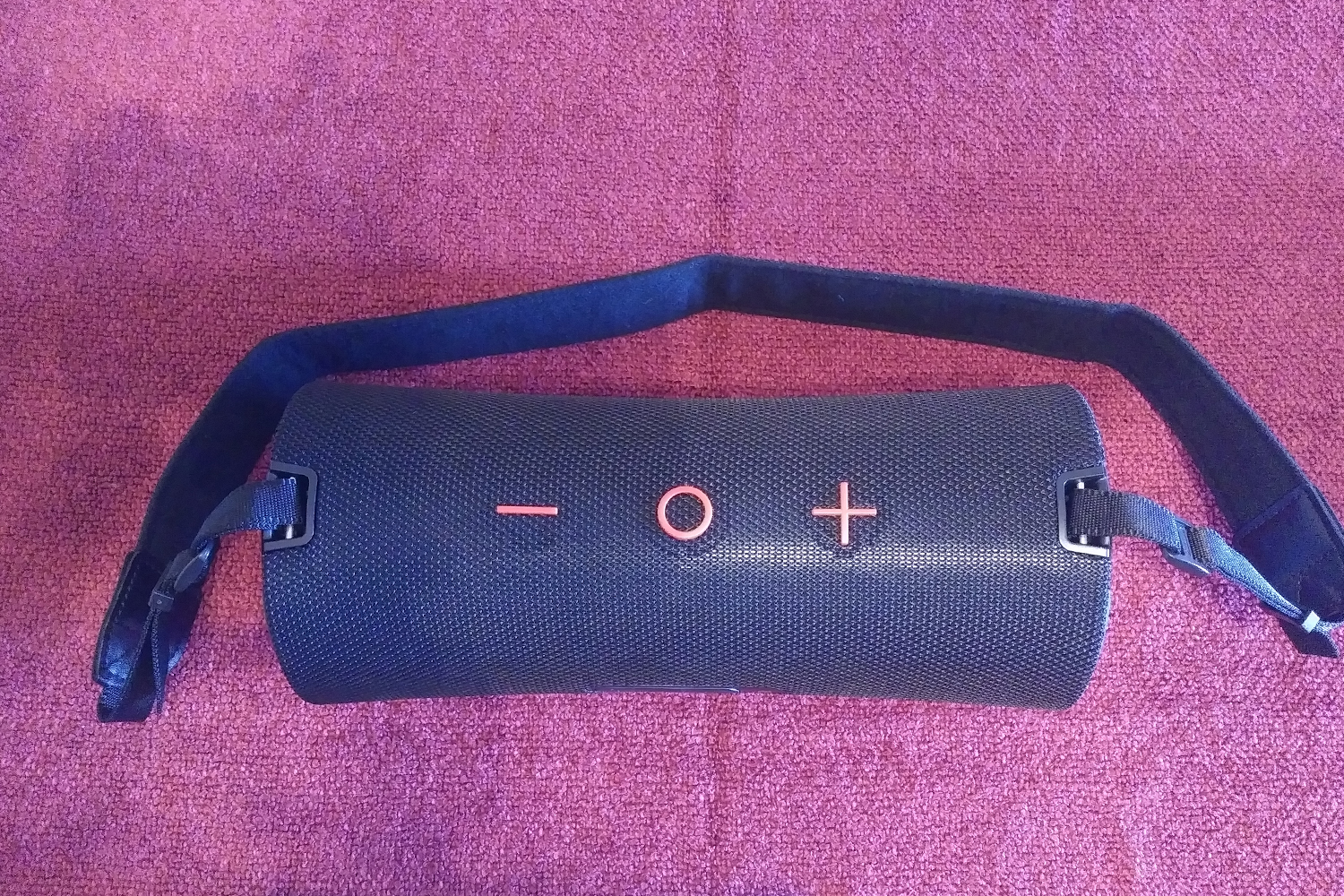 Here on the side is the Micro USB charging port and 3.5mm audio jack cover, this is made out of thick rubber to help seal out any water from an area you generally want to be sure to keep dry.
This rubber flap is pretty secure and you will have to work your finger in a little to lift up and get a good enough grip to pull it loose to access your charging and audio port.
Here on the top are the Volume Up (+), Power (o) and Volume Down (-) buttons for the SoundTube XL.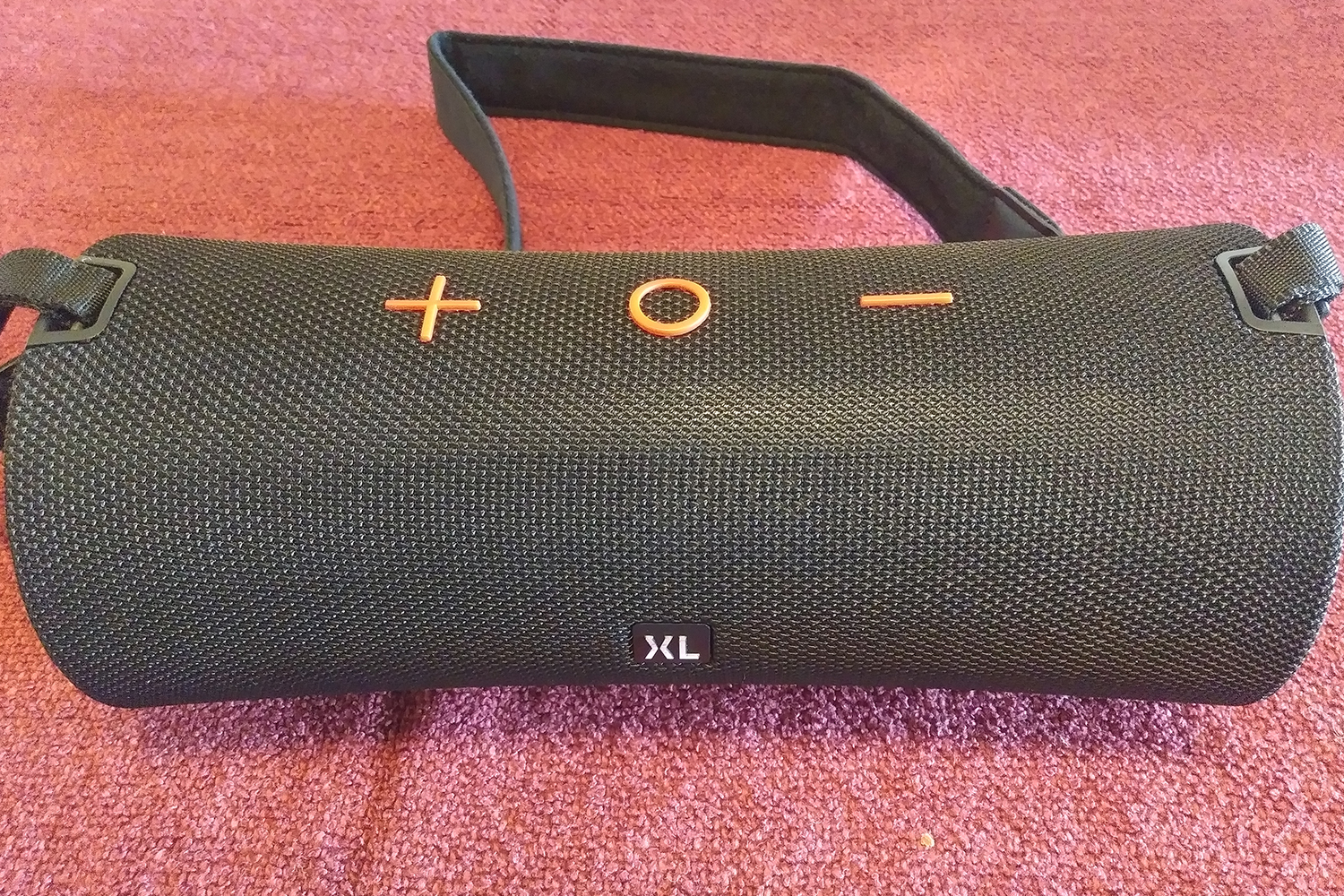 On the bottom of the speaker, there is a long rubber strip with two sides extending out a little to act as feet for you to set it down on.
On both sides of the SoundTube XL, you will find speakers branded with VisionTek and this is open so you will want to make sure to not puncture these. I do not know if these are directly the speakers or some sort of buffer style cover to help waterproof and project the speaker sound. I will update if I find out anything concrete about this.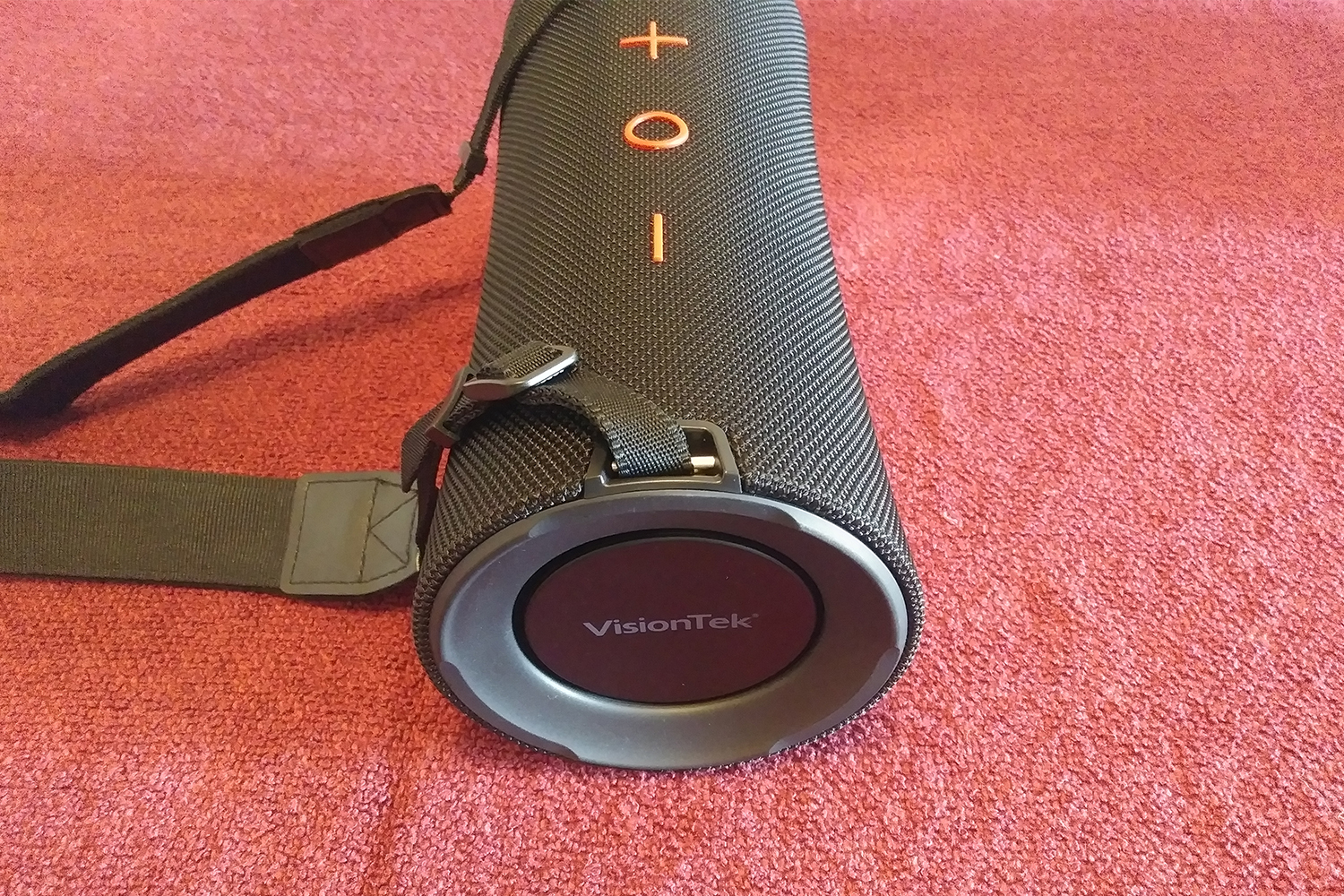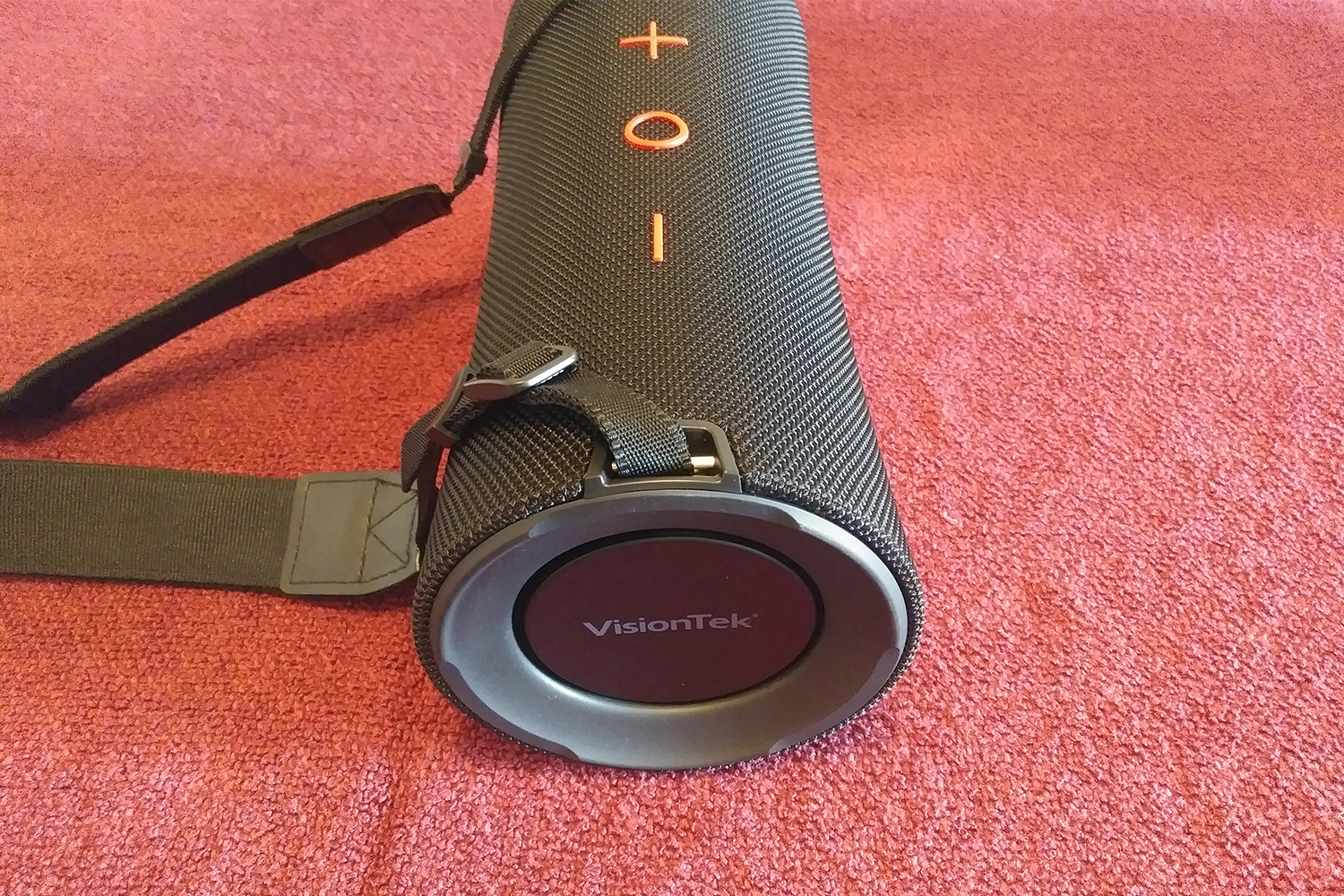 Lastly, in a little box buried in the bottom of the main box, you will find the included Micro USB charging cable and a 3.5mm audio cable.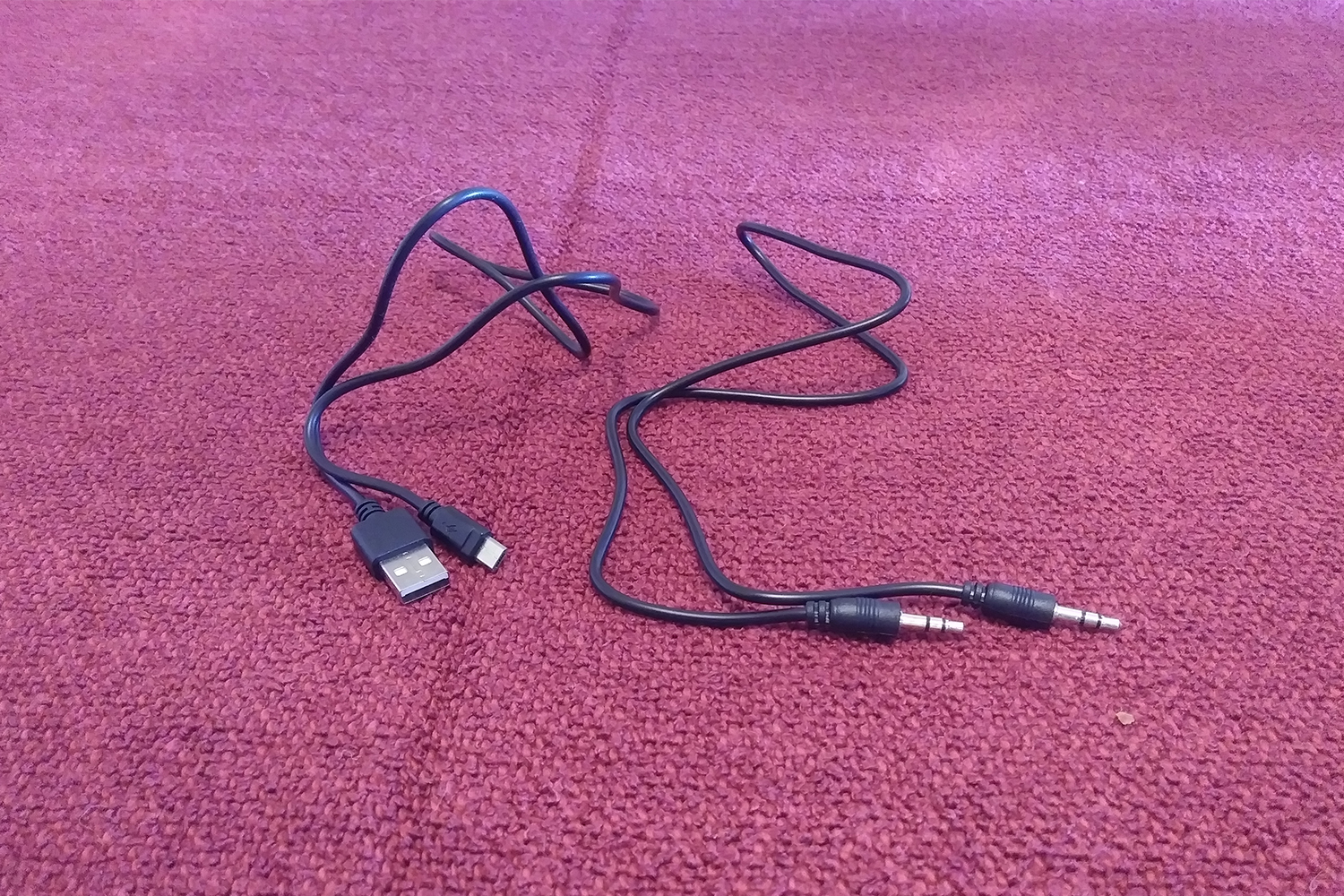 Final Thoughts
Performance
The performance was rather astonishing, I have not cranked the speaker beyond 70% and it is more than capable of enriching a movie experience on my tv to getting set up on the second PC in the home as a sound device there. The charge is good and strong, (note I did not test battery life in a test environment rather I just made sure it was charged and started using it.) With that said I got probably a good 8 to 9 hrs of use out of the SoundTube XL with the speaker running at 40-50%. The SoundTube XL delivers a rich full sound and I heard no distortion when using the speaker no matter the content.
Design
Overall I like the design, compared to my UE Roll yes it is a bit larger but the sound and battery life more than make up for and beat my UE Roll. All of the buttons are easy to get to and use as well as the charging and audio ports. The IPX7 Waterproofing is a nice touch for those that would like to take the SoundTube XL on a boat to the beach or pool, you don't have to worry about splashing or water making its way over the edge of the boat. As well as including a strap for easy carry over a shoulder!
Value
In the value department, all I can do is compare to other products in the same performance/size category. With the VisionTek SoundTube XL coming in at $99.99 on their site and $88.22 at the time of review and when on sale at places like Amazon this is a very competitive area for solid performing Bluetooth speakers. The SoundTube XL is not among the cheapest but also not the most expensive. The speaker is feature-rich including things like IPX7 Waterproofing, TWS Stereo, Bluetooth 4.2, Hands-Free, NFC and overall design and battery life making this a very tempting device to consider when looking for your next Bluetooth Stereo Speaker.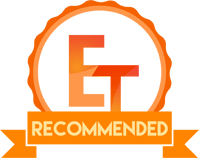 I want to thank VisionTek for sending over the SoundTube XL sample for review!