Manufacturer: Pump Audio
Product Page: Pump Audio Earphones
Purchase: £69 direct from Pump Audio
Today, we will be taking a look at the Pump Audio Earphones. While these are not PC/Gaming related per say, they surely will come in handy for those with mobiles phones that aren't the iPhone 7. A good pair of in-ear headphones is essential these days and can fit in your pocket with ease so there's no reason not to have a pair yourself. Me, I have multiple pairs in various bags and coats just to make sure my music can always be with me, no matter where I go. When it comes down to it, though, what really makes a good pair of earphones? For me, it's a combination of style, fit and the sound/performance they offer.
The Pump Audio Earphones come in two different colours, orange and black. They also come with a handy clamshell case to help protect them and make them easily transportable. As with most earphones these days, they also come with multiple earbuds in different sizes so there should be a size for everyone. For those looking to make the most out of their Pump Audio Earphones, they have an inline microphone that is compatible with most major mobile phones such as Apple, Android and Windows devices. Looking at the specifications, it surely looks like Pump Audio has put some serious effort into their Earphones but as we all know, real world performance can always vary so let's stop wasting time and get into the review!
Specifications
Driver Size: 9.2mm
Frequency Range: 16 Hz – 24000 Hz
Sensitivity: 102 dB (+/- 3dB)
Impedance: 18 ohms
Passive Noise Isolation
Specially tuned silicone earbuds for small or regular/large ear canals
3 sizes of Memory Foam earbuds (S, M, L)
Specially Custom Tuned Drivers
Weight: <15g
3.5mm Gold Connector Jack
In-Line Microphone
Water Resistant
Aluminium Casing
PUMP Clamshell Carry Case
5 Year PUMPreplace Warranty*
* as standard your PUMPs come with a 2-year warranty. To upgrade it to a 5-year PUMPreplace Warranty (for free!), click here.
Starting with the packaging we have a box that has a sleeve on it that slips off quite easily. On the front of the box is an image of the Pump Audio Earphones in orange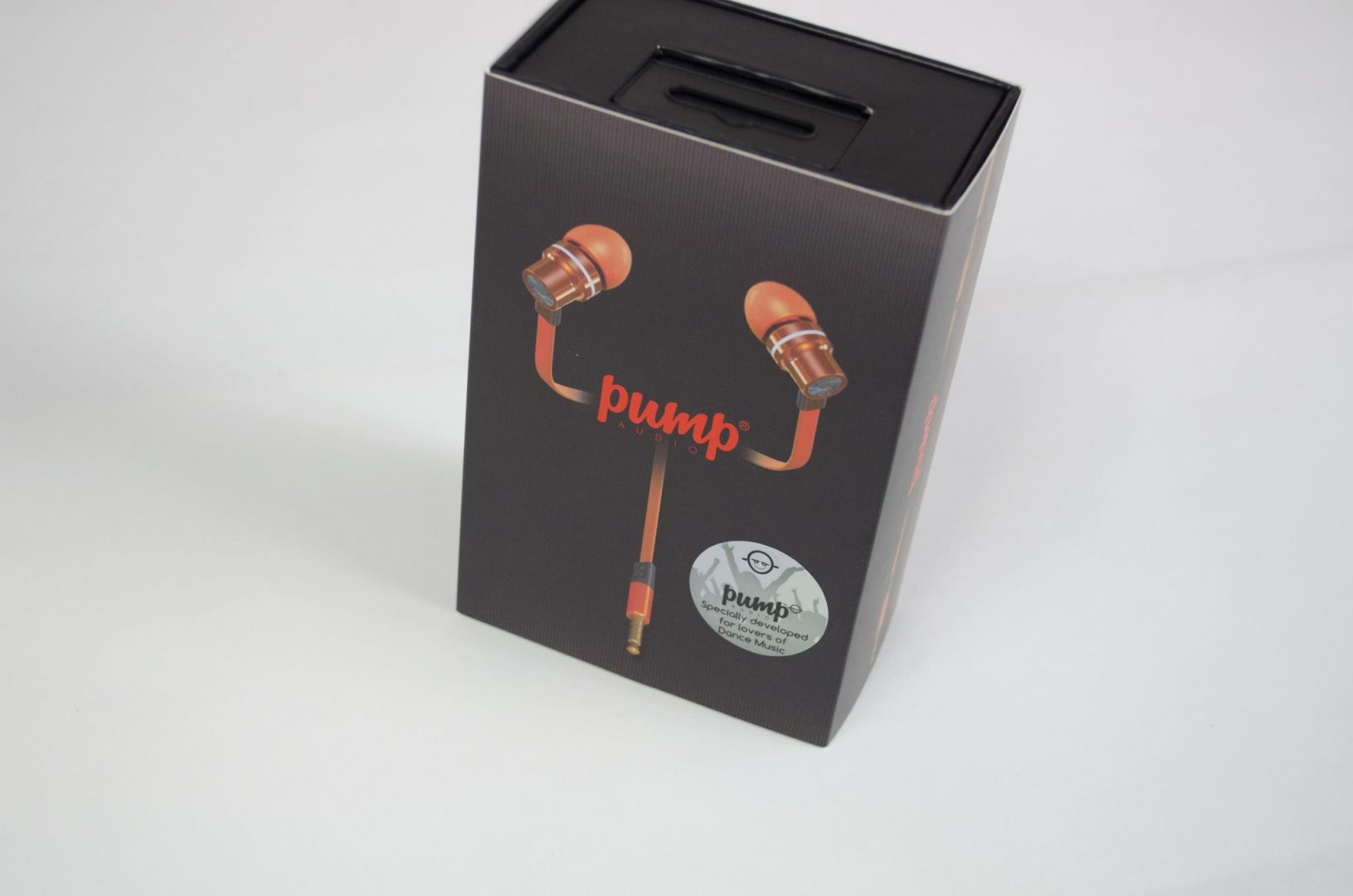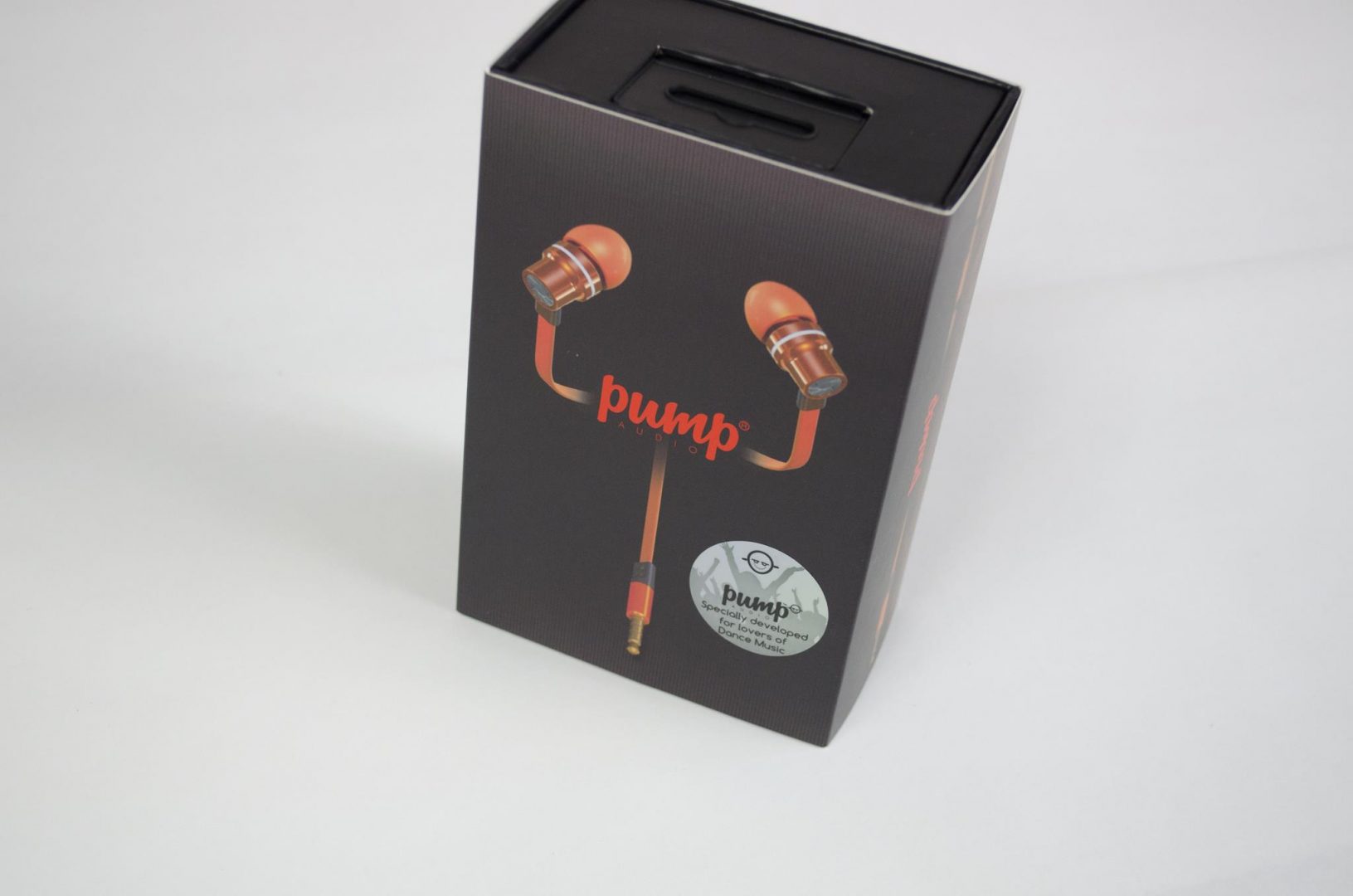 On the back are some testimonials as well as a list of what you will find inside the box.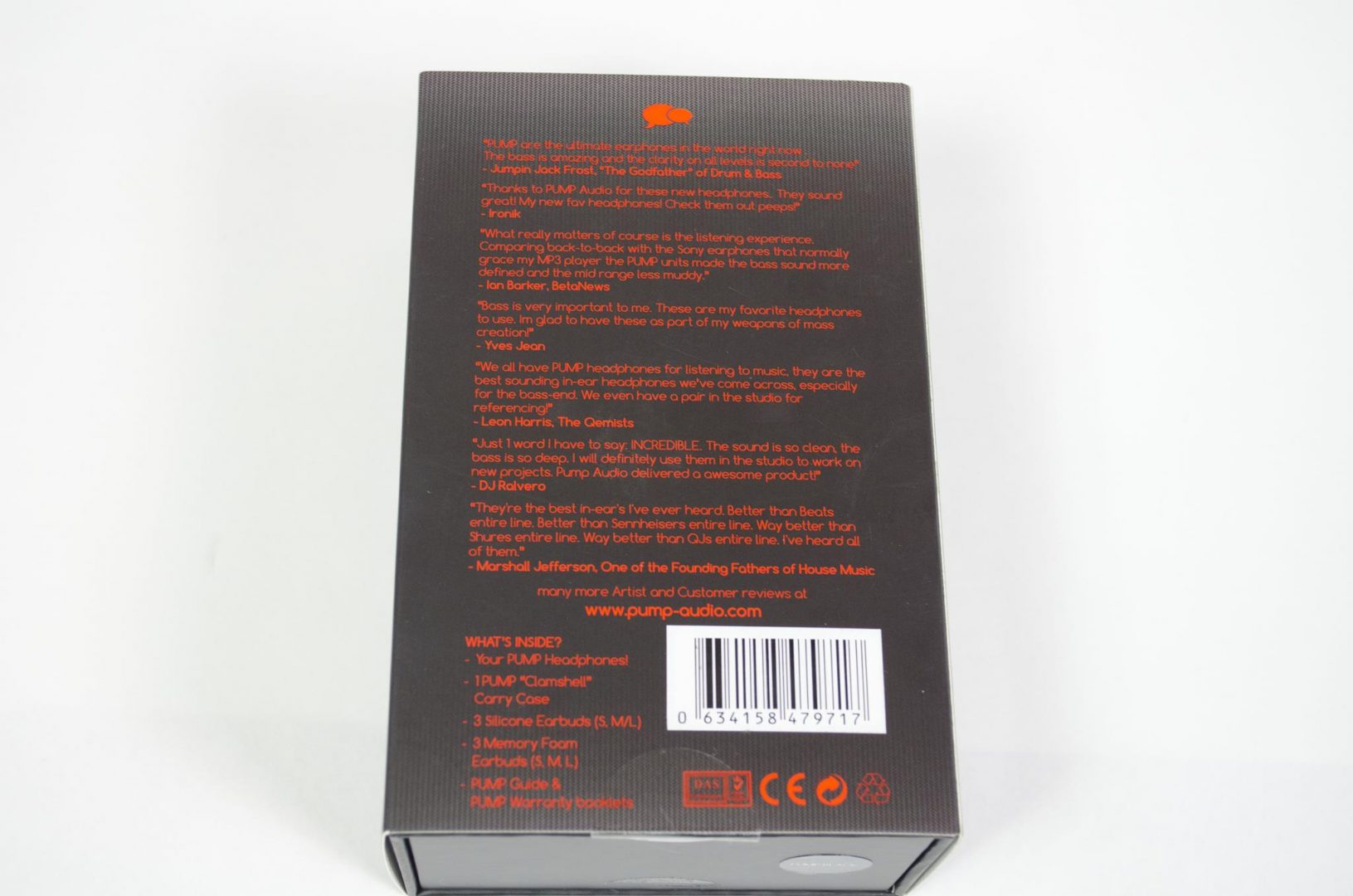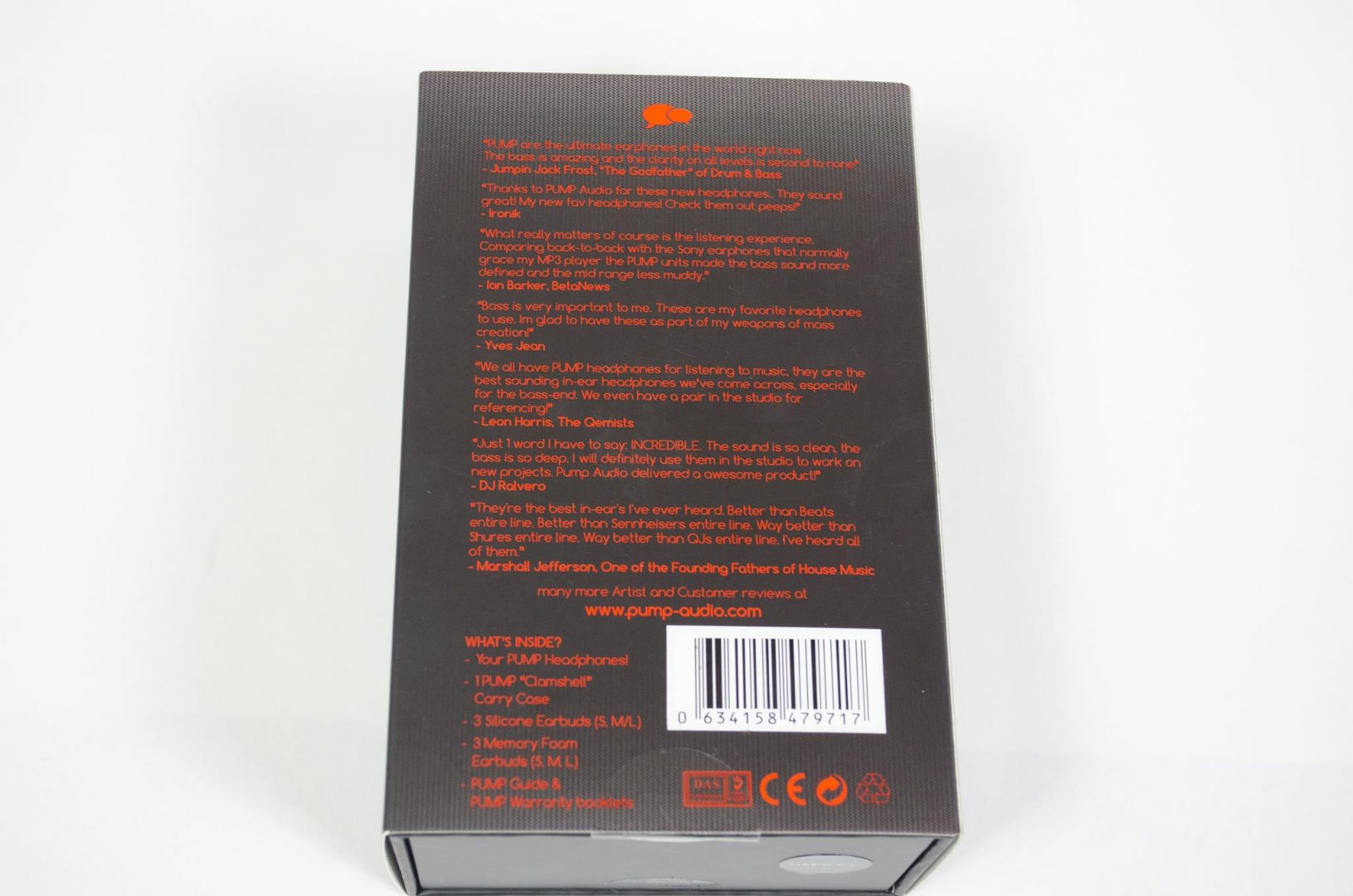 Opening the box up and we can see the earphones are well packed. On top, there is a plastic tray that has been custom moulded to hold the earphones in place during transport.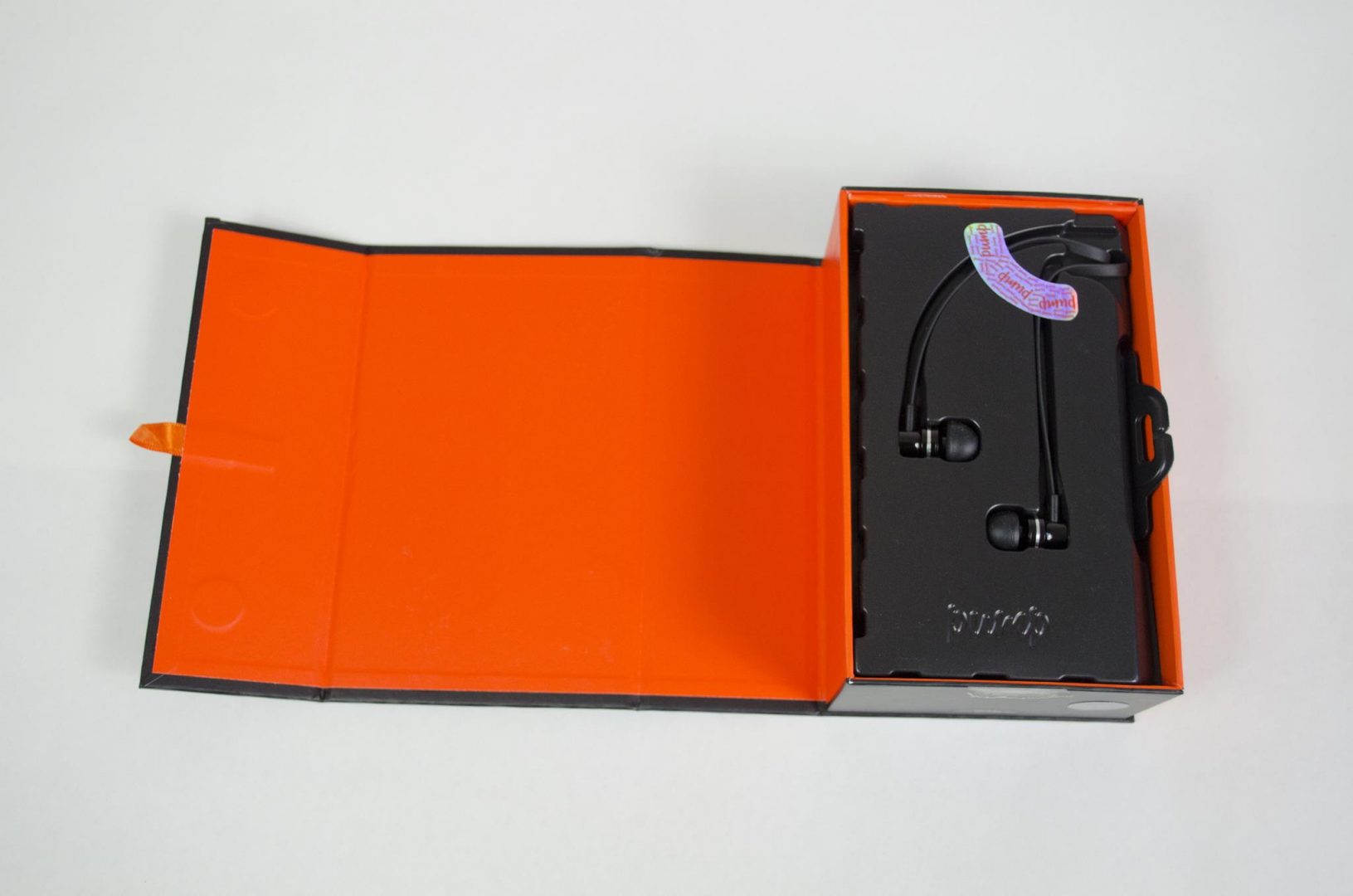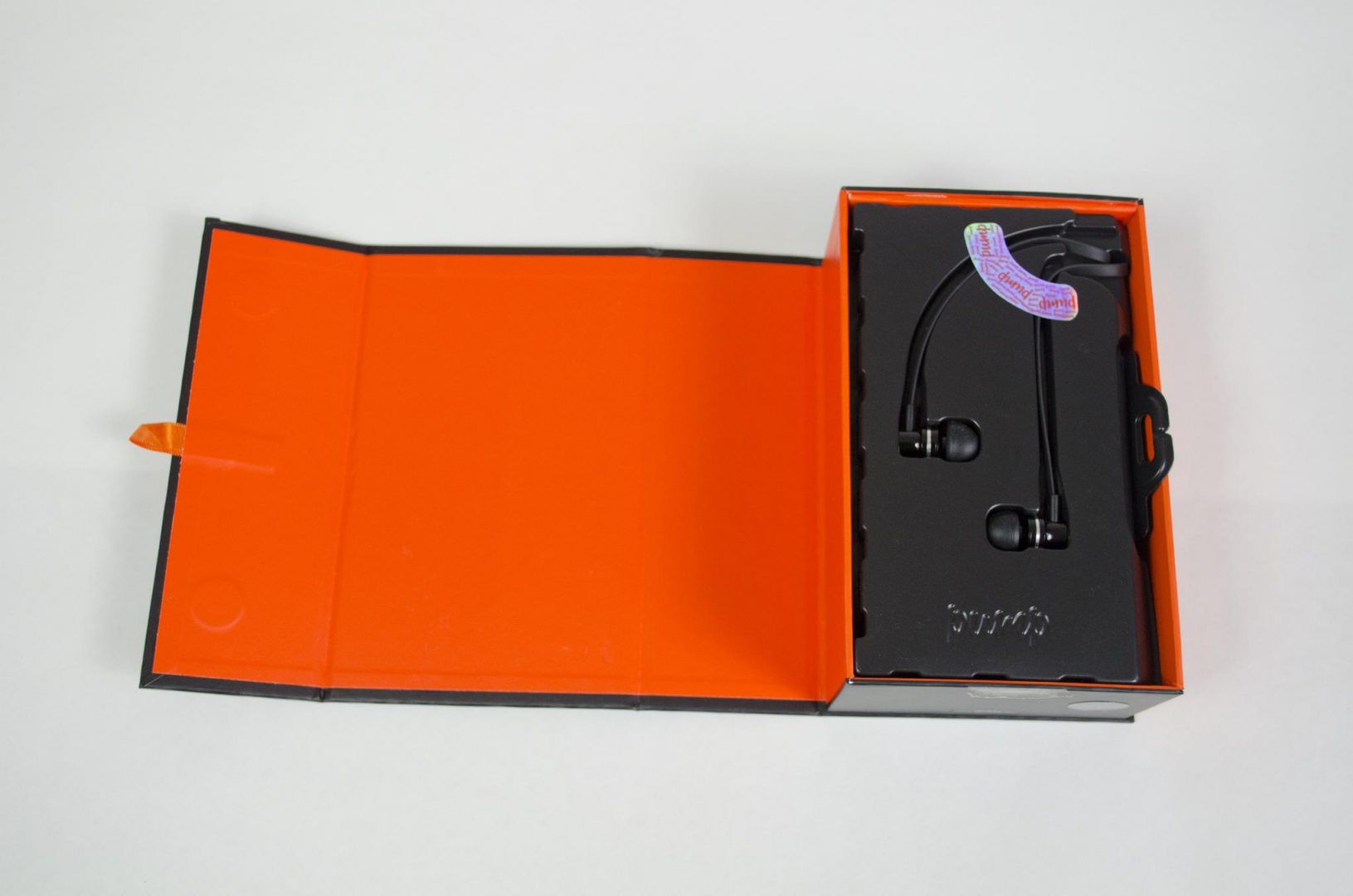 Inside the box are the earphones which also come half packed inside the clamshell case. There are also a few manuals and the extra ear buds so if the ones that come with it don't fit your ears, there are other options.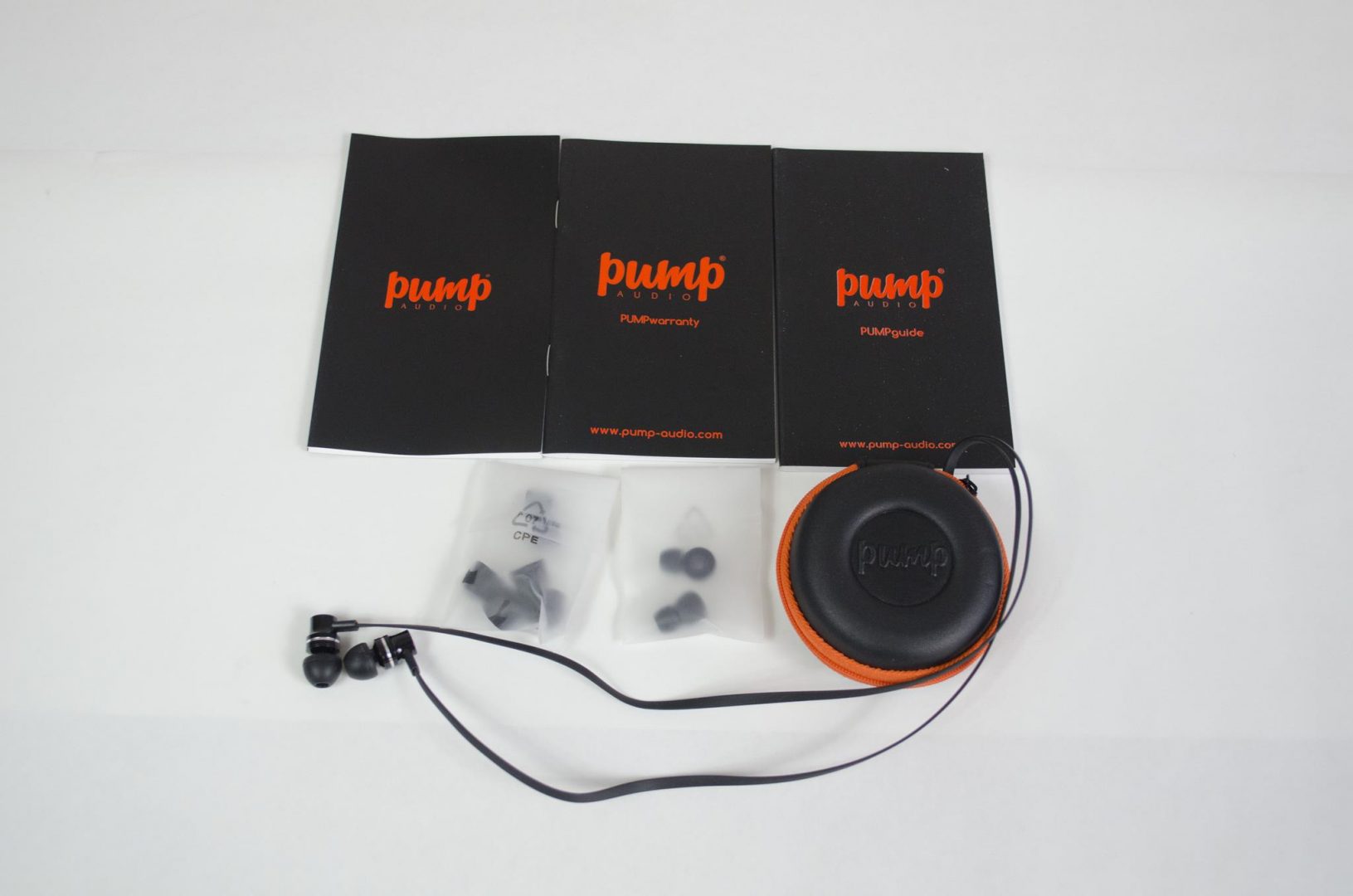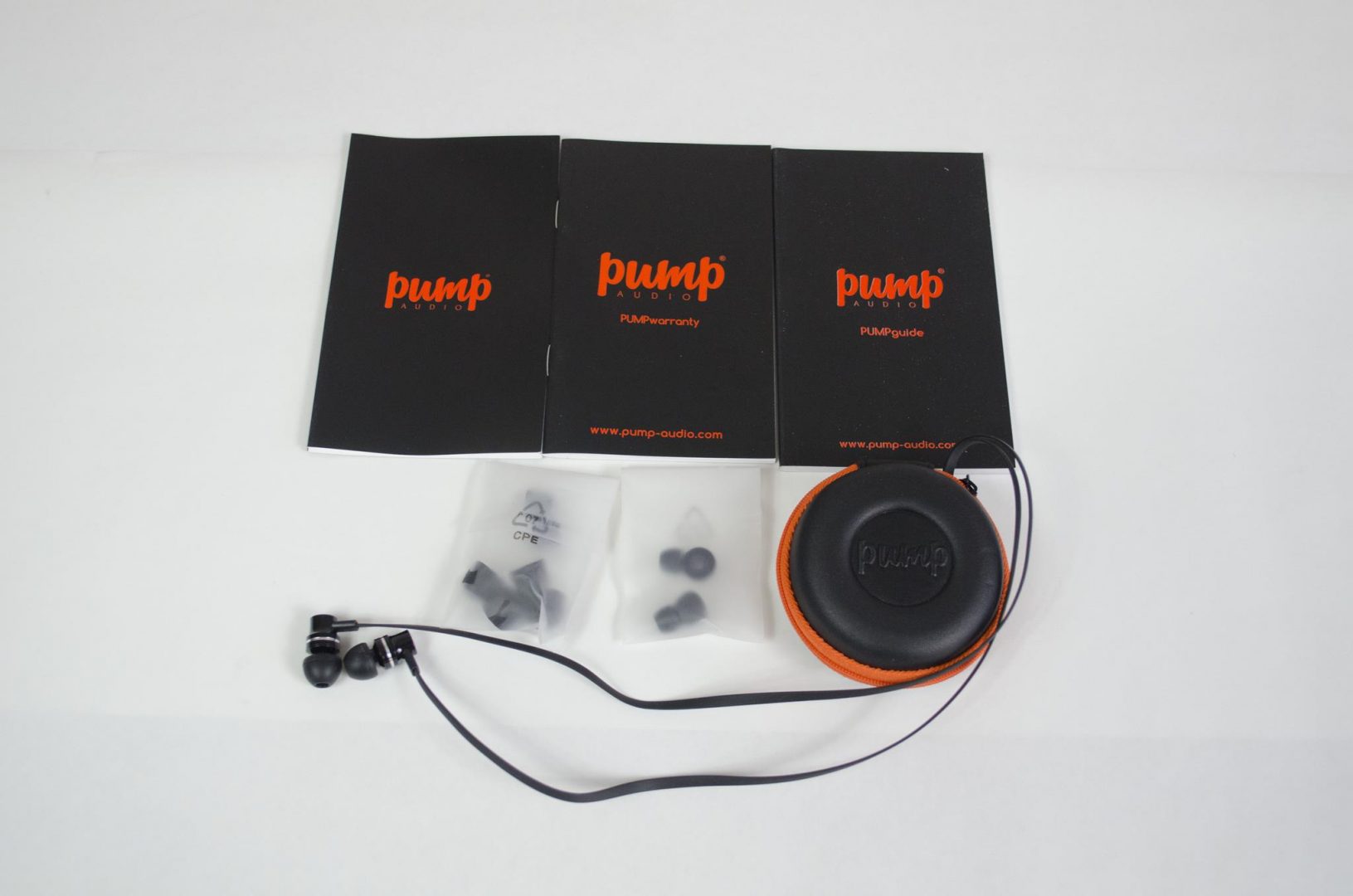 The clamshell case features a zipper that probably goes about 90% of the way around the case. Inside the case is plenty of room for you to fit the earphones in. There is also a little pouch on the top lid to hold the extra earbuds or something else small.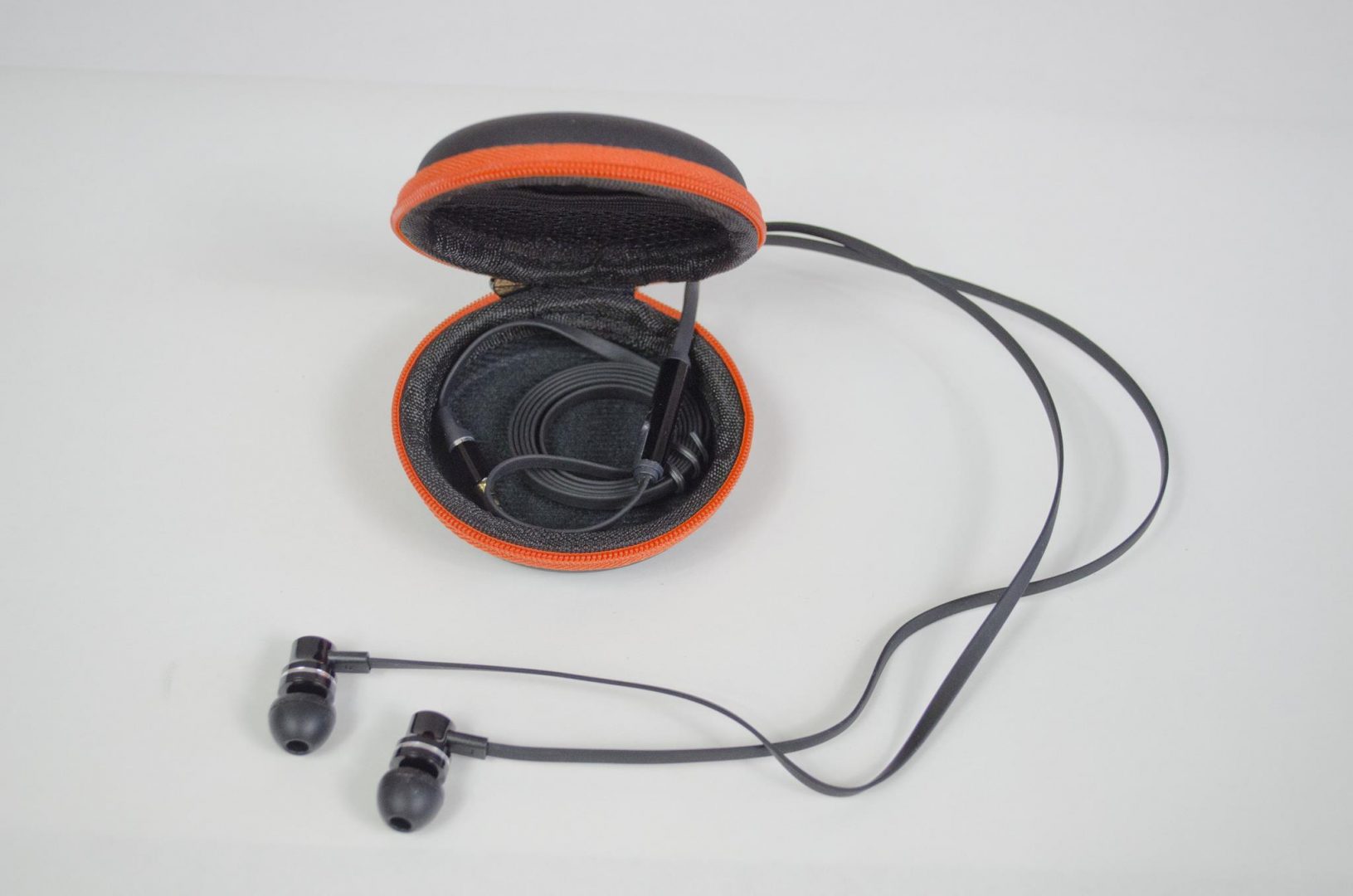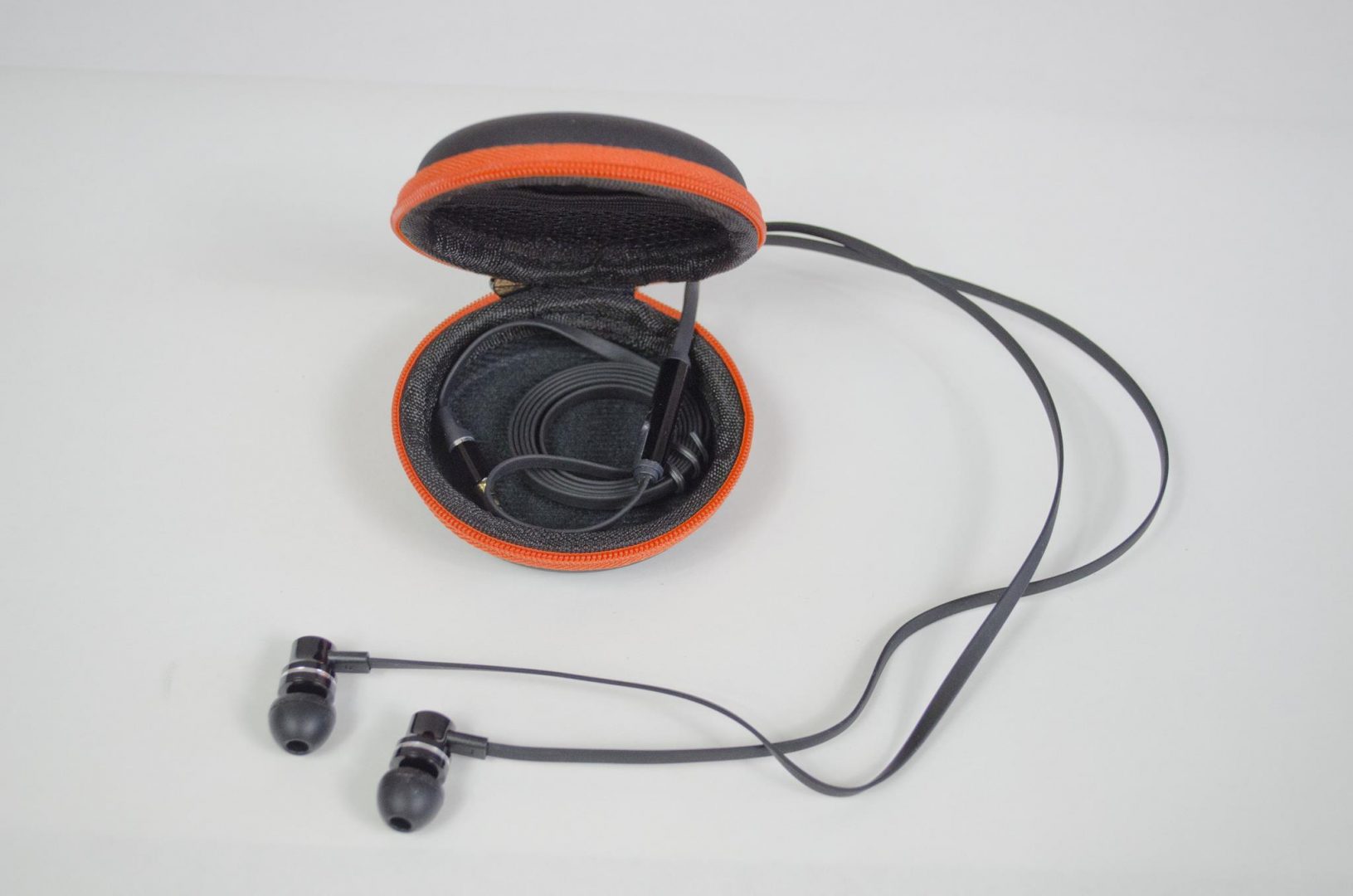 Being made from aluminium allows the Pump Audio Earphones to weigh less that 15g. They are so light you really won't feel an weight from them which is great. They are also quite small and only as big as they need to be so they don't hang out of your ears much, or look like you have something growing out the side of your face.
The outside of the earphones has a nice silver design on it so it's not completely black. Also, where the wire connects to the earphones is a small bit of plastic that helps protect the wire from getting damaged.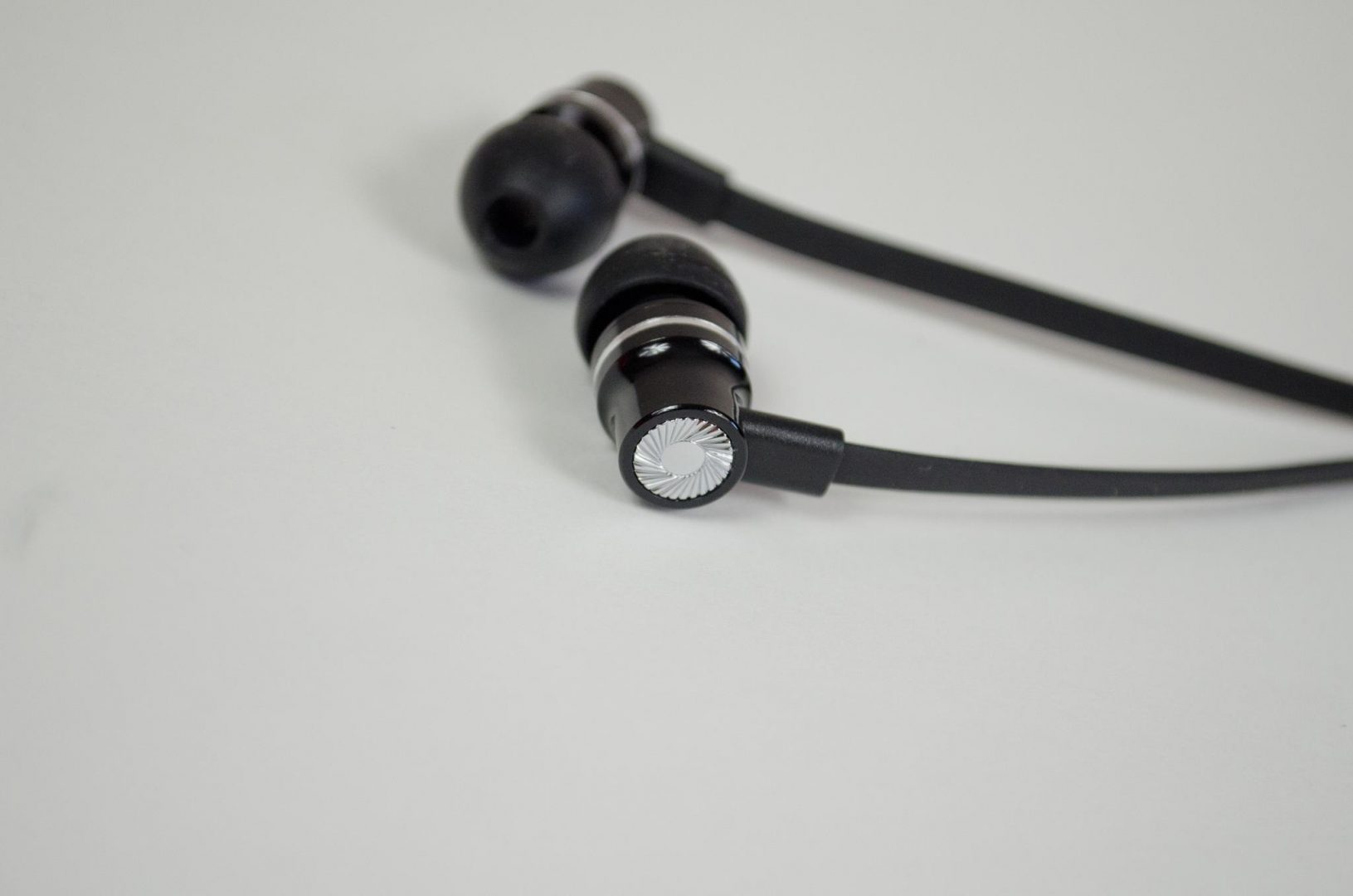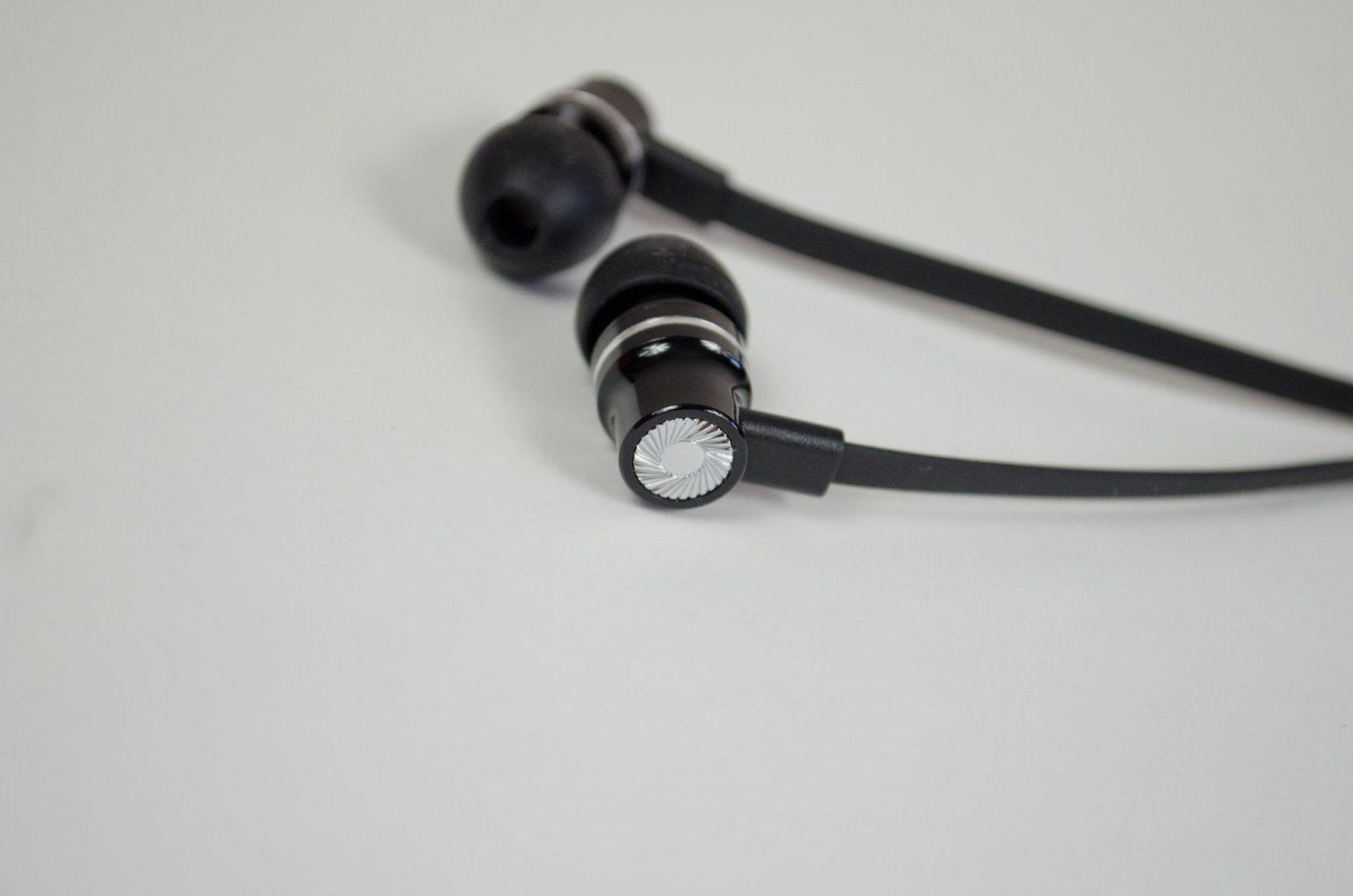 As mentioned, the rubber earbuds can be easily changed/swapped/replace and simply just pull off from the earphone to make things nice and simple.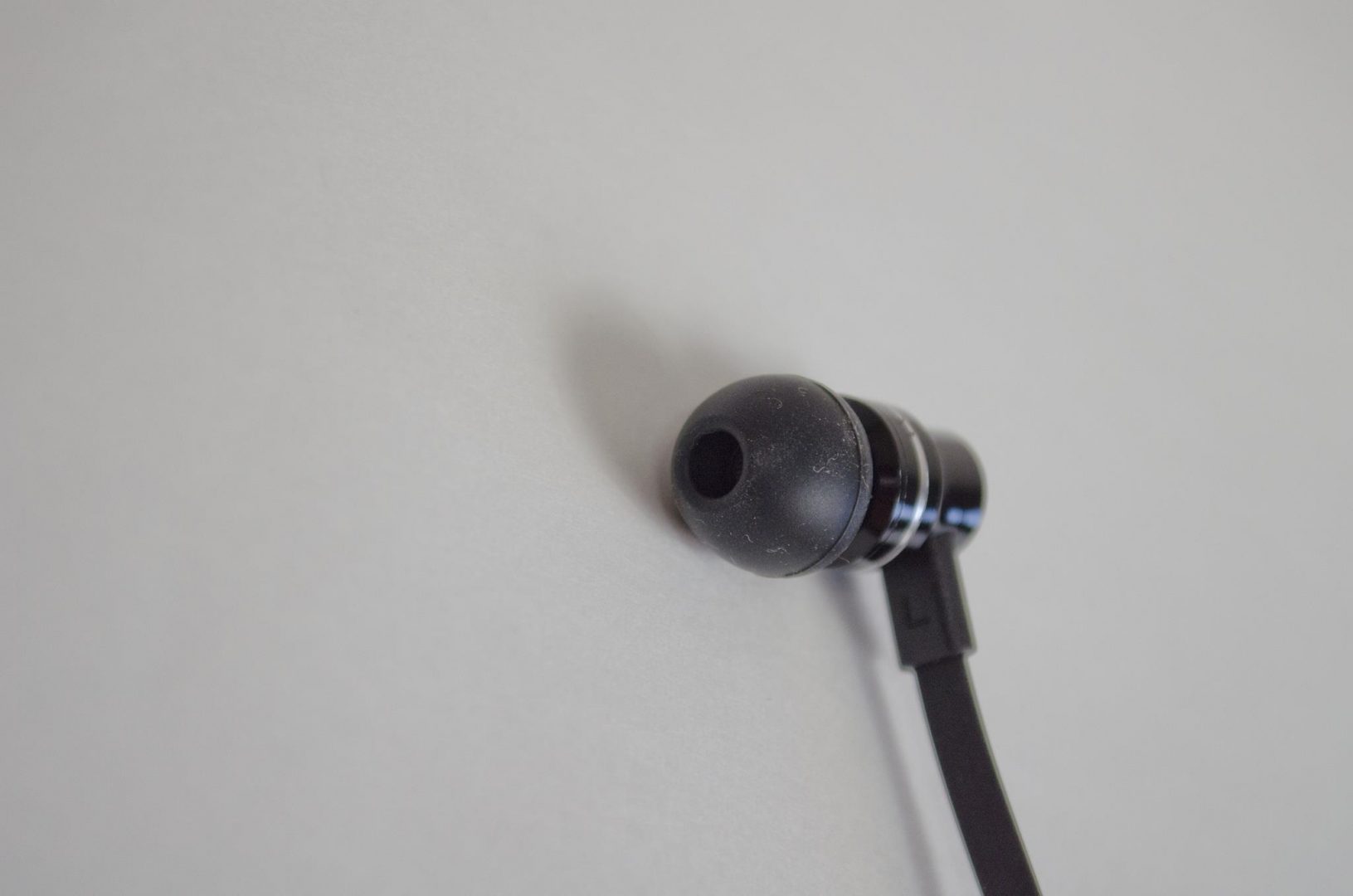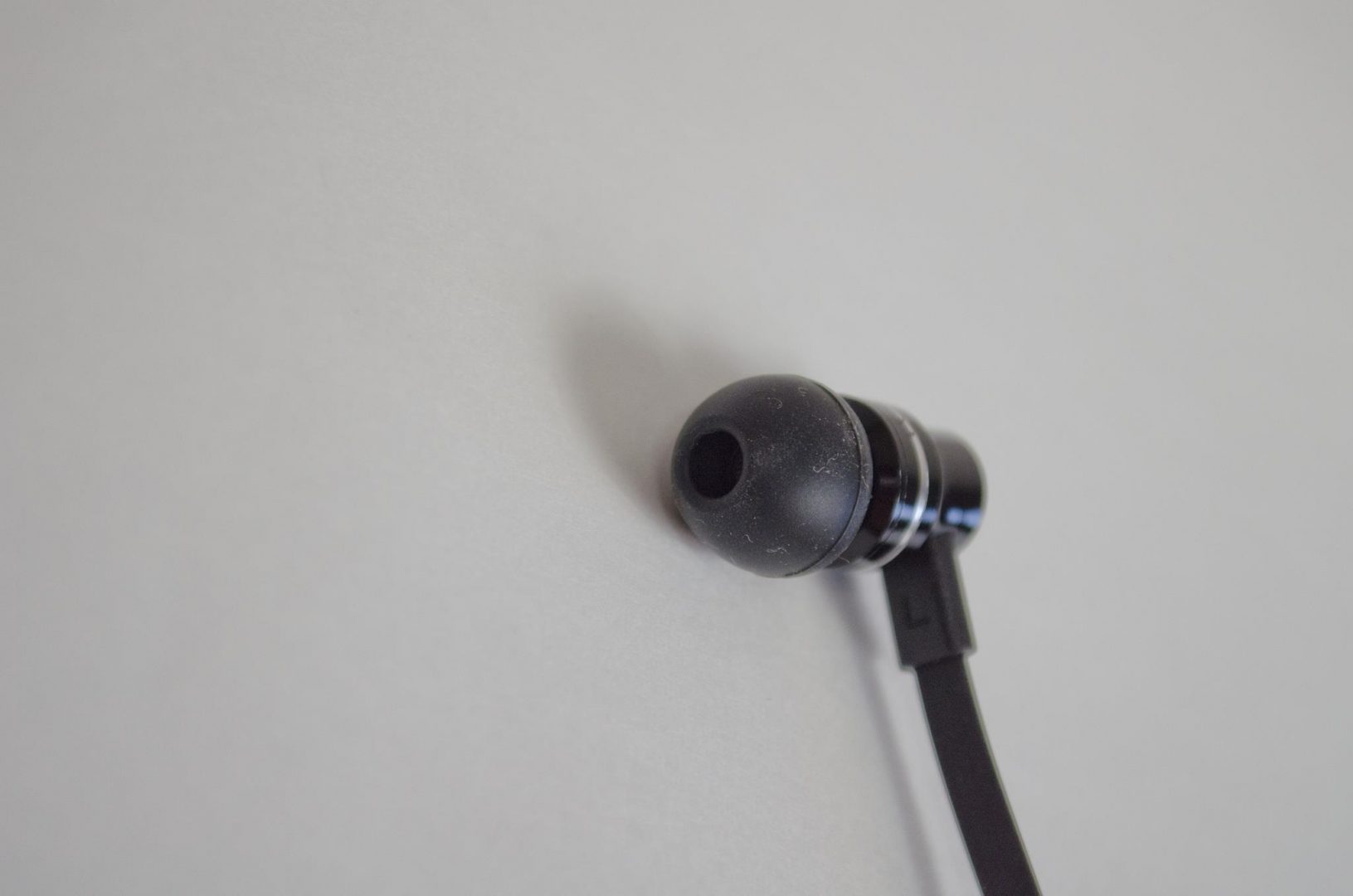 The Pump Audio Earphones come with an inline microphone so you can answer your phone calls without the need to take them out or unplug them. On one side is a nice Pump Audio logo.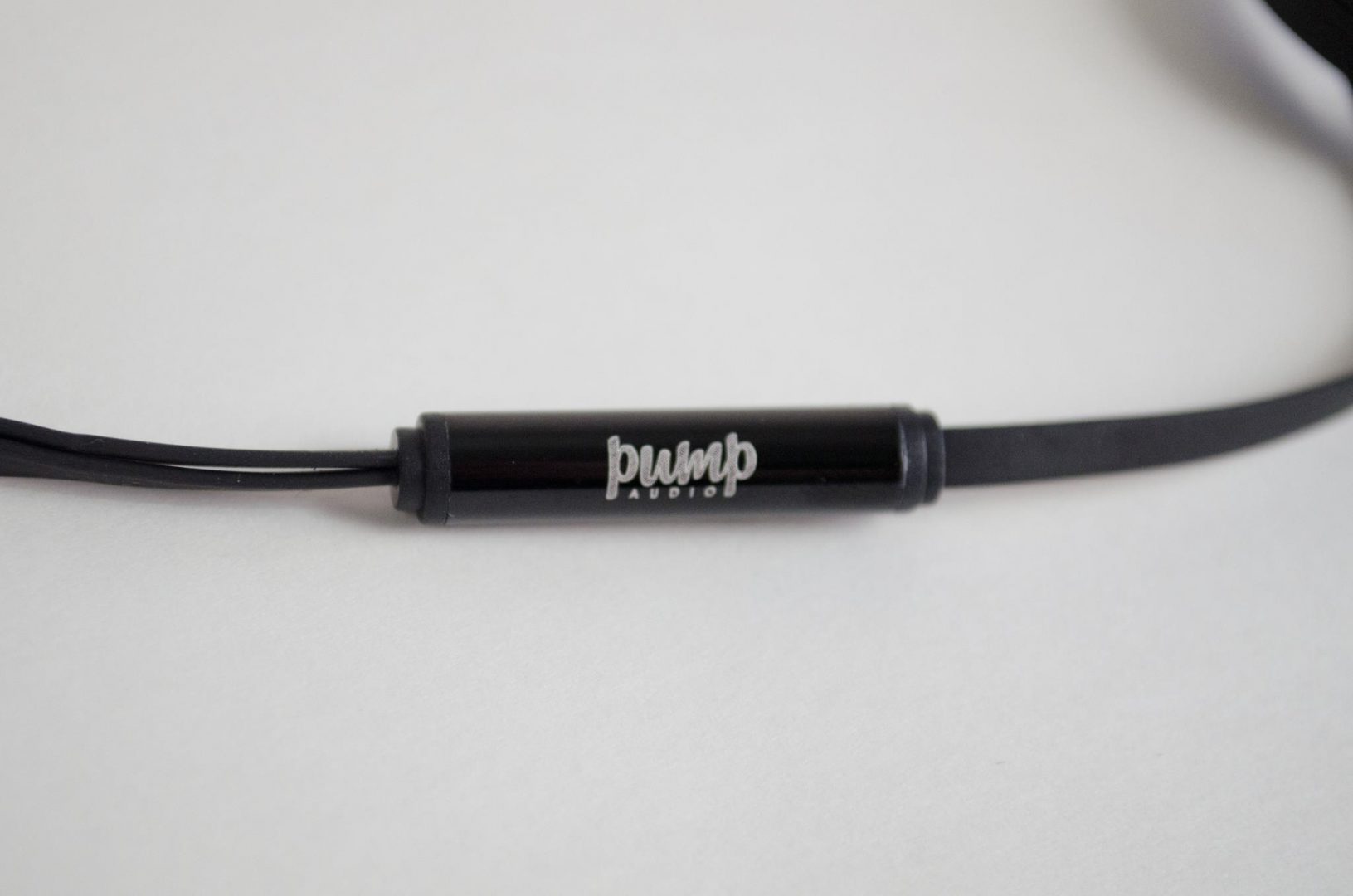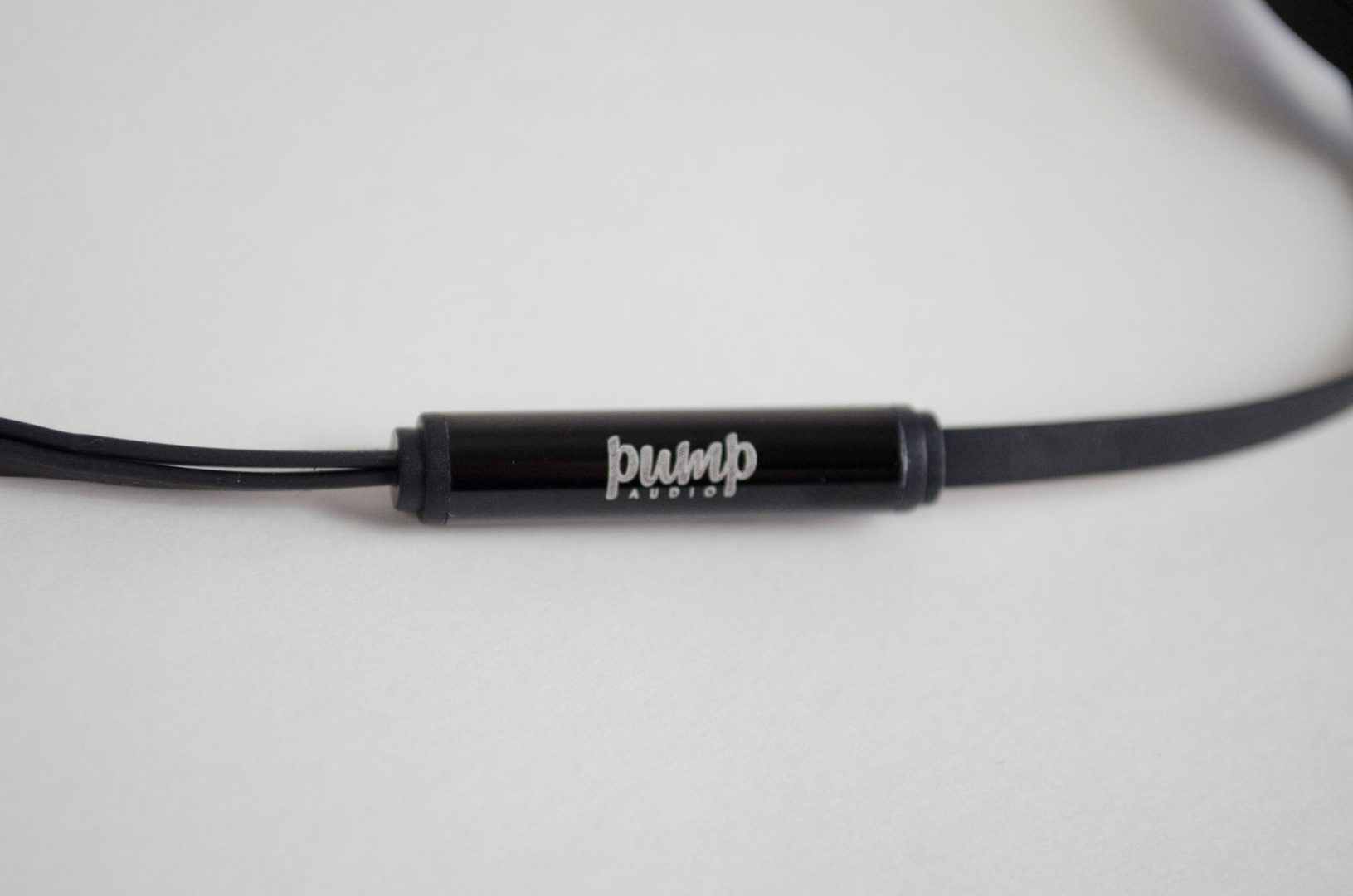 On the other side is the hole for the microphone so people can actually hear you when you answer their call!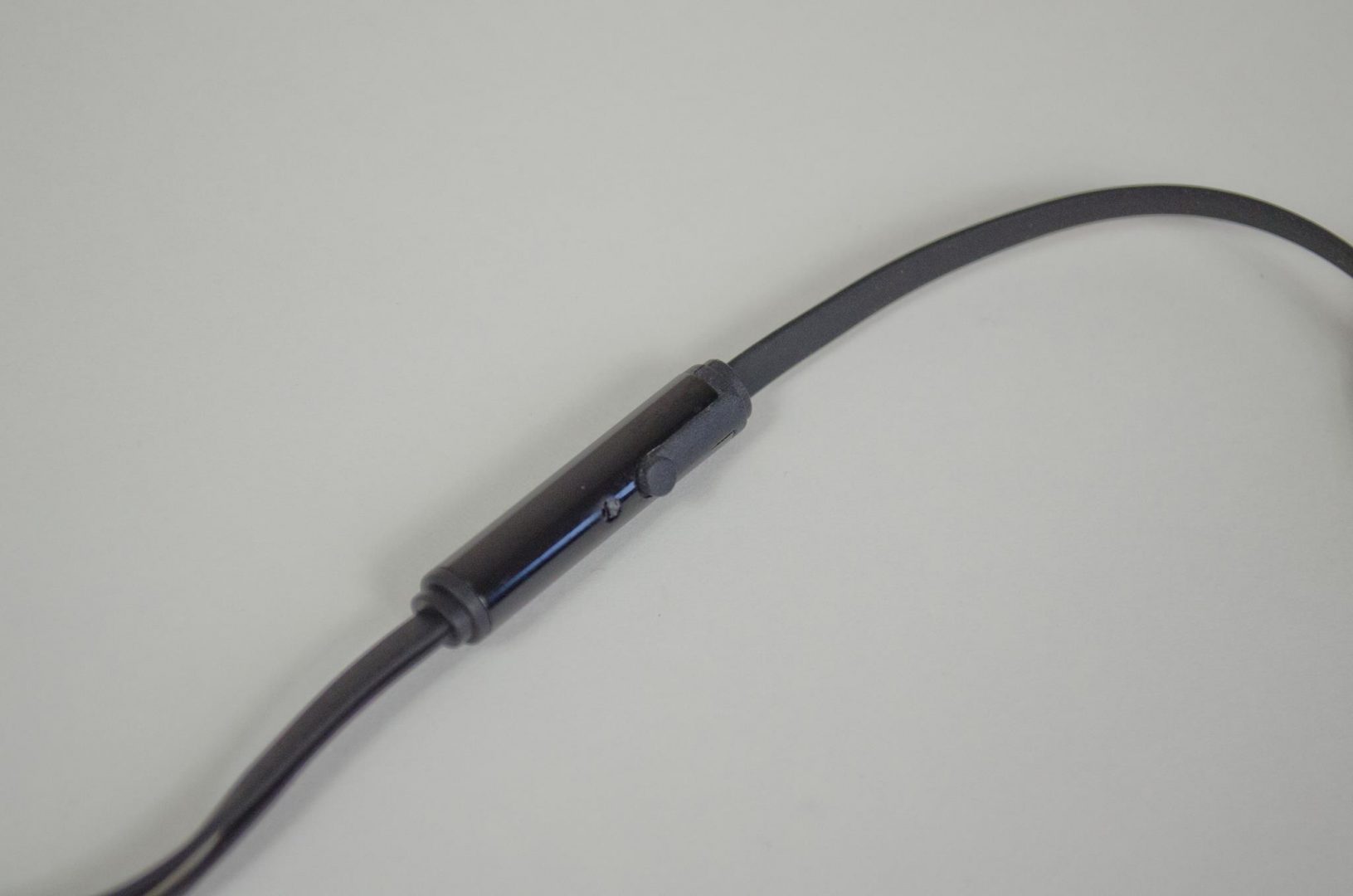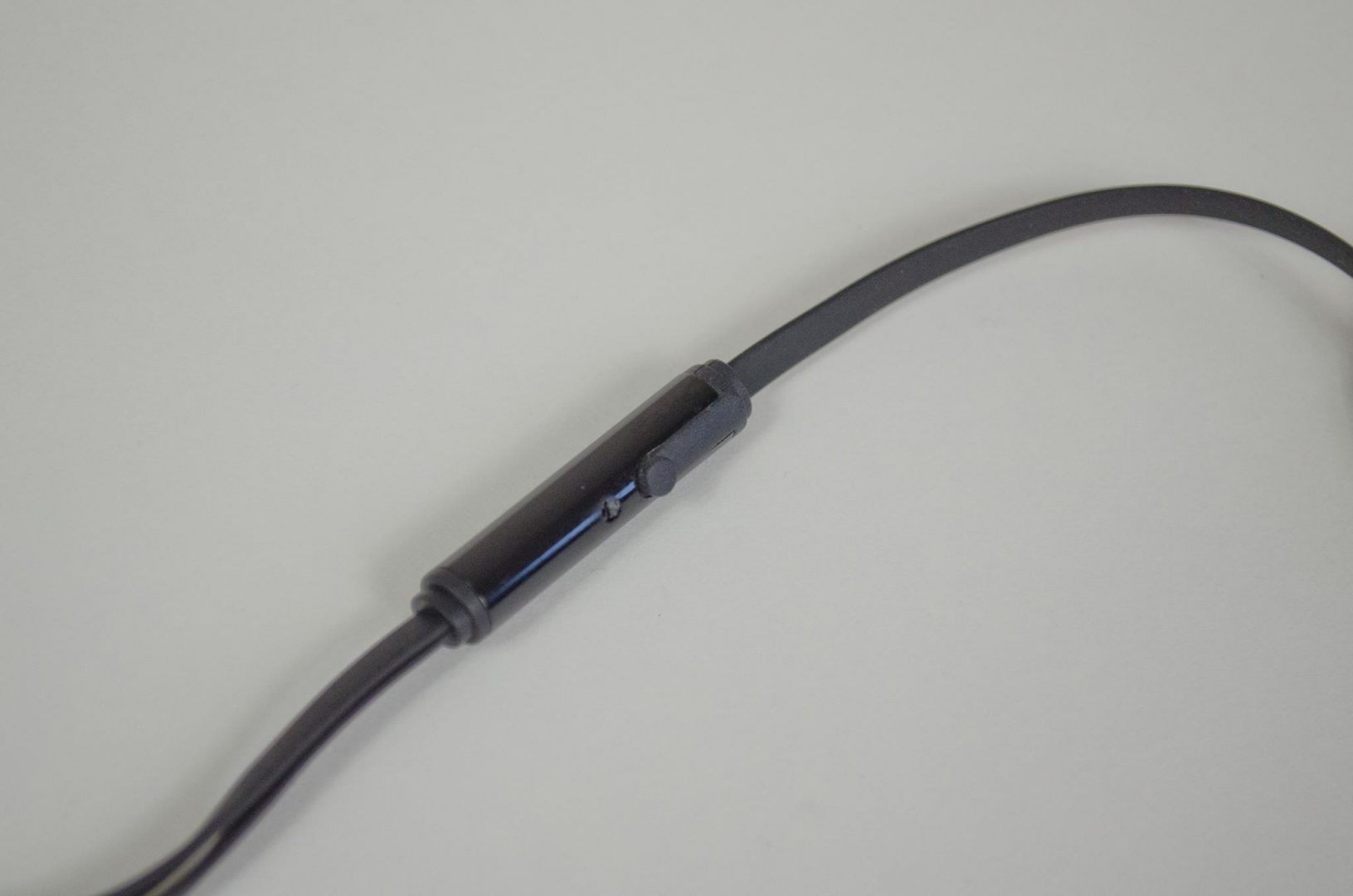 The 3.5mm jack is gold plated, something we see on most connectors these days.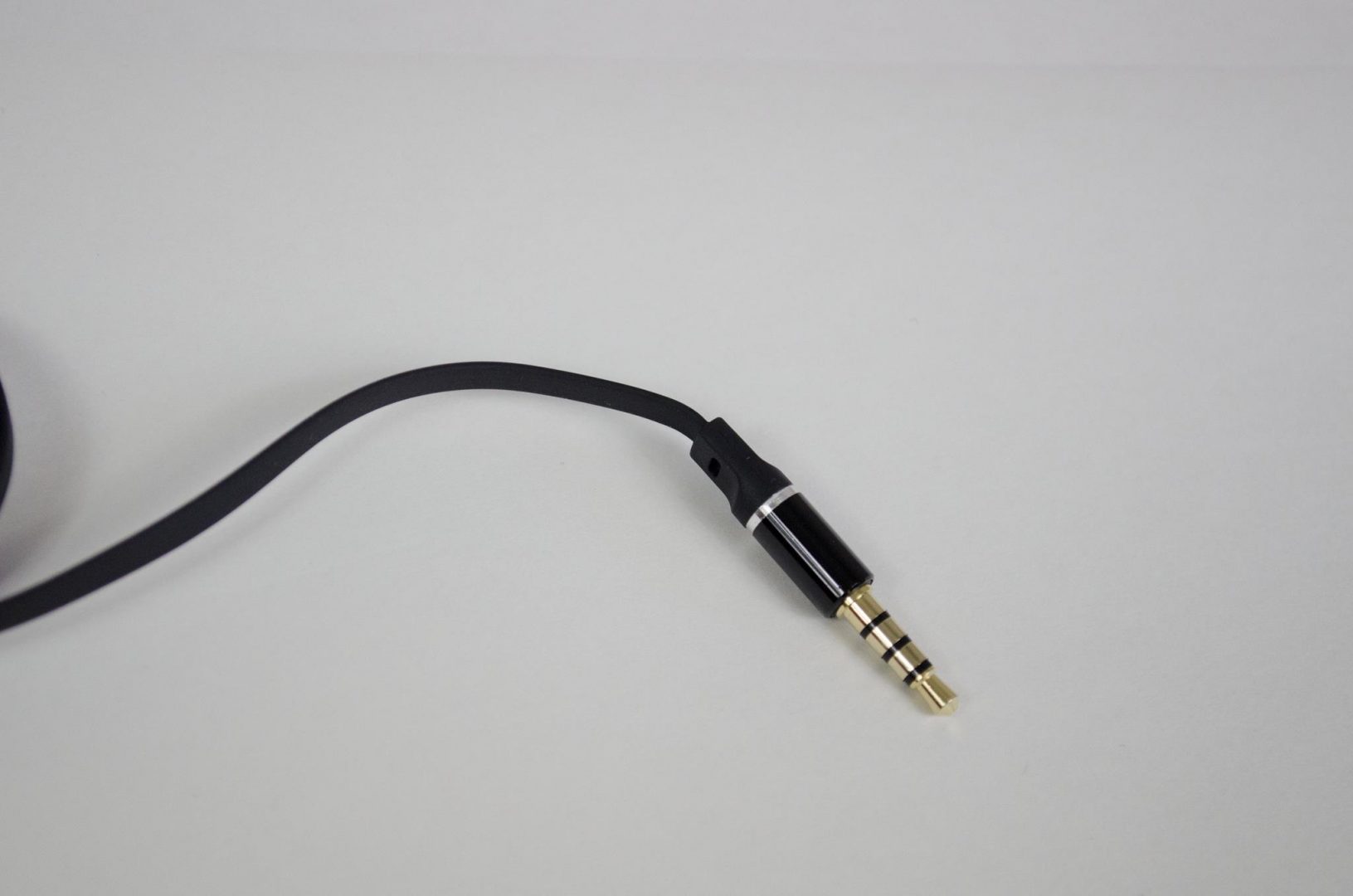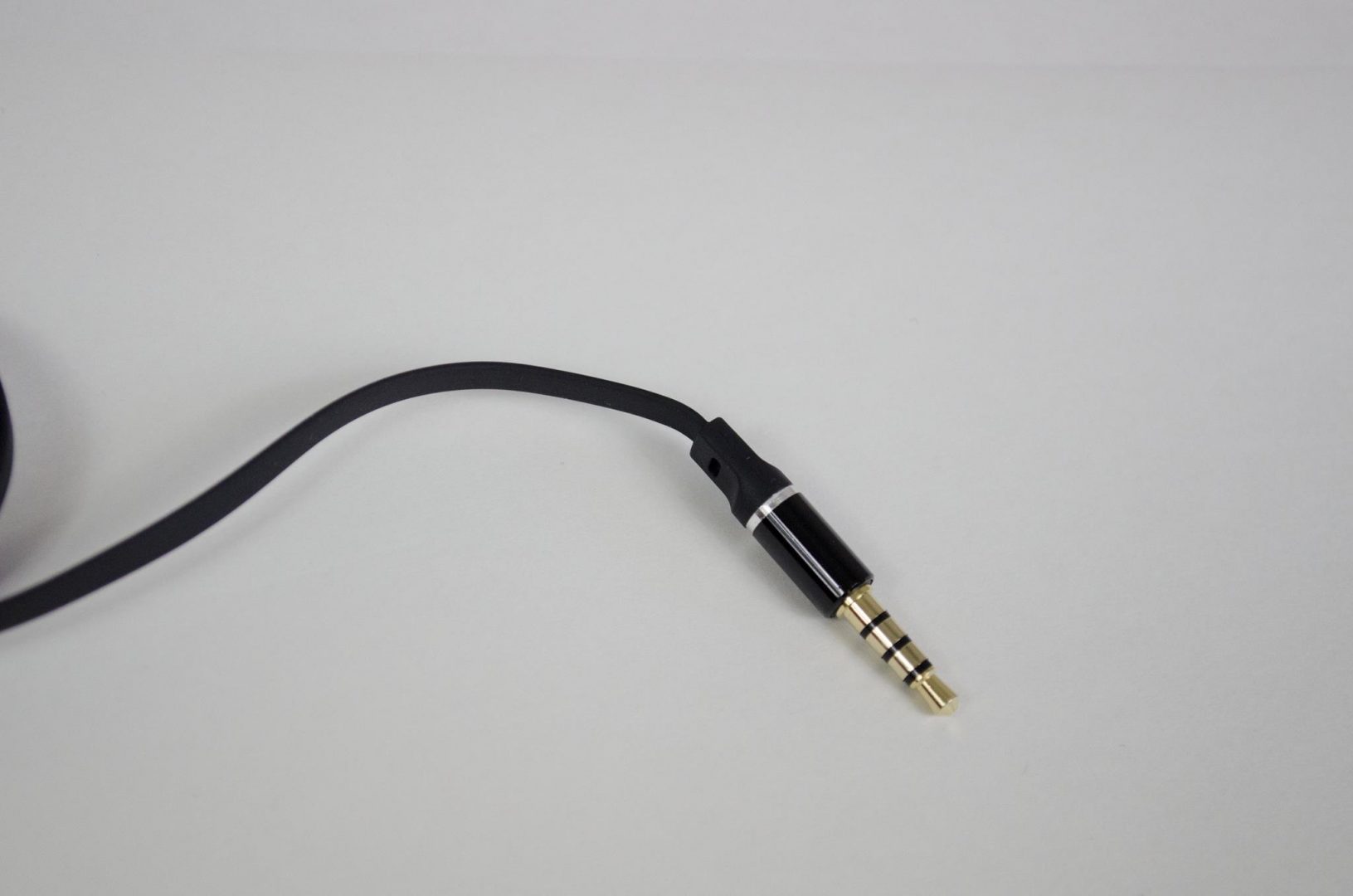 Performance
I listen to mostly Hip-hop and some House music with some decent amounts of bass and always a lot going on. While these earphones are good for any genre, I do feel that they shined when listening to house music. For in-ear headphones, the bass is more than sufficient and they are also quite loud once in place properly. I went as far as to plug these into my PC to test them out properly and see what they were made of and they impressed. Not only was their no distortion even at 100% volume, the sound was just crisp and clean. Being the guy that I am, I also loaded up some BF1 and Overwatch and took them for a little spin as you never know, and in a pinch, they would definitely suffice for a pair of gaming earphones. In Overwatch, it was quite easy to differentiate between sounds, meaning I could tell who was shooting what gun so I knew if the guy around the corner was on my team or not. When it comes to it, the performance is good, even at higher volumes and this stayed true throughout my range of testing. Sufficient bass with some cleans highs to offer a good all around listening experience.
Design
The design is one I am quite fond off, fairly simple yet still stylish. The addition of the tangle free flat cable goes well with the overall looks and makes for a more enjoyable user experience. The aluminium ear pieces are not only lightweight, they are also comfortable and look quite nice. Adding the inline mic on in-ear headphones is always a smart choice as it doesn't take up any extra room or cause any issues but it will let users take phone calls without having to take the earphones out. In a time when nearly most every adult has a mobile phone, this truly is a must-have feature. As for the internals, Pump Audio has surely done a good job making something so small produce such a nice sound!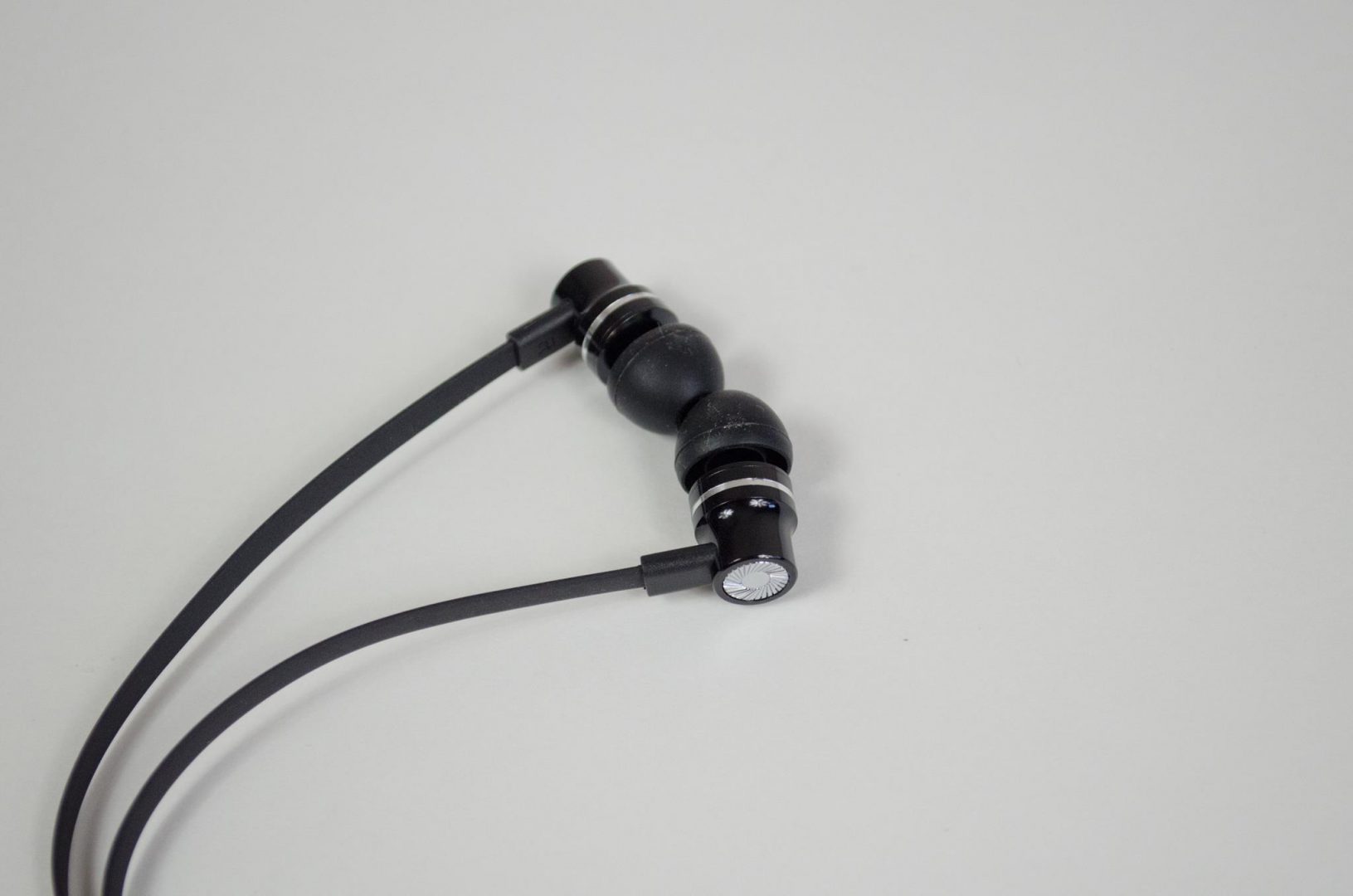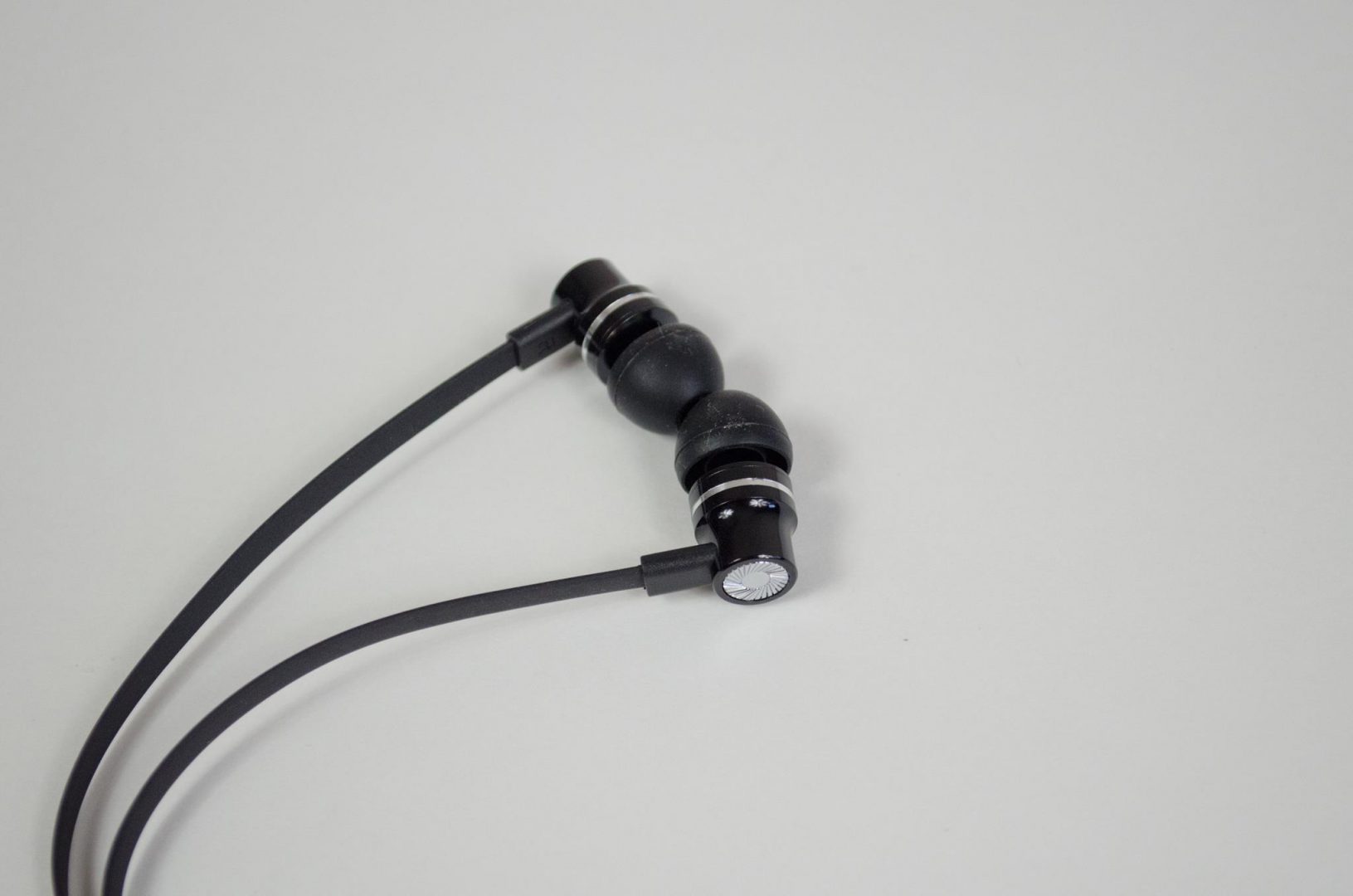 Value
While the Pump Audio Earphones do offer some great performance, there is no denying that £69 is a lot to spend on a pair of in-ear headphones. For this type of money, I would have like to of seen a volume switch of some sort and a lapel pin so you don't have to hold the mic up when using it. If Pump Audio can address those two small issues in an upcoming release of their In-ear headphones it would be great and would help to add to the value of them. Aside from that, they are good but again, it can be hard to justify £69 on a pair of in-ear headphones.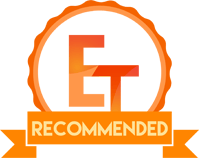 Many thanks to Pump Audio for supplying a pair of their earphones for this review.