In the ever growing market of PC peripherals, companies are always looking for new ways to differentiate themselves from the competition. Today, we will be taking a look at the Ajazz AK60. IF you've never heard of Ajazz, fear not as they have some good products in their catalogue which we will hopefully be seeing more of soon enough. The AK60 is a mechanical gaming keyboard that features RGB backlighting and has a volume knob that doubles as a LED controller. The AK60 also features a UK layout, is water resistant and comes with Ajazz red switches with a 50 million click lifetime expectancy.
Looking back a couple years ago when everyone was saying PC gaming was dying and would be dead soon thanks to the likes of smartphones and tablets, it's amazing where we are today. PC Gaming is currently the pinnacle of the gaming world and eSports are taking off and bringing in more money and views than almost anything else out there. Thanks to streaming services such as Twitch, you can also watch your favourite gamer's stream almost daily. This allows for a somewhat better/closer bond to that of what you may have with your favourite footballer or sports player. The reason being is you get to see the streamer in a more personal way and you can even help support them directly by donating to them if that is something you wish to do.
The box for the AK60 is completely black and first the FirstBlood text which we will also see on the keyboard itself.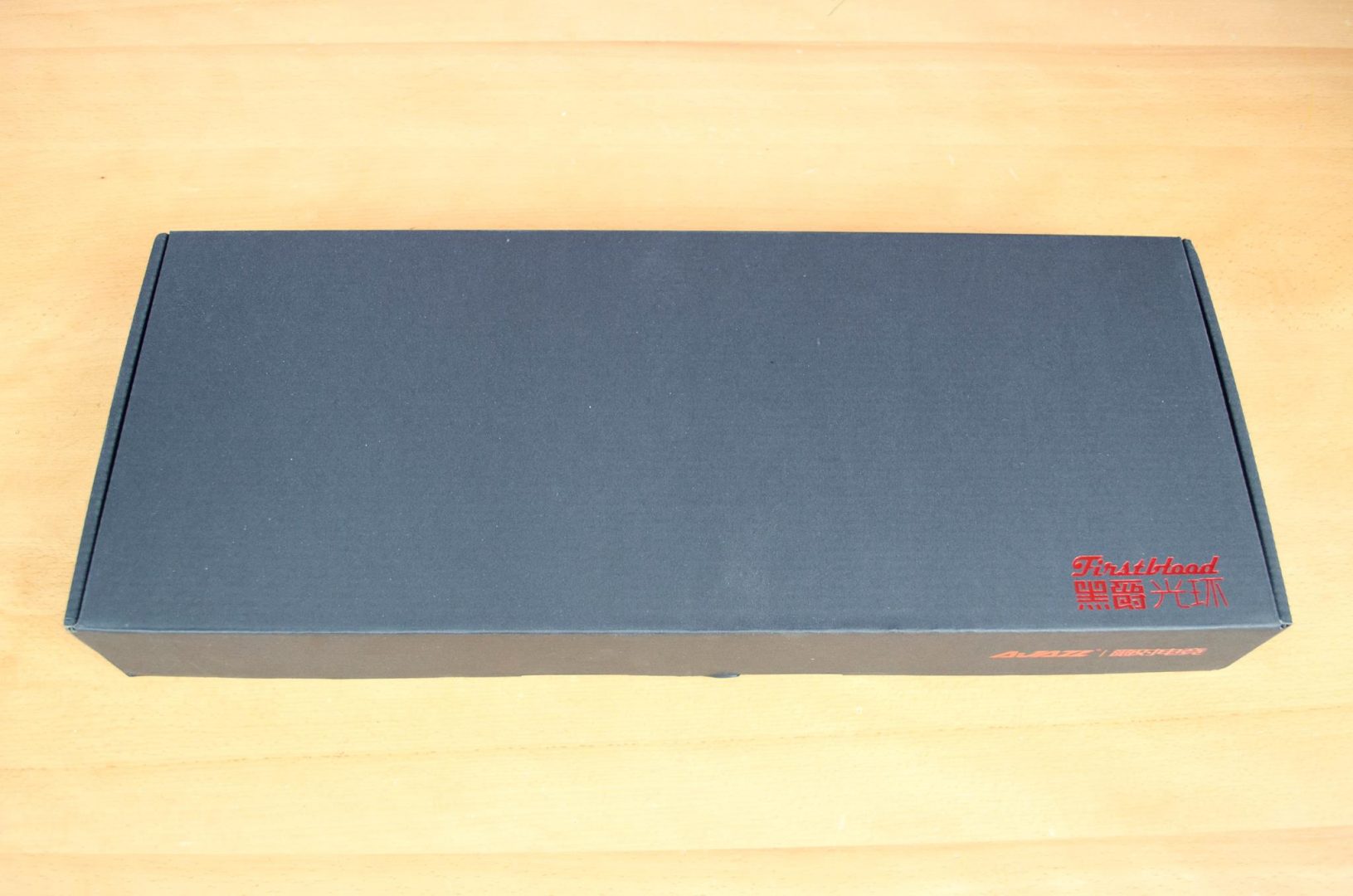 Opening the box and we can see the AK60 keyboard is very well protected. Not only is it inside a bag, there are also foam protectors on each end to ensure that it doesn't get damaged in transit.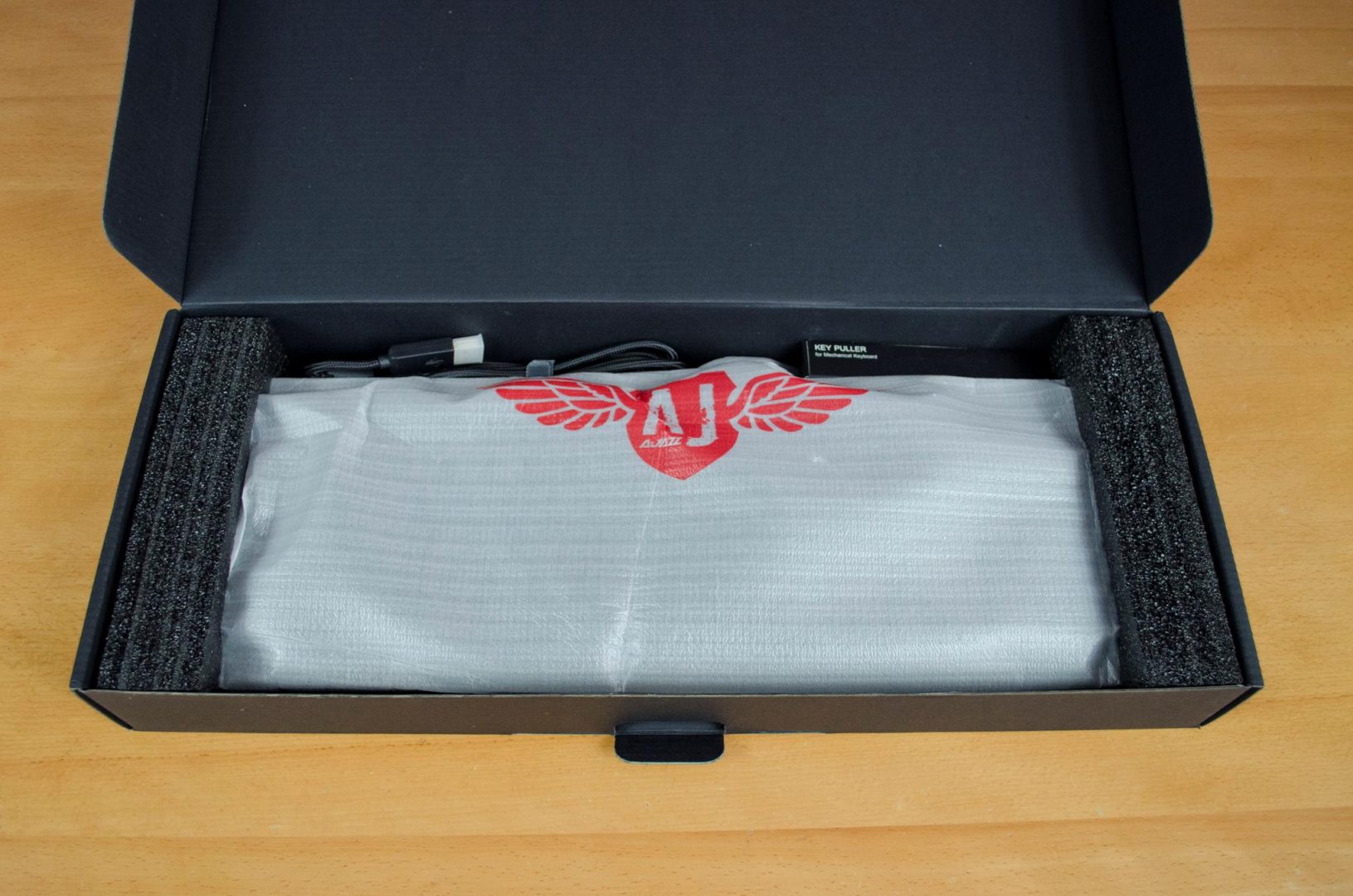 Inside the box are the keyboard, user manual, warranty card and even a nice keycap puller.
They keycap puller is great and it even features an Ajazz blue switch on the top with clear keycap. While the keycap puller is just a little bonus accessory, I think it is worth saying this is my favourite one I have seen included with a keyboard so far. That blue switch on the top really sets it off for me and while it may seem silly, this is one of those little things that will help put a smile on your face and will let you know that Ajazz is willing to go that extra mile for their customers.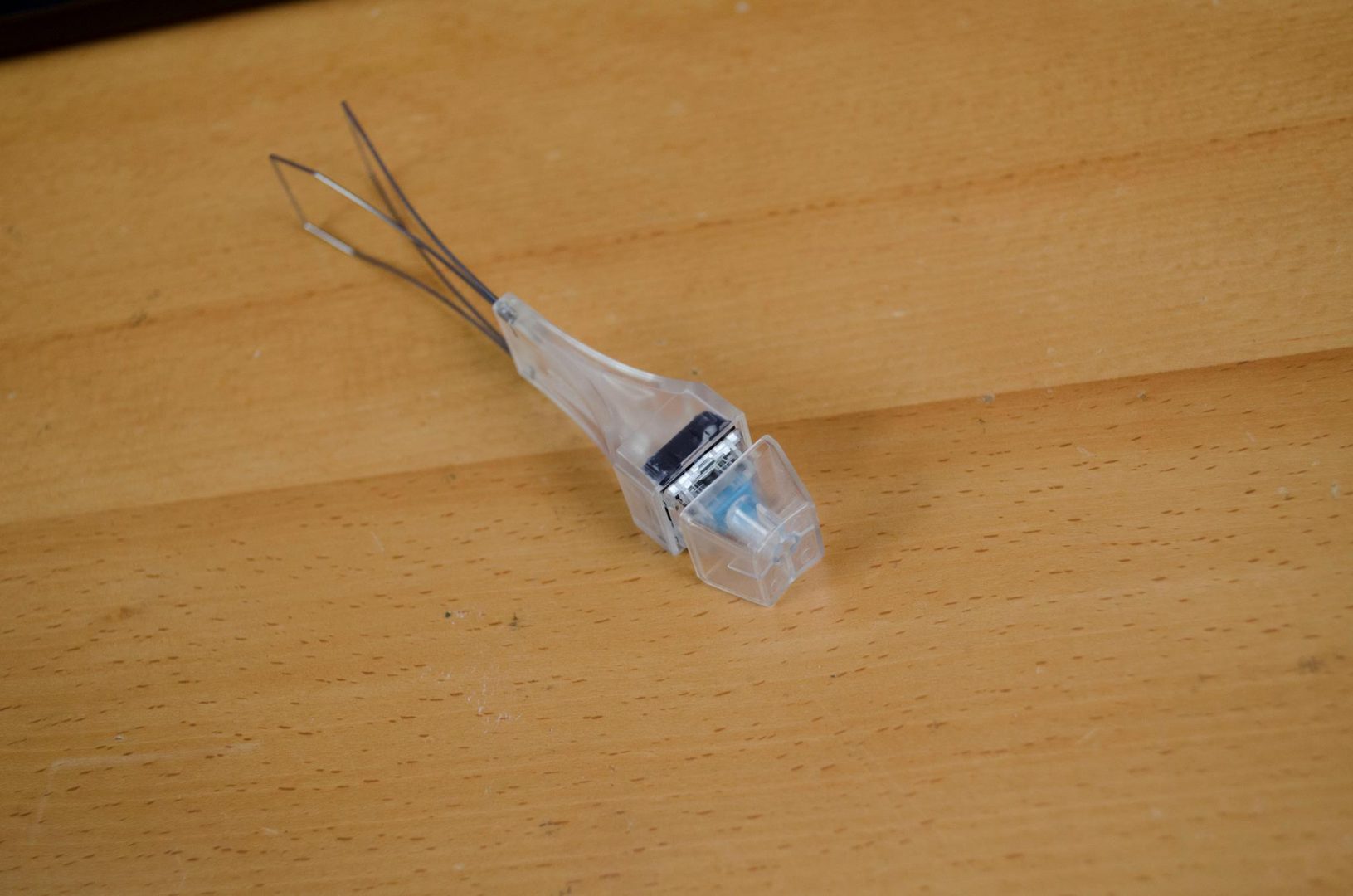 The AK60 is a full-sized 104-key keyboard that features some unique keycaps. Instead of having the font on the top, it is one the side facing you which leaves for a pretty cooler effect. When sitting behind it, it is easy to see which key is which. However, looking at it from the other side and you can't see the font on the keys. Add some RGB lighting to this and you have a pretty cool looking keyboard.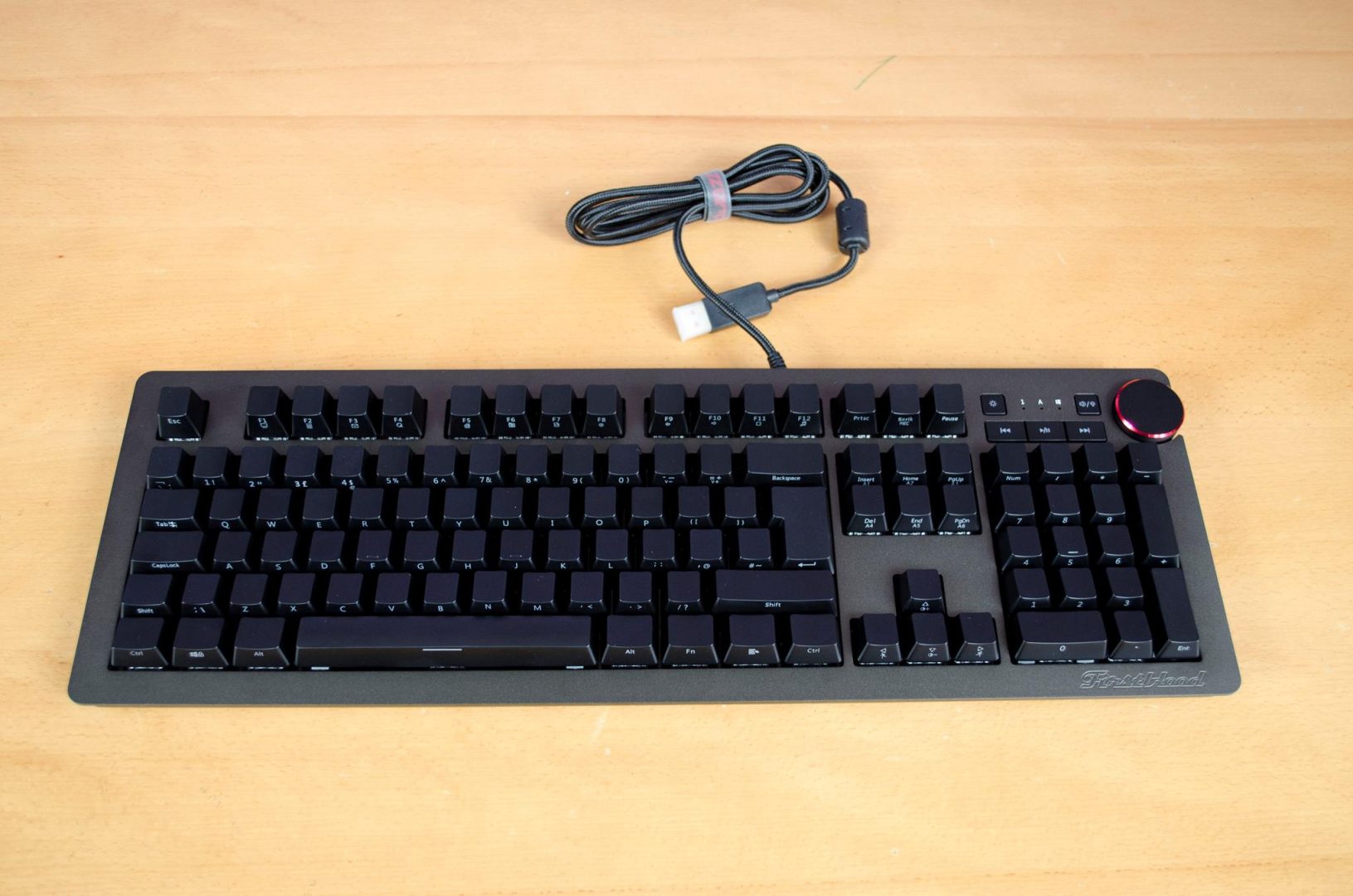 I am a big fan of volume scrollers/knobs. I don't care for buttons, I like to be able to flip/spin the volume switch to adjust its settings. Ajazz went one further and allowed users to mute sound by clicking the button down as well. The fun doesn't stop there, though, oh no! The wheel can also be used to control the brightness of the LED lighting!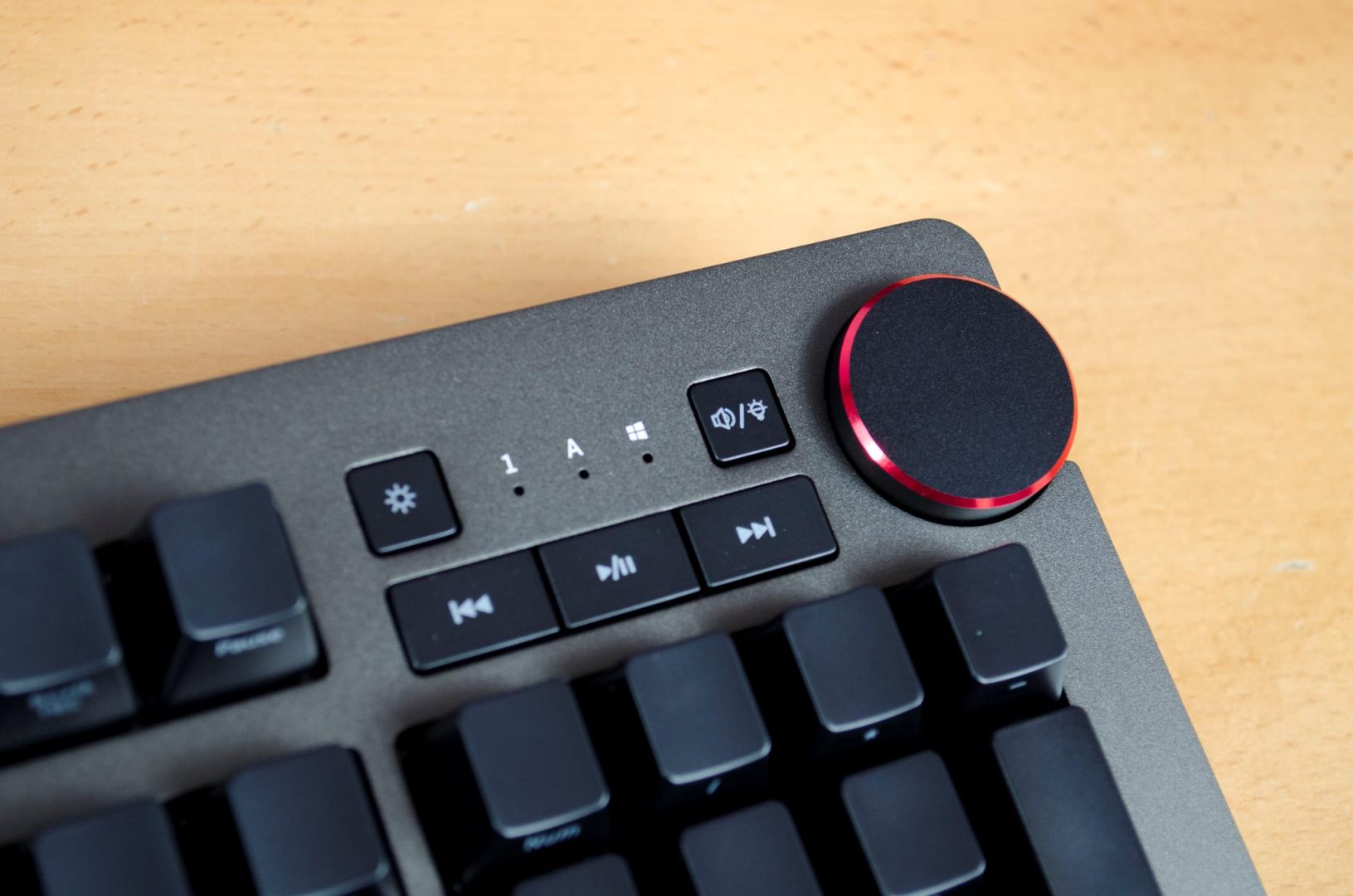 In the bottom right-hand corner we can see the 'Firstblood' text. While there is no real mention of this text here in the U.K., one would assume that it is part of, or was part of the product name at one point in time.
The keycaps have a unique feature in that the text is not on the top. While many have seen this before, it definitely is not a standard feature on keyboards, especially not those at this sort of price point. While I will admit it does take some getting used to, after a short time of using the keyboard, you won't even notice the difference.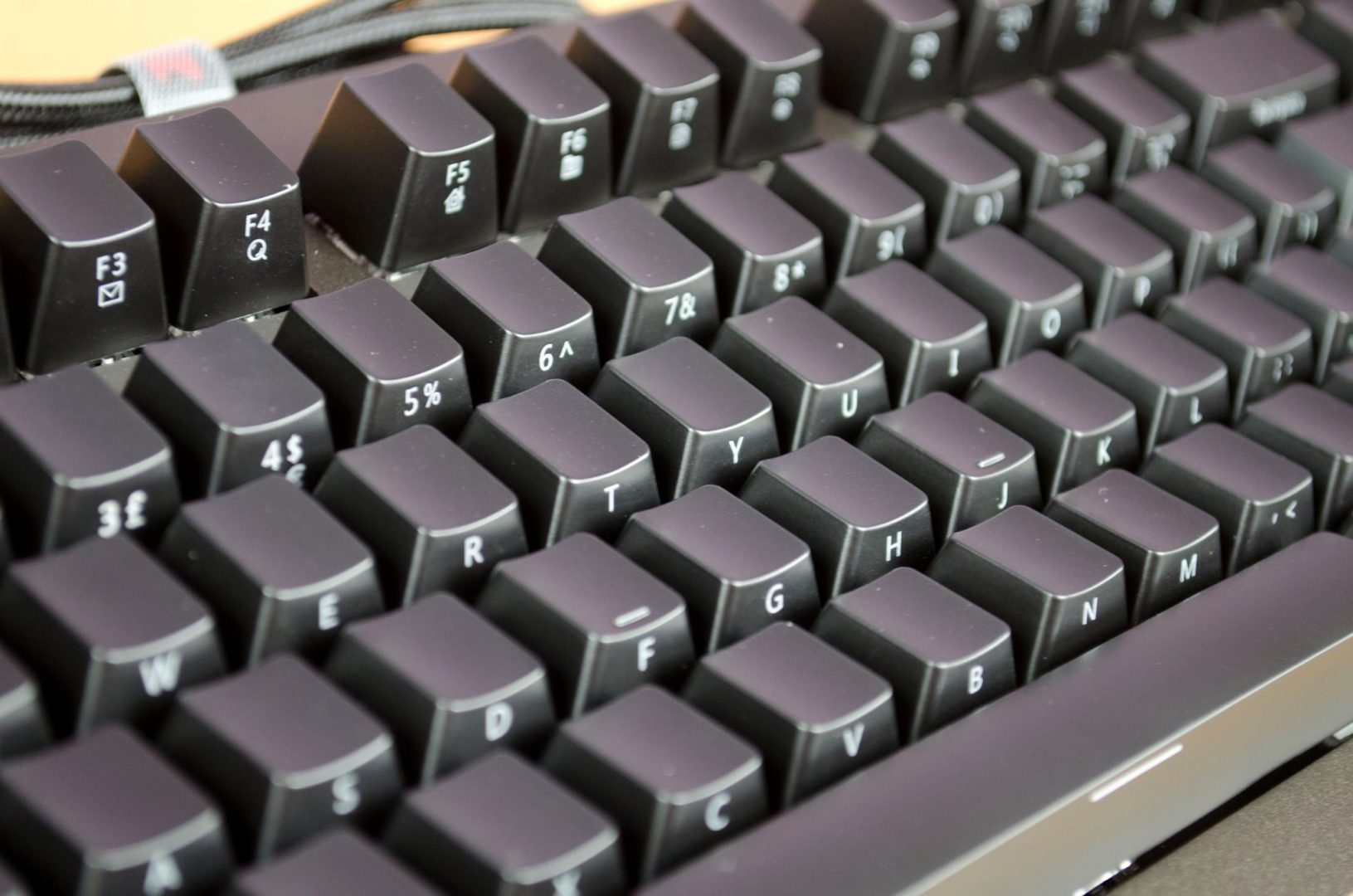 Even with the text printed on the side of the keycaps, Ajazz has still managed to print the secondary functions on them as well where needed. Adding secondary features to most keys also makes it so that there is no need for software which is something I enjoy. While software for gaming keyboards is great, it is also quite nice to be able to use a keyboard to its full capacity without the need for software.
The AK60 comes with Ajazz's own take on mechanical red switches. While these are definitely a good switch, they are a bit lighter than most other red switches I have tried so keep that in mind.
The USB cable is braided and features a gold connector. The braid is plain black which is nice to see as it won't draw any attention to itself.
The underside of the AK60 features the AJazz logo, a few grips and a pair of flip up feet to make the keyboard more ergonomic for typing on.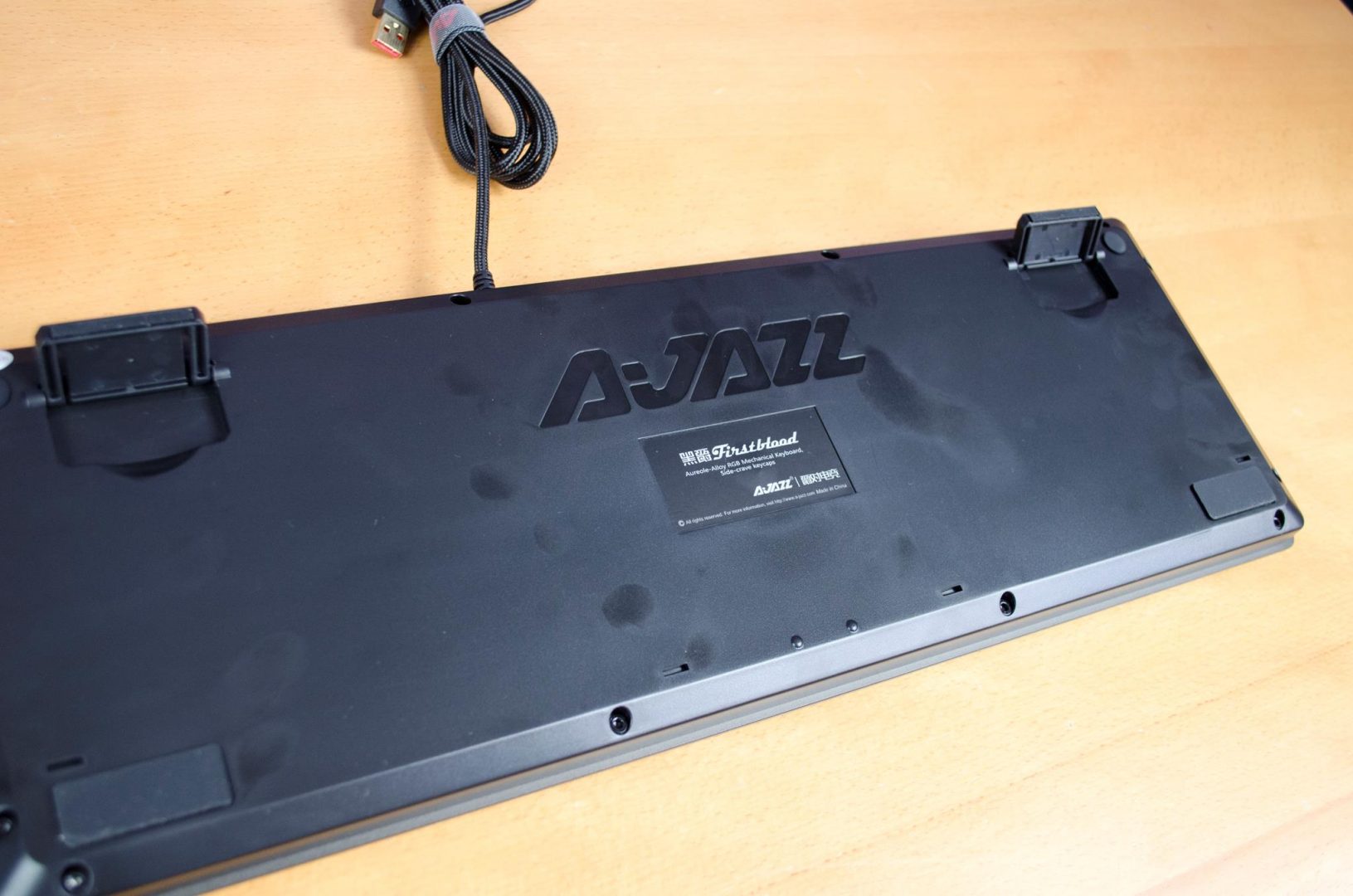 There are a number of LED settings that can be controlled right from the keyboard itself. Personally, I like to stay with a single solid colour as I find it less distracting than most of the other settings. As you will see below, even with the text on the sides, the keys still light up properly and look really nice.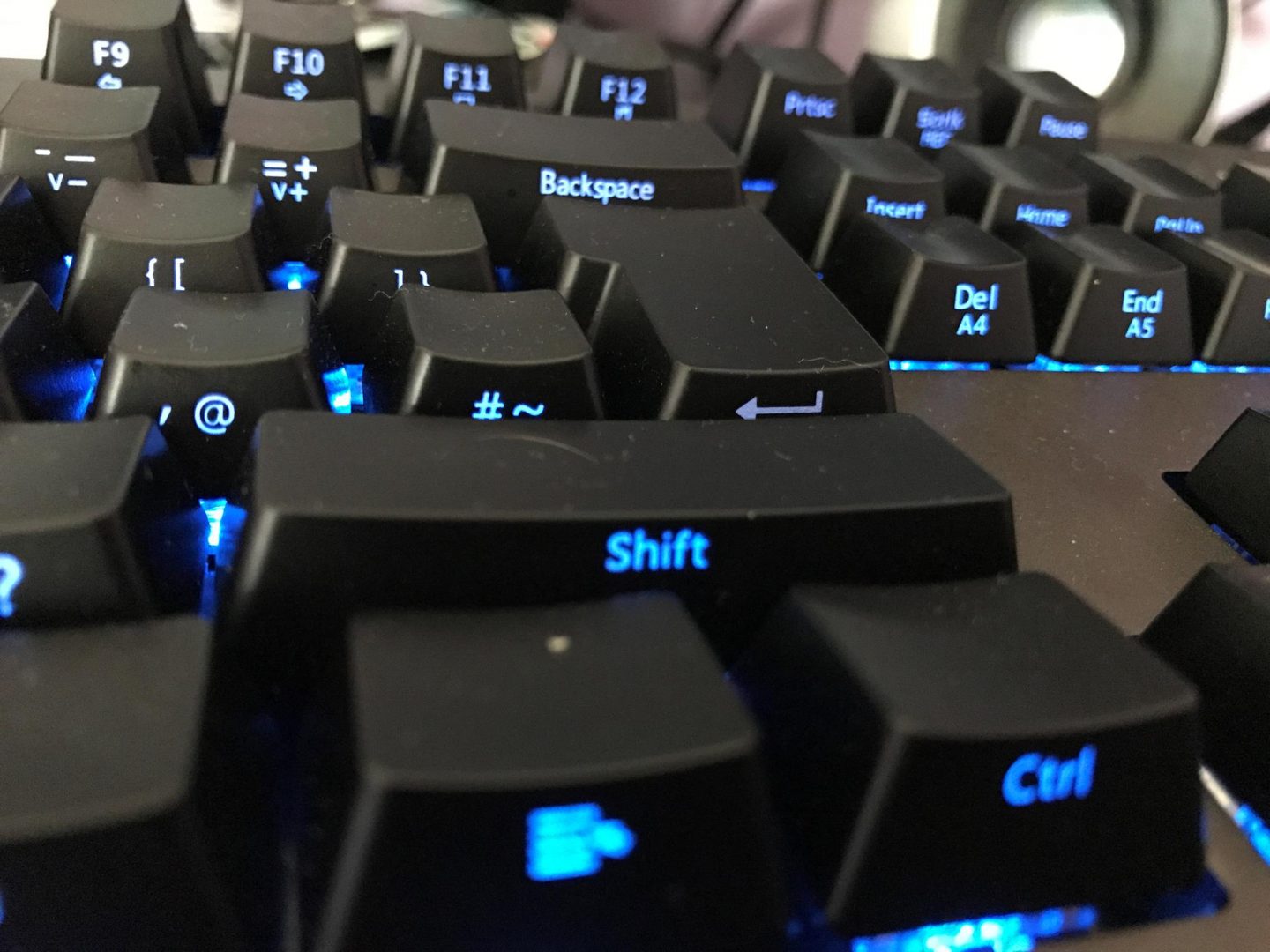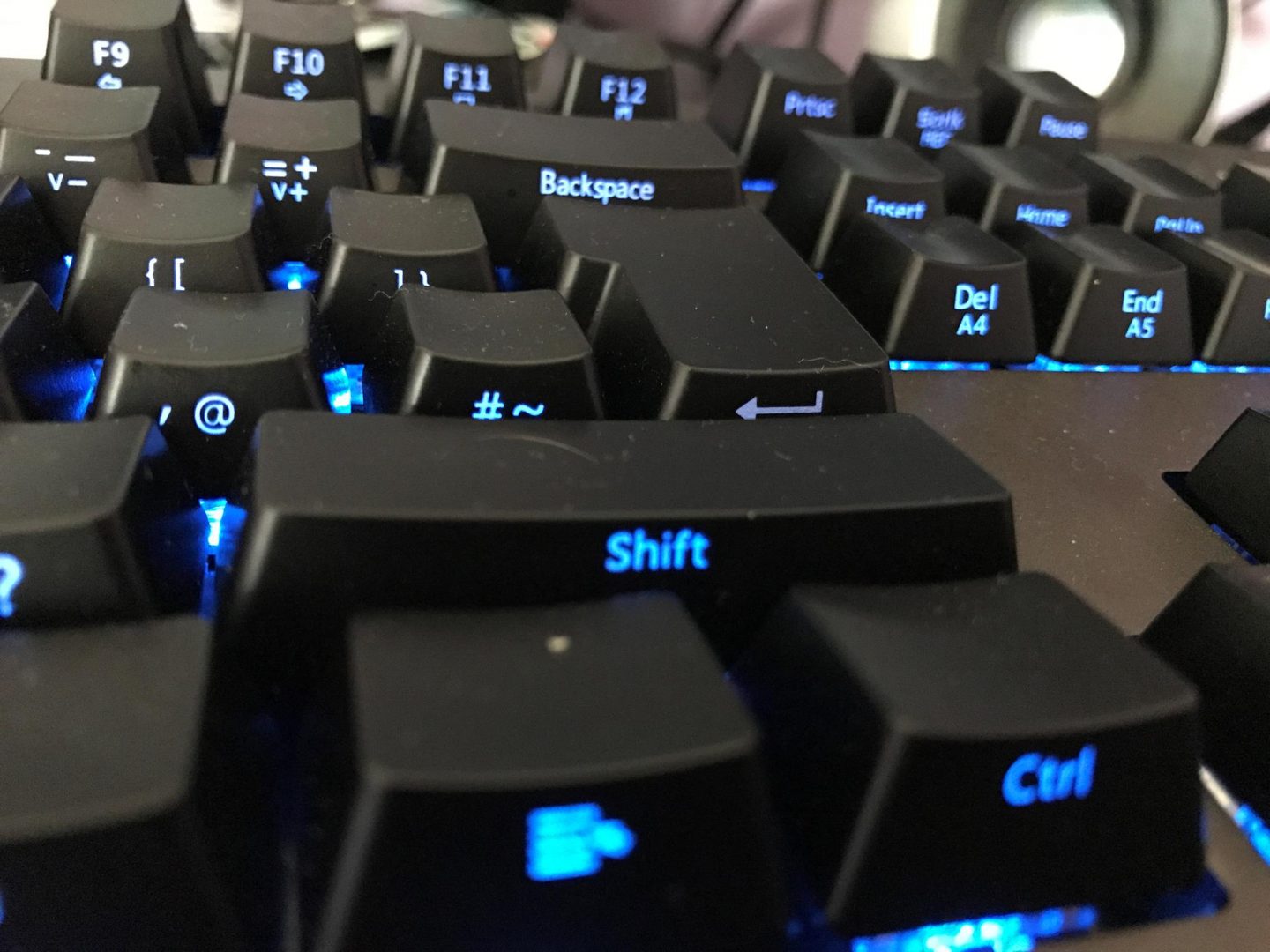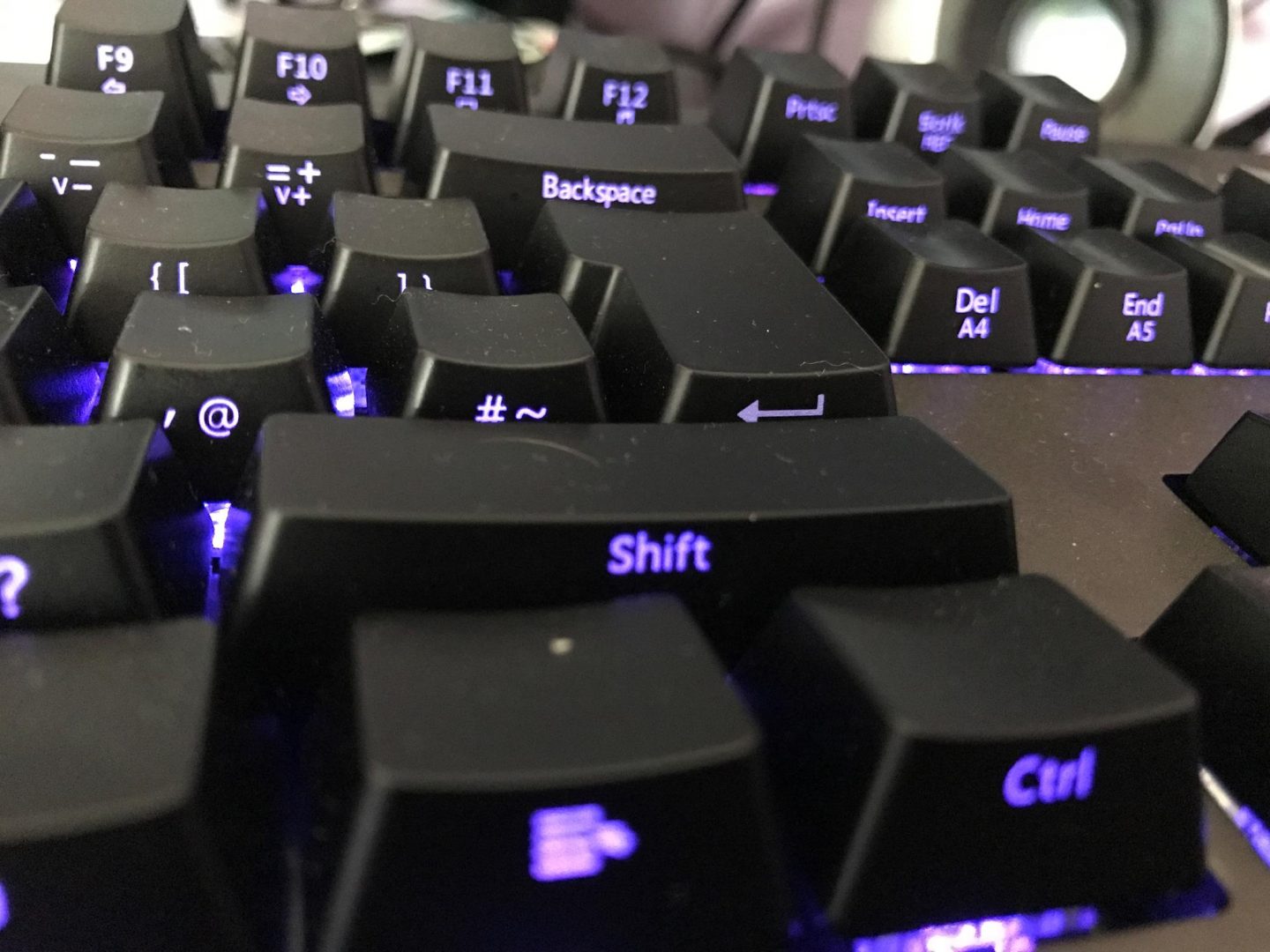 Performance
In terms of raw performance, the Ajazz AK60 has a lot to offer. Not only is it easily configured right from the keyboard itself, the Ajazz red switches also provide a good experience. In my testing, the Ajazz red switches were a bit light, meaning they actuated quite easily but they still held up well for gaming. For me, it was typing that was affected by the lightness of the switch. However, if you're not used to a certain switch, such as myself it shouldn't be an issue for you so don't let it put you off.  My personal favourite performance feature is the volume wheel. While it may seem like a simple and small feature, it's still one of my favourites as it makes changing volumes, something I do a lot so much easier. Let us also not forget that a lot of the keys have a secondary feature that can be used by hitting the 'FN' key first. While this is something most keyboards utilise these days, it is still nice to see.
Design
The AK60 is a standard sized full-layout keyboard. The main reason for going with a full-layout is so that you have a NUM PAD and in this case, a volume knob as well. Featuring a sort of Gun metal grey look, it is definitely a stylish looking keyboard. The addition of the volume knob helps set it apart from the rest and the side-printed keycaps help to completely distinguish it from others. Not only that, it also has RGB backlighting which works extremely well with the keycaps it features. Coming packed with red mechanical switches, the AK60 is designed to perform as well as it looks and it does!
Value
Currently retailing on Amazon UK for around £70, the AK60 has a lot to offer. Not only can the main features be used without the need for software, it offers great performance with its red switches. Ajazz took it even further with the addition of the volume knob and unique side-printed keycaps. Looking at RAW performance alone it is worth its asking price and throwing in all the extra features only helps further this assessment. If you are looking for something a bit non-standard that has good performance and features, the Ajazz AK60 is definitely worth considering.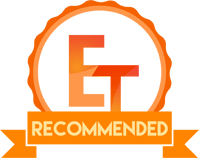 Many thanks to Beyond Technologies for sending this in on behalf of Ajazz!