Manufacturer: Cooler Master
Product Page: MasterMouse S
Today, we will be taking a look at the Cooler Master MasterMouse S. Cooler Master has been hard at work with their "Make it yours" products lately and have been releasing some amazing stuff. The Modular MasterCase which we still use for our Z170 test bench was a highly modular case that allowed for plenty of hardware and customization so you could, "Make it yours". From there, Cooler Master have now also launched the 'Master' line of peripherals. It's also worth noting that Cooler Master has taken a very big interest in the PC modding, gaming and enthusiasts communities and their new ranges of products showcase this.
Ther MasterMouse S also comes in a 'Lite' version which while cheaper, isn't as feature rich. The standard MasterMouse S comes with RGB lighting, Omron switches that boast a 20million click lifespan a 32-bit Arm processor and 512KB onboard memory just to name a few of the features. The MasterMouse S also caters to both palm and claw grip styles so will be suitable for more gamers. Using the easy to download software you can fully customise this mouse to your needs, everything from DPI to RGB lighting can be changed and you can even save a number of profiles VIA the software for easy loading before you hop into game! Coming with a 2-year warranty, is the MasterMouse S any good? Well, let's find out!
Specifications
Product Name
MasterMouse S
Product Model
SGM-2006-KSOA1
Grip Type
Palm & Claw
Material
Plastic / Rubber
Color
Gun Black
LED Color
16.7 Million RGB
Sensor
PixArt PMW3330 Optical
CPI / DPI
4 Levels (400~7,200dpi)
Tracking Speed
150 ips / 30g
Lift Off Distance
< ~2mm / Adjustable
Polling Rate
1000 Hz / 1 ms
Angle Snapping
Yes
Mouse acceleration
No acceleration
Programmable Profiles
5
Processor
32 bit ARM processor
On-board Memory
512KB
Switches, Lifespan
Omron, 20 million
Programmable buttons
5
Body coating
Matte UV Coating
Connector
Nickel-plated
Cable Length
Patterned PVC Cable, 1.8 Meters
Dimensions (mm/inch)
117 x 63.5 x 38 /
4.6 x 2.5 x 1.5 inch
Weight
121g / 0.267 lbs
Weight (without USB Cable)
89g / 0.196 lbs
Warranty
2 years
EAN Code
4719512054406
UPC Code
884102030505
While there isn't a whole lot going on with the packaging, it's always nice to take a look. On the front of the box, we have a nice image of a top-down view of the MasterMouse S itself. We can also see this is an ambidextrous gaming mouse with two individual RGB lighting zones.
Opening the front cover of the box reveals a look at the actual mouse itself which is great! While images are nice, it's always better to get a proper look at the product before you buy it!
On the back, we have a few more of the features listed in multiple languages.
Inside the box are the mouse and a users manual of sorts.
The mouse features an all black design with a  matte black plastic body and buttons. This mouse looks quite sleek and the lack of overpowering branding is a great addition, or should I say non-addition to the MasterMouse S. Towards the but of the mouse is a small Cooler Master logo which while it really sticks out in the photo, doesn't do so in real life.
Looking from the top, we can see the standard Mouse 1 and 2 buttons, the DPI switch and the scroll wheel.
While this is a so-called ambidextrous mouse, the left side is the only side that features any extra buttons. While this doesn't effect left-handers from holding the mouse, they would have no thumb buttons and be required to use their ring finger or pink to click the side buttons.
It really is a shame there wasn't another pair of buttons on the right side of the mouse. To me, this would have made it fully ambidextrous and would have also allowed for more customization. Also, as a right hander, I like having a pair of buttons around my ring finger, just means I can do more with the mouse and frees up binds on the keyboard.
The cable for the MAsterMouse S is 1.8Metres long and features a patterned PVC coating. Cooler Master have also gone with a nickel plating USB connector rather than the gold plating we see on so many other peripherals.
There are two zones for the RGB lighting which offer a subtle amount of light and won't blind you. While the whole RGB trend may be getting a bit crazy, I do love me some LEDs and having them be RGB is a plus to me as can change them depending on mode or if I want to update my build.
Performance Testing
So as part of our new testing methodology, we are going to be doing the ever so fun MS Paint DPI test for mice. Basically, I've just opened up paint and tried my hand a drawing a few thing at all of the standard DPI settings. The numbers represent the DPI user of course and the lines and circles around them are just for fun to show off things. One thing worth noting is that at higher DPI's there is much more jitter from the sensor. This is definitely something to take notice of, especially if you play a game where precision is key!
Software
The downloadable software for the MasterMouse S is rather easy to navigate and use.On the first tab, we have the option to control what each mouse button does. As you can see, there is a diagram of the mouse and which button is which and then on the right hand side is the list of what each button is currently assigned to.
The Storm TX feature when enabled allows you to bind all of the buttons to a secondary feature. This can come in handy for a many of reasons, the one that first springs to mind is playing FPS games with different classes, that way you can switch back and forth depending on what you are playing without having to leave the game.
Each of the LED zones can be individually controlled. To control them individually, click on Customize, select a colour then click on the zone you wish to change, it's that simple! There are also a few preset modes to play with that you may enjoy!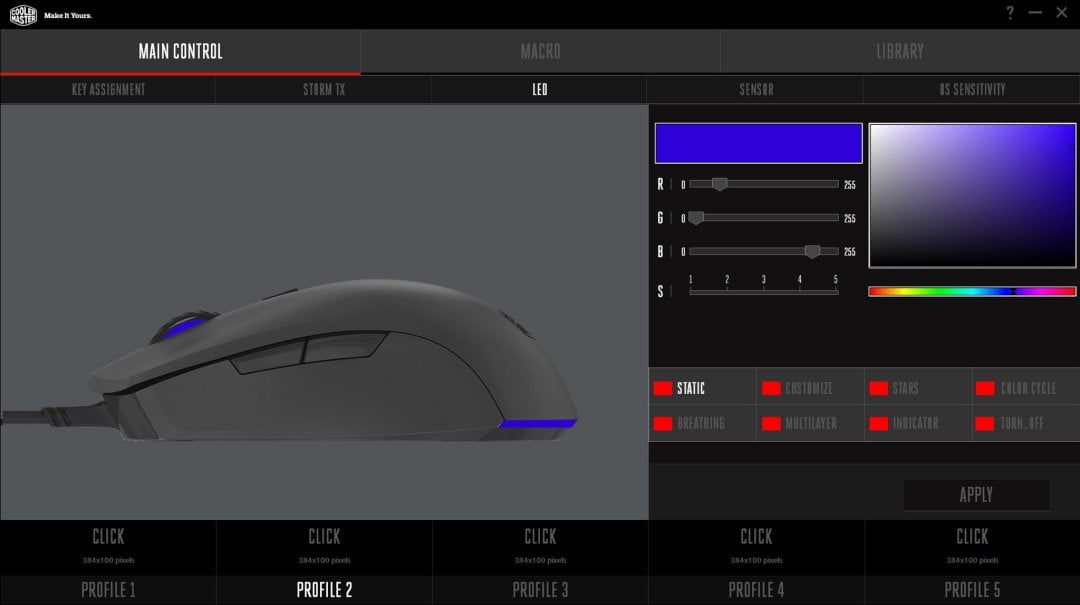 By default, the mouse comes with its 4 DPI levels set to 400, 1200, 4000 and 7200. If these aren't suitable for your needs, hop on over to the sensor tab and change them to something that fits your needs. We can also change the polling rate, angle snapping and lift off distance under this tab.
User's who want full control over their mouse will also be happy to know they can control the operating system settings as well such as the OS sensitivity, double click speed and even the response time.
Macros your thing? Don't worry, the MasterMouse S has you covered!
Lastly, you can create and save multiple profiles to the software and even create a library of backups if need be!
Performance
Hoping straight into the performance and the MasterMouse S is superb. Loading up my arsenal of FPS games I got straight to work and must say, I was rather impressed. I went with the 1200DPI setting across all my testing to try and make things as similar as possible and when in BF1, this was absolutely perfect whether I was using the assault or scout classes. While I absolutely suck at sniping, using the MasterMouse S seemed to work to my advantage and I was on target more times than not. The more I played, the more comfortable I became with it. The one game I upped the DPI was Quake Live and anyone who ever plays it will know why. This is probably one of the fastest paced FPS games out there, especially the Rocket arena mode which happens to be my favourite. Being able to do a full 360 mid-air after a rocket jump is extremely important and was achieved with ease when using the MasterMouse S. While we saw some jitters in the higher DPI tests in paint, using the 4000DPI in Quake Live was fine and there was no issues, even when using the Rail Gun (1 shot gun, something like a space age sniper rifle). All in all, I can't fault the performance of the mouse at all, whether it be in-game or for normal day to day usage.
Design
Sleek, stylish and comfortable are all good words to describe the design. The overall black and simplistic look still manages to be aesthetically pleasing without being boring! The addition of two individual RGB zones adds a bit of fun to things and takes a normal mouse to the next level. When it comes to the internals it's easy to tell Cooler Master didn't drop the ball there either and used quality components. From the Omron switches to the PixArt PMW3330 Optical, Cooler Master have done a great job at offering a quality mouse at a price that won't break the bank.
Value
Speaking of price, currently coming in at £40 here in the UK on Amazon the MasterMouse S offers a great price to performance ratio. I've been using this mouse daily for hours a day for about 5 weeks now and for £40, I am quite blown away. I have not run into any issues at all with it. There was a slight squeak from the scroll wheel for a day or two but that sorted itself out and never ever cause a problem with performance. For £40 you are getting a mouse that looks great, performs just as good and is built from quality components.
"The Cooler Master MasterMouse S offers great performance in a simplistic yet stylish package all at a price that won't break the bank!"
Many thanks to Cooler Master for sending in a sample of their MasterMouse S for review.