FREEZER 13 X Series
Compact CPU Cooler Successor Series for AMD & Intel
Smaller, quieter, more energy-efficient and powerful: The Freezer 13 X series, the successor to the Freezer 13, combine a compact and advanced heat sink design, with different versions being developed for different areas of application:
Offset direct touch heat pipes in conjunction with a pressure-optimized 92 mm fan ensures optimal heat dissipation – despite the comparatively small dimensions and an installation height of only 137mm.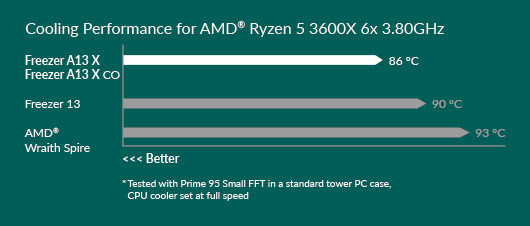 All coolers of the Freezer 13 X series are supplied with a pre-applied ARCTIC MX-2 thermal compound and have a simple assembly system.
Features
Available in different versions for AMD & Intel and as CO variant
Three offset heat pipes ensure optimal heat dissipation
P-fan for increased performance
Extended lifespan thanks to low motor temperature
Lower power consumption and less vibration with new motor technology
Pre-applied MX-2 thermal paste
Specifications
Availability
The Freezer 13 X series is available now at Amazon starting at a price of $27.99 MSRP.