Audioscenic Partners with Razer and THX to Launch World's First Desktop Soundbar with THX Spatial Audio combined with Audioscenic 3D Beamforming Technology and Head-Tracking AI at CES 2023
Offering a truly personalised, immersive listening experience through the Razer Leviathan V2 Pro Soundbar
5th January 2023 – Southampton, United Kingdom, Audioscenic, innovators in 3D audio beamforming technologies, announce a world first in the development of personalised and immersive sound reproduction without the need for headphones. Launching at CES 2023, Audioscenics proprietary loudspeaker array technology, head-tracking and AI capabilities come to life through the Razer Leviathan V2 Pro Soundbar.
Since 2016, Audioscenic have been on a mission aimed at revisiting the way we consume sound, by combining object-based audio and computer vision with research carried out at the Institute of Sound and Vibration Research, University of Southampton. Audioscenic technology uses computer vision to track the position of listeners, sending separate narrow beams of sound to their left and right ears and delivering superb 3D audio directly to the listeners position.
The partnership between Razer and THX®, the world's leading lifestyle brand for gamers, and the leading audio-video fidelity company, respectively, and Audioscenic signifies the beginning of a new era and a world first, driven by demand for immersive experiences. Launching at CES 2023, Razer's new Soundbar for PC, the Leviathan V2 Pro, delivers a personalised and immersive soundstage, ensuring users have an optimal listening experience. Combining THX Spatial Audio, with Audioscenic's beamforming technology with head-tracking AI, the Leviathan V2 Pro delivers immersive 3D audio thanks to the integrated IR camera that detects the user's position. This allows the soundbar to adapt the audio beams to the listener's positioning in real-time, ensuring the listener is always in the sweet spot for the best audio experience.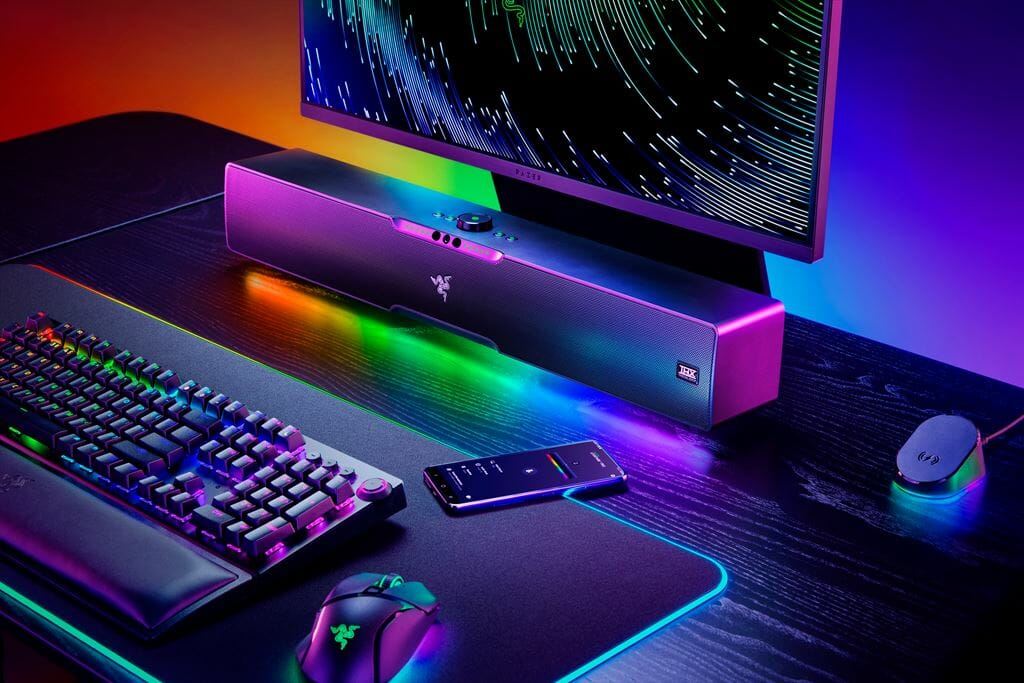 Co-Founder and Audioscenic Chief Technology Officer, Marcos Simon comments: "Spatial sound is seeing a tremendous increase in backing by the audio industry and we are proud to work with Razer and THX® Spatial Audio, to bring a product to market that defines the future of a user centric listening experience. The future of audio listening is spatial and integrating technology like ours to consumer products has the power to revolutionise the domestic audio scene."
This pre mentioned 'new era' technology from Audioscenic is just the start, with enhanced spatial algorithms and THX Spatial Audio, the soundbar provides true-to-life 3D audio for all entertainment needs. 3D audio can be experienced in two modes. THX® Spatial Audio Virtual Headset for any 3D or binaural content, providing you with pinpoint positional audio previously only found in headsets. THX® Spatial Audio Virtual Speakers for any stereo or multi-channel content that provides a wide, room-filling soundstage that users would normally experience with a full home theatre system. 
Barrie Ooi, Head of Razer's PC Gaming Division, stated "Our partnership with Audioscenic marks a world first within consumer electronics. To achieve our goal of delivering a truly personalised listening experience for PC gamers, we had to be strategic in choosing technology partners and we went for the best. Audioscenic are experts in 3D audio beamforming and integrating their technology into the Razer Leviathan V2 Pro has allowed us to create a truly immersive audio experience that moves with the listener for game action, movie and music enjoyment."
The Razer Leviathan V2 Pro will be available from February 2023, starting at $399.99 USD / €489.99 MSRP at Razer.com and RazerStore.