INTRODUCTION
Today, we are taking a look at an overview of the Cougar AirBlader Tournament Gaming Mouse. This mouse is available on Amazon (US Only) for $39.90. Hopefully, as Cougar progresses with its range of peripherals, we may start to see more UK vendors stocking their products.
The mouse features a 62-gram lightweight design, an up to 80 million click lifespan thanks to its mechanical micro switches, bounce-on system, 20,000 DPI courtesy of a PAW3399 optical sensor and compatibility with Cougar New Pix software for custom macro support. So let us take a closer look
Cougar AirBlader Tournament Gaming Mouse SPECIFICATION
62 Gram Weight
Up to 80 million click lifespan
5 million scroll lifespan
Bounce on tension system
Gaming mouse grip tape
PAW3399 optical sensor
Ultraflex cable
100% Virgin-grade PTFE skates
Dimension (LxWxH) 117 x 62.8 x 37.8 (mm)/4.6 x 2.5 x 1.5 (in)
PACKAGING AND ACCESSORIES
Looking at the packaging on this one. It features the synonymous Cougar logo in the top left corner, the rest of the packaging is one of Black, Orange and White which is resemblant to the Cougar theme in general. The 62-gram weight is mentioned in the top right-hand side, alongside the 20,000 DPI, 80M click lifespan and 2M cycles on the scroll wheel.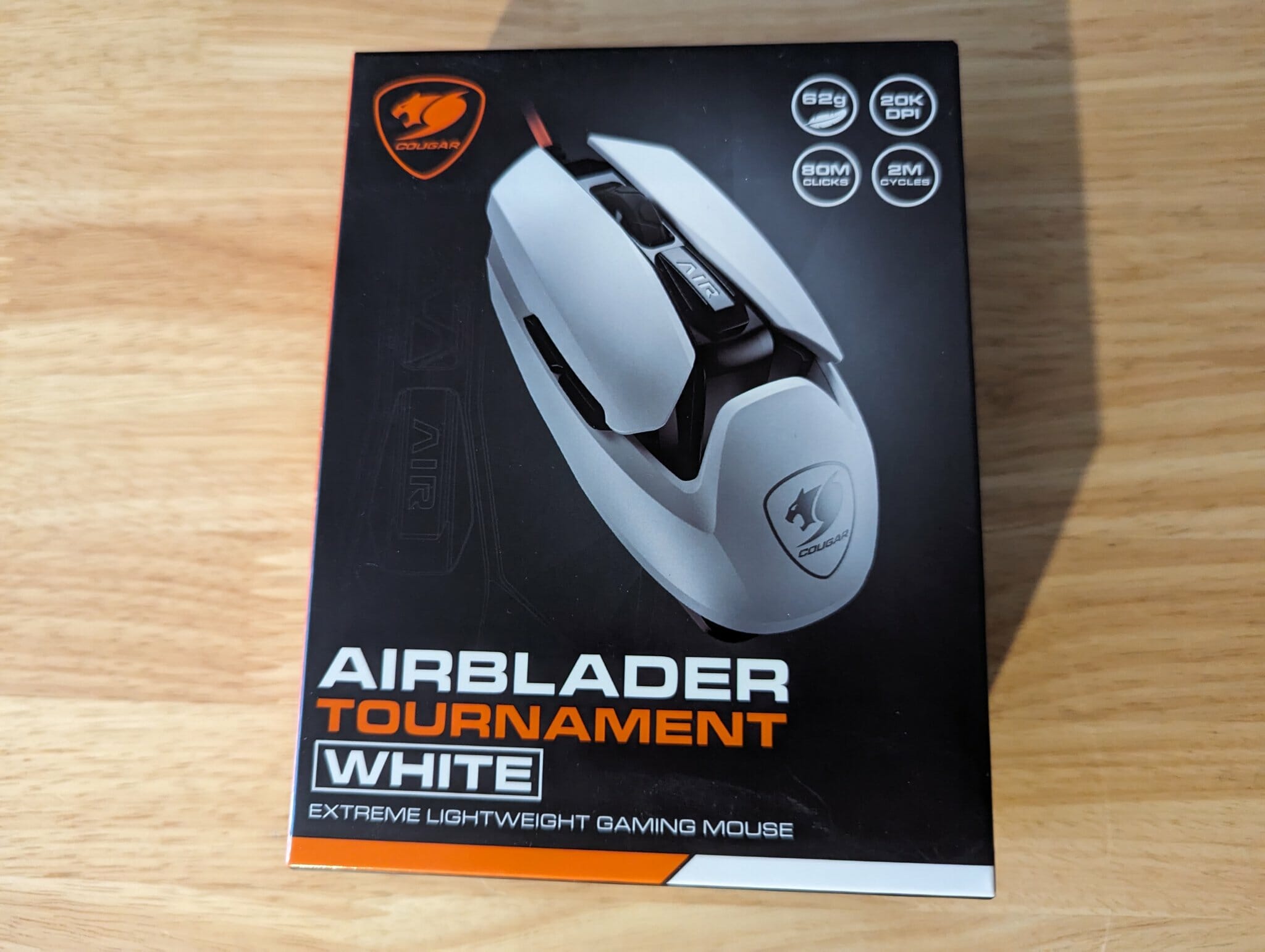 Looking at the rear of the box, they go into further detail about the specification of this mouse in multiple languages. Cougar wants this mouse to be recognised and used worldwide and that isn't a bad thing. It is well-advertised as a gaming mouse.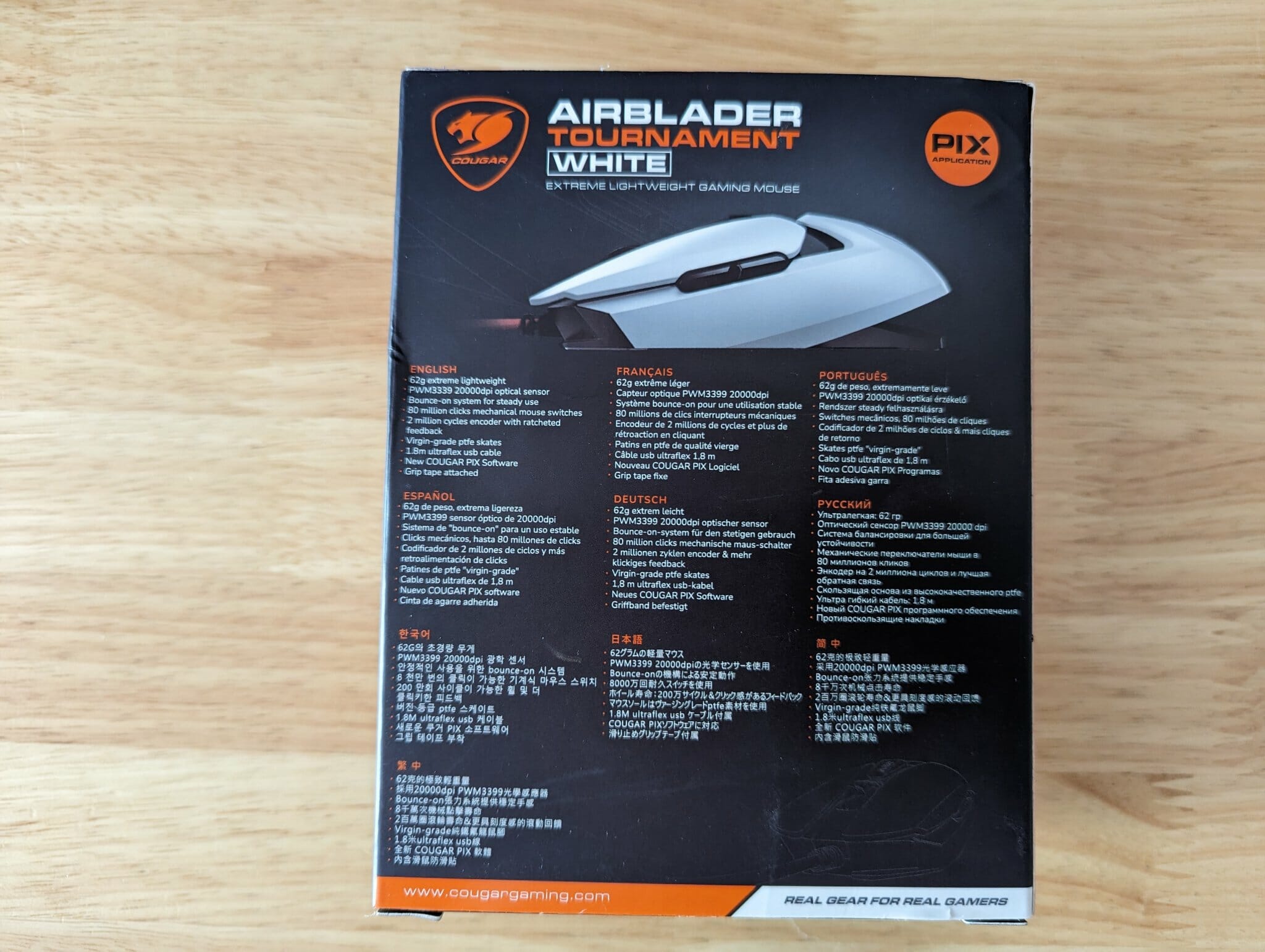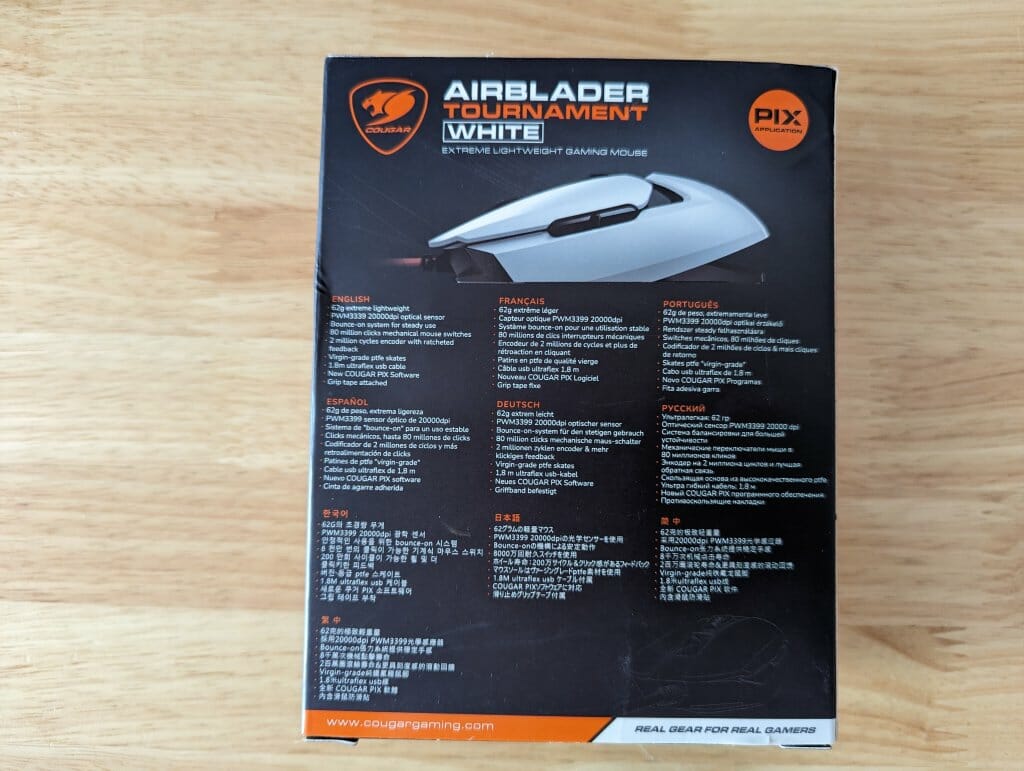 Now taking a look inside the box we have the mouse itself, this mouse is a wired USB A mouse and it features a 1.8-metre ultra flex cable. We also have a quick start guide, and grip tape which attaches to both sides of the mouse (for added comfort and style). More on this as you keep reading.
A CLOSER LOOK
Okay so now we take a closer look at what this mouse offers. Like most mice, it's plug-and-play and was detected on Windows 11 absolutely fine. Other OS's should work fine too.
There's no RGB on this mouse so if you're not a fan of your peripherals glowing, then this may be an ideal one for you. Looking top down at the mouse it looks stylish in Black and White, the Cougar logo is present on the bottom half and is well presented in Silver. The Orange cable isn't a bad look either. At first, I wasn't sure if I'd like the mix of colours, but it's certainly growing on me the more I use it. The children were drawn to it too, already asking if they could have it. 
You have the usual left, and right buttons, and scroll wheel in the middle, but under this feels like slightly wasted space. Under the scroll wheel is the Air logo in Black. Cougar could have added another button here and it felt strange not having a pressable key there. Some mice manufacturers tend to put a button to adjust DPI under the scroll wheel and it just felt slightly off not having one. But that may just be because I'm so used to having something there.
Looking at the left-hand side of the mouse I've attached the gaming tape provided in the box and you can see the usual back and forward buttons. It looks even better with the tape on. Don't worry if you don't get it straight the first time, it is removable and you can re-stick it down until you are comfortable with it. There are no extra buttons on the right-hand side, again I just added the tape to make it look and feel better. I don't know how to feel about this. It took me a couple of attempts to stick it straight onto the mouse on both sides. I would have preferred if this was pre-attached from the factory. But the mouse definitely feels and looks better with it on. It feels pretty durable once applied correctly. However, you can use the mouse without it if that's more your thing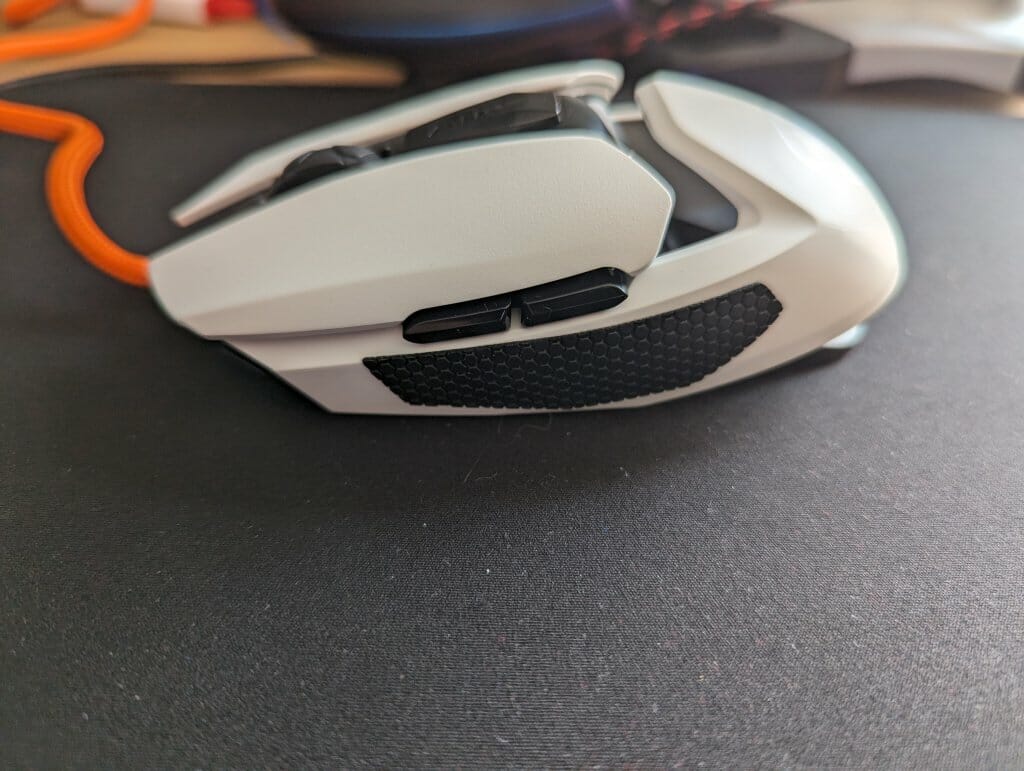 Turning it upside down and a-ha there it is, the button to adjust the DPI is strangely on the bottom of the mouse, meaning you ideally want to set the DPI before you enter that marathon-length gaming session. Adjusting it on the fly would mean you would need to keep turning it upside down. The button operates smoothly and changes the DPI between different speeds. I did find that I was turning it upside down and then trying to change the DPI setting with my thumb, which in turn made me keep inadvertently clicking the top of the mouse. But this may just be my chunky fingers not helping. I definitely feel the DPI button should have been on top. Especially when you are in the middle of those FPS sessions and want to adjust it quickly. This mouse does go up to 20,000 DPI though which is pretty impressive so if you're after quick movement, it certainly won't be an issue.
You can also see the PTFE skates underneath. These have been designed with movement in mind. I noticed that when using it on a wooden desk with no mousemat, added to the noise of the mouse, it almost sounded a little scratchy. However, when I used a mousemat it was almost silent. So if you're interested in purchasing this mouse, make sure you have a good-quality mat to go with it. The design of the 1.8-meter cable feels durable and doesn't kink easily. The whole mouse just moves with minimal effort.
This mouse has compatibility with Cougar's PIX software for button customization. We initially ran into a small problem getting this to install on Windows 11. When I double-clicked the download it didn't run. I had to right-click and run as administrator for it to install. We then had a slight stumble as the application didn't know where to install itself. Normally most installers would point to C:\Program Files (x86), but the box was completely blank and I had to manually specify where to install it (I opted for C:\cougar). That's something that the Cougar engineers will need to take a look at if the software is to become mainstream with their peripherals.
Once I'd specified a path it installed normally and the software popped up. You can see options to change the button/click assignment, macros and a tab to change the DPI settings. Much better than the fiddly button on the bottom of the mouse.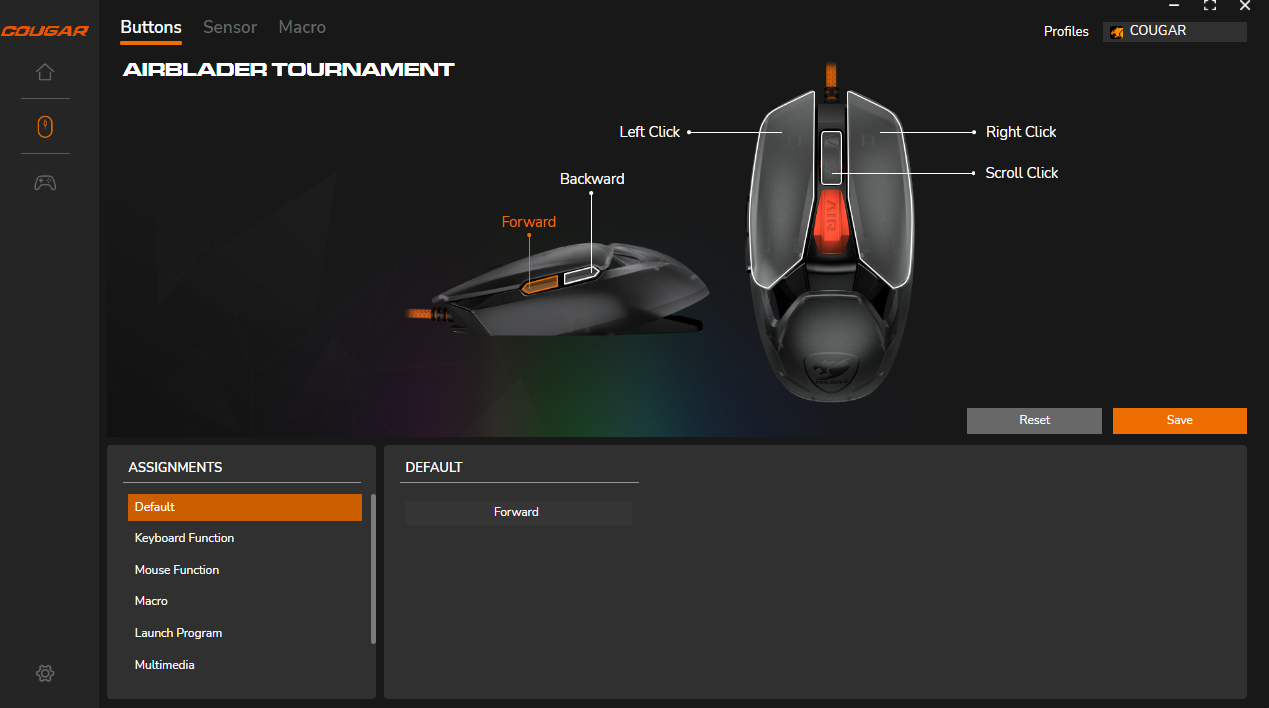 The software is clearly designed to be used in conjunction with other Cougar devices so if you are already invested in their ecosystem, then this is well worth the time of installing. If you're only using the mouse as a mouse, then it isn't necessary unless you want to adjust the individual button settings.
Now onto a gaming session, I took this for a trial in Fortnite, Guild Wars 2 and Monkey Island (A classic point-and-click style game) and it was comfortable to use for an extended period with no apparent issues found. I also spent the day with it in the office and was clicking away and navigating around my work system with no issues there.
FINAL WORDS
VALUE
As the mouse is harder to source in the UK it's harder to comment on its value. When you convert its $39.90 price tag into UK currency that comes in at a respectable £31.30 which for a gaming mouse is actually on the cheaper side. We definitely want to see more UK vendors stocking Cougar products
DESIGN & PERFORMANCE
The design of this mouse is good for its price point, it feels nice to use, and if you're already using a Black & White colour scheme on your gaming rig or peripherals, then it'll fit in just nicely. I still don't know how to feel about the gaming tape. I think if this was pre-applied then it would have made me like it even more. The mouse is extremely lightweight and easy to manoeuvre. My main criticism is having the DPI button on the bottom of the mouse, if it was on the top it would have made more sense to me. But otherwise, it's a perfectly comfortable and usable product.
We've decided to award Cougar the EnosTech Useful award as the mouse has the right ideas, and works as intended if Cougar can resolve the issues with their software then it'll be a perfect entry-mid-level gaming mouse, given how lightweight and flexible the design of the mouse is.
We'd like to thank Cougar for sending in this sample of the AirBlader Tournament Gaming Mouse for review, and we look forward to working with them again.