Introduction
EK Water Blocks has released a new generation of All-In-One coolers or liquid coolers as some call them named EK NUCLEUS. This series has two broad categories:
If you have not guessed already, the Lux indicates the D-RGB lighting effect enabled on the coolers whereas the Dark implies the lack of D-RGB and an all-black color scheme. So far, EK Water Blocks has released 240mm and 360mm in each of these categories. There is also a white edition cooler in the Lux series.
We got our hands on the EK Nucleus AIO CR360 Lux D-RGB (quite! a long name) for testing and use in our upcoming project of 360mm AIO round-up. This cooler is in black color and has D-RGB lighting enabled. This cooler is compatible with Intel LGA1700 and AMD AM5 sockets in addition to support for other sockets. There are many design changes compared to the previous generation of AIOs like using EK-Omnilink technology to provide neat cable management and connectivity solution, new positioning of tubes, new pump design, dense micro fins copper cold plate for efficient heat dissipation, rotatable pump top, tunnel effect lighting, and a simple tool to install thumb screws in the tightly spaced near socket areas to name a few.
Product:               EK Nucleus AIO CR360 Lux D-RGB
Price:                     USD $204 / EUR €184.59 [At the time of this writing]
EK Nucleus AIO CR360 Lux D-RGB Cooler Specifications
Packaging and Unboxing
Some time ago, we decided not to focus on packing boxes and etc as such in detail unless something different hits up. The presentation of this cooler is exactly the definition of that different something hence we are showing you the box and presentation.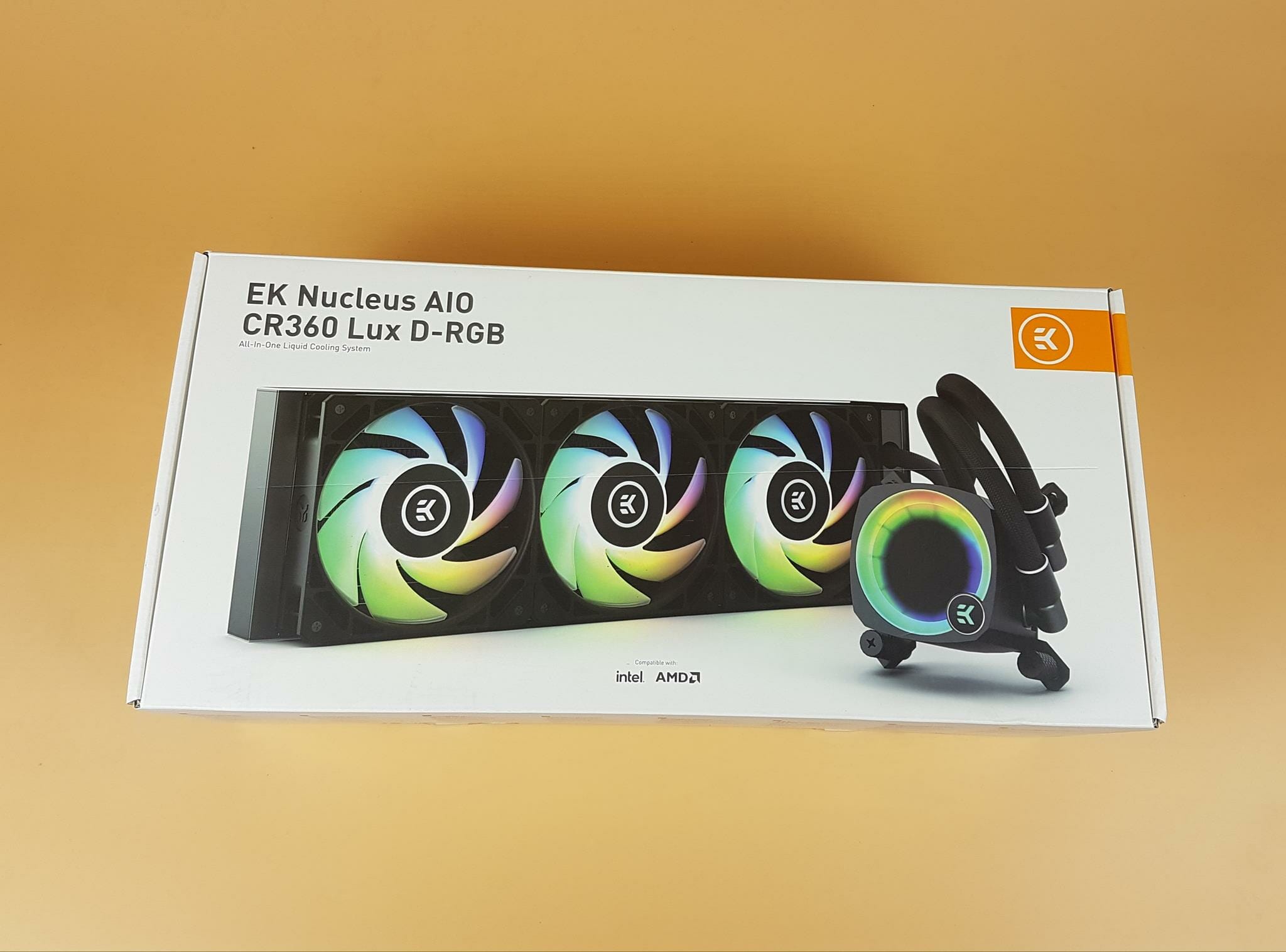 On the surface there is nothing different. We can see the long name of the product and a lighted unit.
On the backside of main packing box, EK Water Blocks has highlighted key design features of this cooler.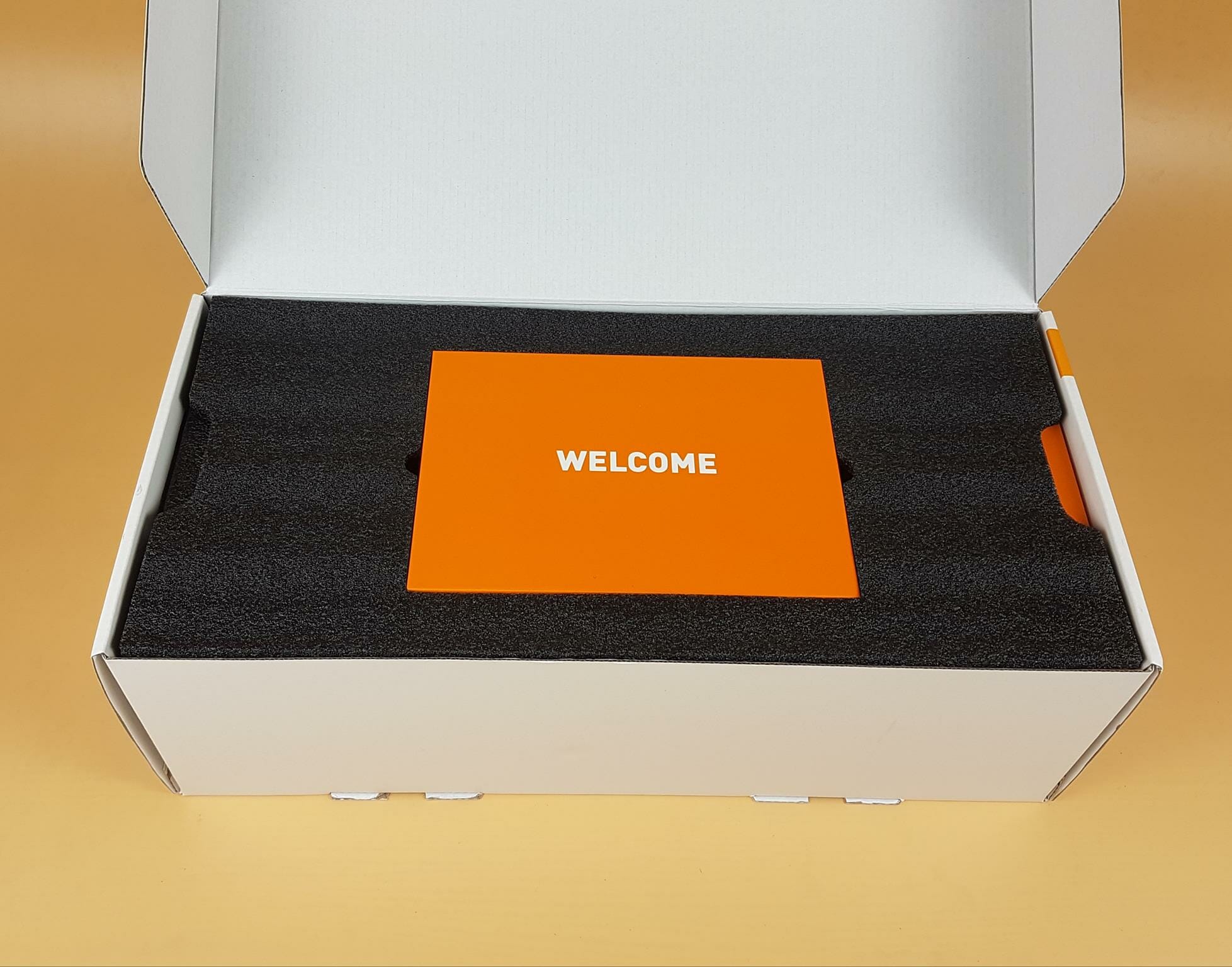 The difference comes from the inside – pun intended. There is a black color Styrofoam pad on top and in the middle, we can see an orange color container welcoming you to the world of EKWB.
Whoa! Now, this is quite an impressive presentation with the nicest and safest packaging of the cooler as it can be. There is a thick black color Styrofoam pad into which the cooler and fans are tucked. There is another orange color container placed on the side with the caution text of this side up. It has accessories.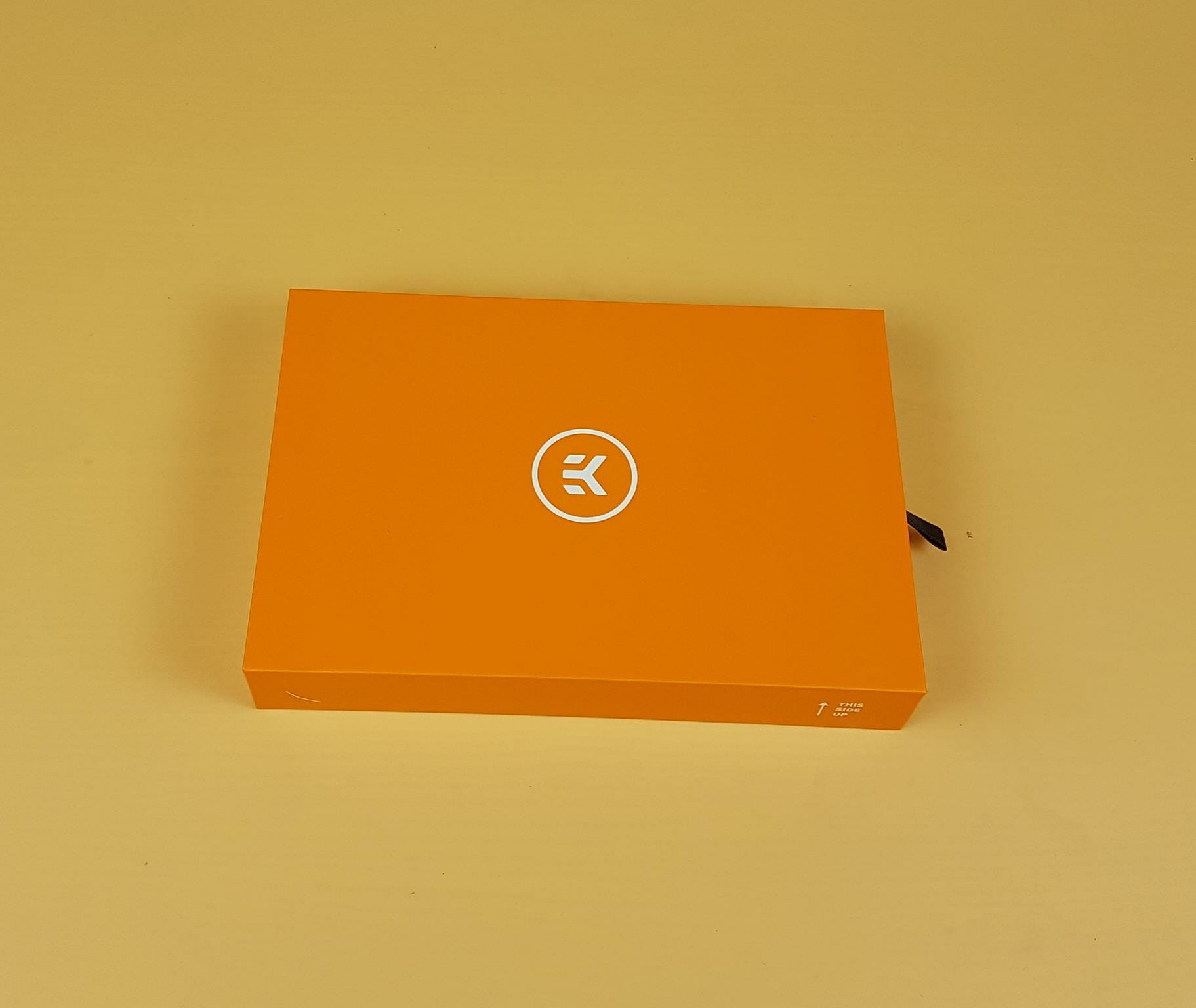 The accessory box is also orange in color. It is a container that has an inlay that can be pulled using a pull strap on one side. Attention to detail and premium touch is remarkable.
OMG! Even the accessory box has its own spectacular presentation much like how EKWB has done on the main packing. The pillars or bolts are nicely placed in dedicated slots as are the thumb nuts and springs, tool, cable, and screws. And yet, there is another orange color box that probably has backplates and mounting brackets. Oh, did I forget the thermal paste!
Accessories
Let's see what is provided in the accessories department.
There is a comprehensive user guide with pictures providing installation guidelines on supported sockets.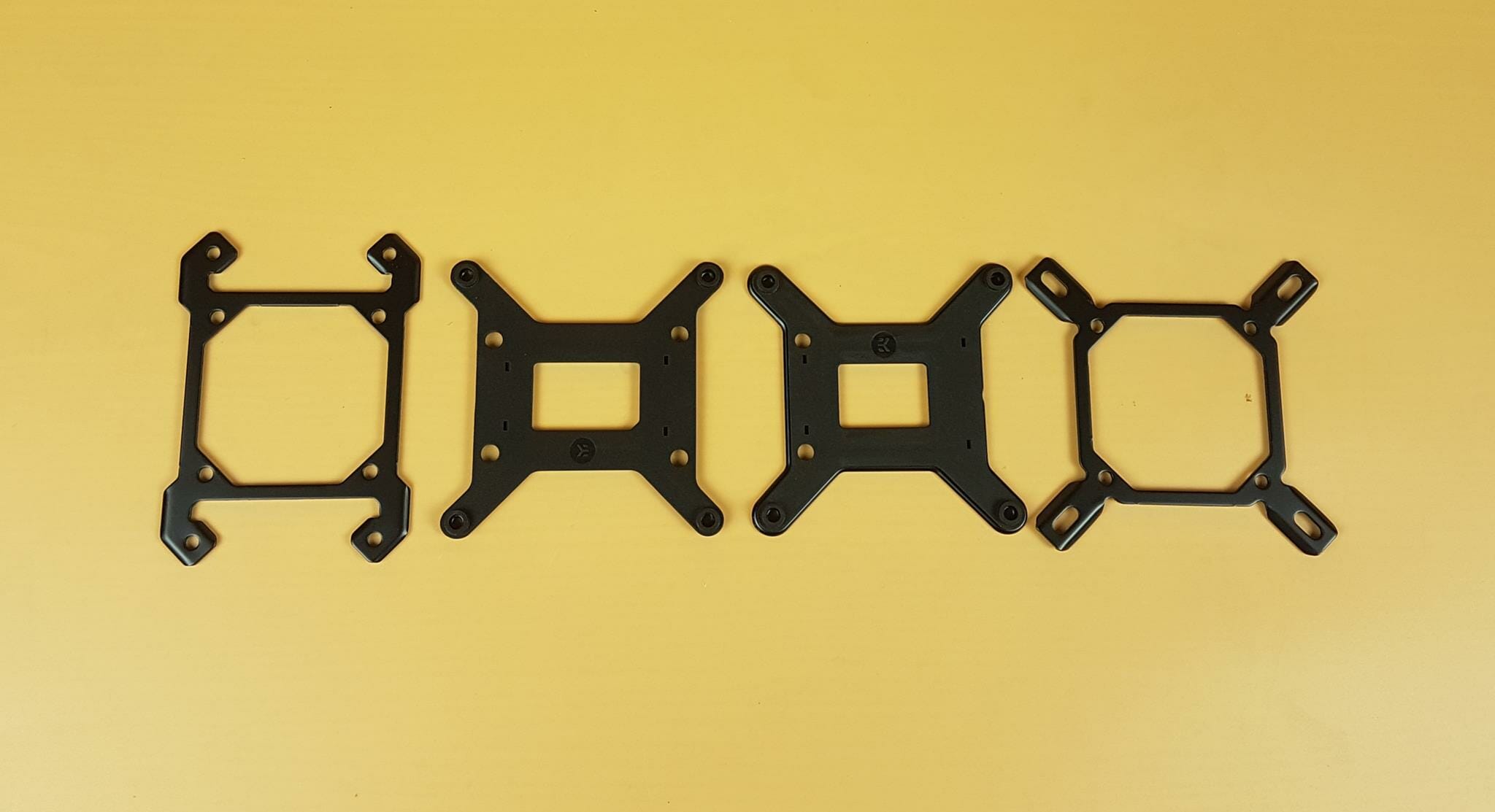 EK Water Blocks has provided:
1x Intel Mounting bracket
1x AMD Mounting bracket
1x Intel LGA1700 backplate
1x Intel other sockets backplate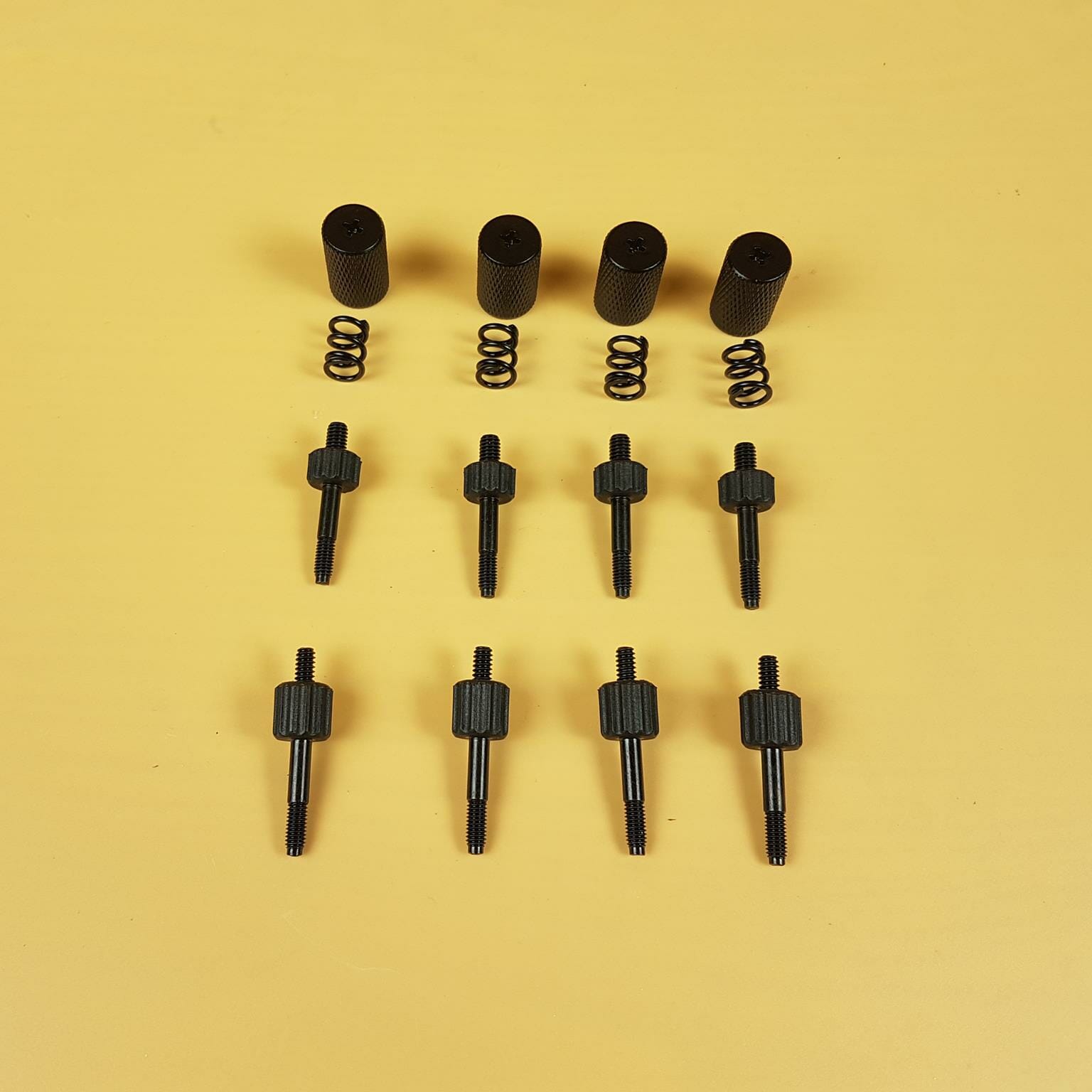 There are:
4x Thumb Nuts with Springs
4x Intel LGA20xx thumb screws
4x Intel/AMD thumb screws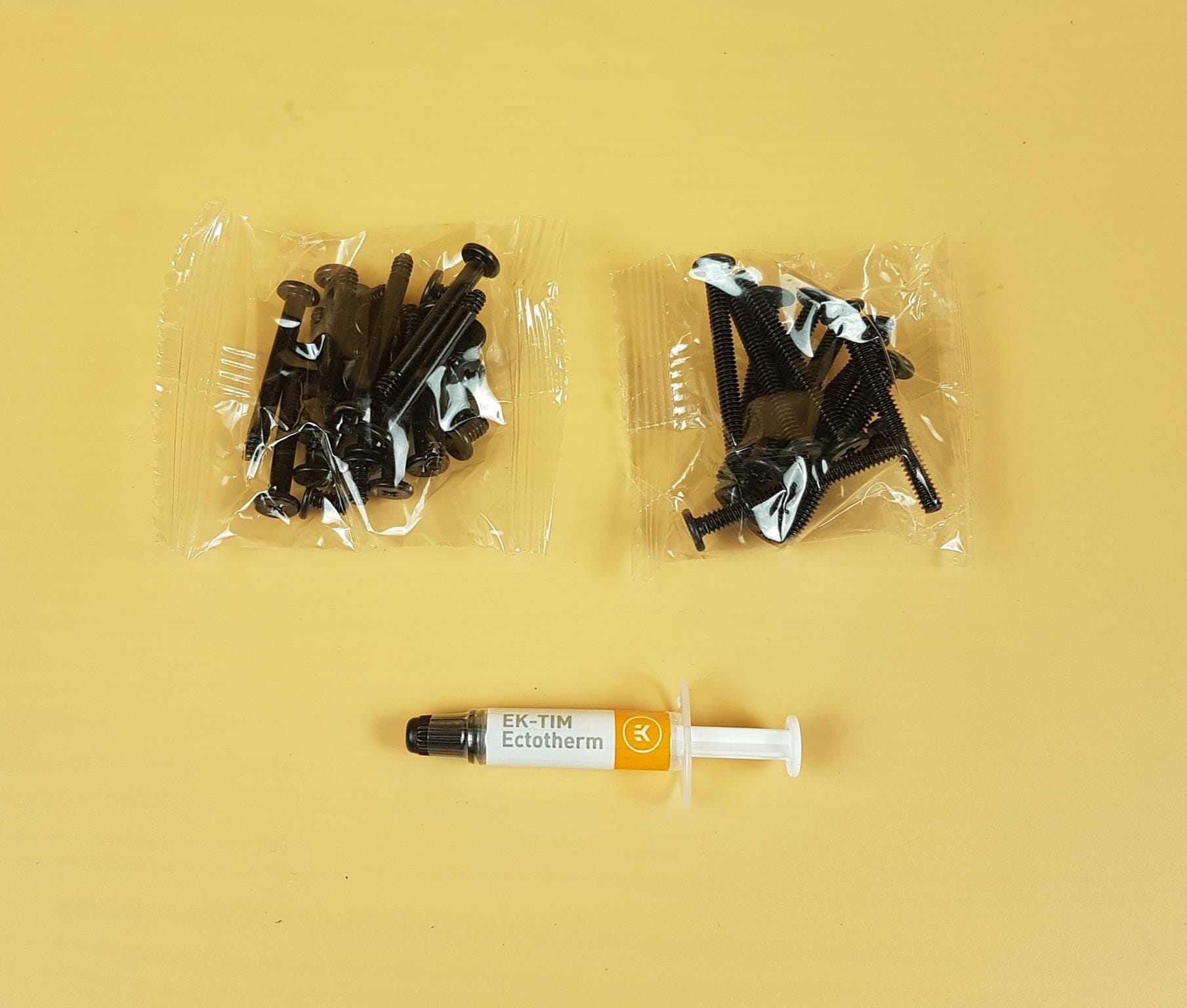 EKWB has provided:
12x Philips UNC 6-32x30mm Fan Screws
12x Philips UNC 6-32x34mm Fan Screws
12x Philips UNC 6-32x6mm Radiator Screws
4x Philips Head M3x4mm Mounting Bracket Screws
1x ECO-TIM Thermal Paste Tube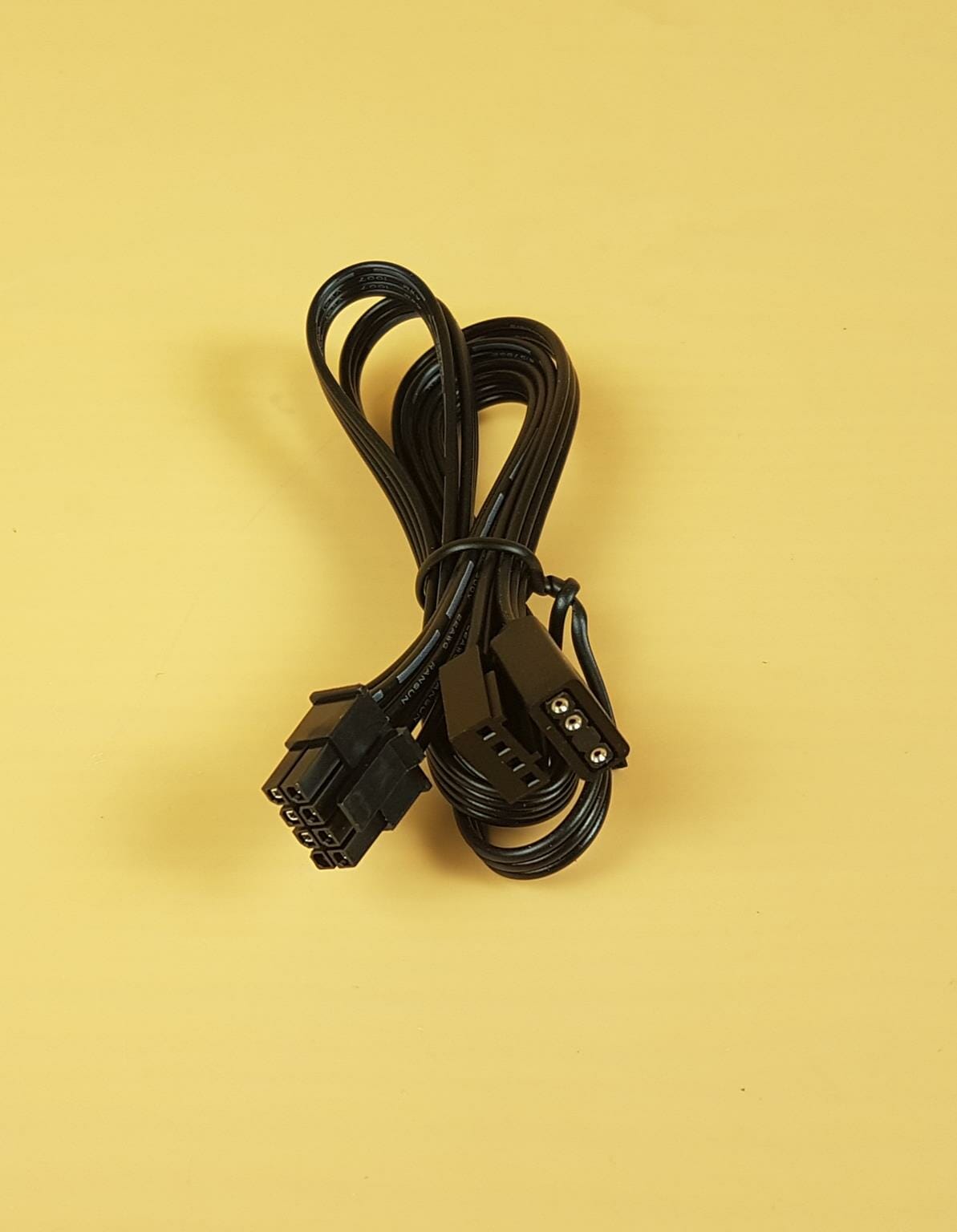 There is a micro-fit 8-pin connector to 4-pin PWM and standard 3-pin D-RGB connectors cable provided as well.
There are multiple brochures for the customers. One is important. Registering this unit with EKWB would give a total of 6 years warranty meaning a 1-year extended warranty on top of a regular 5-year warranty period. Cool!
EK Water Blocks has provided a tool. This is to install the thumb screws on the backplate through the mounting holes near the socket area. While you may not give attention to this at first, this is a blessing when working with a tight-spaced area near the socket area, particularly the top leftmost mounting hole that sits close to the capacitors of the VRM area. I appreciate EK Water Blocks for thinking this deep and providing a simple solution.
The above picture illustrates the use of this tool. Use this tool to mount the thumb screws on the motherboard. Since this tool has a ribbed design, it will not slip from your fingers. Just don't snap it by using excessive force.
There are two holes in the body of this tool on the opposite side. EKWB was clearly thinking ahead. These would come in handy when removing the thumb screws from the motherboard. But one thing they missed in my opinion is the provision of cross-bar or cross-beam that can be attached to this tool and provides a convenient way to remove or install the thumb screws.
Closer Look
It is time to take a look at the unit itself and then land on thermal testing.
The dimension of an aluminum-made radiator is 400x124x27mm (LxWxH). Here 27mm is the height of this unit. The EK-Loop FPT fans have a thickness of height of 27mm (not 25mm as mentioned in the specifications). Adding this figure to the radiator's height would give a total height of this unit to be 56mm approximately including the heads of fans' screws. This radiator has a FPI count of 20 and it has a total of 12 channels for coolant flow. The mounting holes on opposite ends have a standard gap of 105mm.
EK Water Blocks has done a nice job in fin stacking on this unit. We did not observe any bend or broken fin.
The far block or end has a rectangular design with rounded edges. There is no branding on this end.
There is diamond-cut brushed aluminum plating on both sides of the main housing. This adds a nice touch to the overall look and feel of this unit. The near end has an EK logo. The overall height of the radiator on the near end or block side is more than the rest of the 27mm height. This is because of a design element that we will cover shortly.
There is a certain gap between the main housing and the actual fin stack. There is no protective plating under mounting holes. You are good as long as you are using the EK's specified screws (6-32x30mm).
Looking at the near end, this unit has a distinctive design that I have not seen on any other AIO in my experience. EK has provided a cover on top of the tube connections. This cover runs to a full width of the radiator and it has a height of 27mm. This cover hides the tube connection. The fans sit flush in line with this cover hence we would have a uni-body look on the assembled cooler. This is a simple yet elegant touch.
The above picture shows the inner side of the raised cover. The top of this cover has an inset that further adds to the look.
While we have many factors to praise this unit, we also found a QC issue. The backside of the radiator's housing has 12x mounting holes. Our sample did not have threads in any of these holes and we were unable to install this unit in a PC case. We also found a user review on AMAZON telling the same story though the user instead of contacting EKWB's customer support, improvised and managed to install the cooler anyway. We have informed EKWB about this issue and they are looking into it.
EK Water Block's LUX series coolers are using Ultra-Low evaporation rubber tubes with fine threading. The connections are covered using black color caps. There is a fine nylon braided mesh sleeve on the tubes which is for aesthetic purposes. This tube runs to approximately 380mm excluding the connections. EKWB has mentioned 400mm which is from connection to connection.
Block design on this unit is a different design. The pump housing has a dimension of 82.3×69.2×61.6mm and it is made of ABS material. The pump top is made of ABS material as well. This design is not circular nor squarish or rectangular. The block has a relatively large-looking size.
The pump top is removable and rotatable. There is an EK logo that can be used to grab the top and lift it off. This top features a funnel-looking digital RGB lighting effect.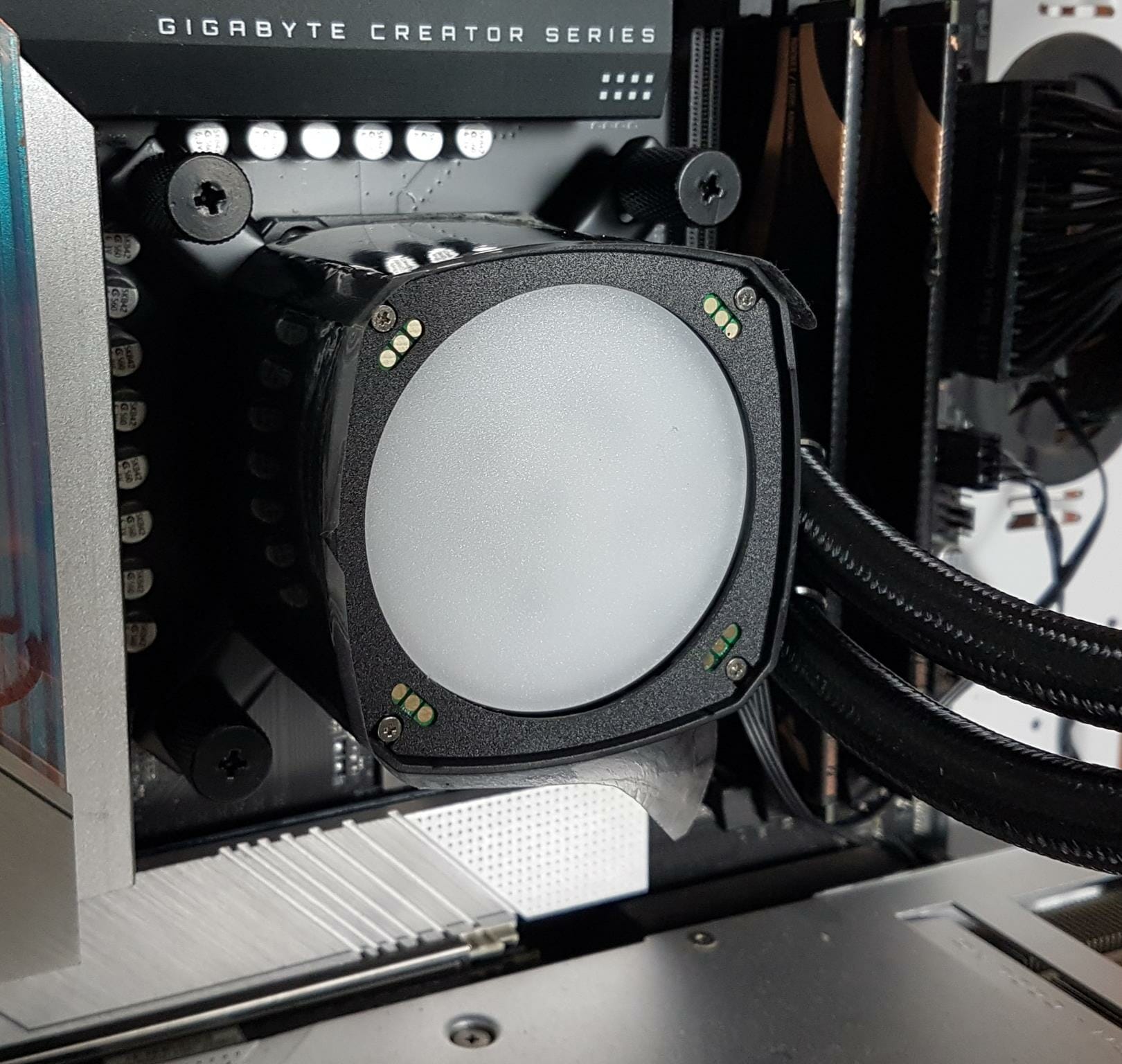 The above picture shows the inside of the pump housing after removing top cover. There is a thick diffuser. We can see 3-pin connections on all four corners. This is where the pump top makes contact for D-RGB lighting.
The above picture shows inside of the pump top. We can see that one corner has 3 active pins that make contact with the 3-pin pads on the inside frame. The funnel design is created using a designed inside of this pump top.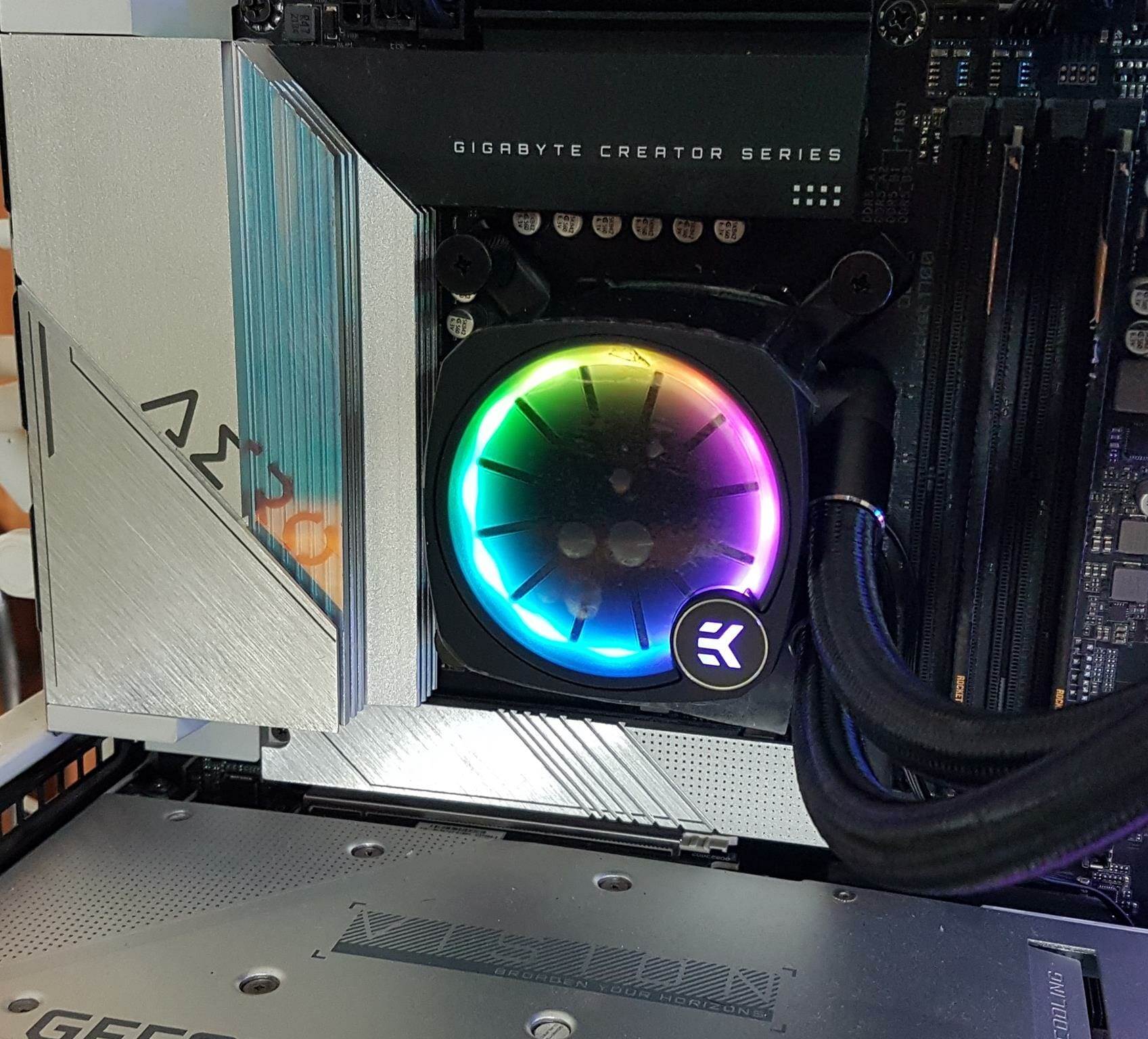 The above picture shows the D-RGB lighting effect on the pump top.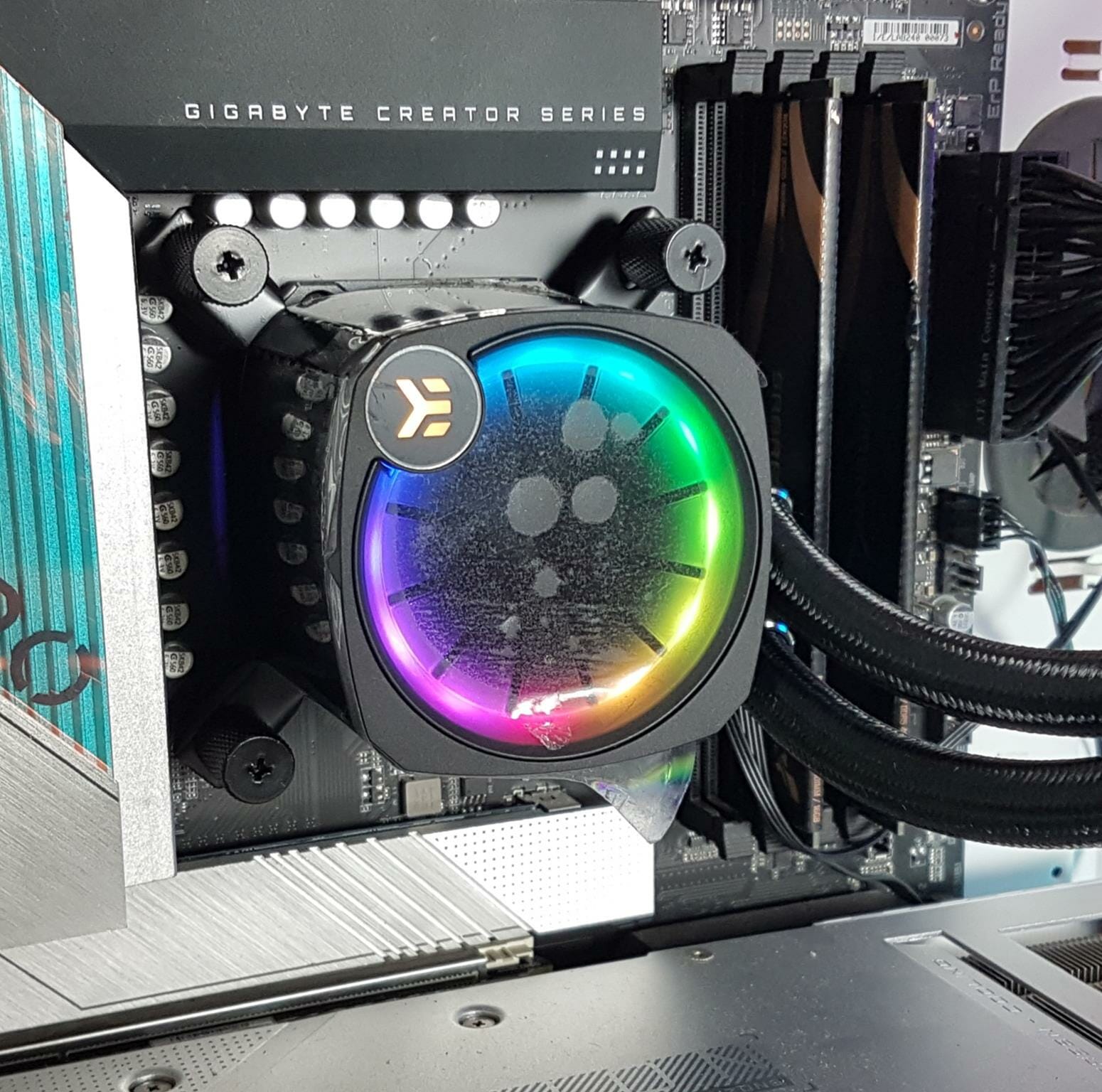 The above picture illustrates the rotatable pump top design.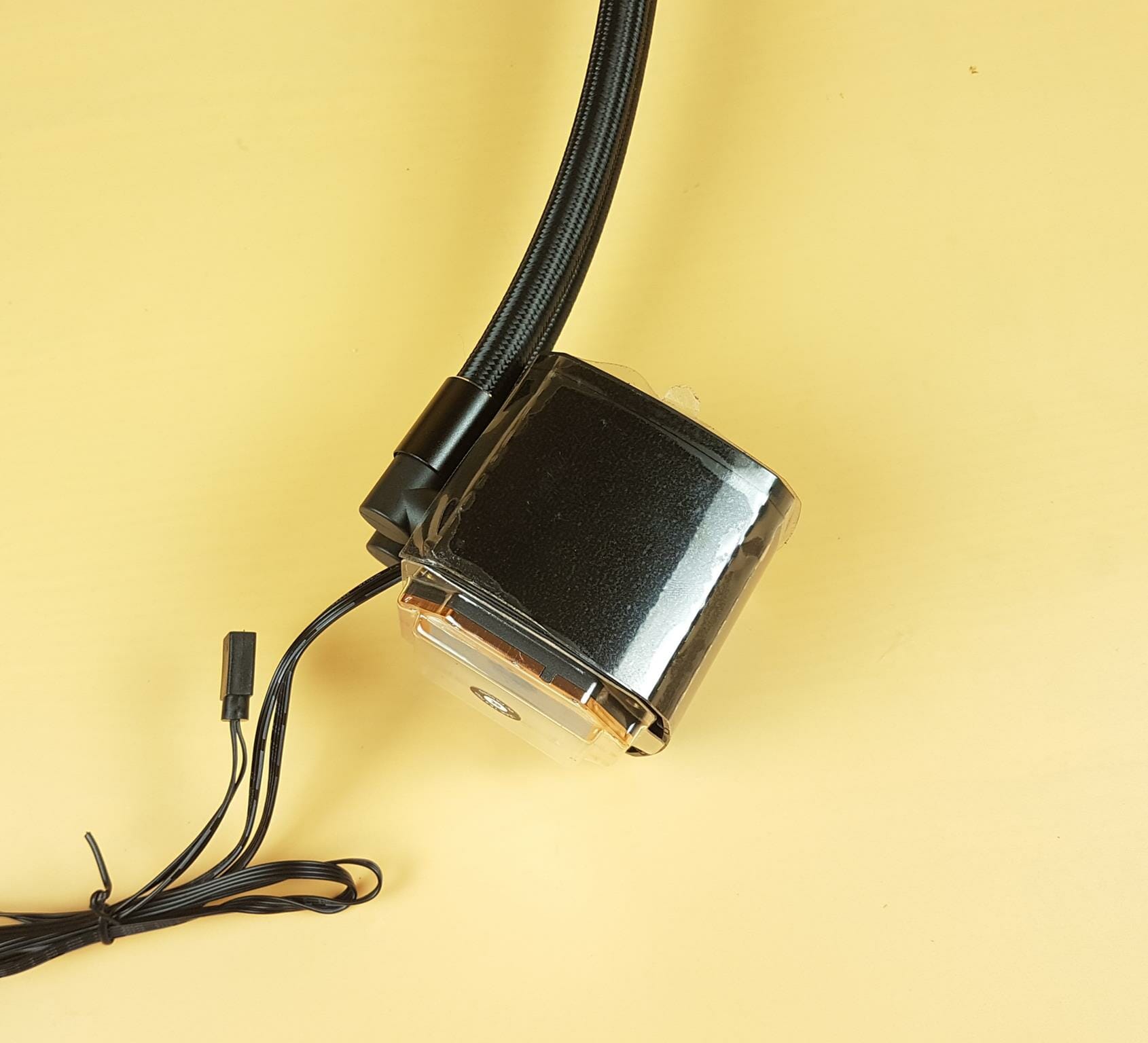 The sides of the pump housing have a simple black finish without any branding.
Looking at the backside, we can see two tube connections at a 90° angle. These are using rotary fittings and this time around, EK has narrowed the gap between the connections. According to EK, this would help install this unit in space-constrained areas. There are two flat cables coming out under the tube connection.
One cable has a 4-pin PWM connector to power the pump.
The other cable has two connectors. One is a 3-pin D-RGB, 5V connector and the other is a socket to daisy chain the D-RGB elements.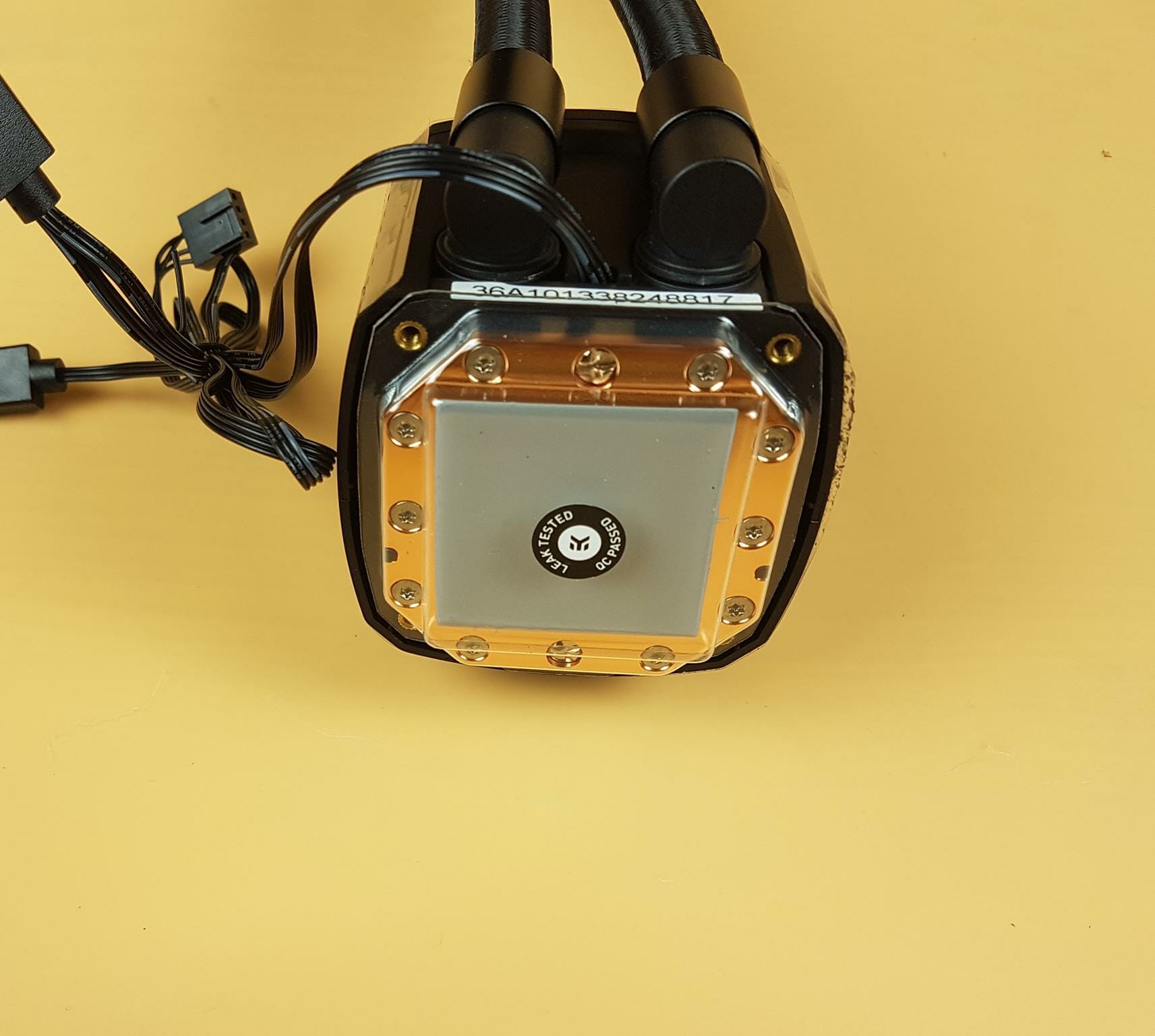 Looking at the base, this unit comes with a pre-installed thermal paste. Kind of EKWB to include a thermal paste as well in addition to this pre-applied thermal paste. There is a protective cover on the base.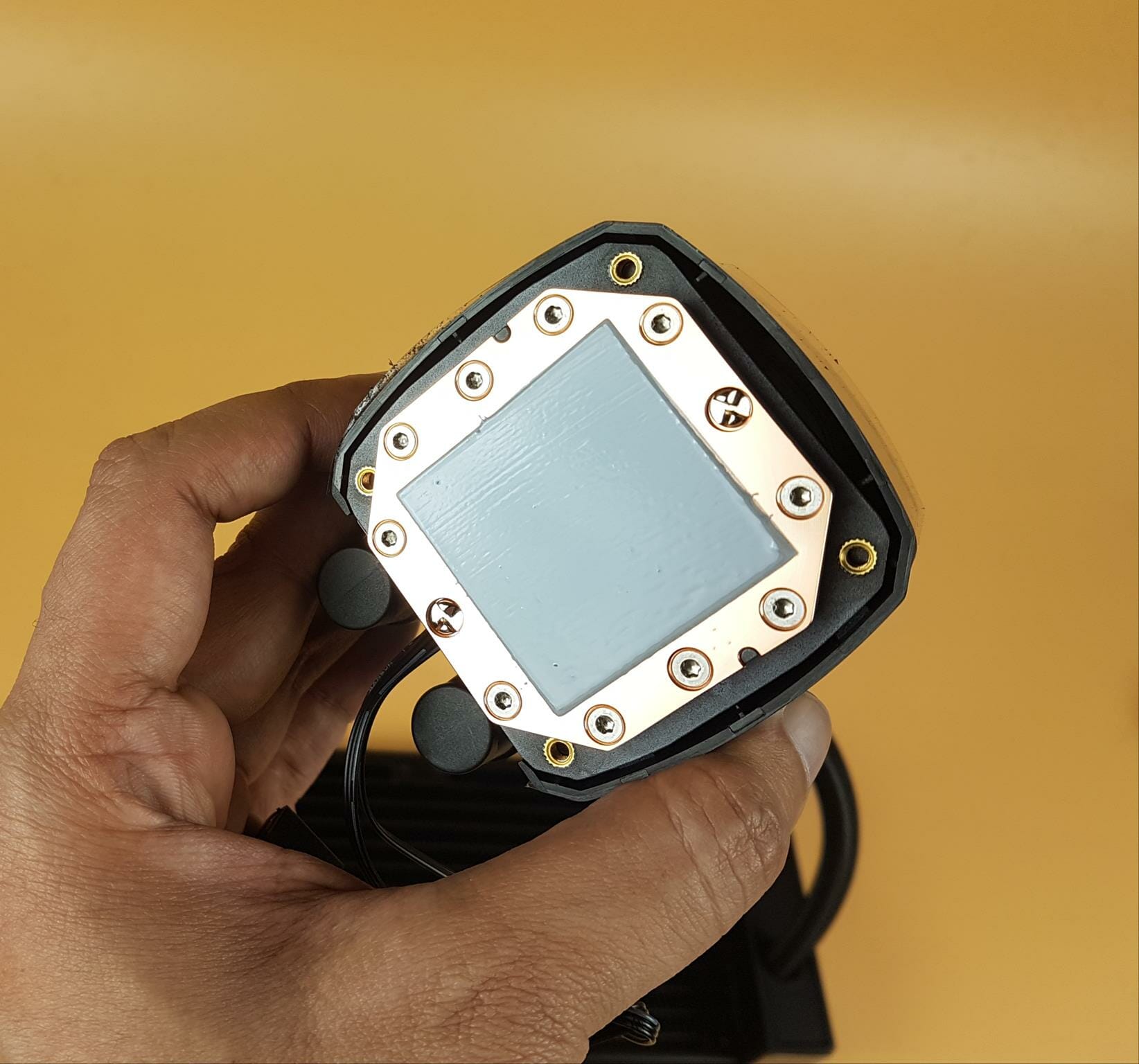 The unit has a copper base measuring 38x38mm. The copper cold plate of this unit has dense micro fins for efficient heat transfer. There are 4x golden color holes on the ABS housing above the copper base. The mounting bracket is installed on these holes. The PWM range of the pump is 20~100% and has a speed range of 3100 RPM ±10%.
EKWB has provided EK-Loop FPT fans. FPT stands for Full Pressure Technology. These fans feature a full frame design that does not allow air to escape and helps in maintaining the pressure. There are 7 blades per fan with a large diameter center with EKWB branding. The holes between the corners and the inner ring are covered from the rear side.
Each mounting corner has a black color anti-vibration pad.
Each fan has a small size cable tucked into one side of the frame. These fans feature the EK-Omnilink concept where by using an 8-pin microfit connector to daisy-chain the fans. This reduces the cable clutter and only one cable comes out to be handled by the user.
One end of the fan's cable has an 8-pin microfit female connector.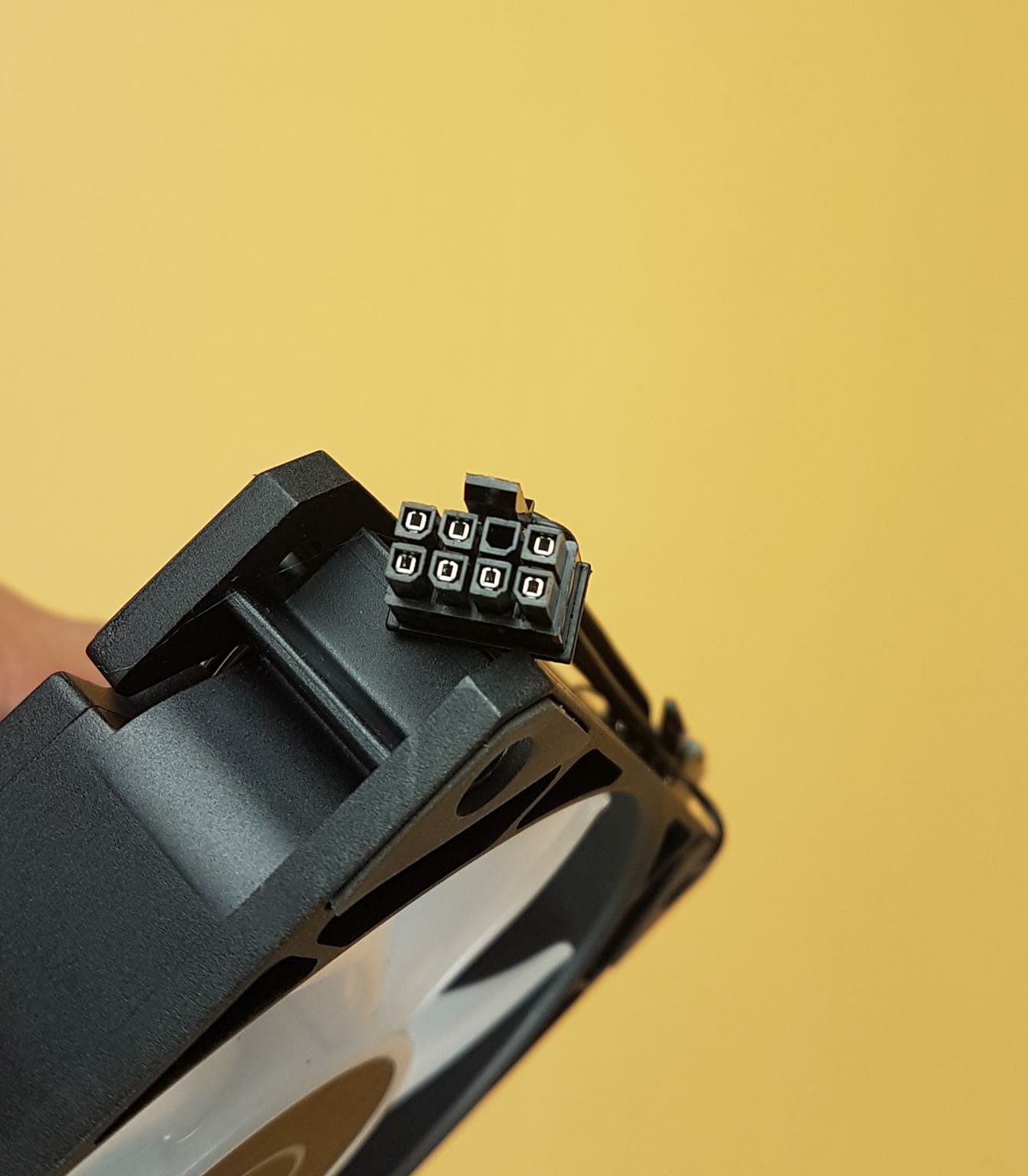 The other end of the fan's cable has an 8-pin microfit male connector.
The backside of the fan has an X shaped arms design. EK-FPT FAN – 120ER D-RGB is the model of the fan. We can see the power rating of this fan as well.
Salient specifications of these fans include:
| | |
| --- | --- |
| Dimension | 120x120x27mm |
| Speed Range | 550 – 2300 RPM ±10% |
| Noise Level | 36 dB(A) |
| Air Flow | 72 CFM |
| Static Pressure | 2.7mmH₂O |
| Bearing | Fluid Dynamic Bearings |
Installation
We are not covering the details of installation. Installation is a breeze and we did not observe any peculiar issue to report here other than no threads on the backside mounting holes on the radiator which we have mentioned above. The tool makes the life easier and we can install this cooler even with more confidence than before. Please refer to the user guide for more details.
D-RGB Lighting
Since, this unit is using standard 3-pin, 5V connectors for D-RGB lighting, these AIOs are compatible with RGB sync technologies from all major motherboard manufacturers. We have tested the lighting on GIGABYTE Z690 AERO G DDR5 and Z790 AORUS ELITE AX motherboards. The D-RGB lighting is working fine with RGB FUSION 2.0 on these motherboards. Here are a few pictures.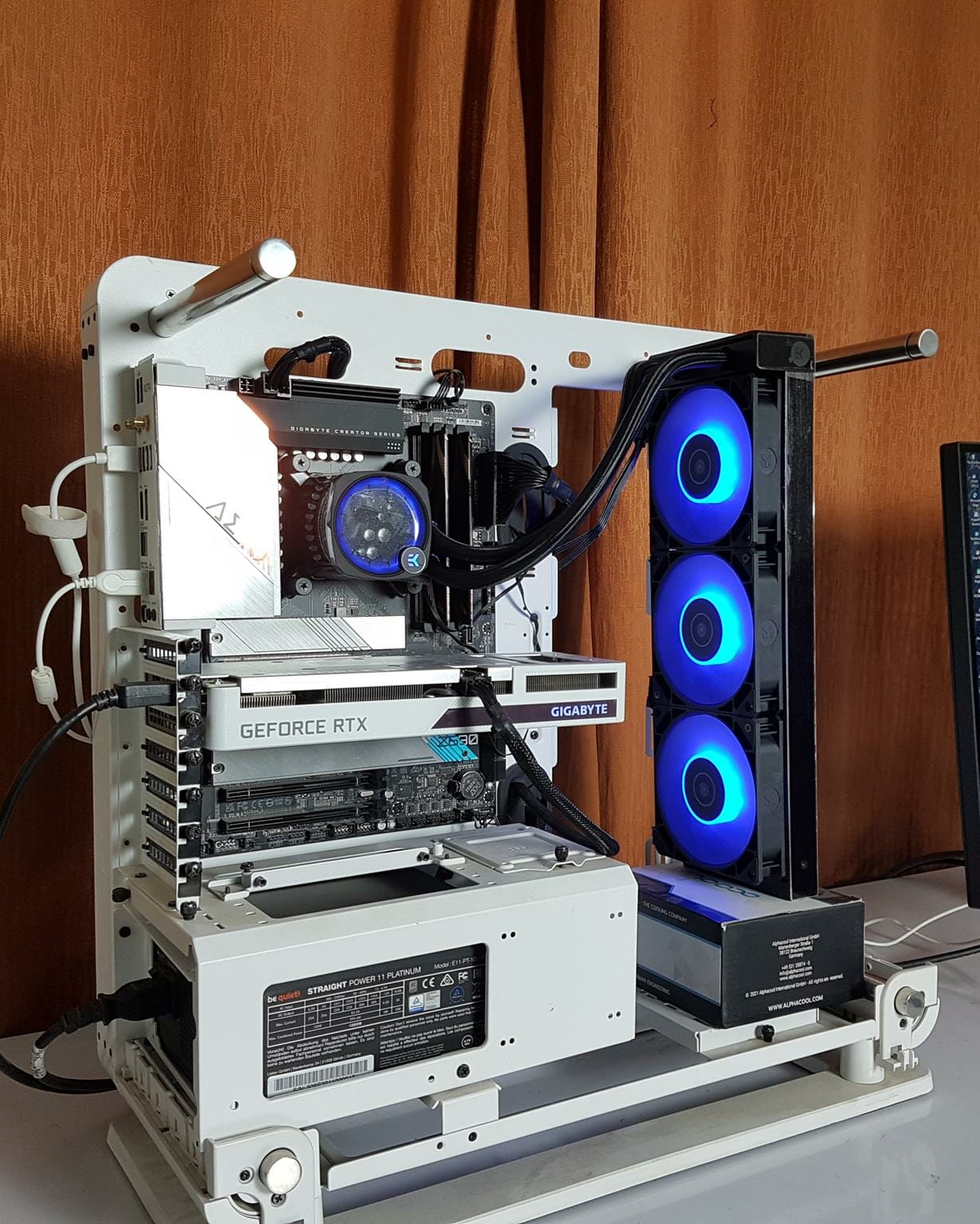 Testing
We have used the following configurations for testing:
Intel core i7 12700k
GIGABYTE Z690 AERO G D5
Sabrent Rocket 32GB DDR5 Kit @ 4800MHz CAS 40
GIGABYTE GeForce RTX 3060 VISION OC
Sabrent Rocket Q 500GB NVMe SSD [For OS]
Be quiet! Straight Power 11 850W Platinum PSU
Thermaltake Core P6 TG Snow Edition in an open frame layout
Intel Core i7 13700k
GIGABYTE Z790 AORUS ELITE AX
Kingston Fury DDR5 32GB @ 6400MHz CAS 32
Sabrent Rocket 4 Plus 2TB NVMe SSD [For OS]
GIGABYTE GeForce RTX 3060 VISION OC
Be quiet! Straight Power 11 850W Platinum PSU
Thermaltake Core P6 TG Snow Edition in an open frame layout
Test table for Intel core i7 12700k is:
Clocks
P-Cores 4.8GHz

E-Core 3.8GHz

Voltage
1.20V
C-States
Disabled
Speed Step
Disabled
Rest of settings
Stock, Auto
XMP
XMP Loaded where available
Thermal Paste
Noctua NT-H1
Thermal Paste Application
X lines method
Headers
CPU_FAN, CPU_OPT, and PUMP Headers
Stress Software
CINEBENCH R23.2
Stress Run Time
30 minutes
PC Idle Time
5 minutes
Monitoring Software
HWInfo64
OC Tool
Intel XTU
Test table for Intel core i7 13700k is:
| | |
| --- | --- |
| Clocks | Auto, Stock |
| Voltage | Auto, Stock |
| Power Limits | Removed |
| C-States | Disabled |
| Speed Step | Disabled |
| Rest of settings | Stock, Auto |
| XMP | XMP Loaded where available |
| Thermal Paste | Thermal Grizzly Kryonaut Extreme |
| Thermal Paste Application | Even Spread |
| Headers | CPU_FAN, CPU_OPT, and PUMP Headers |
| Stress Software | CINEBENCH R23.2 |
| Stress Run Time | 30 minutes |
| PC Idle Time | 5 minutes |
| Monitoring Software | HWInfo64 |
| OC Tool | Intel XTU |
BA bit of note about the new platforms. We have seen AMD AM5 and Intel Alder Lake S CPUs taking more power and this time both sides have aimed at reaching the maximum clocks regardless of thermal limit. In fact, the AM5 SKUs will run into thermal limits right away depending on the cooling solution and the clocks being used. This has made testing of CPU coolers challenging because viewers/readers are not used to a new nomenclature which is what clocks are sustained under a given load using a particular cooler. That is if the cooler is capable of providing enough cooling head to sustain the high frequencies. Traditionally we are used to going the other way around that is which cooler is better in terms of thermal capacity. Despite this, we are using temperatures as a base for measuring this unit. Among other reasons is the high thermal density of these new CPUs.
The ambient temperature was in the range of 25°C to 25.5°C. Since the variation in the ambient temperature is within 1°C, we are reporting absolute temperatures in the graph. The testing is done on an open-air bench system. Once inside the chassis, the temperatures are expected to rise and would largely depend upon the optimal airflow inside the chassis.
Disclaimer: Every silicon is different hence no two same SKUs are likely to take same voltage to yield same performance at same thermals per se but margin would be close. Not every stress test run may yield the same result which could be due to various reasons like thermal paste application, ambient temperature variation, mounting pressure of the cooler etc. This is very why we have listed our variables and their settings. Let's take a look at the results.
Result
Whoa! EK means business with their new cooler and it is delivering a solid performance punch. We can spot a minimum of 4°C and a maximum of 6°C when compared against the other 360mm AIOs in the graph.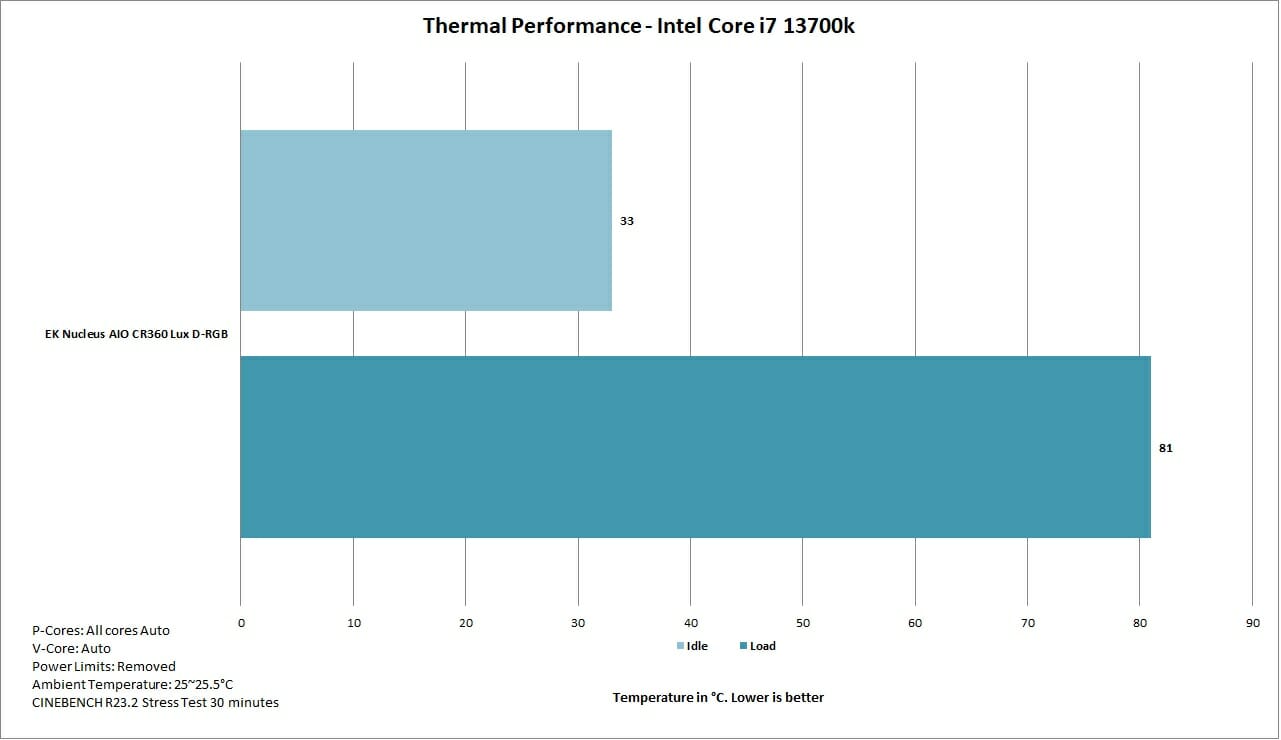 There is no other cooler in the graph of Intel Core i7 13700k. This is because a few other units that we have tested used different thermal paste and they were tested at different ambient. We only wanted to see how this unit would behave on this platform and it has a rock-solid performance that is unparalleled.
Noise
Our sound meter shows this unit making a sound output of 50 dB(A) at an ambient of 32 dB(A). This is a good all-round performance from EK Nucleus AIO CR360 Lux D-RGB cooler.
Conclusion
Nucleus is the new name of next generation of AIO coolers from EK Water Blocks. EKWB has released two broader categories in this new generation. They are named LUX and DARK. As the name indicates, LUX series of coolers pack digital RGB lighting effects whereas the DARK series of coolers have a black color theme. LUX series also has white edition coolers. So far, 240mm and 360mm size coolers are made available. We have tested EK Nucleus AIO CR360 Lux D-RGB. Quite a long name there! Since this cooler is released after Intel's 13th generation and AMD's Ryzen 7000 platforms launch, we were expecting this cooler to perform better on these platforms. It is not a spoiler that this unit has met the expectations. This unit is compatible with Intel LGA115x, 1200, 1700, 2011, 2011-3, and 2066 + Next-Gen Intel sockets. On the red camp, this unit is compatible with AMD AM4 and AM5 sockets.
This cooler has an aluminum-made radiator having a dimension of 400x124x27mm (LxWxH). 27mm is height of this radiator. Since this cooler comes with 27mm thick fans, the overall height of this unit would be 56mm approximately including the heads of the Philips screws. FPI count is 20 and there are 12 coolant flow channels. There are diamond-cut brushed aluminum plates on sides of the main housing. There is a raised housing towards the near end or tube side of this radiator. This is for pure aesthetics since the fans would sit flush in line with this raised portion, it will give a uni-body design look. This is actually a neat form as it hides the tube ends. EKWB is using ultra-low evaporation rubber tubes with nylon braided mesh sleeves. These tubes have a length of 400mm including the fittings. Speaking of fittings, this generation is still using rotary fittings but this time EKWAB has reduced the gap between the tube ends so as to make this even more compatible in tight spaces.
The pump housing has an unconventional design. It is made of ABS material. The pump top is rotatable and it features a funnel-style digital RGB lighting effect. There is a 3-pin interface on the catcher side and the top cover has 3-pins under the EK logo side. You can rotate the logo side making the installation of the cooler regardless of the orientation. This unit has a copper base having dense microfins making up the copper cold plate for efficient heat transfer. EKWB has employed a PWM-controlled pump having PWM duty cycle of 20% ~ 100% rotating at 3100 RPM ±10%. EKWB is using standard RGB connectors to power the D-RGB LEDs in the pump housing.
EKWB has provided their EK-Loop FPT fans with this cooler. These fans feature a closed frame design that prevents air from escaping and it would help in maintaining the pressure. EK has also introduced an EK-Omnilink concept with this generation. Each fan has a tied-up cable of short length. One end of this cable has a female micro-fit 8-pin connector and the other end has a male 8-pin micro-fit connector. These connectors are daisy-chained to each other and then there is a single extension cable providing a 4-pin PWM connector and digital RGB connectors. Kudos to EKWB for making cable management an easier job! These fans are using fluid dynamic bearings and are rated for 550 ~ 2300 RPM ±10% speed generating a maximum of 72 CFM airflow at a static pressure of 2.7mmH₂O (figure taken from fan's webpage). These fans are rated at 36 dB(A).
I have always found it difficult to install a thumb screw or bolt on the top left side of the near socket area for the installation of the cooler particularly on the Intel 12th generation and onward. Finally, someone has paid attention to this and has provided a simple yet effective solution. When EKWB shipped the LGA1700 kit for the previous generation of EK-AIO coolers, I found it difficult to install those long thumb screws. With the new tool, it is easy to install or remove these thumb screws without risking the capacitors sitting closer to the mounting holes. One thing that is missing is the cross-bar that could be passed through this tool and acts like a handle using which screws can be removed with relative ease. Hands down to EKWB for this simple solution and I hope others would follow it or come up with their own solution.
We have tested this cooler on Intel LGA1700 sockets. Installation is easy and involves 10 items for block installation on this socket. We did not observe any issue during installation other than a miss from QC team. The mounting holes on the backside of the radiator don't have threads which is why we could not install this cooler in a PC Case. The issue has been conveyed to EKWB and they are looking into it. In so far follow-up, this seems a random issue as only my side and one AMAZON user have met with this issue.
The EK Nucleus AIO CR360 Lux D-RGB is listed at USD 204 at the time of this writing. This is quite a steep price, particularly in the absence of a display screen on the pump top. But current pricing as we have seen on NewEgg gives a lucky escape to EKWB with this pricing. EKWB is providing a 5-year warranty that can be further extended to 6 years by registering your unit with EKWB. That is a good number there. Speaking of the performance, this cooler packs a sucker punch as it is throwing the competition out by quite some margin at least on our test bench. I was impressed when this cooler was able to maintain 81°C on 13700 under synthetic load using 224W power with power limits removed. All other 360mm AIOs that we have tested sit in the upper 80s and lower 90s.
EK Nucleus AIO CR360 Lux D-RGB is the epitome of form and function combined to deliver the most in a single package. With impressive performance, decent noise level, ease of installation, 6-year warranty but steep pricing, this cooler is rather an easy pick for me and it has won a Must Have award from me.
Pros:
Excellent Thermal Performance
Rotatable Pump Top
Funnel Style Lighting Effect on pump
EK-FPT 120mm Fans
Easy Cable Management using EK-OmniLink
Intel Next gen Socket support
Easy Installation
Tool for screw thumbs handling
6-year Warranty
Cons: