Introduction
Today, our good friends over at Thermaltake U.K. were kind enough to send in one of their new mouse pads for reviews. The M700 Extended Gaming Mouse Pad is a fairly large mouse pad and looks to be quite durable and well designed. Mouse pads used to be a part of any new PC build that was mostly overlooked. However, these days they come in various sizes, shapes, colours and even can be made out of different materials. A lot of people now opt for mouse pads that cover a big enough area on their desk to place their keyboard and mouse atop it and that is what the M700 is designed for. Also, using a larger mouse pad will allow you to reduce your mouse sensitivity in some games as you have a bigger area to move your mouse around on. While some people may find this trivial, the reduced sensitivity will allow for better aim in FPS games and is well-known through the CS:GO and other competitive scenes.
Closer Look
The M700 comes rolled up in a box. On the box is an image of the M700 with its dimensions (900x400mm) and there is also a small opening to one side so you can go ahead and get a feel of the mouse pad itself.
In the box, alongside the M700 Extended Gaming Mouse Pad is a Warranty Policy and that is it, nothing more.
The M700 is black with grey stitching and has a single Thermaltake logo in the bottom left corner. A very simplistic approach is nice to see as it won't take away from your eye-catching peripherals.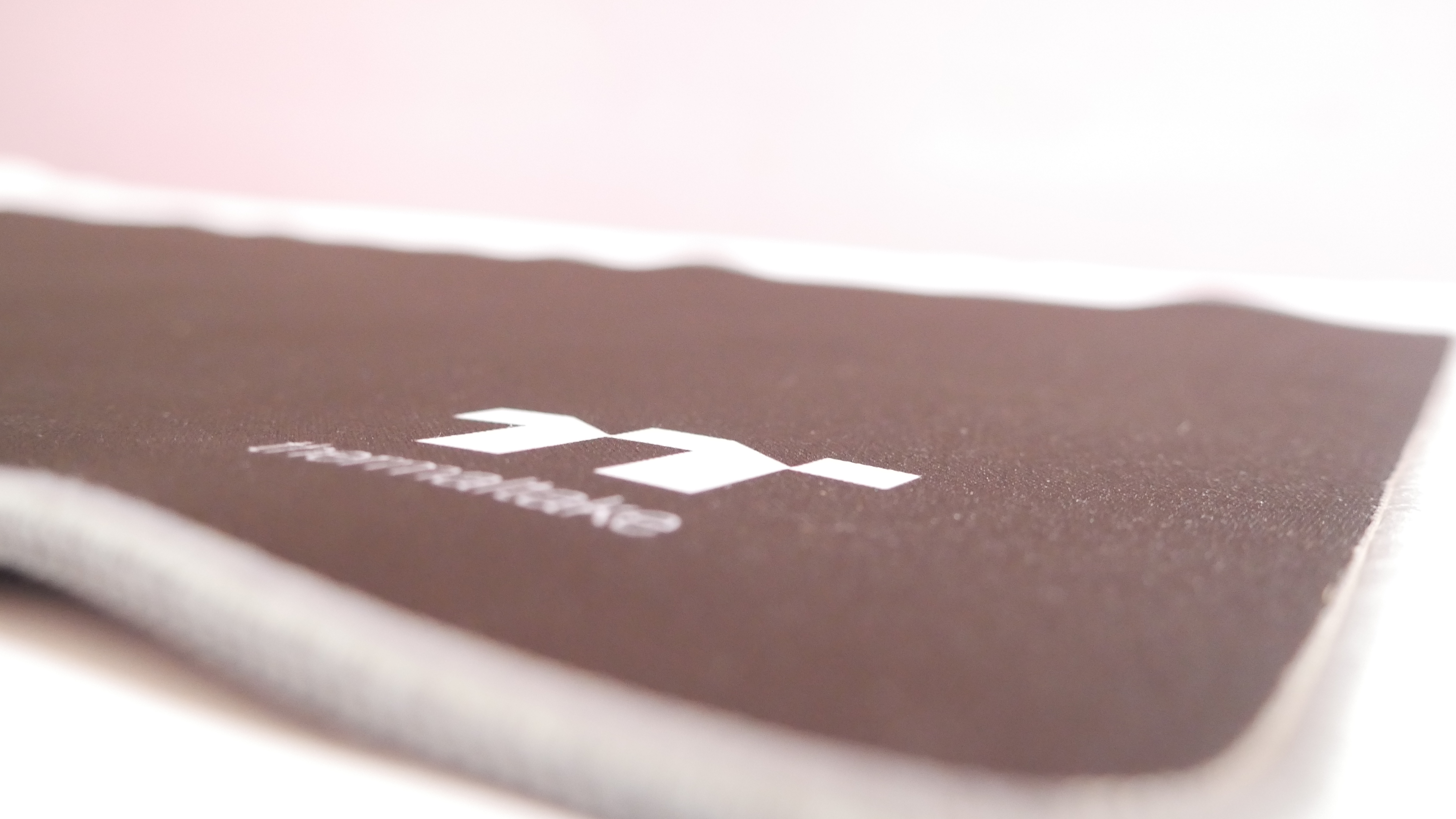 The M700 is 4mm thick which adds a nice bit of cushion to the top of your desk. As for the stitching, this is going to help and make sure your M700 Extended Gaming Mouse Pad doesn't warp or fray. There is nothing worse than when that top layer of your mouse pad starts to peel away from the rest of it. We are starting to see more and more stitched pads these days but it is only recently in the last couple of years. It's great to have a mouse pad that should last longer than a year before coming apart!
For those who don't know how big 900x400mm is, well it is roughly half the size of a 4-person dining room table. As you can see in the image below, it covers a good portion of my dining room table with ease.
The rubberized base means the M700 will not slip on you during gameplay. The rubberized non-slip bottom has been around longer than the stitched edging but both are very important to ensure you get a good mouse pad.
You will also notice that the rubberized bottom is not flat, these small raised bits will allow the mouse pad to off a better non-slip surface and can also help make things remain smooth, even if your desk has some small chips in it.
Final Thoughts
When all is said and done, the M700 Extended Gaming Mouse Pad is a well worthy contender. Coming in at £30 at the time of review here in the U.K. it fits in well with the more premium peripherals that Thermaltake have to offer. Not only is it fairly stylish for a mouse pad, but it also performs as you would hope. The easy glide top surface will feel great with most any mouse you decide to use on it. An anti-slip rubberized bottom will also hold it in place atop your desk and that is all we can really ask from it. Lastly, the stitched edging is going to help and protect your new £30 investment and make sure it last as long as it can. As with most peripherals, the value on them is subjective and will come down to personal preference. A lot of people these days are spending more on them so I don't foresee them getting to upset on spending a bit extra to get a decent mouse pad!

Many thanks to Thermaltake for sending in a sample of their M700 Extended Gaming Mouse Pad.