07.03.17 Taipei, Taiwan – With the much-anticipated release of the AMD Ryzen, CRYORIG prepares to launch a full line of AMD Ryzen dedicated coolers as well as simple upgrade kits for existing AMD compatible CRYORIG cooling products. Beginning from Type A to Type D, there will be a total of 4 different AM4 upgrade kits depending on the corresponding CRYORIG product. Natively supporting Ryzen dedicated version models will begin to release later in Q2 2017 and will consist of the full CRYORIG cooling portfolio.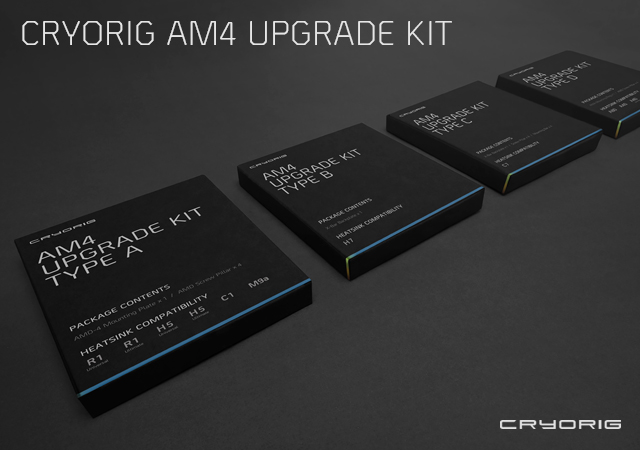 CRYORIG's four AM4 upgrade kits will be released beginning in late March and will be completely free of charge (including shipping) for existing users to apply for. Users will only need to provide a proof of purchase of the CRYORIG product (or product registration number), and a proof of purchase of an AMD Ryzen or AM4 CPU or Motherboard. Just fill out and supply all necessary info at www.cryorig.com/getam4.php, the kit will be sent directly to the provided address. Distributors and select channels will also have these kits available. The following chart indicates the CRYORIG product and it's corresponding AM4 upgrade kit.
Category
Product
Ryzen AM4 Support
 Air Cooling
R1 Universal AM4/3
R1 Ultimate AM4/3
YES
R1 Universal
R1 Ultimate
Requires AM4 Upgrade Kit Type A
H5 Universal AM4/3
H5 Ultimate AM4/3
YES
H5 Universal
H5 Ultimate
Requires AM4 Upgrade Kit Type A

C1

Requires AM4 Upgrade Kit Type A

H7 AM4/3

YES

H7

Requires AM4 Upgrade Kit Type B

C7

Requires AM4 Upgrade Kit Type C

M9a AM4/3

YES

M9i

NO

M9a

Requires AM4 Upgrade Kit Type A

H7 QUAD LUMI

YES
Liquid Cooling

A40

Requires AM4 Upgrade Kit Type D

A40 Ultimate

Requires AM4 Upgrade Kit Type D

A80

Requires AM4 Upgrade Kit Type D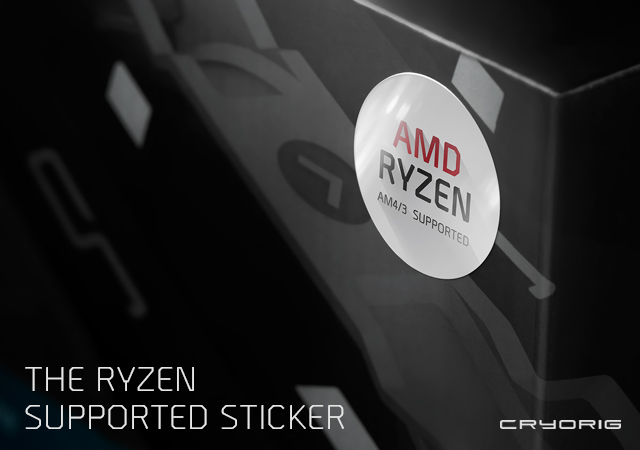 CRYORIG's dedicated Ryzen ready products will natively contain AMD socket AM4 optimized mounting kits, and will also continue to support modern AMD sockets including AM3/AM3+. Beginning in Q2 2017, CRYORIG will start shipping dedicated Ryzen ready versions of CRYORIG's full product line. Exact release dates will vary from model to model. The Ryzen Supported sticker will be found on all dedicated Ryzen ready coolers for easy identification, and indicates that no additional kits are required for Ryzen support.
About CRYORIG
Officially founded in 2013, CRYORIG is a fresh new comer to the PC peripherals and Cooling market with a core team of seasoned veterans. The team's resumes include experiences with renowned brands such as Thermalright, Prolimatech and Phanteks. The members are overclockers and PC modding enthusiasts, with a passion to strive for nothing but the best. With the long experience and drive for innovation and improvement, CRYORIG is about applying RESEARCH and innovative IDEAS making the coolest GEAR possible.