Introduction
ENDGAME Gear has been nice enough to send us a sample of their XM1r Dark Frost mouse, as well as their MB1 Mouse Bungee and MPJ1200 Mousepad. For those that don't know ENDGAME Gear currently focus on gaming mice and accessories for gamine mice. Currently, they have two models listed on their site, an XM1 RGB and the model we are looking at today, the XM1R. I must say it is nice to see RGB and non-RGB versions available as while I generally like a good bit of RGB, it is nice not to have it forced upon us. While I know you can, in most cases, turn it off, you generally are paying a small premium for the RGB features so if we can save a few dollars without RGB, I am all here for it.
PC Gaming is reaching new levels of activity and engagement and I think it is only really just beginning! With esports getting bigger and bigger, now is an amazing time to be a PC Gamer. As we close off 2021, we have some great games to look forward to, my favourite of which is looking to be the new Battlefield 2042 that is dropping in a couple of weeks! With new games coming out all the time, there is always the need to make sure your peripherals are up to the task and will guide you through your battles.
XM1R Dark Frost Closer Look
Taking a quick look at the box for the XM1r Dark Frost and we can see an image of the mouse on the box. There are also a couple of the specifications mentioned on the bottom. Here, we can see the mouse is lightweight, had an up 19K CPI PAW3370 sensor and the XM1r also features a <1ms click detection thanks to the Analog Technology used in the switches.
Inside the box, you get some spare mouse skates and a small card letting you know where to go to download the latest firmware and also how to change the CPI and Hz on the mouse itself. That is it, nothing else is included which is just fine by me as means users aren't paying extra from crap they don't want. Also, the included spare skates are much larger than the pre-installed skates so will be up to you to decide which ones you prefer.
The XM1r is a minimalistic mouse that comes in a few different colours. You can get it in black, white, Dark Frost or Dark Reflex. As you would imagine, the two Dark models are similar and both feature a semi-transparent casing. The major difference is that the Frost is a matte finish and the Reflex features a glossy finish. The front of the mouse features only the two standard buttons we see on most mice and a scroll wheel. While this is a gaming mouse, it is more suited for the FPS gamers out there as it does have a lack of extra buttons.
Here is a nice little butt shot where you can see the ENDGAME Gear logo. Nothing overly in your face, just a nice little black on black logo so you know who made the mouse.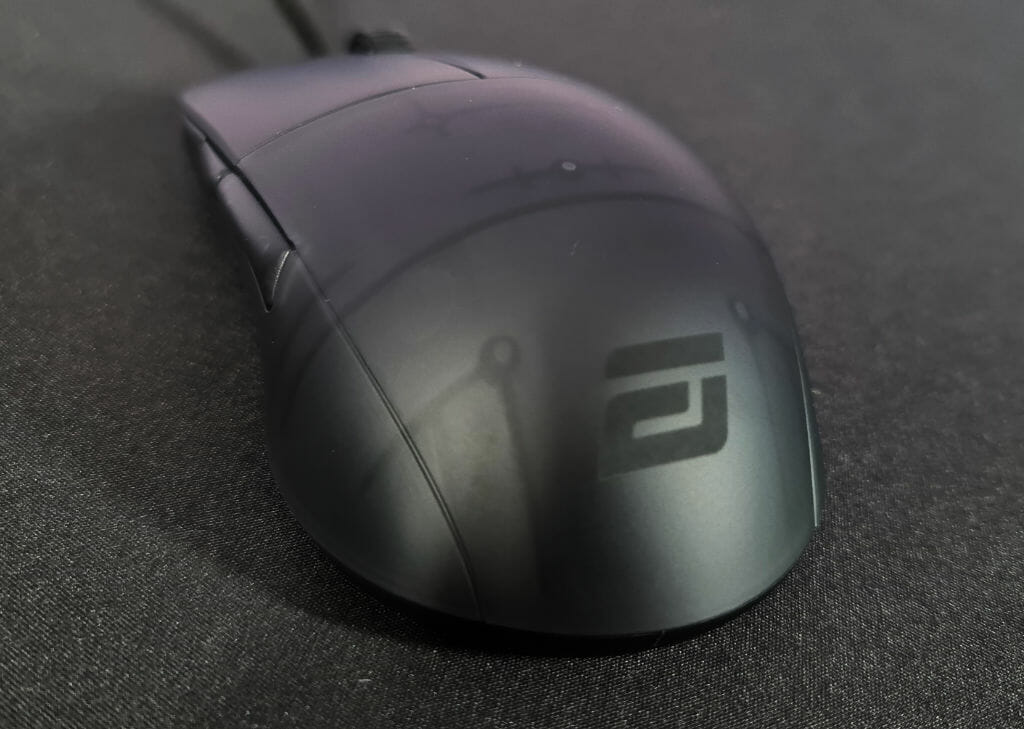 The XM1r is designed with FPS gamers in mind and as such, doesn't feature many extra buttons. There are two on the lefthand side of the mouse and that is it. Just enough to bind a couple of weapons or grenades too, or if you like to live dangerously some melee attacks!
The other side of the mouse is a blank canvass. While the mouse does have an overall ambidextrous design, our left-handed friends would have to get used to using the spare buttons with their pinky fingers. I have tried many times and while I am not left-handed, I surely can't get used to this so can feel their pain!
ENDGAME Gear has gone and taken the PixArt PAW3370 sensor and went balls to the walls with it! This sensor offers a crazy 19,00 CPI, a tracking speed of 400 IPS and a 1MM lift-off distance. These are all equally impressive and when combined, offer one hell of a gaming experience whether you are playing CS:GO or Quake Live!
As this is an updated version of the original XM1 mouse, even the cable has been improved. While it is hard to check this, ENDGAME Gear has said the cable on their XM1r is a new and improved FlexCord 2.0 which retains its original flexibility but is now more durable! It's the little things like this that help to make a great product over just an OK one.
MB1 Mouse Bungee Closer Look
I may be on my own on this one but I do love a good mouse bungee! I find them quite practical as there is nothing worse than when the mouse cord starts dragging across the corner of your desk and is making it a bit harder to pull than normal. I know this won't matter to most, but to me and a lot of gamers this is highly annoying. I've used bungees for years now on my wired mouse and will continue to do so as long as I continue to use wired mice.
So, the cool thing about the MB1 from ENDGAME Gear is the fact that the top spring part can be extended. This is going to give you just that little bit of extra play when moving your mouse around.
For those that don't want to feel the springiness when they move their mouse to the limits of its reach, you can simply push this bit back into the bungee. Doing this means that when you get to the end of the range it kinda just stops dead in its track.
MPJ1200 Mousepad Closer Look
Mouse and Desk pads are quite a spectacle these days. They come in all types of colours and sizes and it comes down to your personal preference on which is best for you. Mouse companies offer their pads in a variety of sizes and as you can see in the image below, ENDGAME Gear has sent us a massive desk pad to use with our XM1R gaming mouse.
There are a few good traits that a top-end mouse pad should have! A nice overall surface to start with always help. I like a nice smooth and easy glide for my mouse, don't want to have to try too hard to move it across the surface.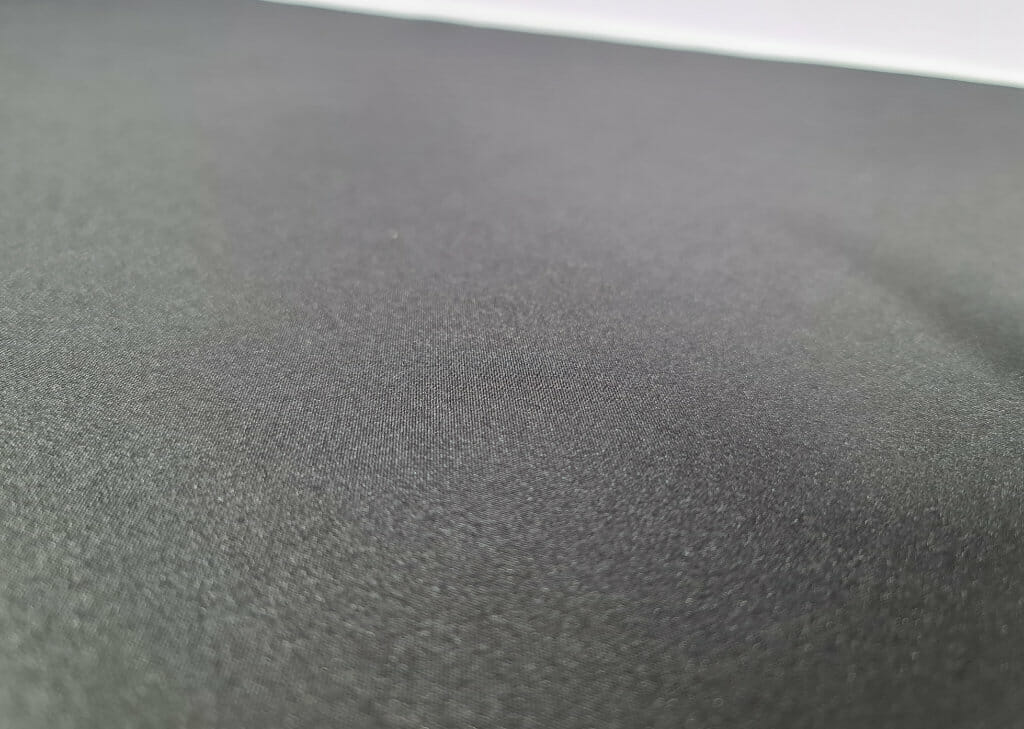 Another thing that is a must for a mousepad is a stitched edge. This is going to help the mousepad last longer and stop the ends from fraying up like they used to do back in the day. Whoever thought of stitching the edges of a mousepad needs a special thank you as it does make them not only look a bit nicer, but it does improve their longevity.
Lastly, a nice bit of branding goes a long way. While some people will prefer a more abstract design to their pad, I like a small bit of branding on mine. Just enough to let you know who made it and to help show it off with any other peripherals you may have from the same company!
Final Words
As mouse bungees are mousepads are both kind of subjective, we are going to focus on the XM1R gaming mouse to finish off this review. I used the XM1R in several different games and have to say, for your standard FPS gaming mouse, it is one of the better ones that I have used. My only real gripe with it is that to change the CPI, you have to hit the button on the bottom of the mouse. I like the CPI button to be right under my mouse wheel so I can hit it on the fly. The reason for this is all down to how I play games. I like to use assault rifles primarily but now and again I like to bus the sniper out and have some fun. When I used a sniper I like to lower the CPI a bit so I can aim more precisely when looking down the scope. Having to lift the mouse and hit the button on the bottom isn't feasible and while I wouldn't consider this a deal-breaker, it is something to take into consideration when looking at the ENDGAME Gear XM1R Mouse.
Other than that, the mouse is fantastic. I play a good range of different FPS games and it holds up well in all of them. The tracking and button feedback is amazing and even after the testing was over for the review, I left it on my desk for a couple more weeks as it was just that enjoyable. Another big thing the XM1R has going for it is the fact it comes in multiple colours, giving you the best chance to have it match your setup. ENDGAME Gear is on to a great product here and they know it so instead of making a bunch of other mice, they have just added a few colours and even RGB options to the mix. Again, it's the little details like this that help to make a company stand out and ENDGAME Gear is on to a winner here.
Want to know one of the best things about the XM1R? Well, it's the price! Coming in at £49.99 directly from their website (CLICK HERE) the XM1R offers some insane gaming performance without breaking the bank. This price point put it right where it belongs in the market and again, it is well worth the money.
I am going to give the XM1R our Recommended Award. While it is a great mouse, the CPI button on the bottom is holding it back from winning our Must Have Award. While it has some amazing performance, this only thing is a slight setback for me.