Introduction
*As of 26/06/2023 these are now available for £69.10 VIA the Amazon link below.*
Today, we are taking a look at the AOC GH401 Wireless Gaming Headset. The headset is currently available on Amazon for £81.07 which prices it into the mid-range category. Although this is a wireless headset, it still has the option to be used with a 3.5mm audio jack. Otherwise, you need to use the included USB A adapter to benefit from the 2.4GHz wireless capability. The headset boasts compatibility with PC, Mobile and Console and boasts a detachable microphone as well as 50mm drivers. 
Specification
Wireless Headset via 2.4GHz connection

3.55mm compatible with PC, Xbox and mobile

Wireless compatible with the dongle on PC, PlayStation, Nintendo Switch as well as PC and Mac

50mm drivers

2.0 Stereo Sound

17-Hour Battery Life

Detachable noise-cancelling microphone

2 Years Warranty
Packaging and Accessories
Taking a look at the box and packaging, it looks modern and sleek. It is clearly marketed towards gamers, the packaging again refers to the fact the headset is compatible with PC, Console and Mobile and highlights the microphone is both removable and noise-cancelling as well as metioning an impressive up to 16-hour battery life. The Black and Red colour scheme is apparent from the packaging and looks very well presented.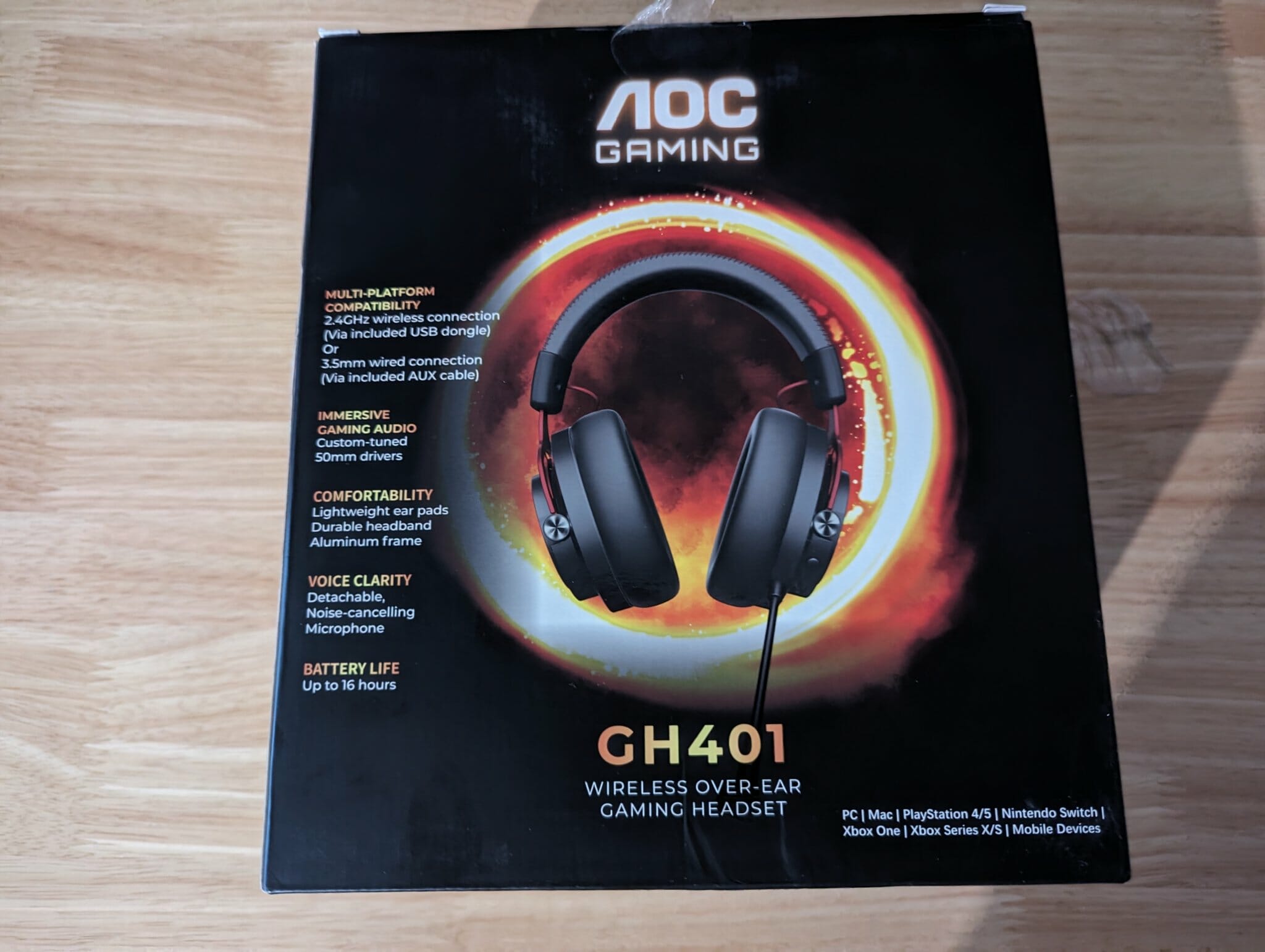 On the reverse of the box, it repeats pretty similar information. Again it mentions that the headset is comfortable, the 2.4GHz wireless as well as the 50mm custom drivers and the noise cancelling microphone. Speaking of the drivers, on the AOC website, they are keen to mention the drivers are on the higher end of the spectrum, meaning the audio quality should be higher than other entry level headsets.
Inside the box is no frills, you can see a quick start guide, and a very short 3.5mm cable, same can be said for the USB A to C cable. Important to note early on, the USB C connection is for charging only and provides no other benefit. You cannot listen to audio via the USB-C cable which is a shame, the headset charged in around 45 minutes.
A closer look
The headset is both sleek and aesthetically pleasing, the top headband is an aluminium slider design, which means adjusting the headset is quick, and AOC guarantees the headset fits, even if you wear a hat or glasses. I wear glasses and indeed, found them comfortable for long-term wear. Something I have struggled with other headsets.I am also a fan of the red stitching on top of the headset (into the faux leather), it again adds aesthetic appeal to the headset. The stitching itself is of good quality with no loose threads. On top you can see the AOC logo. The faux leather boasts memory foam, adding to the comfort factor. Some headsets can be uncomfortable after a few hours of wear, but not these. I've put them through their paces and they remained comfortable.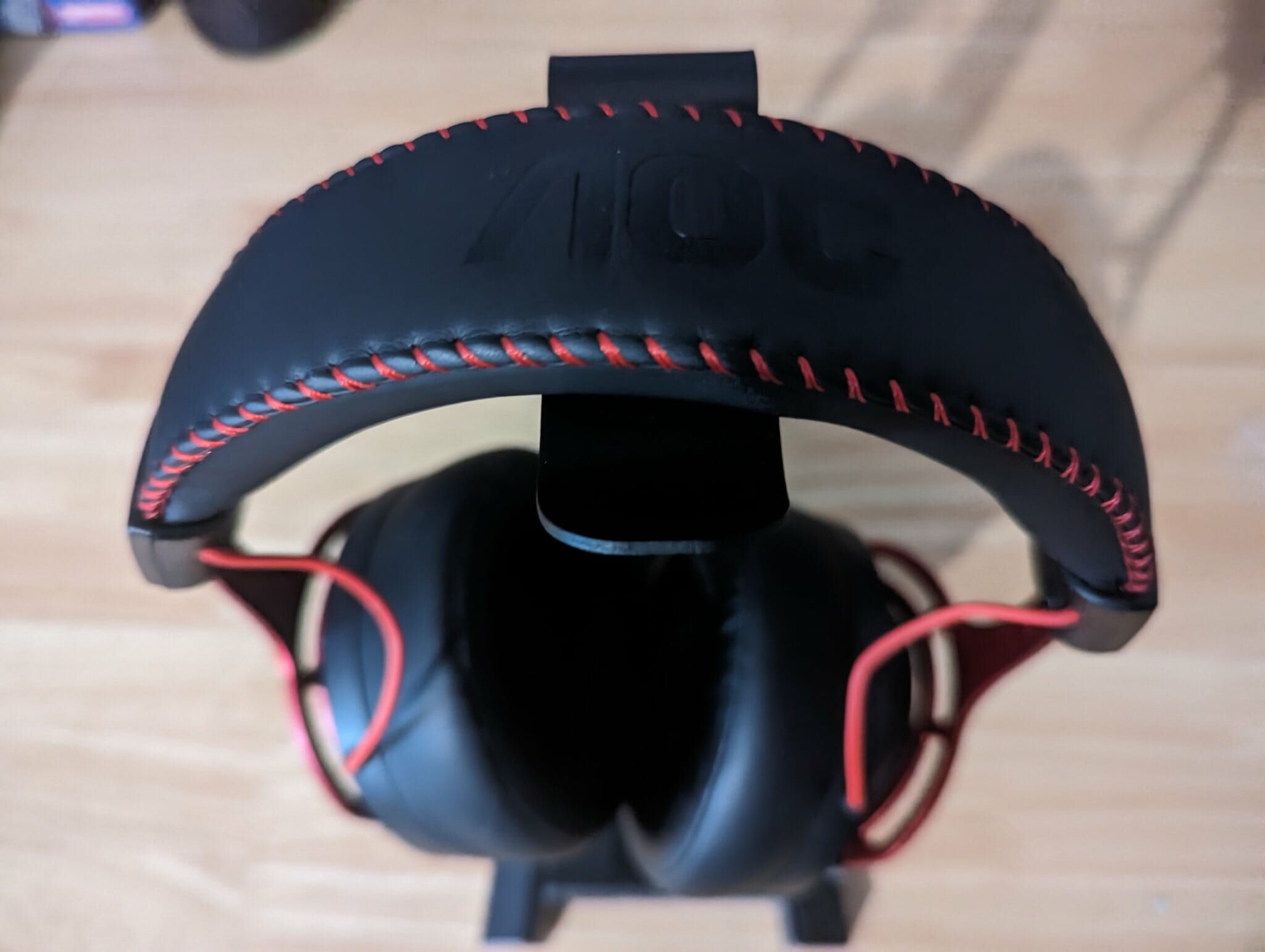 On the side of the headset, you can see the USB-C port, volume slider, mic mute button, 3.5mm connection as well as the power button. When plugged into USB-C to charge, you have a small Red LED, when you turn the headset on, you'll see a Green light too.  When you turn the headset on, you get an audio notification to state it has been powered on. Likewise when you switch it off.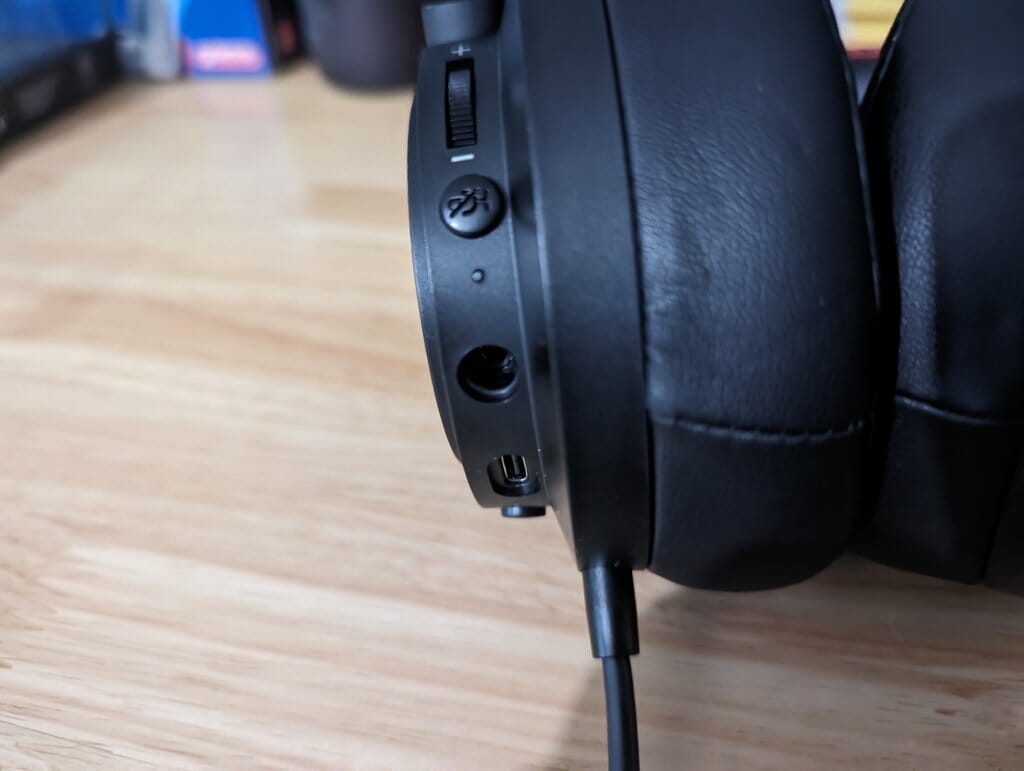 Something I am not a fan of, although the microphone is removable, it felt very stiff to remove and I had to use quite a lot of force to pull it out. Bear this in mind if you are going to remove it, as you don't want to end up damaging the headset or the port itself. Also, the quality of sound recorded seemed to vary, however, it's still very useable. If you are going to be using a USB mic of some description then I wouldn't worry too much. Using the dongle, I was able to move from one room to another with no real noticeable drop in quality. As I started to move upstairs it began cutting out. 
The stylish Red & Black continues on both sides of the headset and you can see the AOC logo printed on both sides. AOC want people to know you are using one of their headsets. It isn't too overbearing and the logo blends in nicely.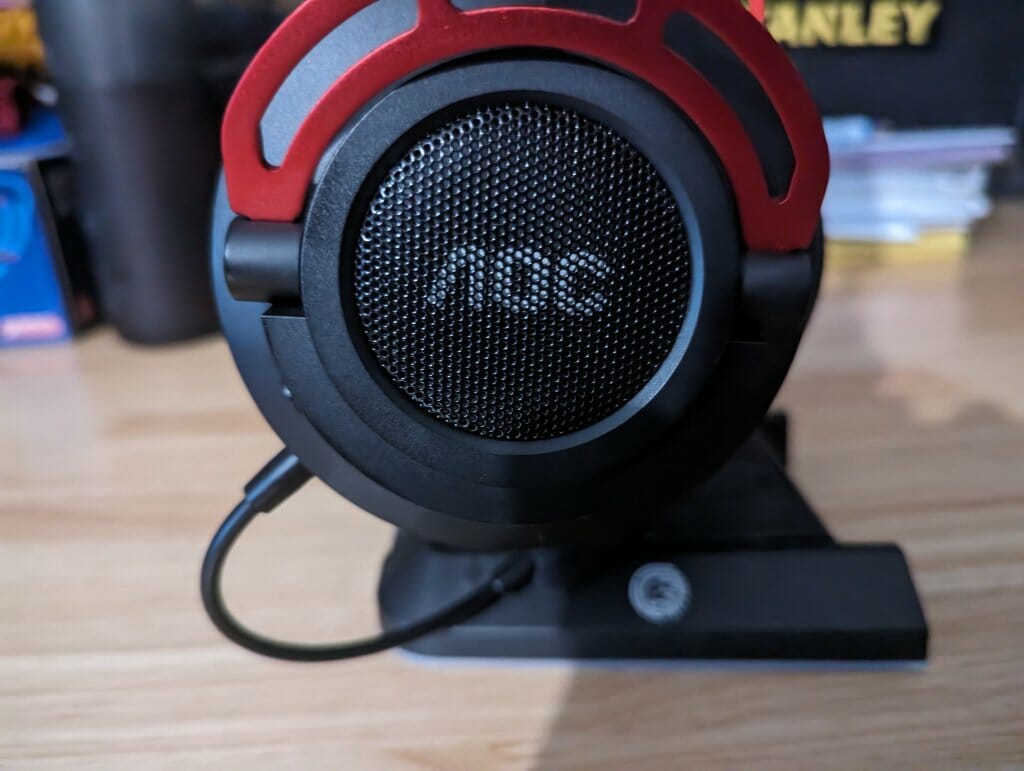 The headset itself only features 2.0 stereo sound, so if you're going to be playing fully immersive games then bear this in mind. However, the quality is respectable for a 2.0 headset. Both games and music were fine and sounded clear and reasonably loud. I didn't use the volume wheel much as I tend to control my volume via the keyboard instead. The ability to quickly mute the microphone using the built-in button is a nice touch. Battery life for us was in excess of 13 hours, so that's plenty for a gaming marathon, or if you want to use these on the go. I used them in the evening and took them into the office the following day and they didn't run out of charge. They worked well with Microsoft Teams and I could be heard on various meetings throughout the day. 
Although the audio quality is perfectly acceptable for a 2.0 headset, I thought I'd also see if FXSound (A 3rd party software equalizer) could make these even better, and I was surprised with the results, it actually improved the volume further and made the bass sound slightly better. It made a Spotify music session, so much more enjoyable. FXSound is a free download from here. However, if you're already using a high-end sound card or headset then it's not necessary.
These are incredibly comfortable and the oversized padding helps remove exterior noise, allowing you to focus on the sound that is being produced. I am a glasses wearer and they didn't squash the frame, as well as having a larger head so if you're worried about whether these are going to fit or feel cramped, then it's not going to be an issue. There's a TV behind my desk and I couldn't hear this whilst wearing the headset, so the noise cancelling has been well-designed and well-thought-out.
Final words
Value
AOC is continuing to adapt and innovate as it continues the development of its peripherals. However, given the £81 price tag currently, it feels slightly on the steeper side considering what you get. There may be other headsets which have advanced feature sets in this range. It depends on exactly what you are looking for and how much you are prepared to spend. The battery life is certainly impressive so bear this in mind too. It's nice to see USB-C for charging too. Finally, the world is moving away from micro/mini USB connections and AOC has taken note of this.
Design & Performance
I was surprised at how well this headset performs given it is only 2.0 stereo. The 50mm drivers certainly help with the audio quality, The headset looks stylish and the red and black colour scheme helps with this too. There's no RGB with this one, but that isn't a bad thing, it's not really necessary. The design stands out for itself without needing flashing lights everywhere. Another thing in this headset's favour it's compatibility across multiple devices, being wireless too (via dongle) adds to its appeal, so you don't need to be hugging your PC or console to be able to use them. The supplied 3.5mm cable was too short for me. It could have done with being longer. So I preferred to use this headset wireless. However, I did test on a 3.5mm connection and the audio sounded just as good.
One thing I wasn't too keen on was the red wire above both earpieces. Having this exposed is a point of failure, particularly if you have kids or a pet that likes to chew things as it's more likely to get broken or snagged on something. However, that's me being particular about what I like in a headset. It'd look better if this wire was concealed into the headset band. Although these will not be used as my daily driver going forward, the children have been eyeing them up already. So no doubt they will end up with some heavy usage on the Xbox and on their computer.
These would be suited for someone taking their first voyage into gaming, or looking for a reliable, portable headset. If you're someone who is reliant on immersion then it may be worth comparing against other headsets in the same price bracket. But otherwise, they are still perfectly respectable and useable. I took them to the office with me for a day and they sounded fine on Microsoft Teams with no drop in quality. I would like to have seen a longer USB-C cable as well as a longer 3.5mm audio cable. The ones that came with it were far too small in length. However, I am genuinely looking forward to seeing how AOC move forward with their next range of headsets and peripherals.
We would like to thank AOC for sending in this sample of the GH401 headset for review.