Gaming, and anything connected to it, is huge these days. Take gaming accessories. In 2020, the global gaming accessories market was valued at $7.5 billion. By 2026, it's expected to reach as much as $15.40 billion. 
This popularity is hardly surprising, of course. Gaming is immense fun, catering to the human need for achievement and transporting the players to different realities. Games that include puzzles keep us interested, and the generally remarkable attention to detail enables players to spend hours exploring fantasy worlds and more in the game without achieving a whole lot else. 
This post looks at gaming in the home and gadgets, and also at the use of handheld devices for gaming, especially for casino gaming, and the benefits they offer.
Gaming at home
Online gaming has skyrocketed in the last few years. Through the joys of gaming, lots of people have been able to stay in touch with friends and family much easier. The social aspect of gaming is something lifelong gamers have always known, whereas people who are new to gaming have only just discovered it and are loving it.
Mobile gaming has been especially large. Google, on its blog Think With Google, reports increases in session time, play time and in-game purchases across all styles of gaming. Google highlight the fact that casual gaming has increased and points out in the blog that 40% of new gamers have said they'll stick with gaming. 
Enhancing gaming with gadgets
Perhaps one of the most delightful things about gaming is that there is more to the experience than the player just going at it with the handset in their hand. The large variety of gaming gadgets out there spoils gamers with choice for enhancing their gaming experience. 
Gamers can buy all sorts, from heated massage pillows to keep them comfortable while they spend hours glued to their screens, controllers in hand, through to Pac-Man-inspired plant pots, through to headphone hooks, through to specialised gaming glasses, mousepads and keyboards. Then there are accessories such as ergonomic chairs, specially designed for long gaming sessions; high resolution monitors; high-quality speakers; gaming webcams; and more. 
Gaming is a serious hobby for many… a way of life even and only the best equipment will do. This is especially the case if they're streaming their adventures in gaming across the internet. The investment in the equipment is worth it.
Handheld devices and casino gaming
One area of gaming that has witnessed massive growth and success has been casino gaming. According to data published on the website of consumer and market data company Statista, the market size of the casino and online gambling industry hit a total of $231 billion in 2021. 
Mobile gaming has played a big part in the growth of the popularity in casino gaming. Online casino operators have explored the advantages of mobile technology and, in response to the demand of consumers to be able to access services and more on their devices, have tailored their offering more to their customers' wishes. 
For example, Rainbow Riches is a casino site now accessible via a handheld device as the provider has created a mobile compatible app making the games easily accessible for players. Rainbow Riches are also offering 30 free spins when a player deposits £10 to attract players to download their mobile app.
There are some excellent handheld devices out there on which players can play casino games online. 
iPad Air
The iPad Air will serve any player well. Besides being generally good value for money, this device boasts a built-in A14 Bionic chip, which means a speedy CPU and superb graphics. The True Tone and P3 wide colour allow the games to look amazing. Meanwhile, thanks to the wider screen than a smartphone, casino games can look better and perform better.
Samsung Galaxy S21
The Samsung Galaxy S21 is pricey, but for anyone serious about mobile casino gaming, this is the right choice. They'll be able to access 5G and swift content streaming on the phone so that the casino games play well on it. The phone has a 120HZ refresh rate, which also contributes to how well games run on the device. The battery life is longer than that of the iPhone 12 (but possibly not of the iPhone 13).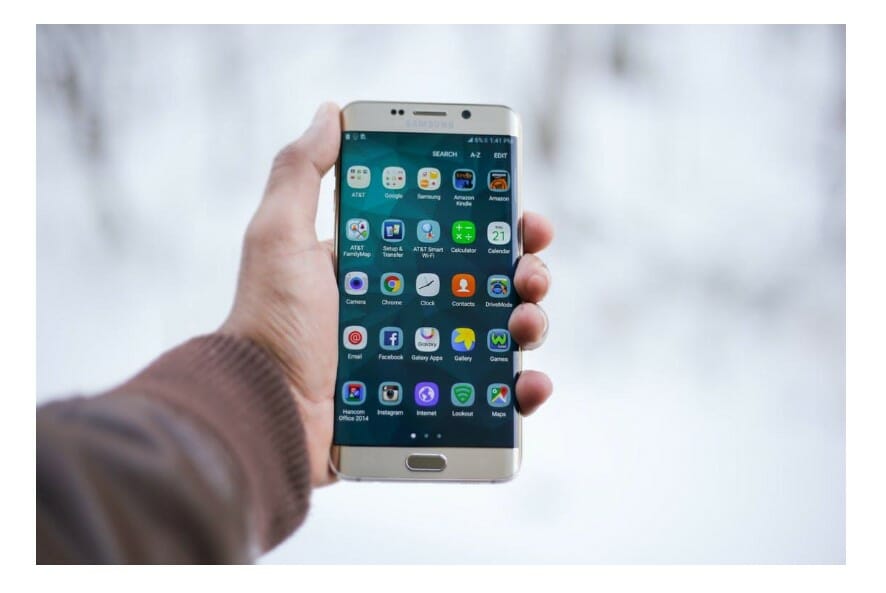 The benefits of playing online casino games on a mobile device
Playing games online on a mobile device rewards the player with a variety of benefits. Here are some of the main ones:
Maximum convenience
The player doesn't have to head out to a land-based casino or even sit at a computer. All they need is their device and a good internet connection. They can play wherever they are. 
Lots of variety
Online casino operators offer more than just a few titles and different types of games. Players can relax with slots, play classic casino table games, take part in live casino games or play variations of casino games and maybe even play bingo. Operators also update their selection regularly so that players aren't forced to play the same games repeatedly.
Promotions and rewards
Online casino operators appreciate new players and their existing ones. Often, they'll welcome new players with a bonus for creating an account with the operator. They'll also create special offers and promotions for players who have already signed up with them. Potential perks of signing up with an operator include free spins, deposits and more.
Gaming is enjoyable, but gadgets and accessories add even more to the experience. The gaming accessories industry is growing, as is the number of people who have taken to gaming. The accessibility of gaming through mobile devices has been a big factor and is likely to have developed fans of gaming for life.