Introduction
Today we have another review for our friends over at Genesis by way of their Neon 750 RGB Gaming Headset. We have been looking at quite a few products from Genesis lately and have been more lined up! The only downside we have found from Genesis is the fact that their products aren't readily available worldwide, yet. If you live in Europe or are lucky enough to come across some, I do highly suggest considering them. Genesis peripherals offer a great balance between being budget-friendly and having good performance. Hopefully, soon enough they will at least be able to purchase in the UK but with Brexit and Covid, I am not currently holding my breath! When it comes to peripherals, what makes you consider a product before purchasing? Reviews? Looks? RGB? Let us know in the comments what helps to influence your choice when it comes to purchasing a new product.
Neon 750 RGB Video Review
Neon 750 Packaging and Accessories
The Genesis packaging looks quality. Too many times do we see less known brands go a bit crazy with their packaging trying to make it stand out too much. However, Genesis has gone with a more subtle look and I do believe it is working for them. While there aren't many brick and mortar stores for PC components these days, this packaging does say that there is a quality product inside. On the front, there is a nice image of the headset to give you a feel of what you will be getting should you chose to purchase the Neon 750 RGB Gaming Headset.
On to the back and we have a bit of a breakdown of what to expect from the Neon 750 RGB Gaming Headset including a diagram that shows you how to get them connected to all your favourite devices.
The outer packaging is just a sleeve that protects the inner box which doesn't offer much insight into the product at all.
When you first open this box, you will see the headset and its detachable mic sitting there, nicely packed waiting for you to rip them out of the box and plug them in!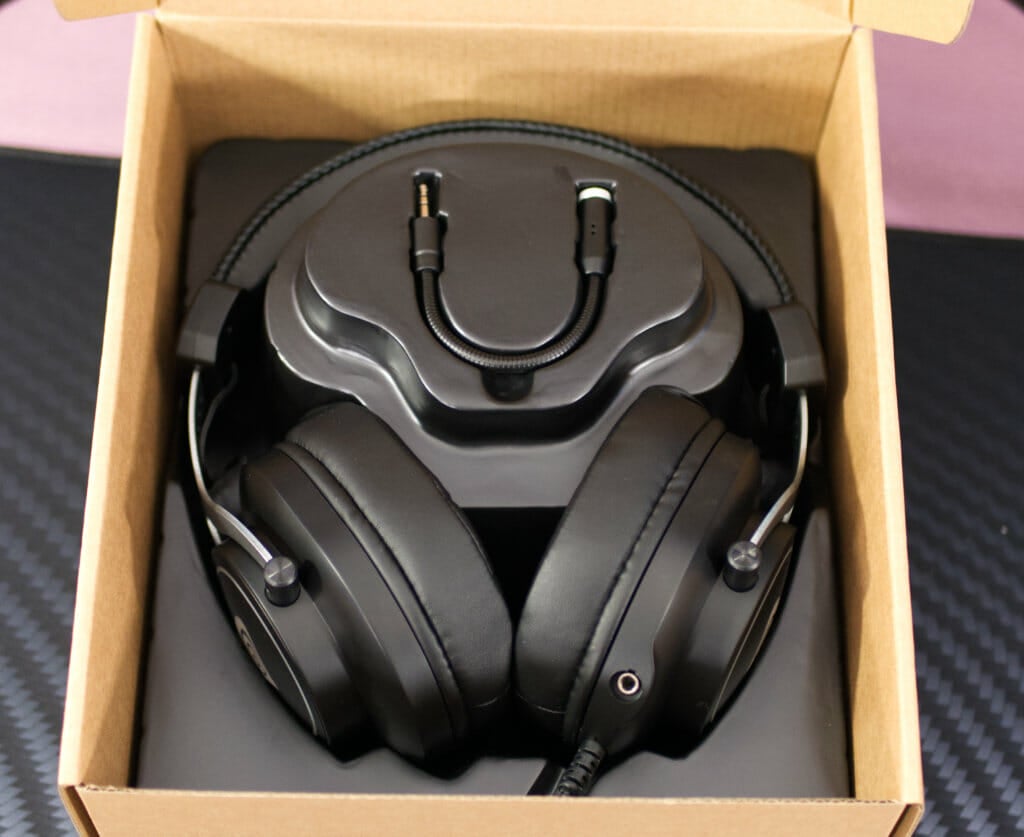 Getting everything out and we also have a user manual and carry pouch as well as a couple of cables.
The Neon 750 RGB Gaming headset comes with a single 3.5mm jack and a USB plug coming from it. However, Alongside the detachable mic, Genesis has included a USB extension cable and a single 3.5m jack to dual 3.5mm jack converter which will allow you to make the most of the headset no matter what device you are using it with.
Neon 750 RGB Closer Look
When you first go to wear the Neon 750 RGB Gaming Headset, you will notice that they do appear to have quite a bit of padding, both on the earcups and the headband. Also, the overall look of the headset is overly gamer looking which is always nice to see, or not see!
The earcups will fit over your ears and as mentioned, have loads of padding so they will be as comfortable as you like for those long gaming sessions. They will also be great for those who like to listen to a bit of music while working or for those who just don't want everyone to hear what they are doing on their PC.
Even without the RGB, they look quite nice! Genesis is coming out with some quality looking products and we love to see it! With so much competition in the market from all the more well-known names, it is nice to see other companies put a valiant effort into production quality and not just trying to make a quick buck!
The Neon 750 RGB Gaming Headset features 50mm drivers which seem to be pretty standard for most gaming headsets these days. The 50mm drivers are going to allow for good sound quality whether you are listening to music or trying to hear that enemy who is trying to creep around the corner. I am sure all gamers can relate that the easier it is to hear your enemies the better.
The padding in the headband is a bit more firm, but not hard by any means. This will allow it to keep its shape for a long time which should mean that you can enjoy your Neon 750 RGB gaming headset for a longer time.
The Neon 750 RGB comes with an inline remote control that can mute the mic, turn the volume up or down and even turn the RGB backlighting off. While this is quite common, I am still undecided how I feel about these. Sometimes they are nice to have but other times, it just seems like a bit of added weight that is unnecessary. While I am still not sure about them, I don't hold it against companies as I can appreciate that they can be useful and loads of users probably do enjoy them.
Not everyone has a volume knob on their keyboard or elsewhere so instead of having to come out of your game and turn the volume down in windows, the inline controller should come in handy.
Neon 750 RGB Lighting Effects
Below is a couple of photos of the RGB lighting so you can get a feel for what it looks like. If you want to see it a bit better, make sure to check out the 4K video review above or on our YouTube channel.
The RGB lighting on the Neon 750 RGB Gaming Headset is quite subtle but more than enough to be seen and appreciated. I think Genesis has done an amazing job with the way they incorporated RGB into this headset!
 Neon 750 RGB Final Thoughts
Value
Coming in at €54.37 directly from the Genesis website the Neon 750 RGB Gaming headset is a great middle-ground for those looking for a gaming headset. They offer a great balance between not breaking the bank and offering good performance. Normally in this price range, I can find something about a headset I don't like and it normally comes down to the sound output but the Neon 750 RGB Gaming Headset didn't throw up any major red flags for me. For the money, you are getting a good headset that you will be able to enjoy using.
Performance and Design
I am a big fan of the overall look of the Neon 750 RGB Gaming Headset. It offers a sleek and stylish gamer feel without looking cheap and tacky. Even the RGB isn't overly done and offers more of a mellow mood lighting rather than an in your face ridiculous amount of brightness. Genesis put a lot of effort into the design of this and all of their recent products if I'm honest and it shows. They seem to be going for a more classy gamer look and feel and I am here for it! The Neon 750 RGB Gaming Headset also offers a comfortable experience which, in my opinion, is more important than looking flashy. Alongside looking nice and being comfortable, the Neon 750 RGB also offers some decent sound and this is, of course, going to be the most important feature that it can offer. When listening to music or playing games, there is a nice mix between highs and lows and while this isn't the most bass-heavy headset I have used, I wouldn't expect it to be at this price. What it does offer is a nice clear listening experience that you will be able to enjoy for hours. Whether gaming or listening to music, you will enjoy your time using the Neon 750 RGB Gaming Headset.
Genesis has a great headset on their hand and if they can keep this momentum moving forward with all their products, watch out competitors. Genesis has already proven they know how to offer affordable products that perform equally as well and if they were more widely available, they could shake the market up a bit!

Many thanks to Genesis for supplying us with a sample of their Neon 750 RGB Gaming Headset for this review!