Today we will be taking a look at the Antlion MODMIC 5. The MODMID 5 is a microphone that is designed to be easily added to your favourite pair of headphones. Why do we need such a product you may ask? Well, the answer is simple! A lot of proper Audiophile headphones don't come with a microphone on them. So, simply put, this means those needing a mic either had to buy a mic with stand for their desk or have a secondary headset around for things like gaming. Now, this surely isn't an ideal situation, especially for those who want to be able to play games as well so that is where Antlion's MODMIC steps in. The MODMIC simply attaches to your current headphones in seconds and gives you a top quality microphone to use. The MODMIC 5 is very lightweight and also features both omni and uni-directional settings to ensure users on the other end can hear you as clearly as possible.
The folks at Overclockers UK believe in this product so much that they sent us one in for review. So massive thanks to them as always and hopefully the MODMIC 5 lives up to the hype! whether you are a gamer or not, a good microphone can come in handy for a number of things.It's really hard to go into much more detail without giving it all way, so with that being said, let's take a quick look at the specifications and get into the closer look section of the review.
SPECIFICATIONS
Dual electret capsules: omni- and uni-directional
Selector switch on microphone housing
Jack: 3.5mm plated TRS for use with PCs
Head unit:

Microphone boom + 20mm of cable to male TRS 3.5mm tip
Single-conductor coaxially shielded

Cable:

2.5mm diameter rubberized TPE jacket, kevlar reinforced, coaxially shielded
One 1m dual-conductor coaxially shielded
One 2m dual-conductor coaxially shielded

Mute switch:

3.5mm male/female ends
Low ESR tantalum capacitor in mute circuit
Length: ~8mm

Extension cables:

3.5mm male/female ends
One 1m dual-conductor coaxially shielded

Clasps: Plated Neodymium N45 strength magnets
MICROPHONE CAPSULE SPECS
Pattern: Uni-directional
Sensitivity: -38 ± 3 dB
Response: 100 Hz–10 kHz
SNR: >50+ dB
Impedance: 2.2 KΩ
Operating Voltage: 1 to 10V
Max current at 2.0V: 500 µA
Max input SPL: 110 dB
Pattern: Omni-directional
Sensitivity: -26 ± 3 dB
Response: 30 Hz–17.5 kHz
SNR: 58+ dB
Impedance: 2.2 KΩ
Operating Voltage: 1 to 10V
Max current at 2.0V: 500 µA
Max input SPL: 110 dB
WHAT'S IN THE BOX
One ModMic 5 modular microphone set
Mute switch
1m and 2m cables, each with 3.5mm jack
Durable carrying case
Two base clasps, one top clasp with cap
One foam pop filter
One 2m cable wrap and 10 cable clips
Extra adhesive pads
Instruction manual
HARDWARE COMPATIBILITY
| System | No Adapters Required | Y Adapter | USB Adapter |
| --- | --- | --- | --- |
| Windows / Linux PC | ✓ | – | – |
| Mac | – | – | ✓ |
| PS4 / XB1* / Wii U | – | ✓ | – |
*Console devices require a Y adapter, sold separately
When you first open the box up, you will see a cord sleeve and a carry pouch which has the MODMIC and accessories inside it.
Inside the carry pouch, everything is tucked in nice and secure. This pouch is sure to come in handy for those who don't always want to use the MODMIC or for those who need to use it in different scenarios as there are a few different accessories in it.
There is a little bag inside the carry pouch which features an alcohol cleaning pad and some clasps. A spare set of mounting clasps to attach the MODMIC 5 to your preferred headphones is in here as well and features a sticky pad. There are also some clasps that will allow you to attach them to the MODMIC wires and those from your headset so you don't have two sets of wires dangling from your head. You can also use the wire wrap around the cables so that way it truly looks like only one cable, great idea!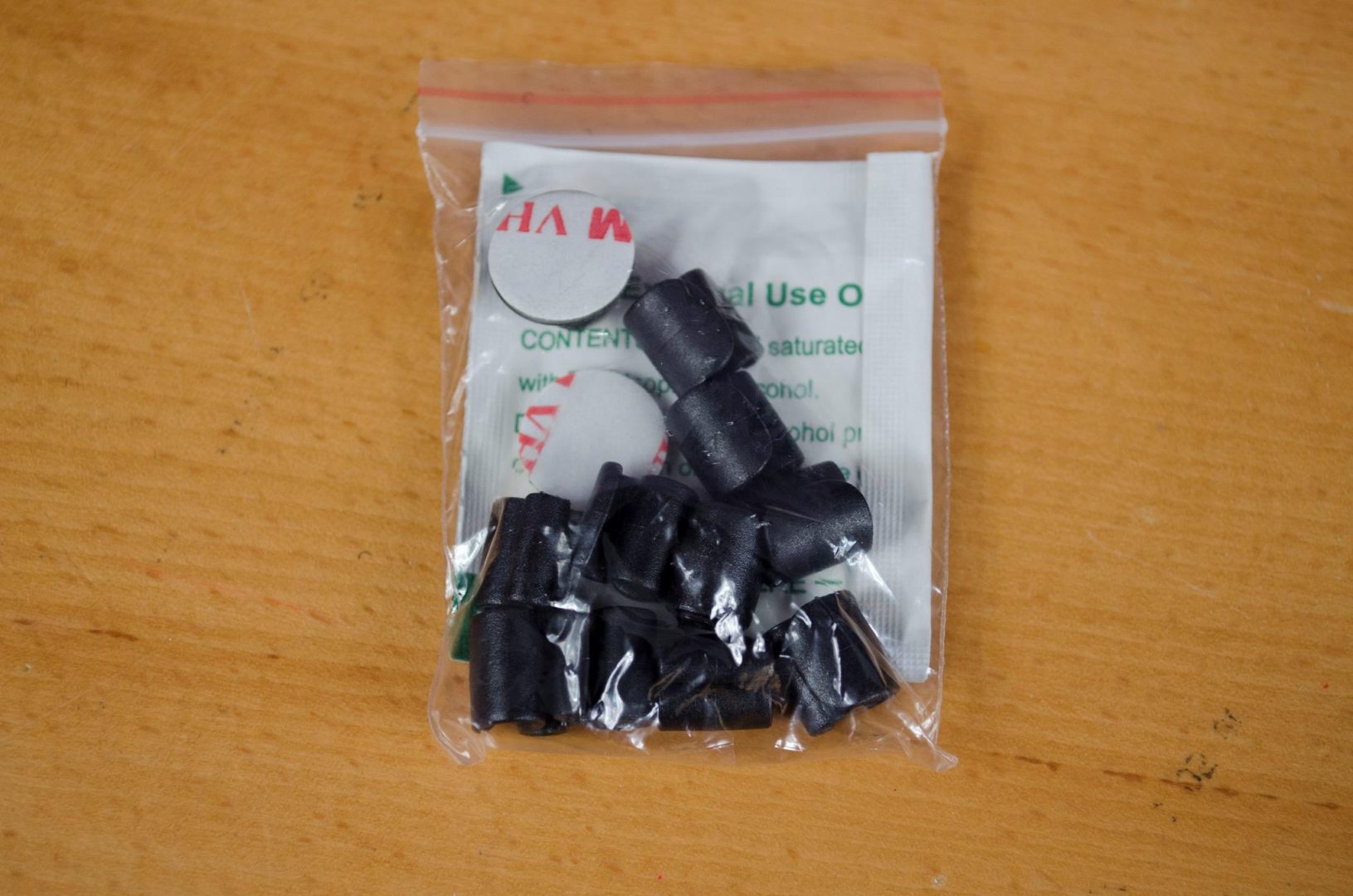 As mentioned, the MODMIC 5 is ready for different circumstances. One way Antlion has done this is by including both a 1m and a 2m cable to connect it to your PC.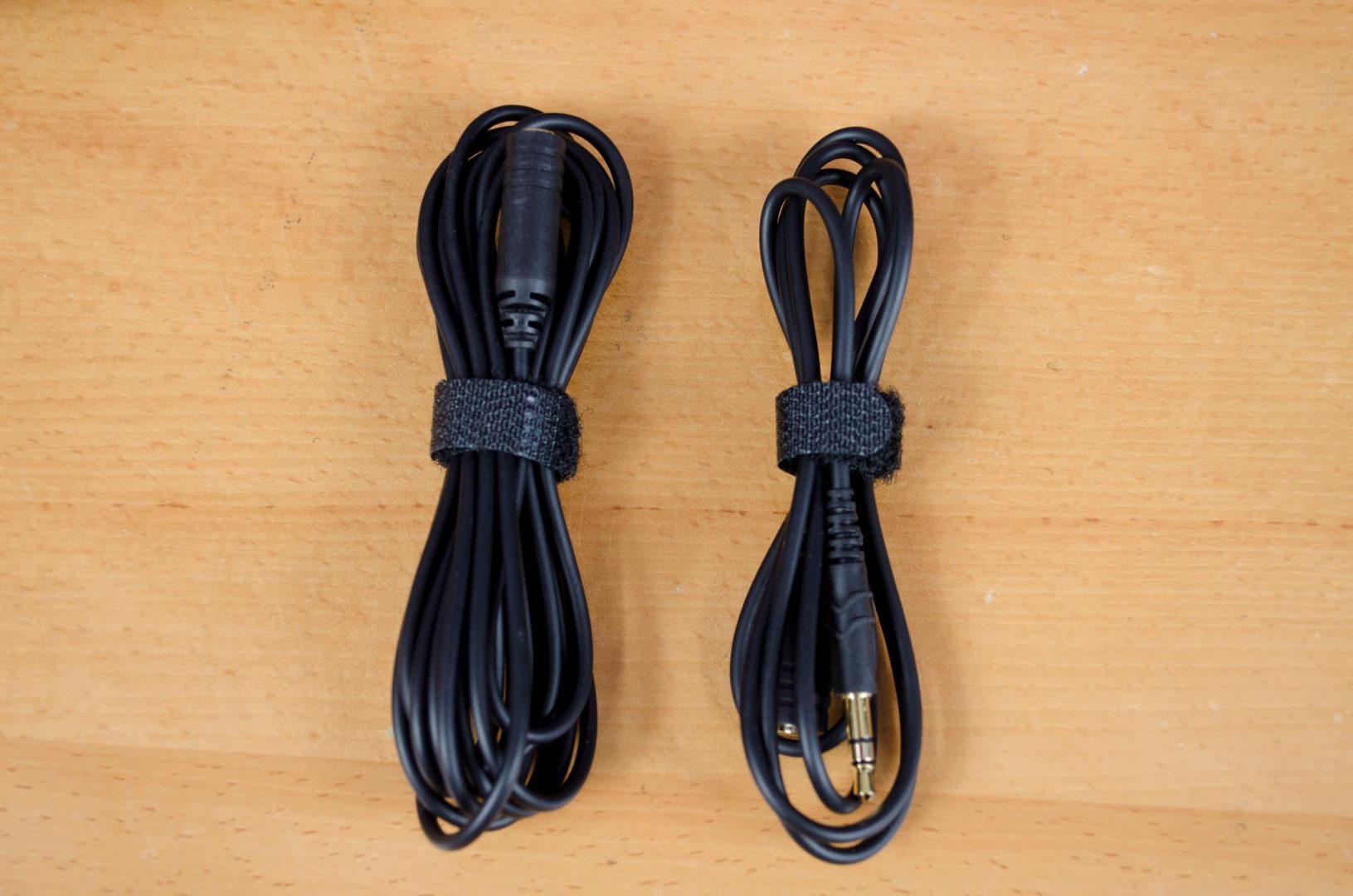 The mute switch comes as it's own separate part and easily just plugs into the MODMIC. This will no doubt come in handy for Streamers who may share a space or anyone who may have interruptions. This way they can just mute their mic and keep going about their business.
Finally, we have the actual mic itself. As you can see the MODMIC 5 features a short cable attached directly to the mic. This then connects to either the 1m or 2m extender which will plug into your PC. the MODMIC 5 also features a foam pop filter to help reduce any unwanted noises and make sure that you sound as clear as you can when speaking into it.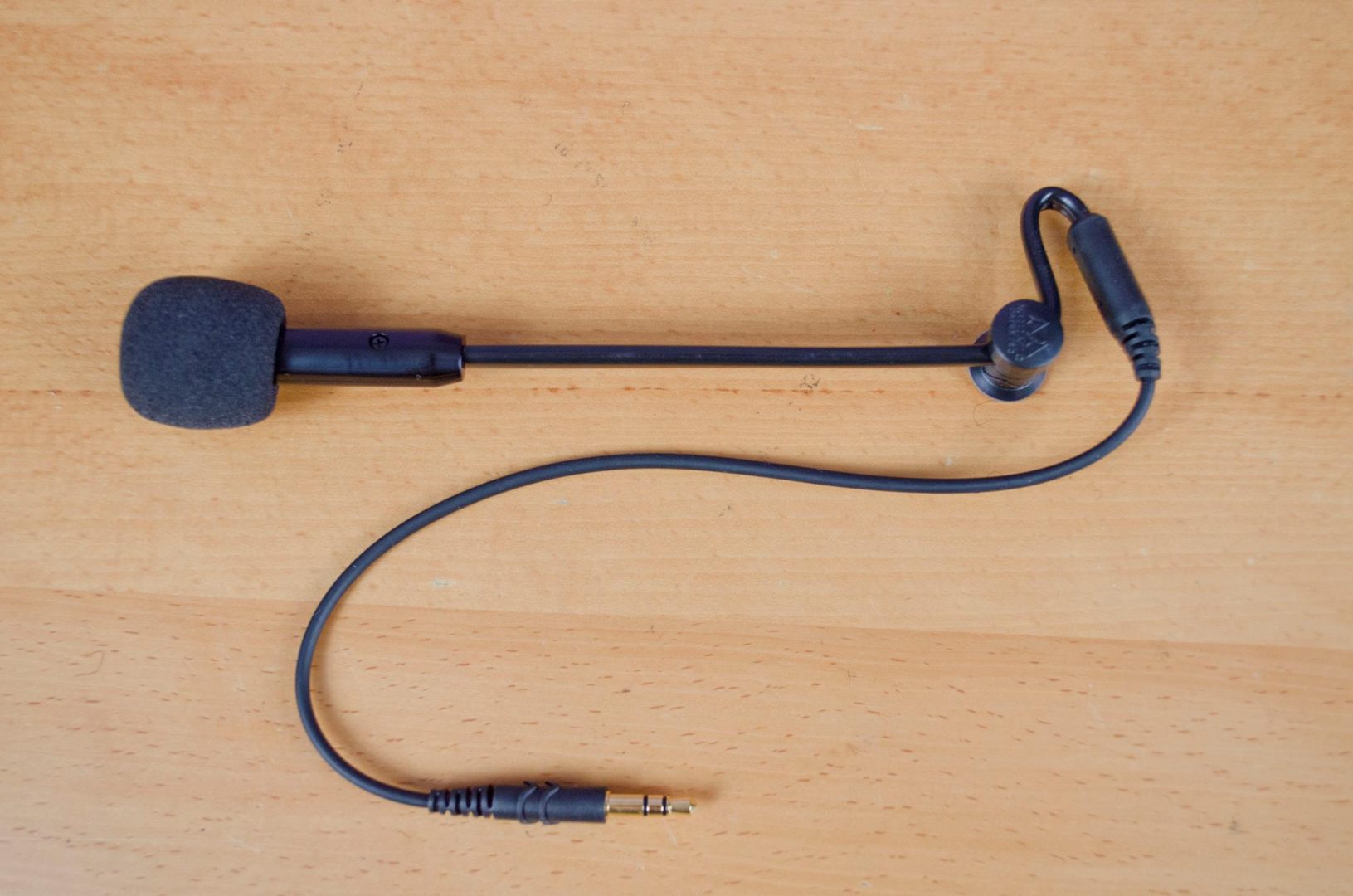 The pop filter just pops right off and as you can see there are two sets of holes underneath. One set is for the Uni-directional setting while the other is for the Omni-directional setting. The small switch to the left is how you control which setting you want. Antlion has this to say about the uni/omni directional features:
"ModMic 5 provides your choice of built-in microphones in one device. With a single switch, choose the noise canceling uni-directional cardioid capsule for loud environments or the sensitive omni-directional capsule for high quality voice recordings."
Installation is easy and what is even better is that the whole MODMIC 5 doesn't have to stay attached to your headphones. Simply pull off the base clasp that will stick to your headphones, peel the backing and stick it on your headphones.
Once this is done, you can now attach the mod mic VIA the magnets in the clasps.
In about 10 seconds or less, you can have your MODMIC 5 installed on your favourite headphones. If you want to take the MODMIC off, you simply just put it off from the magnetic base and all your are left with is a small piece on your headphones so you can attach the MODMIC again when you like.
The above video is actually just a bit of unedited audio to show you the different settings. There is a slight difference between the Uni/Omni settings in my testing but I am afraid it doesn't fully utilise the Uni-direction feature as the room I was testing in was quite quiet. Either way, you can tell that both settings are quite clear and that this mic really is designed to be paired with high-end audiophile headphones!
Performance
The clarity of the MODMIC 5 is highly impressive. If you've skipped to the conclusion, scroll up a bit and take a listen to the performance testing video. The Omni-directional setting is amazing and is going to give you some of the clearest audio you can get without any editing. During my testing, I plugged it directly into the PC and also into my Nikon DSLR and I personally couldn't hear any difference between the two. If you are looking for clear and reliable audio from your mic, the MODMIC 5 delivers this with ease. While it is designed to be used with a pair of headphones, it could easily be rigged up to be a standard desk mic or even use with a DSLR.
Design
There are a couple of main things I liked about the design. First, it's easy to install and if you don't want to use, it is only attached to your headphones with a small magnet so can be taken off in an instant. Next would be the Uni/Omni directional settings based on the type of environment you are trying to use it in. If you are in a quiet environment and want the best audio possible, the Omni-directional setting will be your friend. Those who may have a bit of background noise can easily flip the switch to the Uni-direction setting and the MODMIC 5 will help to combat the background noise without compromising on the quality of its audio output. It's also nice to see Antlion include different length cables in the package so you don't have to have all that extra cable if you don't need it.
Value
While the MODMIC 5 can be used with any pair of headphones, it looks to me as if it is designed to be used with higher end audiophile headphones. The reason I feel this to be the case is a lot of top-end headphones don't include a microphone on them. That is where Antlion steps in with their MODMIC 5. Coming in at £70 the MODMIC 5 is far from being a cheap mic, however, it offers some of the best performance from a microphone I have ever seen. Let's also not forget those with proper audiophile headphones have probably spent over £200, so in comparison, the mic isn't overly expensive. When you start spending that sort of money you want the best and that is what you get with the MODMNIC 5, you get the best mic you can!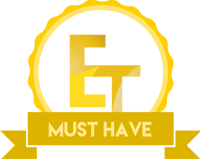 Many thanks to Overclockers UK for sending the MODMIC 5 in on behalf of Antlion.