Most Beautiful P90 Skins — TOP 5
Are you looking for the best skin to adorn your P90? Check out five looks that will make it stand out for less than $15. Frag out in style without breaking the bank. Despite its popularity, this gun is an SMG, which means that the best skins are also pleasantly affordable.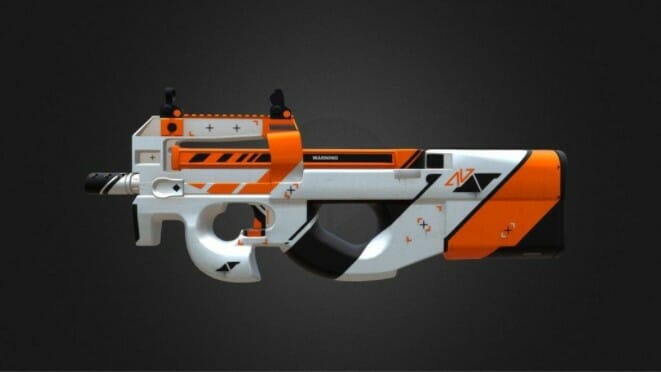 1)P90 Asiimov
This is an eye-catching futuristic design matching other Asiimovs and P90 skins like the P90 Trigon. The sleek look was inspired by sci-fi. This stylish combo of gray, black, and orange costs around $8 in the Field-tested condition, while a StatTrak will set you back just $13.50 if it is Battle-scarred. You can also get the item via the Operation Breakout Weapon Case.
2)The Nostalgia
Do you love graffiti and bright colors? Cover the body of your P90 with inscriptions, and put a spray-painted image of a counter terrorist on the buttstock. This design with orange, black, white, and different shades of green and blue harkens back to CS 1.6. The skin looks great with AWP Fever Dream. Prices for a Factory-New gun start at around $10, while a Battle-scarred basic version costs from under $4. You can also get the skin from the CS20 Case.
3)P90 Trigon
Another black and orange futuristic skin, P90 Trigon features a grid made of triangles. The look has bright accents, and it matches weapons like the AK-47 Orbit Mk01. This skin is not available in the Factory New condition, and its basic prices range from $8.56 (Minimum Wear) to $6.87 (Well-Worn). The weapon is also found in the Operation Phoenix Weapon Case.
4)Shallow Grave 
The skin has a dark design with a human skull enveloped in red smoke and translucent dots scattered around the body. Different parts, such as the grip, are painted gray and are adorned with images of rune stones. Other parts, including the muzzle, are not painted. This skin looks great alongside Redlines or Candy Apples. All conditions are available, and the prices range from $6.41 (Factory New) to $1.60 (Battle-Scarred). The skin is also part of the Glove Case.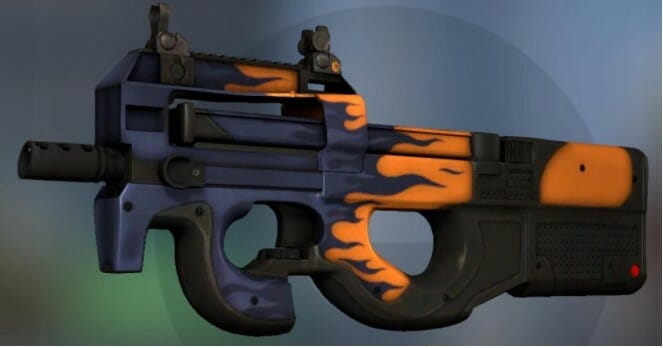 5)Chopper 
This skin has an orange and black body covered with blue flames. The buttstock features one perforated insert and another one made of carbon fiber. It is orange and black, with a red dot in the corner. This design is inspired by Mad Max, and it is available exclusively for P90. You can pair it with other flame-covered skins like the SSG08 Dragonfire. This skin is as cheap as chips: the prices range from $1.63 for a Factory New item to $0.42 for a Battle-Scarred one. You can also get it from a Gamma Case.
Where to Buy
Visit DMarket for the most competitive prices, cool stickers, and rare floats. This is one of the largest open ecosystems for in-game trading, with over 10 million deals completed so far. Buy and sell P90 skins quickly, conveniently and securely using over 20 payment methods.