INTRODUCTION
Today we are taking a look at the Marvo HG9015G 7.1 virtual surround gaming headset and the Marvo G961 Honeycomb Shell Gaming Mouse. The headset is currently available on Amazon for £23.95 and the mouse is also available on Amazon for £24.99. Both the headset and the mouse are USB only but they pack a punch at such a cheap price tag. The headset comes in at a weight of 396 grams and boasts virtual 7.1 surround sound. The mouse consists of a honeycomb-style design and is capable of 12,000 DPI.
SPECIFICATION – Headset
Wired USB Headset
50mm speaker size
Omnidirectional microphone.
2.2m length cable
7.1 virtual surround sound
Ear audio control
SPECIFICATION – Mouse
75g weight
16 million colour LED with 7 different backlight modes
1.6m ultra weave USB cable
Pixart 3327 optical sensor
Adjustable up to 12,000 DPI
PACKAGING AND ACCESSORIES
Taking a look at the box and packaging, you can see it is clearly marketed for gamers, the front of the box is quite a minimalistic design with the Marvo logo on the top left corner, a picture of the headset in the middle and the middle in the bottom left-hand corner. HG1915G is quite a tongue twister to remember so I feel that a model or name for the headset would have suited better, but this is purely personal preference.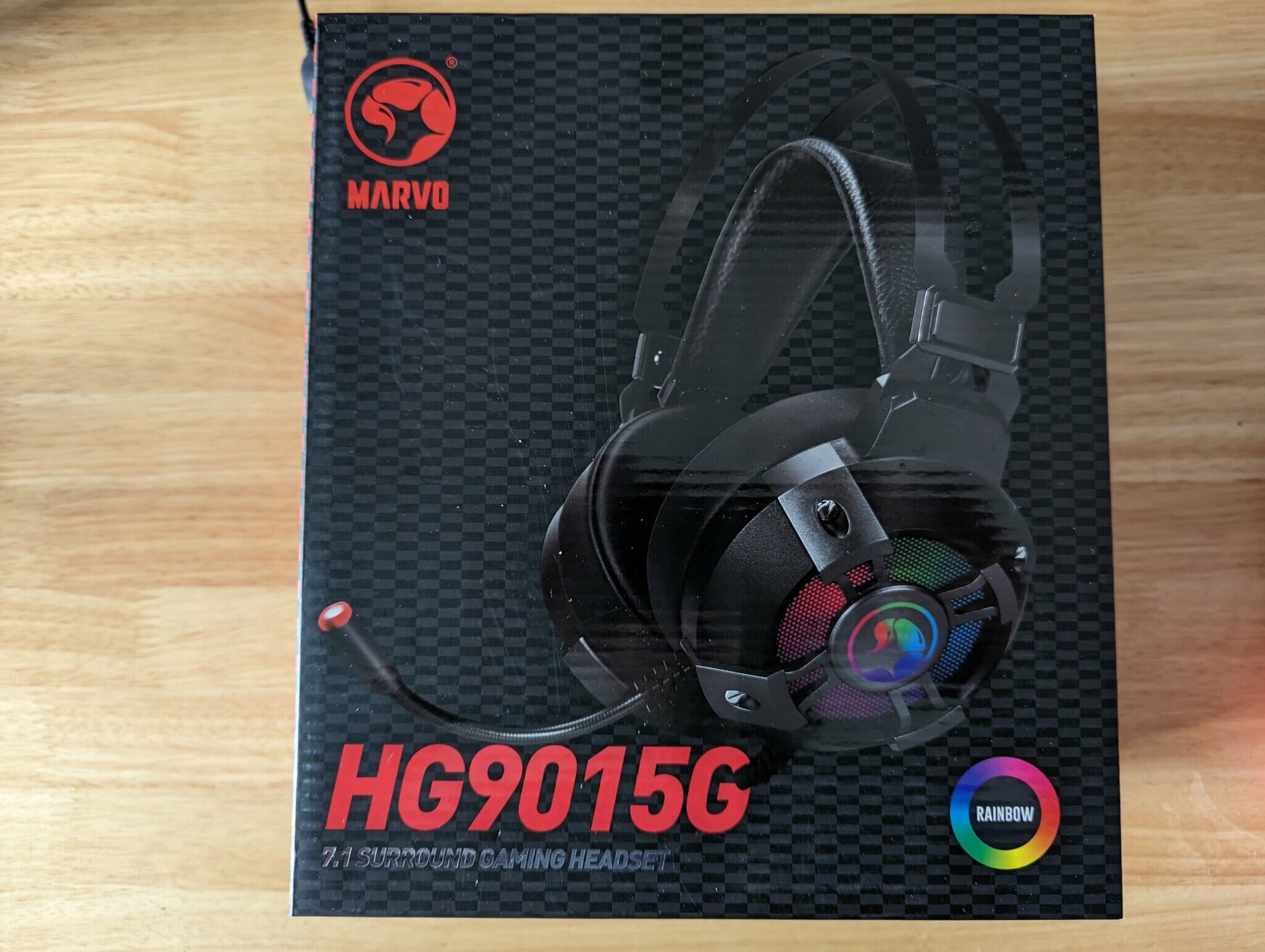 Looking at the rear of the packaging, you can see the full specification of the headset and the feature set as well as another picture of the headset illuminated and the specs are listed in different languages.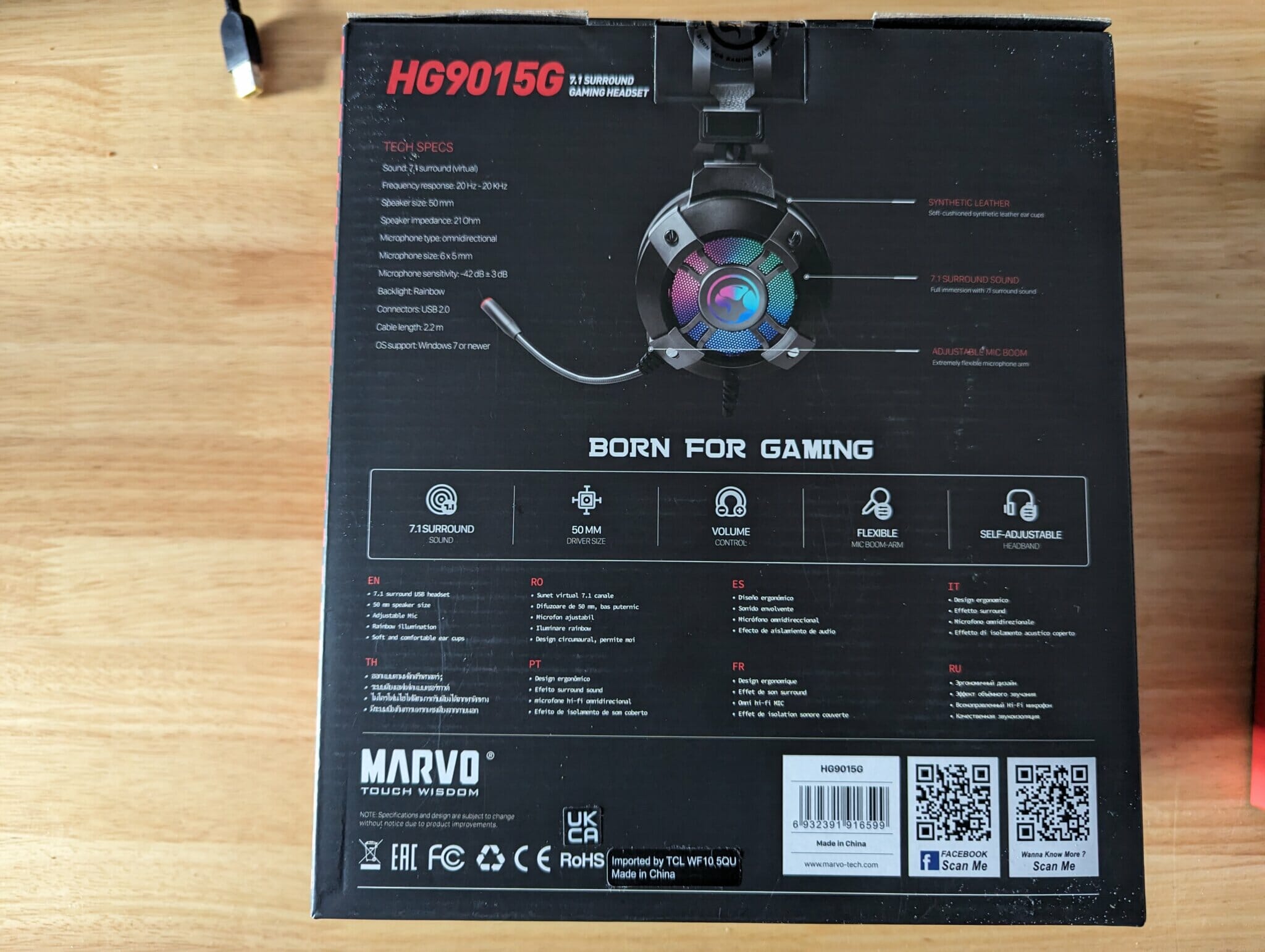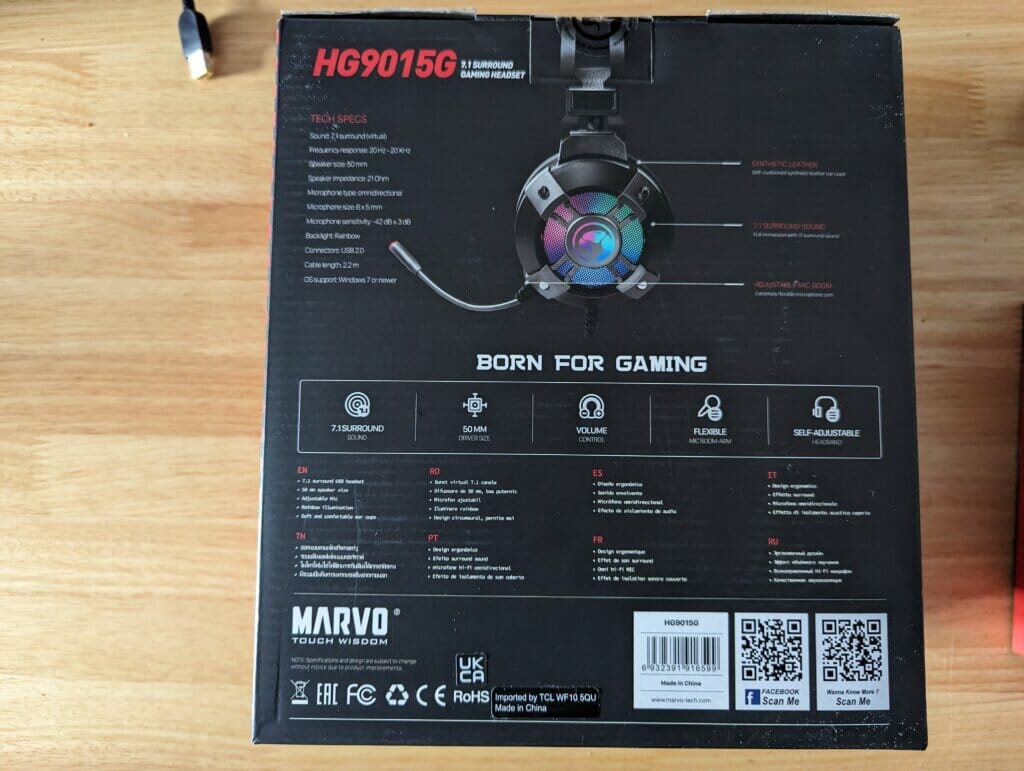 Inside the box is kept minimalistic, you get the headset, quick start guide and a Marvo sticker. Sometimes it's nice to keep things simple.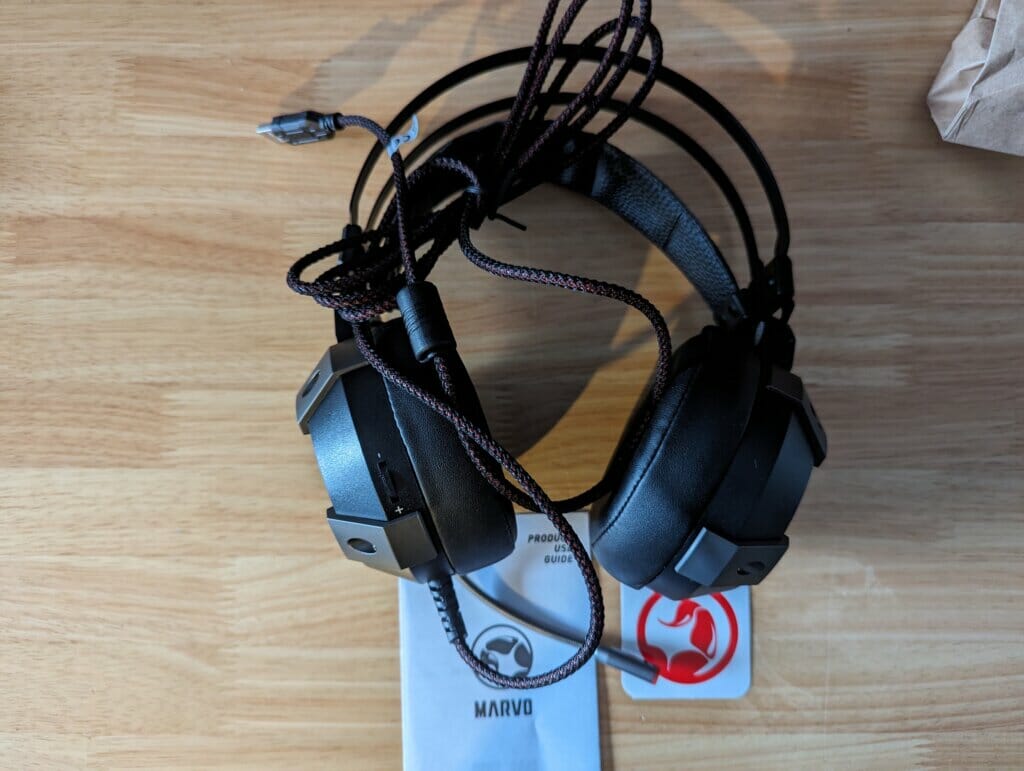 A quick look at the mouse packaging is also a similar style to the headset. It features the same colour scheme and design overall.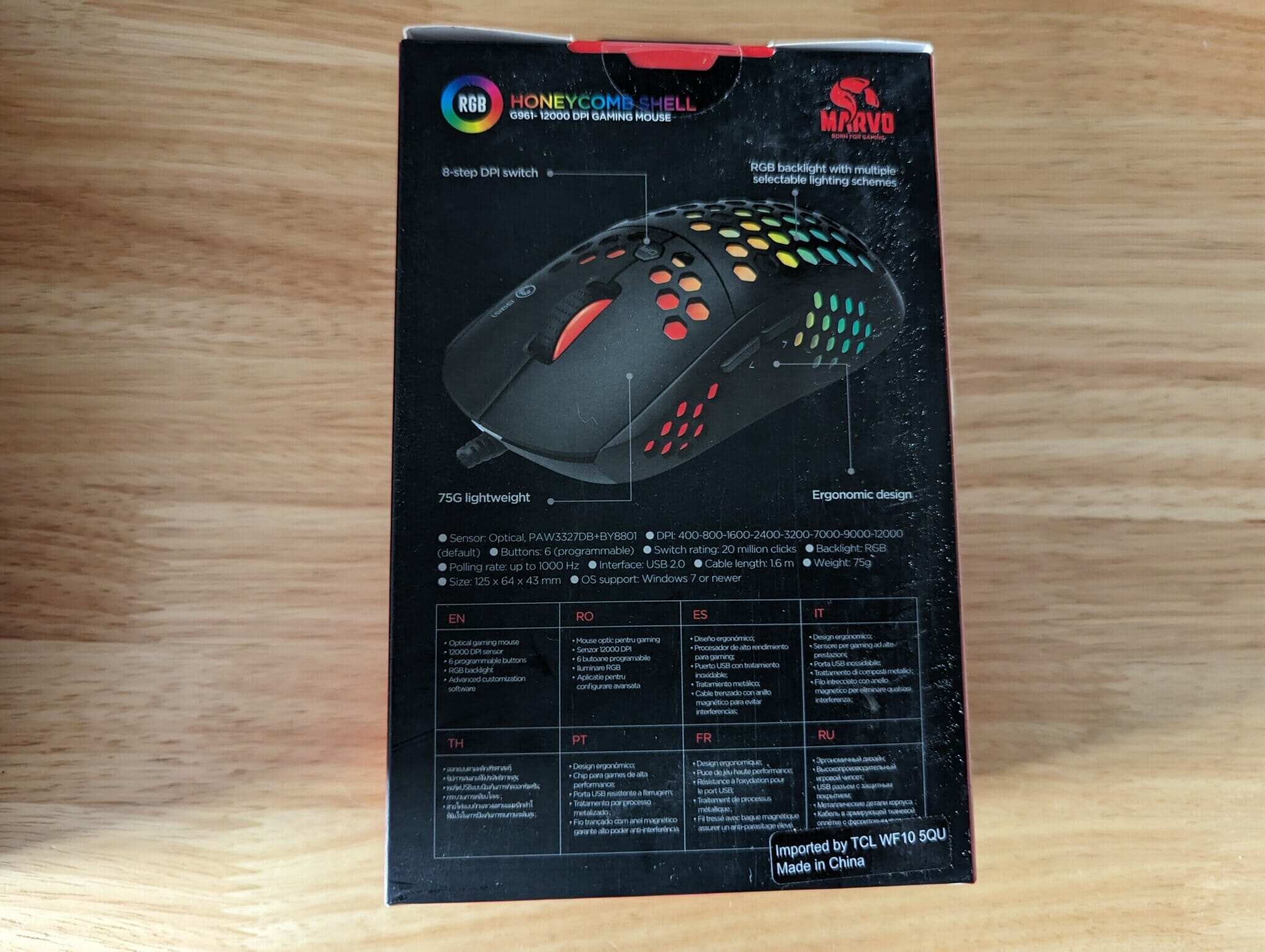 A CLOSER LOOK
The headset is a virtual 7.1 surround sound wired headset and features an aesthetically pleasing design. I'm not a fan of the headband padding being separate from the headband itself. It would have looked nicer if the padding covered the metal headband itself and I do worry about this simply breaking off at some point. However, the padding appears to be of good quality and is comfortable on top of your head. The ear pads are also padded themselves for extra comfort. However, I did find that after a couple of hours, they were starting to become slightly uncomfortable. But still wearable with minimal adjustment. You can see from the picture below what I mean about the padding and headband being separate though.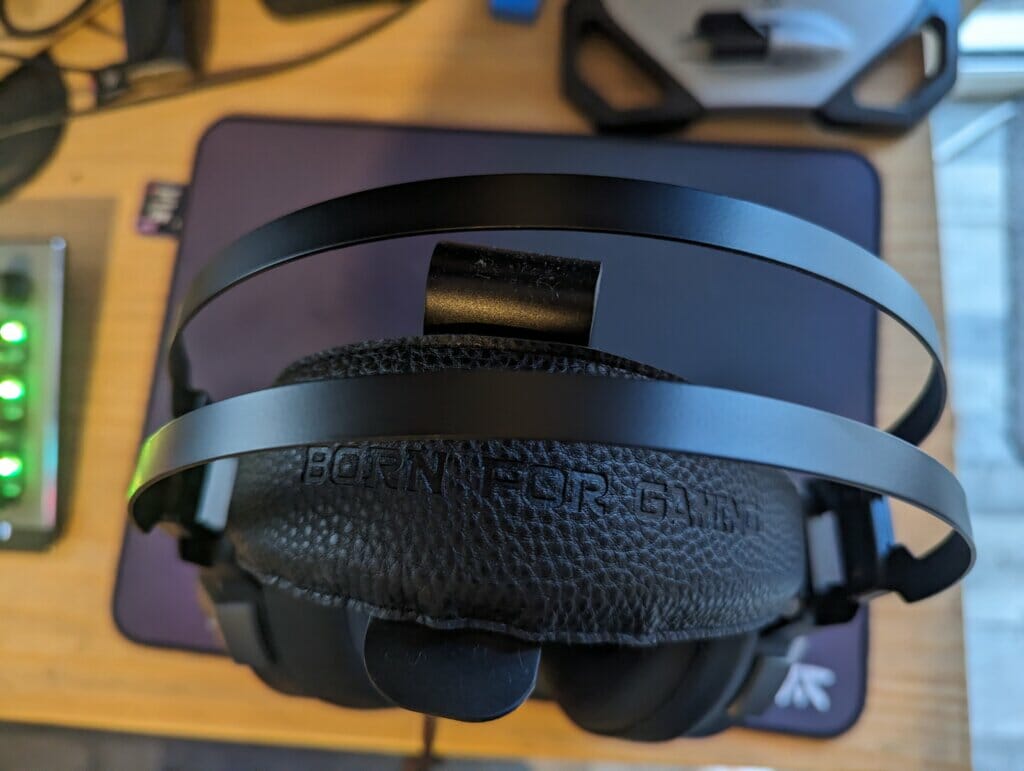 Now this headset does indeed feature RGB and it appears to be quite consistent with no obvious bleeding through of colours. It isn't too overbearing either and would look nice with other Marvo peripherals.  The Marvo logo also features nicely in the middle.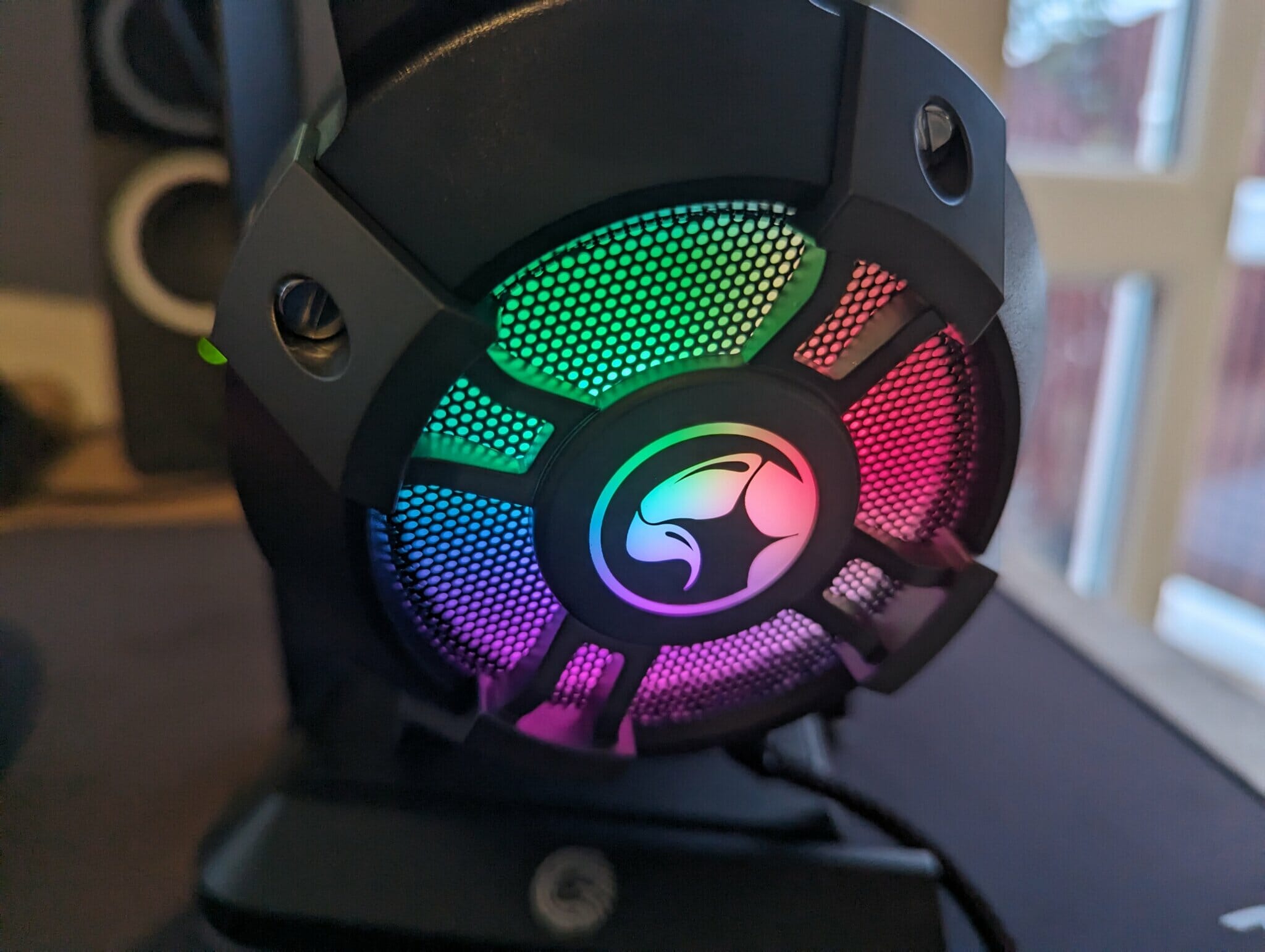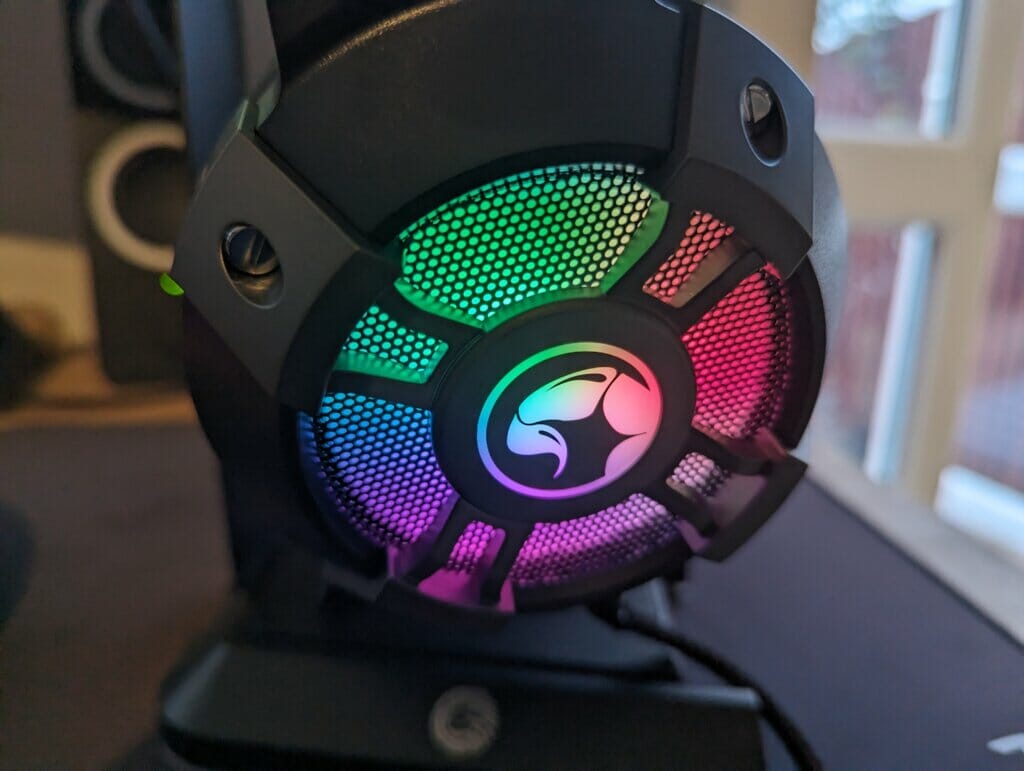 Now plugging in the headset, it is simply detected as a USB Audio device, so no special drivers or software are required on this one, plug it in and you're ready to go. As previously mentioned this is a virtual 7.1 surround sound headset so I began putting it through its paces. Listening to music on Spotify was a breeze and the audio sounded clear and crisp. Certain genres sounded slightly tinnier than others but overall it was quite an enjoyable jam out.
The bass was quite enjoyable and the headset is very loud, so don't go turning the headset up to max volume straight away. I decided to give it a go in a heavy FPS like Battlefield as well as a few rounds on Star Wars Battlefront and the 7.1 virtual surround sound is clear and powerful with no real latency. Next up I gave it a go on Teams/Discord and I could be heard clearly by both colleagues and gamers alike.  The mic is adjustable and also lights up orange on the tip.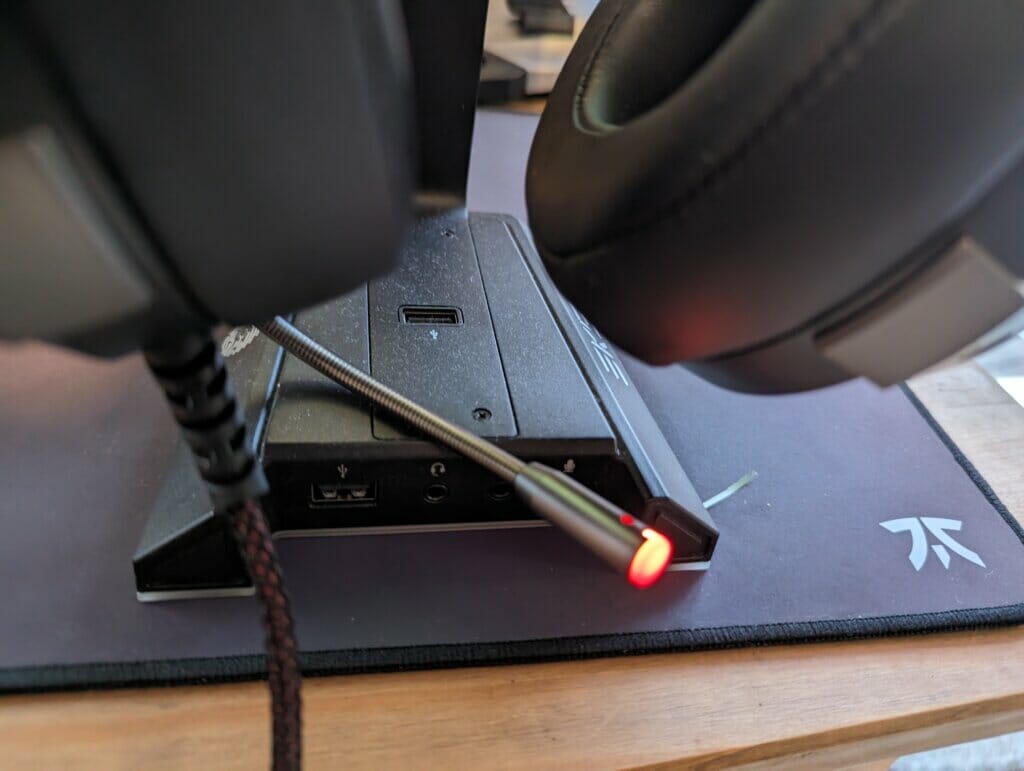 The headset cable is long enough at 2.2 metres, so you won't feel like you're having to hug the desk to be comfortable. It's braided but you can tell it's a cheaper quality material and I do worry about the longevity and how it will hold up in a few month's time.
As usual with these cheaper headsets, I like to see if we can push any more performance out of them using FXSound (A free piece of software designed to increase sound quality) and I must admit, it made it sound like a headset more double the price. The increase in tone and bass was certainly noticeable, as well as boosting the overall volume. So something well worth considering, especially as it's free.
A CLOSER LOOK – G961 Gaming Mouse
We decided to pair the mouse up with the headset, especially as we already mentioned that it would look great with other Marvo peripherals. The mouse features a unique honeycomb-style design and weighs in at only 75 grams. The cable is slightly shorter on this one coming in at 1.6 metres. It also features RGB but is much more prominent than the headset.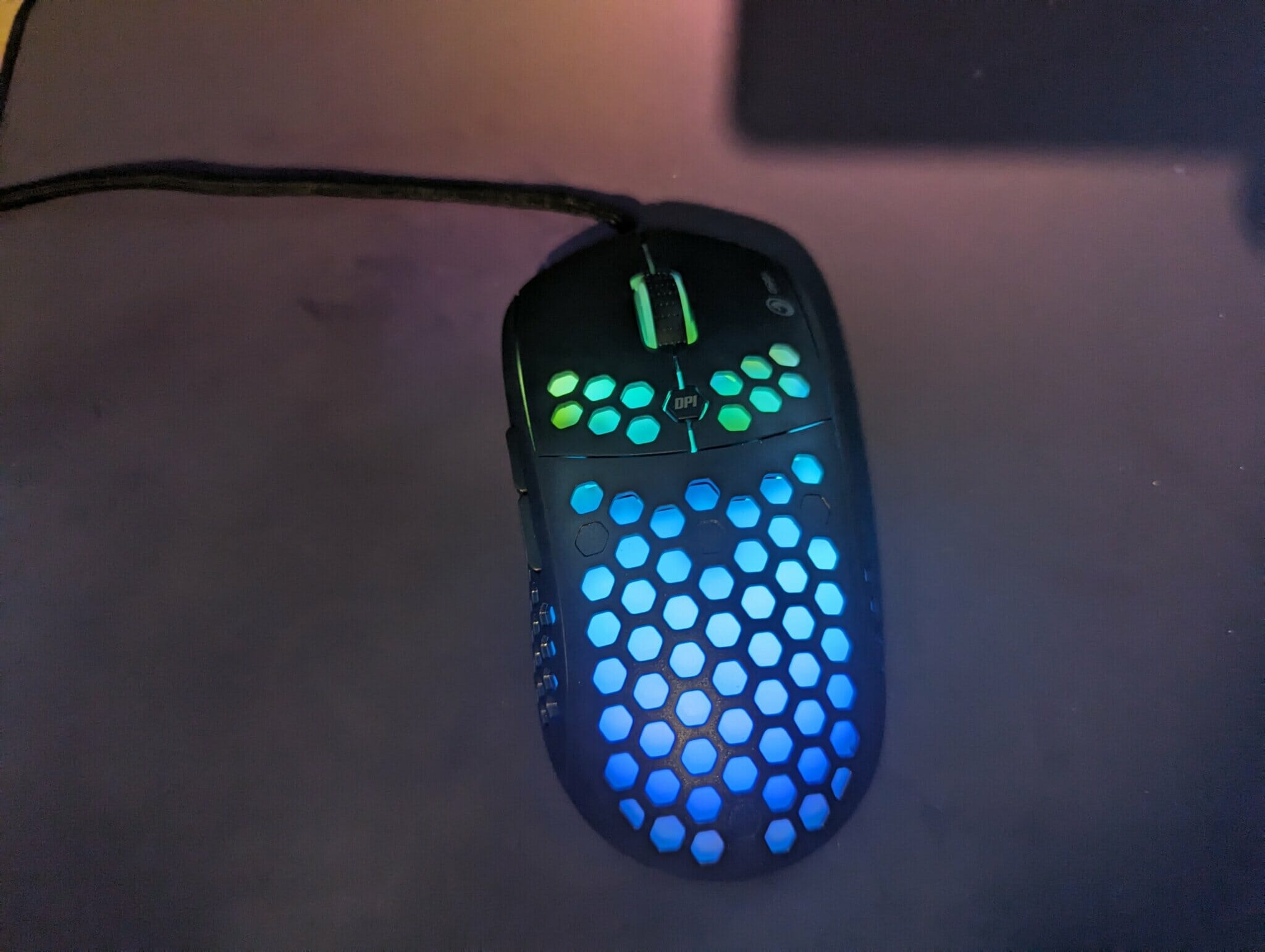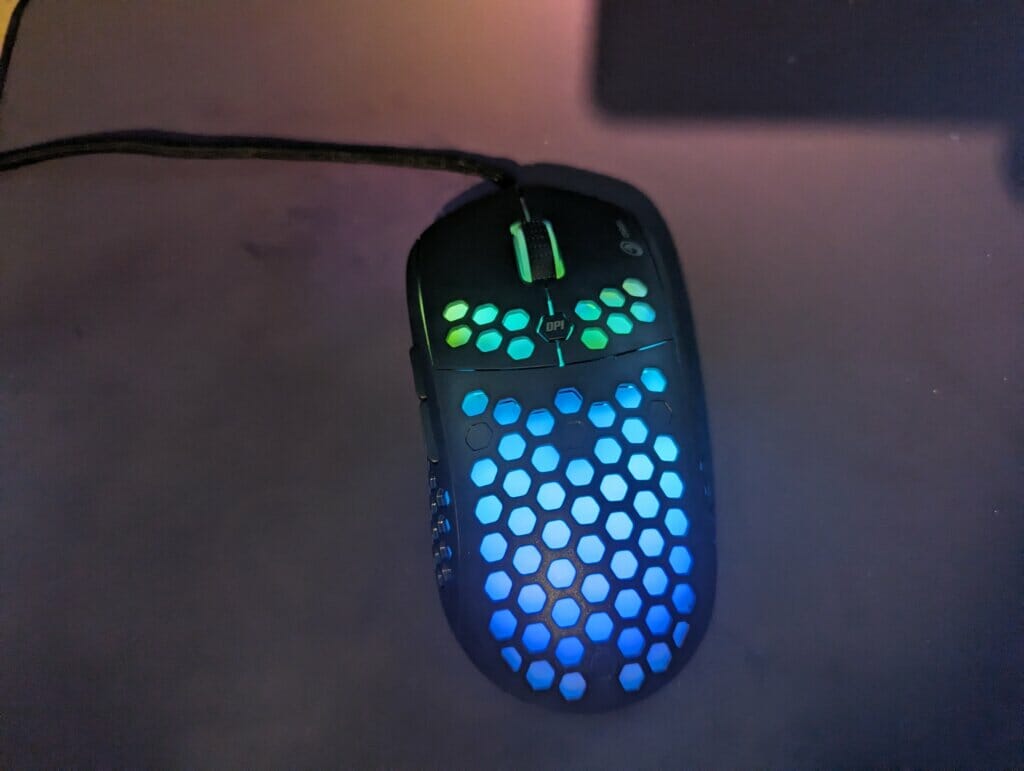 On top of the mouse, you have the usual scroll wheel, the DPI adjustment button in the middle and then the left and right-hand click buttons. The honeycomb style is unusual and I found that depending on how the mouse was being gripped, depends on whether you'd find the design comfortable or annoying. I must say though, after a few minutes I'd almost forgotten about it and it almost felt normal. I'm not sure what happens if you were to have a spillage over the mouse (obviously I didn't test this) but I have a feeling it would be almost impossible to clean up.
Looking at the left-hand side of the mouse, you have the usual forwards and backward buttons. These have quite a dull click to them, where as the left and right hand click buttons on top are more pronounced and have a more satisfying click to them.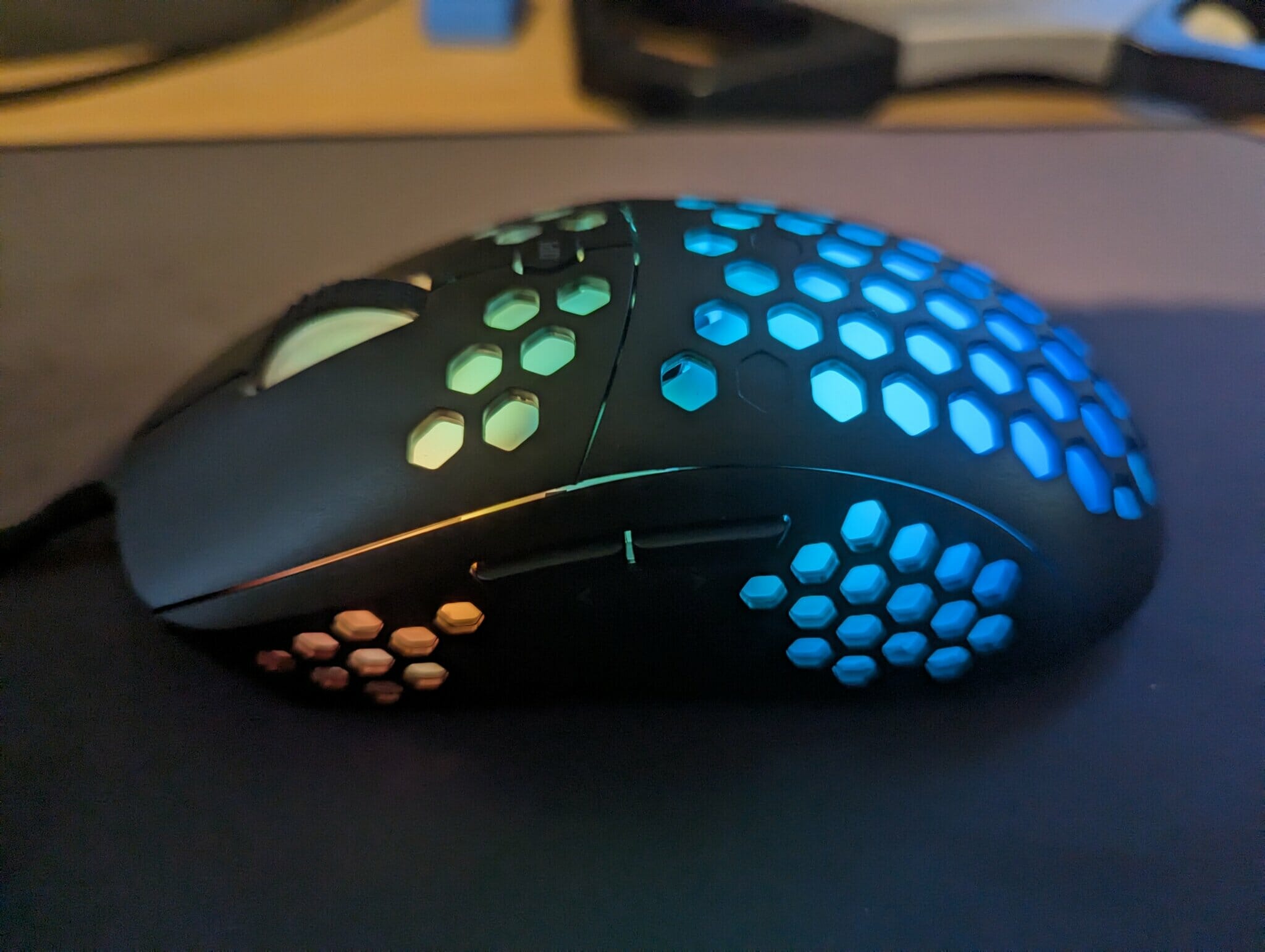 The mouse responded fine during a gaming session with no latency, the DPI can be adjusted up to 12,000 DPI to suit whichever genre of gaming you are into. For me, it was some fast-paced Guild Wars 2 and Star Wars Battlefront.
FINAL WORDS
VALUE
Value for money here is extremely good, given the feature set you get for the price. A 7.1 virtual surround sound headset with RGB. Okay, it isn't a premium range headset, but it's a pretty good attempt at those who want the fancy features without the premium price tag. The same can be said for the mouse. If you were to buy both of these peripherals together it would cost  £48.94, about the price of a family takeaway in this day and age. Who can argue with that?
DESIGN & PERFORMANCE
Performance was good for such a cheap headset, same for the mouse. No stuttering, latency or disconnections. I would have liked the head padding to have been designed to cover the metal frame. Just for added comfort and to help protect the frame itself. It does leave the frame slightly exposed being designed the way it has. But performance-wise, it produces clear, crisp audio with deep bass. Especially when you combine it with the FXSound software we mentioned earlier.
Both of these peripherals would be great for a household on a budget, or if you have accident-prone teenagers in the house. Or just fancy some of the nicer features without the premium price tag, it's really up to you. The RGB looks stylish, doesn't appear to bleed through and generally looks nice. The cable length is good too on both devices.
We've decided to award both the Marvo HG9015G & the G961 mouse the EnosTech Value Award, as the value for money on both devices, or even if bought separately is incredible here, so we felt they deserved recognition.
We would like to thank Marvo for sending in both the headset and mouse for review, and we look forward to working with them again in the future.