Manufacturer: Netatmo
Product Page: Weather Station
Purchase: £139 At the time of review from Netatmo directly
Today, we are taking a look at something that is our normal range of computer hardware and components. The Netatmo Weather Station is up on the chopping block today and, as the name suggests, it is a Weather Station for home use. I am sure a lot of you may currently be wondering what in the world would I need a home weather station for? Well, The Netatmo Weather Station allows you to monitor weather both indoors and outdoors, so you can make the most of it. This is great for the indoors as it can help you realize when you need to open up the windows to air things out a bit. It could also be used for those who grow plants indoors as it also measures CO2 and Humidity alongside the air quality. The outdoor module can measure the air quality, relative humidity and, of course, the temperature. What's even cooler is that it can give you a detailed 7-day weather forecast.
To connect to the modules, you will use you mobile phone or tablet and they can even be connected to multiple devices, should you are your partner etc both want to monitor them. For those looking to monitor multiple rooms, you can purchase individual indoor or outdoor module separately. For the outdoors, you can even purchase rain and wind monitors, giving you a full blown weather station accessible directly from your mobile phone.
Specifications
Size
Indoor module: 45x45x155 mm / 1.8×1.8×6 inches
Outdoor module: 45x45x105 mm / 1.8×1.8×4.1 inches
Mechanics & Design
Single piece of durable aluminum shell. UV-resistant.
Sensors and measurements
Temperature (indoor):
Ranges from: 0°C to 50°C / 32°F to 112°F
Accuracy: ± 0.3°C / ± 0.54°F
Temperature (outdoor):
Ranges from: -40°C to 65°C / -40°F to 150°F
Accuracy: ± 0.3°C / ± 0.54°F
Humidity (indoor and outdoor):
Ranges from: 0 to 100%
Accuracy: ± 3%
Barometer:
Ranges from: 260 to 1160 mbar / 7.7 to 37.2 inHg
Accuracy: ± 1 mbar / ± 0.03 inHg
CO2 meter (indoor):
Ranges from: 0 to 5000 ppm
Accuracy: ± 50 ppm or ± 5%
Sound meter:
Ranges from: 35 dB to 120 dB
Units
US system: °F and inHg.
Metric system: °C and mbar.
So, the box features an image of both the indoor and outdoor modules alongside a mobile phone. As you can now see, there really isn't much to these modules, but let's go ahead and take a closer look at them.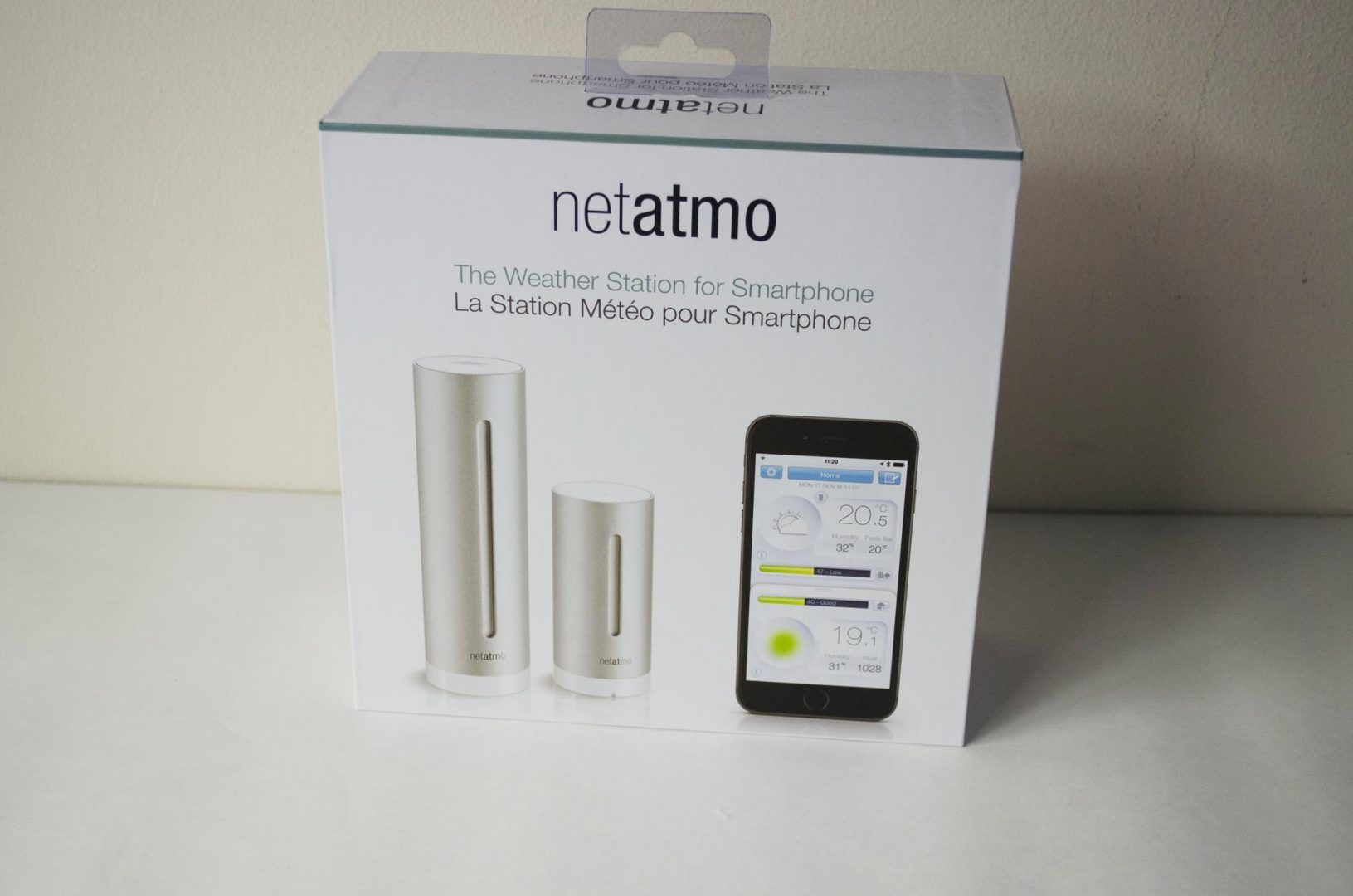 Opening the box up and having our first look, we can see they have a nice silver exterior with a white base. You'll notice the long cutout in each of the modules that reveals a bit of white behind iit, these actually light up to indicate different things happening. The tall indoor white can light up blue when connecting to Bluetooth mode and they both light up green when powered on.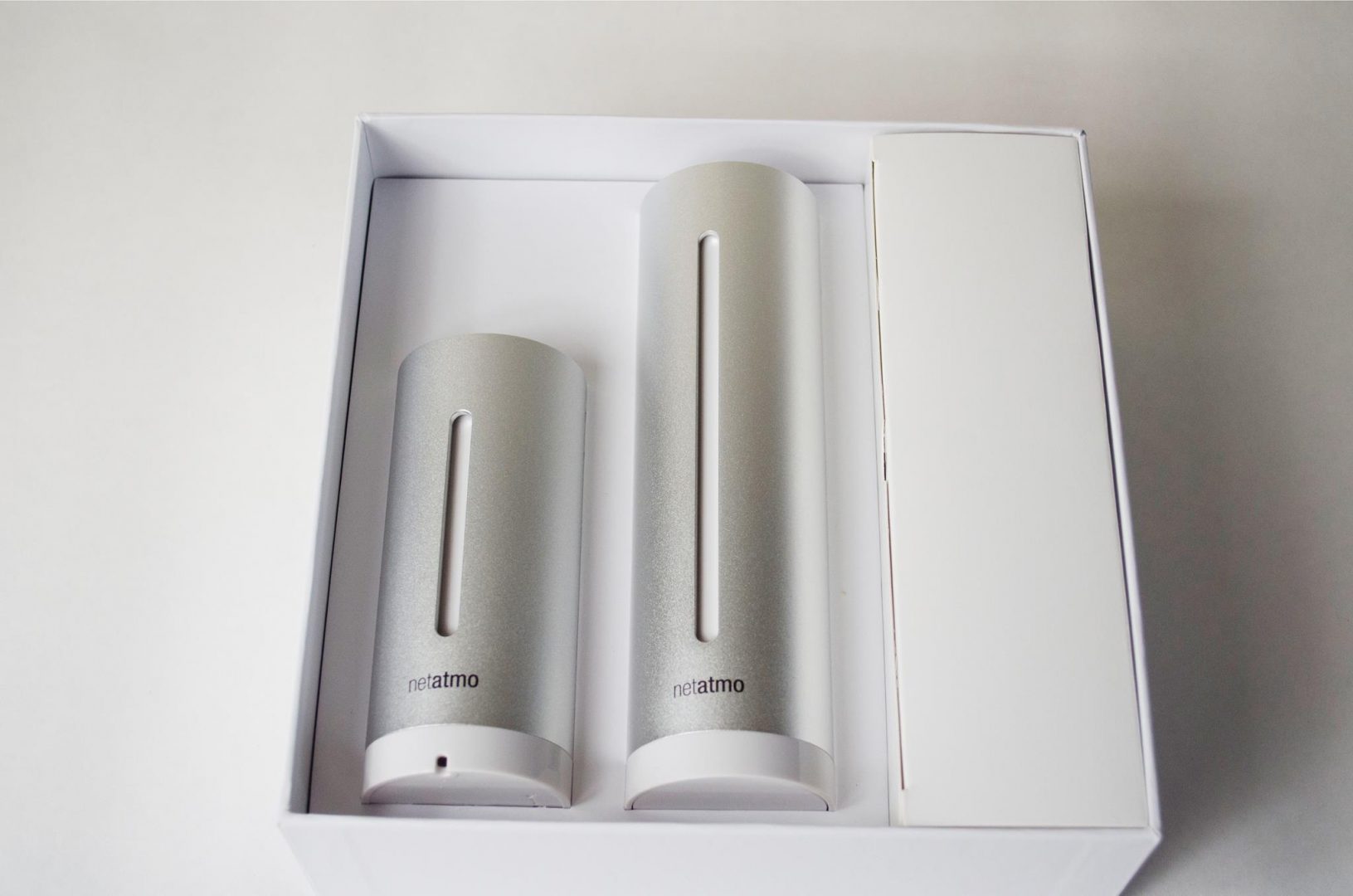 Inside the box is everything you will need to get started. Alongside the indoor and outdoor modules, there are also EU/UK chargers with USB charging cable, a strap and wall mounting hardware and a pair of batteries. The indoor module will be plugged in VIA the USB cable, but the outside module draws its power for a pair of batteries.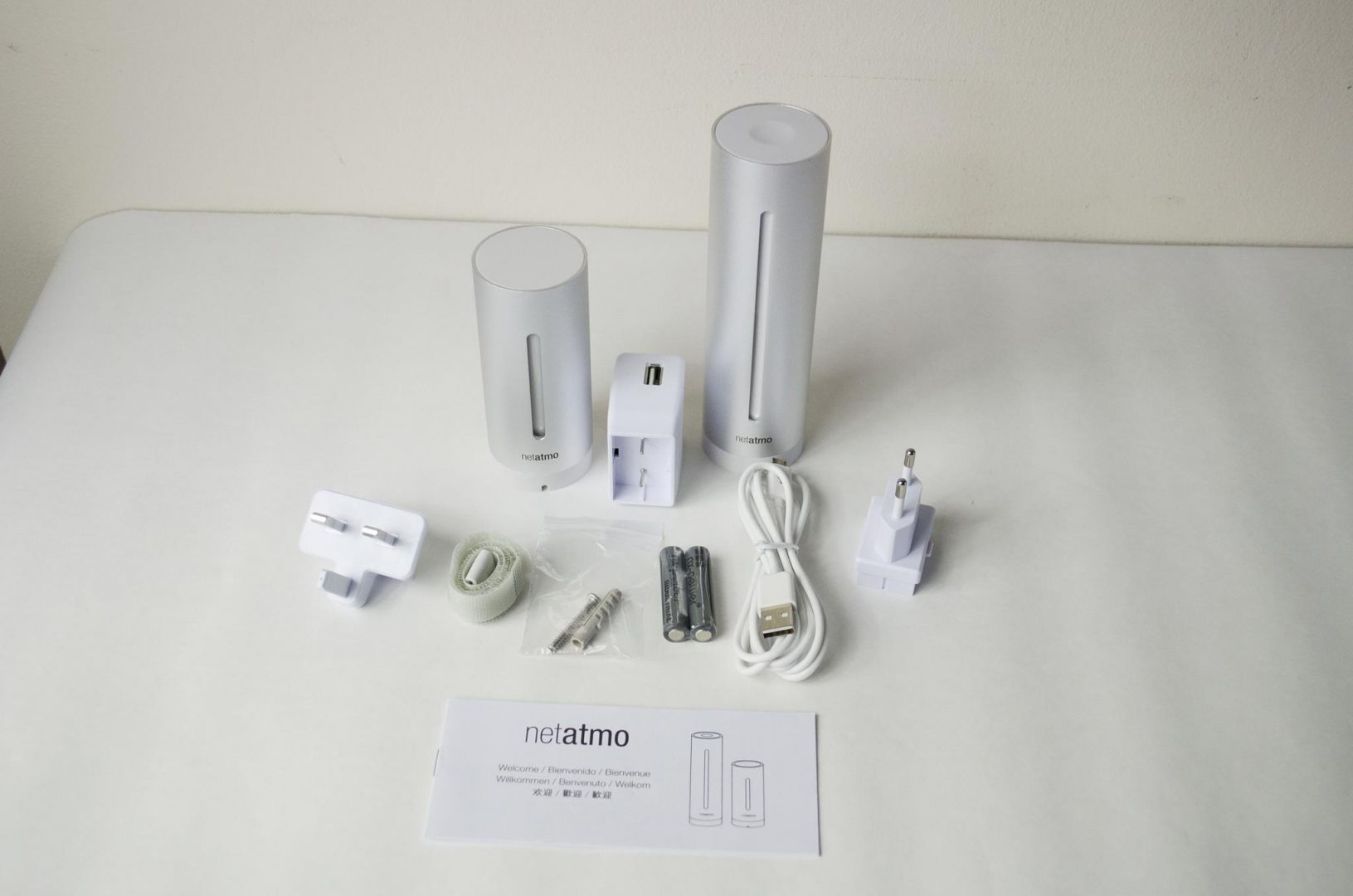 There really isn't much going on with either of the modules. On the backside of the taller indoor module, users will find a place to plug in the USB cable so they can power it up. Other than that, nothing else going on.
As the outdoor module takes batteries, it does come apart. Simply turn and slide the white part out of the bottom to reveal what you see in the image below. Next, undo the thumb screws and take the top off and you can insert the batteries. Simply put the top back on, screw it on and place the inside of the module back into its casing, give it a little turn and you will be good to go.
Setup
Getting things setup isn't that hard, though the instructions in the box are not very great at all. Pretty much, the instructions show you pictures of how to plug the indoor unit in and that's about it. From here, you will need to download the Netatmo Weather station APP from either the Google or Apple APP Stores. Once you have this downloaded, open it up and it will guide you through the rest of the way. Basically, you will turn the indoor module on, connect it VIA Bluetooth to your phone and then active the outdoor module. It only takes around 5 min or so to get setup and most anyone should be able to do it once they've downloaded the APP for it.
Software
Once everything is all setup, the APP is pretty straight forward to use. The Home Screen shows you the temperatures and relevant information for both the indoor and outdoor modules. The top half of the APP will show you the outdoor information while the bottom shows the indoors. Here, you will be able to see things like the temperatures, humidity, pressure and even noise levels.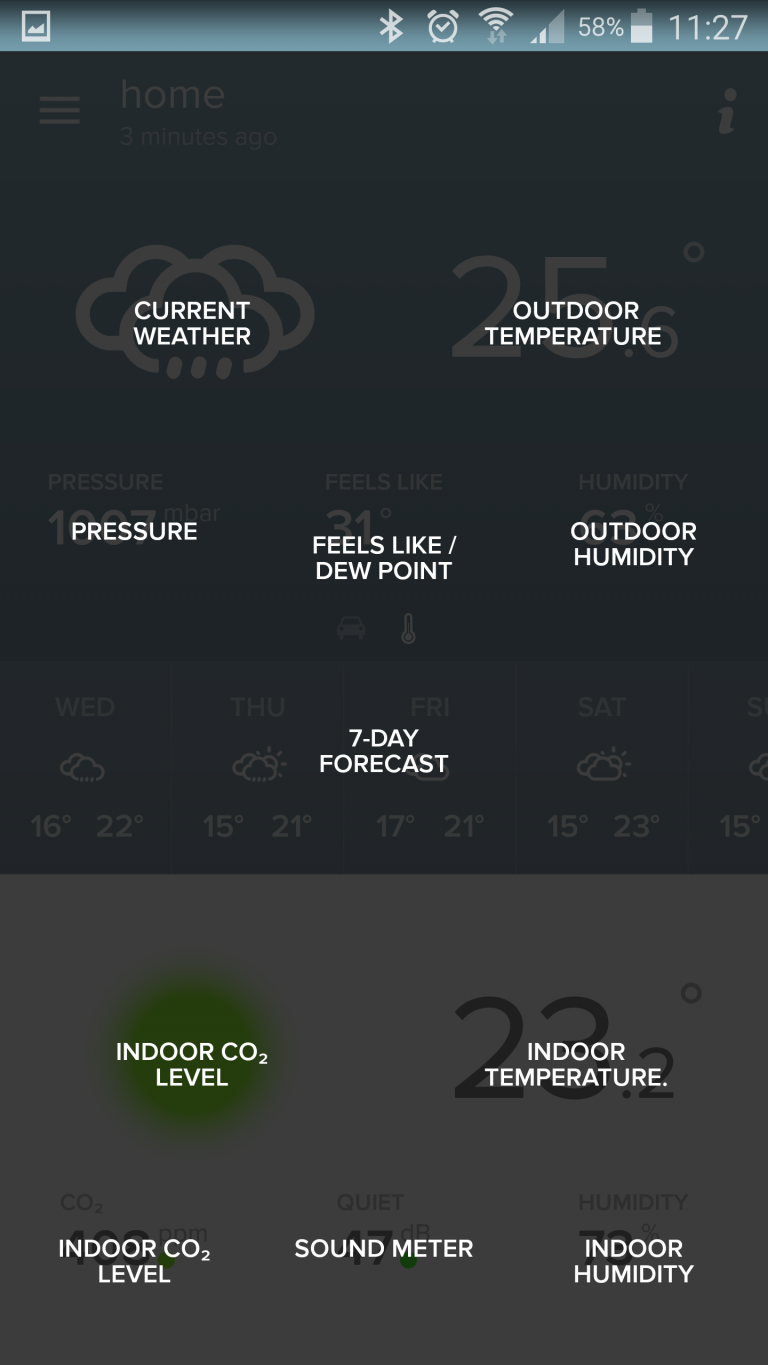 You can even check the outdoor air quality and have the7-day forecast near mid-screen so you can plan your week as needed.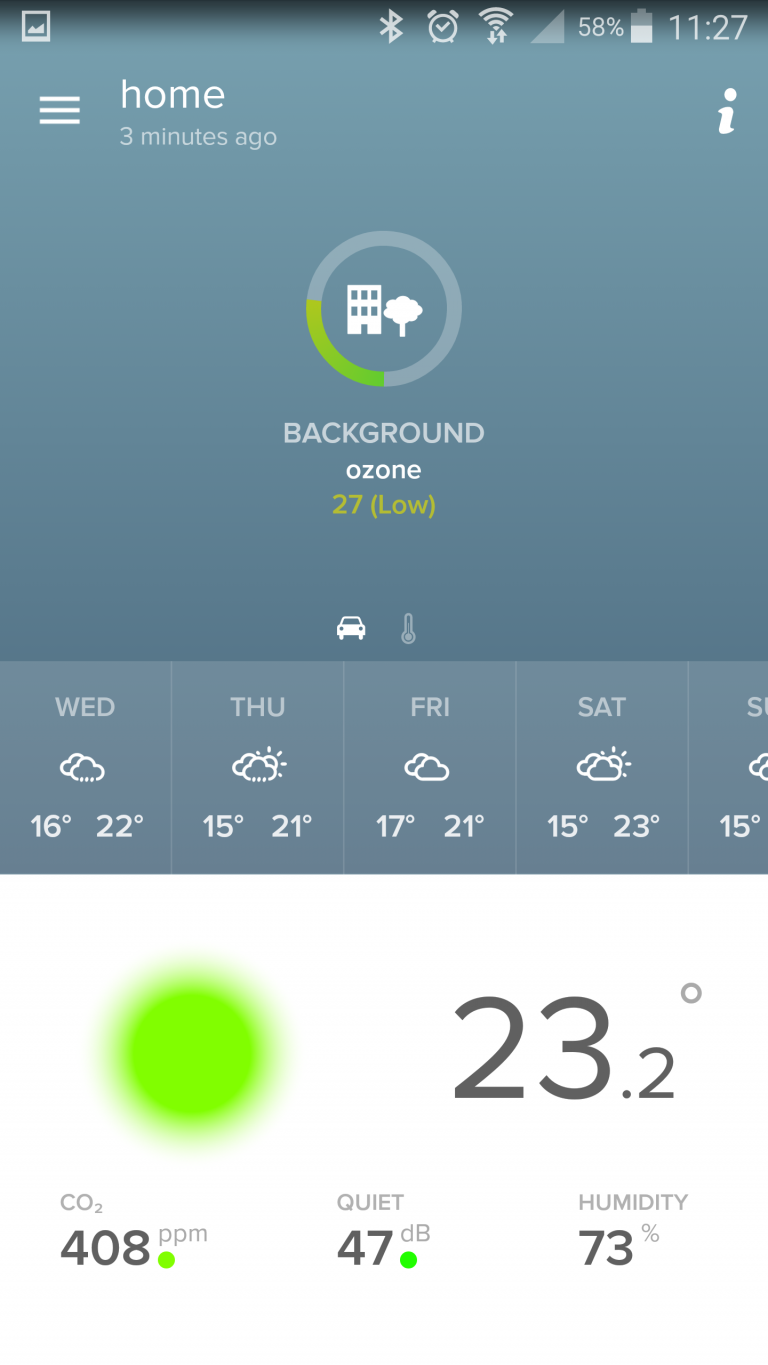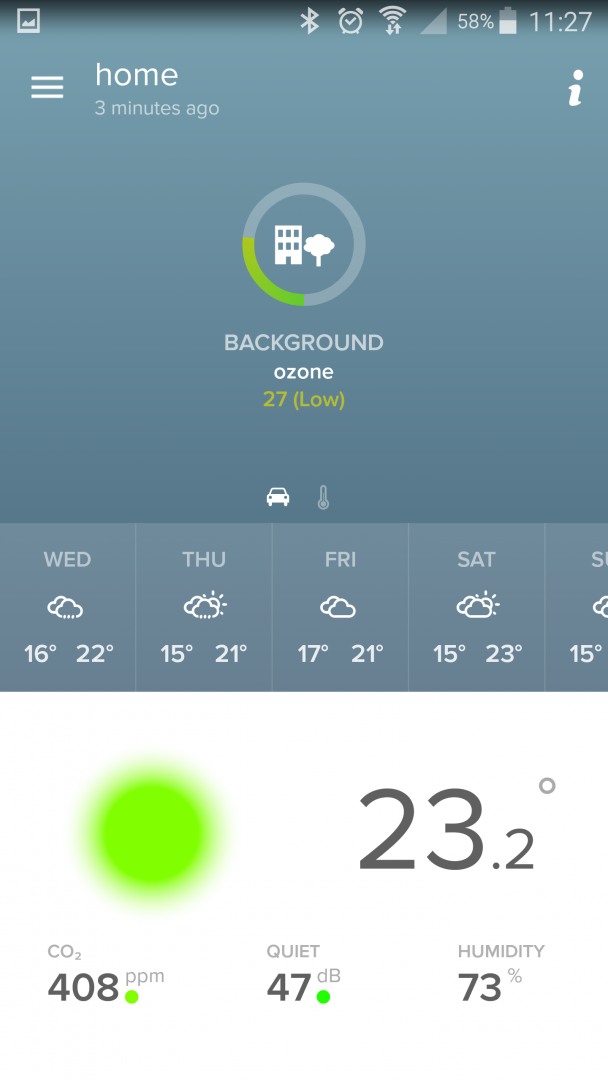 There is even an option so you can bring up graphs of all the information so you can monitor and adjust accordingly.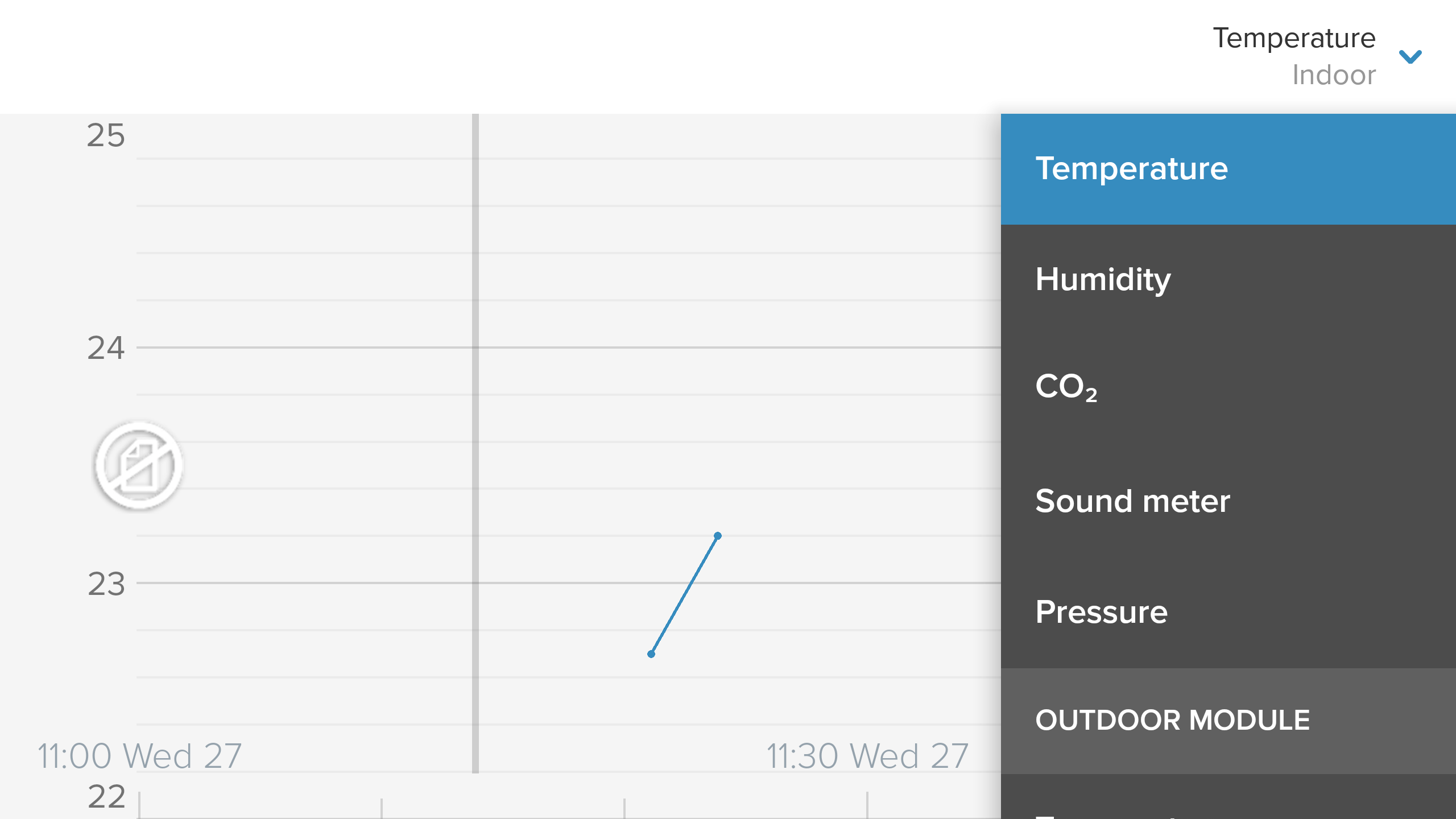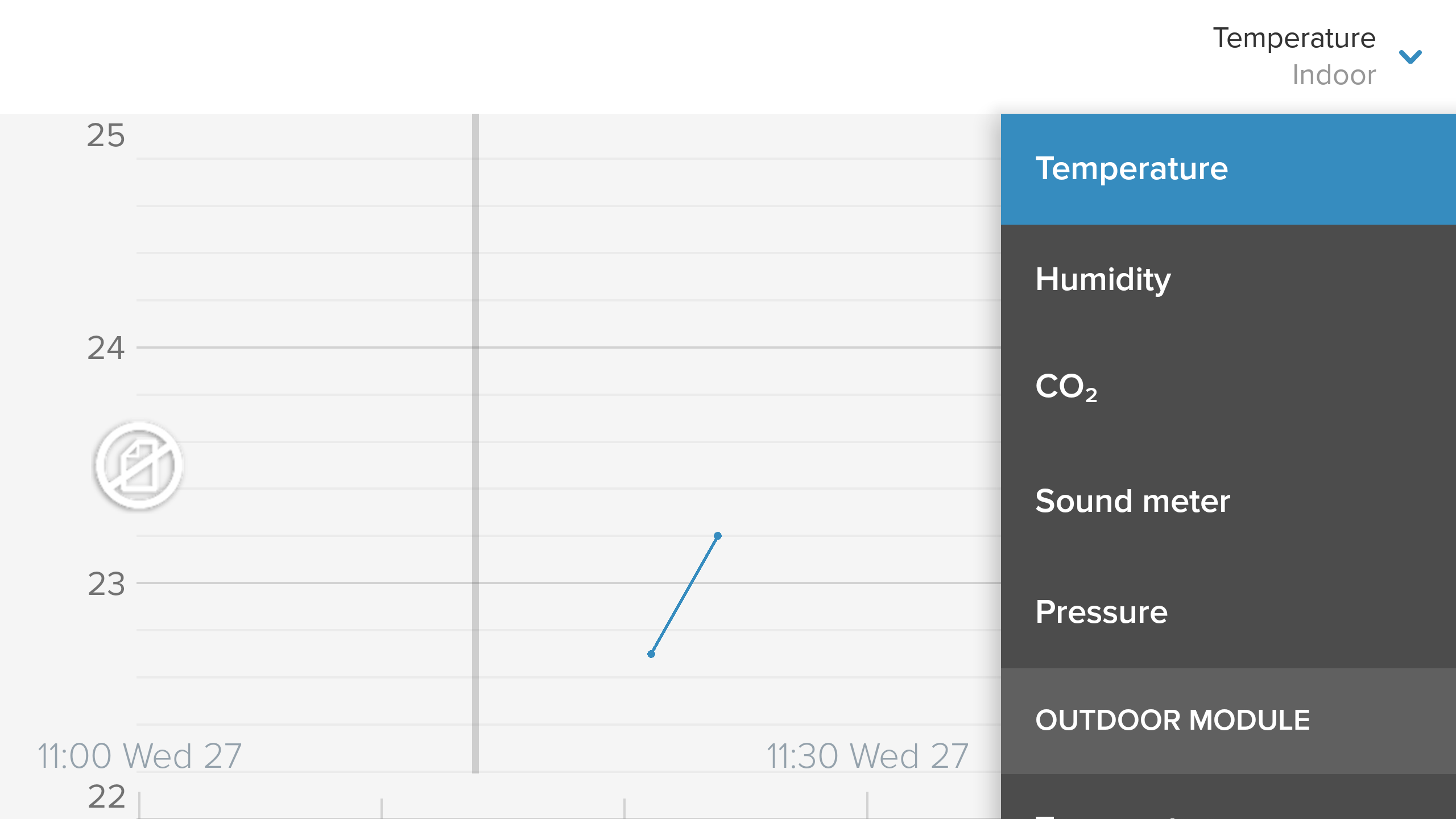 There are quite a few options in the settings menu. You can monitor different Stations, so say you have one at home and one at work, this will allow you to switch between them. You can also add and remove modules from stations with ease from this menu as well. As for things on the software side, you can look at the FAQ, contact Netatmo and change most of your account details should the need arise.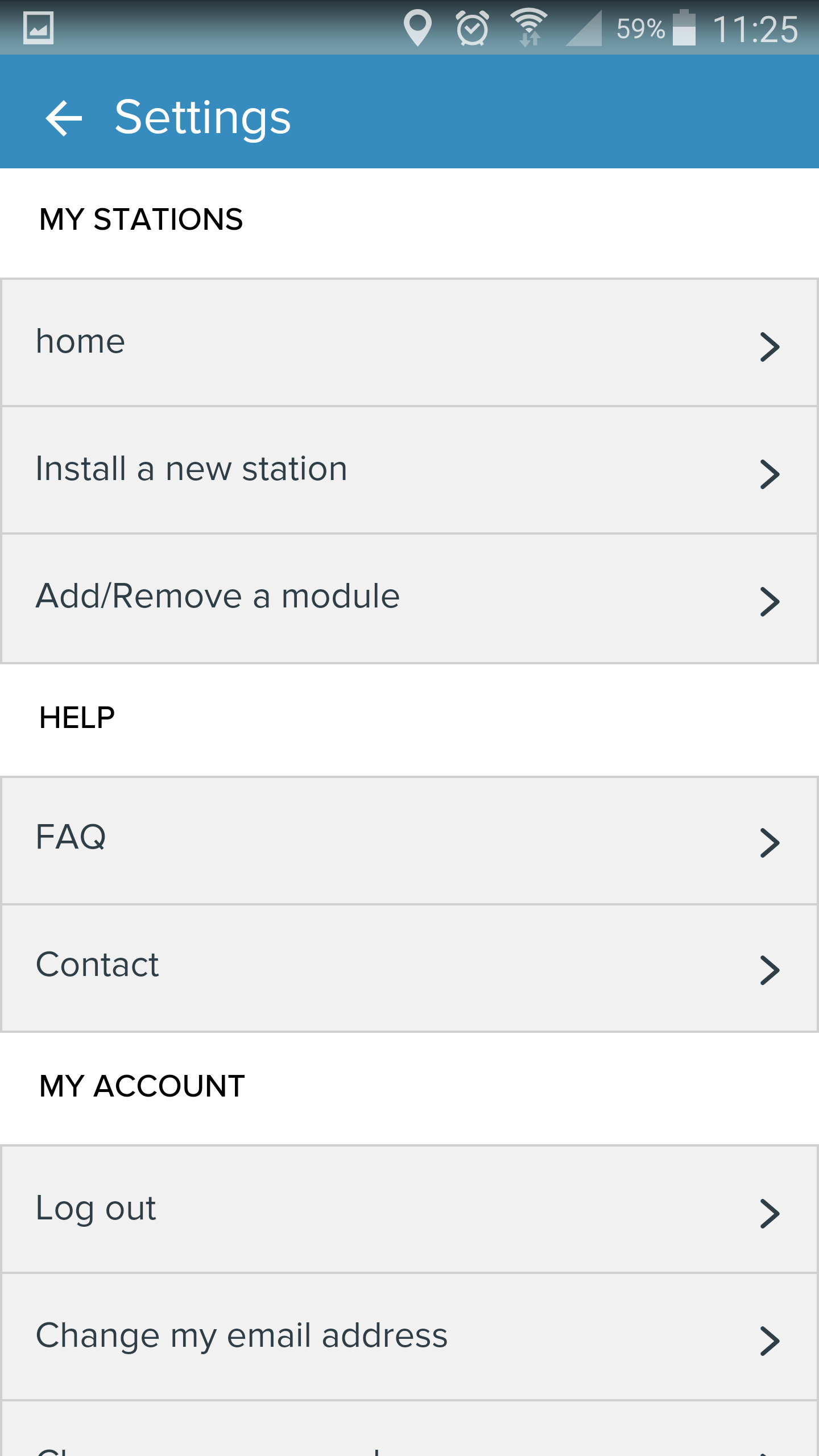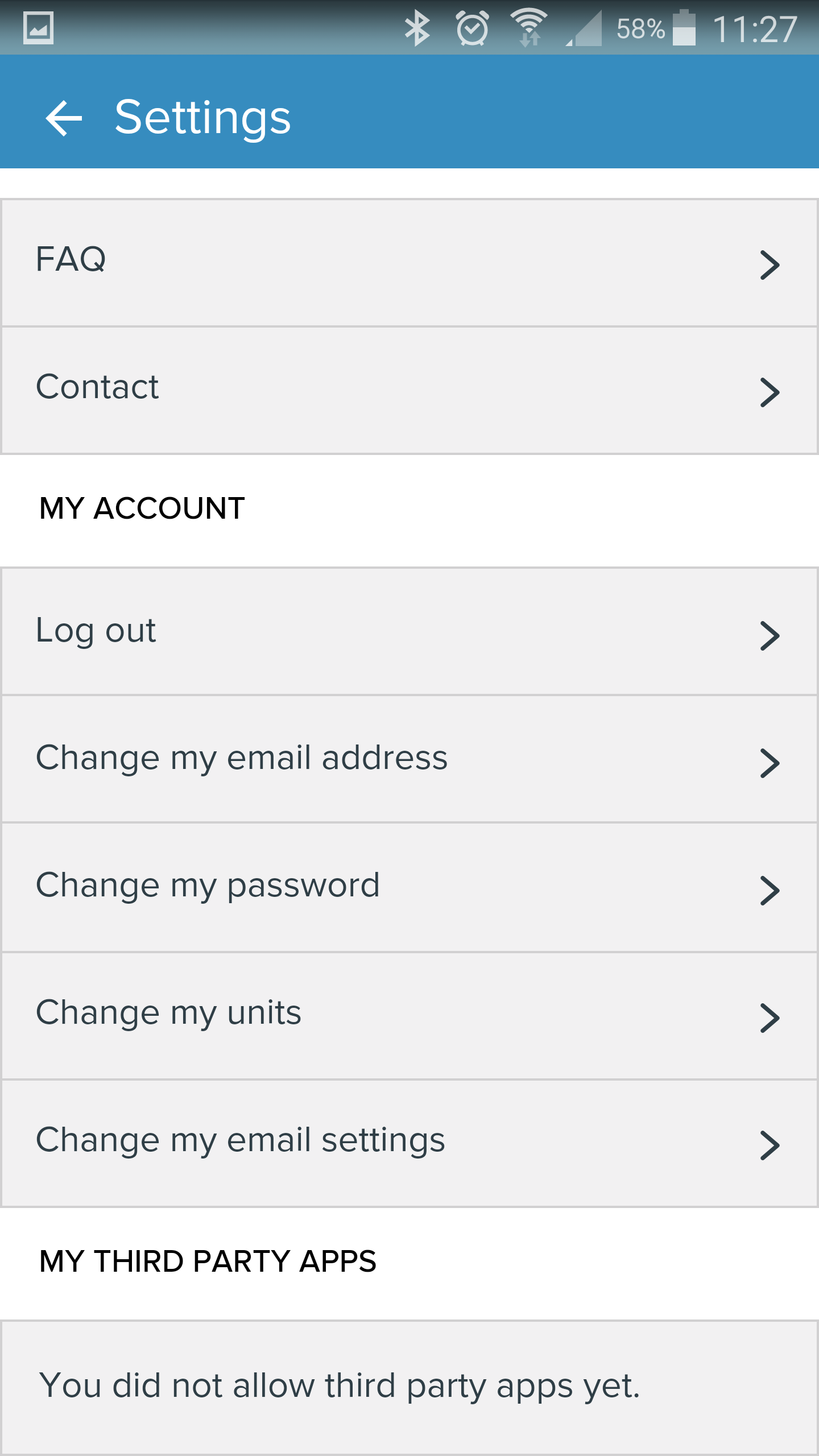 The APP is really quite easy and straightforward to use and should hopefully have most of the features any user will need. The only thing I would have liked to of seen would be a Home screen customization option where you can pick and choose what info is displayed and its placement. However, the Home screen is still fine and this is just the computer/gamer enthusiast coming out of me!
The Netatmo Weather Station is definitely a unique piece of kit. Being able to monitor the temperatures, humidity and even CO2 levels of both inside and outside your home will surely come in handy for quite a few people. While the information the Weather Station gathers can be used for health benefits, I can't help but think about the benefits it could have for those with greenhouses or other indoor plant growing areas. Some plants do better in certain humidities and CO2 levels so being able to monitor this so easily would allow you to keep things right where you need them.
Everything is quite easy to setup and it also comes with a very easy to use APP that displays most of the information you will need right on the home screen. Being able to see the temperatures for both inside and outside, alongside the humidity and other readings all on the same screen is sure to be a great time saver. Using the APP, users will be able to set up multiple stations and even add more modules to each station should they require more than the single outdoor and indoor modules that come with it.
The modules themselves are quite easy on the eyes and not all that big. They should easily be placed out of the way should you choose to. Or, they could but put on display as their silver colouring is quite nice to look at and offers a sense of quality and value. Also, let's face it, it could also become a great conversation starter as I would imagine it will draw people in and have them asking just what it is.
What I found rather nice was not only do you get a single indoor and single outdoor module right out of the box. You can also purchase more indoor or outdoor modules separately to add to your station, but the fun doesn't stop there. You can even buy wind and rain modules for the outdoors to help you get that full-on weather station experience. Netatmo sure has done a great job at making sure to cover all their bases with their Weather Station.
When all is said and done, this is definitely a unique product that won't be for everyone. However, those who are interested in this type of product will be impressed with it and its upgradability is top notch, which never hurts. It has a great aesthetical appearance, is easy to use and will surely come in handy for those looking to monitor such things. Coming in at around £140, it is definitely not something that will be for everyone but is well worth its money for those looking for something of the sort.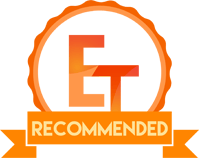 Many thanks to Netatmo for sending in their Weather Station for today's review!