Introduction
When it comes to security, companies like Blurams and their PTZ Dome Security Camera (use code blurams10 for a 10% discount off your first purchase) are trying to help and make people feel safe. While they have a pretty great lineup of security cameras, today we are taking a look at the A31. This camera features a 1080P resolution, built-in mic, and speaker and can store videos to the cloud or a Micro SD card. With home security becoming more and more important, it is great to see companies making it as simple as possible for us to keep an eye on our loved ones when we are out of the house. The A31 security camera also has motion detection so if the whole family is out, it will notify you when something moves in the room and you will get a notification straight to your phone.
Closer Look
The Camera itself is quite small for what it has to offer. As you can see, it isn't much taller than the Alexa Show 5 to its left. The A31 is mostly white except for the lens and surrounding area. The Surrounding area is black as this houses the 8x LEDs for the night vision mode, which automatically kicks on as and when needed. The Night vision mode is good for a range of 22 feet, making this a perfect Baby monitor as well! The Camera also has full 360° coverage using its 109° wide-angle lens and of course, it is all shown in crisp 1080P. Overall, this is a pretty impressive home security camera, especially when you consider the price.
On the front of the camera are a small blurams logo and an indicator light. Using the app, you can turn this light off as seen below so it doesn't look as obvious that the camera is on. I have turned it off during my testing so the kids just think it is sitting there and it only comes on when I access it VIA my phone.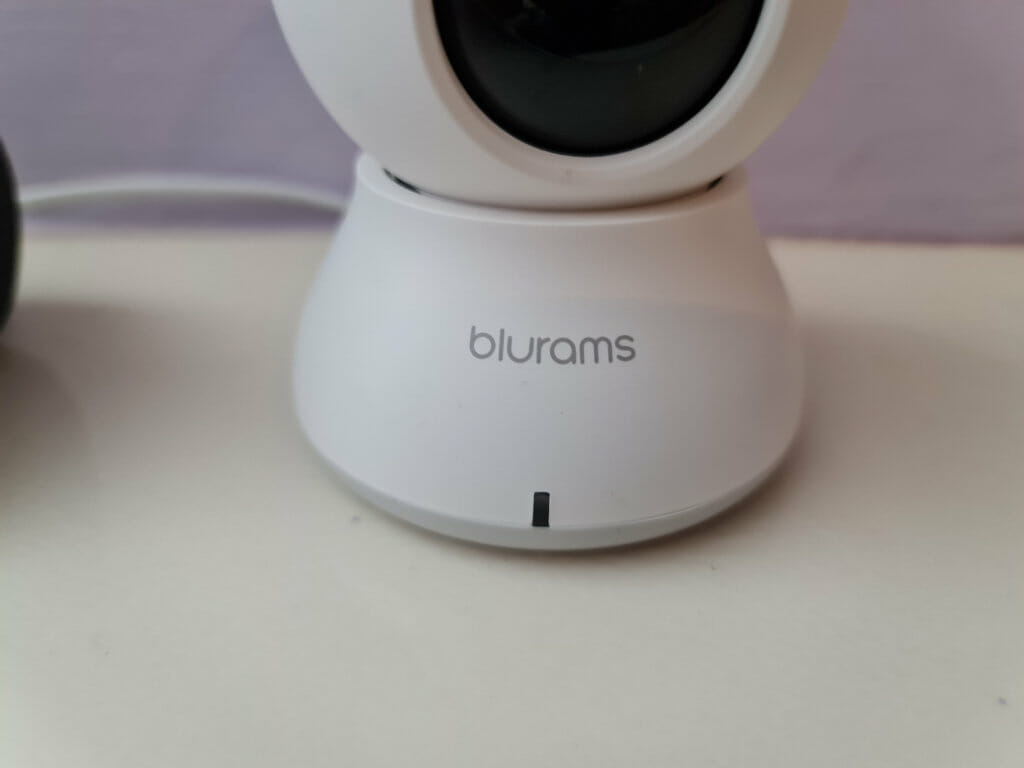 The back of the camera is where you will plug in the included USB cable. This is also where the speaker and reset button are found.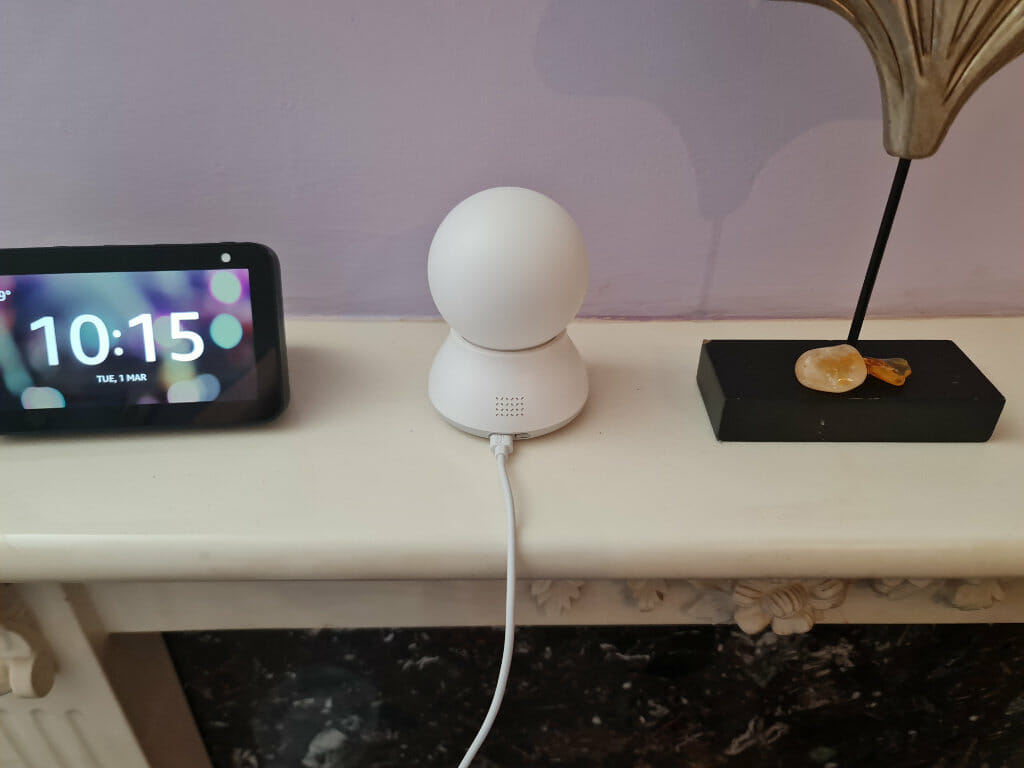 While we can't expect the world from a speaker in a camera this size, it is more than adequate and does the job. Both the speaker and mic offer crisp and clear audio. What I liked most was when you are connected to the camera on your phone VIA the APP, you can hear what is going on, but they can't hear you unless you hit the call button. This is great for when you want to just have a quick check-up on the kids without them being aware. Calling the camera to speak through it is as easy as hitting the phone icon in the app when viewing and then talking, and then you simply hang up when done. Blurams have done a great job of making everything as easy as possible with their A31 security camera.
Blurams App
The APP is very simple to use once all set up. When you first open the APP you will see a live view of the camera. Simply click on it to open it up and have a few more options. From the main APP screen, you can also access the settings/preferences with which you will want to have a play and make sure everything is set to your liking.
Once here, you can even turn the camera on/off depending on your needs. You can change the device name, its use, notifications settings, quality, night vision mode, and more.
You will want to customize all these settings to your individual needs. For instance, you may not want notifications on all the time as they can be annoying, however, if you are on holiday then you most definitely would want to turn them on. Again I am a big fan of being able to turn the indicator LED off as most people are programmed to look for a light when the camera is on. This is a handy feature to have and while it may not be of use to everyone, at least having the ability to turn the light on or off is amazing.
Live Photos Daytime
Here are a few photos I took during the day so you can kind of get an idea of the quality and just how much you can see. The camera is about 4 feet away from my sofa and zoomed out for reference. You can zoom in with it just as you would any image etc on your phone and it does keep a good quality but for most users, I don't think you will need to zoom in very often. The below 2 images are of 1080P Quality.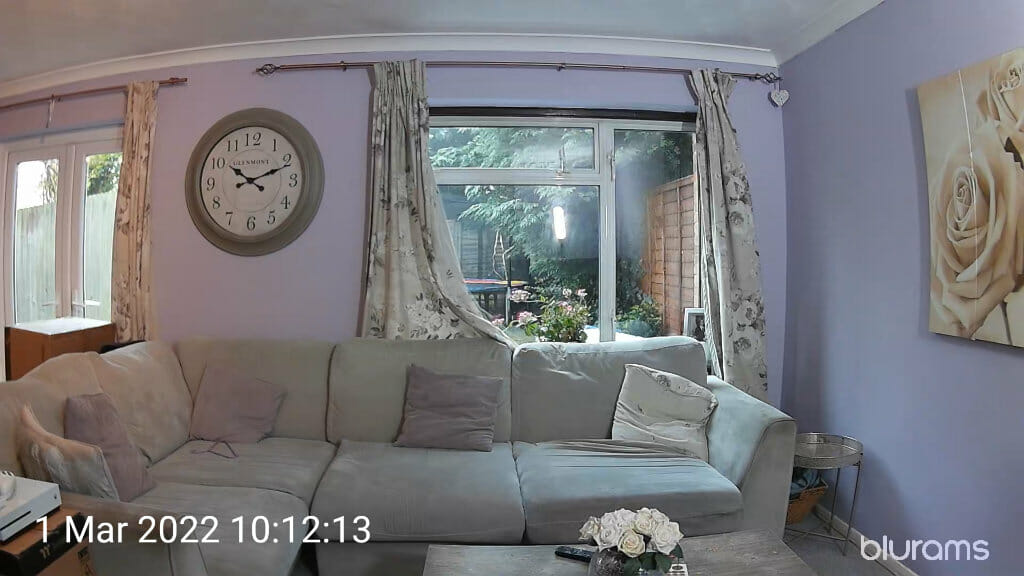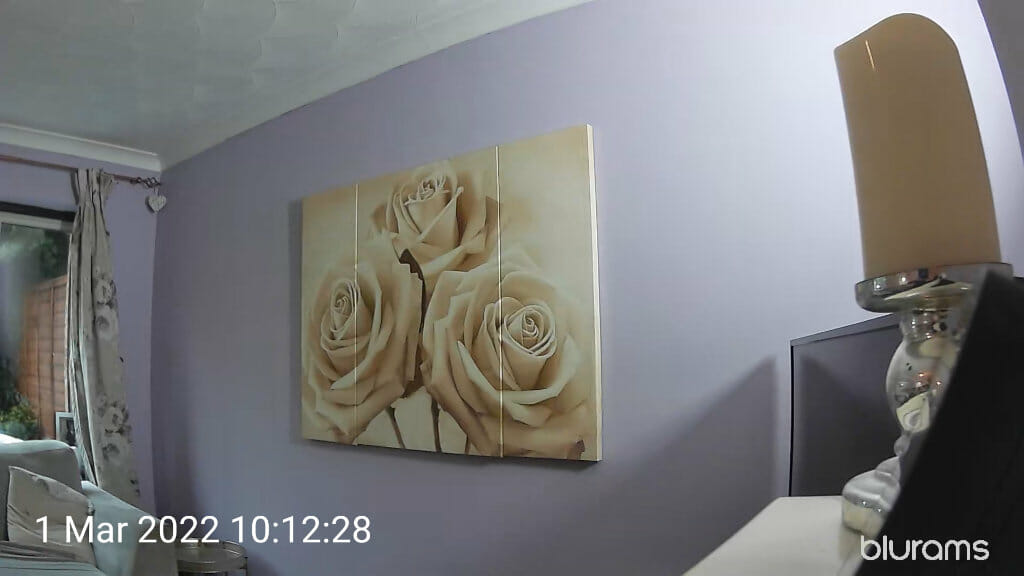 The below 2 images are with the quality down and a bit less lighting being used. While not as good of quality as above, the quality is still more than good enough to see what is going on without issue.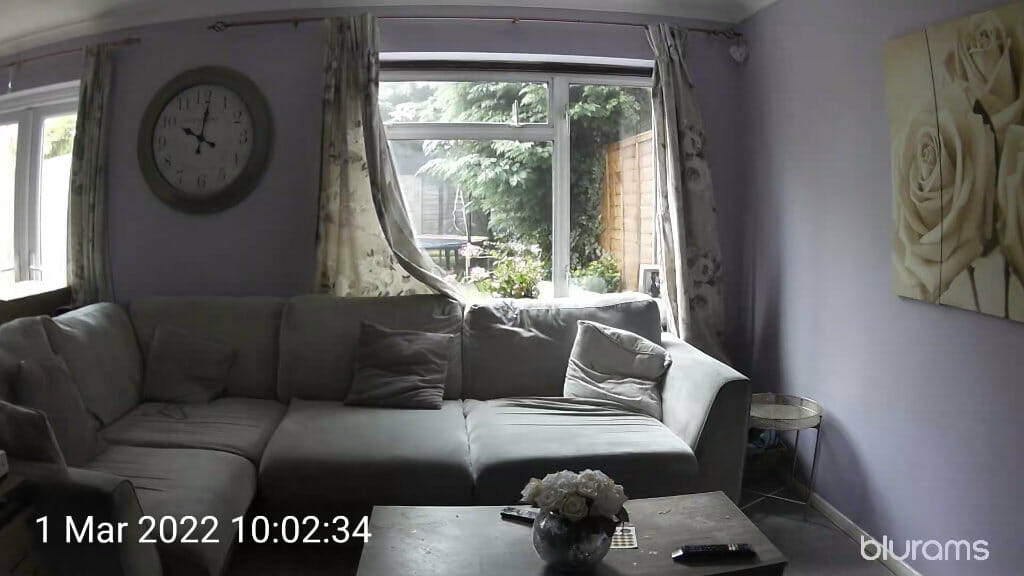 Live Photos Night Vision
The first photo, funnily enough, is just what happens when shutting the curtains in my main room. However, you can see just fine with the night vision mode enabled which is nice. The image is still fairly clear and you can easily make out anything you can see.
The below image is at night and has something close to the camera which obstructs the view a little bit. However, you can still see everything you need to clearly which is good as the camera doesn't just focus on what is closest to it.
Final Words
Coming in at $49.99 directly from their website (use code blurams10 for 10% off your first purchase)($40.98 from AMAZON.com), or £29.99 from Amazon UK (currently also has a £5 voucher as of 14/03/2022)  The Blurams A31 Smart Pan-Til Come Lite 2 Camera offers very impressive value for the money. It is easy to get set up and you should have it up and running within 5 minutes of opening the box! Once you get it working, it just gets even more impressive and will instantly have you asking yourself why you only bought one of them at this price.
The 1080p resolution is crisp and clear and using the camera via the phone APP is as easy as you could hope. You can move the camera, zoom in, turn audio on/off and even call the camera so you can speak to whoever is on the other end with ease. As mentioned, the APP will also allow you to easily customize your camera settings so that you are getting the most from it, or the least if that is your thing. Being able to easily turn on or off notifications will make sure you are always in the know if someone has entered the room.
All in all, the A31 from Blurams has a very attractive price point and it has almost all the features one could want in an easy-to-use home security camera. Blurams does have a few other cameras but the A31 that we have looked at here today seems to be a good middle-of-the-road option and one I look forward to continuing to use in the future.