Introduction
Noctua originates from a collaboration between the Austrian Rascom Computer distribution Ges.m.b.H. and the Taiwanese cooling specialist Kolink International Corporation, pooling more than thirty years of experience in the development, manufacturing, and marketing of high-end cooling components. Established in 2005, Noctua took international silent enthusiasts' hearts by storm and quickly developed into one of the most acclaimed suppliers of premium quality quiet cooling products. Today, Noctua is present in more than 30 countries across the globe and working with several hundred sales partners. Chosen by noise-conscious PC users, system integrators and industry clients alike, Noctua has become synonymous with impeccable quality, excellent customer service, and class-leading quiet cooling performance.
Noctua took over the industry with their Chromax line up of the accessories and ever since the first release they are continuously bringing more options for their customers. Noctua along with their chromax.black coolers, has released NA-SAVP3 anti-vibration pads under the chromax name. We have an honor of taking a look at their complete range of chromax accessories and Noctua has sent us the NA-SAVP3 as well along with the all-black coolers. These anti-vibration pads are compatible with Noctua NF-A15 PWM/HS-PWM Chromax.black and HS-PWM Chromax.black.swap fans. They are not compatible with other Noctua or third party fans. Clearly, the users of Noctua NH-D15, NH-D15 chromax.black, and NH-U14S can take full benefit with these pads. These pads are available in 6 colors:
Item:                         NA-SAVP3 chromax.color name
Manufacturer:         Noctua
Price: $6.95 on Amazon / £5.95 on Amazon UK – These prices are at the time of the review.
Specifications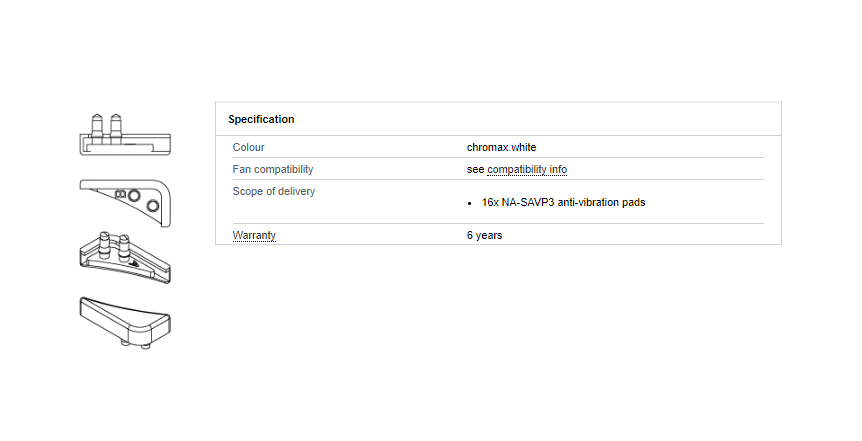 Packaging and Unboxing
The pads are shipped inside a rugged paperboard box.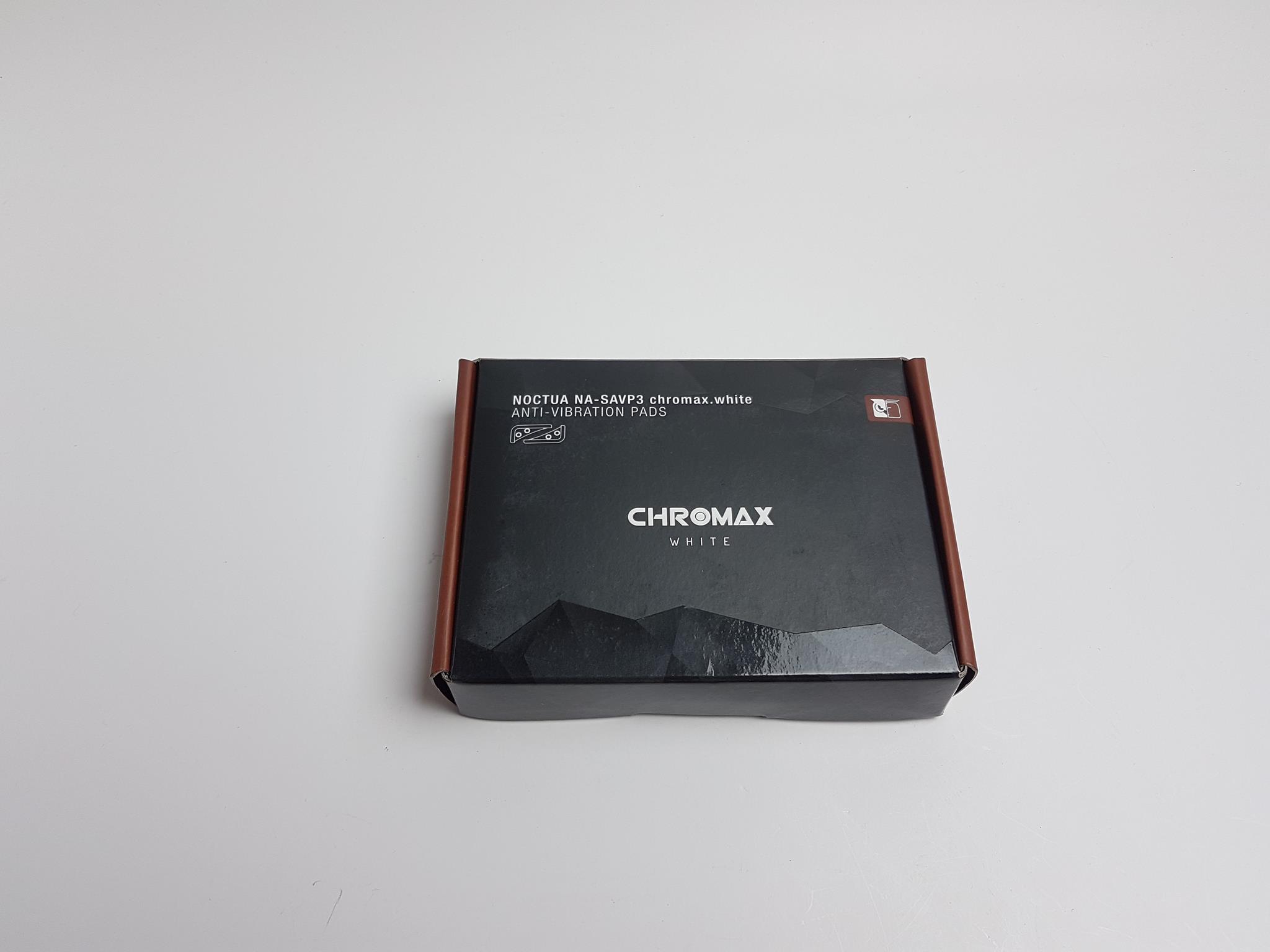 The background color on the packing box is black. The color version of the pad is printed up top. CHROMAX is printed in the middle. There is a Noctua brand logo on the far right side.
The backside of the box has a model of the product printed on the top right side. The EAN and UPC info labels are printed at the bottom right side. There is a picture of the pads pasted on the left side. Each box has 16x pads which will cover two compatible fans in full. These are made in Taiwan and come with 6 years of warranty.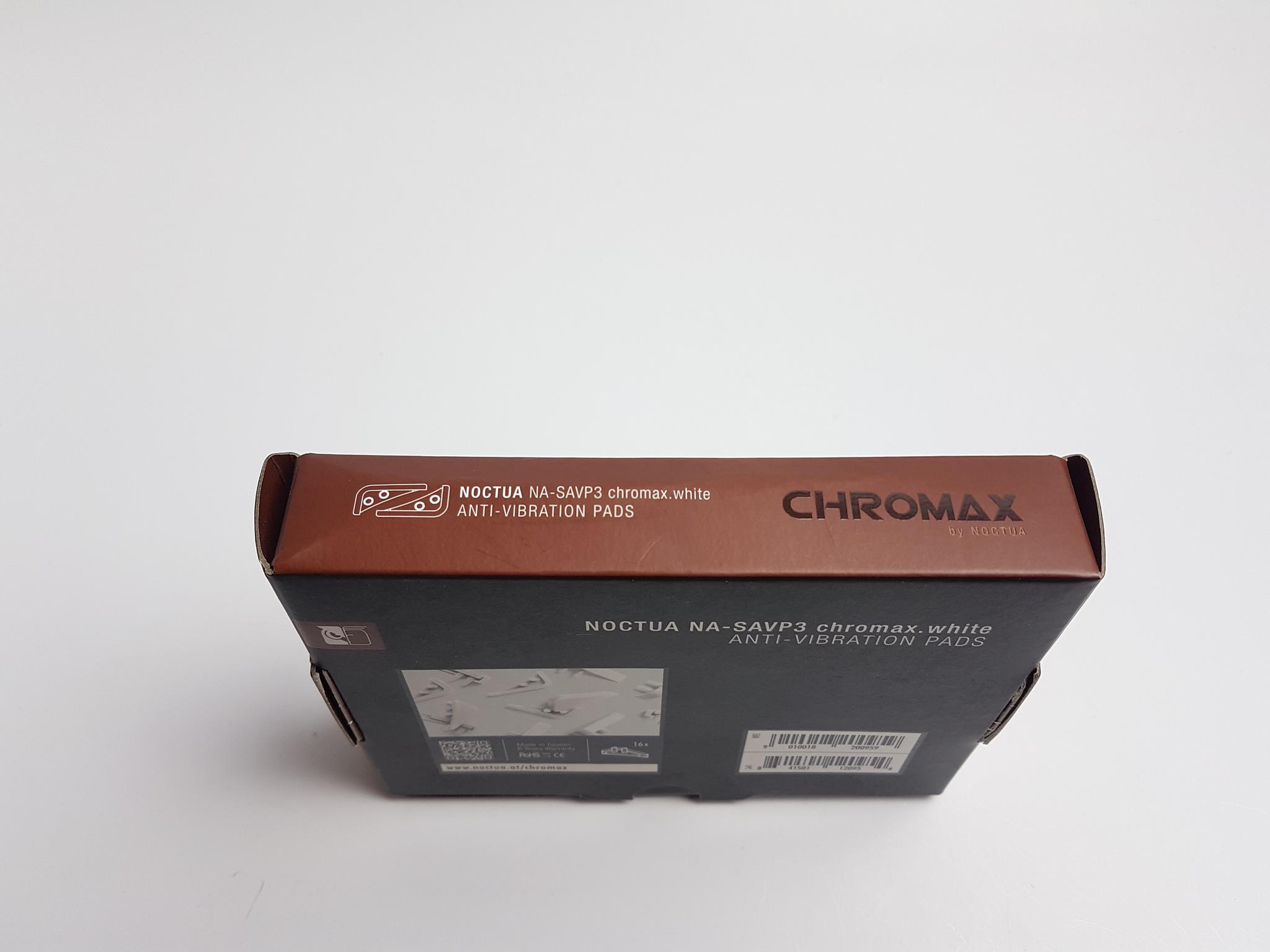 This side of the box has CHROMAX by NOCTUA printed on the right side. The model of the pads is printed on the left side.
Opening the box will show 16x grey color anti-vibration pads placed on top of the black color Styrofoam. I like it how Noctua has improved the packing of these pads as now they are placed inside a transparent container. There are two such containers each having 8 pads. As usual, the presentation is on the point of Noctua.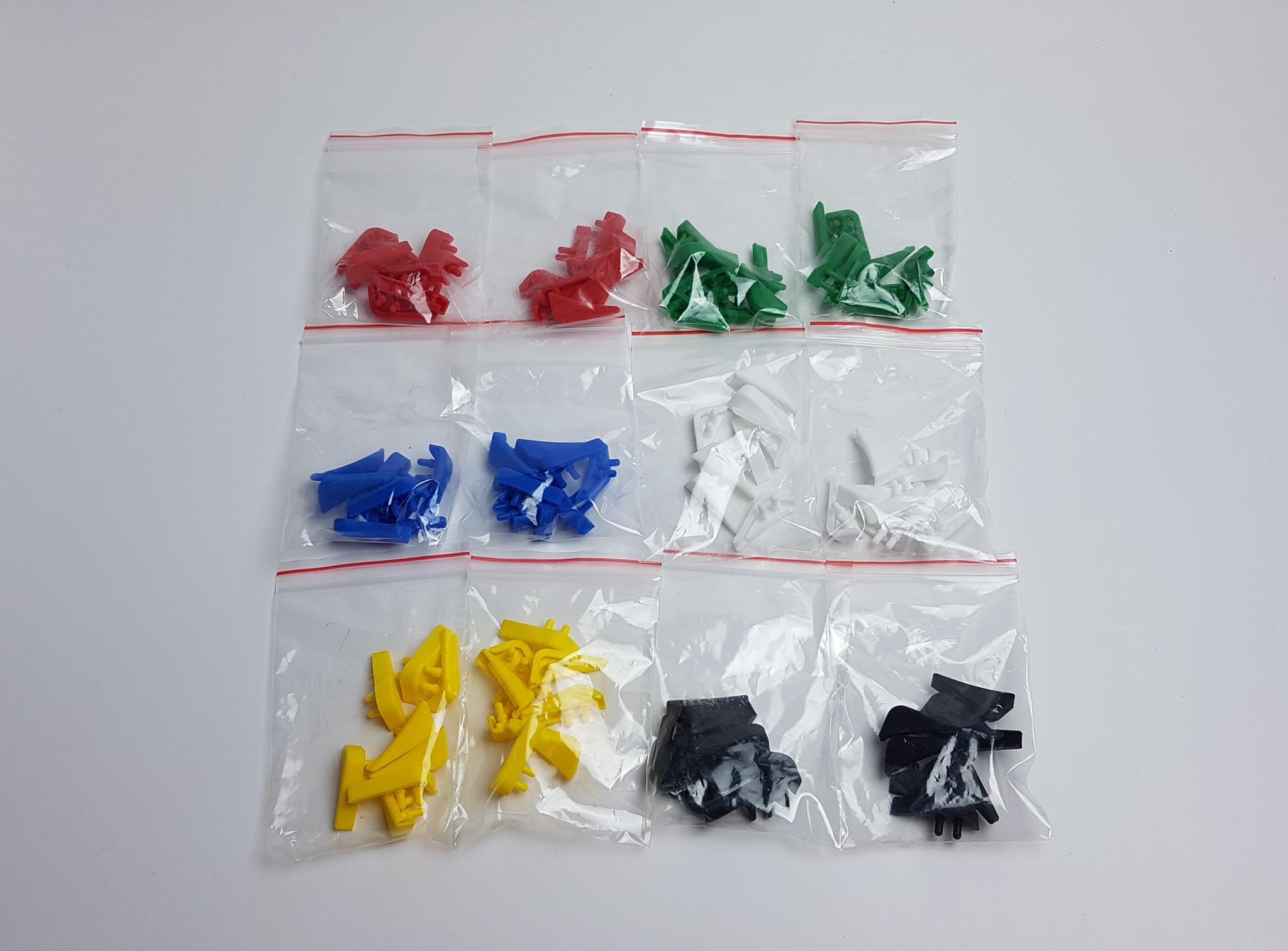 The above picture shows all the pads in their transparent container.
Closer Look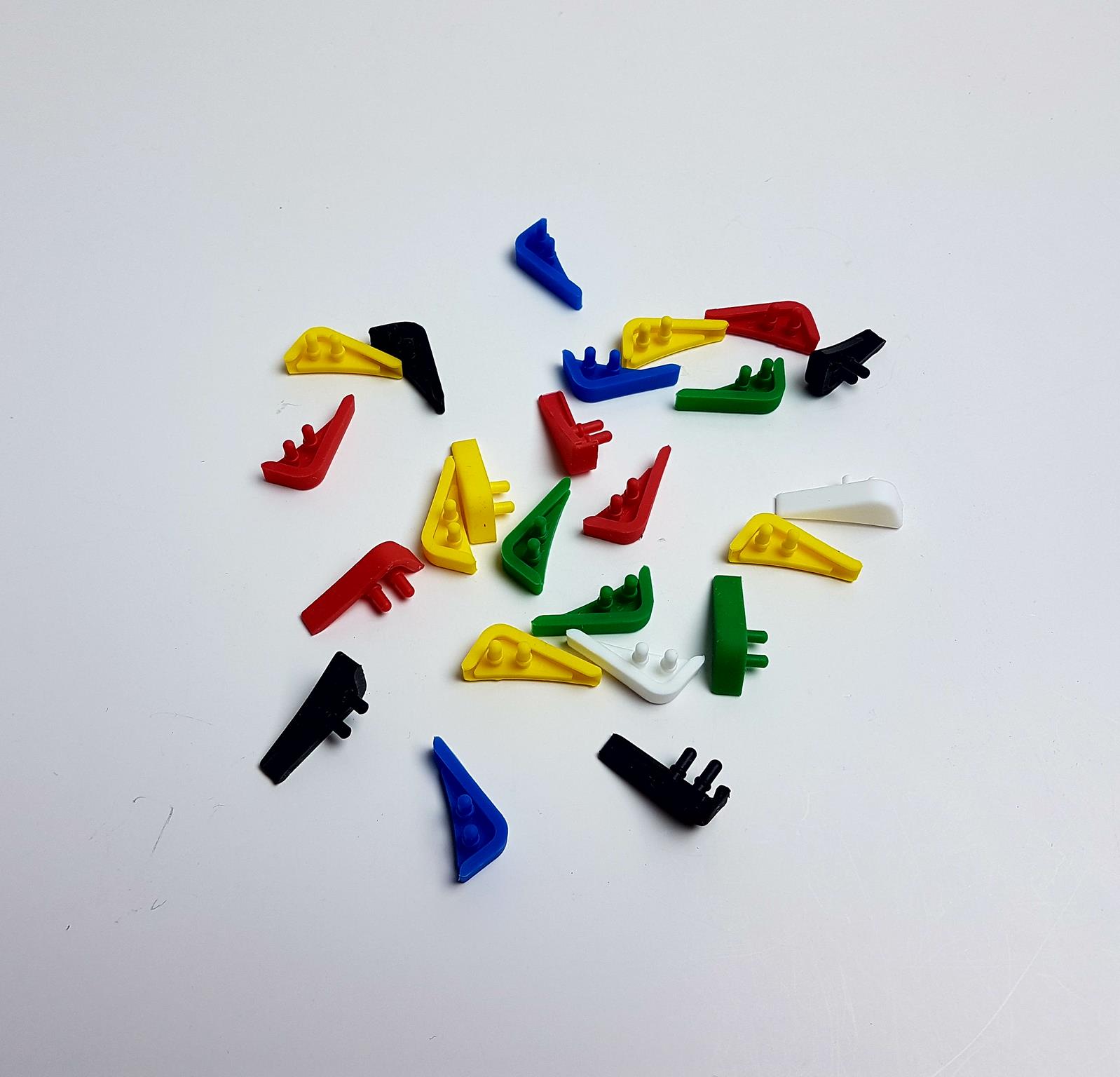 The NA-SAVP3 is a set of 16 silicon made anti-vibration pads. The use of premium-grade silicone makes the NA-AVP3 pads both extra soft and highly tear-proof, allowing them to combine efficient decoupling with longevity and ease of use. These pads are compatible with Noctua's round 140mm fans. The compatibility information is as under:
Noctua NA-AF15 PWM
Noctua NA-AF15 HS-PWM chromax.black
Noctua NA-AF15 HS-PWM chromax.black.swap
According to Noctua, these pads are not compatible with other Noctua fans or third party fans.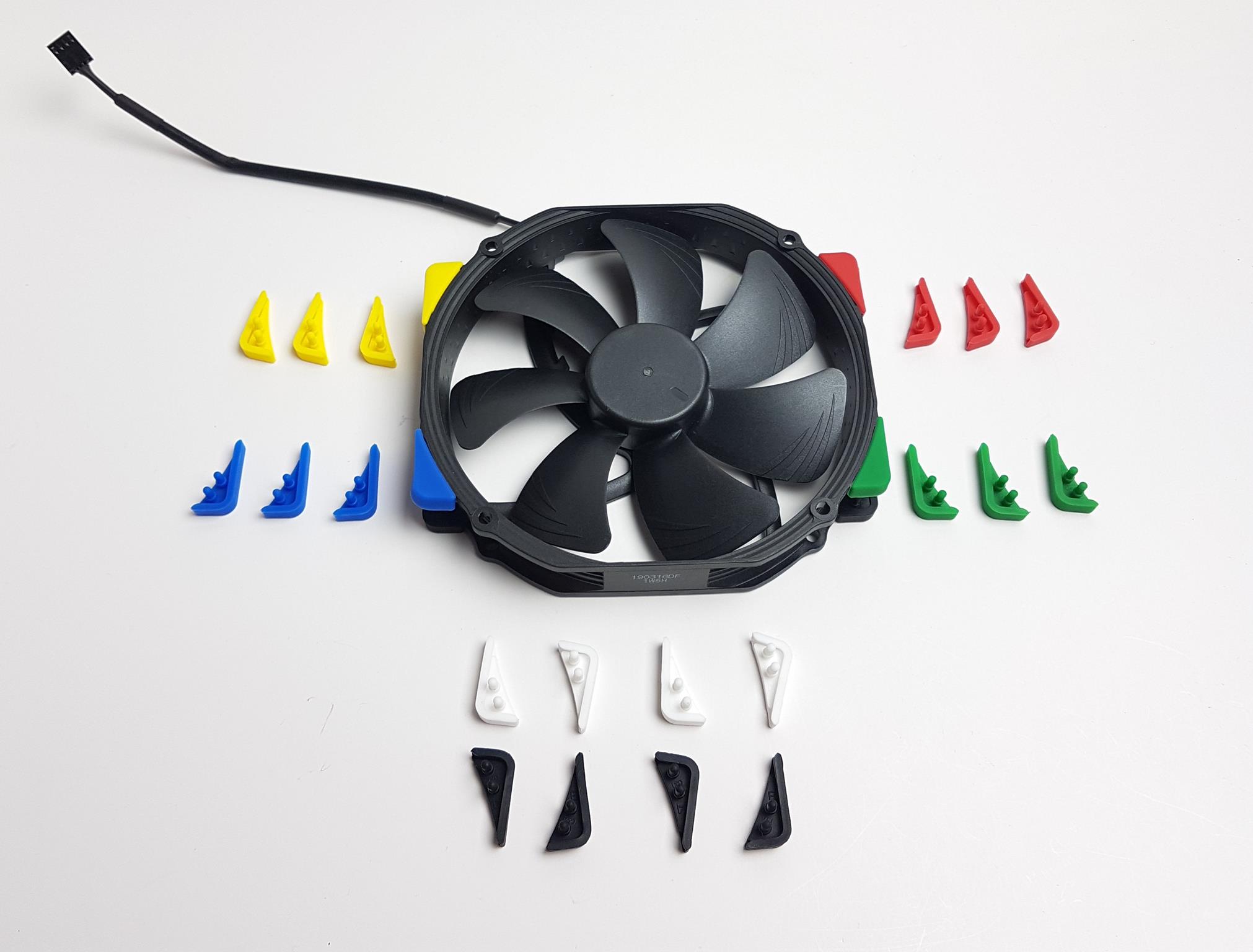 We took the Noctua NA-AF14 HS-PWM chromax.black fan and put each color pad on its mounting corner just to show the application of these pads. Noctua has enabled the users who don't want RGB lighting in their builds but still want to color customize/coordinate their builds, an opportunity to do so though these pads are compatible with Noctua fans only.
If you are a Noctua user and are looking to color customize your build, then take a look at their NA-SAVP3 anti-vibration pads.