Amsterdam – 20 February 2023 – This new 42" (105.5 cm) Evnia gaming monitor will make reality feel like a game. Innovation has arrived in the gaming world and along with it, the Philips brand Evnia, whose purpose is to create a playful, innovative, and welcoming environment in the gaming industry. While bringing innovative products to the gaming sector upon the release of Philips Evnia 42M2N8900, Philips Evnia will also initiate positive change in the gaming community through their message.
Introducing Philips Evnia 42M2N8900
And positive change is not all that Evnia is bringing to the table. The new monitor is part of the Evnia 8000 series; the top-level category from Evnia, and with that series come unmatched features for a complete gaming experience. These features include but are not limited to: True 10-bit display for smoother colour gradients, OLED display for an impressive, rich contrast, 138 Hz refresh rate to display fast-paced action smoothly, 0.1 ms GtG response time for quick responsiveness, DTS for enhanced sound, and UltraClear 4K UHD (3840×2160) resolution for precise imaging. In addition, the new monitor boasts a thin bezel on 4-sides, 42" display size, a built-in KVM switch for managing two PCs easily, a USB-C port, and a height-adjustable ergonomic stand for an all-around user experience.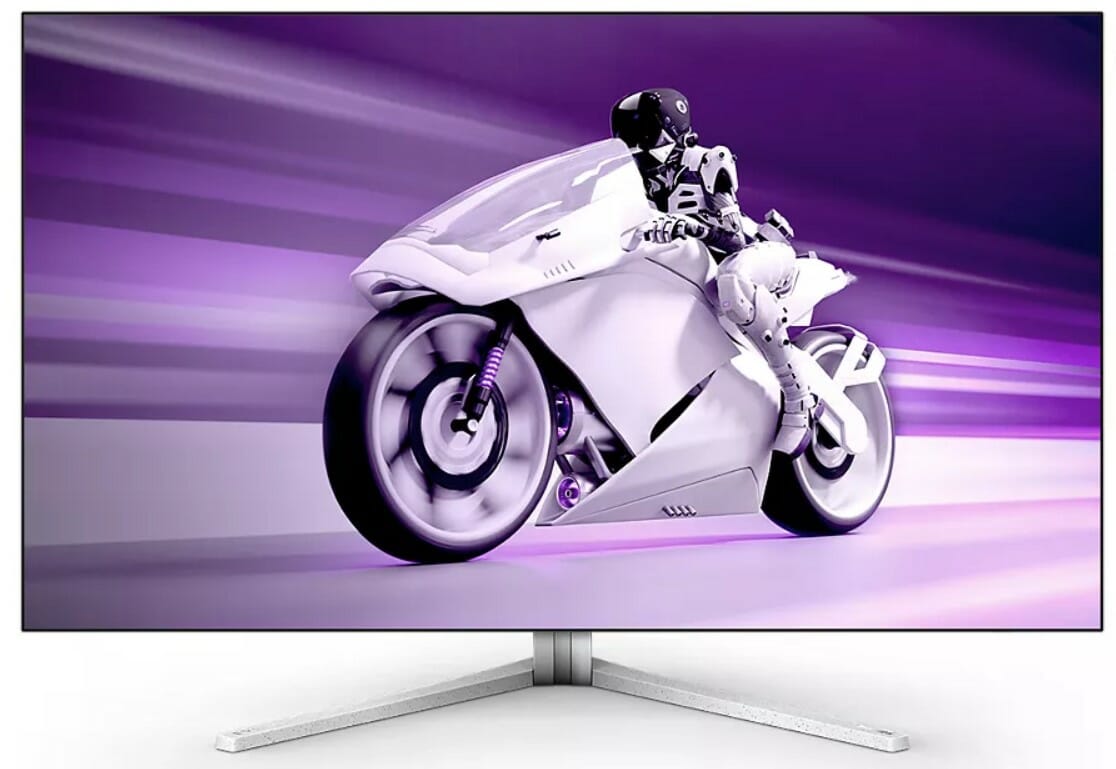 The Ambiglow backlight, which is the hallmark of each recent Evnia 8000 series monitor and is exclusive to the Philips brand, is also present in the Philips Evnia 42M2N8900. The three main features that make the Philips Evnia 42M2N8900 stand out are the 138 Hz refresh rate, low input lag, and its OLED panel. These features allow for a smooth gaming experience and vibrant imagery.
"I am very excited to announce the release of the new Philips Evnia model. At Evnia, we hope that this product will wow you with colour," Xeni Bairaktari, Global Marketing Lead of Philips Monitors and IT Accessories, said. "Along with the incredible gaming speed, this product has life-like images. With the new OLED technology, gamers can experience a gaming world full of bright colours and impressive contrast."

Gaming beyond innovation
With one of Philips Evnia's goals for the Evnia 8000 series being to 'game beyond innovation', OLED gaming sings true to that. The Philips Evnia 42M2N8900 brings a larger 42″ screen, bright imagery and vivid colours, faster gameplay, and Philips Evnia's exclusive Ambiglow feature to the table, impressing gamers of all kinds with its breath-taking feature set.
With this new monitor's innovative features and sleek, friendly design, Philips Evnia aims to bring a new approach and perhaps a bit more inclusivity to the gaming scene.
Philips Evnia 42M2N8900 pricing and availability
The Philips Evnia 42M2N8900 is available in stores now at a price of £1,499.00. Accessories built specifically to enhance the abilities of Evnia monitors be available after June 2023.
More information on the Philips Evnia 42M2N8900:
https://www.philips.co.uk/c-p/42M2N8900_01/evnia-gaming-monitor-oled-gaming-monitor
For additional information on Philips Evnia models:
https://www.evnia.philips