Alphacool Core 120 PWM 3000RPM Fan Introduction
ALPHACOOL is carrying multiple product lines under various brand names now. Core, Apex, Eiswolf, Eisbaer, Core-Ocean, and Rise AURORA are a few to be mentioned here. Recently, ALPHACOOL has released a new series of fans in 120mm and 140mm sizes under Core naming convention. We requested 120mm and 140mm fans for testing and ALPHACOOL sent us both. In this article, we are taking a look at a 120mm size fan. These Core 120mm fans are available in three configurations:
We have got ALPHACOOL Core 120mm Fan PWM 3000RPM fans. I would like to highlight two variables to give you an idea of what these fans carry.
Airflow rating of 93.6 CFM Max
Static Pressure rating of 7.33 mmH₂O
This is even higher than the popular Noctua iPPC NF-F12 PWM 3000 fans.
Item:                     Alphacool Core 120mm fan PWM 3000rpm
Pricing:              MSRP €6.99 at the time of the Review
Purchase:          Aquatuning
You read that right. €6.99 is the retail price of a single fan.
Alphacool Core 120 PWM 3000RPM Fan Specifications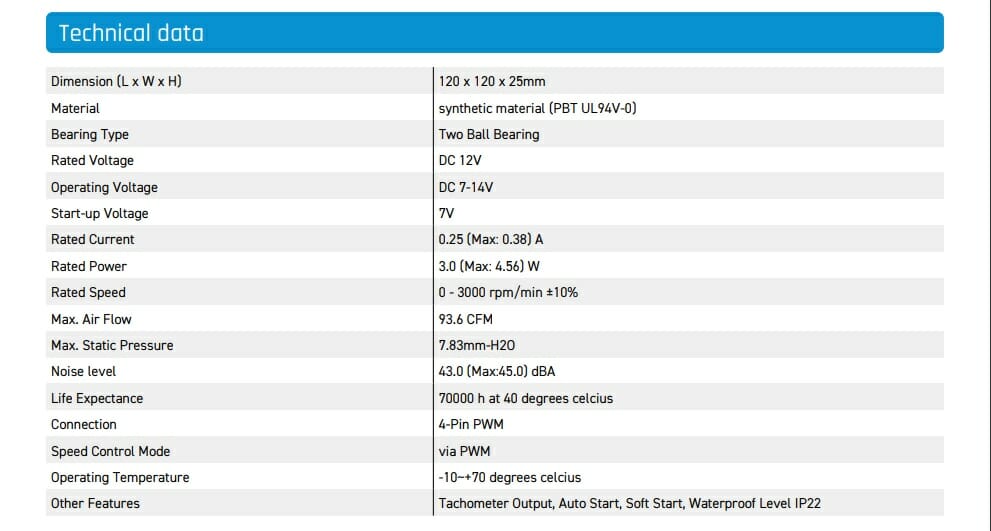 Closer Look
It is time to take a look at the fans.
This is no frill design of the fan and the same is the case with the packing box. These fans are shipped inside a paperboard packing box in white color.
The fan is in black color finish from head to toe. There are 9x blades in 3000RPM version. Please note that the blade design is different in 4000 RPM fans. These blades have more tip clearance from the frame. The center has relatively a large size compared to standard 120mm fans. There is no branding whatsoever on this fan. Frame is in square shape. These fans have a dimension of 120x120x25mm. they are made of synthetic material (PBT UL94V-0). These fans feature:
Tachometer Output
Auto Start
Soft Start
Waterproof level IP22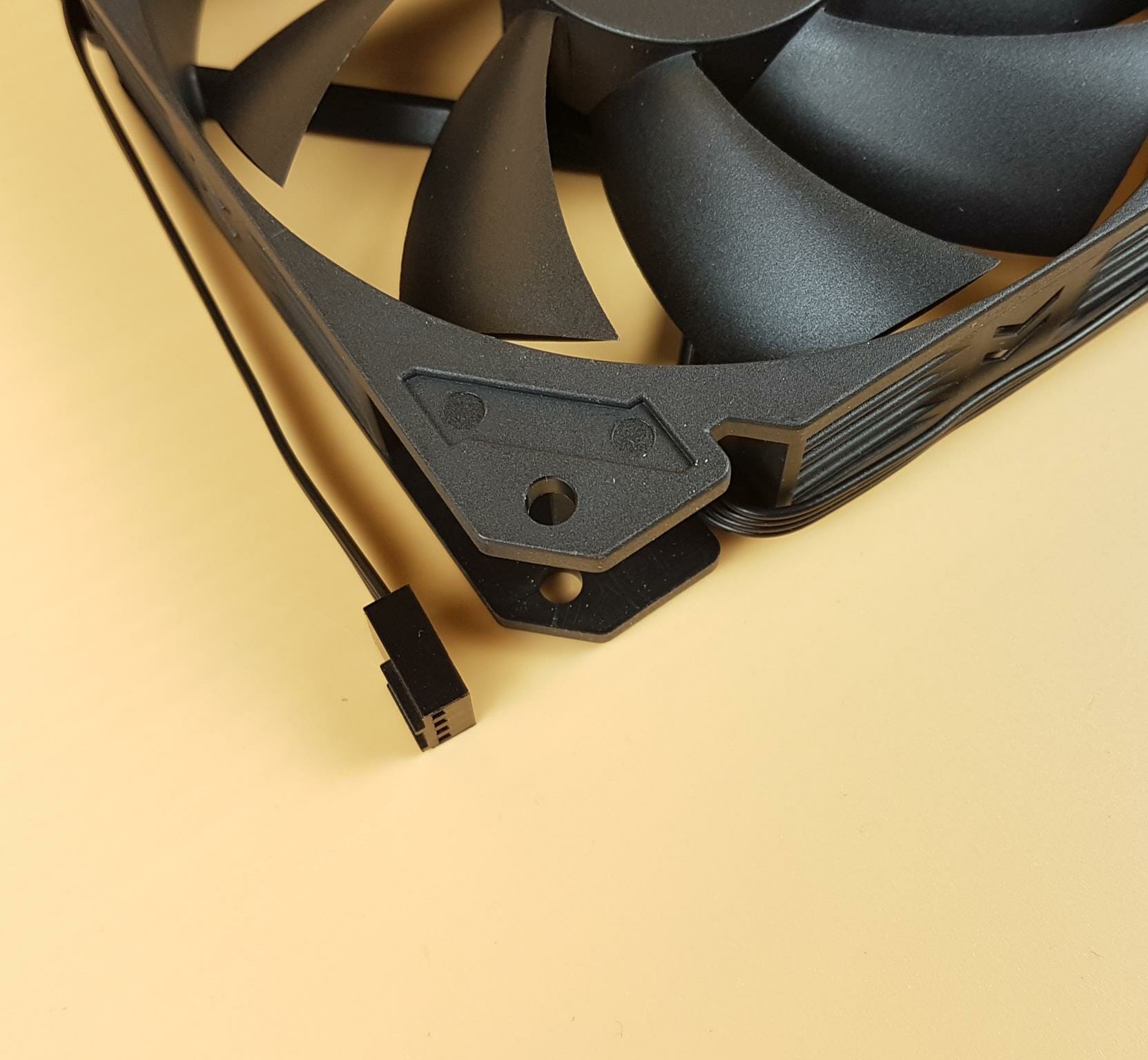 Each mounting corner does not have an anti-vibration pad. There is an inset right above the mounting hole in a particular design. I am not sure if that is only for aesthetic purpose or does it serve any purpose.
We have a standard black color frame of the fan. The frame is quite sturdy. We can see two arrow markers showing the direction of airflow through the fans. There is no arrow marker to show the direction in which blades would spin.
There is a 4-arms assembly on the backside holding the fan motor and blades to the frame. There is a sticker in center. These fans draw 0.4A at 12VDC for 3000RPM speed. These fans are using double-ball bearings. Life expectancy is 70,000 hours at 40°C.
There is a flat cable of approximately 300mm with a 4-pin PWM connector. There is no socket to daisy chain these fans for better cable management.
The salient specifications are: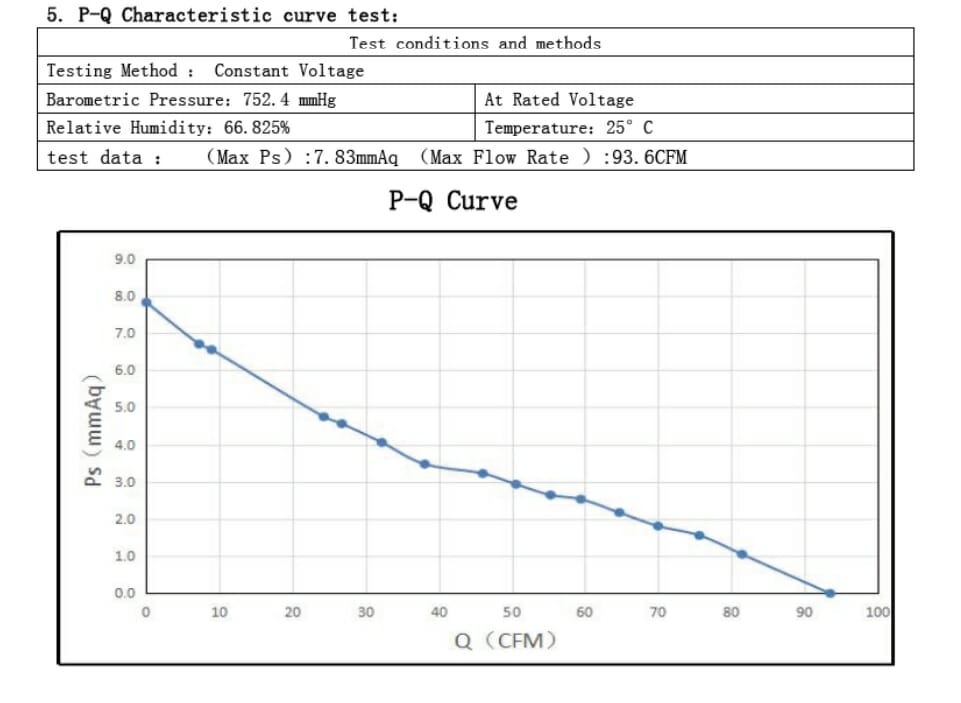 ALPHACOOL has shown their in-house testing showing a maximum of 7.83 pressure and generating 93.6 CFM at this pressure rating.
Thermal Testing
We have used a below-mentioned configuration for this testing:
Intel i7 13700k
GIGABYTE Z790 AORUS ELITE AX
ALPHACOOL Eisbaer PRO HPE AURORA 360 AIO
Sabrent Rocket DDR5 2x16GB @ 4800MHz CL40 kit
Colorful GeForce GTX 1050Ti 4G [For Display]
Sabrent Rocket 4 Plus 2TB NVMe SSD
be quiet! Straight Power 11 850W Platinum PSU
Thermaltake Core P6 TG Snow Edition converted into an open-frame layout
Here is the settings table for testing:
| | |
| --- | --- |
| P-Cores Clock (MHz) | 5300 All Cores |
| E-Cores Clock (MHz) | 4200 All Cores |
| Voltage (V) | 1.260 |
| Turbo Boost | Disabled |
| C-States | Disabled |
| Speed Step | Disabled |
| Thermal Paste | ALPHACOOL Sub-Zero |
| Thermal Paste Application | Dot Method in the center. |
| Test Run Time | 30 minutes |
| Idle Time | 10 minutes |
| Fan Speed | 100% PWM Duty Cycle |
| Pump Speed | Full speed |
| Header | CPU_Fan/Pump headers |
| Stress Software | CINEBENCH R23.2 |
| Monitoring Software | HWInfo64 |
Before we move on to the results, let me write a few lines on the new platforms from both camps. We have seen AMD AM5 and Intel Raptor Lake S CPUs taking more power and this time both sides have aimed at reaching the maximum clocks regardless of thermal limit. In fact, they run into thermal limits right away depending on the cooling solution and the clocks being used. This has made testing of CPU coolers challenging because viewers/readers are not used to a new nomenclature which is what clocks are sustained under a given load using a particular cooler. That is if the cooler is capable of providing enough cooling head to sustain the high frequencies. Traditionally we are used to go the other way around which is which cooler is better in terms of thermal capacity. Despite this, we are using temperatures as a base for measuring this unit.
The ambient temperature was in the range of 14.4°C to 15.8°C. Since the variation in the ambient temperature is above 1°C, we are reporting delta temperatures in the graph. The testing is done on an open-air bench system. Once inside the chassis, the temperatures are expected to rise and would largely depend upon the optimal airflow inside the chassis. Let's take a look at the results. This test was done using Intel's default settings with power limits imposed. The CPU was drawing roughly 225W power so this is a 220W domain result.
Result
ALPHACOOL Core 120 PWM 3000 RPM fans are ahead of Rise AURORA 120 fans with a substantial 3.2°C thermal improvement. In my opinion, these fans would serve well in a custom loop/DIY setup.
Here is a table showing RPM range and corresponding airflow and speed measurements of the Core 120mm Fan 3200 RPM fan:
| | | |
| --- | --- | --- |
| PWM Duty Cycle (%age) | Speed (RPM) | Airflow (CFM) |
| 20 | 740 | 20.17 |
| 30 | 1104 | 34.25 |
| 40 | 1406 | 46.19 |
| 50 | 1695 | 59.15 |
| 60 | 1934 | 68.32 |
| 70 | 2205 | 78.32 |
| 80 | 2402 | 83.75 |
| 90 | 2786 | 94.33 |
| 100 | 2984 | 98 |
We are raking the airflow reading by placing the instrument closer to the fan. The values would vary depending upon the distance between the anemometer and the fan.
Noise
The Rise AURORA 120mm fans were recorded giving noise output of approximately 53 dB(A) whereas the Core 120 PWM 3000RPM fans were making approximately 65 dB(A) sound output at an ambient of 32~33 dB(A) sound level.
Conclusion
ALPHACOOL has released new fans in the Core series of their product line. These are less expensive but high-performance fans. These are available in 120mm and 140mm sizes and in various speeds. We have tested Core 120 PWM 3000RPM version. Following configurations are available in 120mm size fans:
These fans are no frill design and ALPHACOOL has stick with the core product here which is fan itself. The complete assembly of these fans is in black color. The frame is very sturdy and has arrow markers indicating the direction of airflow through fans. The size of these fans is 120x120x25mm which is a standard size. The 2500 RPM and 3000 RPM versions have 9 blades whereas the 4000 RPM has 5 blades.
There is no branding whatsoever on these fans on the front. The center of these fans has a relatively large size. These fans feature double-ball bearings which is a better option than a sleeve bearing unless sleeve bearings are properly sealed. Anyhow, the main thing with bearings is their expected life span operating at a given temperature threshold. Like Core 120 PWM 3000 RPM has a life expectancy of 70,000 hours but at 40°C. One of our readers asked what is meant by this rating. It is simple. This temperature indicates the environment or ambient temperature. Still don't get it? Put simply, this is the temperature of your room where the PC is placed. If you are operating in hot areas where ambient temperature exceeds 40°C then this would lower the life expectancy of these fans. But hey guess what. These 70,000 hours roughly mean 7.9 years!
Coming back to the main topic, there are no anti-vibration pads on the mounting corners. There is a gap of 105mm between any two mounting holes on a side. The fan is powered by a flat cable using a 4-pin PWM connector. There is no socket connector so no daisy chain provision. Speaking of the specifications, take a look:
The 3000 RPM version has a maximum airflow rating of 93.6 CFM and an impressive 7.83mmH₂O static pressure rating. These two variables are telling the tale of these fans and what they intend for. ALPHACOOL has mentioned this fan to be a quiet and efficient fan with a wide control range of up to 3000 rpm. Drawing 4.56W might be efficient but they are not quiet by any means. In our testing, we measured 65 dB(A) at an ambient noise of 32 dB(A).
Now coming to the price of these fans, this single fan is listed at €6.99. I think ALPHACOOL is giving 1-year warranty on this fan. I have absolutely no complaint about this. We are effectively targeting Noctua's mighty iPPC series PWM-3000 fans although those fans pack some quality stuff and features. These fans will smash anything you would throw at them and this is where they are so powerful. I would say they are preferable for radiator use in particular. You can always set up a custom fan curve to deal with high noise output. Other than that, these fans are perfect for a neutral or stealthy look with sheer performance and highly pocket-friendly pricing. There is nothing to lose with these fans and they come recommended by us.
Thanks to ALPHACOOL for the provision of test units.