Glinde, April 10th, 2018 – be quiet!, the market leader in PC power supplies in Germany for twelve consecutive years*, announces its Dark Rock 4 series of CPU air coolers for high performance processors. Dark Rock 4 and Dark Rock Pro 4 keep most of their predecessors' near-silent operation and performance features, but also introduce innovative and optimized functions that ultimately produce the best processor cooling at extremely low noise levels.
Single-tower Dark Rock 4 and dual-tower Dark Rock Pro 4 versions
Both next generation Dark Rock 4 CPU coolers maintain Dark Rock 3 series' high-performance benchmarks and the near-inaudible operation be quiet!'s products are known for. Thanks to a combination of new and optimized features, be quiet! manages to raise Dark Rock 4's supported thermal design power (TDP) to 200 watts, while still maintaining the same low noise level Dark Rock 3 was renowned for. The second model, be quiet's dual-towered Dark Rock Pro 4, provides a cooling performance for processors up to 250 watts TDP, matching its predecessor in performance, but at a lower noise level of just up to 24.3 db(A).
Impeccable cooling performance and virtually inaudible operation
Both Dark Rock 4 series' cooling fins and heat pipes use a specially enhanced ceramic black coating that not only results in an appealing all-black appearance, but also improves each cooler's heat conduction. Dark Rock 4 transfers heat efficiently from base to heatsink through six high-performance copper pipes, while Dark Rock Pro 4 uses seven of these pipes. Small dots on the fin surface increase the total cooling area, while a wave-contoured shape contributes to noiseless perfect air flow. Both models include a Silent Wings 135mm PWM fan with airflow-optimized blades, a reliable six-pole motor and fluid dynamic bearings (FDB). Dark Rock Pro 4 adds an additional Silent Wings 3 120mm PWM fan with a funnel-shaped vent on the front. The fan mounting also uses a decoupled design to minimize heatsink vibration, resulting in even less noise.
Intelligent design and craftsmanship
Both Dark Rock 4 and Dark Rock Pro 4 represent be quiet!'s top-of-the-line air coolers. Emphasis is not just placed on performance, but also on build quality, utility and appearance, while installation is simplified thanks to an updated top mount design (screwdriver included). The coolers' top cover is made from brushed aluminum and features a high-grade diamond cut finish, while specially manufactured caps are used to mask heat pipe ends and screw holes. To improve compatibility with high-performance RAM using tall heat spreaders or LEDs, Dark Rock Pro 4 features formfitting cutouts at the bottom fins.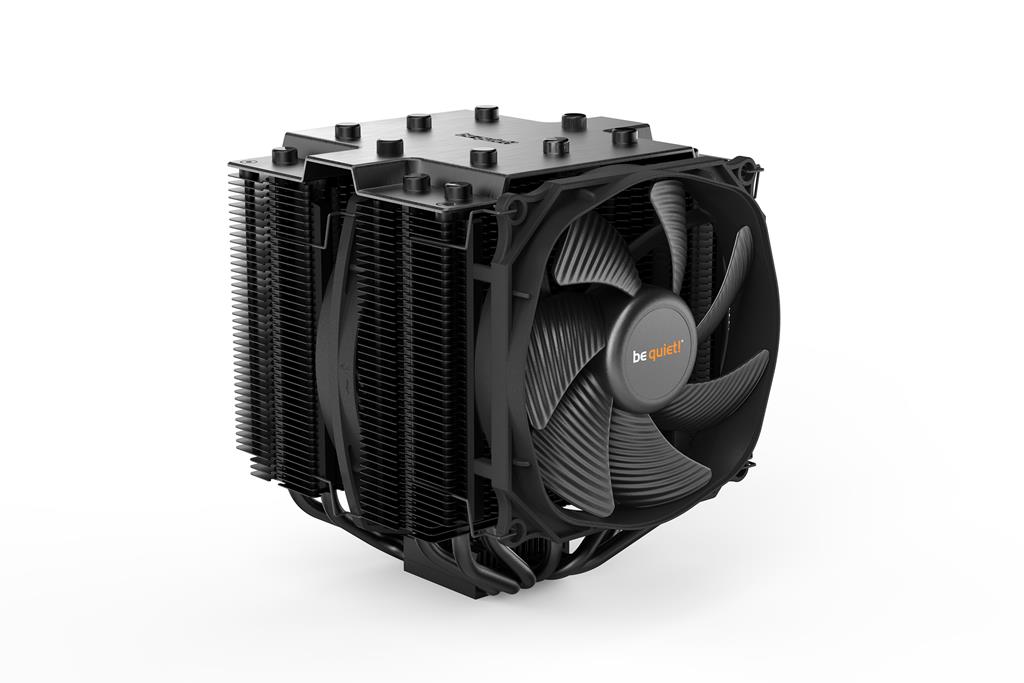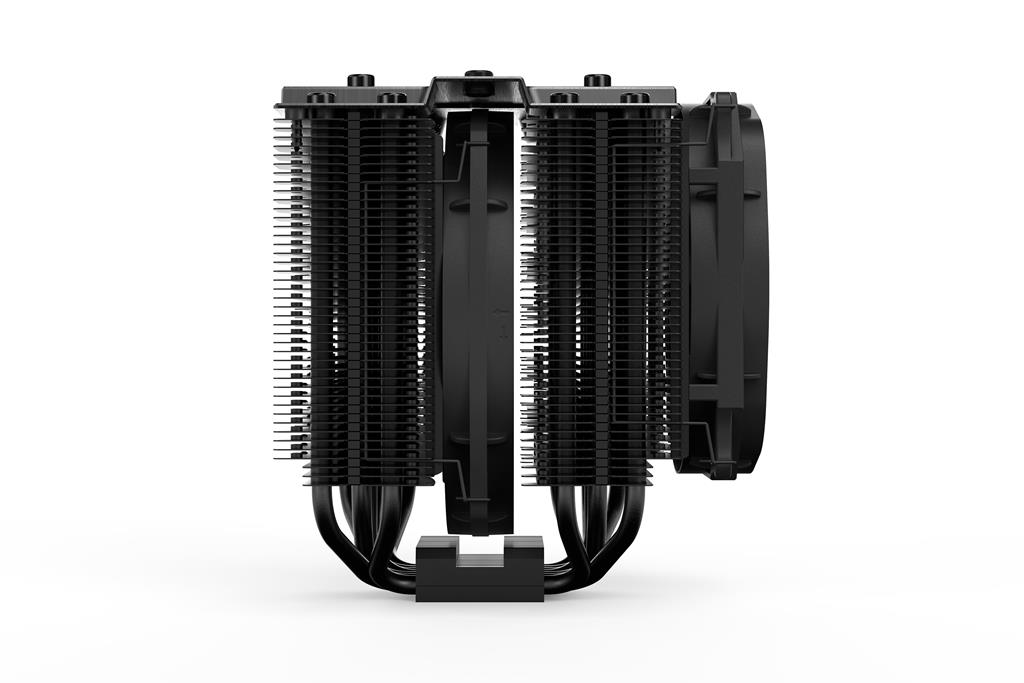 e quiet
The Dark Rock 4 CPU cooler is available for €72.90 / £64.99 / $74.90 MSRP, and the larger Dark Rock Pro 4 CPU cooler is priced at €86.90 / £80.99 / $89.90 MSRP.