Sabrent has announced Rocket 8GB, 16GB, and 32GB DDR4 SO-DIMM 3200MHz Memory Module for laptop, Ultrabook, and mini-PC.
Expand your horizons with Sabrent Rocket DDR4 memory. Your favorite SSD company wants to make sure the rest of your system feels responsive, too. We provide affordable, high-capacity DRAM options to make sure you never feel left behind. Our passion for memory matches your desire to exceed the limits of your imagination. Our design is tight and cool, making sure never to get in the way of your dreams.
Never enough memory
Running out of memory? Providing up to 32GB of memory per stick, Sabrent's Rocket DDR4 has all your needs covered. You're just a single upgrade away from a lag-free experience. Don't let your lack of memory slow you down – realize the potential to multi-task like never before. Our DRAM will improve your productivity and your gaming experience, all at the same time.
Always compatible
We want to make sure your memory works perfectly from the very first second it graces your system. We follow JEDEC specifications for DDR4-3200 to ensure your memory works the first time, every time. Whether for an older system or new, our memory is for you.
Copper cooling for consistent performance
Our innovative cooling design allows your memory to run without overheating even in the tightest of spaces. We'll CU on the flip side – the label is not just a pretty face: it contains a copper heat spreader that covers both sides of the memory, ensuring even heat dissipation. Your memory will always run cool and stable.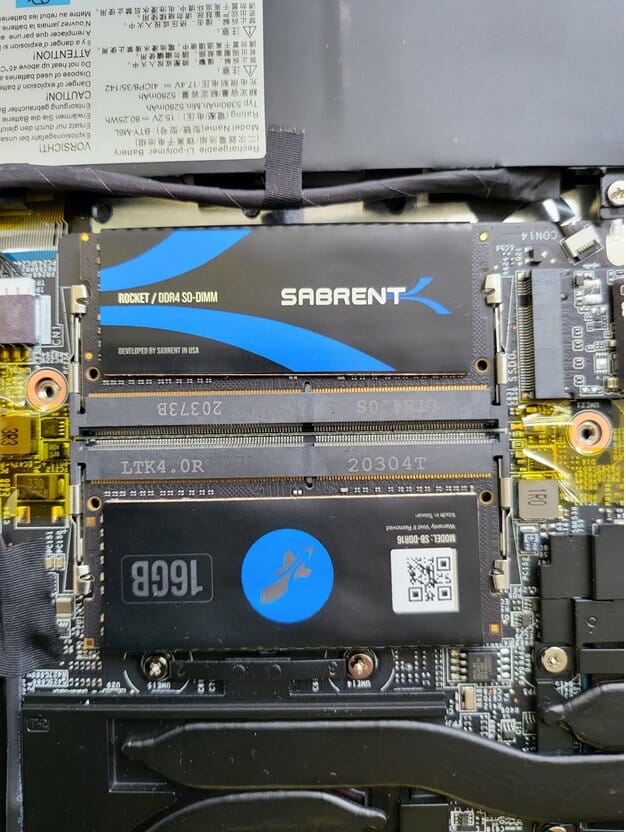 Embrace the essentials
Get back into the game without breaking the bank. You don't need the flashiest, most overpriced memory to frag with the best. Opt for more memory per dollar to make sure you never slow down again. We help you focus on the essentials to get a better bang for your buck. Sabrent is a name you can rely on to always provide quality memory.
EASY AND FLEXIBLE: Our DRAM works on anything that accepts 260-pin DDR4 SO-DIMM memory, whether laptop, ultrabook, or mini-PC. Installation on most machines involves simple steps that anyone can manage.
Sabrent Rocket DDR4 DRAM:
DDR4-3200/PC-25600, 3200 MHz/CL22
260-pin SO-DIMM, 1.2V
2×8/2×16/2x32GB Dual-Channel
Dimensions (LxWxH): 2.7 x 1.2 x 0.016in.
Weight: 0.4oz.
SB-DDR8
SB-DDR16
SB-DDR32
They come in one, two, and four packs.