INTRODUCTION
The Netac NV5000 is an NVMe SSD That comes with a beefy heatsink already installed. While Netac may not be the most well-known name, they sure are trying to change that. Following on from our review of their NV7000-T 2TB, we look to see if they can continue to shine with some of their other drivers.
The NV5000 comes in 500GB, 1TB, and 2TB models and features a read/write of 4800/4600MBs for the higher capacity models. The 500GB model features a read/write of 4800/2700MBs which still isn't too bad. Unfortunately, smaller-capacity SSDs have always had lower performance than the TB models, and seems that this will not end anytime soon. However, as prices get cheaper it will be easier to attain the higher capacity drives with the better speeds.
Netac NV5000 Specifications
Brand
Netac
Interface
M.2 2280
Channel
PCIe Gen4 x4
Capacity
500GB
1TB
Max. Sequential Read (MB/s)
4800
4800
Max. Sequential Write (MB/s)
2700
4600
Max. Random Read (IOPS)
200K
400K
Max. Random Write (IOPS)
440K
530K
Total Bytes Written (TBW)
320
640
NAND Flash
3D NAND Flash
Operating Temperature
0℃-70℃
Storage Temperature
-40℃-85℃
Size
80 x 22 x 3 mm
Limited Warranty (Years)
5 years
Netac NV5000

CLOSER LOOK

As mentioned, the heatsink is quite beefy and we will take a closer look at that in a bit. The heatsink has some nice angles and lines going on and overall, it looks rather nice and will add a little something extra to any build.

We can see Netac in the top left corner and below, it mentions this is a PCIe Gen4x4 drive. Over to the right they have added writing that says M.2 NVMe SSD. While there is no issue with any of this, I would much rather see a model number or something fun. I don't see the need to add PCIe Gen4x4 M.2 NVMe SSD onto the heatsink.
The heatsink is easily removed by taking out four screws. However, over one of them is a warranty void if removed sticker. Now, I really don't agree with this but in this product case, it isn't very fair. A lot of motherboards now come with their own heatsinks so if you want to keep your motherboard looking how it came, you would need to remove your NVMe heatsink. If you don't remove your NVMe heatsink, you will need to keep the one on your motherboard off.
This isn't the end of the world and as you can see in the below image, we don't worry about warranties around here! This is just something to keep in mind.
The NV5000 is a 1-sided drive and by that, all chips are on the one side. We can see four storage chips with a TenaFe controller in the middle. This is quite common on the 1TB NVMe drives these days.

On the other side, as mentioned it is just a blank PCB.
TEST SYSTEM AND PERFORMANCE
TEST SYSTEM
CPU – Intel 12600K
SSD –
Graphics – Zotac 3060
Power Supply – be quiet! Dark Power 12 750W
BENCHMARKS
To test the performance, I ran a few of the more standard benchmark programs used for testing storage devices.
AS SSD – Test the sequential or random read/write 

performance

 without using the cache. AS SSD Benchmark reads/writes a 1 GByte file as well as randomly chosen 4K blocks. Additionally, it performs the tests using 1 or 64 threads and determines the SSD's access time.
Anvil – Anvil's Storage Utilities is a powerful tool that was designed to provide you with a simple means of assessing the read and writer performance of your Solid State Drive or Hard Disk Drive. The benchmark tool helps you monitor and check the response time of your unit as well as view the system information collected using Windows Management Instrumentation (WMI).
ATTO – As the industry's leading provider of high-performance storage & network connectivity products, ATTO has created a widely-accepted Disk Benchmark freeware utility to help measure storage system performance. As one of the top tools utilized in the industry, Disk Benchmark identifies performance in hard drives, solid-state drives, RAID arrays as well as the host connection to attached storage. Top drive manufacturers, like Hitachi, build and test every drive using the ATTO Disk Benchmark.
CrystalDiskMark – Another benchmark program designed to measure the read and write speeds of storage drives.
AS SSD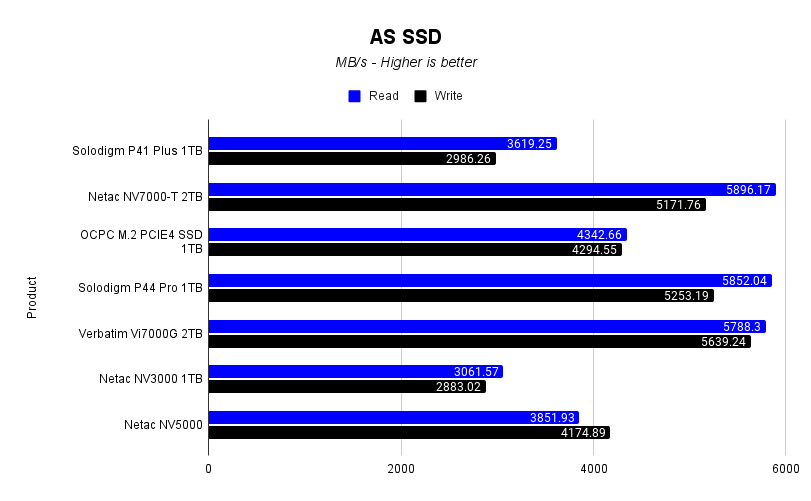 ANVIL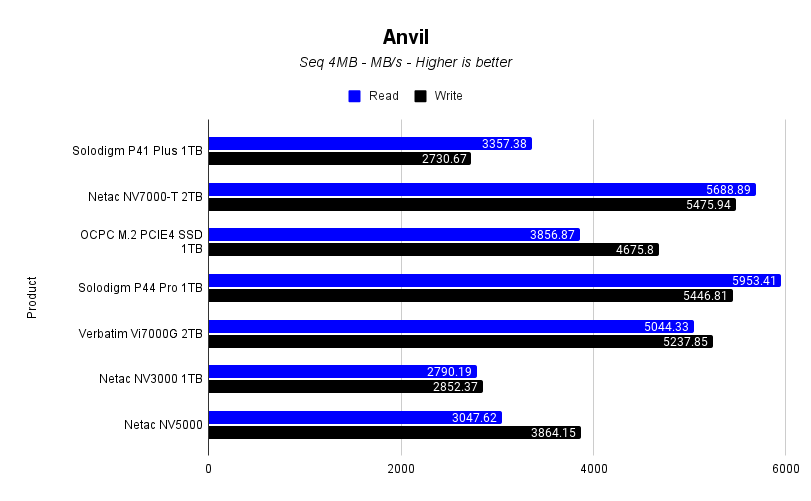 ATTO
CRYSTALDISKMARK
FINAL WORDS
The Netac NV5000 is a solid all-around drive, for the most part. The IOPS looks really out of place in our testing but we have tested this multiple times and those are the results we got, so that is what we are sharing. IOPs aside, the NV5000 is a solid performer and reaches its stated speeds. For a normal NVMe SSD, this will be more than enough for most people.
VALUE
Currently, the non-heatsink version of the NV5000 is coming in at $64.99 on Amazon US. We couldn't see the heatsink model of the NV5000 so we will base our conclusion on this as they are the same drive, just one is without heatsink. There is also currently a 10% discount code available on the Amazon listing should you be interested.
Looking at the current pricing on Amazon and things seem to be all over the place. On average the Netac 5000 1TB seems to be fairly priced, though there are a couple of other drives that may be a bit faster and a tiny bit cheaper. However, if you look another day, it could be the other way around so who really knows! What I will say is the NV5000 isn't far off on the price, but it may be worth looking around a bit.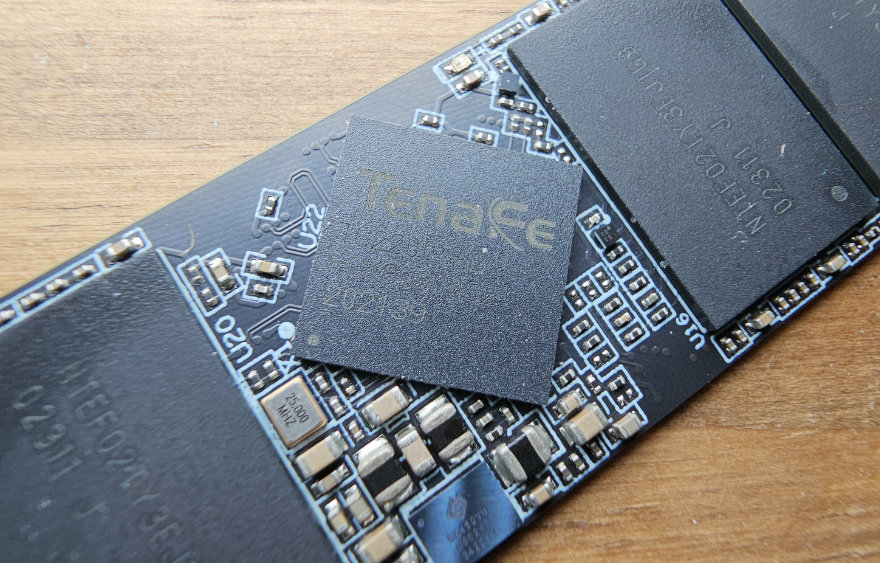 The Netac NV5000 comes back with a 5-year warranty and has OK performance for what it is. With the current state of the market and Amazon sellers, on any given day one drive could be a couple of dollars less than the next so it is always worth it to show around. The Nv5000 hasn't blown us away but it does what it sets out to do and does it without issue.
If you have the chance to pick up one of these drives, I wouldn't be turned away, especially if the price is right!