Up for review today is the Speedlink Quinox. The Quinox is a USB gamepad designed for all Windows games! I know what some of you are probably thinking. PC Master Race uses Keyboard and Mouse, right? Well, not all the time! Some games are better optimised for a controller and these controllers also help convince console gamers to make the jump to PC gaming. Personally, I've found games like Rocket League, NBA 2K17 and fighting games like Mortal Kombat are much better suited for controller play. While there are also others, I've always found it a good practice to have a gamepad easily accessible for when I do need a break from FPS gaming!
The Speedlink Quinox has some pretty impressive features that we will cover in this review. I don't want to give too much away just yet, but let's say there are some extra buttons, easy tuning options and more available that do make this a great choice for a gamepad. The Quinox also features a 2.4m cable for those who want to game on their PC from the couch as well. The controller is all black with some red accenting and does have a few places that light up and offer a red glow. There is also an OLED screen that adds a little something extra to the overall capabilities of the controller. All in all, it looks good on paper and in person so let's see how it stacks up!
Specifications:
Programmable gamepad for the PC
Analog sticks and digital 8-way D-pad for maximum precision
Ergonomically positioned left stick for comfortable analog gaming
2 analog triggers, 2 bumpers and 10 digital buttons incl. Start and Back
2 additional shoulder buttons – freely customisable and with macro support
4 additional buttons on the back – freely customisable and with macro support
2 button profiles for button assignment storage
2 macro profiles for macro storage
2 controls for button programming and settings
Practical OLED display
Intense vibration effects for realistic gaming
Stunning glow
Adjustable analog stick and trigger sensitivity
Detachable USB cable (cable length: 2.4m, micro USB to USB)
Weight: approx. 205g
Taking a quick look at the packaging and what comes inside the box, there is a bit going on! The front of the box has a nice image of the Quinox itself along with some information about the more important features that it has to offer.
Inside the box are the controller, info guide and a pair of quick install guides that cover a range of various languages.
As mentioned, the controller is all black and it does also remind me of an Xbox controller thanks to its shape. The button layout and placement is also similar to that of an Xbox 360/One controller which I really do like. The 2x analog sticks allow for their sensitivities to be controlled individually and on the fly which was just amazing to see. While it did take me a second to get used to what was going on, once I figured it out I got them set to my preferred sensitivity with ease and off I went! Aside from that, we also have a standard D-pad, start/select buttons and the 4x standard ABXY buttons on the right.
This is where things start to get fun. These little turn knobs actually control the sensitivity of the analog sticks. Simply moving them in either direction will turn the sensitivity down or up on the corresponding stick, so make sure you are ready for it when you start playing with this.
The fun continues over on the backside where we are greeted with 4x more buttons. Not only can you turn these buttons on and off, you can also set 2x separate profiles and save them so you can switch the button functions with ease. Lastly, these buttons can also be customised and have macros set to them! The possibilities are almost endless with what you can do with these buttons and it is truly great to see. Macros are set VIA the Quinox itself and do not require any extra software to do so.
On the top, we have the standard left and right triggers and bumpers but Speedlink has also added an extra pair of buttons on either side of the detachable USB cable for even more customization and gaming goodness.
As we would hope, the USB cable comes braided/sleeved for extra durability and a nice aesthetical touch.
As we can see below, once plugged in, the controller does light up in certain areas, making certain things easier to see. While we all know I am not a fan of red, the illumination isn't overpowering and adds a nice feel to the Quinox.
The OLED screen can be used for a number of things, such as letting you know what profile is selected, helping you change the sensitivity and even letting you know the controller is in program mode so you can set your macros!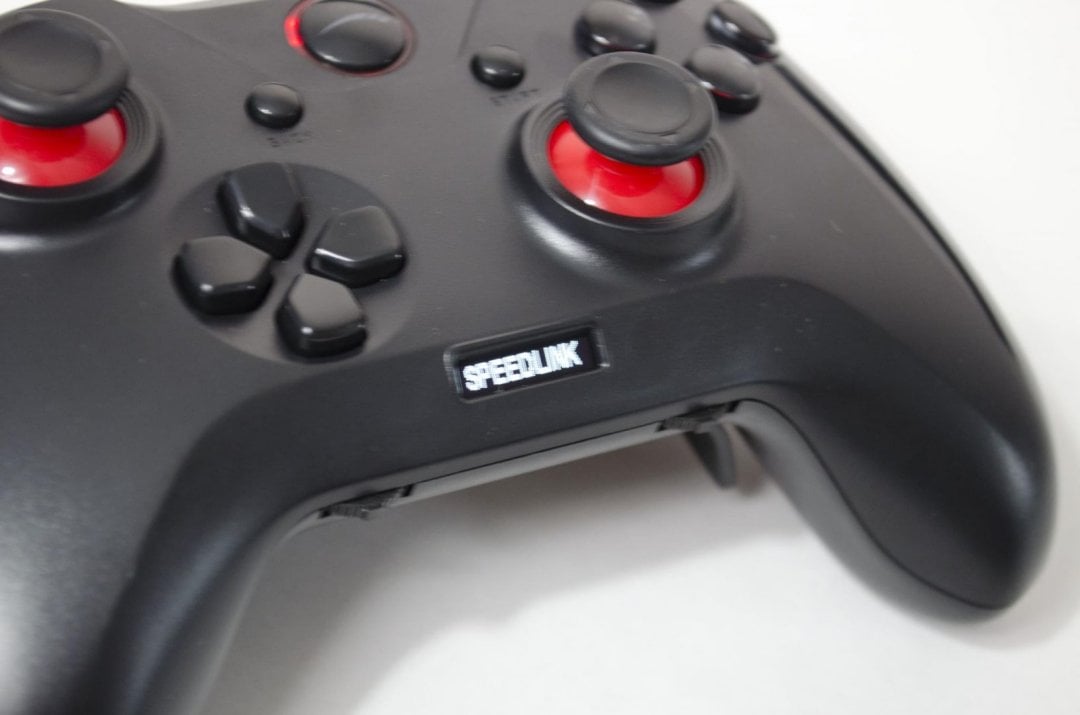 Performance
The performance on offer from the Quinox is quite exceptional. During my testing, I used it for everything from driving, fighting and even played a couple FPS games with it and was very impressed all around. Not only do the extra buttons come in great handy for certain games, being able to change the sensitivity on the analog sticks was amazing, especially when switching to sniper class in BF1. Allowing the sensitivity to be changed as such right from the controller is a massive feature and great comes in handy. Aside from that, all the other buttons register as desired and I didn't have any issues with them at all. This isn't some cheap knock-off USB controller and it shows with the performance that it does offer.
Design
With a design similar to a standard Xbox 360 or One controller, the Quinox surpassed them! The Quinox comes packed full of features and customization which is all at the click of a button, literally. There is no extra software needed to make use of any of the features which means you can essentially change everything right in-game if need be. Allowing the analog sticks to be changed at the flick of a switch is a massive feature and one I praise Speedlink for, this really has made this controller one of a kind! Let's also not forget about the additional buttons on the backside of the controller and the fact that you can set macros via the controller itself without any software, all of which are equally awesome features to include in a PC gaming controller.
Value
The Quinox is more on par with an Xbox One Elite controller and while I have not personally used one of those, I can see the price difference between the Elite controller and the Quinox ( About £40 at the time of review ) being a major deciding factor. For almost half the price, the Quinox offers what appears to be like for like feature if not more and the performance can not be faulted at all. While it may not be wireless or have removable buttons, it is surely a force to be reckoned with, especially at its current price! For just over £60, you are getting a lot of controller for your money and it sure will not let you down! One thing Speedlink does right time after time is offering great performance at an amazing price, job well done!
" The Speedlink Quinox is surely a force to be reckoned with, it offers great performance, has plenty of customization options and all for a price that won't make you want to cry!"
Many thanks to Speedlink for sending in their Quinox Gamepad for the review!