TeamGroup is continuously dedicated in satisfying our customers' needs in every respect. Today we announce the release of two USB drives with latest USB 3.1 Gen1 (USB 3.0) transfer interface. One of them is the ring shaped T162, the winner of Golden Pin Design Award, and another one is the eye-catching M161 with latest Type-C OTG(On-The-Go).
T162 made its first appearance at the Computex exhibition in June this year. The entire exhibition was stunned by its unique design, which combined the concepts of "convenience" and "ergonomics". T162 is the first USB drive designed with an ergonomic grip ring. Its 360 degrees, rotating, and four-way positioning structural design allows users to rotate the ring according to their actual usage space, so other devices won't be interfered and very flexible to use. T162 is designed with a little bit of artistic twist and practical functions, not only it is convenient to use with single hand, but its design also allows users to have all the important information at the tips of their fingers. There are two colors to choose from: "Stylish Blue" and "Sweetheart Pink". The glossy pearl color enhances the overall texture and the energetic and creative grip ring design will make this USB drive a trendy accessory. T162 is designed with a strap hole which is easy for users to carry around their precious memories.
Besides the same easy-to-use USB technology of the last generation and features of plug and play, the performance of T162 is enhanced 10 times better and the power management is also improved. With 128GB ultra large capacity, it can store up to 3200 photos (12MP) and 480 minutes of viedos (1080P, 30fps). It can satisfy consumers' needs for high speed transfer and multimedia file storage at any time, and makes file sharing easier than ever. This year, T162 also has won the most prestige design award in the Chinese speaking market – The Golden Pin Design Award. All 3005 applications were carefully and intensively reviewed by Shenzhen, Beijing, Shanghai and Taipei, and it stands out of 457 applications from Taiwan, Mainland China, Hong Kong, Macao, Malaysia, Singapore, Japan, Switzerland, etc. It is highly praised by the judges and once again proves the R&D strength of Team Group.
Today Team Group also releases the eye-catching M161 with OTG (On-The-Go) function. Both interfaces (USB standard connector and Type-C) are designed to be used for transfer. USB Type-C is smaller than the standard USB port slot. It can be plugged into devices smoothly no matter which side is up or down. It not only can be used on thinner and lighter devices, it is also compatible with both iOS and Android mobile devices, so file transfer is no long limited anymore. M161 is using USB 3.1(Gen1) high speed transfer specification. It can greatly enhance transfer performance, and also downward compatible with USB 2.0 interface. The transfer speed and read speed per second can reach above 80MB/s. It allows quick access large files such as multimedia or work files instantly, so no more waiting for transfer at all.
In response to the trend, new mobile devices are getting thinner and thinner, but the problem of insufficient capacity still bothers users a lot. The price for upgrade is also often too high for consumers to afford. M161 is the perfect solution for this problem. It can be used not only on USB Type-C devices and also offers up to 64GB of storage space at the same time. You are able to backup photos, videos, and all sorts of files and enjoy sharing precious data.
In addition to M161's eye catching exterior, it is also compact, lightweight, easy to carry, and won't get in the way of other devices' connectors. The smart 360˚ rotating cap design not only protects the connector when it's not in use, but also avoid the trouble of losing the cap, prevent the damage of the USB Type C connector, and increase efficiency and convenience of usage. It is using COB (Chip On Board) assembly process to offer waterproof and dust-proof. It avoids data corruption or data loss which caused by external forces during the operation. It provides all-around protection to every moment of your precious memory.
T162: http://www.teamgroupinc.com/en/product/USBDrives/USB3.0/T162
M161: http://www.teamgroupinc.com/en/product/USBDrives/Mobile/M161
As a leading provider of memory storage products and mobile applications to the consumer market, Team Group is committed to providing the best storage, multimedia and data sharing solutions. All Team memory module products come with a lifetime warranty, repair and replacement services. For more information, please visit the Team website at www.teamgroupinc.com or FB https://www.facebook.com/teamgroupinc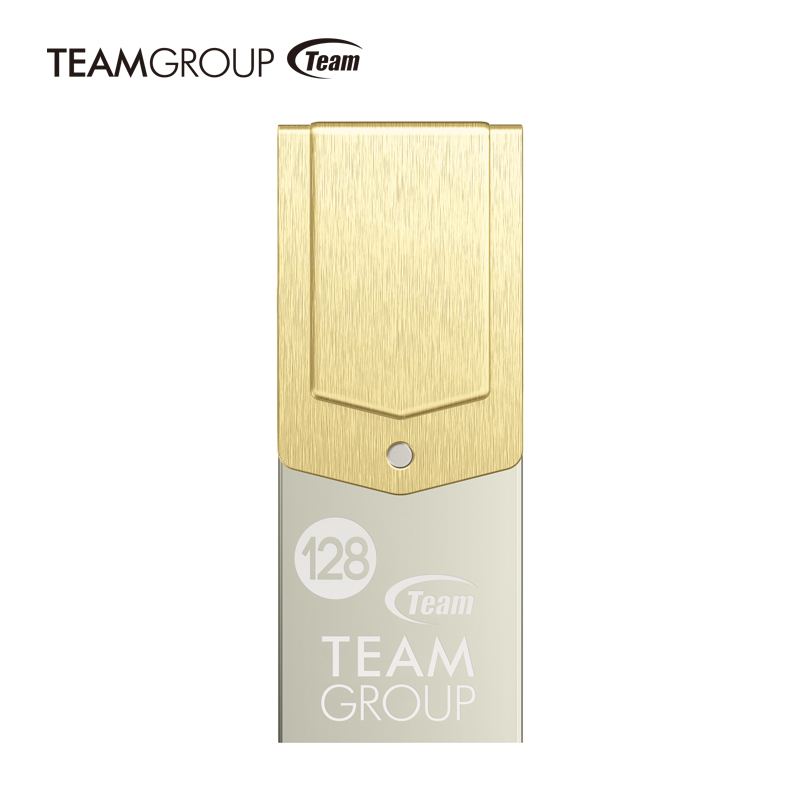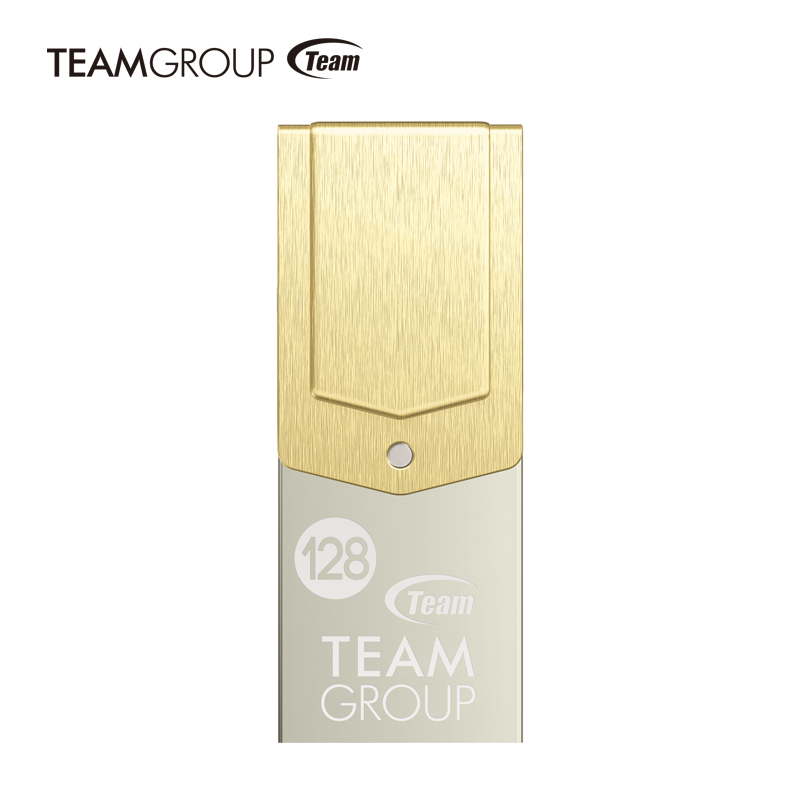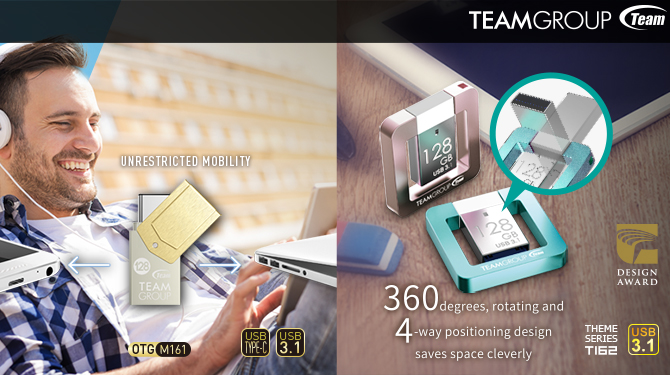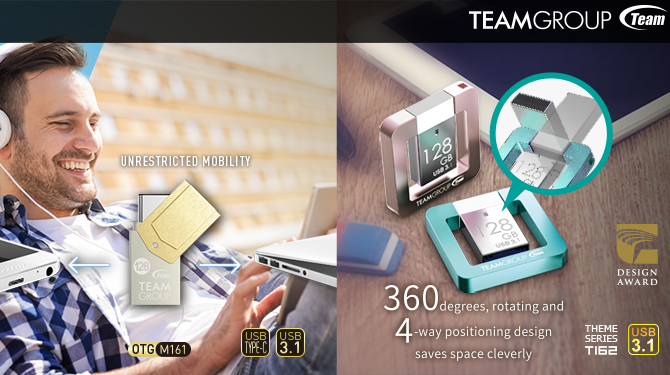 【About Team Group】
As a leading provider of memory storage products and mobile applications to the consumer market, Team Group is committed to providing the best storage, multimedia and data sharing solutions. All Team memory module products come with a lifetime warranty, repair and replacement services. For more information, please visit the Team website at www.teamgroup.com.tw or Follow our Facebook page: www.facebook.com/teamgroupinc or on twitter.com/TeamGroupTech