Introduction
Tt eSPORTS is a company of Thermaltake that caters to the peripheral and eSPORTS markets. They have a very extensive range of peripherals and should have something for just about anyone, from the casual gamer to the serious eSport pro, Tt eSPORTS will have you covered. As they are a gaming peripheral company, Tt eSPORTS also sponsors teams around the world that compete in tournaments and supplies them with the products they use to devastate their opponents.
Today I will be taking a look at the Tt eSPORTS Challenger Prime gaming keyboard. This keyboard is a more budget-friendly gaming keyboard and as such features standard rubber dome or membrane switches. Don't let that fool you, the Challenger Prime is full of features such as dedicated macro keys, dedicated profiles, easily changeable polling rates and 3-colour LED backlighting.
While I am a fan of mechanical keyboards, I was quite excited to see what the Challenger Prime would have to offer. It has been a long time since I used a membrane keyboard and was looking forward to getting the testing underway.
Specifications
| | |
| --- | --- |
| COLOR | BLACK |
| INTERFACE | USB |
| MEMBRANE, MECHANICAL, PLUNGER | MEMBRANE |
| ON-BOARD FAN DEVICE | NO |
| ANTI-GHOSTING KEYS | 6-8 KEY |
| NO. OF GAME PROFILES | 3 |
| NO. OF MACRO KEYS | 6 X 3 |
| POLLING RATE | 1000 HZ |
| BACK-LIGHT | YES, 3-COLOR |
| WRIST REST | YES, UNDETACHABLE |
| GRAPHICAL UI | YES |
| ON-BOARD AUDIO JACKS | NO |
| SMART CABLE MANAGEMENT | NO |
| GOLD-PLATED USB | NO |
| USB CABLE DETACHABLE | NO |
| MULTIMEDIA KEYS | 9 KEY |
| ON-BOARD USB PORT | NO |
| KEYSTROKE LIFECYCLE | 10 MILLION |
| CABLE LENGTH | 1.5M BRAIDED |
| DIMENSION (LXWXH) | 508X239X24MM |
| OTHER FEATURES | ADJUSTABLE BRIGHTNESS VIA DIAL |
Video Review
Closer Look
Starting off with the packaging real quick and as you can see, it is definitely designed to grab your attention. The front has a lovely design to it with a nice image of the keyboard right in the middle. Across the bottom, we can see some of the main features the Challenger Prime has to offer.  Flipping over to the back side and we can see more detailed information on the keyboard and all of its features.
The Challenger Prime is an all-black keyboard with whitish clear key etchings to allow the backlighting through. They keyboard is full-sized so features a full number pad alongside some of its extra buttons. One thing I will say, while this is a membrane keyboard, it is nice to see a gaming keyboard that actually has gaming features on it and not just LED lighting. Too many times these days companies are tacking on the word gaming to their products in hope of increased sales when, in fact, it's a bog-standard product with LED lighting on it. Tt eSPORTS have not only added dedicated macro keys to their Challenger Prime keyboard, they have also added multiple profiles that are easily switched between so you can set the keyboard up for multiple games or users.
The fun doesn't stop there though, oh no! Tt eSPORTS have included a 3-colour backlighting feature that can be switched by using the FN+ PAUSE buttons and there are also a couple of modes for the lighting, off, static or pulsing which is nice to see. To control the brightness of the lighting, there is a big know at the top centre of the keyboard you just turn one way or another to turn up or down the brightness of the Challenger Prime.
Performance
Overall, I have to say I was quite impressed with the quality and performance on the Challenger Prime gaming keyboard. While it is a normal membrane keyboard, it has the features and functionality of a gaming keyboard and does it at a fraction of the price of a mechanical keyboard.
Gaming Performance
Gaming was what I was most looking forward to on the Challenger prime, as it is a gaming keyboard and who doesn't love a job where they can gaming is part of their actual work! I must say, though, coming from a mechanical keyboard, it did take a bit of getting used too, which is to be expected. First off, the features such as the dedicated macro keys game in great handy, even during my FPS gaming. I don't play much else other than FPS but I did make sure to put the macro keys to good use and I can only imagine how they would come in handy for RPGs, MOBAs and the likes.
Overall performance was good and when you consider the price, there is not much that can be said against it. While it may not be quite as responsive as a mechanical keyboard, it really isn't meant to be and it works just as it should. After the normal break in period you would face with any new peripheral, the Challenger Prime is a decent keyboard. There isn't too much input lag when pressing the keys though I must admit, it really did feel as if I was pushing my fingers into a piece of rubber which took some getting used to. They keys popped right back into place and were ready to go and I didn't notice any issues with key presses what so ever. The anti-ghosting feature is set up to be able to hit 6-8 simultaneously without causing any issues and during my testing, I did not notice any keys being unresponsive during gameplay due to hitting a few at the same time. A lot of my testing was done playing Quake Live which is a very fast-paced game and includes a lot of key presses due to bunny hopping and switching weapons a lot. The Challenger Prime was more than up to the task and didn't cause me any problems during any game testing.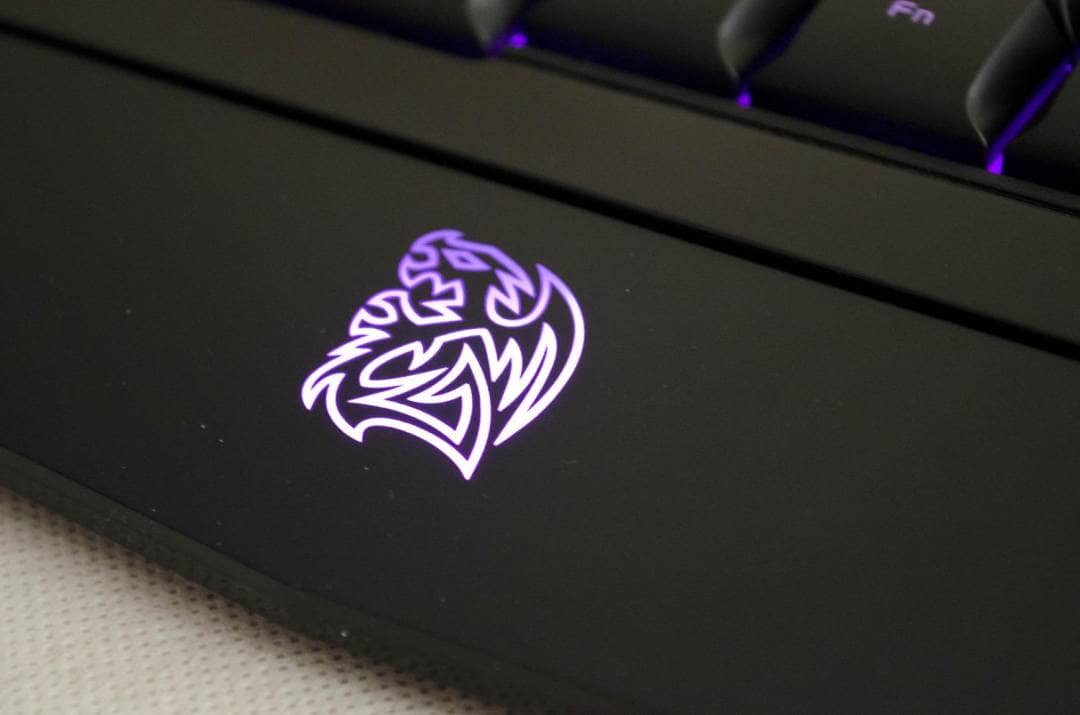 General Performance
For everyday use, the Challenger Prime was a good keyboard to use. It has quite a few media keys on it to make everyday tasks as easy as can be, from turning up your music volume, to checking your Emails, the Challenger Prime has you covered. The Challenger Prime definitely is not lacking in the features area.
As far as normal typing and performance goes, it is a decent keyboard to use. One of the things I found nice was the inbuilt wrist-rest that offers better ergonomics than those without. While a lot of people may not be bothered by this, as someone who spends a god amount of time on the computer and typing, the Challenger Prime didn't cause any discomfort, which was nice. Typing on it was fairly smooth as well, after the general break in period which wasn't as long as I had thought it would be before tying the keyboard out.
In terms of overall performance, the Challenger Prime is a good solid keyboard with great features.
Final Thoughts
After a good couple of weeks using the Challenger Prime Gaming Keyboard, I have got a good feel for it and am ready to deliver my final thoughts on it. While I was a bit worried that I wouldn't be able to break my mechanical ways at first, I did find the Challenger Prime enjoyable and for the price, it's a great keyboard.
When it comes to the features on offer, the Challenger Prime is nothing short of spectacular. It offers multiple profiles, 3 different colour LED backlighting, dedicated macro keys and a plethora of media and function keys to make every task easy as can be. Using all of these features is also as easy as one would hope and the placing of the macros keys down the left side is perfect in my books. During my gaming I used the macro keys to bind different things to and it got to the point where I could hit the one I wanted without even having to look or really try as they are in a great place. The only thing I would change feature-wise would be the LED brightness control and the volume up/down keys, I would swap them around. I think it would be much more beneficial to have the big knob as the volume control and the FN keys as the volume up/down. I feel most users will change the volume more than the brightness of the LEDS and as such, it should be easier. Aside from that, the features are spot on.
The Challenger Prime feels like a sturdy keyboard and it offers a good typing experience. A lot of time with the cheaper gaming keyboards, they can feel a bit flimsy and cheap, but the Challenger Prime surpassed my expectations in this area. While typing on it for longer periods of time, I didn't feel as discomfort which is a major plus and could be due in part to the inbuilt wrist rest that comes on the keyboard itself. Typing, in general, was smooth and effortless and once I was used to the keyboard, I feel I could type on it almost as well as my normal everyday one. The one thing that was hard to get used to was coming from a mechanical keyboard it really did feel as if I was pressing the keys into a rubber tire or something, it was a bit odd at first and has nothing really to do with the Challenger Prime specifically as would be the same on any membrane keyboard, just something I thought I would mention.
If you are looking for a cheap but decent keyboard, whether for everyday use, having as a backup, or just something to bring with you to local LAN parties, the Challenger Prime is well worth a look. It comes in at a great price (£27.99 in the UK at the time of review) has plenty of features and offers a solid build quality that won't let you down. All in all, it's a great keyboard for the price.