Introduction
ASUS has been kind enough to send in one of their new ROG Spatha X Wireless Gaming Mice for us to take a look at. Most recently, we have looked at their TUF Gaming K1 Keyboard and Gladius III mouse and were quite pleased with both. The ROG branding from ASUS is known for its premium quality and design and the Spatha X is no exception. Designed with MMO gamers in mind who want to use a wireless mouse, the Spatha X features a 2.4 GHz connection, RGB lighting, 12 programmable buttons and even comes with included ROG Micro Switches that offer a lifetime of up to a 70million clicks! On paper, the Spatha X does look rather exceptional and while I am primarily an FPS gamer, I am looking forward to testing it out and seeing just what it has to offer. Wireless peripherals have come a long way in the past few years and I will be putting the ROG Spatha X to the test in several different games as well as using it for everyday/office use.,
ROG SPATHA X Packaging and Accessories
The front of the box is what we would expect to see from a ROG branded peripheral. A nice image of the Spatha X front and centre, a small sticker to say it is AURO Sync compatible and at the bottom, the name and a small icon to indicate that it is 2.4 GHz wireless-capable as well. Instead of overcrowding the front of the box with loads of info/logos/stickers, ASUS goes with a more subtle look and lets the image of the product itself do the talking.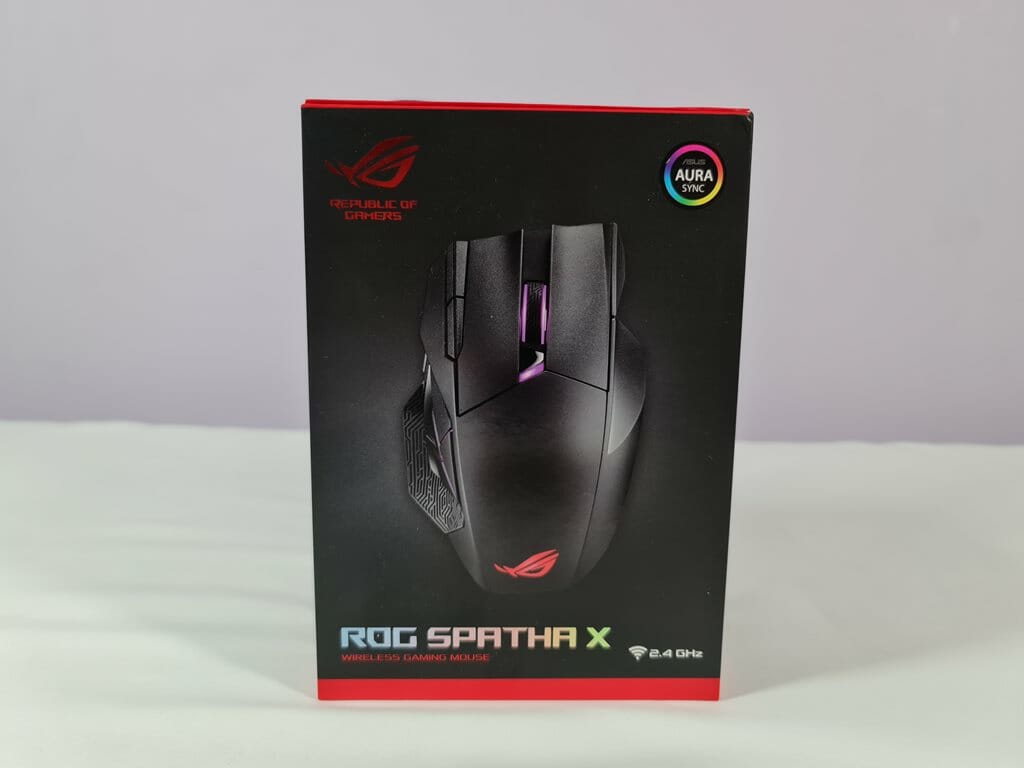 However, moving onto the backside and there is quite a bit more information here. ASUS has broken down the mouse into bullet points so you can see some of the main features it has to offer. This explains most of what the Spatha X has to offer but instead of ruining all the fun this early, we will move along and explain all of this in more detail as we get to it.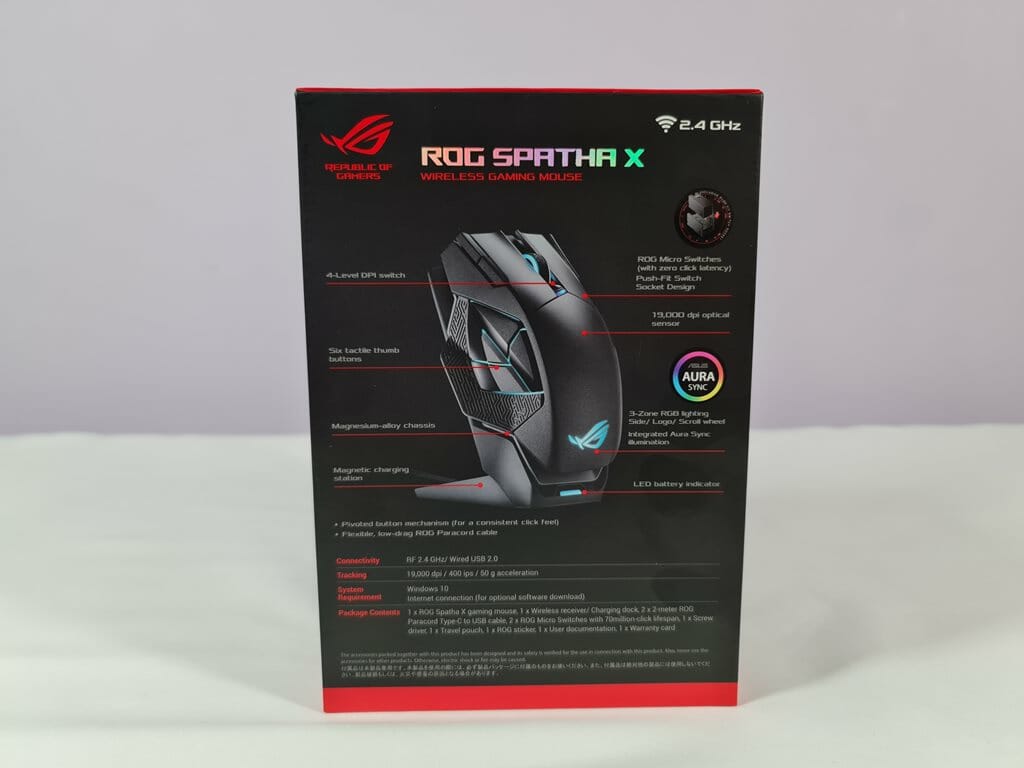 Opening up the box and everything is very well packaged, no real surprise there, though! ASUS has even gone ahead and added custom shaped foam to ensure that the Spatha X doesn't bounce around during any shipping. This is going to make it so that the Spatha X shows up to you in factory new condition and is great to see! A lot of companies tend to overlook smaller details like the inner packaging of a products box but not ASUS when it comes to their ROG branded gear!
ASUS has even included a little carry pouch for your new Spatha X. While most may not make use of this, those who travel and plan on taking their mouse with them will appreciate it.
Alongside the carry pouch, there are a few more things in the box with the Spatha X. The Charging base comes in two parts, a stand and then the charging pad itself which is magnetic, making sure the mouse doesn't fall off of it. ASUS have also included some ROC Micro Switches, again these features a crazy 70 million click lifecycle. There is a small screwdriver like took so you can take the Spatha X apart and change the switches if need be. Lastly, we have a pair of USB cables, one to connect the charging base/wifi dock and the second is so you can plug it directly into the Spatha X and use it as a wired mouse.
Once the stand is put together, it won't take up much room at all on your desk.
The USB cable is going to connect to the back of it and the stand has a nice little cable management slot so you can keep your desktop as clean looking as possible.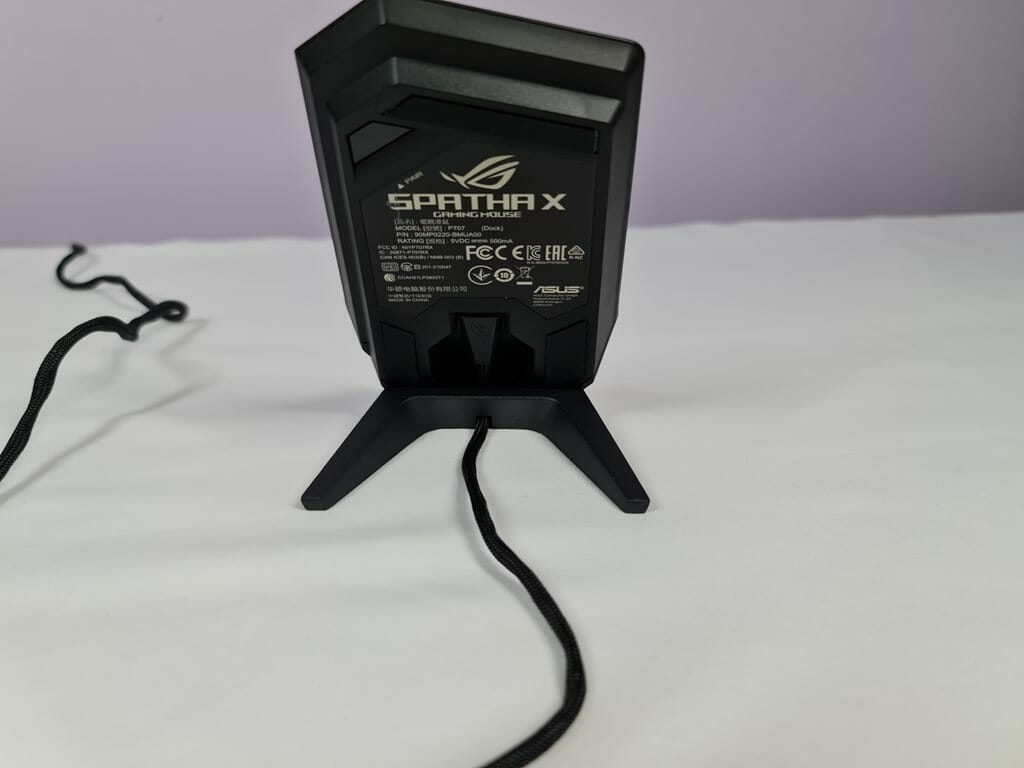 When it's time for a break or you just need to charge your Spatha X, simply put it on the stand and it will use the magnetic connectivity to hold it in place while it charges.
There is a small LED indicator on the bottom of the charging base that will let you know when the mouse is connected and charging.
ROG SPATHA X Closer Look
The Spatha X is all black and features the ROG EYES on the butt of the mouse as I like to call it! It has a lot of hard lines and angles on it with some curves thrown in for good measure.  While this picture may not shot it, this mouse is rather large compared to most normal mice that only have the two extra buttons by your thumb.
As this is a right-handed mouse, most of the buttons are on the side where your thumb will rest. Directly, where your thumb will be are 6 fully programmable buttons that can be customised for in and out of game use. While the main function of this mouse is for gaming, it does come in handy for video editing and I would imagine all types of editing. Having the buttons right on the mouse not only allowed me to best my foes in-game, but it also allowed me to, break, select and cut videos without the need for using any keyboard keys! Some people will look at products like this and think ugh, gamer crap etc but they have so much more functionality to offer for loads of users, not just gamers.
There are a couple of more customizable buttons up by your index finger, in addition to the two normal buttons most mice have. Now, with these and in my testing specifically, I did find it a bit hard/awkward to hit the furthermost button. Now, it still came in handy for me but was set to something I wouldn't use a lot but would still need from time to time. For me to use it, I had to raise the palm of my hand off the mouse completely and move it forward a bit which just feels quite odd and is not something I would want to do too many times.
On the very front of the mouse we have the USB-C connector should you want to use the Spatha X in full wired mode. This is in the same location as a standard mouse would have its wire so it shouldn't cause any issues. In this photo, we can also get a nice look at the pattern on the scroll wheel which, while it may seem irrelevant speaks volumes about the attention to detail ASUS pays to its products.
The side of the mouse where your ring finger and pinky will sit may not feature any extra buttons, but it does have a nice place to rest your ring finger and a bit of a small grip for your pinky. You will also notice that the small grip area features the same pattern as the scroll wheel. Again, those small details that help bring everything together can have such a big impact on a product like this.
Flipping the Spatha X onto its back and we can see its underside. There are four small rubber circle pads that once removed, reveal screws that you can take out to take the mouse apart. This will allow users a pretty straightforward way to disassemble the mouse so they can change the switches and make use of the ROG Micro Switch and its 70 million click lifespan.
The Spatha X comes with a 19,000 DPI optical sensor that also features a 400IPS max speed and a 50G acceleration. These things all combined are a major part of what allows the Spatha X to have such accuracy and make it so there is no input lag and the mouse response instantly when you move it.  We can also see the power and pair buttons for the Spatha X so we can get it up and running. The two small gold looking pads above the power button are going to be our charging points and when they make contact with the base, they will charge the battery on the Spatha X, getting it ready for your next battle.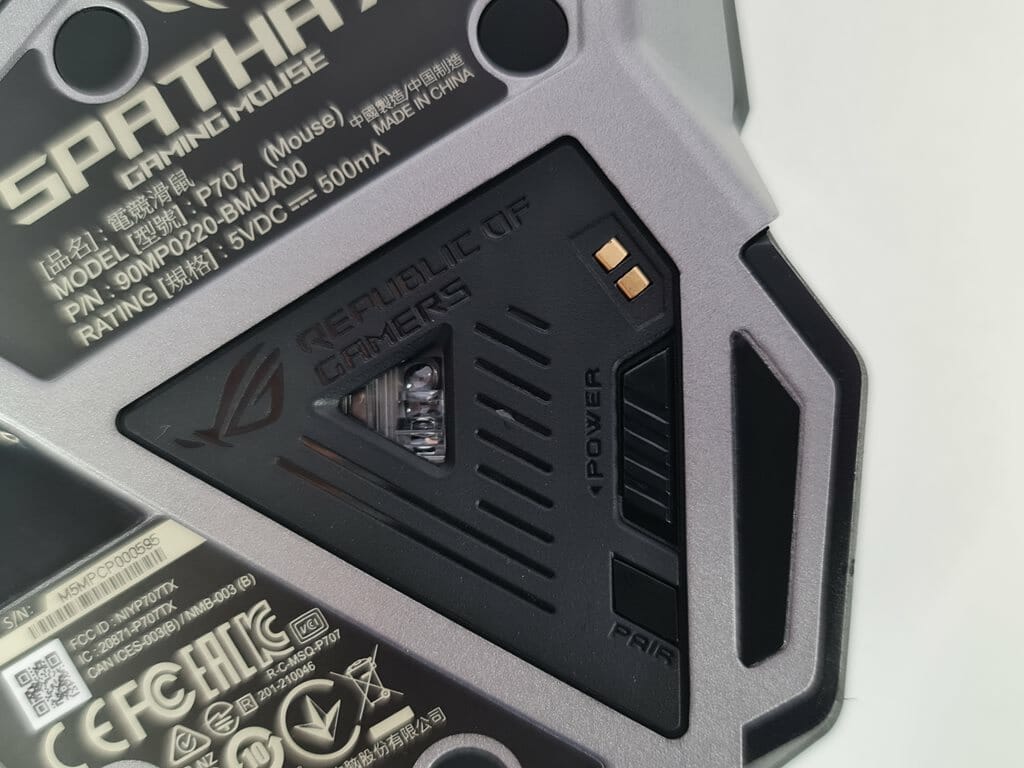 ROG SPATHA X RGB Goodness
The Spatha X has three main RGB zones. One is the logo on the butt of the mouse, one on the scroll wheel and the other is where the six programmable buttons by your thumb are, when they are all lit up it does look quite nice!
I love a good RGB lit logo! Allows you to customize it to the colour you prefer and helps a logo as iconic as the ROG EYES stick out!
The scroll wheel has some nice illumination on each side of it and even the DPI switch has a bit of lighting to it. The DPI switch will change colours to let you know what profile is selected, all of which is fully customizable in the Armoury Crate application.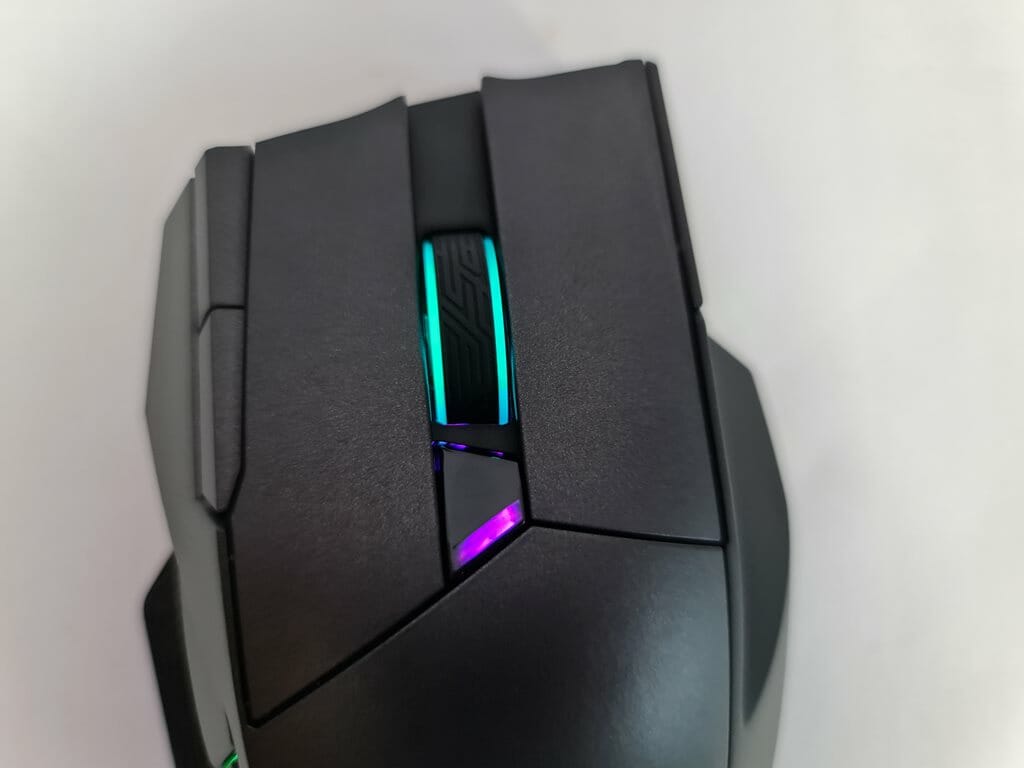 This has to be my favourite RGB zone on the Spatha X. Just think it looks cool when all lit up at night! I am a fan of LEDs and have been since way before they were imp0leted on PC peripherals for RGB lighting.
ASUS Armoury Crate Software
I'm not going to go into much detail on the Armoury Crate but below are a few images of what it has to offer. There are different tabs so you can more easily customize your Buttons, performance, lighting, calibration and power options. All of it is very straightforward and quite easy to use and can be downloaded directly from the Support Tab of the Spatha X product page.

ROG SPATHA X FINAL WORDS
Value
Currently available for £135.65 on Amazon UK and around $141 on Amazon US, The Spatha X is one of the best MMO gaming mice currently on the market. As we have seen, it has loads of features and looks amazing. Coming with a crazy 12 programmable buttons, it will help you in the heat of battle. The Armoury Crate software also makes it very easy to customize the Spatha X so you can get the most out of it. The price tag may seem like a lot at first but when you consider all the features the Spatha X has to offer and combine that with its impeccable design, it is easily justified.
Design
The Spatha X is designed for those who need to get the absolute most from their mouse. ASUS have done their best to think of everything and it seems they did a good job. Plenty of programmable buttons, RGB lighting and a magnetic charger stand so the mouse doesn't take up much room on your desk when charging are just some of the features the Spath X has to offer. You can easily change the switches and the overall quality of the Spatha X is amazing, it's not cheap and frail and it will stand up well during the heat of battle. Everything down to the matching pattern that is used on the grip areas has been thought of and who could forget the finger placements being laid out to offer as much comfort as possible.
Performance
The performance is stunning! Whether playing your favourite MMO or even fast-paced FPS games, the Spatha X doesn't miss a trick or an enemy in this case. I play a bit of Quake Live and find this one of the best ways to test new peripherals as it is the fastest-paced game I play and can really put a mouse sensor to the test. Accurate tracking is a must for me and the Spatha X has this down with no issues at all. When it comes to MMO this is equally as important and the extra buttons allowing you to easily switch between weapons/tools/inventory makes this so much more enjoyable! As mentioned, I also used the Spatha X for a bit of video editing and even that made my life so much easier as those extra buttons by your thumb are worth their weight in gold. The battery life is impressive as well, while I couldn't quite track it accurately to see if the 67-hour claim by ASUS stood up, I can say I do believe it will. Of course, real-world usage can differ and once the battery has been drained and charged a few good times it may not last quite as long but I wouldn't worry too much about that. In my testing, the battery held up for days on end and I simply just keep the second USB cable handy should it start to get low during a game, simply just plug it in and keep going!
The ASUS ROG Spatha X Wireless Gaming Mouse has a lot to offer. While designed with MMO gamers in mind, most anyone can make use of the extra buttons and the easy to use software to customize them is a plus. The performance is great and it looks cool as well which is always important when it comes to new gaming peripherals!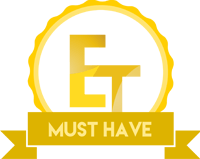 Many thanks to ASUS for sending in a sample of their Spatha X Wireless Gaming Mouse.